For fifteen years and counting, CBC Radio 3 has been dedicated to delivering you the best new and emerging Canadian music and content. We've done this in many, many different forms and formats over the years.
On Monday March 30, 2015, we're about to begin a new chapter of Radio 3. Artist and hosted features will be heard in place of our live hosting. Longtime hosts Grant Lawrence and Lana Gay will still be heard introducing new songs, just not in a live format, and our ever-lively blog discussions with you will continue.
If there's one thing that's been consistent about Radio 3, it's that it's alvvays changing in an attempt to meet your needs, and reflect the changes going on at the CBC.
Check out the below and read through the CBC Radio 3 timeline through the years.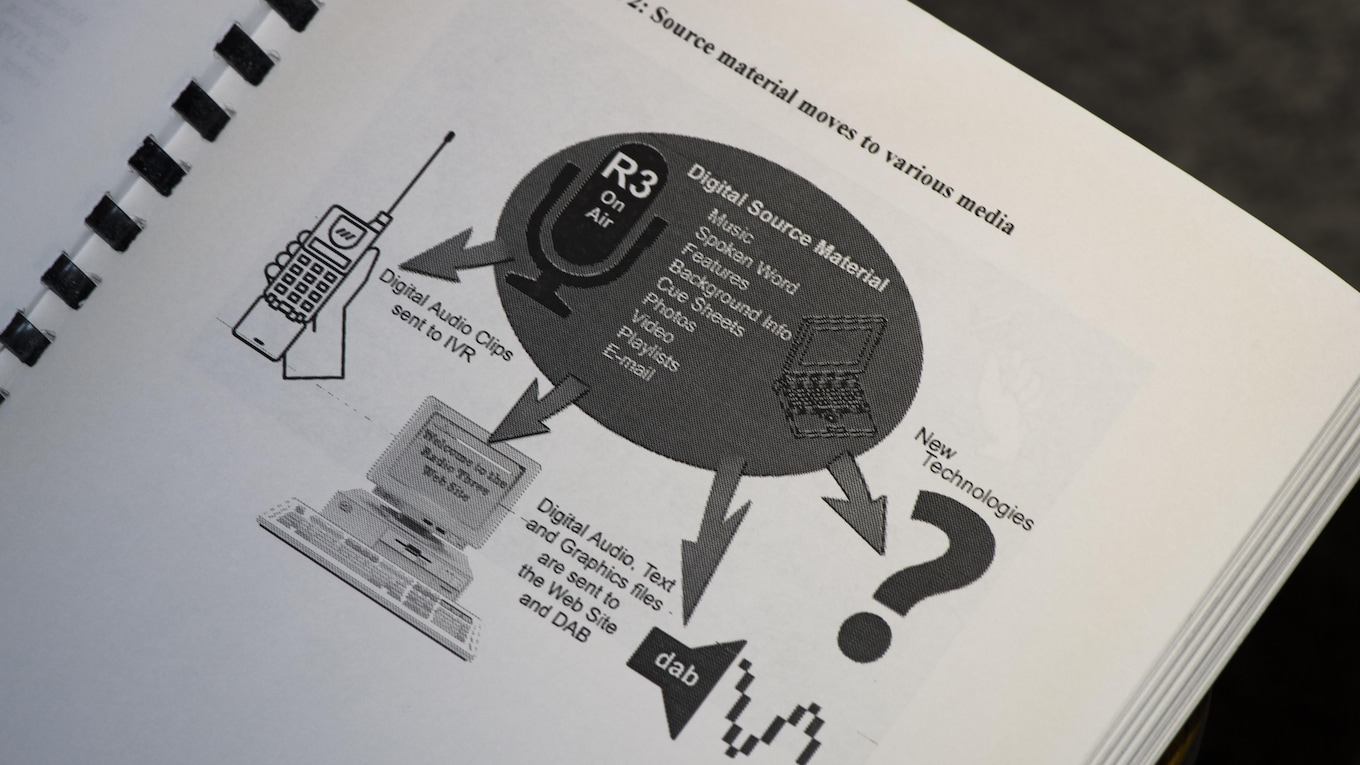 1998/1999: The idea for Radio 3 is hatched by CBC executives Robert Ouimet, Loc Dao (who created Real Time on Radio 2), Anton Leo, Susan Englebert, and Bill Smith (who created DNTO on Radio 1). Radio 3 was to be a youth-oriented national terrestrial radio network based on BBC Radio 1 in the UK and Triple J in Australia.
After many months of preparation, in which the code name "clubhouse" is implemented due to the amount of secrecy surrounding the project - and the amount of clubhouse sandwiches consumed during the planning - the proposal was ready to submit to the CRTC.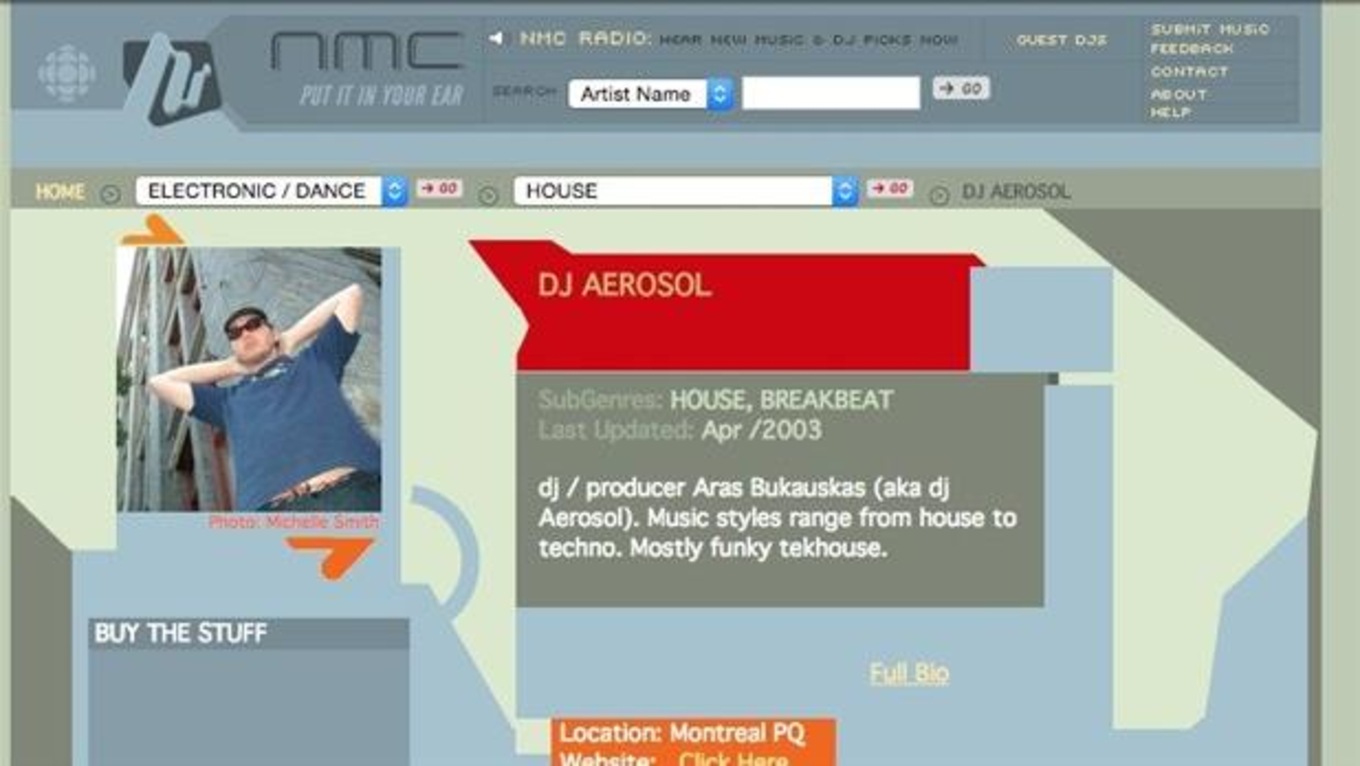 2000: The team decides to take it to the internet, and launches three separate sites: JustConcerts.com for live recordings of concerts and in-studio sessions; 120seconds.com for user videos and documentaries; and NewMusicCanada.com, a database for Canadian musicians to upload their music. The first artist to create his own page? Halifax hip hop musician Classified. Mary-Anne Korosi curated the page then, and still manages the artists pages to this day for CBCMusic.ca.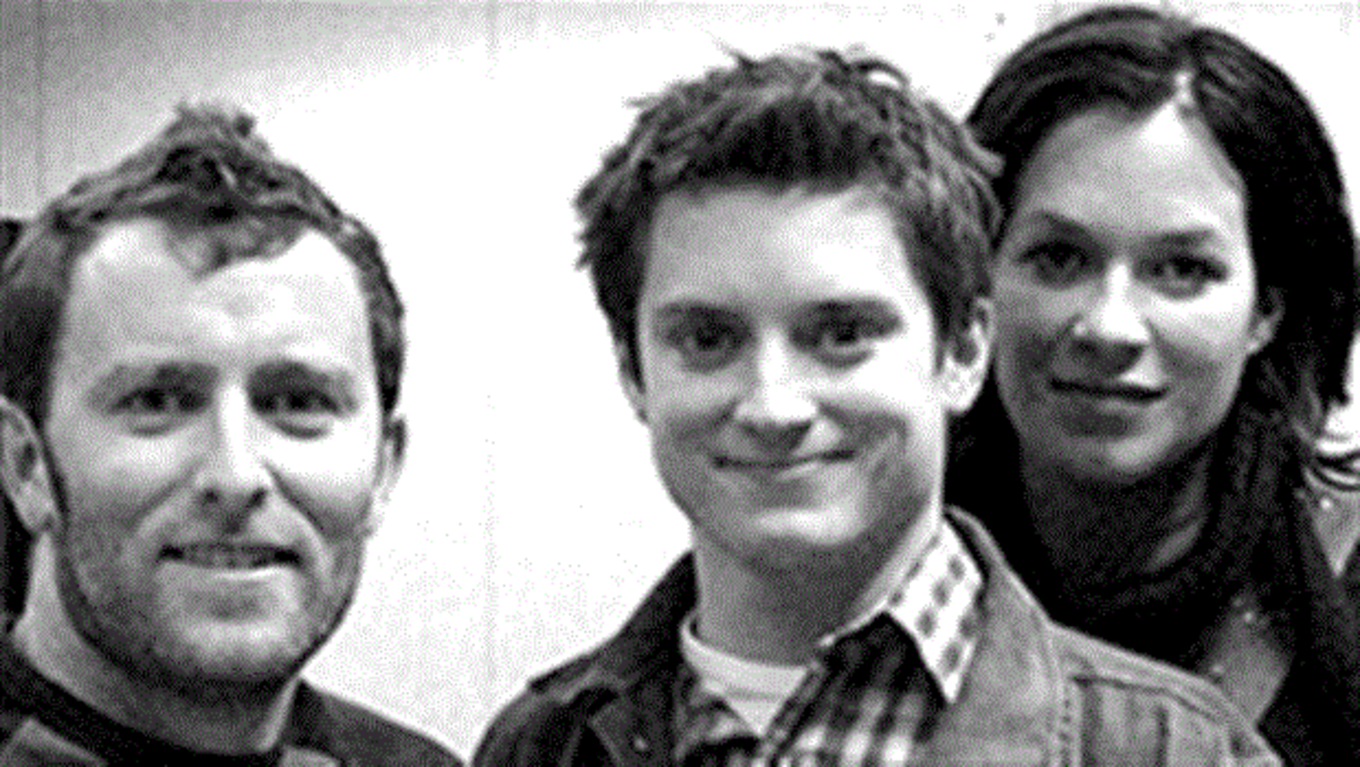 2001: Grant Lawrence becomes the host of RadioSonic, heard every Saturday night from 7pm - 10pm on CBC Radio 2 (Grant was previously host of the late night experimental Radio 2 program Radio Escapade). RadioSonic played a mix of Canadian and international music and featured a string of high profile guests, including Radiohead, Johnny Rotten, Steve Earle, William Shatner, and Elijah Wood (pictured).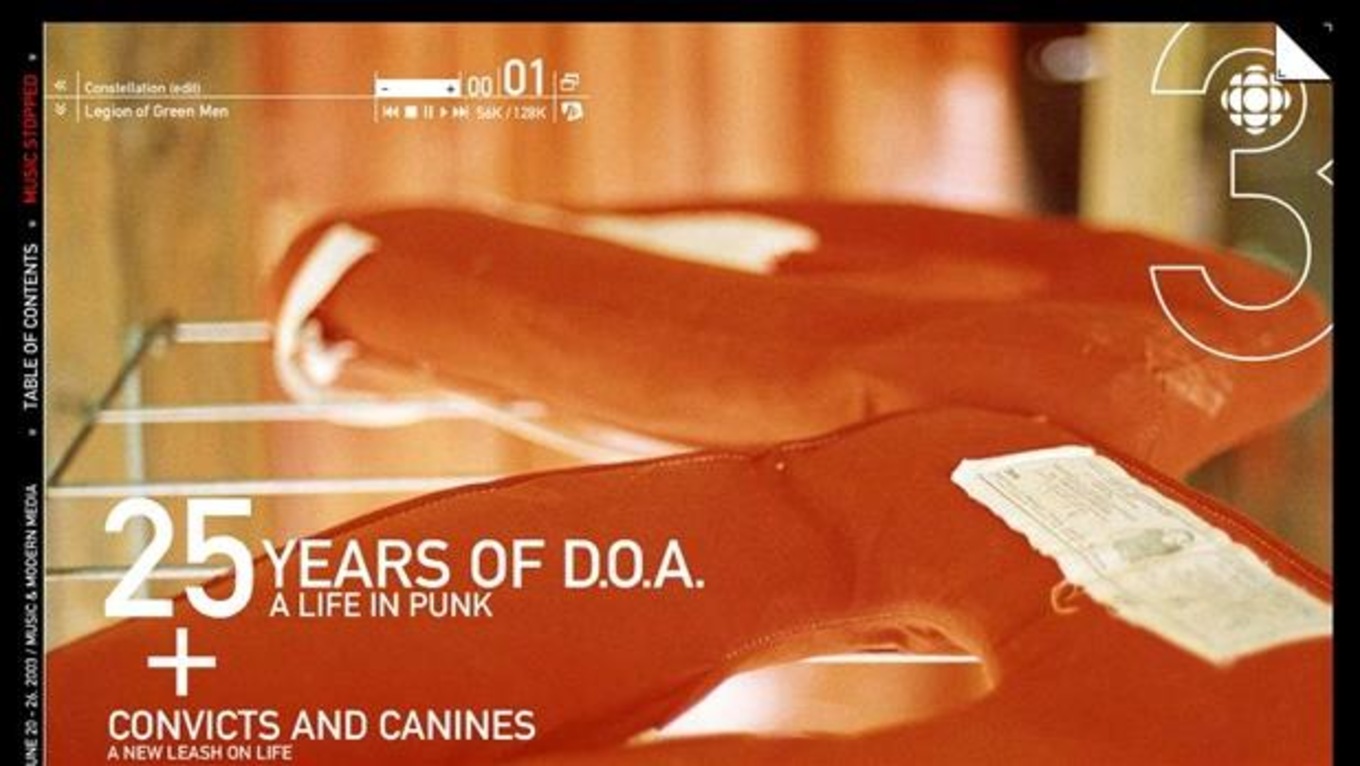 2002: Executive producer Rob McLaughlin, director Robert Ouimet, and a support staff of thirty producers, writers, and graphic designers, launch the CBC Radio 3 online magazine, a full screen web experience, with weekly issues filled with articles, photography, short films, and streaming playlists of Canadian music. The web magazine is an internet first, and wins over 20 awards, including three Webby Awards.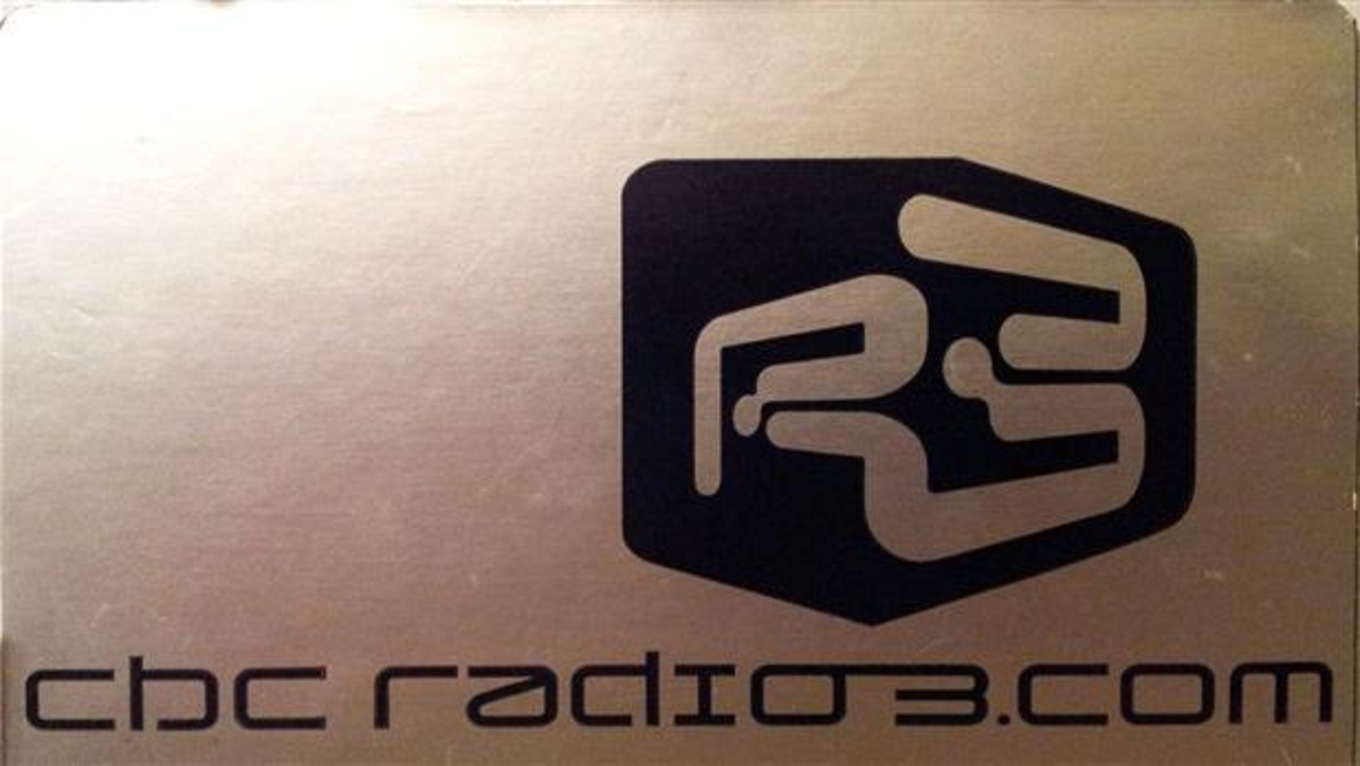 2003: The CBC Radio 3 logo circa 2003. This was the year that RadioSonic officially rebranded as CBC Radio 3 on Saturday nights on Radio 2... which was confusing, but fun. Alexis Mazurin was brought in to join Grant for a "hostless" season of produced features using content from the R3 online magazine. The experimental prime time show wins a coveted New York Festivals Grand Award for Best Radio show for the 2013/2014 season.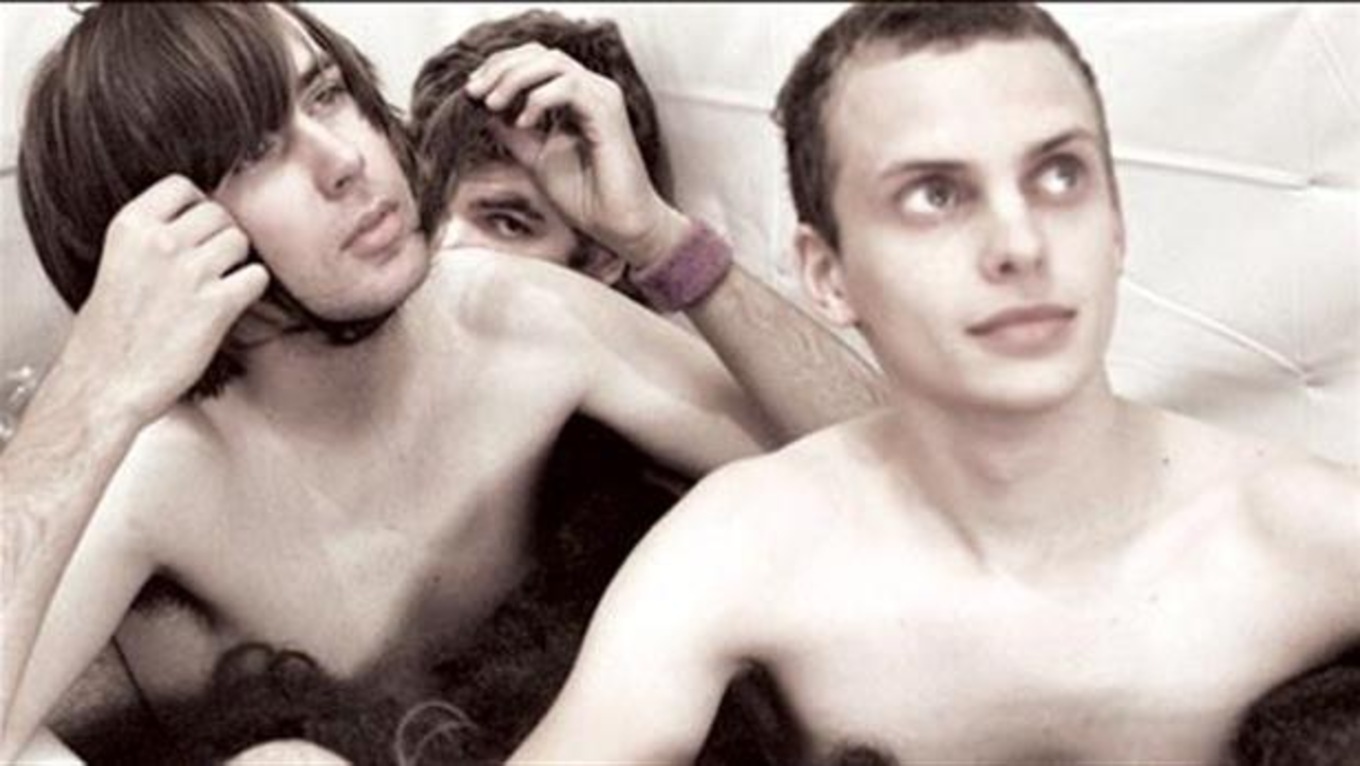 2004: In an effort to connect the burgeoning national Canadian independent music scene, CBC Radio 3 producers Andrea Gin and Don Pennington create the Connect The Dots national tour, featuring a different line up of bands in every major city across Canada, including The Unicorns (pictured, who prove to be wildly popular but a complete live disaster), the Super Friendz, the Deadly Snakes, Young and Sexy, Dragon Fli Empire and many others.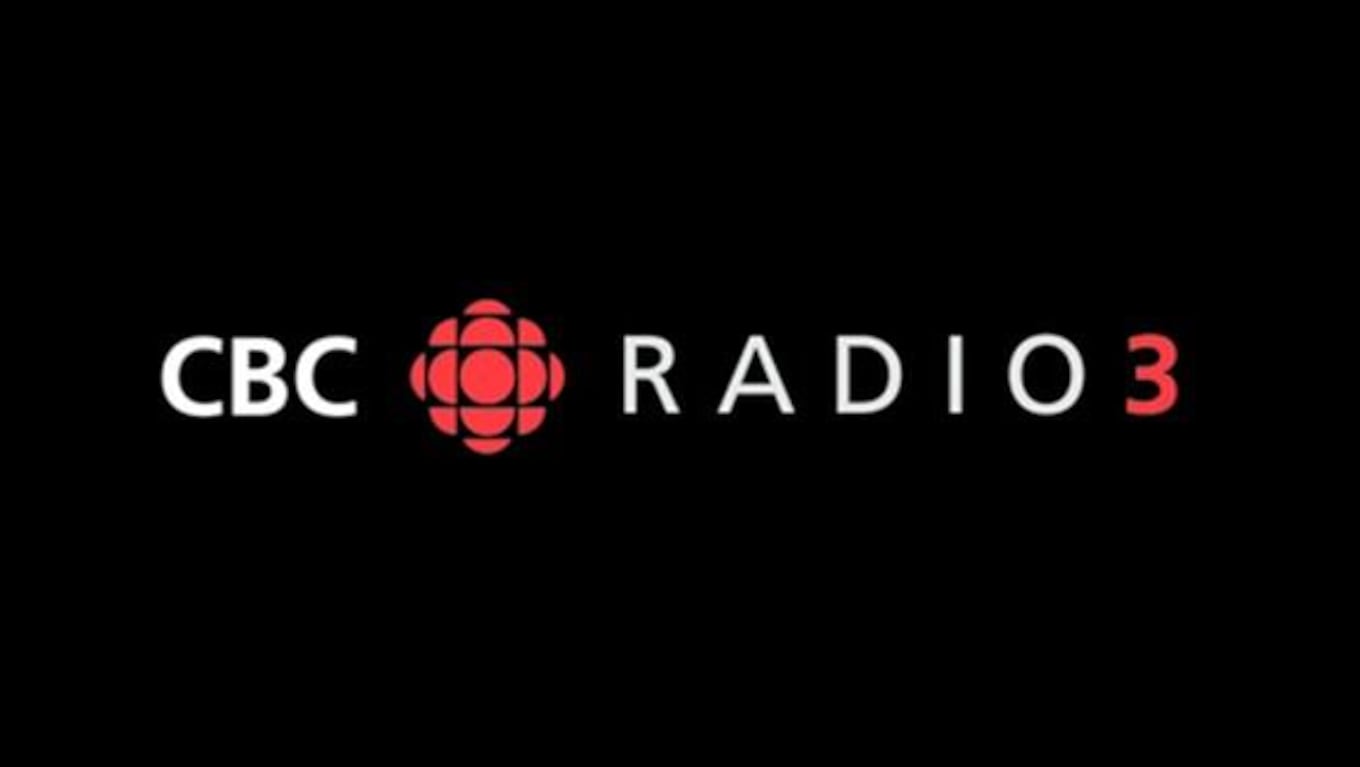 2004: The CBC Radio 3 logo circa 2004... on the eve of the biggest change yet.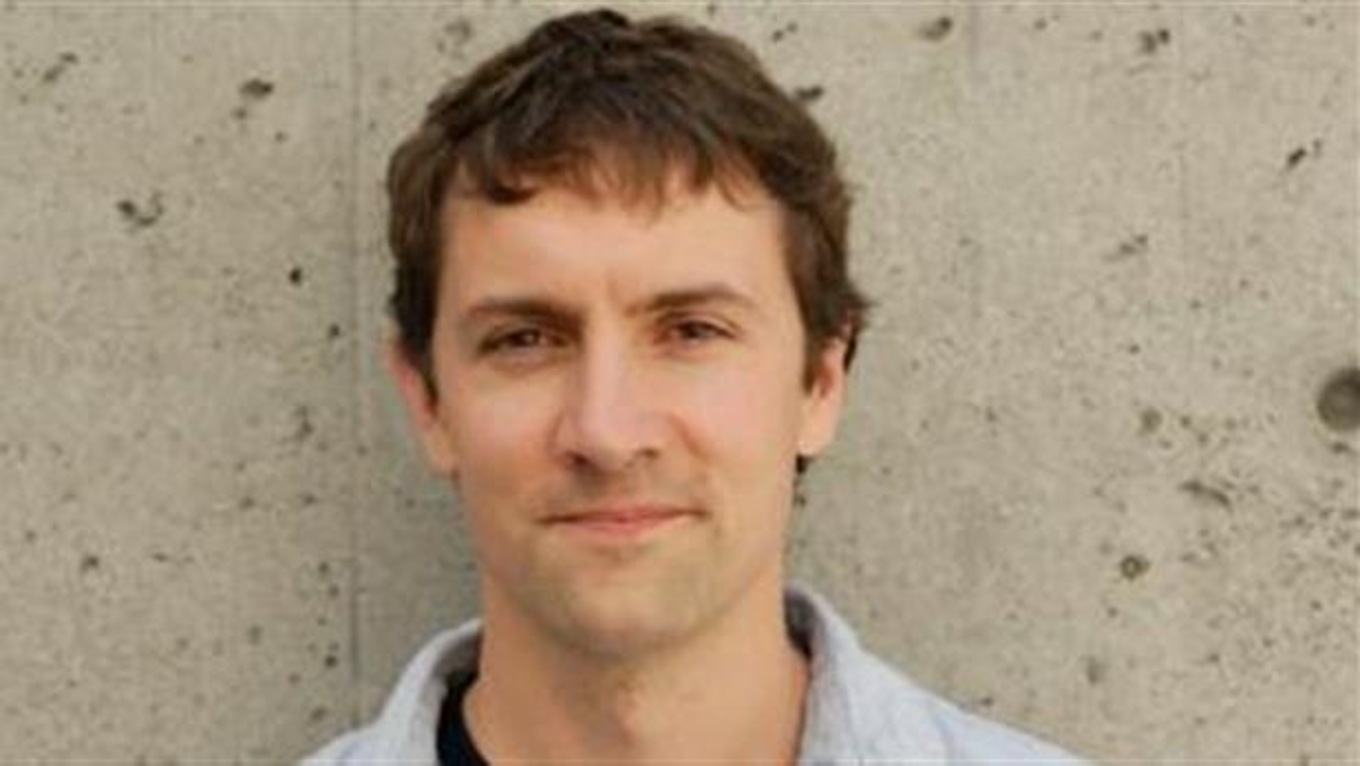 2004: Young media visionary Steve Pratt officially becomes the new director of CBC Radio 3 late in the year, replacing Robert Ouimet. The Radio 3 magazine celebrates its final issue, and all three original websites, still operating as separate satellites, are brought together under one banner of cbcradio3.com.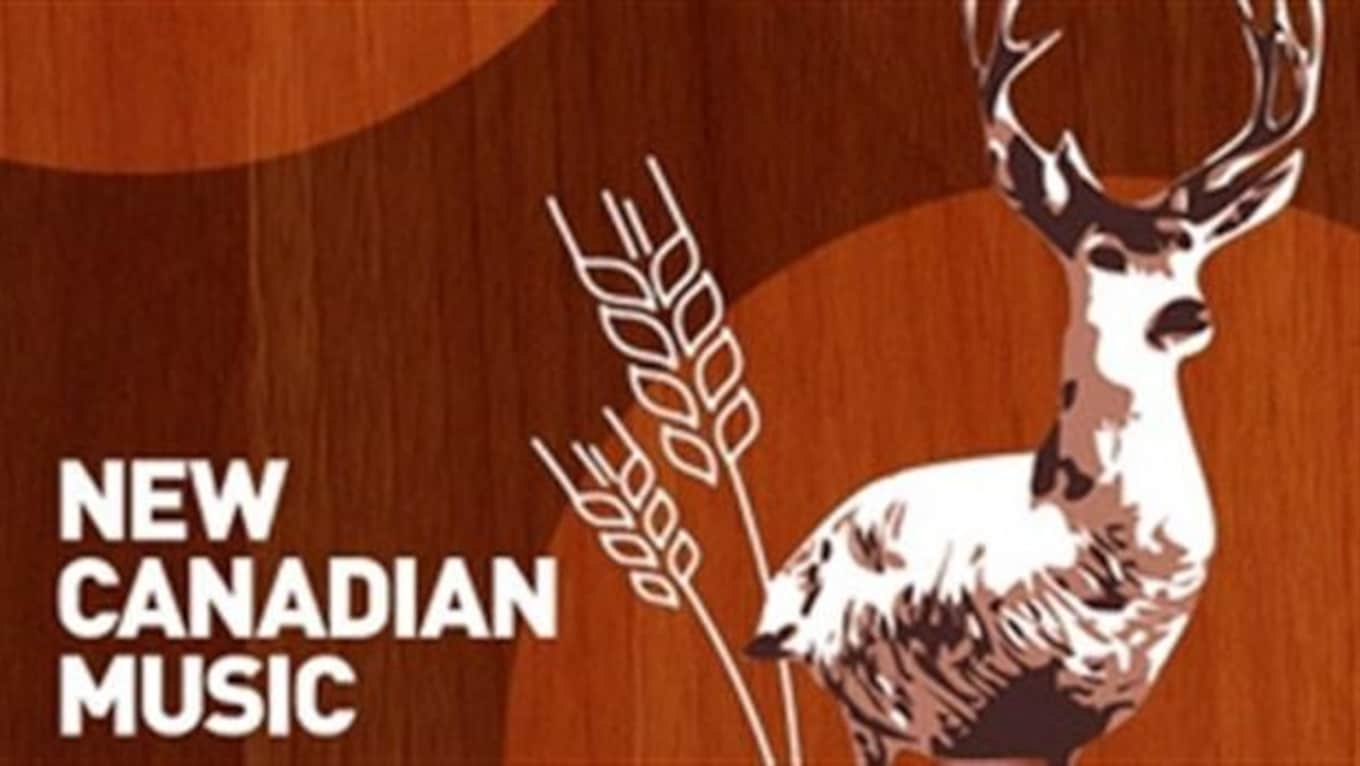 2005: Steve Pratt creates the CBC Radio 3 Podcast with host Grant Lawrence. Along with producers Don Pennington and Chris Kelly, and music programmer James Booth, the podcast launches in June of 2005. It's one of the first-ever podcasts from the CBC, and features exclusively Canadian tracks from the now-massive NewMusicCanada/R3 database of artists.
Within weeks it's the #1 podcast in Canada, where it remains for over a year. By the fall of 2005, the podcast has 125,000 weekly listeners and growing. Popular editions include Sweatin' to the Indies, the Roadtrip Mixtape, and Sing For Your Song. The R3 Podcast proves to be a game-changer, leading to a string of other Radio 3 podcasts, and still continues to this day.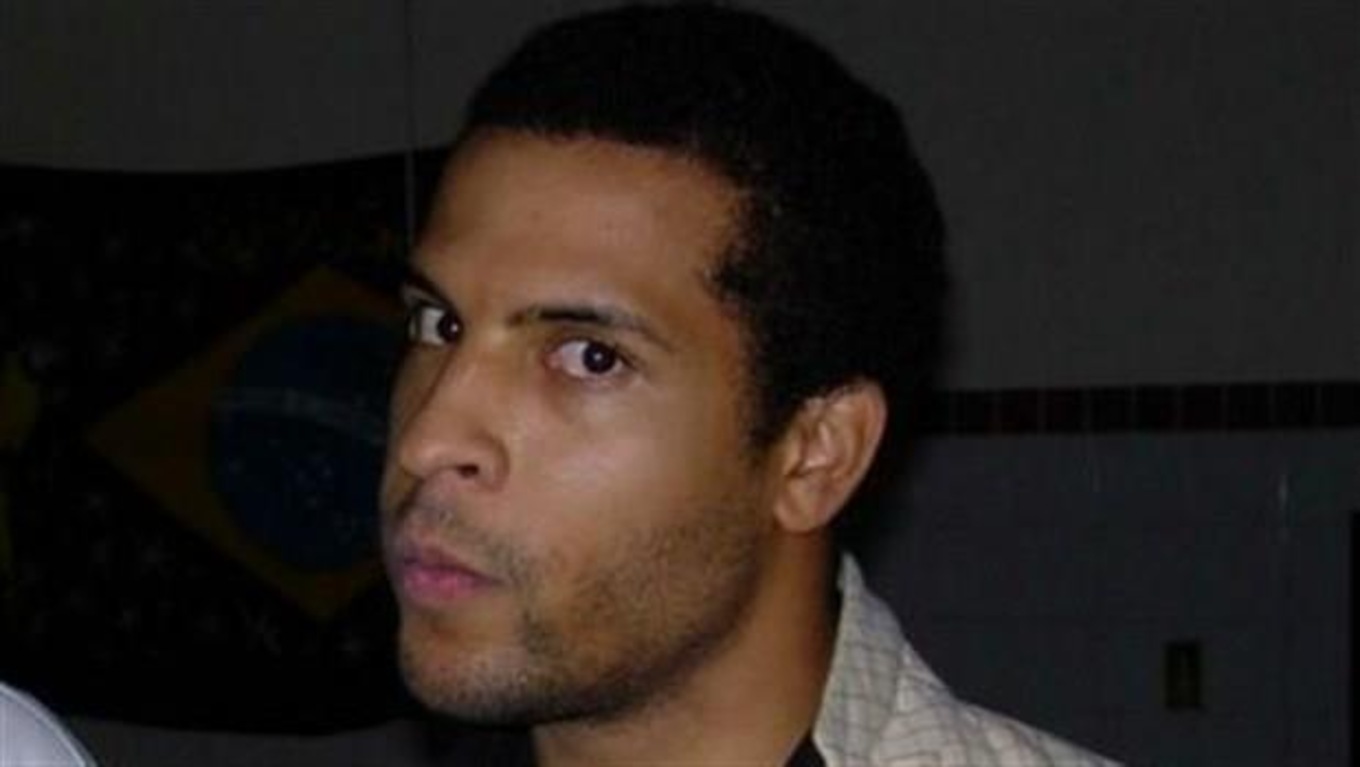 2005: Tragedy strikes Radio 3 as host Alexis Mazurin suffers a massive heart attack at the Burning Man Festival in Nevada. He dies months later in hospital in Vancouver, never regaining consciousness. The CBC Radio 3 studio in Vancouver is renamed in his honour. Alexis is deeply missed to this day.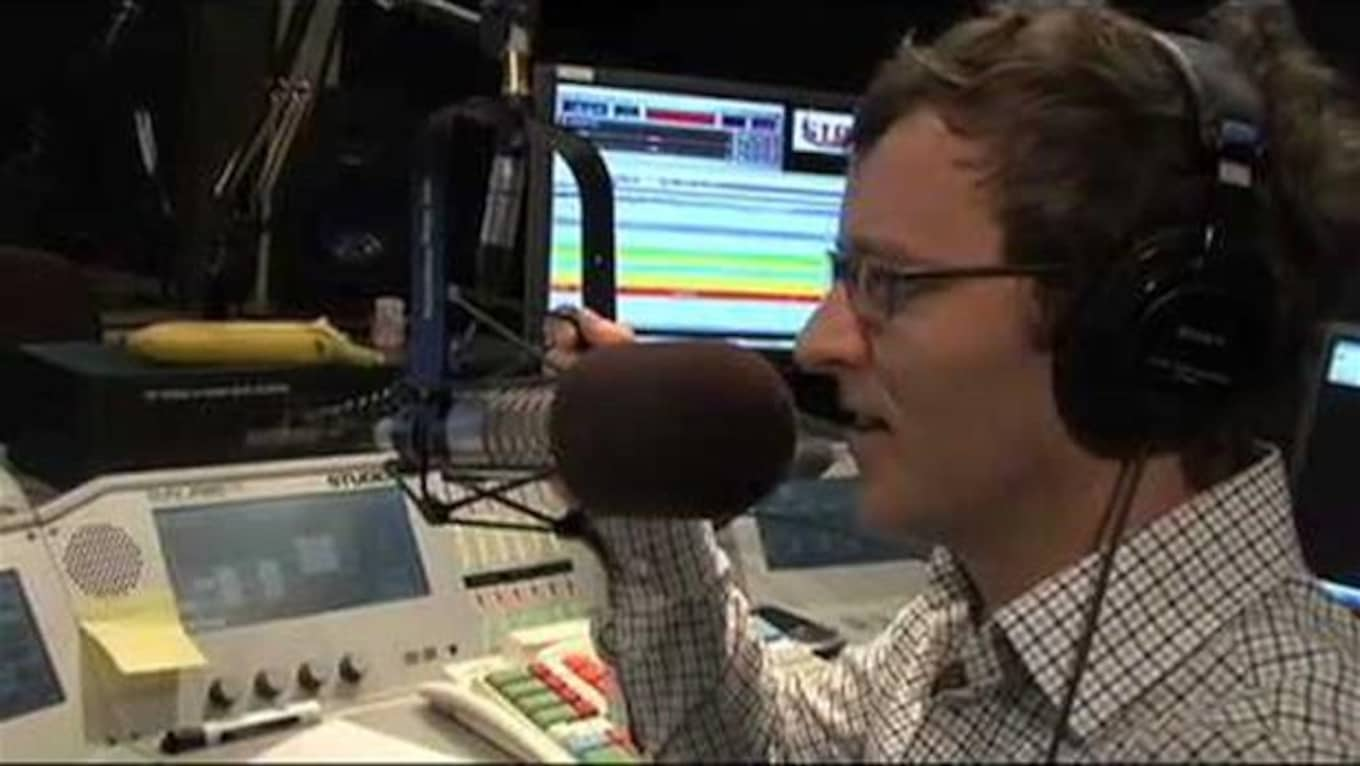 2005: CBC Radio 3 launches a live, 24-7 music channel on the brand new Sirius satellite radio service. Grant Lawrence flips the switch live to North America at noon on December 2, in brand new studios, with a cast of new hosts and producers in Vancouver and Toronto. Exciting times! Grant's daily show is appropriately titled Grant Lawrence Live, to differentiate it from the podcast. Themes like Trivia Tuesday, All Request Monday, and the Rock n Roll Movie Club quickly emerge as regular features.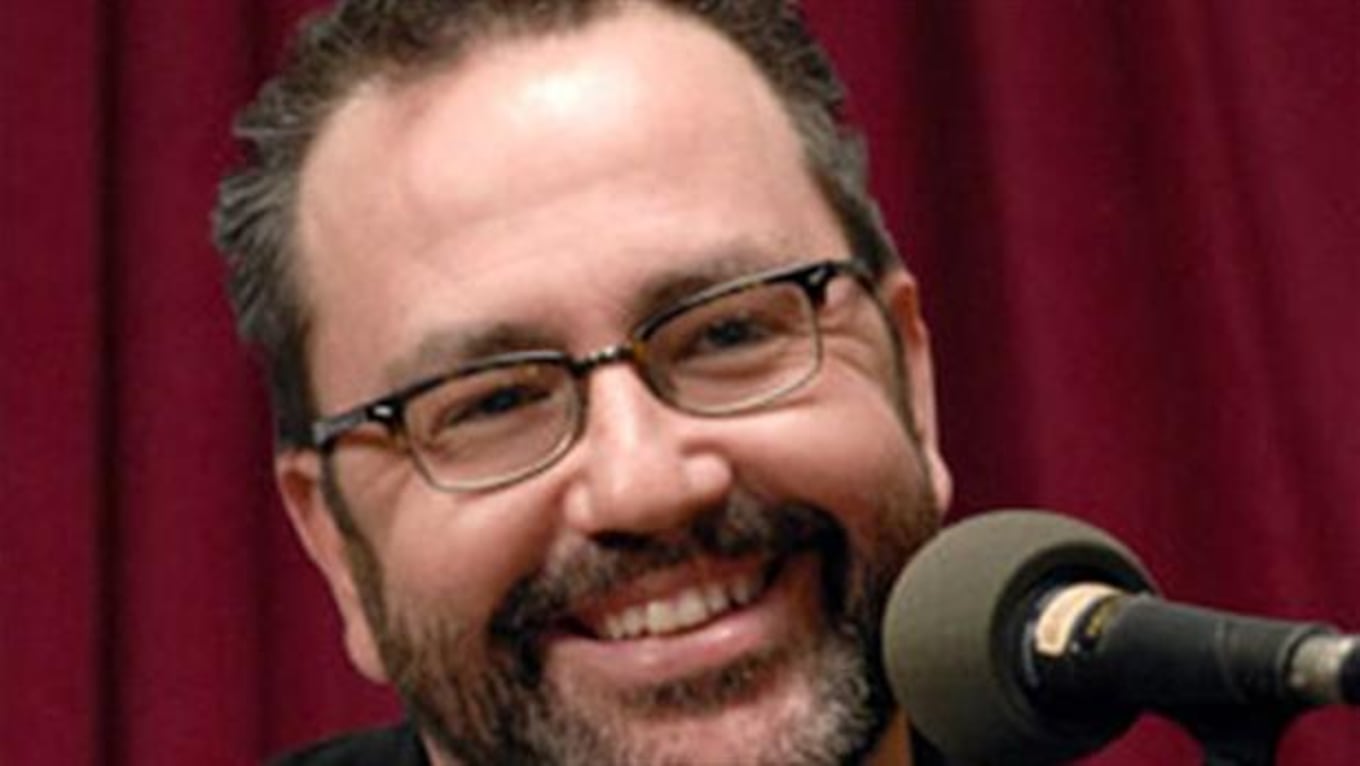 2006: Beloved and hilarious Radio 3 host Craig Norris, along with producer Pedro Mendes and their pesky puppet Jijou Fantouche, launch the hugely popular R3-30 Podcast and weekly radio show out of Radio 3 in Toronto. The three-hour Craig Norris Hour is the new official national morning show for CBC Radio 3, with features like the Listener Co-Host Initiative and the Watercooler Wednesdays. (Craig first started part time with Radio 3 in 2005).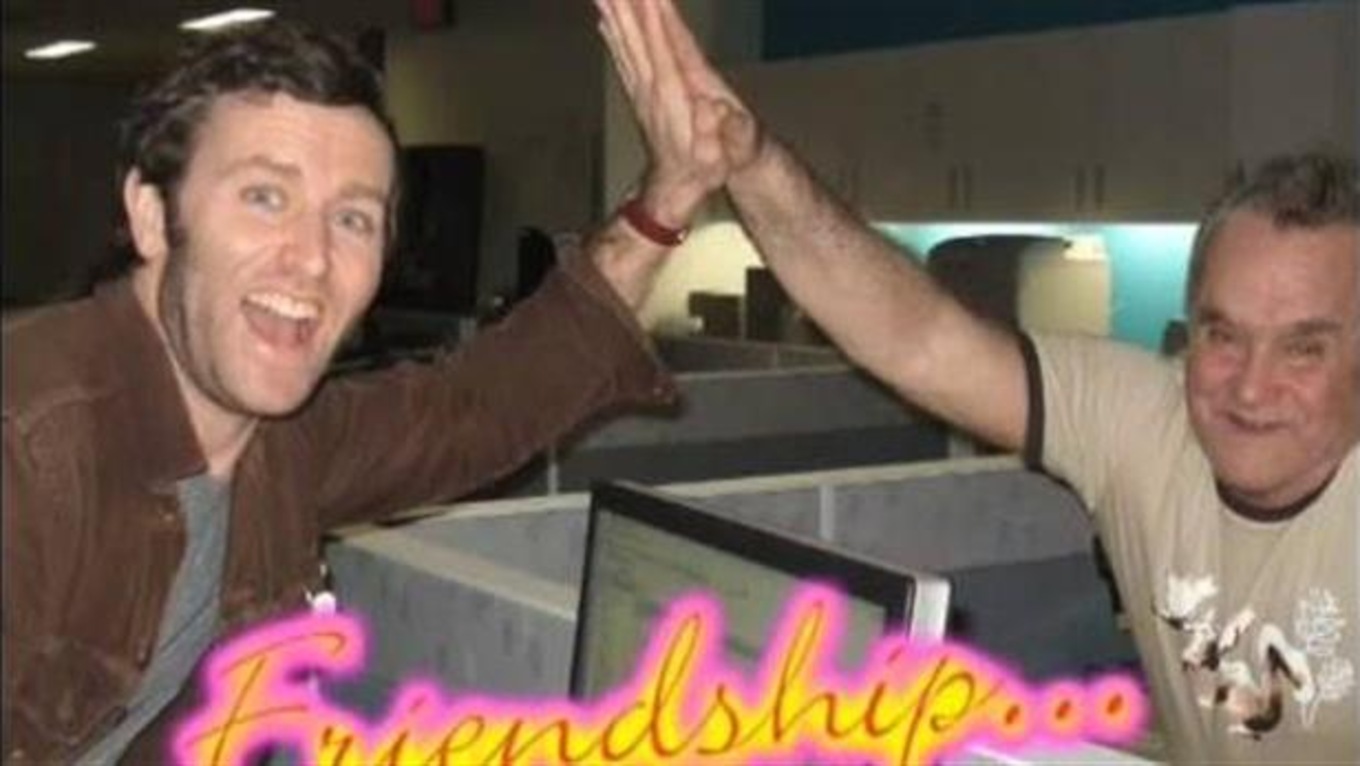 2006: Director / producer Jordan Kawchuk debuts R3TV, a video podcast that features The Office-like sketches with actual Radio 3 employees... and a weird, foul-mouthed old man named Scotty (pictured R). 106 episodes are produced from 2006-2010.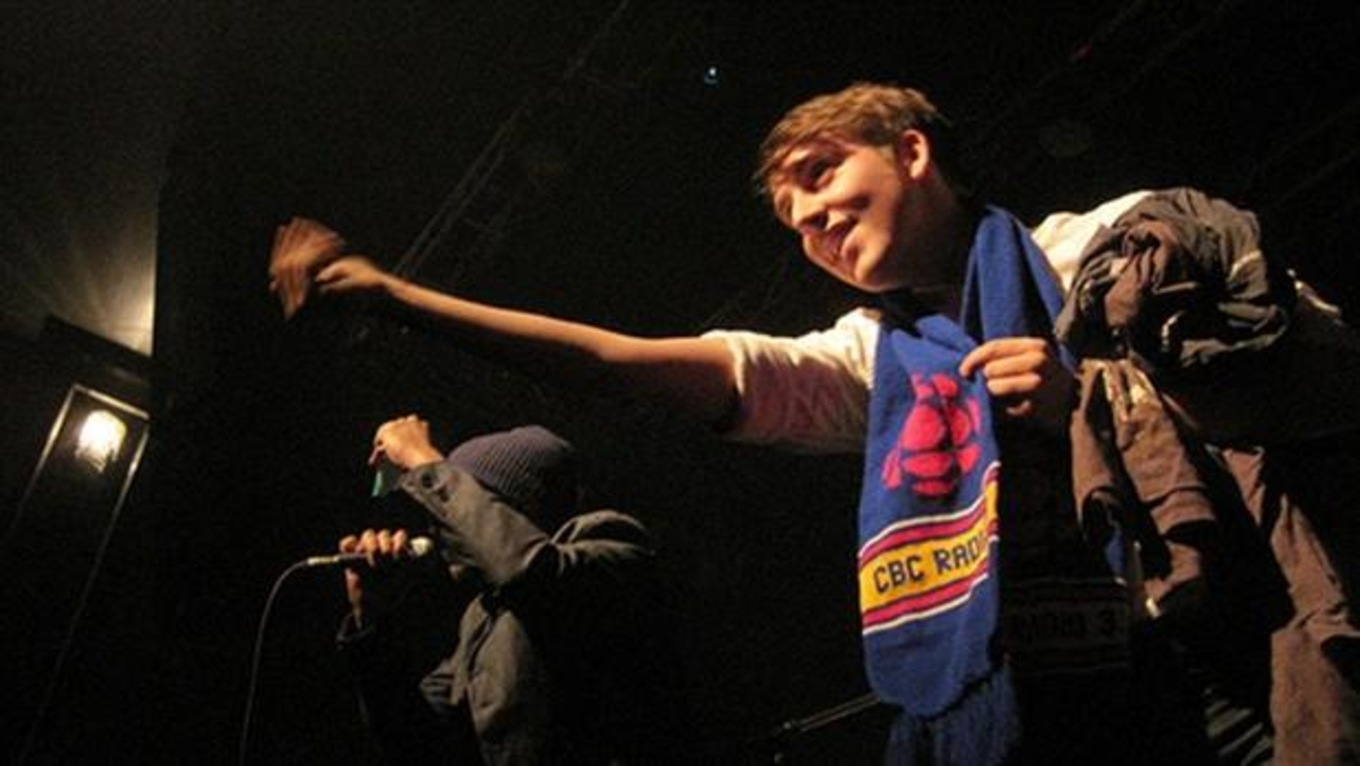 2006: Young producer Chris Kelly arrives in an explosion of positive energy and work ethic. He proves to be an audio wizard and star-producer on the Radio 3 Podcast, and on many live shows and special events for years, working with all the hosts. He is now the award-winning producer of the hit CBC Radio 1 comedy series This Is That.
2006: After a Grant-Rant on the R3 Podcast blasting the Junos for overlooking the Arcade Fire in the major categories, a listener suggests Radio 3 put our money where our mouth is and create our own awards show. We do. In December, the first-ever Bucky Awards (named after our mascot) are held, with categories such as Sexiest Musician, Best Bass Line, Best Hair, and Future Classic. The awards would be held yearly until 2014, when they became the CBC Music Awards.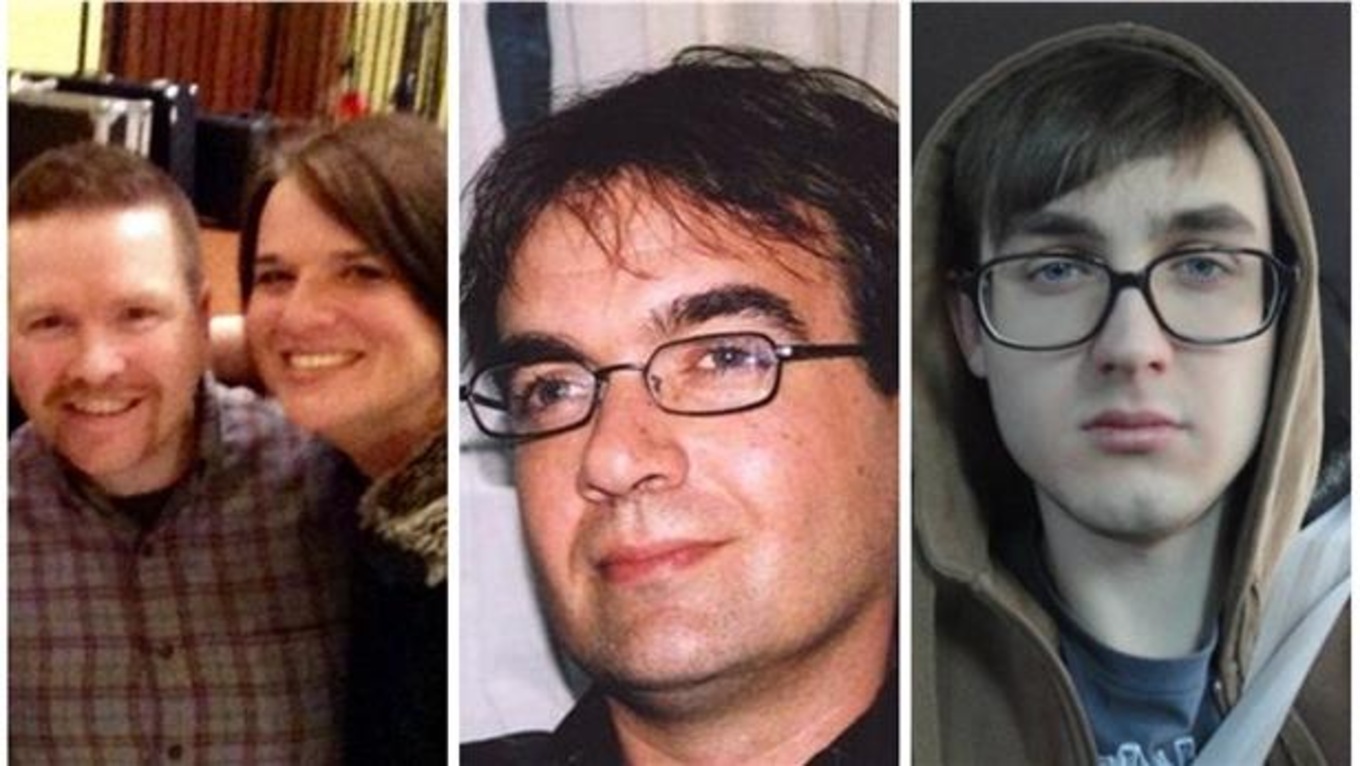 2006: Also included in the Bucky Awards is a prize for Fan of the Year, to recognize the passionate and growing audience. From L-R: John "tb3" Teeter (2006), Justin Beach (2007), and Colin Medley (2008).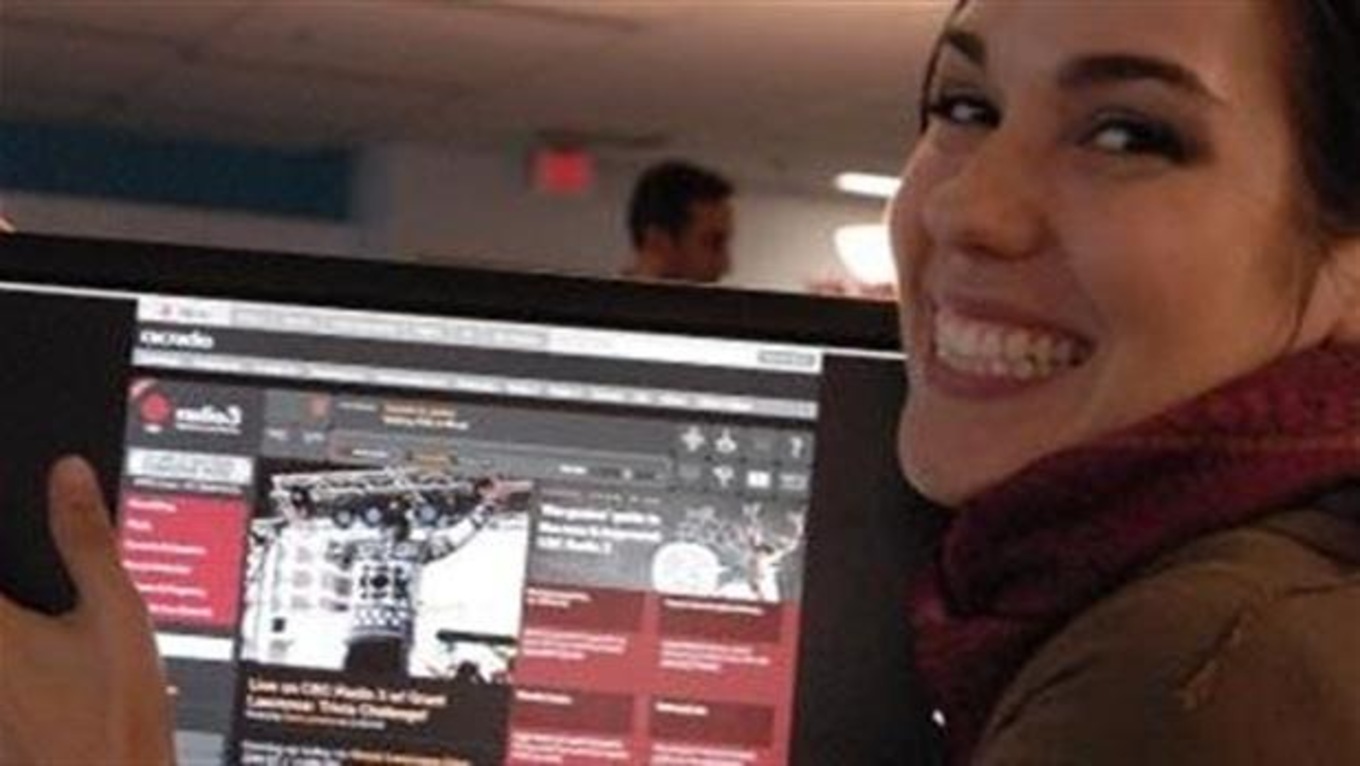 2007: Enter one of the all-time greatest, friendliest, and most photogenic Radio 3 hosts: lovely Lana Gay! Lana is quick to introduce her love of music, food, and Dolly Parton to the airwaves on her national afternoon program Lanarama.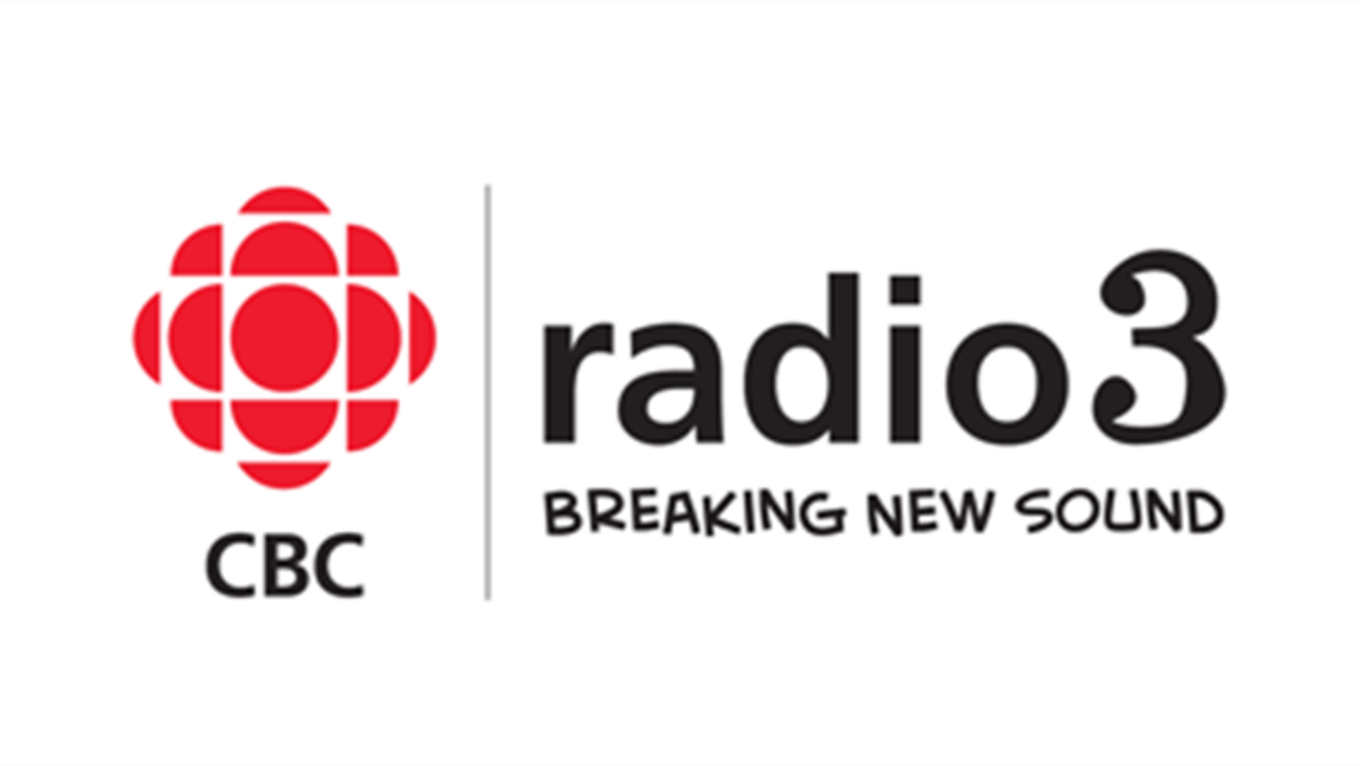 2007: The Radio 3 logo circa 2007, featuring the catch line director Steve Pratt came up with in the shower: Breaking New Sound.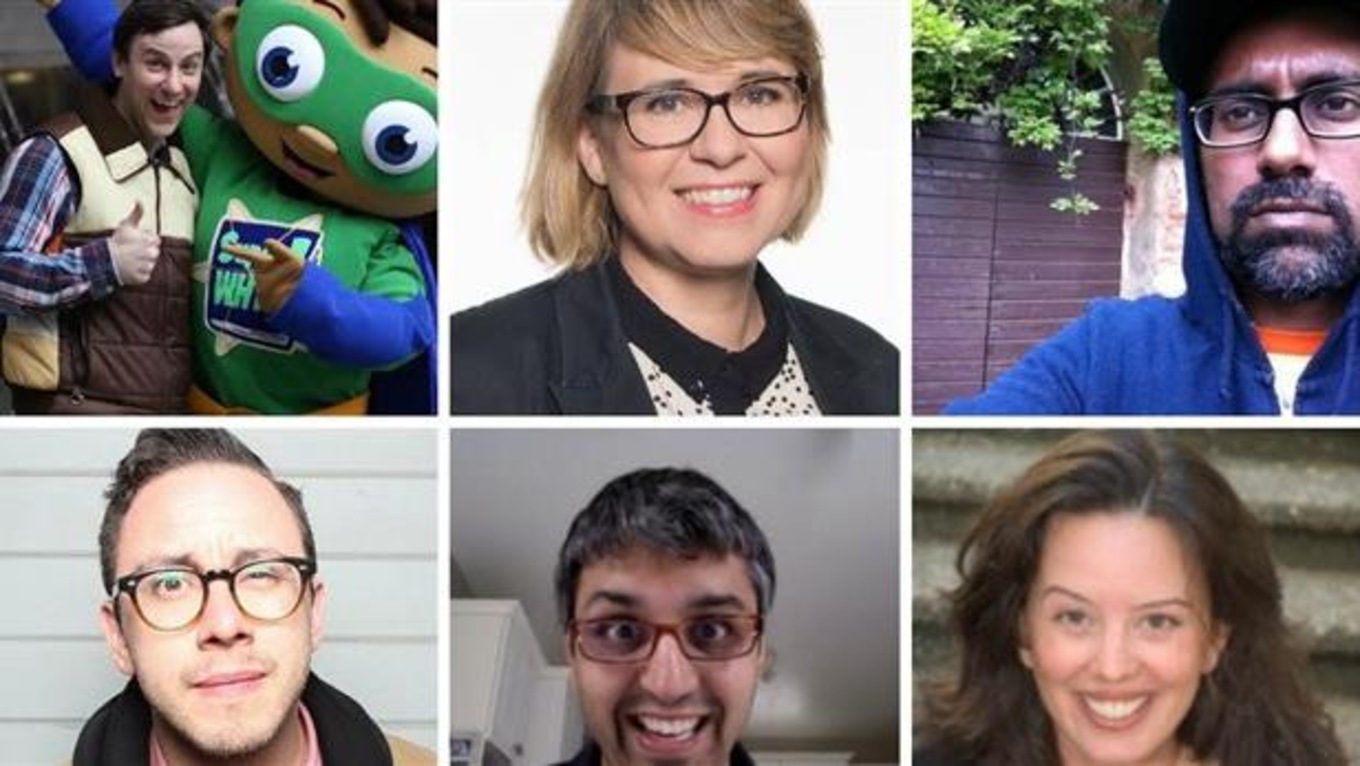 2007: CBC Radio 3 launches a simultaneous live web stream with our Sirius channel and our schedule is packed with great hosts. Joining Grant Lawrence, Craig Norris and Lana Gay are (top L-R) Dave Shumka, Lisa Christiansen, Tariq Hussein, (bottom L-R) Graham Wright (Tokyo Police Club), Vish Khanna, and Lauren Burrows. This also creates the CBC Radio 3 blog community: listeners commenting with hosts in a daily forum.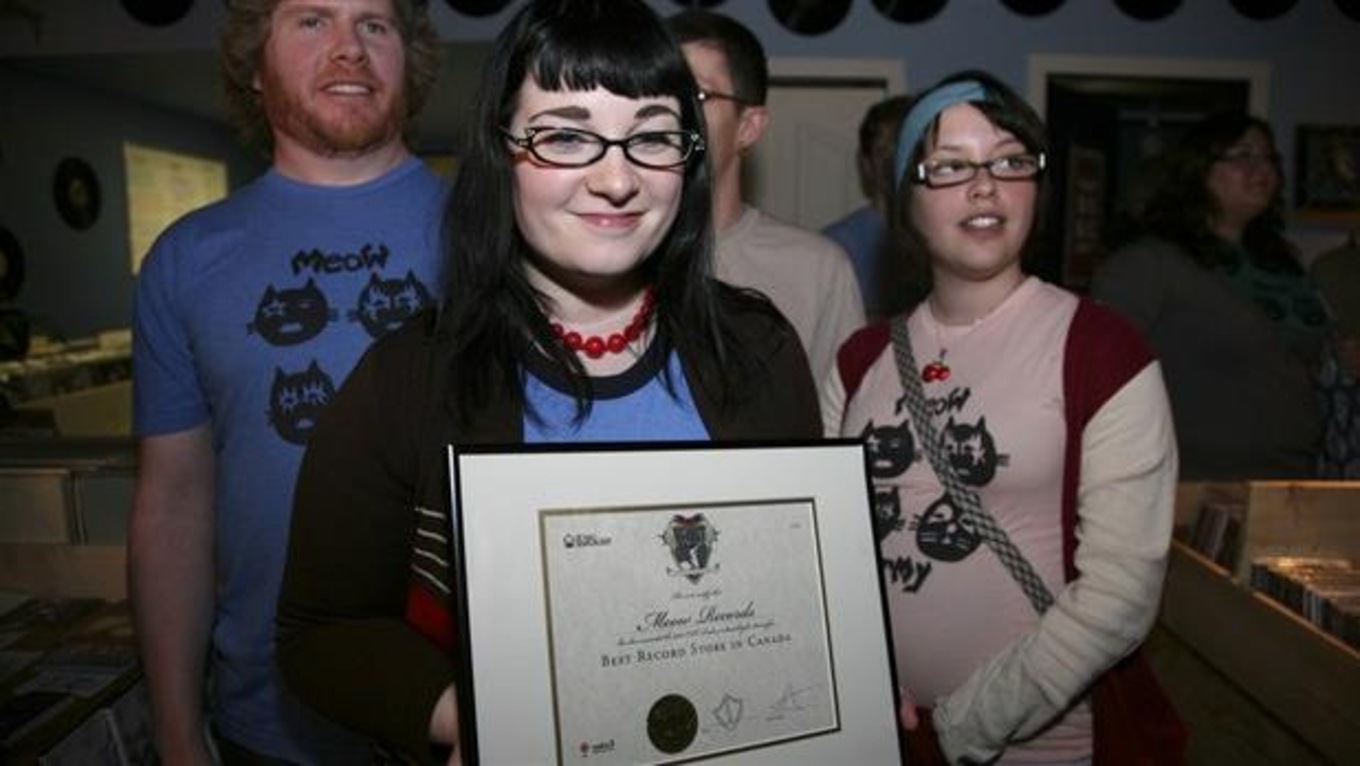 2008: Grant Lawrence launches Searchlight, a national contest seeking out the best that Canada has to offer musicially. The first year is the hunt for the best record store in Canada, which is awarded by fervent fan-vote to Meow Records of Prince George BC. Searchlight would go on to become a yearly pillar of the Radio 3 and CBC Music calendar.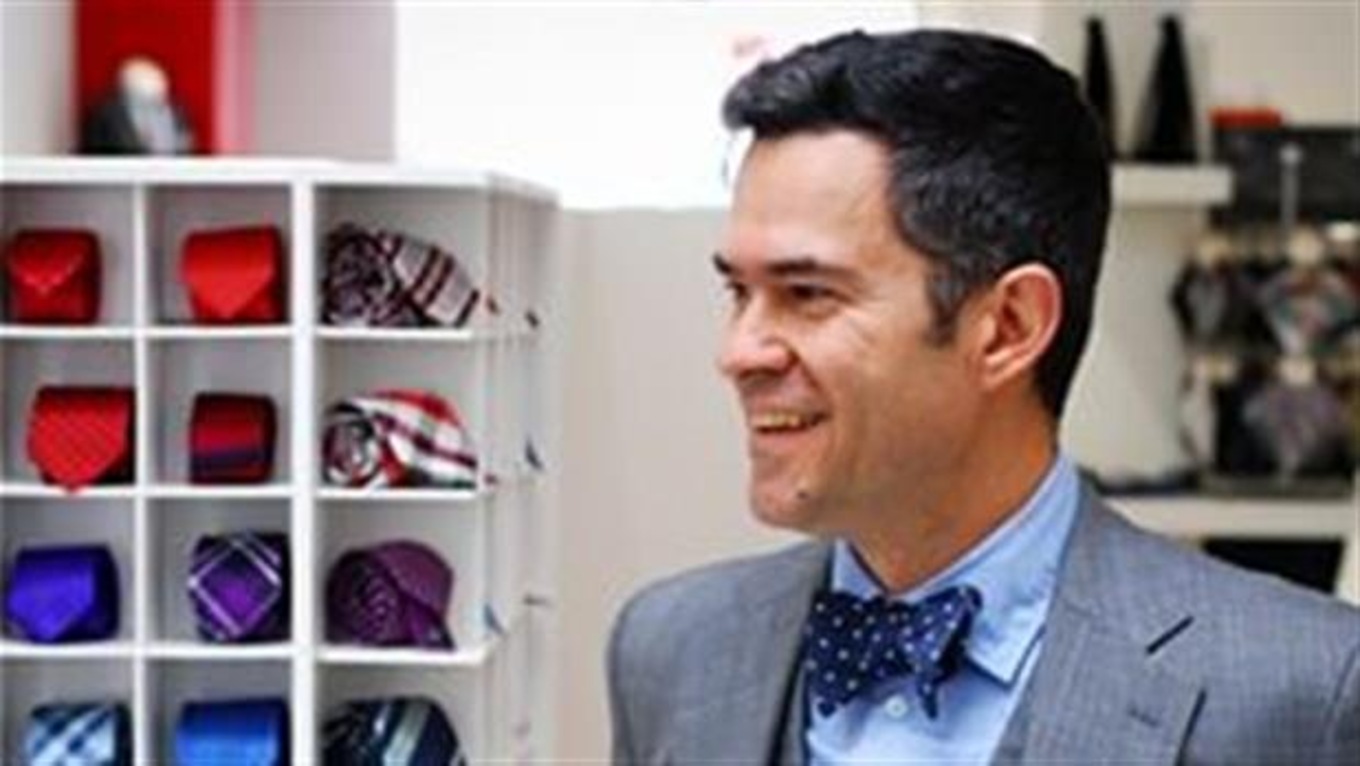 2008: The ever-dapper and debonair producer Pedro Mendes is a long-time fixture of Radio 3 in Toronto, utilizing his sharp production skills and wicked sense of humour while working closely with Craig Norris for years.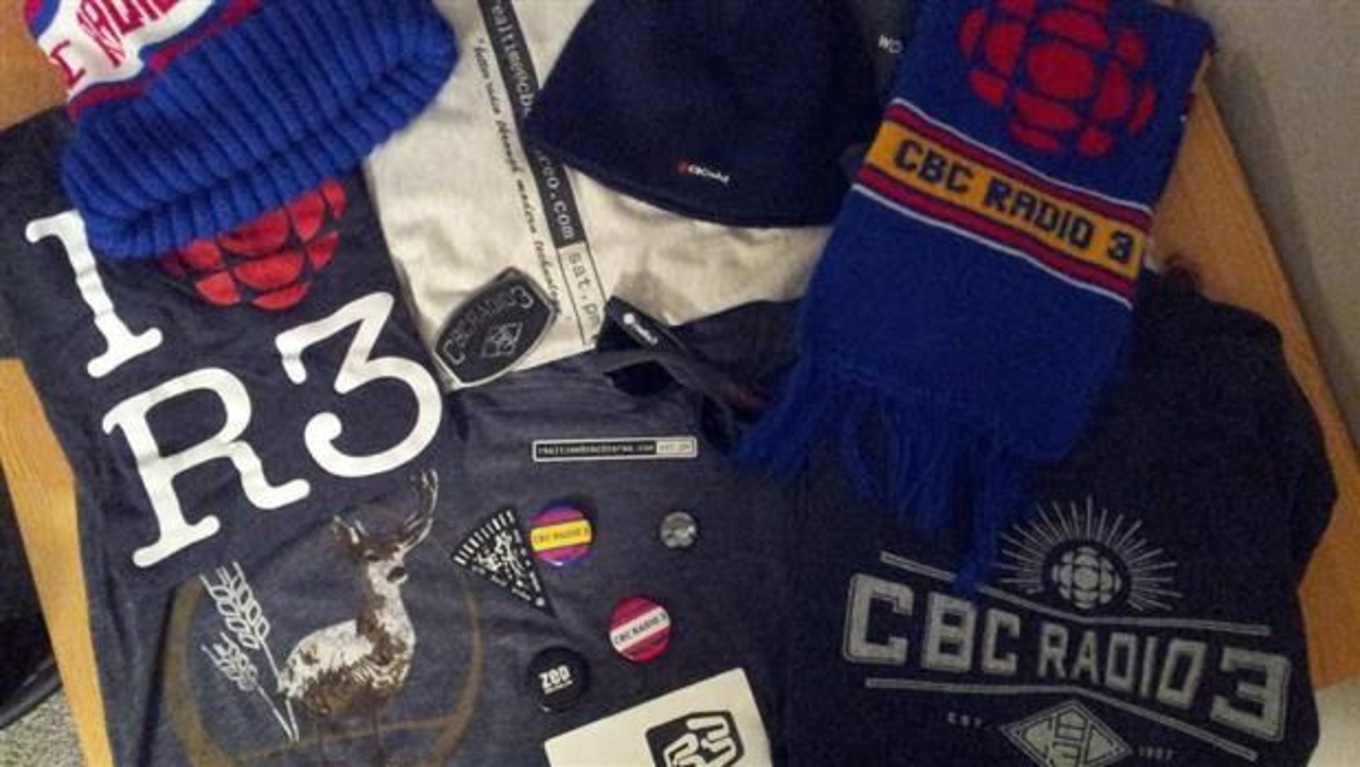 2009: The quirky, nostalgic, vintage-style Radio 3 merchandise explodes with unprecedented popularity. Soon the highly coveted R3 scarves and toques are seen bobbing on stages and dance floors across Canada.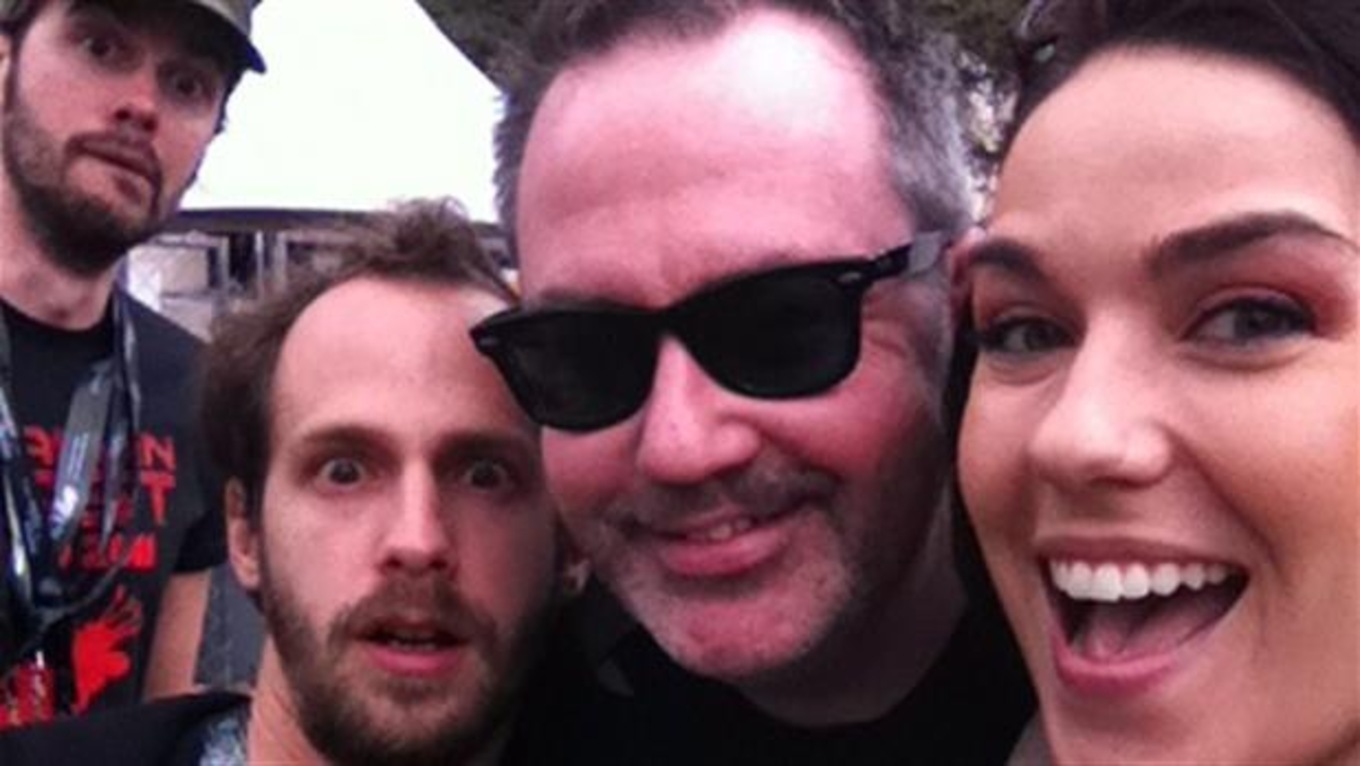 2009: Radio 3 is everywhere, broadcasting live at music events all over North America: Canadian Music Week, North By Northeast, the Halifax Pop Explosion, the CMJ Music Marathon, the East Coast Music Awards, the Junos, the Grammy Awards, Pop Montreal, the Polaris Music Prize, and South By Southwest (pictured, with hosts Craig Norris, Lana Gay, and producer Yuani Frugata). Brand awareness is at an all-time high.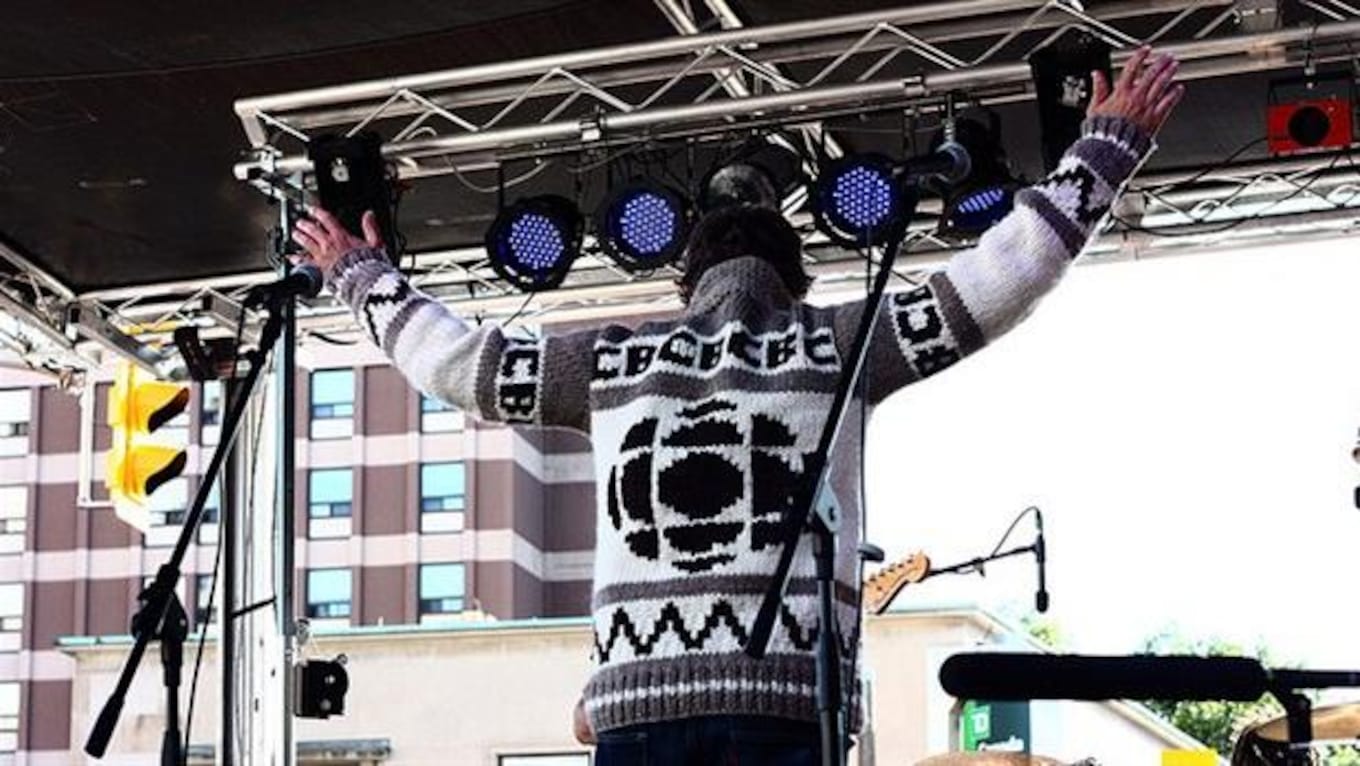 2009: Grant Lawrence is given the custom-knit CBC Sweater from Granted Clothing (no relation), which becomes a trademark for years to come. Several matching sweaters are given away to listeners over the years as the season-ending grand prize on Trivia Tuesday, a weekly feature on Grant Lawrence Live. Pictured here at the Searchlight celebration for Best Venue in Canada, awarded to the Phog Lounge of Windsor, Ontario.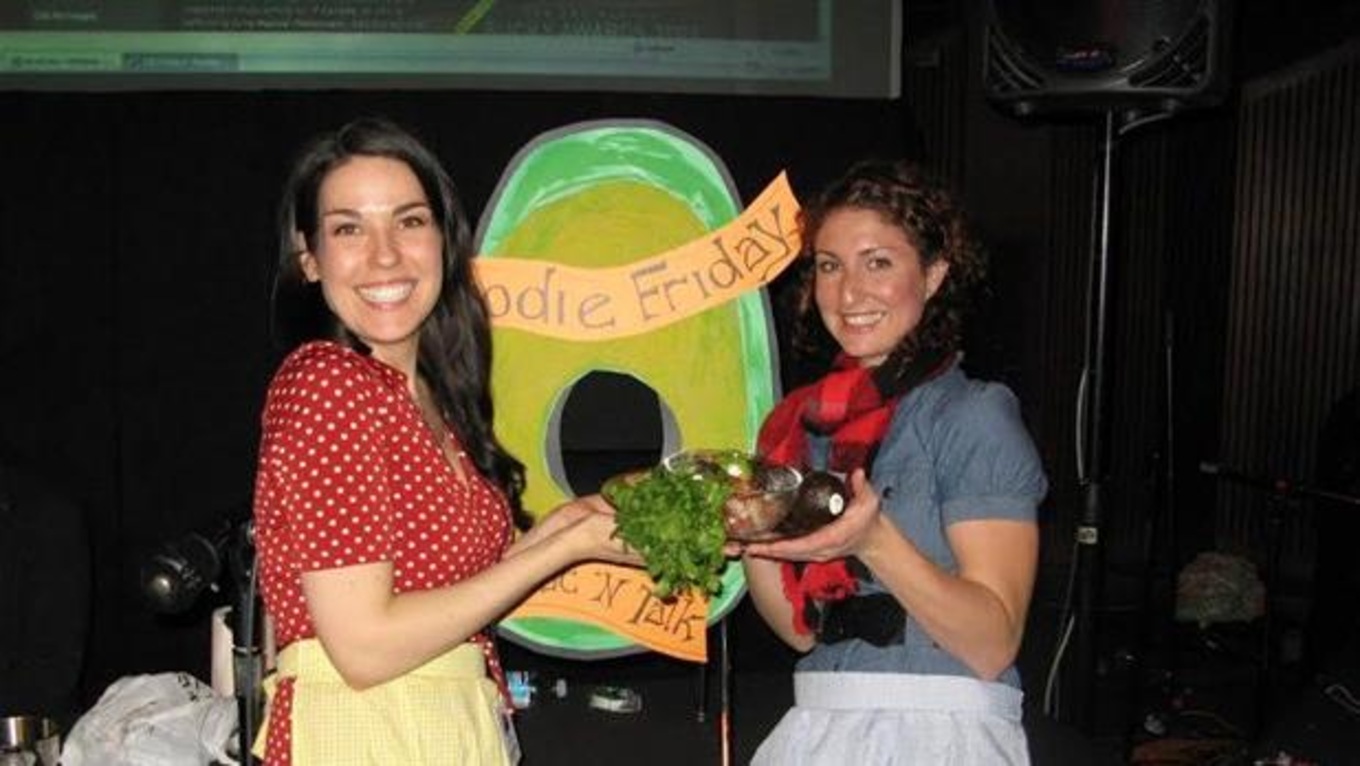 2009: Hannah Georgas is a guest on Lana Gay's Foodie Friday for a yummy weekly segment called Guac 'n Talk.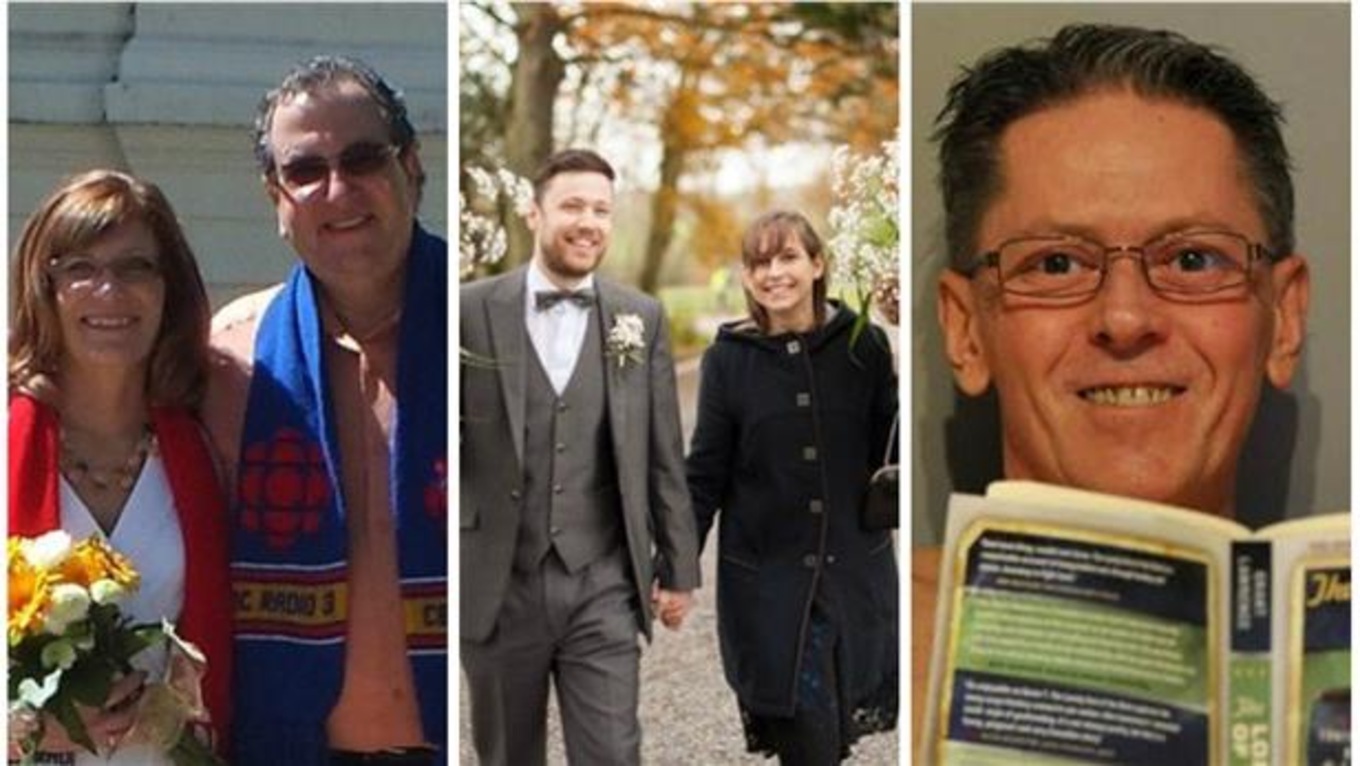 2009: Our cavalcade of Fans of the Year continue with each Bucky Awards year-end celebration. L-R: Lee "mcflyer" Hower (2009), Monica "moniski" Skorupski (2010), and Russ "CDNz1" Gordon (2011).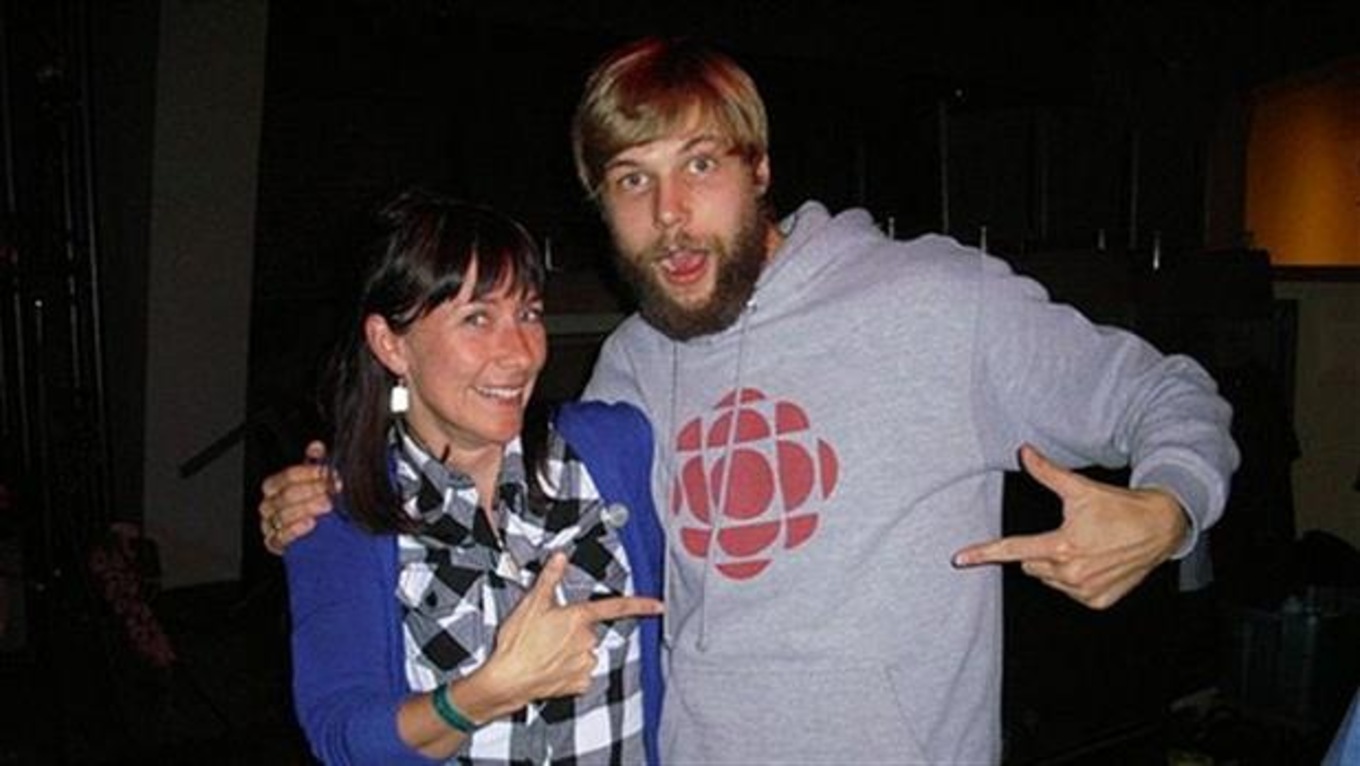 2009: Amanda Putz joins Radio 3, hosting her show out of Ottawa, marking the only time a Radio 3 program originated from outside of Vancouver or Toronto. Seen here with musician Will Currie, Amanda now lives in the Netherlands (but not with Will Currie).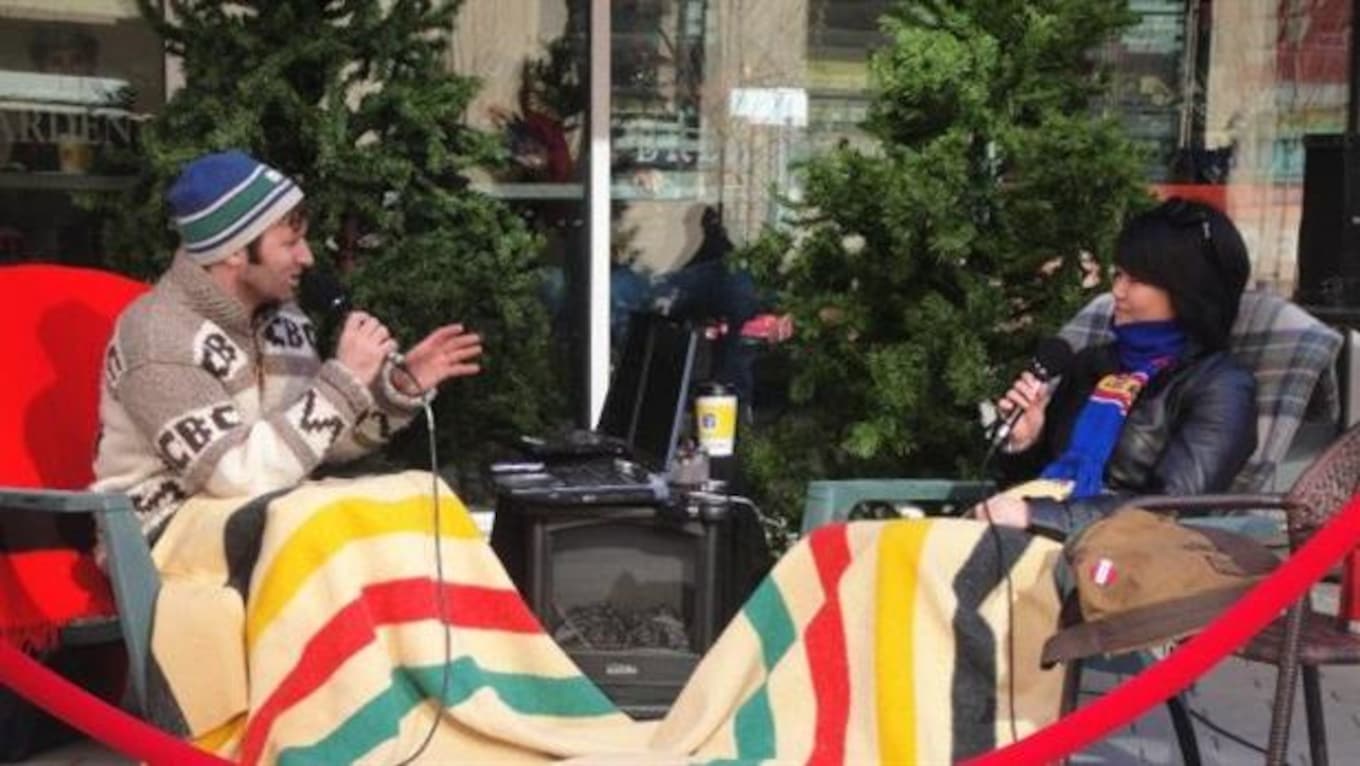 2010: For two weeks in February, hosts Grant Lawrence, Lana Gay, and Lisa Christiansen broadcast live on the CBC Vancouver Plaza from the "Radio 3 Chalet" during the 2010 Vancouver Winter Olympics. Countless musical guests come through, all part of the Cultural Olympiad. Here Grant interviews audience member Brenda "knottynerb" Lee.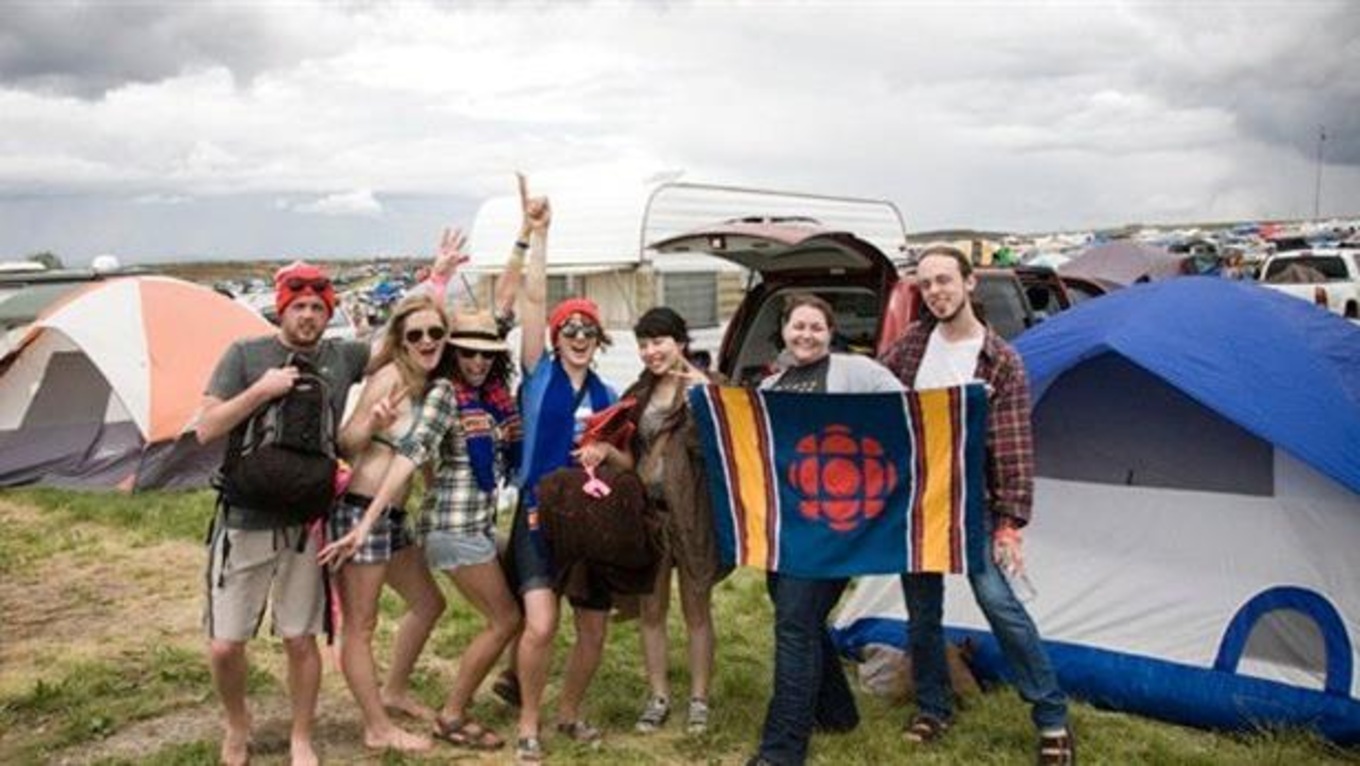 2010: Originally meeting on the Radio 3 blog community, groups start popping up all over North America: like-minded music fans supporting Canadian music, and often road tripping to do it, like this group of Western Canadians representing the CBC at the Sasquatch Music Festival in Washington State.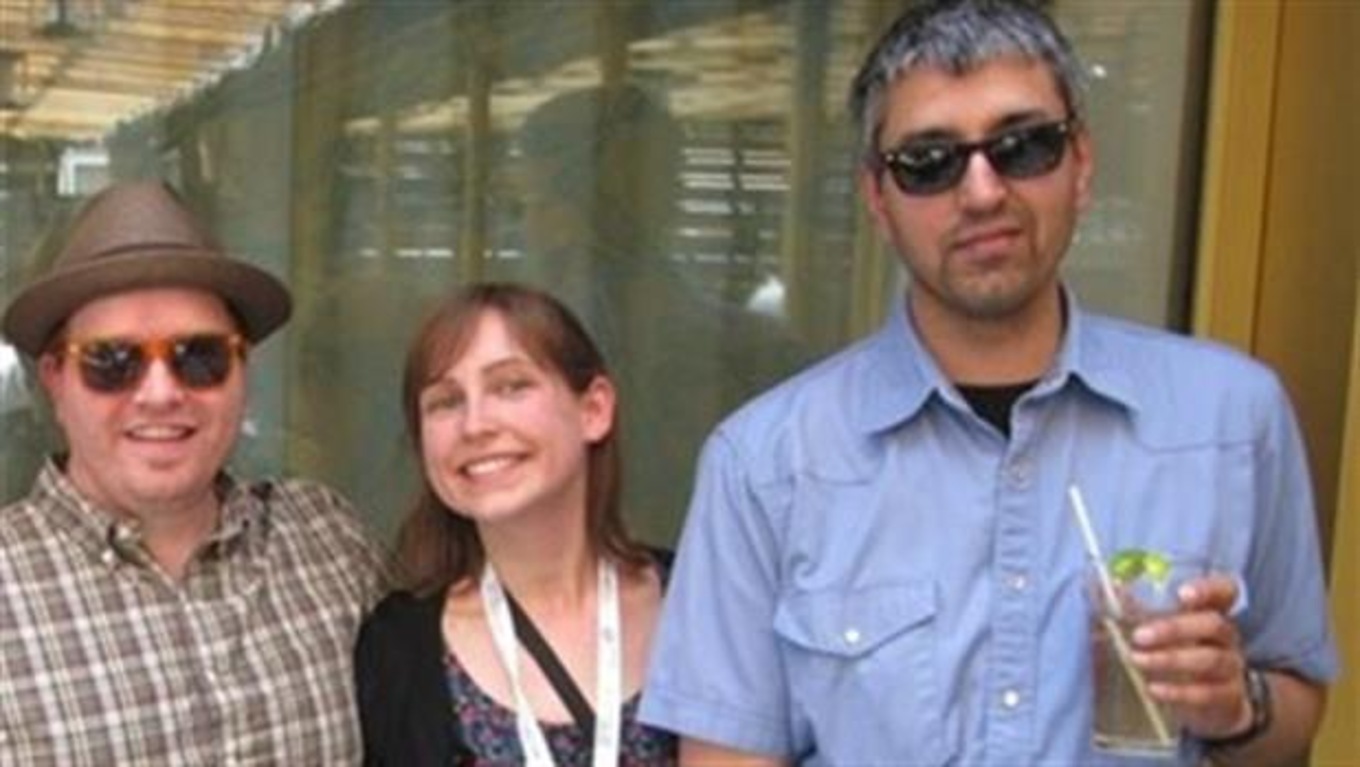 2010: Host Vish Khanna (far right) and his Breakfast Club and What'cha Reading Book Club become audience favourites. Pictured here with Radio 3 Fans of the Year John Teeter and Monica Skorupski.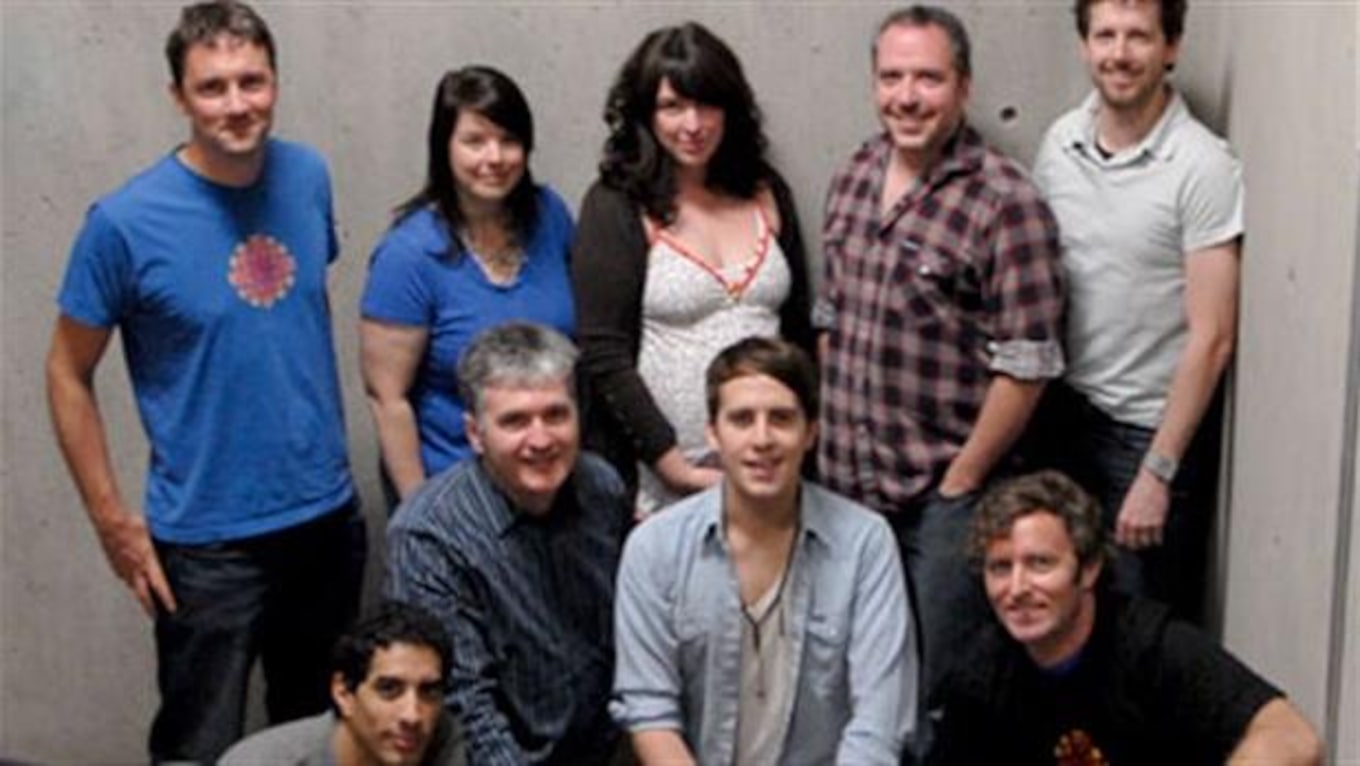 2010: In June, the CBC Radio 3 Podcast celebrates its 5th anniversary. This is the team behind the weekly production that has showcased thousands of Canadian artists and has been downloaded millions of times. Top L-R: Steve Pratt, Nicole Goodman, Jennifer Aikman, John Paolozzi, Mark MacArthur. Bottom L-R: Ahmed Khalil, James Booth, Chris Kelly, Grant Lawrence.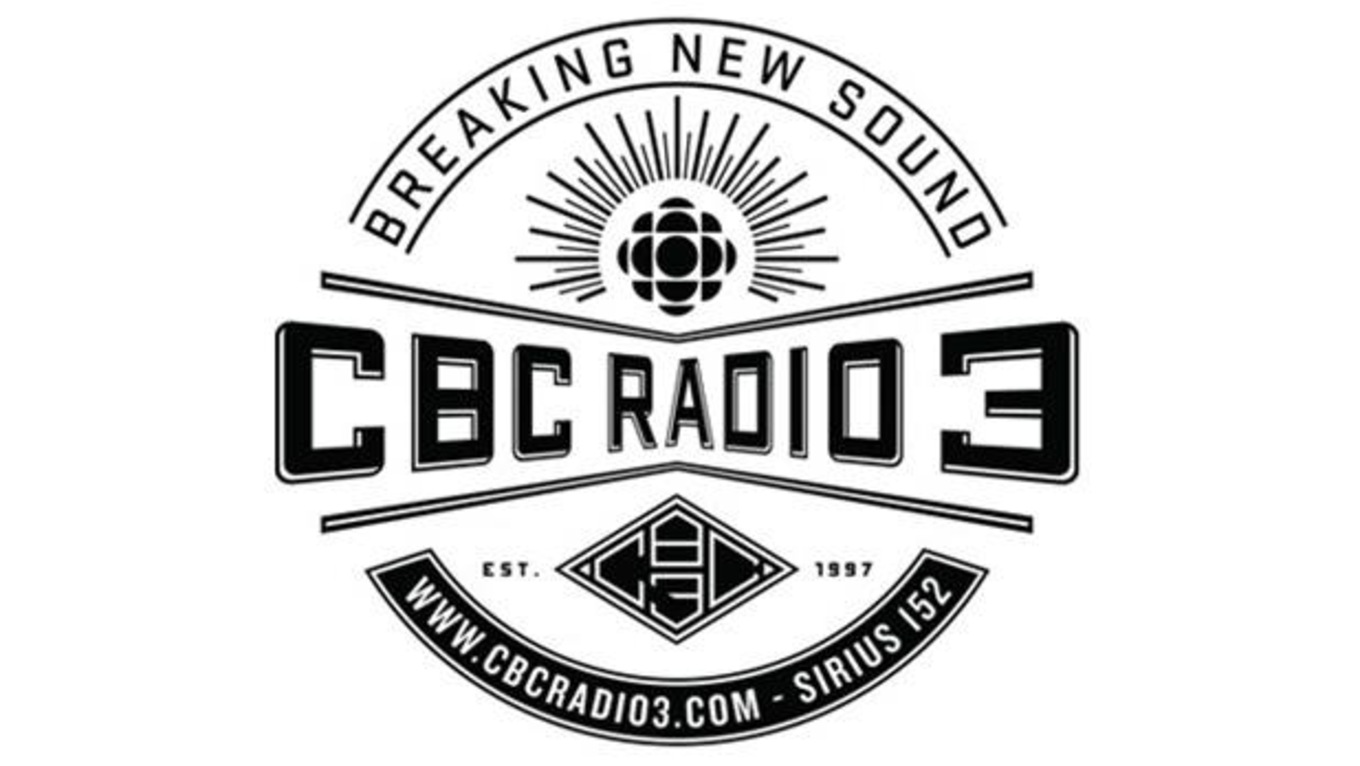 2011: The CBC Radio 3 logo circa 2011, designed by Ben Didier, whose design left a lasting impact on R3.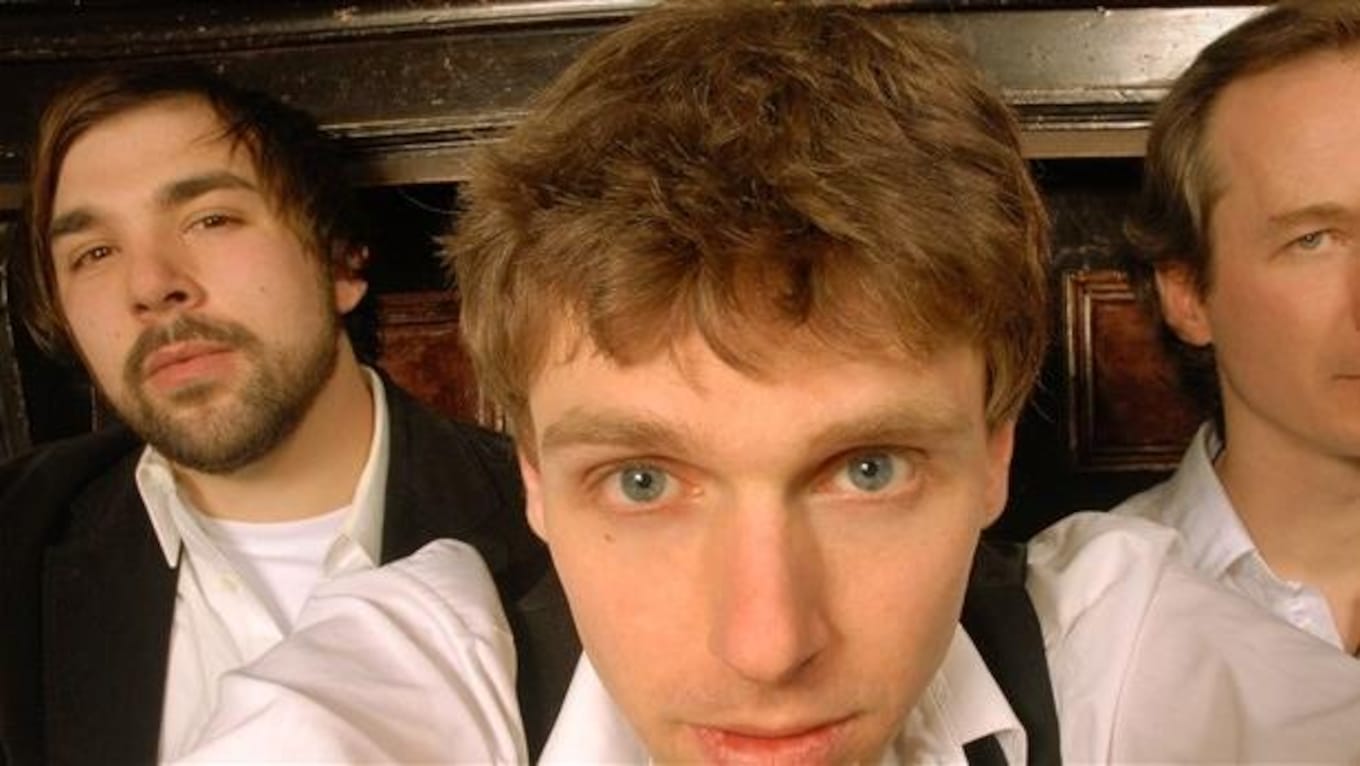 2011: Halifax troubadour Joel Plaskett is the first artist on Radio 3 to reach one million on-demand plays from his artist page. Metric, Arcade Fire, and Dan Mangan are not far behind.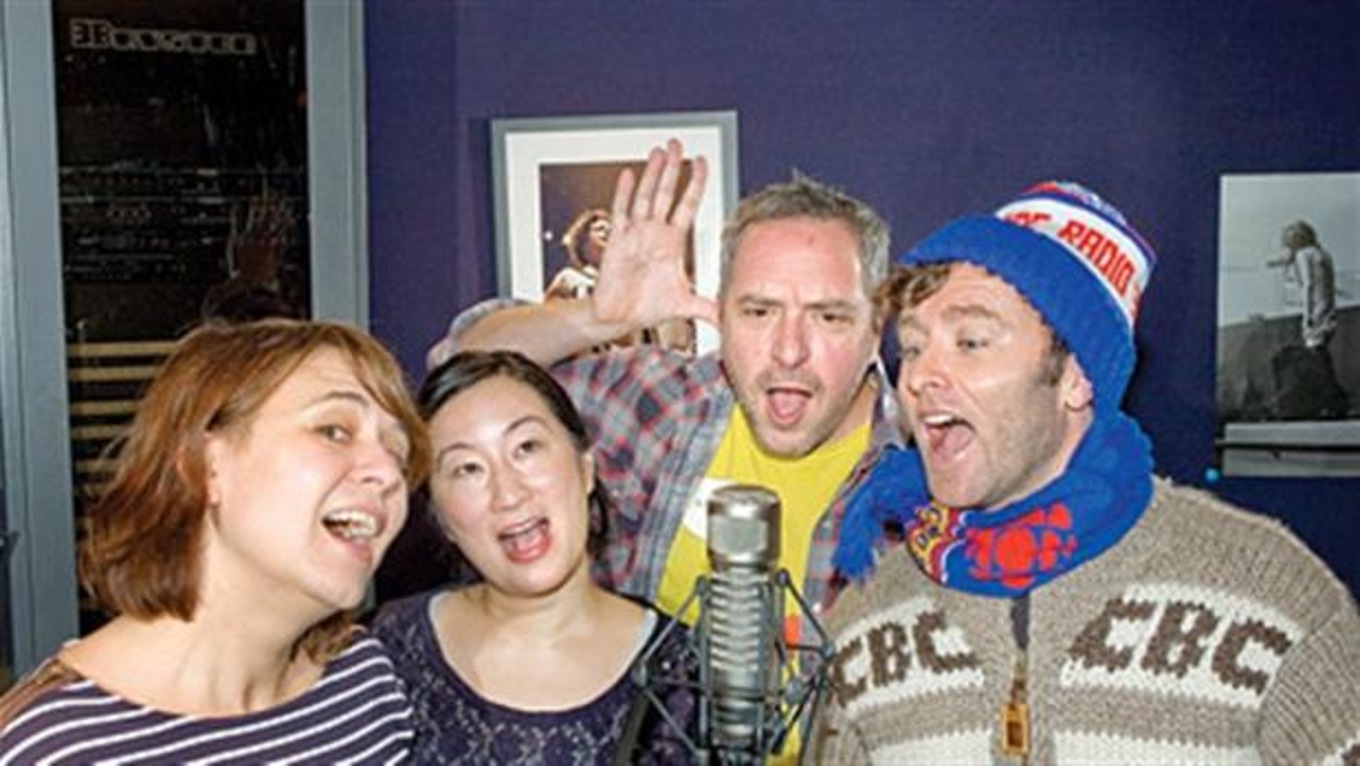 2011: This photo featuring (L-R) Lisa Christiansen (host of Appetite for Distraction, known for her heavy taste in metal), producer Andrea Gin, blogmaster John Paolozzi, and host Grant Lawrence, was used as a cover story for the Westender newspaper on Radio 3's influence in Canadian music. The article was written by future CBC Music writer and author Andrea Warner.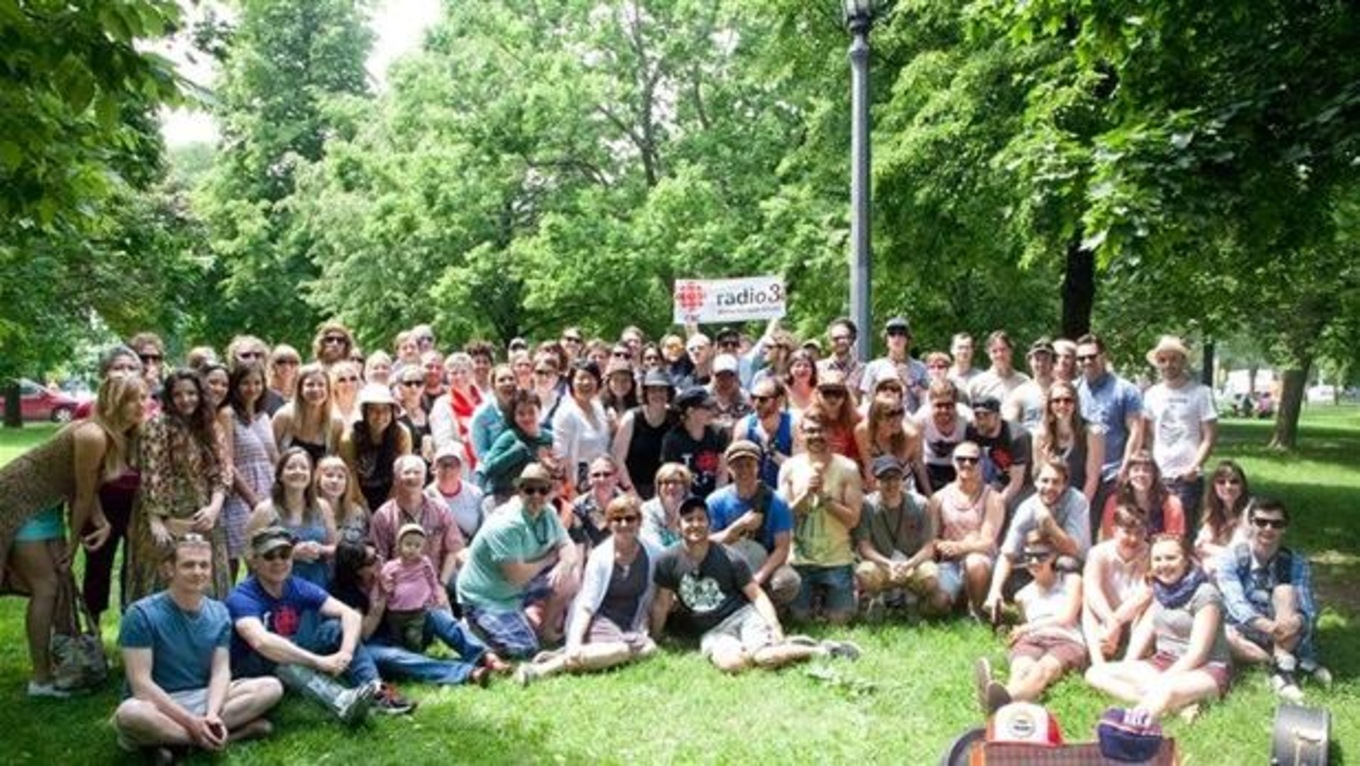 2011: An unofficial Radio 3 fan picnic is launched at the NxNE Festival in Toronto, featuring musicians playing acoustically, growing each year to become an annual gathering of listeners from around the world, occurring every June in Trinity Bellwoods Park.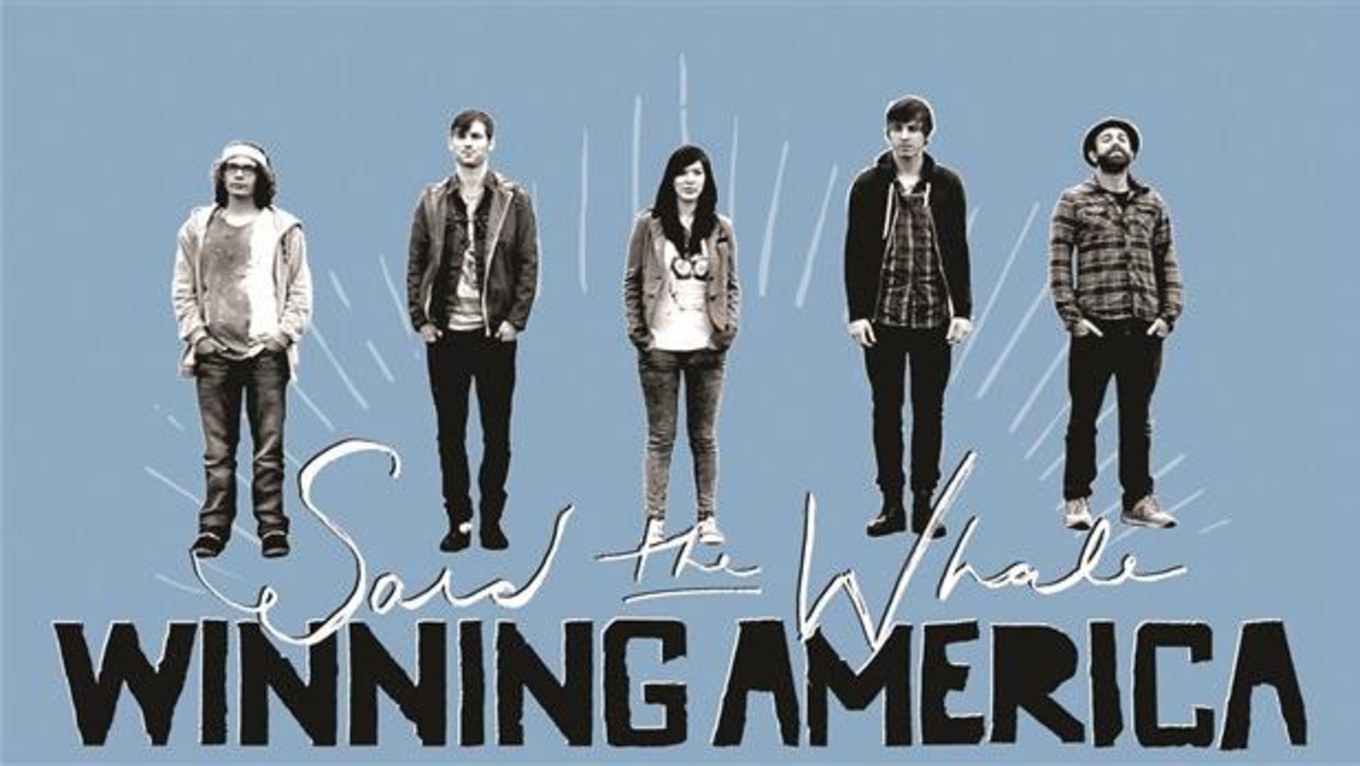 2011: Radio 3 sponsors its first music documentary in partnership with CBC television. Directed by Brent Hodge, it follows Vancouver band Said the Whale on an ill-fated tour to the South By Southwest music festival. Following the film's success, Hodge directs more documentaries featuring Dan Mangan, and Ashleigh Ball from Hey Ocean.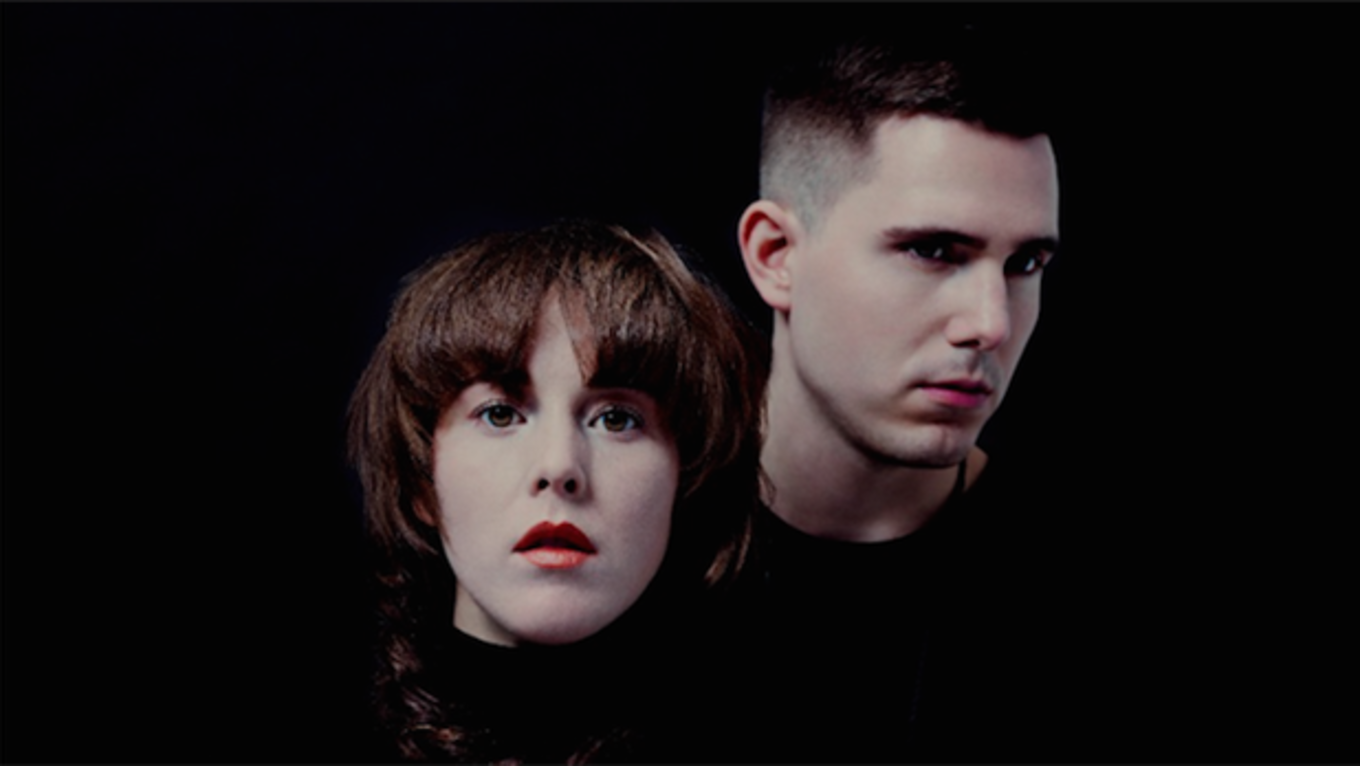 2011: Eleven years after it launched as NewMusicCanada.com, Radio 3's 25,000th artist signs up and creates a page: Purity Ring, an electro pop duo from Edmonton who go on to become an international success.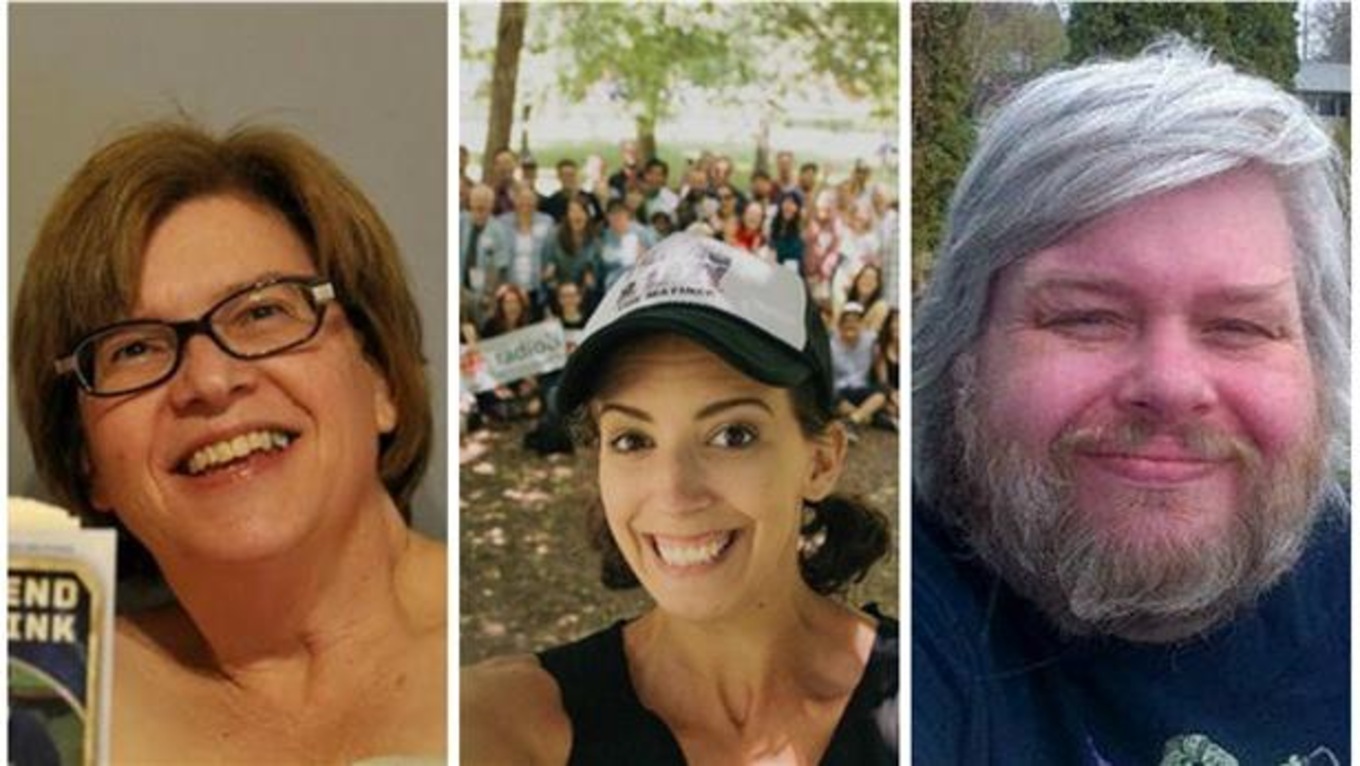 2011: More Radio 3 Fans of the Year! L-R Cathleen "cathyort" Hagan (2011), Chrisine McAvoy (2012), Garry "garfieldUK" Benfold (2013).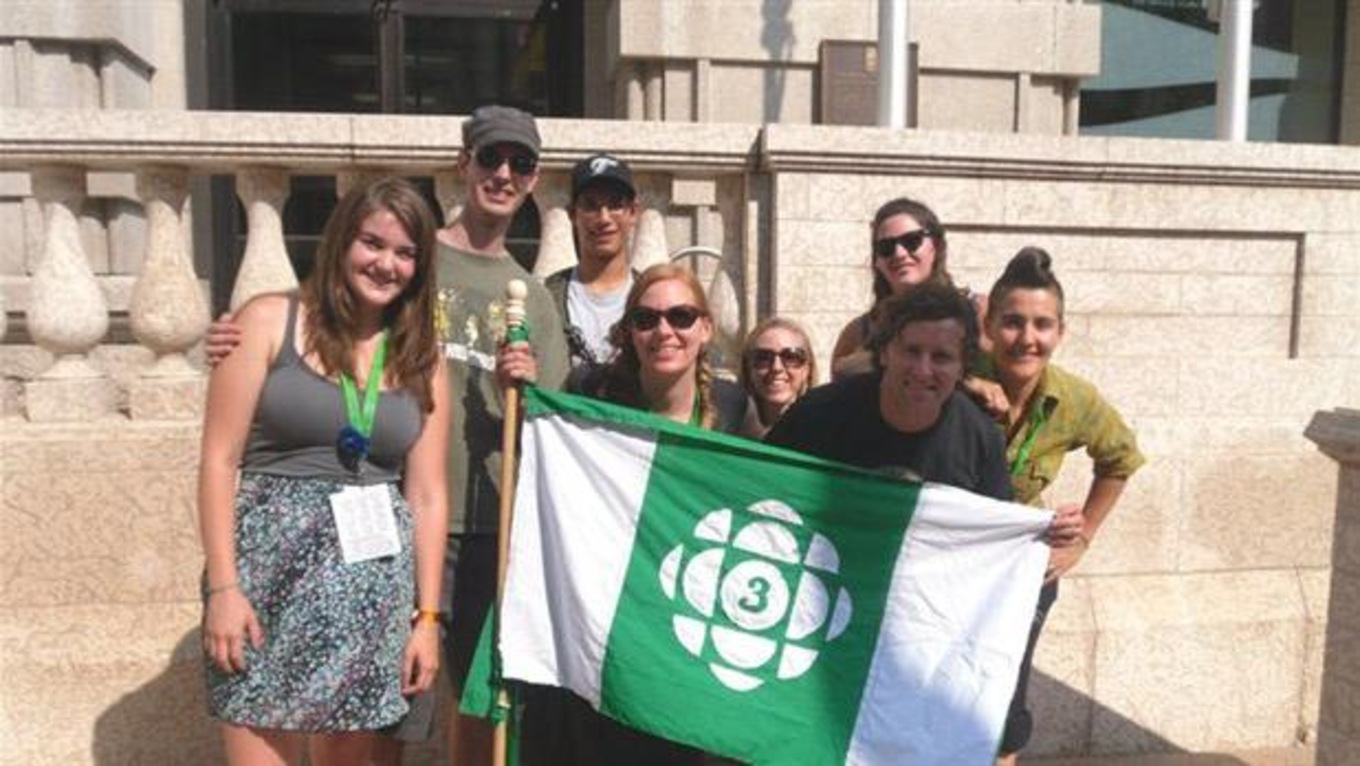 2011: The R3SK... fans of Radio 3 welcoming Grant with a homemade flag at the Regina Folk Festival. Groups of fans who met first on the CBC Radio 3 blog continued to pop up all over North America, united in their love of Canadian music.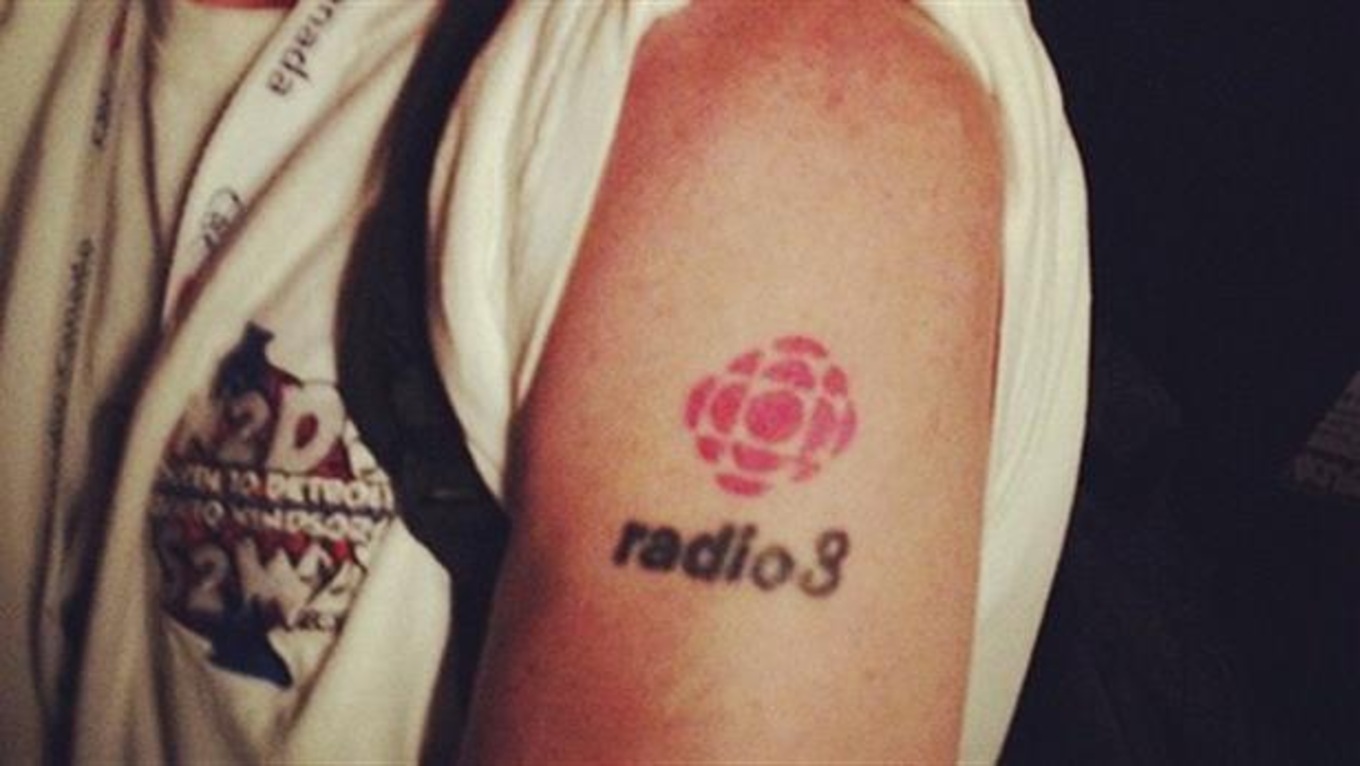 2012: Former Fan of the Year Russ Gordon already had a personalized R3 Michigan license plate, then gets the first-ever Radio 3 tattoo!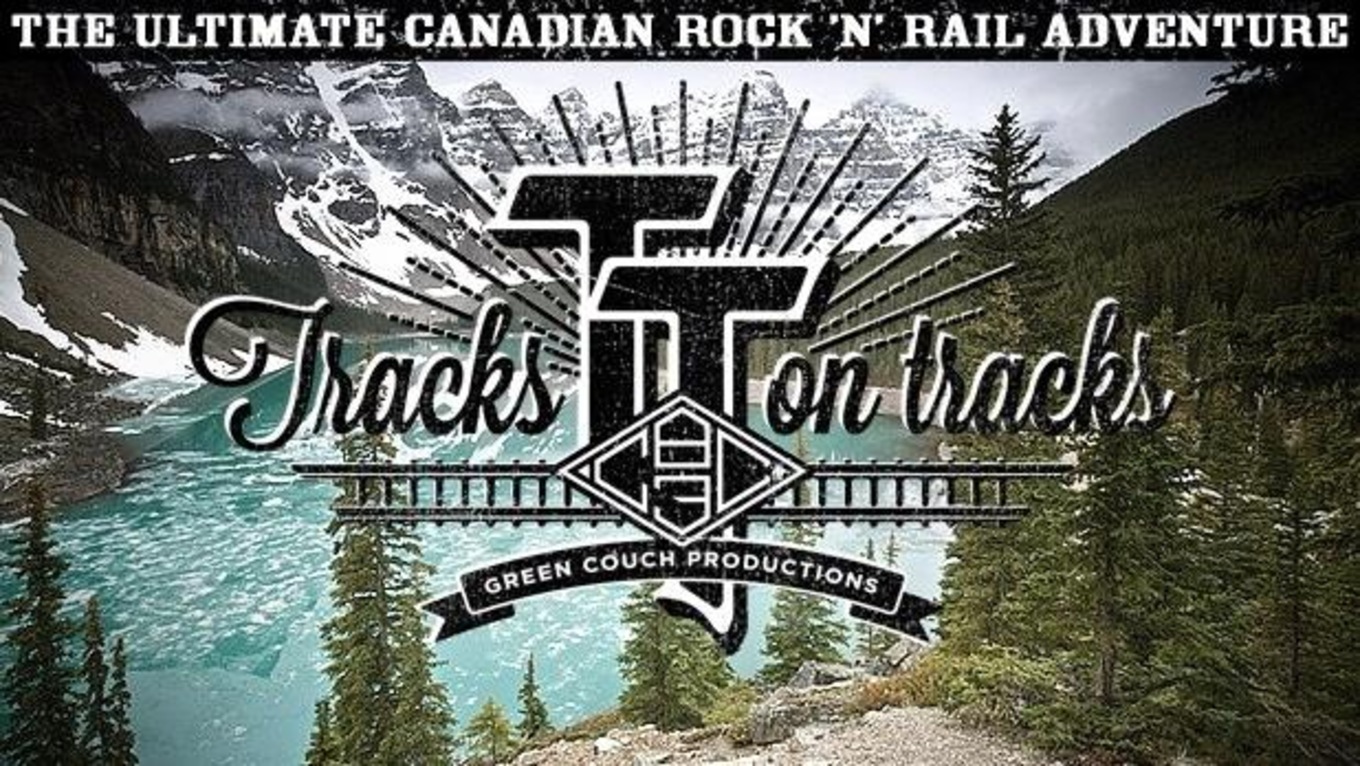 2012: Radio 3 and Green Couch Productions team up to present Tracks on Tracks, a rock 'n' roll train ride featuring nine Canadian bands (including the Matinee, Shred Kelly and Bear Mountain among others). Many Radio 3 listeners hop aboard along with host Grant Lawrence, on what was one of the most exciting Radio 3 adventures of all time. The entire trip was filmed but the documentary has not been as yet released.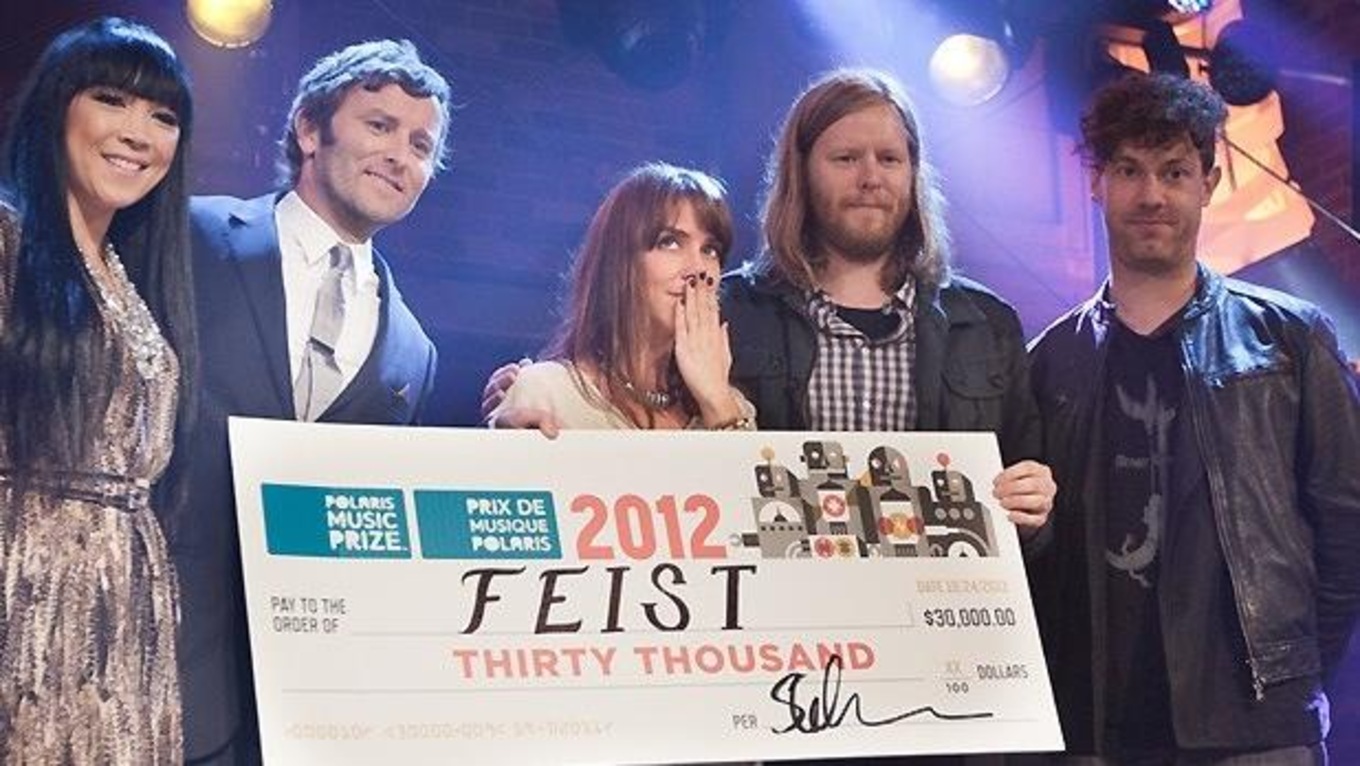 2012: Radio 3 broadcasts the Polaris Music Prize Gala live from 2007 - 2012, with Grant Lawrence serving as gala host, Craig Norris as broadcast host, and Vish Khanna as roving reporter. The on-air interactions between Craig and Vish during these broadcasts become the stuff of legend. Here, Grant Lawrence and members of the Arcade Fire present Feist with her winnings for Metals.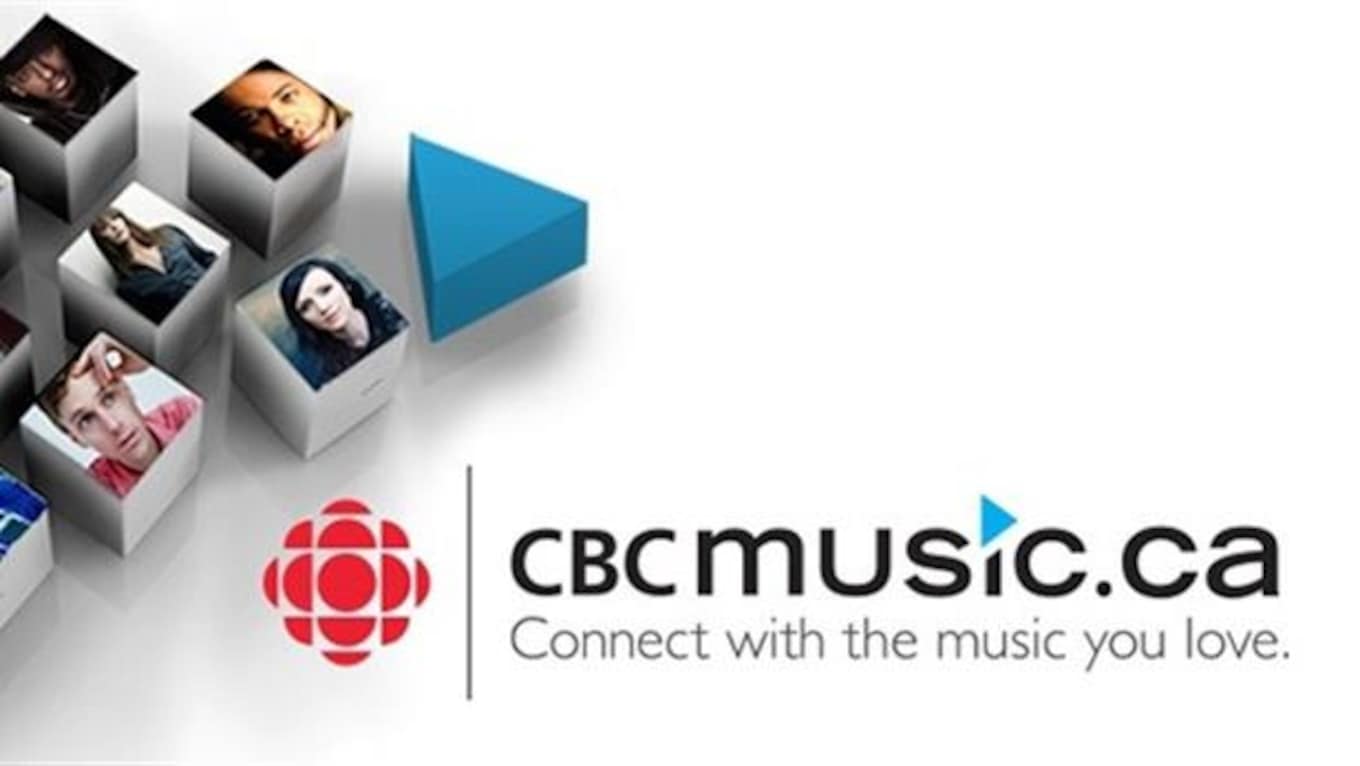 2012: Based on the success and model of cbcradio3.com, a massive and ambitious new web site is launched by directors Steve Pratt and Mark Steinmetz, bringing together all music departments and programs at the CBC into one site, with over 40 streaming channels, including Radio 2 and 3.
2012: Radio 3 fans continue meet ups and gatherings, like this one in Vancouver.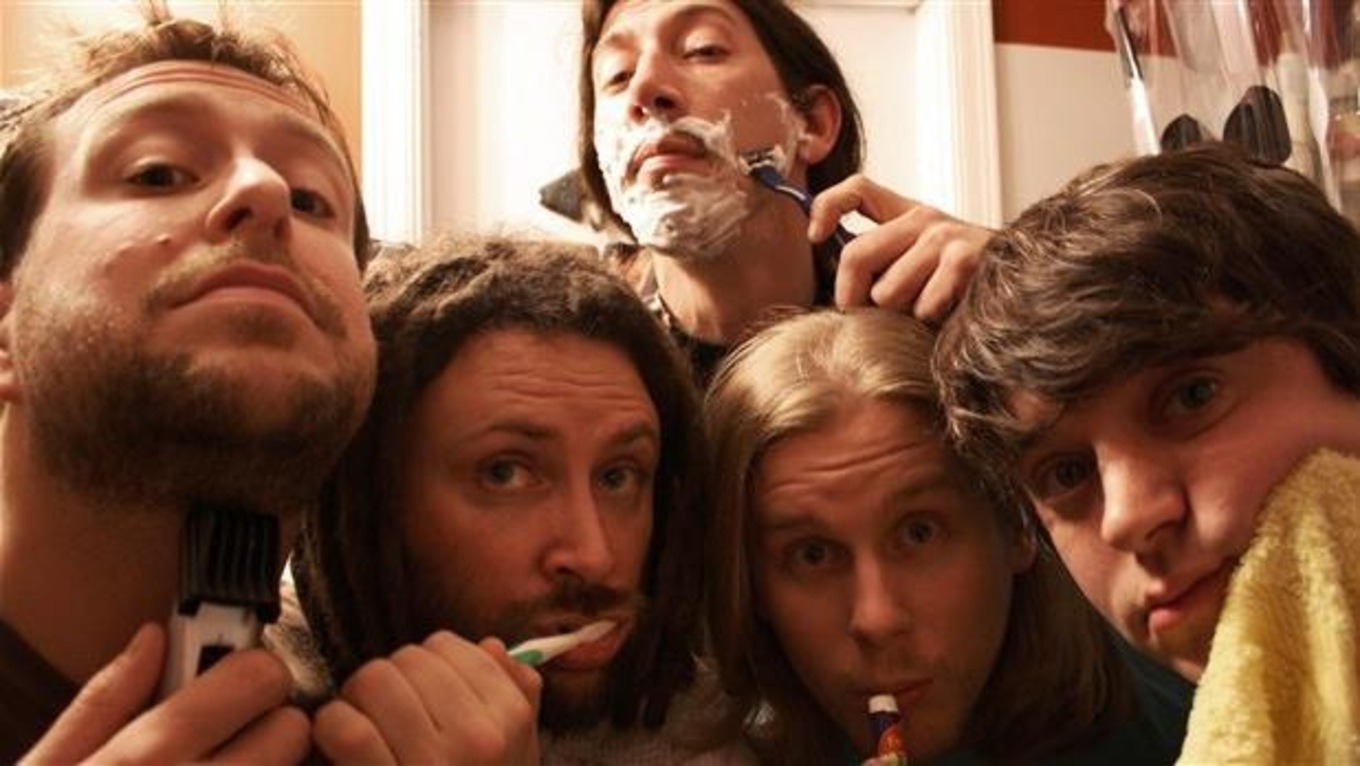 2013: Searchlight is re-launched on CBC Music, and on Radio 1 and Radio 3, seeking out the Best New Artist in Canada. Huge prizes are on the line, including $20,000 in music equipment and a showcase at the inaugural CBC Music Festival. The eventual winners are Sherman Downey and the Ambiguous Case from Corner Brook, Newfoundland.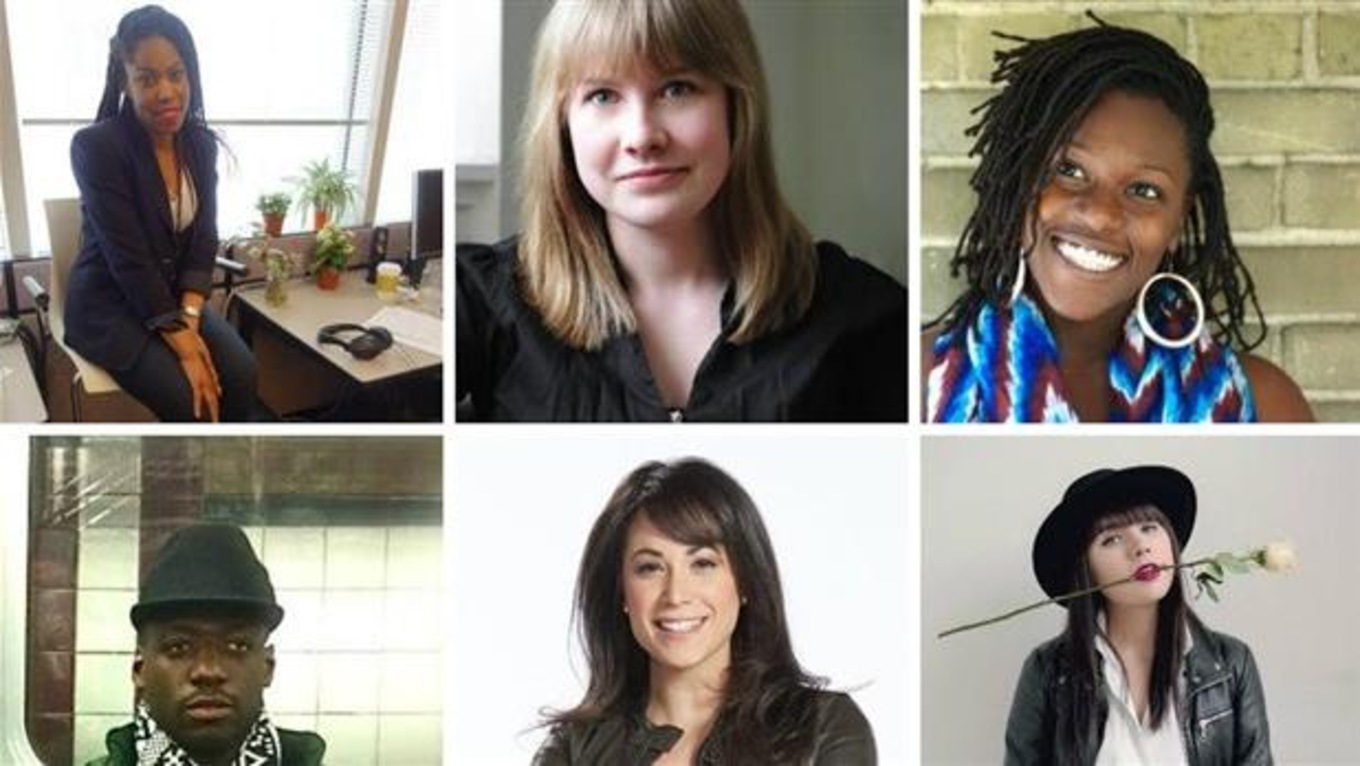 2013: This year sees a swath of new hosts on the airwaves of Radio 3. Top L-R: Alanna Stuart, Emma Godmere, Nana aba Duncan. Bottom L-R: Odario Williams, Talia Schlanger, Louise Burns. 2013 also sees the departure of long time R3 morning host Craig Norris. He now hosts a morning show on Radio 1 in Kitchener, Ontario, near his hometown of Guelph. Producer Pedro Mendes also leaves R3 within the year.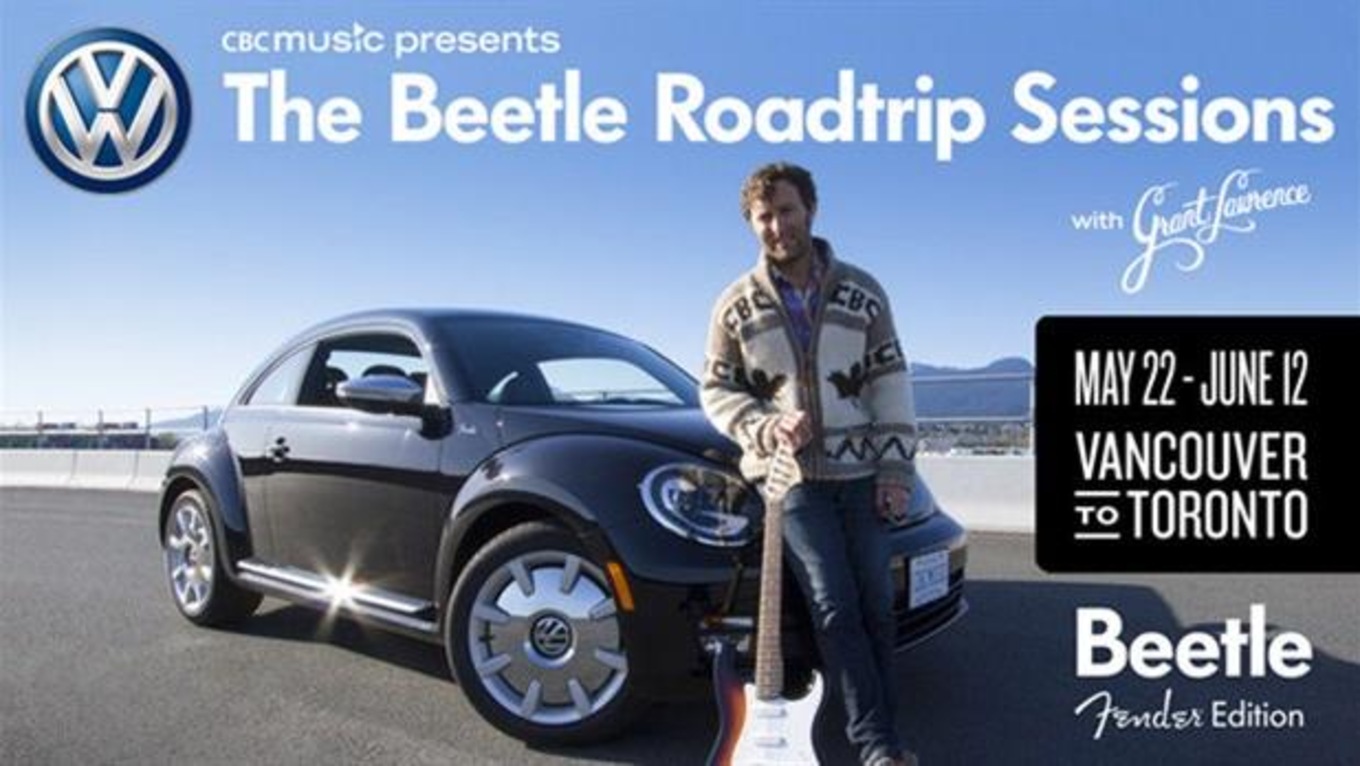 2013: When host Grant Lawrence received a call asking if he would be interested in driving a Volkswagen Beetle across Canada, the answer was an emphatic yes, and the CBC Beetle Roadtrip was born, meeting up with Canadian musicians along the way for filmed sessions in unique locations.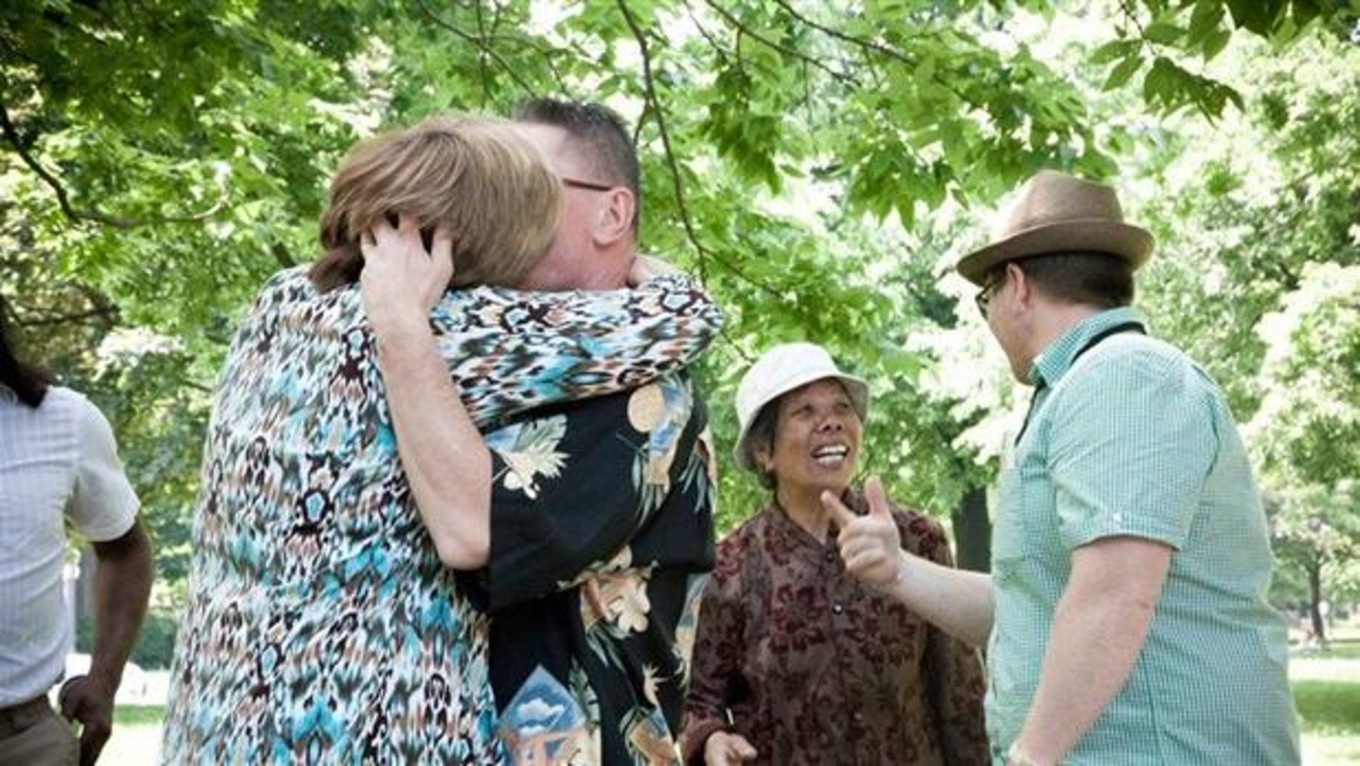 2013: Former fans of the year Russ Gordon and Cathy Hagan surprise attendees at the annual unofficial Fan Picnic at NxNE in Toronto by... getting married! They are the original "Blog Schnog"... two people that meet on the blog and eventually... get it on! And in this case... get married!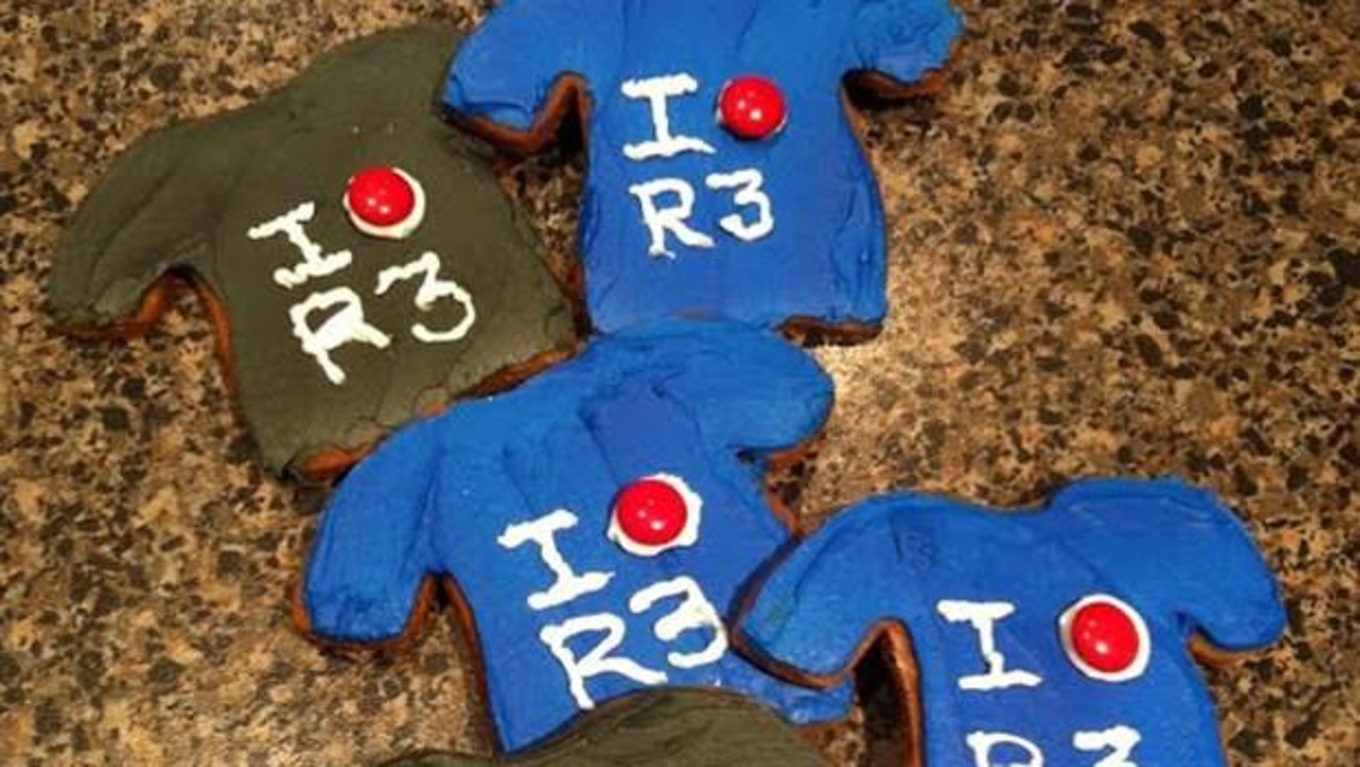 2014: Hosts receiving baked goods, custom-knit clothing, pottery, and other gifts emblazoned with the Radio 3 logo goes from being unprecedented to commonplace, and alvvays massively appreciated.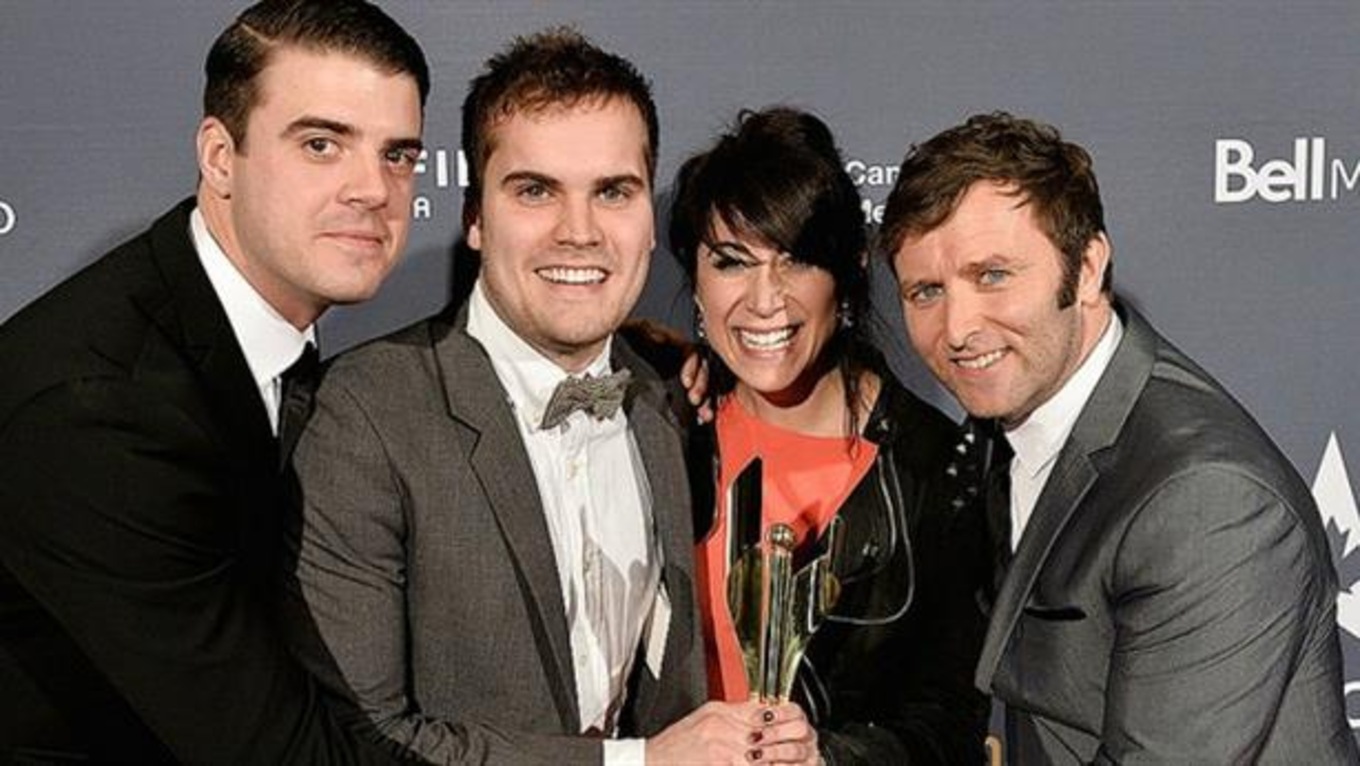 2014: The CBC Beetle Roadtrip team wins a Canadian Screen Award for Best Web Series. L-R: marketing director Bryan Ward, series director Brent Hodge, producer Talia Schlanger, host Grant Lawrence. The CBC Beetle Roadtrip hits the highway again in the summer of 2014, this time with Chris Kelly producing, which would be his last gig before leaving the CBC.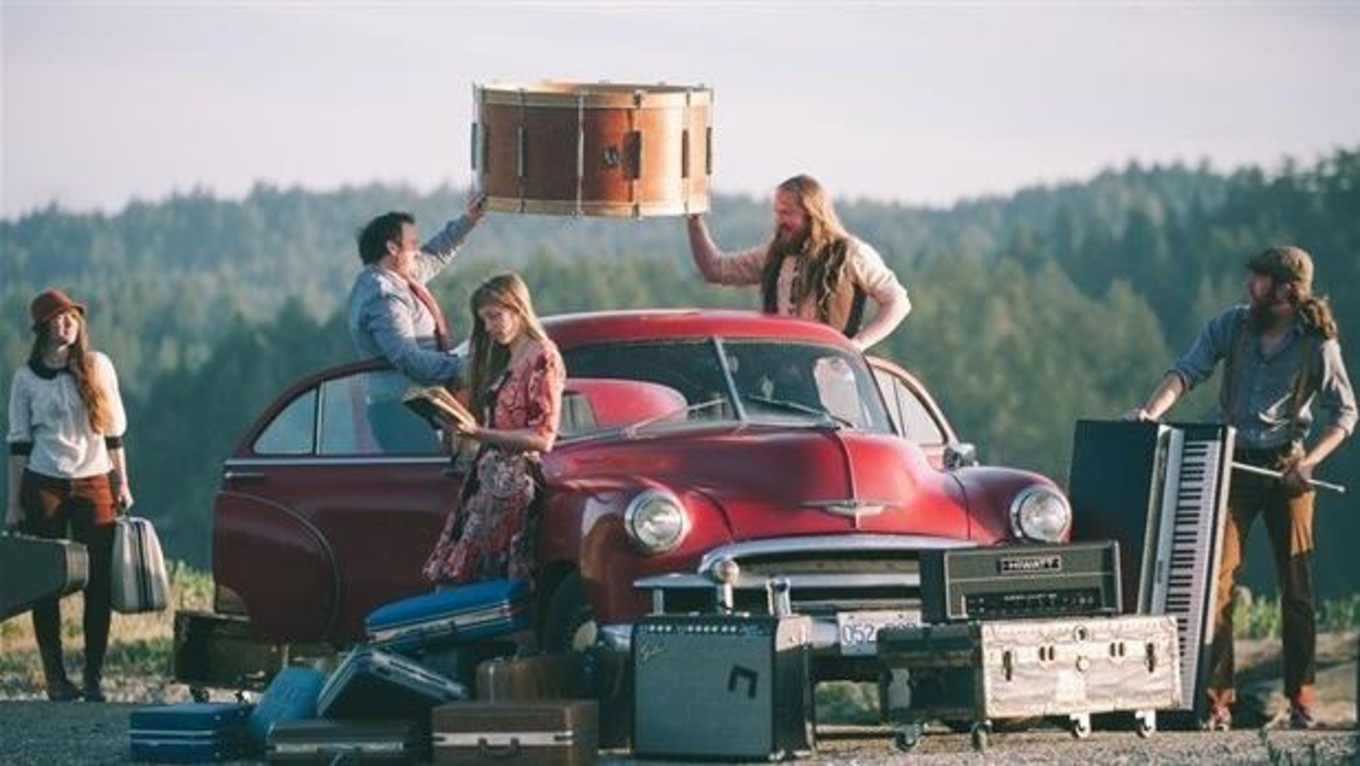 2014: Lauren Mann and the Fairly Odd Folk from Brooks, Alberta beat out over 4,000 other artists to win Searchlight 2014 and perform at the CBC Music Festival in Vancouver. At the conclusion of Searchlight 2014, CBC Music co-director Steve Pratt announces his departure from the CBC after ten years.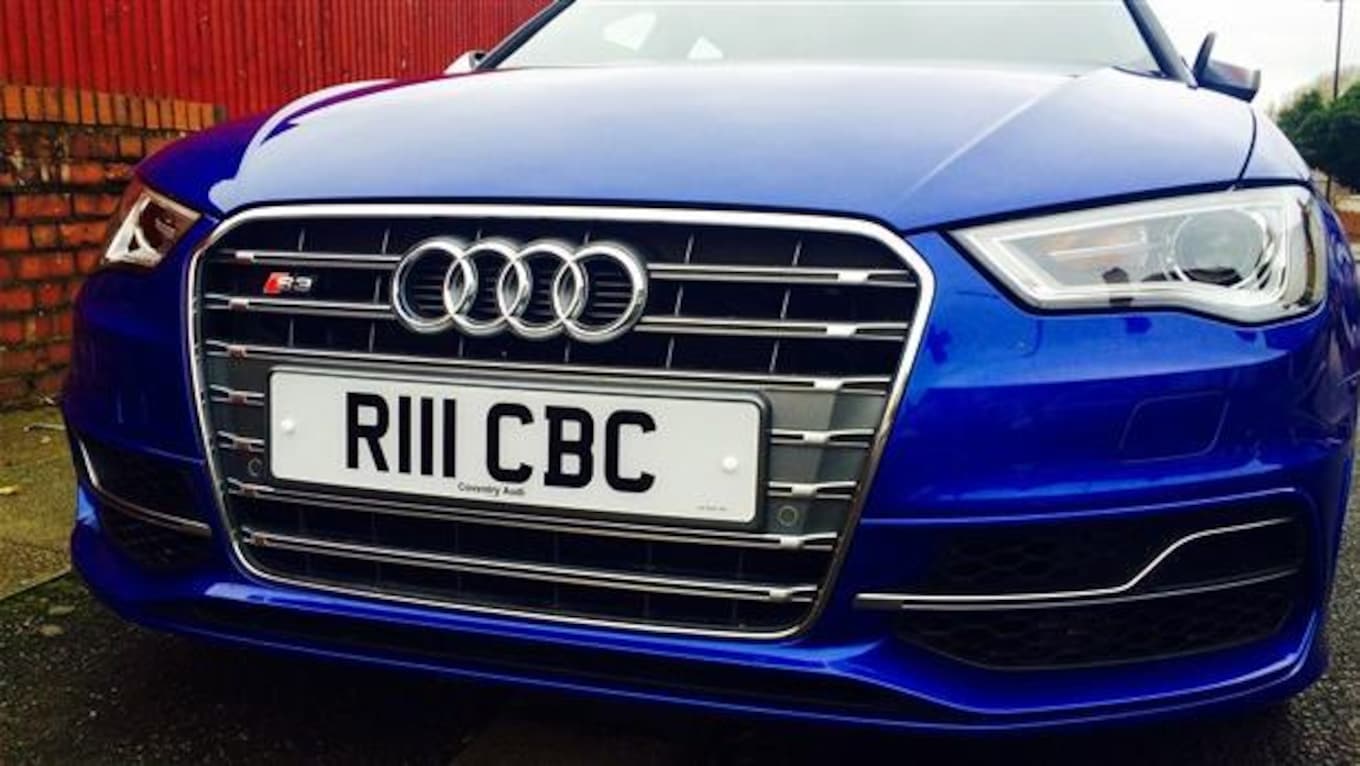 2014: CBC Radio 3 love spreads overseas and across international boundaries as London, England listener Davoud "No Longer Lurking" Davies proves with his new license plate.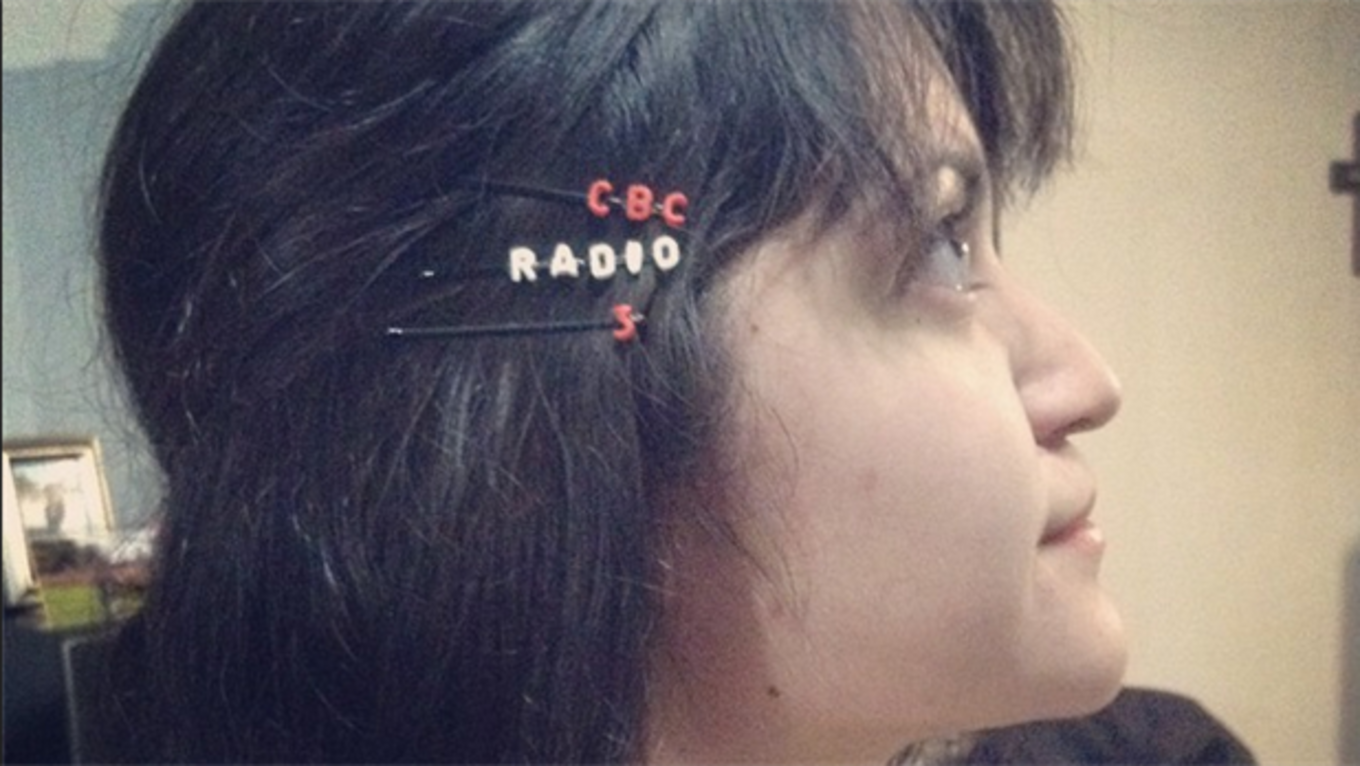 2015: Listener Regina "reginula" Sienra from Mexico City, Mexico, is named our Fan of the Year for 2015. Missing out on the R3 merch craze of years earlier, Regina makes her own, including hairpins and t-shirts, and makes repeated trips to Canada to see her favourite bands.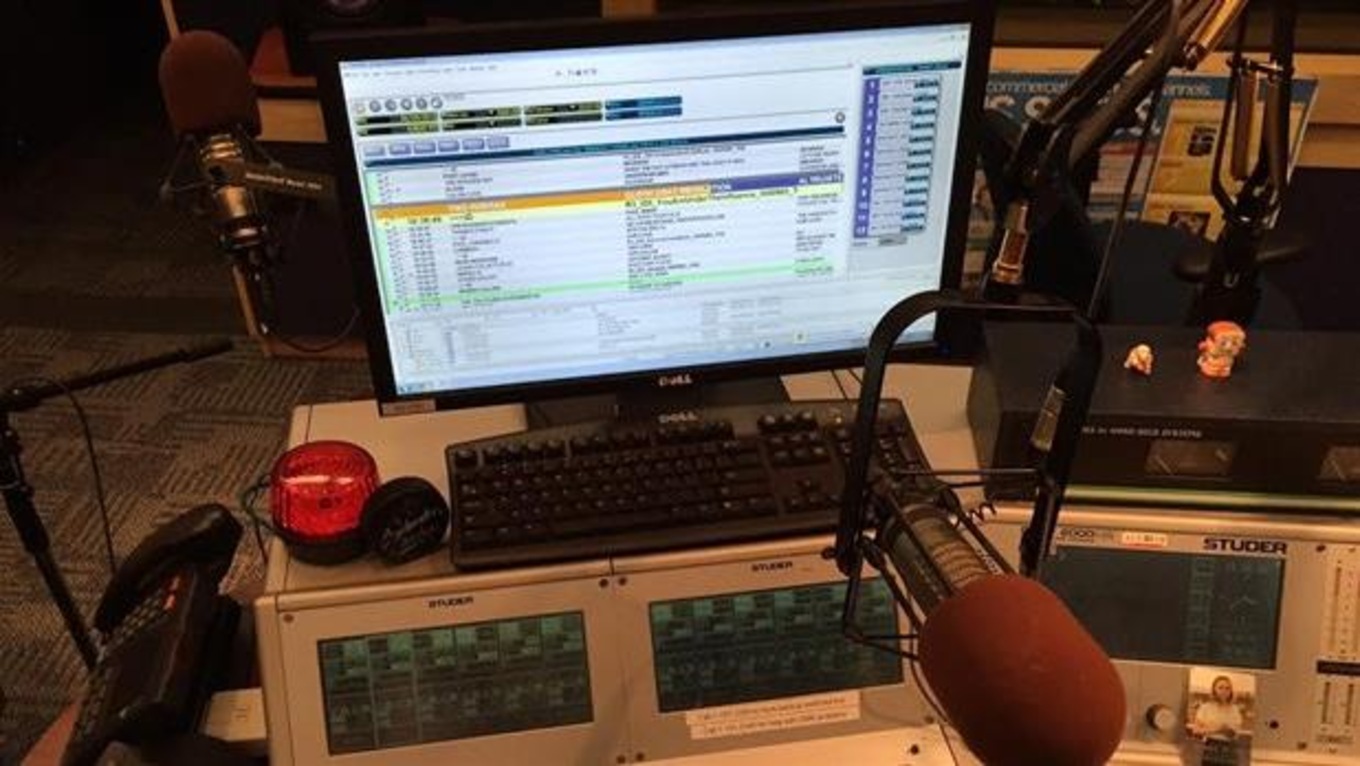 2015... and beyond: On Monday, March 30 we begin the newest chapter of Radio 3! We hope you join us in conversation on the blog as we move forward forging new frontiers. Thank you, thank you, thank you for... everything! We'll see you on the other side! Canadian music rules!