"Choral music is part of my DNA."
One of CBC Music's 30 hot Canadian classical musicians under 30 for 2016, Matthew Emery says he specializes in composing music for choirs because they've been part of his life since he was 10.
"I was singing in choir from grade five up till the fourth year of my undergraduate degree. I was singing every day, singing in choir is part of my identity," he tells us via email. "I started composing because I wanted to write music that I wanted to sing. It was natural to focus all of my writing on the choral idiom. I think most composers, when they're beginning their journey, start by writing for the instrument they are most familiar with. For me that was the choir."
The Amabile Choirs of London is a choral music education program based in London, Ont., comprising eight choirs: four for girls and women and four for boys and men. On Sing Your Song, due out March 3 on Centrediscs, they celebrate their long association with Emery, both as a chorister and composer.
"I grew up singing in the organization," he explains. "I started in their youngest training choir, Da Capo, and slowly worked my way through the boy's choirs singing every voice type, from soprano down to bass II. I sang with them for eight years, then left the choir to study at the University of British Columbia for four years. I came back to work as their composer in residence for the 2014-15 season."
Emery wrote nine of the 16 pieces on Sing Your Song as part of that residency, while the other music predates it.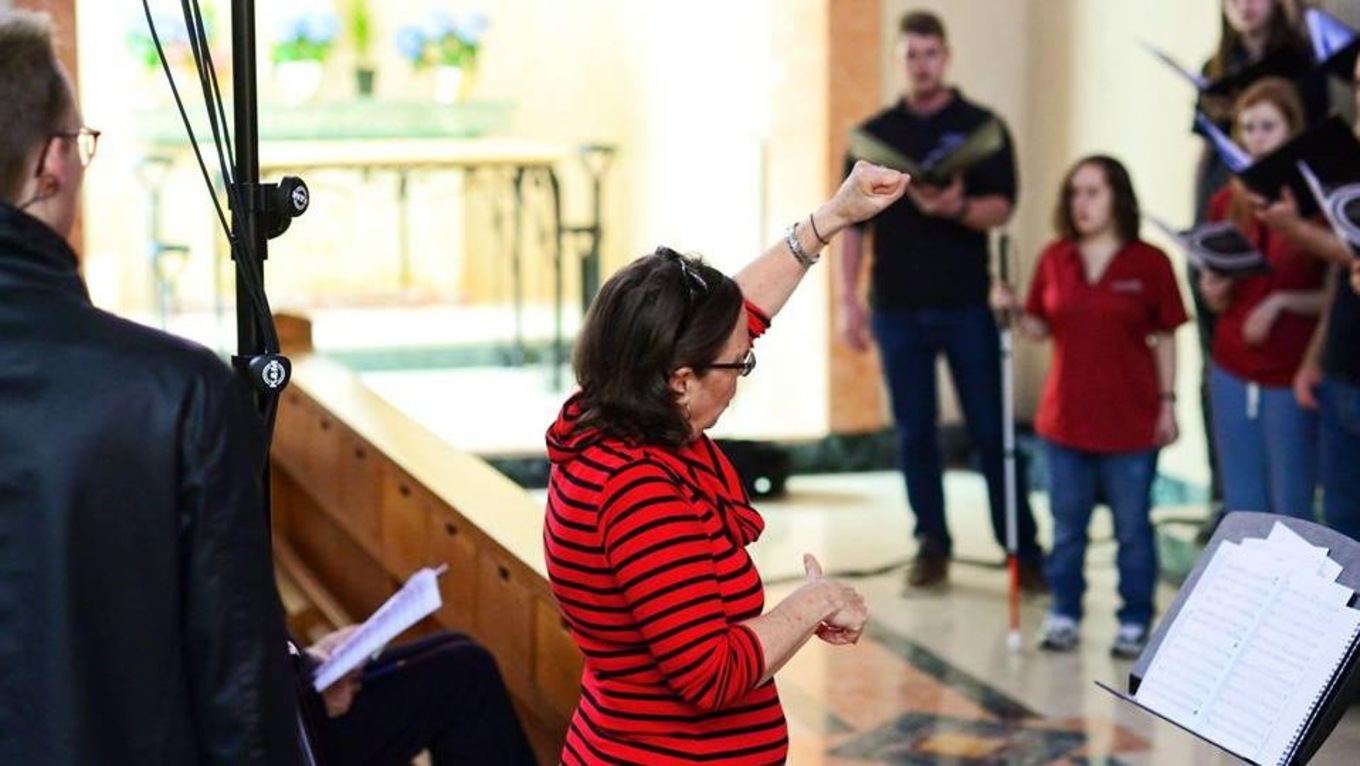 Carol Beynon directs the Amabile Choirs of London during the recording sessions for Sing Your Song. (Geoff Warder)
"The earliest composition, 'Sleep Now,' I wrote in 2011, as a second-year student at UBC," Emery reflects. "It was then entitled 'There is Yet Faith' but I had committed the classic error of not seeking permission to use the T.S. Eliot text, and the piece was unable to be performed/published. In 2013, I revised the song and adapted the work to a new poem by James Joyce. The new text better captures the gentle, intimate nature of the song."
Emery says the text is the most important part of a choral composition. "The poem must have a need to be sung, and a need to be heard," he explains. "Some poems are easier to sing than others; some words are better to sing than others. I search for poems with depth, meaning, and that need to be shared. I look for poems with images that are relatable, and that contain themes of love and loss, journeys/longing, and searching for home — whatever home may represent."
"Let Your Voice be Heard," a setting of a poem by John Shaw Neilson, holds a special place in Emery's heart. "The text speaks to ideas of being heard, being valued and understood," he muses. "I think it is a very powerful message that no matter what adversity you may come across, you have a voice, a point of view or opinion and it should be heard. Though I love every song song, I think this is my favourite on the album."
'Immediacy'
Emery is busy with commissions from groups of all levels across Canada and the U.S. and he says he's humbled by his success. "I think choirs enjoy my music because the music I write is clear. There is an immediacy to my music. I try to pare down the music, leaving only the essence of what is needed in order for me to express and say what I need to say," he says.
He also aims to write music that any choir can sing, from non-auditioned community groups to the top professional ensembles. "Music should be enjoyable and accessible to everyone, it should be pleasurable to sing and pleasing to hear."
For Emery, Sing Your Song marks the end of his personal journey with Amabile. "I grew from child to adult, amateur to professional, singer to composer and conductor with the choir," he recaps, adding, "the album gives weight and value to the necessity of choral music in our world today. The world needs more choral music."
Sing Your Song will be released on March 3 on both Blu-Ray and audio CDs. You can pre-order it here.
Explore more:
The real reason musicians are dropping out of music schools
9 amazing covers of Franz Schubert songs