An impressive new double album on Centrediscs presents a survey of Canadian works for oboe and piano, from Jean Coulthard's 1947 Sonata to John Burge's 2016 Twitter Études No. 2, by way of music by Gary Kulesha, Marjan Mozetich, John Estacio, Alexina Louie, Jacques Hétu and others.
"It's an honour to bring this beautiful repertoire to light in an important year for Canada," says oboist Charles Hamann, who conceived the project with pianist Frédéric Lacroix as a way to celebrate Canada 150.
"It is by no means an exhaustive survey, but a good slice of some of the best repertoire from our country's composers, with a general theme being the lyrical use of the oboe," Hamann continues. "There is nevertheless in this collection a diversity of styles and influences that reflects the country, its history and its people. It's really a celebration of Canada ... through the lens of one instrument."
The album also coincides with Hamann's 25th season as principal oboist of the National Arts Centre Orchestra, a position the Nebraska native accepted at the age of 22. "This project has unquestionably deepened my own connection to Canada and my understanding of the richness of its musical past and present," he says.
Twitter Études
The album includes three newly commissioned works — Kulesha's Lyric Sonata, Burge's Twitter Études No. 2 and Lacroix's Sonatine — and, with the exception of Jacques Hétu's Incantation, none of the pieces on the album has been previously recorded.
The album's most noteworthy discovery is Oskar Morawetz's Three Fantasies, as Hamann explains: "The Fantasies were part of the Canadian Music Centre's archive, but there was no oboe part, only a piano score. ... We had a beautiful new copy made by Greg Hodgson, a retired NACO librarian who does impeccable work. When Fred and I finally read it through together, we realized that it's a ... really fine set of pieces, almost a suite as opposed to a full sonata. It has never been performed in its entirety, to our knowledge. The composer's daughter, Claudia Morawetz, played an invaluable role in the creation of the new parts that will now be available through the CMC. This year is Morawetz's centenary, so it's particularly gratifying to bring this piece to light at this time."
Pedagogical value
Hamann, who is adjunct professor of oboe at the University of Ottawa, also notes the album's pedagogical value: "As a teacher, I hope the repertoire will be embraced by young oboists who will champion the works of their own country."
On the album, Lacroix, who is also on staff at Ottawa U, reveals himself to be an accomplished composer as well as a gifted pianist. "That was a side of him that I didn't know well prior to this project," reflects Hamann.
"He offered to write us a piece, unprompted — the wonderful baroque/dodecaphonic/jazz-inspired Sonatine that closes CD 2 — after the project had already begun and we were learning other repertoire. Such is his generosity of spirit! The Sonatine is one of the highlights of the recording. He has been an incredible colleague and has mastered a huge amount of very difficult material with extraordinary generosity and commitment despite his many other obligations. It's a joy to call him a colleague and friend!"
Hamann and Lacroix's Canadian Music for Oboe and Piano will be released on June 9. There's an album launch planned for June 8 at 5 p.m. at Ottawa U's Freiman Hall. Pre-order the album here.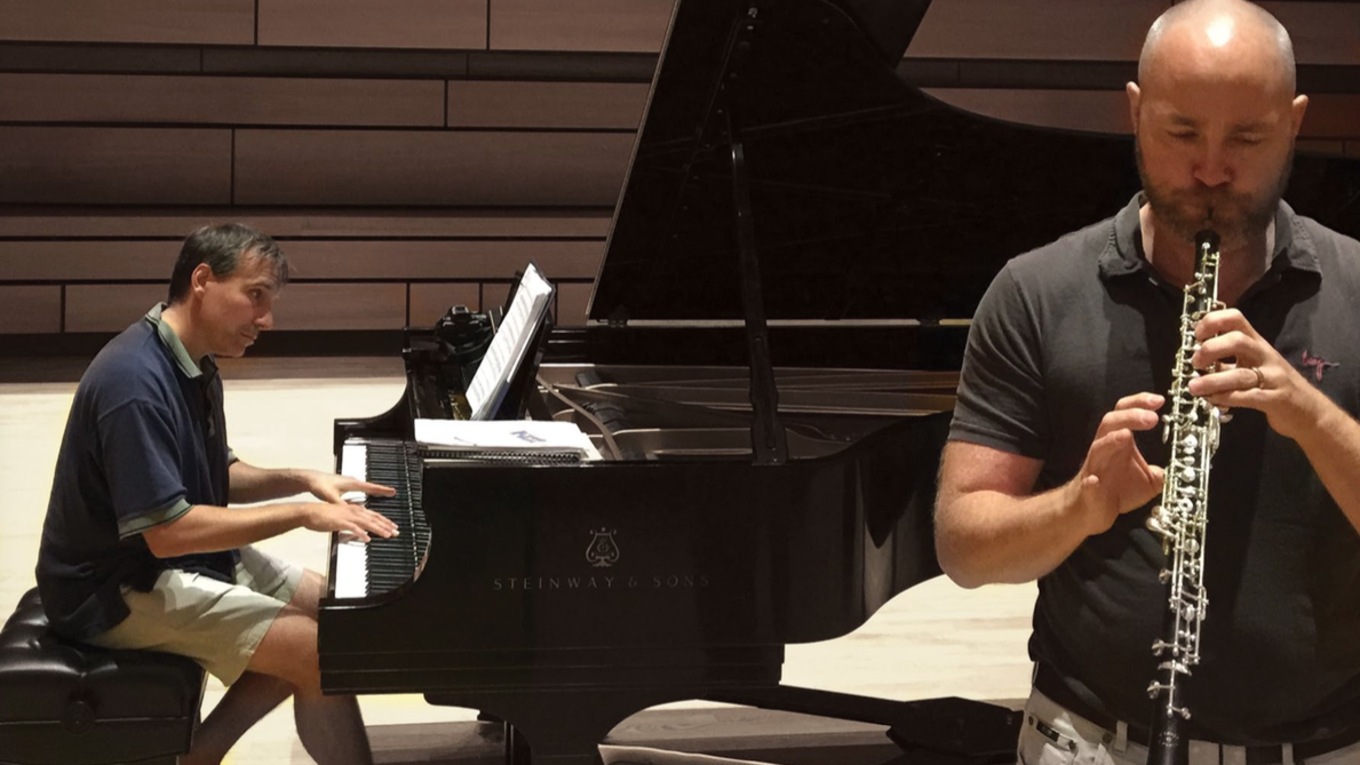 Pianist Frédéric Lacroix and oboist Charles Hamann rehearse music for their June 2017 release, Canadian Music for Oboe and Piano, on Centrediscs. (Supplied by Centrediscs)
More to explore:
Listen to CBC Music's 24/7 Canadian Composers stream