While touring Quebec and the Maritimes in 2016, guitarist Adam Cicchillitti played an outdoor concert at La Fête de la Musique de Tremblant, a summer festival curated by violinist Angèle Dubeau.
"She attended our performance at that festival with Analekta Records president Mario Labbé and they loved it," recalls Cicchillitti during a recent conversation. "I was invited for a meeting with Analekta general manager Julie Fournier and Labbé the following month, and we discussed some potential album ideas. We all agreed that the Spanish repertoire from my tour would be a great starting place, and from there I was left to come up with a theme."
The resulting Canciones, streaming in the player to your left until its Feb. 23 release, is Cicchillitti's debut album and focuses on the great nationalist Spanish composers of the late 19th and 20th centuries.
"When I say nationalist, I am referring to a group of painters, sculptors, architects, poets and musicians who consciously endeavoured to create art that was authentic to Spain by studying and exploring native folk idioms and classical masterpieces," Cicchillitti explains. "Some of the members of this group are household names in their respective fields — giants like Picasso, Dali, Bunuel, García Lorca and Gaudi. In music, it all started with Isaac Albéniz and Enrique Granados."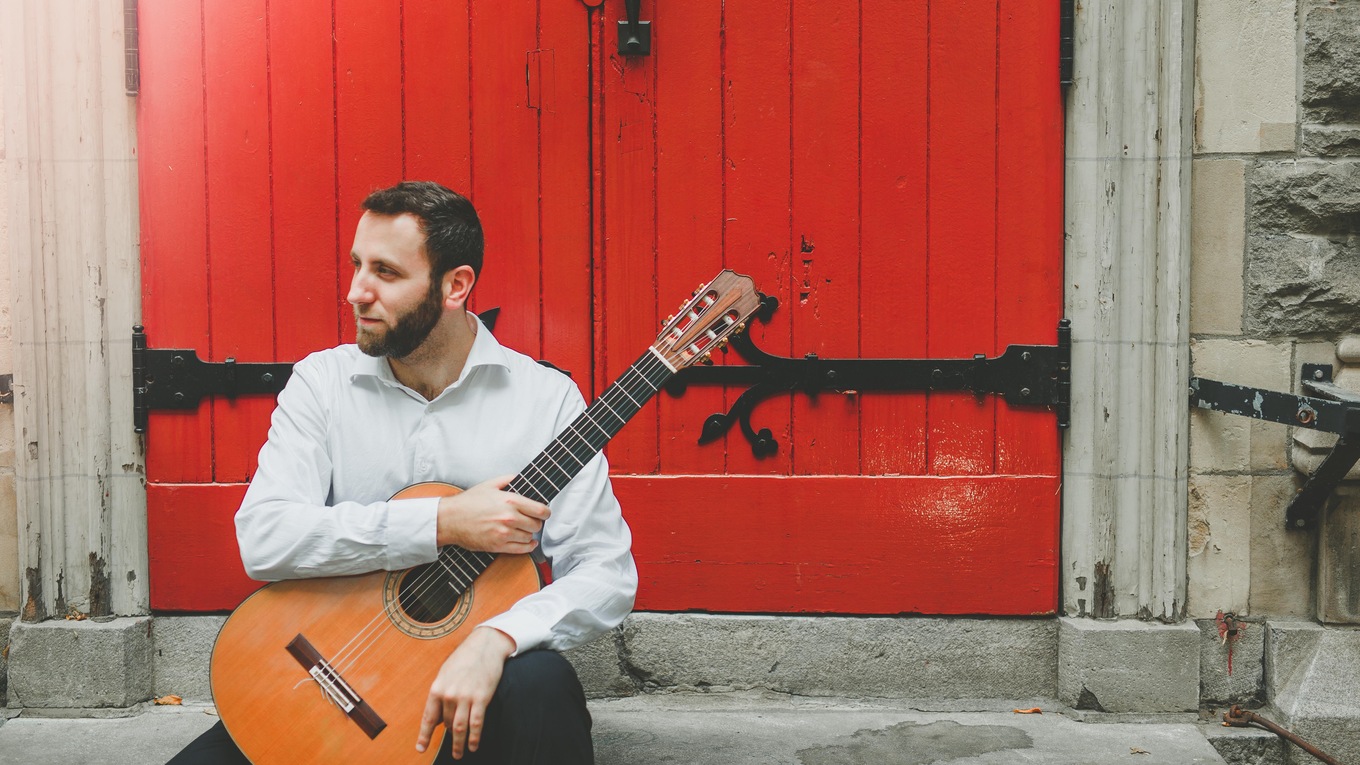 'My wife is the main reason that I was able to keep my sanity while recording this album, giving me constructive feedback and just being a constant support through the ups and downs that occur when undertaking a large project such as this one.' — Adam Cicchillitti (Simon Laroche)
Albéniz, Joaquín Turina and Manuel de Falla all spent time developing their craft in Paris, where Claude Debussy and Maurice Ravel urged them to eschew French Romanticism and instead draw on the music of their native Spain and Andalucia for inspiration.
"Turina realized that for the rest of his career he had to 'fight bravely for the national music of [Spain]' and he did so by exploring the folk music of flamenco and cante jondo (one of the predecessors of flamenco), which you can hear all throughout his sonata on my album," says Cicchillitti. "[And] Federico Moreno Torroba was a prolific composer of the zarzuela, a type of light Spanish opera. He wrote his Sonatina in A Major for the great Spanish guitarist Andrés Segovia."
Cicchillitti took great care while learning selections from Albéniz's popular Suite española, originally written for piano. "These works, especially 'Asturias,' have been performed so much on the guitar that we've completely taken ownership of them. Unfortunately, it seems that a majority of guitarists play these pieces exclusively from other guitarists' arrangements and don't take the time to explore the original piano score. The original manuscripts have a ton of details about dynamics that many guitarists ignore, [and] which I do my best to preserve in these recordings with a few of my own interpretive ideas."
Cicchillitti, one of CBC Music's 30 hot Canadian classical musicians under 30 for 2017, enlisted baritone Philippe Courchesne Leboeuf to perform arrangements of songs by de Falla and García Lorca on the album. "The keys to arranging art song for voice and guitar are experience, patience and openness to exploring the possibilities and limitations of the instrument," says Cicchillitti, who has made it the subject of his PhD thesis, in progress at McGill University's Schulich School of Music.
Also featured on his album is his friend and fellow guitarist Steve Cowan. "I always felt that the best music is made between friends," he says. The two play Joaquín Rodrigo's Tonadilla, a three-movement suite for two guitars.
"After years of performing together we've both maintained our individual voice but found effective ways to blend our sound," Cicchillitti muses. "We recognize each other's strengths and choose our parts accordingly. We are both working on our doctorates at McGill with an incredible teacher (Jérôme Ducharme) so we have plenty of time to rehearse and Jérôme has a lot of great input. In fact, it's the first time in the history of McGill that there are two doctoral guitarists in performance, which attests to the strength of Jérôme as a teacher and the burgeoning world of classical guitar in Canada."
Canciones, which was recorded at St. Mary Magdalene Church in Toronto by guitarist/producer Drew Henderson, will be released on Feb. 23. Pre-order it here.
An album launch will take place at la Chapelle historique du Bon-Pasteur in Montreal on March 3, and at St. Bartholomew's Anglican Church in Ottawa on March 10.
More to explore:
10 things you should never say to a double bassist
A primer on Marc-André Hamelin's new Stravinsky album