Including a Neil Young cover on an album is a bold move for any band, particularly if that cover is of the prolific songwriter's only standing No. 1 hit in the U.S. But Midnight Shine's reinterpretation of "Heart of Gold" stands tall on its own, given the changes lead singer Adrian Sutherland made to the original.
Having grown up in Attawapiskat, Ont. — "a very isolated area," as he describes — Sutherland listened to a lot of music, and Young was on the top of that list.
"Neil Young was one of my biggest musical inspirations, and 'Heart of Gold' is still one of my favourite songs," he says. "I've performed it many times, so we thought why not record it, Midnight Shine-style."
That style includes cuts of powwow singing, with the last verse of "Heart of Gold" translated into Mushkegowuk Cree, all changes made with permission from Young's publisher.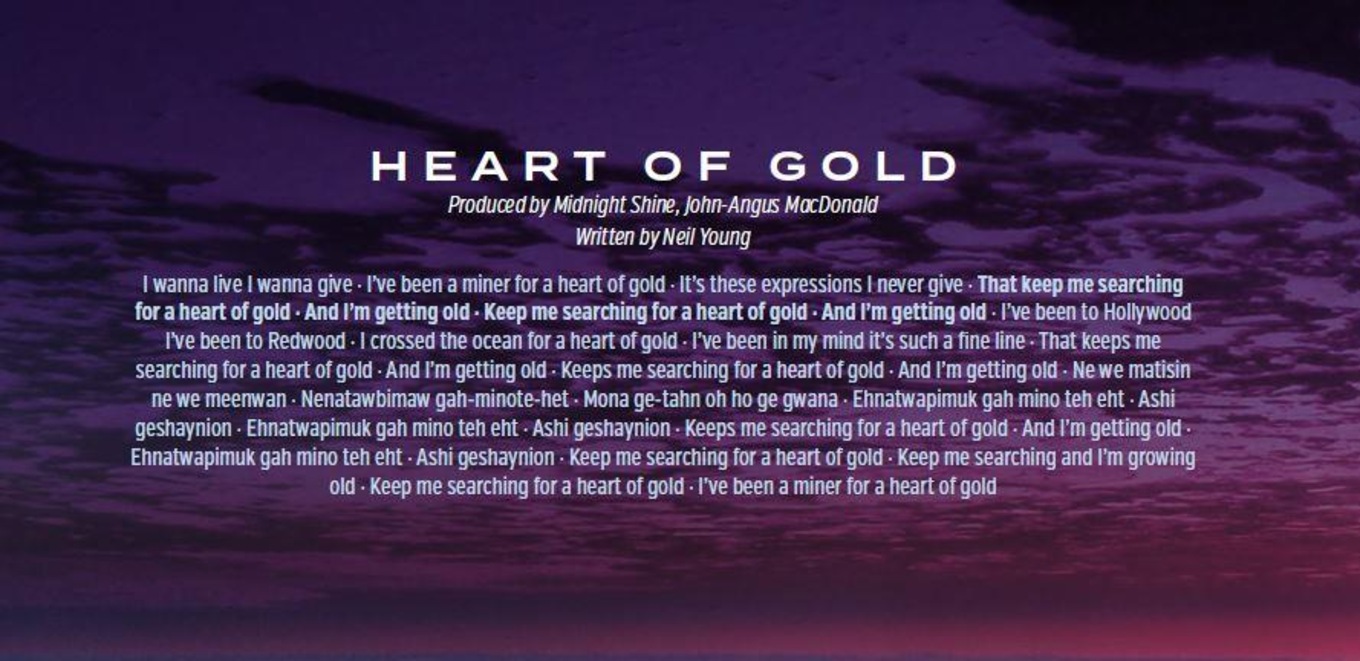 Midnight Shine is made up of Sutherland as well as bassist Stan Louttit and lead guitarist Zach Tomatuk, both from Moose Factory, Ont. The three came together when Sutherland was asked to open for Trooper during a Timmins, Ont., tour stop — but with no band, he had to put one together quickly. Eight years later, High Road marks the group's third album (which you can listen to in the player to the left).
Seven of the nine new, original songs were recorded at Jukasa Studios in Ohsweken, Ont., with producer John-Angus MacDonald (the Trews), and the remaining two were recorded at Blue Rodeo's studio, the Woodshed, in Toronto with Tim Vesely (Rheostatics). High Road was mastered by Joao Carvalho, who recently grabbed a Grammy nomination for his work on Rose Cousins' 2017 album, Natural Conclusion.
It's easy to picture High Road's cuts sung at Canadian rock festivals all summer, with its stage-ready sound and catchy, singable choruses. Hand-claps keep time with a big guitar and drum sound on "Velocity," while the opening riff of the title track has notes of the slow build in U2's "Where the Streets Have no Name." This album around, though, Midnight Shine is adding a few new sounds compared to the first two releases: on High Road you'll hear hand-drumming in addition to the aforementioned powwwow singing and lyrics sung in Mushkegowuk Cree (which can also be heard on "Survivor" and "Cold Walker"). High Road is Midnight Sound at its roots-rockiest, while paying homage to the bandmates' cultural backgrounds.
"A lot of the songs I'm writing these days keep coming back to being resilient, and not giving up," says Sutherland. "Through my music, I hope this message will resonate with people from the James Bay coast, and other isolated places. This album is for them."
More to explore:
First Play Live: The Glorious Sons, Young Beauties and Fools
First Play Live: Matt Mays, Once Upon a Hell of a Time