Making Noise
---
The 10 artists who shaped the conversations we had around music in 2016
Gord Downie
---
Person of the Year
Gord's message at the end of his last show, I don't know if you get a bigger moment in music than that. That's watching somebody who is known as the sound of a nation, take a moment to actually say something. To watch someone who doesn't need to make any kind of statement — us, we have to talk about these things, it would be irresponsible for us not to take these opportunities, but he doesn't need to do that. There is no pressure on him to be what he is being right now. You have to tip the hat to that big time.
Bear Witness, A Tribe Called Red
Gord Downie did the seemingly impossible this year. And then he did it again.
It's a rare, if not completely unachievable moment to experience in one's life, to get the kind of exposure Downie had performing in Kingston with the Tragically Hip on the final night of the band's Man Machine Poem tour. To have that type of audience, one-third of the country, staring at your sweating brow as you hold the microphone and look for the proper words to say during this, possibly your band's final performance after 30 years on the road. A career cut off by a cancer diagnosis, a gruelling city-by-city tour across the country during which your fatigue is clearly showing, matched only by your verve to get the job done, and now you're standing centre stage at your hometown arena and speaking to a nation. It's the stuff of myth-making, the kind of unique moment Downie made a career singing about and which, through some twisted sense of poetic fate, his career seemed to lead up to.
"Wait a second, there's 20 million people watching, I can say whatever I want," he later told CBC News, reflecting on the moment when that spotlight shone down on him with the weight of everything he's ever been through to get here and to come. And what he said was, "We're in good hands, folks. Real good hands," just as the cameras showed Prime Minister Justin Trudeau, wearing a Tragically Hip shirt, in the crowd. "He cares about the people way up North that we were trained our entire lives to ignore."
"Wait a second, there's 20 million people watching, I can say whatever I want."
Rather than reflect on his career, or even, as some presumed he would, ask for donations to cancer research at this final show, Downie called out the prime minister, and the entire country, to act on the problems facing Indigenous people in the North.
"What's going on up there ain't good," he said. "It may be worse than it's ever been."
As extraordinary as that was — a moment of selflessness that was immediately heralded as heroic — it's what Downie did next that truly showed how one man managed to revive a country's guilty conscience long laid dormant.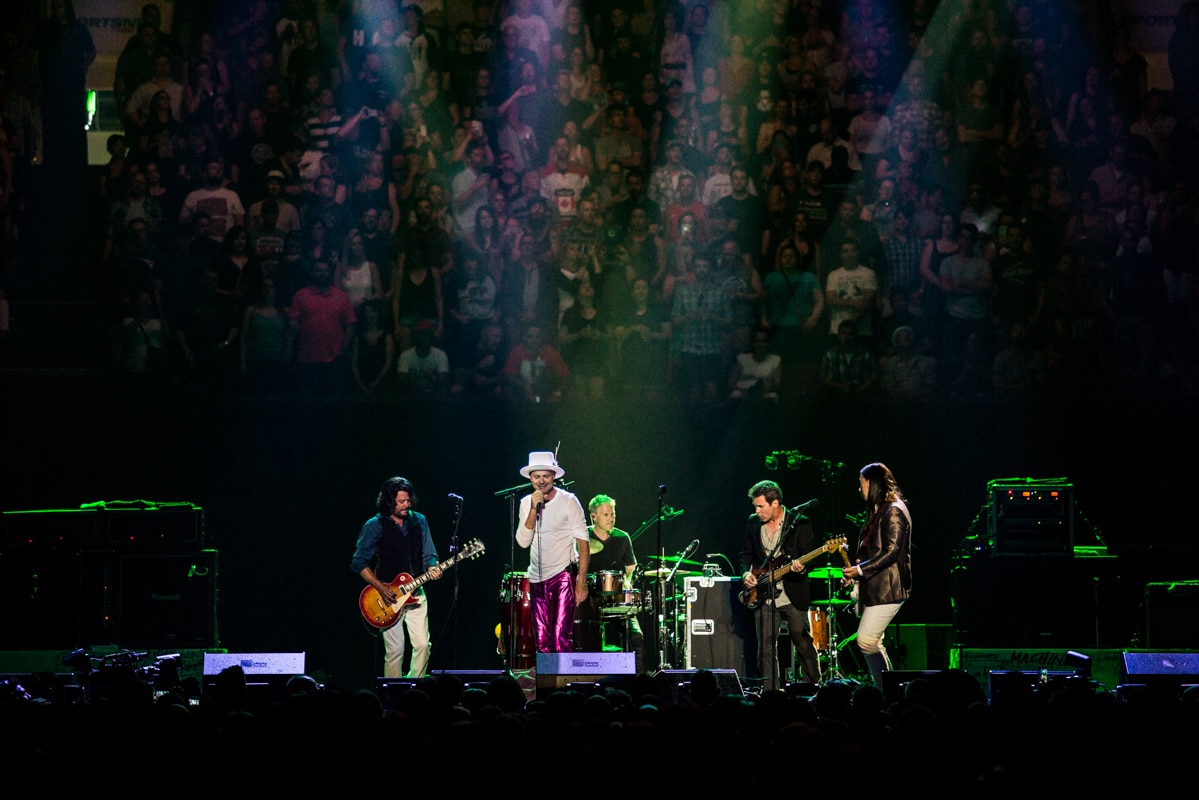 Photo by David Bastedo
Because cancer or not, Downie had already planned his next move. Three years ago, his brother, Mike, showed him an article in Maclean's magazine about Chanie Wenjack, an Ojibwa boy who, in 1966, ran away from a residential school in northern Ontario and attempted to walk home some 600 kilometres. He was found dead days later, having succumbed to starvation and exposure.
Downie, along with his brother and the author Joseph Boyden, were so struck by the story that they planned to mark its 50th anniversary, a dark moment in Canadian history too few knew about, with an outpouring of creativity. The twin projects — Downie's, an album called Secret Path paired with a graphic novel of the same name by Jeff Lemire and an animated film, also broadcast on CBC, and Boyden's, a novella called Wenjack (followed by a full-length novel, Seven Matches, in 2017) — were always going to come out in October. Just as the Hip was always going to tour its new album, well before people were calling it the band's last. What no one could ever have accounted for were the events leading up to that night in Kingston, with Downie staring down his legacy and somehow coming up with the exact right words to say.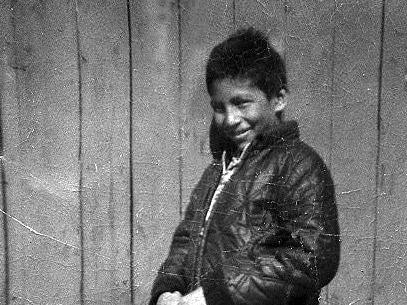 Courtesy of Pearl Achneepineskum
Secret Path, recorded over three years with producers Kevin Drew and Dave Hamelin, features Downie, over 10 songs, embodying the 12-year-old Wenjack during his final moments. Downie performed the album twice, in Ottawa and Toronto, with Chanie's sister, Pearl Wenjack, onstage with him; the significance of this, one of the most important gestures of Downie's career, driving him, "filling him up," as his brother told CBC.
Then there was the launch of the Gord Downie & Chanie Wenjack Fund, dedicated to improving the lives of First Nations in Canada, and the Gord Downie Secret Path Fund for Truth and Reconciliation, which received the proceeds from Secret Path. The graphic novel is even being used in classrooms, and educators from each province have already met with the Wenjack family, Lemire, Gord and Mike Downie in Ottawa to see how it can be officially integrated into the curriculum.
Secret Path is a legacy project for Downie, more so than 14 Tragically Hip albums, the diamond and platinum records, the awards. But even more than that, it's the culmination of everything combined, all leading up to the awkward conversation our country, after 150 years, needs to have so desperately. One we needed someone like Downie to pick up and drop on the table in front of everyone, daring us all to look away. It's all we've been able to talk about since.
For more on Gord Downie, skip to the Liner Notes.
"I can't help but feel that if women were equally rewarded for technical work they would feel inclined to participate more."
Photo by Matt Cowan/Getty Images
You could be forgiven for thinking that, for Claire Boucher, a.k.a. Grimes, 2015 was as big as a year could get. Her self-produced and self-engineered record Art Angels debuted to near universal rave reviews and opened at number one on Billboard's Alternative Albums chart. This year, though, she did something even more impressive: in the face of all the fame and success, she stayed true to her autonomous, uncompromising self.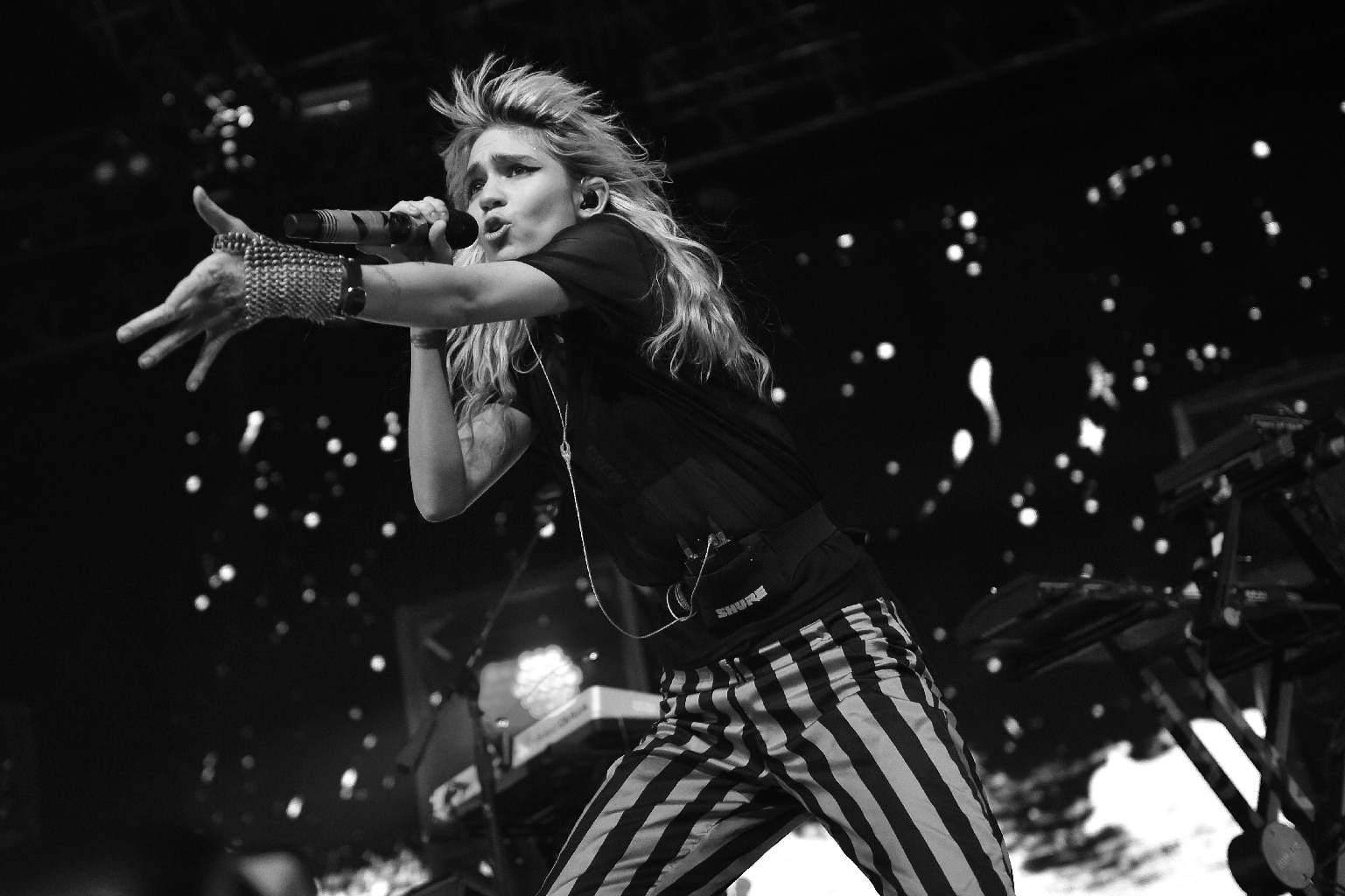 Photo by Mike Windle/Getty Images
In 2016, Grimes demonstrated that being a woman who takes credit for her work is as important as having a No. 1 album. In March, she spoke up after Art Angels — in spite of its international success — did not garner a single Juno nomination. And it wasn't only her: women were absent not only from major categories like artist of the year and album of the year, but also excluded in the producing and engineering categories.
"I don't expect recognition, but I believe there were qualified women besides myself for many categories," she wrote on Twitter. "I can't help but feel that if women were equally rewarded for technical work they would feel inclined to participate more."
"I don't expect recognition, but I believe there were qualified women besides myself for many categories."
Boucher also had a prolific 2016 as a video director, releasing stunningly original videos throughout the year, culminating in October with the release of seven self-directed, iPhone-shot videos in one day. Her idiosyncratic, guerrilla-style mini-films quickly became something of a phenomenon, but people seemed reluctant to give her the credit. Work offers even poured in for her brother and cinematographer, Mac.
"They're like, 'Can you make us a Grimes video?'" she told Elle. "He's like, 'She directs the videos.' No one has ever called me about a directing job. Women just don't get those calls, I think."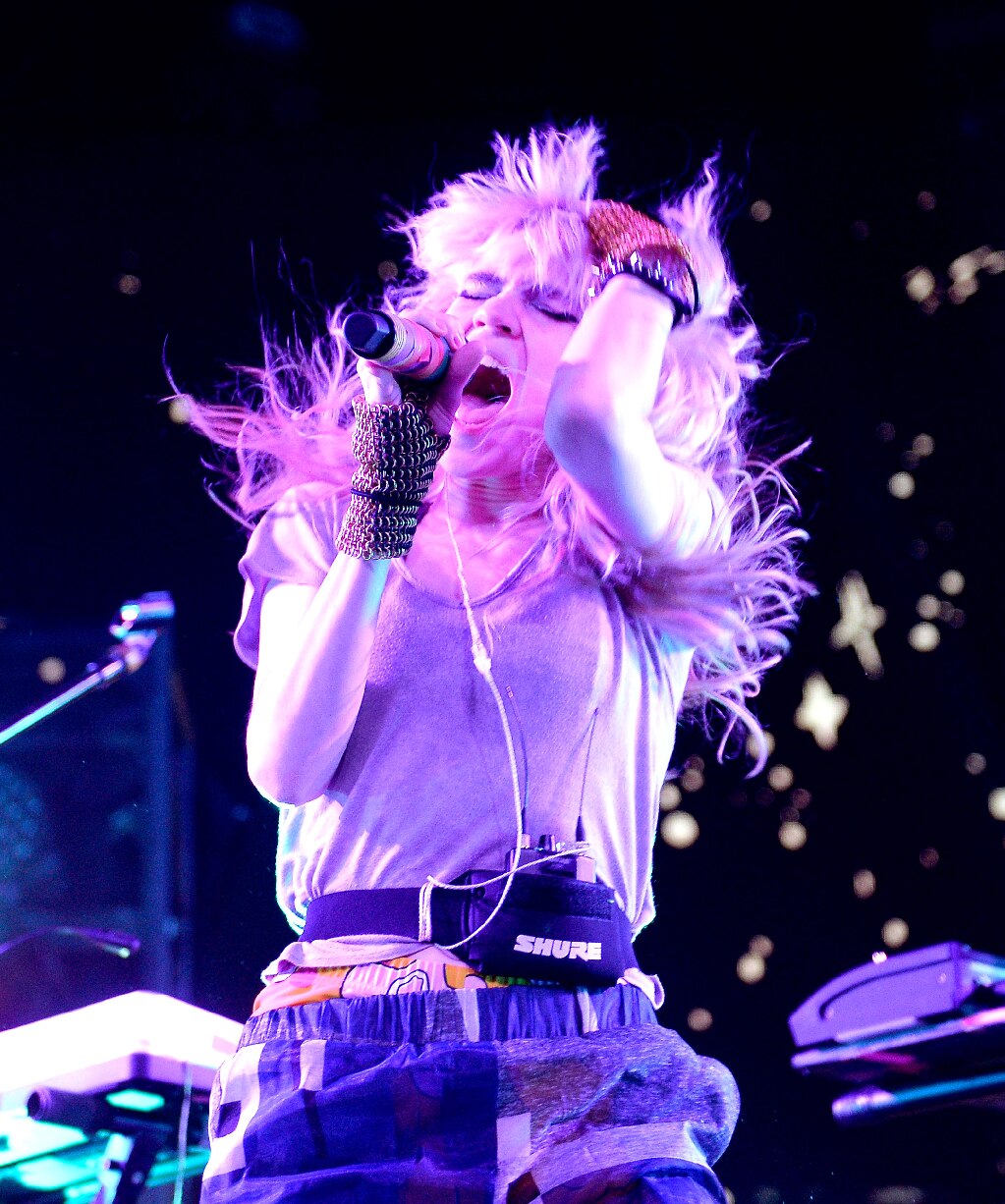 Photo by Matt Cowan/Getty Images
It's clear that Boucher, who was given a Woman of the Year Award from Harper's Bazaar in November, has left her mark on 2016, becoming a bona fide pop star while staying fully in control of everything she does. We'll see what's left for her to do next year.
For more on Grimes, skip to the Liner Notes.
Drake's collaborative mixtape with Future, What a Time to be Alive, came out in September and [damn near] broke the internet. Him premiering it on his OVO Sound radio show right here on Beats 1 was monumental for us.

I'm also glad he got tested as a rapper this year. As a hip-hop fan, hip-hop can be very competitive, and the beef can sometimes not be so fun. While there were some aspects of this between him and Meek Mill, he did get tested as a rapper, as an MC, and he prevailed. Without a doubt, everybody knows that he put out the best material.
Photo by Paras Griffin/Getty Images
There's a scene in the 2010 film The Social Network that will likely go down as the Scarface poster for the meme generation. In it, sleek tech guru Sean Parker (played by Justin Timberlake) addresses a wide-eyed Mark Zuckerberg and his weary Facebook co-founder Eduardo Saverin over dinner. "A million dollars isn't cool," Timberlake's Parker slyly posits. "You know what's cool? A billion dollars."
"You know what's cool? A billion dollars."
In many ways, Drake is the pop-game Sean Parker. He's playing speed chess while the others play weighty games of checkers.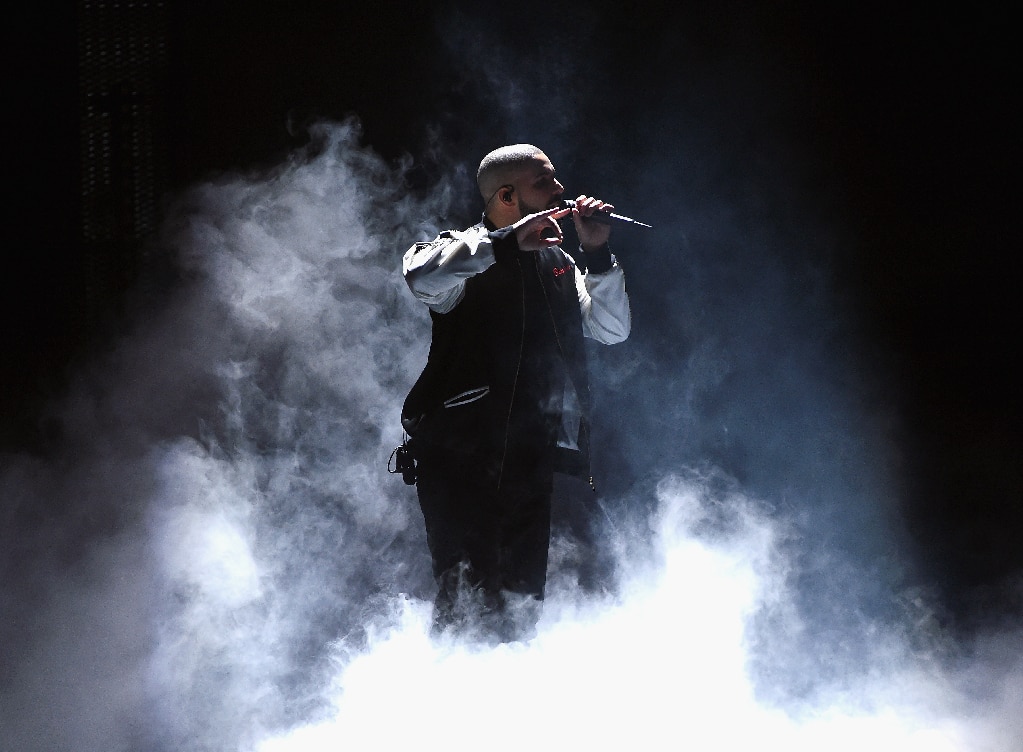 Photo by Kevin Winter/Getty Images
Even before the year began, analysts predicted we'd hit Peak Drake in 2016. They weren't wrong, they just miscalculated the formula. Drake's fourth studio album, Views, was to be his masterpiece — a heartfelt tribute to his city created in the wake of the 6ix God's most enduring success. By the time it finally saw the light of day, the album's 20 loosely connected tracks and 81-minute runtime felt like a bloated, hollow husk in the shadow of devastatingly powerful albums by Beyoncé and Kendrick Lamar. But as the year unfolded, so did Drake's game plan: Views wasn't the deep concept album that his critics dreamed of; this was the cold, calculated pop paraphernalia that made the Degrassi grad so easy to swallow as the face of millennials. By the time the industry records came tumbling down, it was obvious he was the smartest person in the room.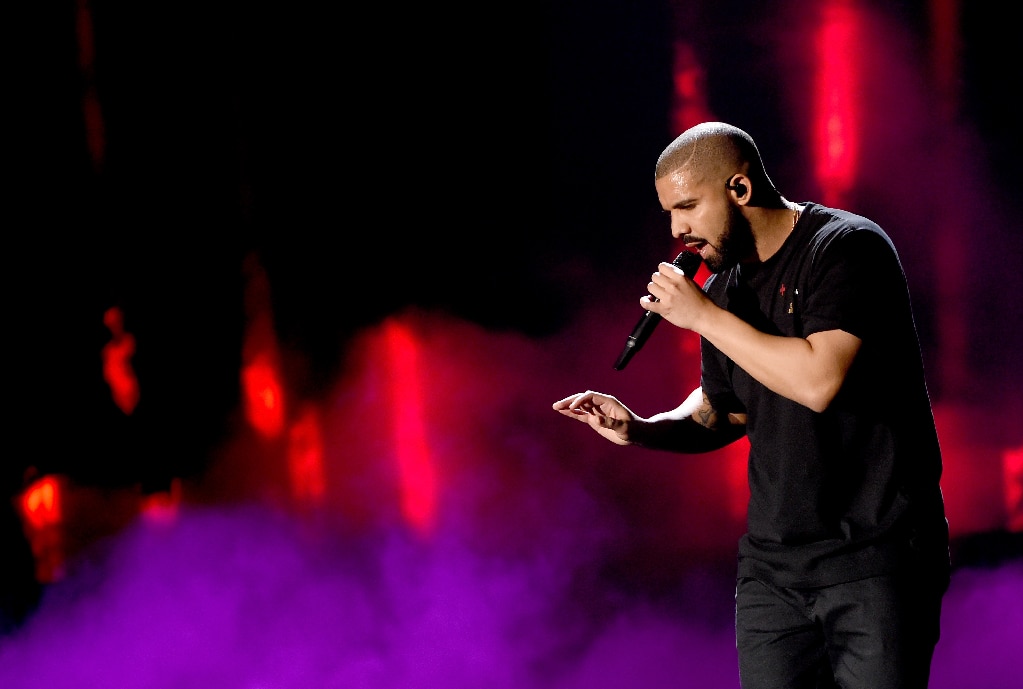 Photo by Kevin Winter/Getty Images
To paraphrase Jay Z, Drake 2016 was not a businessman, he was a business, man. In just over 10 months, the OVO mastermind managed a staggering amount of firsts: first artist to have an album stream over one billion times on Apple Music (following his one-week streaming record, 245.1 million times in the U.S., on the same service); the first with 20 simultaneous hits on the Billboard Hot 100 and the first since 50 Cent to simultaneously lead the Billboard Hot 100 and 200 charts for at least three weeks. The 30-year-old also passed Eminem's Billboard record for rap album with most weeks at No. 1 (nine straight), broke Adele's U.K. streaming record, had "One Dance" — the official Song of the Summer — crowned the most-streamed song in Spotify history and, along the way, topped Justin Bieber as that service's most-streamed artist of all time.
Perhaps it's no coincidence then that, following his Facebook departure, the real Sean Parker ended up at Spotify. After all, it's what's cool.
For more on Drake, skip to the Liner Notes.
Coeur de pirate
---
The Provocateur
"I'm coming out for my daughter who needs to learn that love knows no race, religion, gender or orientation."
Photo by Étienne Saint-Denis
As her nom de guerre suggests, Québécoise singer-songwriter Béatrice Martin's wild heart manifests in a haunting voice. In 2016, she found a new register to express it, both personally and professionally.
This past June, the 27-year-old found herself in a Paris hotel room, attempting to make sense of the horrors unfolding almost in real time at the Pulse nightclub in Orlando, Fla. A wife and mother, Martin's thoughts turned to the victims, many of whom had never come out to their families but who were gunned down for being homosexual.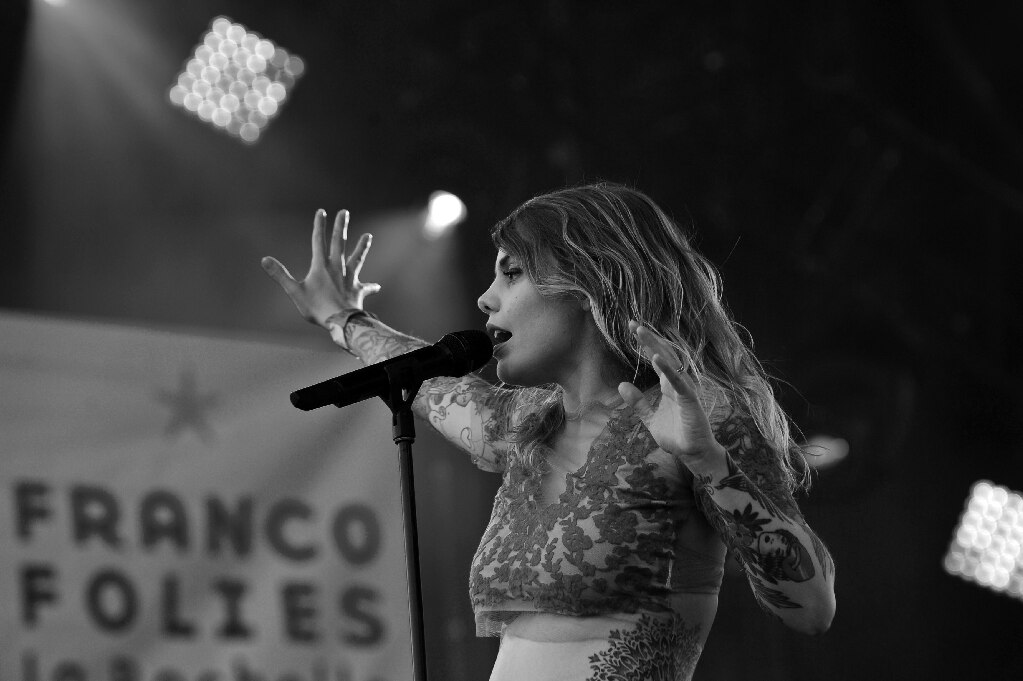 Photo by Xavier Leoty/Getty Images
"The whole situation made me wonder if I was considering myself honest. I had been going through many changes as well," she wrote in an emotional op-ed titled "I Can No Longer Be Scared of What People Think." "I can't be scared that someone will stop listening to my music… I'm coming out for my daughter who needs to learn that love knows no race, religion, gender or orientation. Even though the family that she knew in the very beginning won't be the same, she deserves all of the love that she needs or wants. I'm coming out for the victims that lost their lives because they wanted to celebrate who they truly were."
"I can't be scared that someone will stop listening to my music."
One month later, she faced another public test of her identity.
"Béatrice Martin, a.k.a. Coeur de pirate, has just had a disturbing coming out," began a scathing op-ed published in Le Journal de Montreal, damning the chanteuse for participating willingly in Justin Trudeau's inaugural Canada Day celebration in Ottawa. "This one is far more troubling: Coeur de pirate had her Canadian coming-out. She is proud to be Canadian. She comes out by jumping into the arms of Justin Trudeau, for whom she has a manifest affection."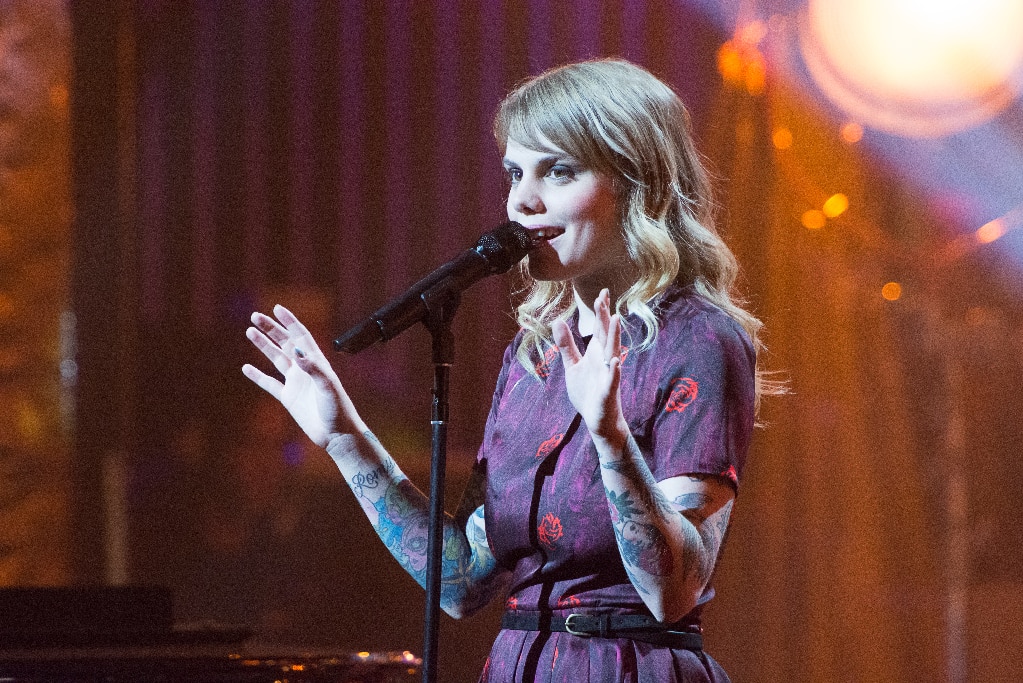 Photo by Dave Kotinsky/Getty Images
To some artists, especially francophone ones, either of these could have been a death blow to a burgeoning career. But Martin has not only persevered; she's prospered. She's become an outspoken voice in the LGBTQ community and a bright light in Canada's international musical presence.
Speaking to Out magazine last month, Martin reflected on her turbulent year, which included a public split from the father of her daughter and, later, Against Me!'s Laura Jane Grace. "I don't regret coming out," she said. "You live and you learn."
"You live and you learn."
For more on Coeur de pirate, skip to the Liner Notes.
Yannick
Nézet-Séguin
---
Metropolitan Operator
It's a delight to work with Yannick. He is a sensitive conductor with an incredible musical imagination. He is a singer's dream conductor because he breathes with you, follows you and helps you to be the best possible version of yourself.…

I believe his charisma, musical sensitivity, approachability and contagious positivity make him the ideal candidate to run an orchestra and help navigate an opera house in a challenging period. He represents a bright star on the classical music horizon. He is in line with the tradition of amazing conductors who have shaped the musical landscape for generations to come.
Luca Pisaroni, bass-baritone
Pisaroni sings the title role on Deutsche Grammophon's 2016 recording of Mozart's Le nozze di Figaro, conducted by Yannick Nézet-Séguin
Photo by Hans van der Woerd
When it was announced in June that Yannick Nézet-Séguin will succeed James Levine as music director of the Metropolitan Opera, bringing an end to months of speculation, it was the headline of the year in classical music circles.
Nézet-Seguin, who made his debut with the company in 2010 conducting Bizet's Carmen and has been a regular guest conductor at the Met ever since, was rumoured to be a top contender for what is arguably opera's most prestigious job. Conductors' schedules being what they are, he won't officially take up the music directorship until 2020, but as music director designate he becomes an important presence at the Met effective immediately, while retaining his positions at the Philadelphia Orchestra and Montreal's Orchestre Métropolitain.
At 41, Nézet-Séguin is at the vanguard of next-generation conductors currently ascending to the uppermost artistic positions in classical music. Andris Nelsons, 37, heads the Boston Symphony and Leipzig Gewandhaus Orchestras; Gustavo Dudamel, 35, has got the Los Angeles Philharmonic and the Simon Bolivar Symphony Orchestra under his baton; 44-year-old Kirill Petrenko will take over from Simon Rattle at the Berlin Philharmonic in 2018. In a field whose leading practitioners regularly work into old age, Nézet-Séguin and his peers are still considered young conductors.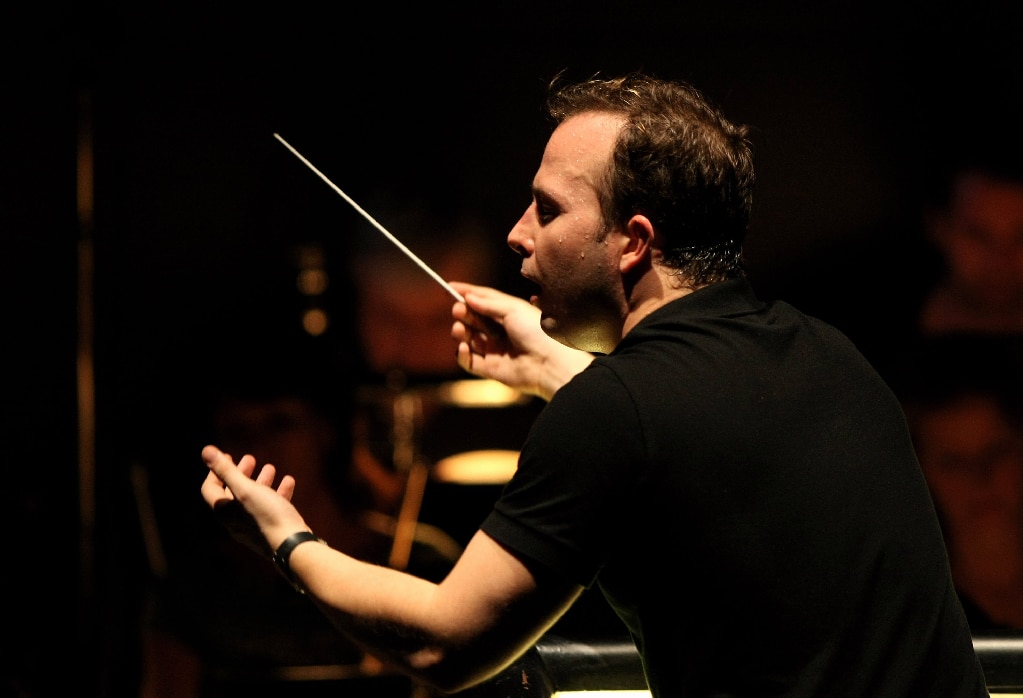 Photo by Ralph Orlowski/Getty Images
But in addition to being relatively young, Nézet-Séguin is helping to redefine the public image of the conductor. He's humanizing a profession that has been tainted, historically, by notorious egomaniacal behaviour, something to be endured in the service of a higher artistic goal.
It's a stereotype rooted in both fact and fiction: In Orchestrated Murder, a mystery novel by Rick Blechta, a celebrity conductor has been murdered and his entire orchestra has confessed to the crime. The detective's job is complicated by the fact that nearly every member of the orchestra has credible motive.
Thankfully, the era of the autocratic conductor is coming to an end.
As an early adopter of social media, Nézet-Séguin made great strides in bridging the gap between the conductor on one side, and orchestral musicians and the public on the other.
It's hard to imagine Fritz Reiner, the music director of the Chicago Symphony from 1953 to 1962 who "truly enjoyed making musicians uncomfortable, making them squirm, humiliating them," posing for a group selfie with the musicians of his orchestra.
And Arturo Toscanini, who infamously snapped batons and whipped his score at his orchestra during rehearsal, most certainly would never have invited the world into his living room on a Sunday morning, as Nézet-Séguin did recently: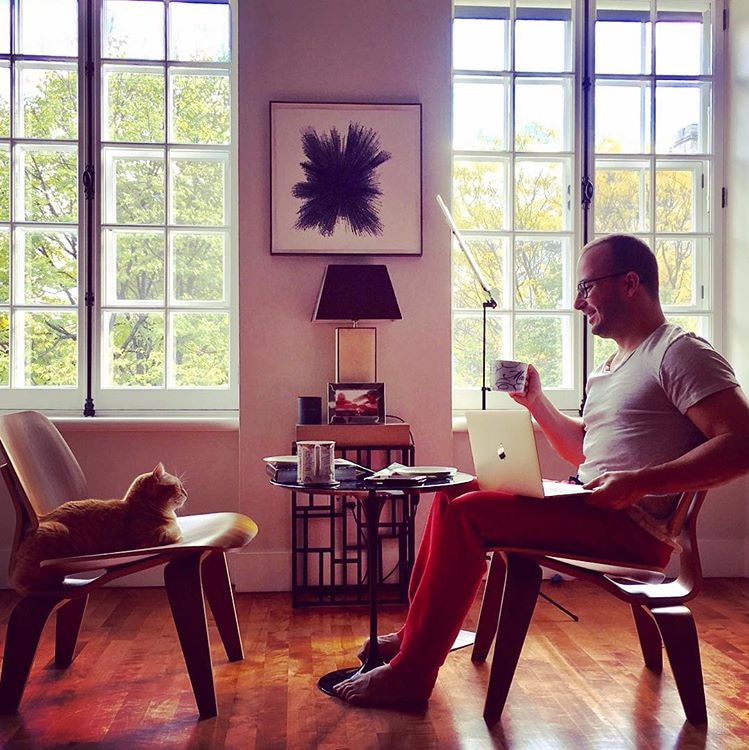 Yannick Nézet-Séguin/Instagram
This is not to say Nézet-Séguin, while kinder and gentler, is also breaking with musical tradition. He's not. For example, his attachment to Bruckner's symphonies, often considered demanding for audiences due to their length and ponderous pacing, shows he's no apologist for classical music's conventions. Yes, these works are long, he seems to be saying, and you need to hear them.
He also wants international audiences to hear his fellow Canadian musicians. In January, Nézet-Séguin and the Philadelphia Orchestra brought Jan Lisiecki with them to New York for Lisiecki's Carnegie Hall debut; in September, cellist Stéphane Tétreault made his Philadelphia Orchestra debut playing the Saint-Saëns Concerto.
And remember, this is the conductor who, through all his international success, has remained loyal to the first orchestra to take a chance on him: Montreal's Orchestre Métropolitain named him music director in 2000, and while everyone speculates about when he might drop that position, he continues to surprise us with his emphatic commitment to the organization. In fact, Nézet-Séguin and the orchestra have just announced a European tour, its first, coming up in November and December 2017.
For more on Yannick Nézet-Séguin, skip to the Liner Notes.
A Tribe Called Red
---
Nation Builders
A Tribe Called Red is a whole lot more than simply an EDM collective. They're cultural warriors and artists and statesmen. They are musical chemists who take the traditional heartbeats of nations and sprinkle their mad magic skills into those beats. And in doing that, these three create a sound, a style, a way of walking through the world at once utterly new and brilliant and addictive while never losing their grounding in the spirit and in spirituality. They are a source of pride for Indigenous peoples across Turtle Island, and they've introduced countless others to our beauty and energy and resilience.
Joseph Boyden, author/collaborator
With its third album, We Are the Halluci Nation, A Tribe Called Red not only impressively displayed the group's musical growth, but continued its ongoing efforts to highlight issues facing Indigenous peoples in Canada. Directly inspired by late Indigenous poet and activist John Trudell to deliver an album with a conceptual and narrative arc, as opposed to the group's "club banger" orientation of the past, We Are the Halluci Nation represents a sonic progression from 2013's Nation II Nation. The fact that the three DJs — Ian "DJ NDN" Campeau, Tim "2oolman" Hill and Bear Witness — were able to inextricably link their message and music in a way that strengthened each goal underlines the importance and undeniable potency of their work.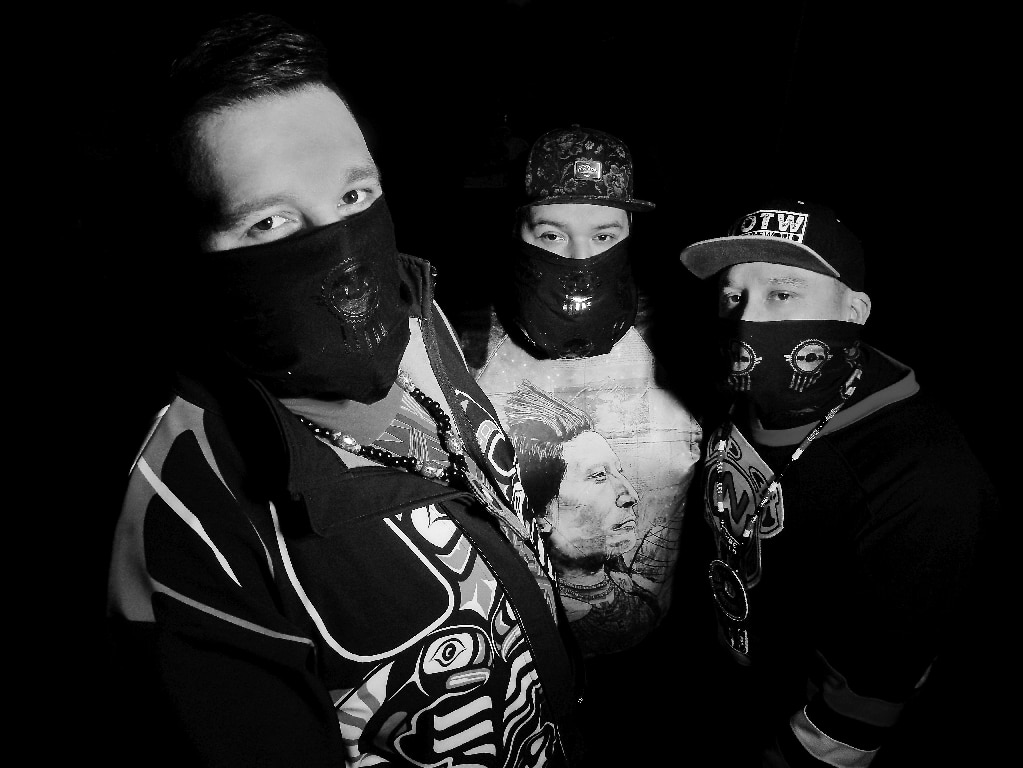 Falling Tree Photography
While Gord Downie gained significant attention around Indigenous issues with his Secret Path album and multimedia project about the life and death of Chanie Wenjack, it's important to note that A Tribe Called Red crafted the conceptual We Are the Halluci Nation to feature a number of interludes incorporating Wenjack's plight, narrated by author Joseph Boyden.
"This goes back to representation and the discrepancy on how we see ourselves and how the world portrays us."
A Tribe Called Red enthusiastically welcomed Downie's efforts to raise awareness about Indigenous issues because it fell in line with the inclusive approach the DJs have taken on We Are the Halluci Nation, as well as the way they approach their everyday lives. By connecting with like-minded artists like Tanya Tagaq, Shad, Yasiin Bey and Saul Williams, those connections are being forged. But it's important to note that A Tribe Called Red isn't diluting its message despite the outreach, ensuring that members of its audience who are not Indigenous have the opportunity to learn in the process.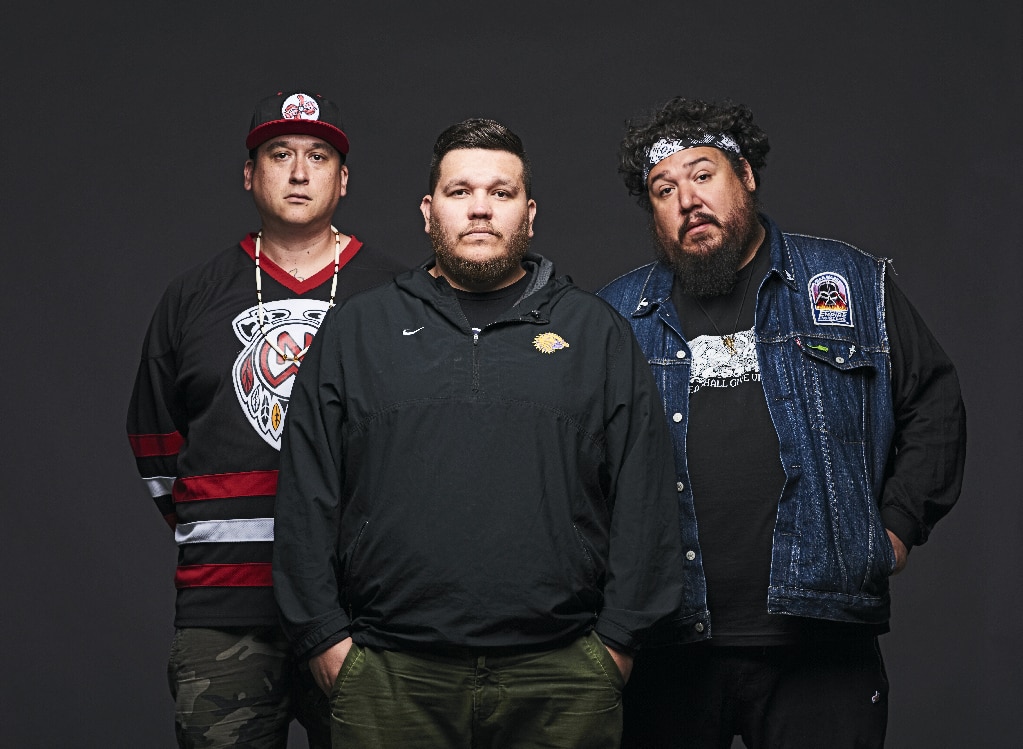 Photo by Matt Barnes
"This goes back to representation and the discrepancy on how we see ourselves and how the world portrays us and then the importance to us as individuals to be able to go out and be able to represent ourselves in the way we want to be seen," said Bear Witness. "And one of the goals we've had that goes along with the representation thing is to create that for other generations. To create something that everyone enjoys, but represents Indigenous people that young Indigenous people can identify with and say, 'All my friends at school have been listening to this song, but I've been powwow dancing since I've been growing up and this is my culture.'"
For more on A Tribe Called Red, skip to the Liner Notes.
Raphaelle
Standell-Preston
---
The Advocate
"I felt ashamed and embarrassed by the things that happened to me in my early childhood, and looking back at it now, that's not OK."
Raphaelle Standell-Preston
Photo by Cory Schwartz/Getty Images
On May 2 via Pitchfork, Braids singer-songwriter Raphaelle Standell-Preston wrote an essay about being molested by her stepfather for years as a young girl, and the associated shame and stigma she'd carried with her in the ensuing years.
"I felt dirty, gross, and different — in a bad way — from everyone else in the room," Standell-Preston wrote, continuing: "I felt ashamed and embarrassed by the things that happened to me in my early childhood, and looking back at it now, that's not OK."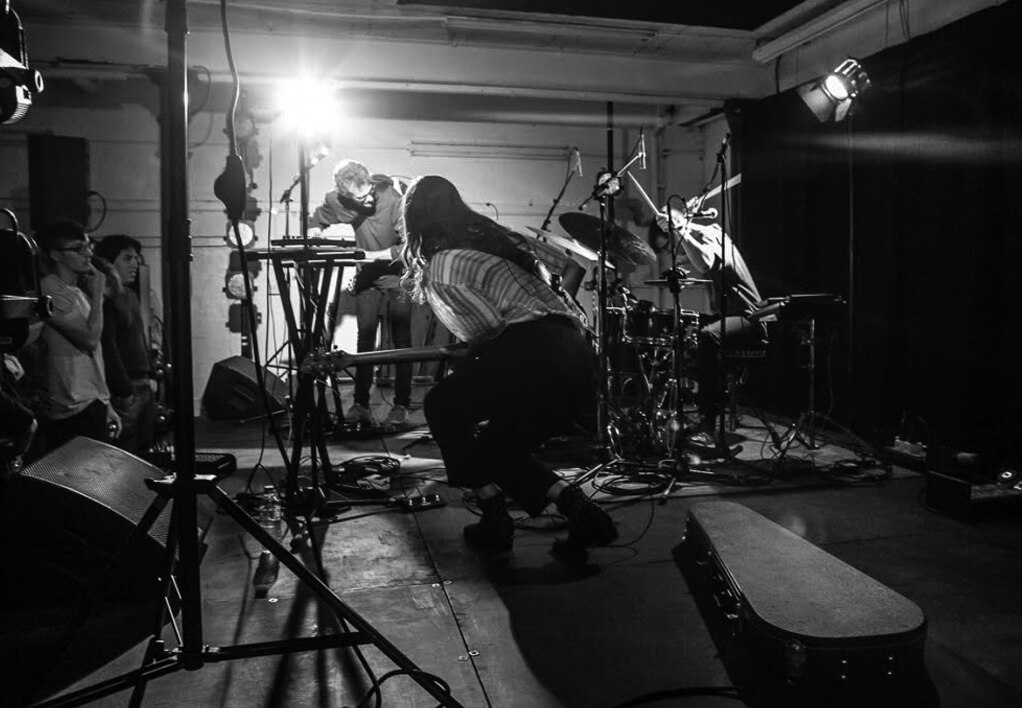 Photo by Wunmi Onibudo
Standell-Preston's essay stemmed from Braids' scorching, devastating single "Miniskirt," from their 2015 album, Deep in the Iris, in which she'd already mapped the story, publicly, for the first time. The essay unlocked something else, and they recorded a four-song EP, Companion, both a healing tool and a path forward.
"If you've been abused in some way, whether you deem it a life-shattering event or a hiccup, you likely know what I mean," Standell-Preston wrote. "The feeling that you'd done something wrong: That if you hadn't been there at that time or said that thing, if you hadn't worn that outfit or slicked back your hair, if only you'd been more assertive or just hadn't been so naive, things wouldn't have happened this way. The blame game."
"If you've been abused in some way, whether you deem it a life-shattering event or a hiccup, you likely know what I mean."
In writing this piece and releasing this EP, Standell-Preston made 2016 a bit safer for other survivors. A lot of people get their backs up about a term like rape culture, but that's what happens when there's more stigma attached to victims of sexual violence than on the perpetrators.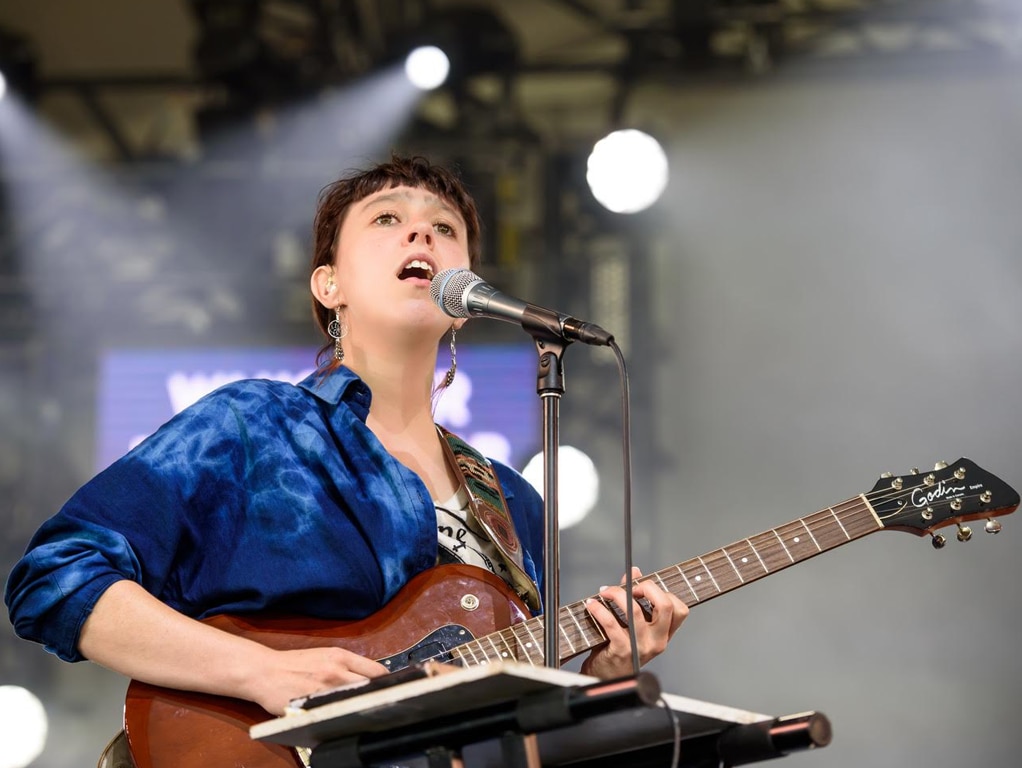 Photo by Daniel W Young
"If you're tired of reading about people coming out about having experienced rape, or abuse, or violence — then good," Standell-Preston wrote. "It means you're beginning to understand how many people have been affected by it. And if you're tired of reading another article on female empowerment, then keep reading, because it should be normal, and it isn't as accepted as it should be. This is a fight we need to keep fighting."
Maybe now more than ever.
For more on Raphaelle Standell-Preston, skip to the Liner Notes.
Kaytranada
---
Next Big Thing
Everywhere in the world that I have travelled to DJ, I have played Kaytranada's music to great response. The DJs in all of those countries are playing Kaytranada's music, too. I am proud to say that I am from the same country as such a talented artist. His style is extremely rare: a genre-less balance between forward-thinking/progressive and classic/retro. It respects and channels the styles that came before him while presenting new musical and sonic ideas.
Skratch Bastid, Halifax DJ
Photo by Matt Cowan/Getty Images
Kaytranada makes old music new again. Ever since the 24-year-old Montreal producer (Haitian-born Kevin Celestin) began posting his irresistibly imaginative remixes, reconfiguring popular and unappreciated '90s R&B gems to his Soundcloud page, Kaytranada has been collapsing time and space with Afrofuturist verve.
Drawing on the strength of Montreal's supportive "piu piu" beat-making scene (a term coined by hometown producer Vlooper) and fostered by the Artbeat Montreal collective, Kaytranada was soon attracting attention far beyond his immediate environs. Cultivating global audiences off the strength of musical concoctions like his sumptuous reworking of Janet Jackson's "If" and garnering a record label contract from UK label XL, he enlisted the services of fellow envelope pushers from around the world. 99.9%, Kaytranada's 2016 debut full-length, featured him directing leftfield darlings such as Sweden's Little Dragon, U.K.'s AlunaGeorge and California's Anderson.Paak — as well as Toronto's BadBadNotGood and River Tiber — through a groove-oriented odyssey, drawing on jazz, hip-hop, house, soul and disco. While his dizzying ability to craft a unique musical vision from the past was rightfully honoured and recognized by September's historic 2016 Polaris Music Prize win — the first time a black artist has won the award — it also represented something larger, something that Kaytranada recognized himself.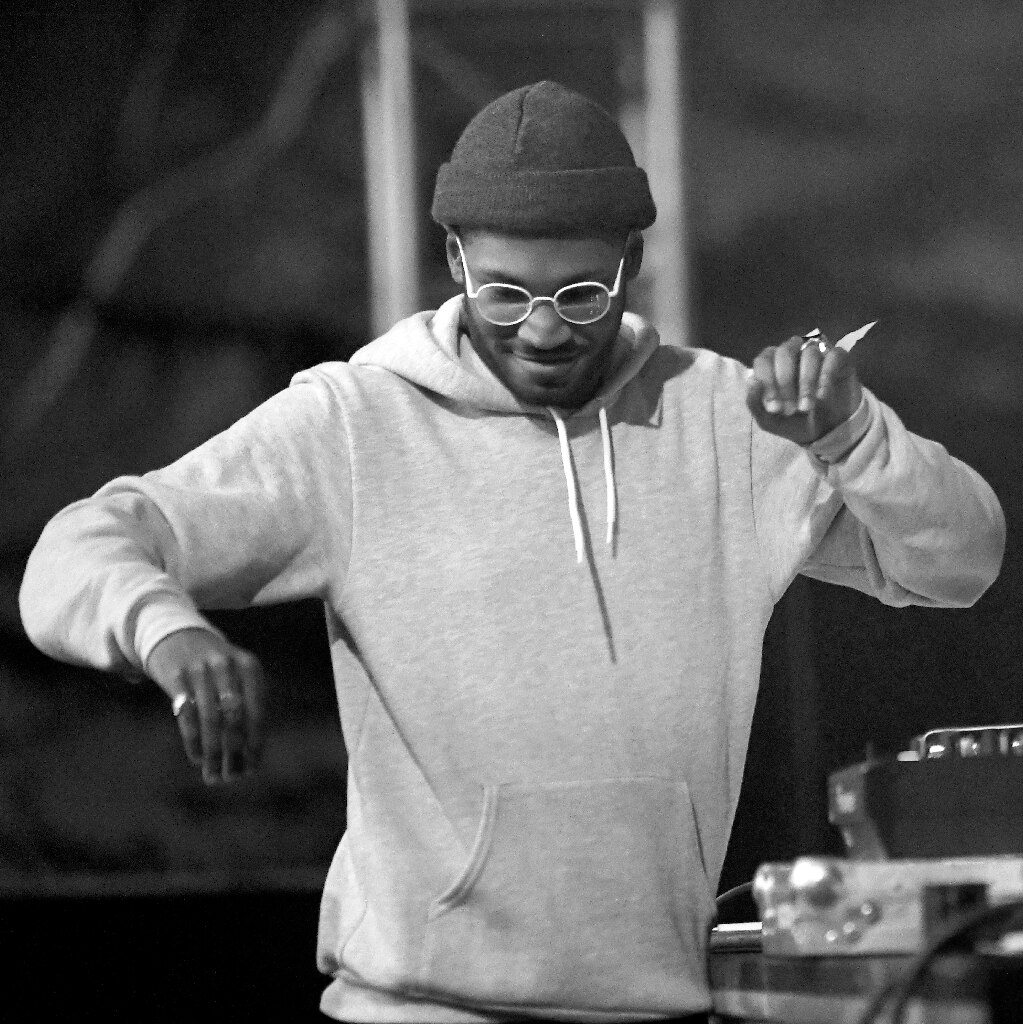 Photo by Frazer Harrison/Getty Images
"It's a good recognition," he said after winning the prize. "It's like, an artist that does it himself and [uses] hip-hop, dance music, house music, electronic music … they're finally getting recognized. And I'm happy, you know? I don't know how to explain it. It's so crazy. I'm still in shock. it's definitely an evolution in the Canadian music scene, starting today."
"It's definitely an evolution in the Canadian music scene, starting today."
In recent years, Drake and the Weeknd have placed Canada firmly in the global conversation when discussing the influence and impact of hip-hop and R&B in the world. But their successes are hardly isolated triumphs. Behind the scenes, a slew of seasoned and accomplished Canadian music producers are proving increasingly influential on the most talked-about and successful hit singles and albums of 2016 by A-list artists like Rihanna and Kanye West, to name a few. Consequently, Kaytranada is part of a growing zeitgeist that is becoming increasingly apparent to global ears. Not only is he recontextualizing traditional musical sounds, he's also a critical part of the progressively broadening notion of what constitutes Canadian music to the world.
For more on Kaytranada, skip to the Liner Notes.
Tanya Tagaq
---
The Revolutionary
Beauty, rage, intelligence, humour, pain, ecstasy. Tanya Tagaq's range as an artist is amazing to me. I've loved seeing her unique talent and urgent message move so many people this year. It's not hard to recognize that something very special is happening in our scene right now with artists like A Tribe Called Red, Joseph Boyden, Gord Downie and others making monumental contributions at what feels like a crucial moment. Tanya is right there at the forefront. In her work, I hear both the full depth of the present challenges facing our society, and the best ways forward: great courage and love.
Shad, Juno Award-winning rapper
In 2016, Tanya Tagaq's voice rose defiantly, singularly, to unleash and demand Retribution, an album and a damnation aimed at rape — of women, of land, of Indigenous rights.
The most personal and political statement yet from the Inuk throat singer — who has defended the seal hunt while receiving death threats and performed on the Polaris Music Prize stage in front of a scrolling list of 1,200 names of missing and murdered Indigenous women — with this new album, Tagaq started a conversation on her own terms, on feminism in the context of Indigenous culture.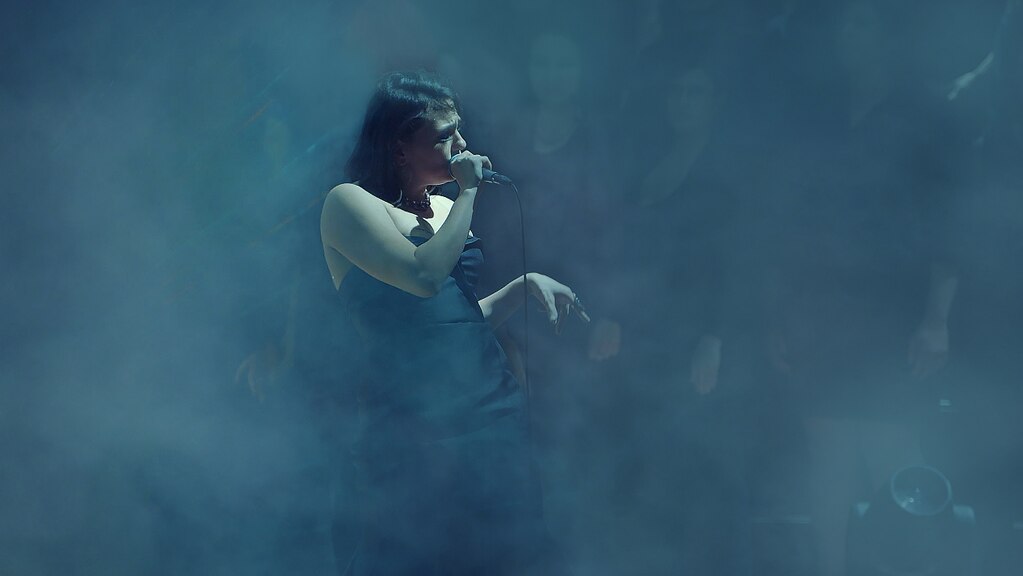 Photo courtesy of artist
Retribution arrived alongside powerful and arguably more celebrated offerings from her male peers who also addressed Indigenous rights and colonization — A Tribe Called Red's We Are the Halluci Nation and Gord Downie's Secret Path, which brought focused attention to Chanie Wenjack, an Ojibwa boy who died running away from a residential school 50 years ago. On the anniversary of Wenjack's death in October — the same month as Tagaq's album release — concerts were held, books were released and conversations were had, all while Tagaq, running on a parallel line, addressed all forms of rape, dismantling the patriarchy one visceral cry at a time by making vulnerable art that is boldly unapologetic.
"My daughters and I are four times more likely to be murdered or have violent acts upon us," she told CBC Music in September. "I don't feel that anyone's OK with that. So why not discuss it?" Retribution is that discussion, with nine thrilling, evocative songs weaving Tagaq's spoken-word ("Money has spent us," she snarls on the title track), grievings for her land and people and field recordings sampled from her home territory. It's raw. Devastating. Beautiful. Difficult. Above all things, it's proudly female.
"My daughters and I are four times more likely to be murdered or have violent acts upon us."
"My voice is as strong as anyone else's voice," she said. "My right to be here, standing here, right here on this ground, is as much as anyone else's."
For more on Tanya Tagaq, skip to the Liner Notes.
As I write this I'm thinking of my father's unique blend of self-deprecation and dignity, his approachable elegance, his charisma without audacity, his old-world gentlemanliness and the hand-forged tower of his work. There's so much I wish I could thank him for, just one last time. I'd thank him for the comfort he always provided, for the wisdom he dispensed, for the marathon conversations, for his dazzling wit and humour. I'd thank him for giving me, and teaching me to love Montreal and Greece. And I'd thank him for music.
Adam Cohen, via his Facebook page
"I said I was ready to die recently. And I think I was exaggerating."
Leonard Cohen felt obliged to reassure his fans. Days before he made that remark at a listening party for his new album, the New Yorker had published a fascinating but alarming profile of Cohen that portrayed him as a virtual invalid — faculties undulled; body wasting away. The 82-year-old poet punctuated his usual mordant wit with uncharacteristic resignation. The profile even quoted an email Cohen had sent to his old flame Marianne Ihlen (of "So Long, Marianne" fame) on her deathbed. "Know that I am so close behind you," he wrote to her, "that if you stretch out your hand, I think you can reach mine."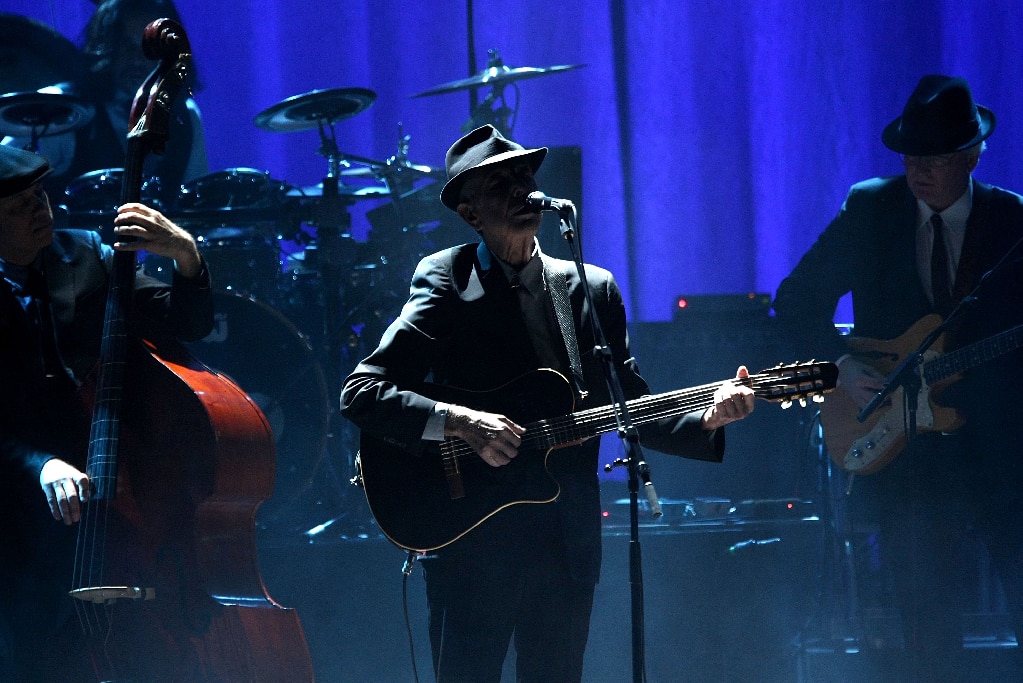 Photo by Michael Loccisano/Getty Images
Cohen's gentlemanly insistence that we need not worry about him may have provided temporary relief. But the new record, You Want it Darker, did not offer further reassurance. Mortality-obsessed and murky, it is a late masterpiece in the vein of Mahler's ninth (and final) symphony. Cohen sings in an eternal growl, deeper than ever. The album's title track pits him against a synagogue choir, and the result is as profane as Cohen has ever been. His lyrics blur the line between talking to a lover with whom things are complicated and talking to a god with whom things are complicated.
"If you are the dealer, I'm out of the game," Cohen intones, and he continues in that direction for the next 35 minutes, killing the flames he's lit for gods and lovers past. You Want it Darker is an album about fruitlessly seeking attention from personages, supernatural and otherwise, who'd rather you left them alone. It's an album about giving up on connecting with God and your fellow man.
"If you are the dealer, I'm out of the game."
It is, in other words, a gloomy note to go out on. But what else could we expect? Leonard Cohen has been dramatizing endings for as long as he's been writing songs: "So Long, Marianne," "Hey, That's No Way to Say Goodbye," "I Tried to Leave You," "Dance Me to the End of Love."
Perhaps Cohen's bleak swan song was part of his process of working through the doubts and uncertainties of his final days. And perhaps it worked. After all, "I am ready to die" is an alarming statement in life. But in retrospect, it's kind of nice to know he felt that way.
Not all of the artists we lost in 2016 were able to provide us with a proper benediction. Leonard Cohen did. In a painful year, that is a straw to clutch at.
For more on Leonard Cohen, skip to the Liner Notes.
Evening Standard/Getty Images
Liner Notes
---
100 articles on the artists who shaped the conversations we had around music in 2016
Making Noise
---
Senior producer, design
Andrew McManus
Web developer
Mark Moyes
Producers
Holly Gordon
Jesse Kinos-Goodin
Associate producer
Jonathan Dekel
Contributors
Alfe Clemencio
Heather Collett
Frances Conley-Wood
Del Cowie
Natalie Doak
Andrea Gin
Deven Juta
Matthew Parsons
Colin Prince
Ren Ramkhelawan
Robert Rowat
Andrea Warner
Special thanks
Ben Aylsworth
Mark Macarthur
Product manager
William J. Dale III
Executive producer
Brad Frenette
Senior director, music
Mark Steinmetz
---