"Downton Abbey is probably my most famous thing, but it's probably not the kind of music I would choose to write if I was completely left to my own devices," admits John Lunn, composer of the music for the popular period drama, whose final episode airs Sunday, March 6, on Masterpiece on PBS.
We reached him by phone in London, England, to get his perspective on composing television versus concert music, bringing an "Englishness" to the Downton Abbey score and getting wrapped up in the melodramatic misadventures of the Crawleys and their staff.
"Am I obsessed with it? Yeah, I probably am," he says of the project that has taken up half his time for the past six years and earned him two Emmy Awards. In addition to Downton, Lunn has composed music for the TV series Little Dorrit, Waking the Dead and Grantchester, to name only a few.
But he did not set out to work in film and television.
Lunn studied music at Glasgow University and M.I.T. before moving to London around 30 years ago to try to make it as a composer. He has been there ever since.
"I originally left university imagining I wanted to be an avant-garde classical composer. I've written several orchestral pieces, a violin concerto; I've written four operas. But gradually, a family came along [laughs] and I suddenly found myself needing to make more money.
"There was a fair bit of pressure doing classical music and it was very time-consuming, and, well, it wasn't very well paid. So I found myself doing more and more film and TV, and now it has almost completely taken over."
His success has led to a sort of composer's identity crisis. "I've done so much [of] a different style of music, I'm actually not sure what's 'me' anymore. Because I literally can write music in virtually any style."
A recent invitation to write a piece for voice and orchestra for soprano Nadine Koutcher, the winner of the 2015 BBC Cardiff Singer of the World Competition, has left Lunn scratching his head. "At the moment, I don't know what to do because I don't know what to be! [Laughs] I'm going to do it because I think it will be a good challenge for me. But that's a dilemma."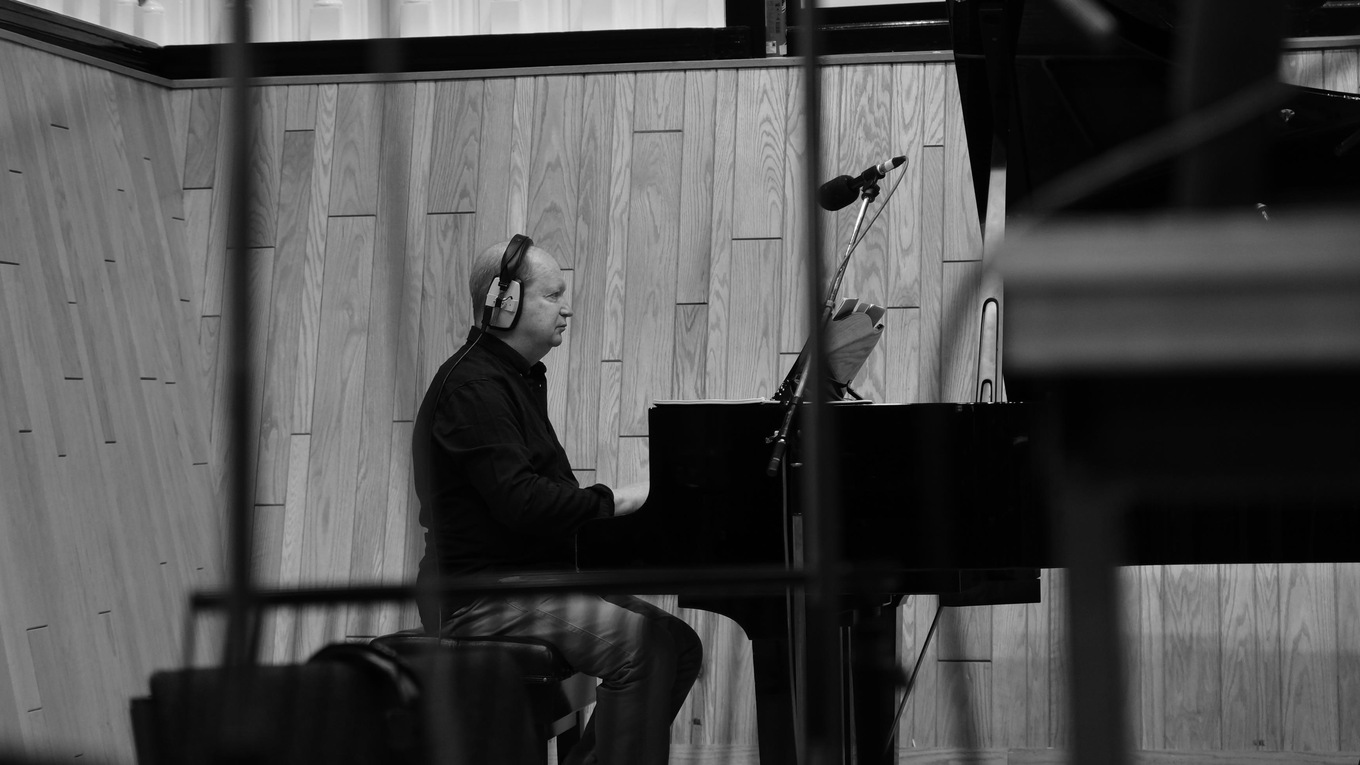 Back in TV land, Lunn feels more at home with the process. He composes new music — each segment he writes is called a "cue" — for every episode of Downton Abbey and he works from the final video edit.
"It will be what we call in the business 'locked,' i.e. the pictures won't change. I'll have a conversation with the executive producer, Gareth Neame, and possibly the producer, Liz Trubridge, about where we want music, what we want the music to do, what we don't want the music to do, and I'll go away and write."
He continues, "I write every single cue. I don't think we've ever used the same piece of music twice in any [episode] of the whole six series because the music is very carefully choreographed underneath the dialogue. It's also about timing and taking you from one scene to another. The timing of the music is critical. The themes might stay the same, but very rarely does the same cue work twice."
Lunn does receive the screenplay ahead of each episode, but it's more of a formality, to give him an idea of how the Downton plot advances. "I only ever compose to picture," he explains. "If I don't, I end up making the music overly complicated."
England, 1912
In addition to its outstanding cast, Downton Abbey's design and art direction have been largely responsible for its devoted following. The series has received major awards for production design, costumes, hairstyling and makeup, all of which have faithfully reproduced the look and feel of the era.
Interestingly, the one anachronistic element is Lunn's music, which is written in a modern idiom.
"It's not my job to re-create the period. My job is to do with the storytelling, particularly for a modern audience," he says.
"I haven't completely ignored the music of the period. I listen to a lot of Elgar and Vaughan Williams and occasionally I do have to bring a certain sort of 'Englishness' to the sound. But really a lot of what I'm doing is to explain what's going on inside people's heads. I'm not trying to re-create England in 1912."
There are instances in Downton Abbey when the music leaves the characters' — and viewers' — heads and actually becomes part of the action, and Lunn is involved with that as well. "I went onset a few times. I played piano for Shirley MacLaine. Edith plays piano a couple of times, and it's actually my hands."
In fact, piano is an important part of the Downton Abbey sound that Lunn has created, along with strings. "Personally I find strings work really well under dialogue. And I always push for real instruments because you can have that sense of power. You can use [them] subtly under dialogue and it still sounds powerful, whereas using computerized instruments, you have to spend a lot more time trying to make the thing sound more varied."
"In Downton," he's quick to point out, "it's all real instruments."
Tragedy vs. comedy
"Initially, when we first talked for series one, there was not talk of the music getting involved in the humour," recounts Lunn. Most of his music underscores Downton's predominantly overcast mood, fraught with tragedy and the struggle between duty and personal desire. But humour does come into the picture.
"It kind of happened by accident. There was a scene happening in the kitchen, and they had some sound problem. Either they needed to drown out some sound, or the scene wasn't busy enough. I can't remember what the problem was, but they decided ... we should try putting music over that scene. It was a comic scene, and I wrote this comic music for it and it worked incredibly well.
"From then on, we thought having comic music in the show might actually work. None of us had ever thought about that before. We were just going to leave the comedy moments for themselves. And I've actually quite enjoyed doing it."
Six seasons later, it's hard to imagine the Dowager Countess's zingers without the punctuation of the music.
How will the series end?
"I think some of my best music was involved with Matthew and Mary's relationship," Lunn reflects. "And in fact, I'll never forgive Matthew for taking some of my best tunes to the grave with him when he died at the end of series three."
He also singles out the protracted Anna/Bates storyline as particularly challenging for him, since it has gone through such a gamut of emotions.
While he's reluctant to praise one actor over any other, one has stood out for Lunn. "There's a character called Molesley [portrayed by Kevin Doyle]. He had a very tiny part in episode three, I think, of series one. But he was so good in it; he sort of made a part for himself. It's been quite interesting following his storyline all the way through, because, you know, he ends up becoming a teacher."
As the series draws to a close, Lunn reveals how the producers changed their minds about the final episode.
"I can't give away the ending because you haven't seen it yet. But the ending, at one point, was going to be very, very different. One of the ideas was that we were going to finish the series with [the family] having left the house. And there was going to be a scene [with] just music and you'd be going through a series of empty rooms, and [the family] would have left. But that changed over the series, and it no longer ends like that.
"Without giving anything away, it's very open-ended. I think, deliberately."
The final episode of Dowton Abbey airs in North America on Sunday, March 6, on Masterpiece on PBS.
Purchase or download Downton Abbey: The Ultimate Collection on Amazon.