There's never been a better time than right now to be a fan of Canadian music.
Canadian artists are dominating the Billboard charts and selling more albums internationally than ever before in history, while Drake has become the most ubiquitous pop-culture figure and most-streamed artist on the planet. In the history of popular music, never have Canadians been as successful or as relevant around the globe as they are at this very moment.
In the '70s, Canadian content (Cancon) rules were introduced to force broadcasters to play a certain percentage of homegrown talent, so as not to be swallowed up by American culture. Today, we're experiencing something of a Canconaissance: broadcasters don't need to play Cancon in order to keep Canadian artists relevant; they need to play Canadian artists to remain relevant themselves.
But it extends beyond music, as Canadian culture at large — from our prime minister to our pop stars to our pro sports teams — is experiencing an unprecedented moment of, well, being cool. As one article in U.K. Guardian asked following the election of Prime Minister Justin Trudeau: "Is it time for Cool Canadiana?"
That writer compared this current period of Canadian optimism and pop-culture cachet with a time in Britain referred to as Cool Britannia, "when a young prime minister named Tony Blair took office as Britpop was all over the charts." The comparison isn't far off, as Canadians are, truthfully "all over the charts." Actually, it would be more accurate to say they are sitting right on top of them.
This September, for the first time in history, Canadians occupied the top three songs on the Billboard Hot 100 singles chart, with Justin Bieber taking the top spot followed by Toronto R&B singer the Weeknd in two and three. At the end of September, when music from Drake's collaborative album with Future, What a Time to be Alive, charted, he became only the fourth artist to score 100 top 100 songs in the history of the chart (started in 1958), falling behind Elvis Presley, Lil Wayne and the cast of Glee, who have more than everyone. The Beatles, for comparison, have 71.
As September turned to October, the chart was inundated with red maple leaves, as Canadians went on to take six spots in the top 10. By November, Canadians held seven of the top 10 spots, led by Bieber, who had three of those spots and 17 overall on the top 100 (breaking a record for simultaneous Hot 100 songs, held previously by Drake and the Beatles). Drake and the Weeknd were still in the top 10, with "Hotline Bling" and "The Hills," respectively, but so was an even younger generation of Canadians: 17-year-old Shawn Mendes ("Stitches") and 19-year-old Alessia Cara ("Here"). R&B, rap and pop, all from Canada, all sitting in the top 10 at the same time.
Even Adele, whose juggernaut single "Hello" planted itself in the top spot at the beginning of November, has a Canadian connection. Her followup single, "When We Were Young," which she has said is her favourite song on her newly released chart-topping third album, 25, was co-written by Vancouver singer-songwriter Tobias Jesso Jr., while the video for "Hello" was shot by 26-year-old director Xavier Dolan just outside his hometown of Montreal.
So what about actual sales? According to SOCAN, which distributes royalties to Canadian songwriters and composers, the current period is nothing short of record-breaking. In 2013, SOCAN collected $52.2 million from international royalties, the first time that money originating outside of Canada surpassed the $50-million mark. Ever.
Then, in 2014, it exceeded $55 million worldwide, with the largest consumer of Canadian content being the very country that Cancon was created to protect us against: the U.S., which accounted for 36 per cent of the international share. Canadian music is becoming so popular that the number of SOCAN members receiving royalties from outside the country has more than doubled in the last decade, according to the organization.
"When people look at music, it's often tied to one hit song," says SOCAN's international relations vice president, Catharine Saxberg. "What we are seeing now is more than the effect of one big song: it's an overall increase in the value of Canadian music across the globe…. I've worked in the music business for a long time, and what we're dealing with feels like more than a good year."
It's too early for 2015 numbers, but based on chart success — not to mention the six SOCAN No. 1 Song awards that were given to the Weeknd in November — we're on par for yet another record-breaking year.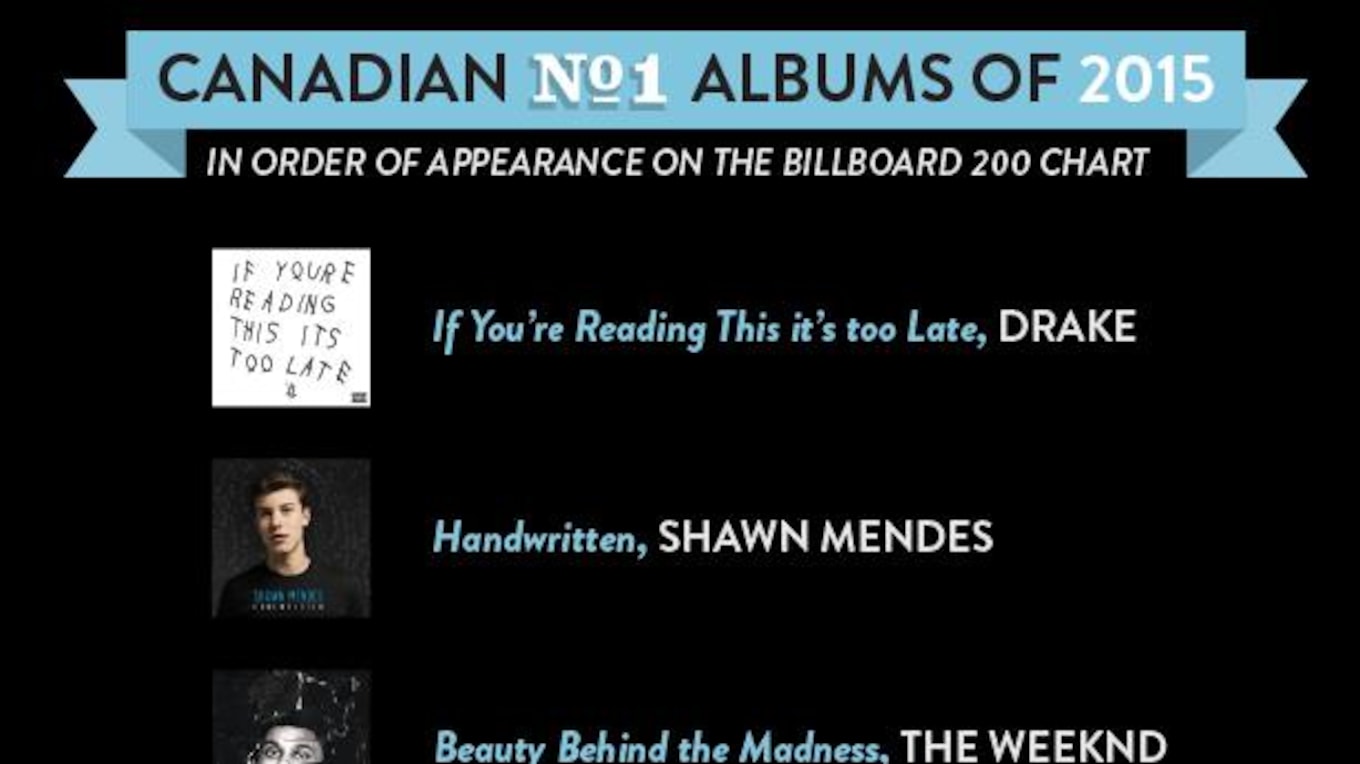 That said, not all Canadians who are part of the Canconaissance have risen to the top via the charts. Carly Rae Jepsen — though no stranger to the charts, as her 2012 hit "Call Me Maybe" was the top-selling song of 2014 — has cemented her place in the pop culture collective by shedding her one-hit-wonder moniker after releasing one of the most critically acclaimed pop albums of 2015.
Following the release of Emotion in June, Jepsen became a "serious album" artist, a critical success, as "solid and spotless a pop album as you're likely to hear this year," according to Pitchfork. The lead single even came with a video starring Tom Hanks lip-syncing the words "I really, really, really, really, really, really like you."
"I remember reading a Canadian article somewhere where they had listed me as a one-hit wonder and I remember reading it and thinking, isn't that a little soon?" Jepsen says in an interview, adding, "It was a huge elephant in the room. I'd go to sessions and people would be like, how are we going to top that song? I think the most important thing anyone said to me was, 'You don't have to.'"
While Emotion is very much a Canadian-in-L.A. album, produced with L.A.-based hitmakers such as Max Martin and Ariel Rechtshaid, it proved that a songwriter from Mission, B.C., population 36,500, could not only follow up the biggest song on the planet, but hold her own in the mecca of the cutthroat music business.
The Weeknd's Beauty Behind the Madness, released in August, is another L.A. record, also recorded with Martin, but singer Abel Tesfaye is very much a direct product of Toronto's music scene, where he honed his craft singing to women on the street car and building an underground buzz by releasing three dark, cinematic mixtapes in 2012, for free, which challenged pre-existing notions of R&B. In 2015, he became one of the biggest pop stars on the planet, and Beauty was the most streamed album of 2015 on Spotify, with 60 million listeners. He's just one reason people are looking to Toronto — or "the 6," as Drake has dubbed it — for the next big thing.
Anyone looking, of course, would be quick to find it in 17-year-old Mendes, the first major artist to build his success on Vine, a social media app built around users uploading six-second videos. Or in 19-year-old Cara, an R&B singer from the Toronto suburb of Brampton who's already achieved a dream checklist of milestones for any pop star: she has appeared on Ellen and Fallon, singing her hit single "Here," and was brought onstage by Taylor Swift — all before the November release of Cara's full-length album, Know-It-All, on Def Jam Records.
"I definitely feel like I'm part of this new wave that's coming out of this whole Greater Toronto Area scene that's happening," Cara says. "I don't even know what to call it, but the underdogs, people from Toronto, Brampton, all these cities in Ontario, are just really coming out and dominating, and I love it."
She also credits the success of the young artists before her, specifically mentioning Drake and Bieber, for making it easier to break through the lucrative U.S. market.
"I think as a Canadian artist, we might feel more confident to break into America, or to try to break into America," she says. "It's important to see this new wave of people that have done it. It's inspiring."
A lot of this newfound success has been centred on Toronto, although it's by no means limited to the city. Grimes, from Montreal, released one of the most anticipated albums of the year, and Jepsen is from B.C. That said, it's certainly a "transitional moment for our city," says Kardinal Offishal, one of the earliest rappers to popularize the term "T.Dot." in the '90s.
"That T.Dot nickname, it started in hip-hop culture, but it grew and expanded to include everything," he says. "So Drake and those kids from Prime came up with this whole 6 thing … [Drake] has all kinds of people, still to this day, who have no idea what the 6 means but they are around the world just yelling it out, and that's cool."
Toronto, for its part, seems to be embracing it now more than ever. There's even a proposal from a Toronto councillor to erect 3D signs that read "the 6," "T.O." and "T.Dot" that would mirror city hall's new "Toronto" sign, in order to "reinforce the modern, 'cool' Toronto brand," he's said.
There was also the Blue Jays' incredible season and playoff run — their first post-season since they won in 1993, and one that came with high expectations and a Sports Illustrated cover touting them as "the new Jacks."
When Joe Carter hit his famous World Series homerun in '93, arguably the greatest moment in the franchise's history, the biggest song in the country was "Dreamlover" by Mariah Carey, and international sales of Canadian artists only amounted to $13 million. Compare that to the $55 million last year, or to Jose Bautista's bat flip heard around the world. Bautista's walk-up song? Drake's "Big Rings," from 2015's What a Time to be Alive (his previous walk-up song was "Trophies," also by Drake).
In fact, across major league baseball, Drake is the single most popular artist for walk-up music, according to Billboard, which reported back in July that Drake appeared 17 separate times as a solo artist and another 13 times as a featured artist. AC/DC and its jock-rock staple, "Thunderstruck," was second. Keep in mind that Canada only has one major league baseball team, so for a Canadian rapper to be the most popular artist across the league is nothing short of amazing.
The Jays were defeated by the Kansas City Royals, who went on to win the World Series (with a Drake-free lineup, incidentally), but the Jays playoff run, when combined with the newfound Canadian chart dominance and the election of a prime minister touted as "cool," made for one of the most exciting buildups in Canadian pop-culture history.
Even the Toronto Raptors, Canada's only NBA team, have capitalized on this new cool, undergoing a rebranding this season behind the strength of their highly successful "We the North" campaign. It shouldn't come as a surprise that one of the major players behind this move was the team's newly appointed global ambassador, Drake.
It feels appropriate, then, that on "Big Rings" Drake would also rap the one line that so succinctly and perfectly captures what it means to be a Canadian at this precise moment: "Man, what a time to be alive."
Follow Jesse Kinos-Goodin on Twitter: @JesseKG