Verses is a series in which we pair musicians together for an informal talk in the hopes that we will gain more insight into their lives, music and personalities. For the first instalment, we asked Chilly Gonzales and Feist to record a conversation as part of our Chilly Gonzales takeover. Below you'll find an edited version of that conversation, but first, some background on these two artists.
Chilly Gonzales and Feist go way back. Back to a time before they were known worldwide as, well, Chilly Gonzales and Feist.
When they met around 2000, Gonzales, as he dubbed himself back then, was the keyboard player in the band of Canadian electronic musician Peaches. Feist, who had just released her debut solo album, Monarch, the year before, had joined Peaches on her European tour as a singer, rapper, dancer and sock puppeteer known as "Bitch Lap Lap." Video, which is as embarrassing as it is amazing, exists of this period, as you will see below.
Fast-forward to 2004. Feist releases her followup album, the critically acclaimed Let It Die, which becomes her first commercial success. It was co-produced by none other than Chilly Gonzales, who, among other things, suggested she do some cover songs to get over her writer's block. The Bee Gees' 1979 hit "Inside and Out" appeared on the album, as did her first hit song, "Mushaboom."
That same year, the pianist released his first album of solo piano material, Solo Piano, which became a major step in his transformation to the character of Chilly Gonzales, "the musical genius," or Gonzo, as he's known.
In 2007, Gonzo co-produced another Feist album, The Reminder, which we all know as the album that catapulted her to international stardom based on the strength of its hit single, "1234." Gonzo co-wrote several songs on the album with Feist, including "My Moon My Man" and "The Limit to Your Love."
The conversation below happened in July, when Chilly Gonzales was visiting Toronto.
Leslie Feist: Where did this bathrobe onstage persona begin?
Chilly Gonzales: It was an outgrowth of wanting to wear pyjamas onstage, I don't remember why I did that, but it must be a secret subconscious unwillingness to respect how people are supposed to look when they play the piano. Because this coincided with Solo Piano I. I had such outrageous outfits before, like safari suits and pink suits, so it's like "ok, I'm a piano player now."
Feist: And you don't want to be too serious.
Chilly Gonzales: Yeah, but at the same time, it doesn't really work to wear the pink suit. It might be too distracting from the piano or something. So I went with a grandpa look, with a cardigan at first, and it slowly morphed into wearing a lab coat onstage, when I was "the scientist of music" with white gloves, and I finally settled on the bathrobe, via always wanting to play in pyjamas.
Feist: I have tenure in pyjama-wearing onstage because of By Divine Right. We were forced to wear these really ugly, multi-coloured pyjamas on the Tragically Hip tour in '99 because we had worn pyjamas in our video, where we were making doughnuts.
Chilly Gonzales: So you became trapped by your own iconography?
Feist: Trapped by multi-coloured pyjamas. Yeah, exactly.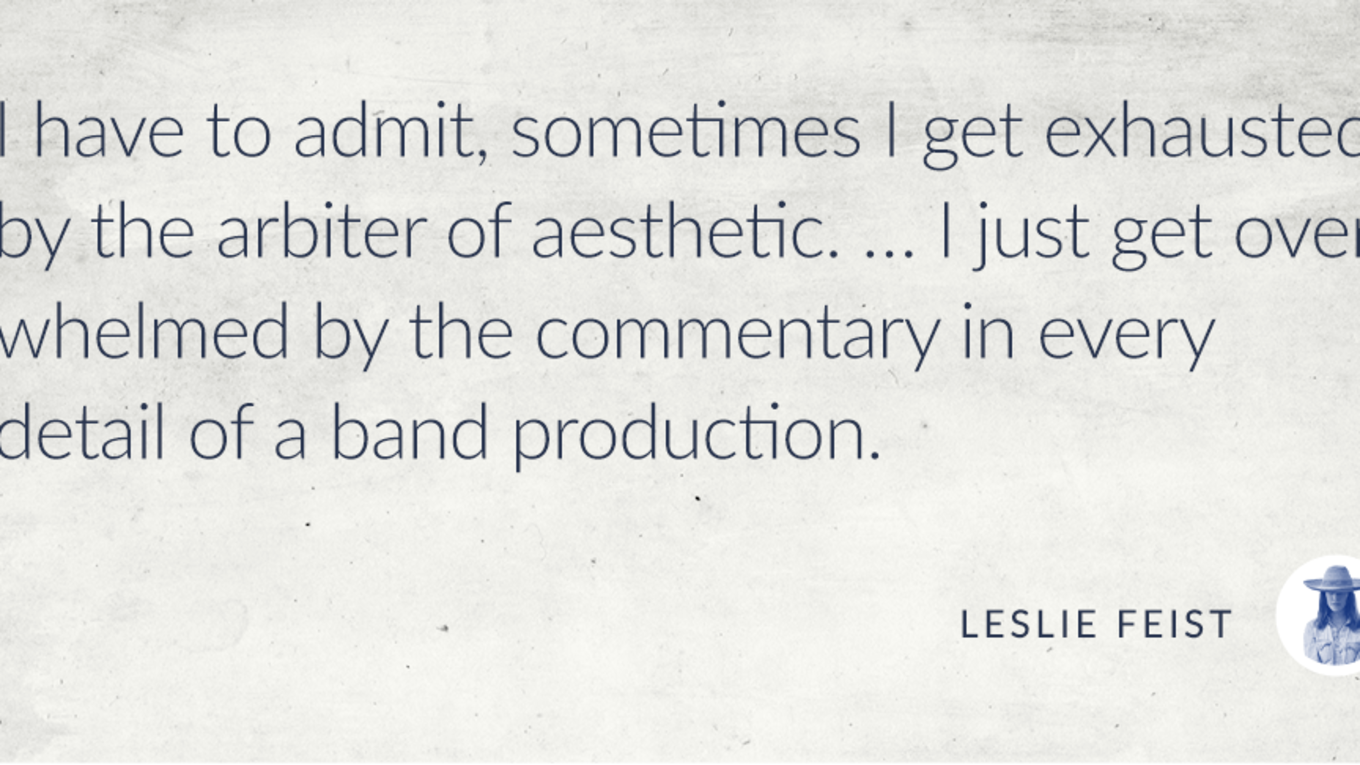 (Design by Daniel Busheikin/CBC Music)
Chilly Gonzales: What about you? Have you ever had a uniform?
Feist: I hit upon something I liked once so I had it knocked off in all these different colours. Basically it was, I don't know, why did I think "fringe in a Dolly Parton throwback irony"? Fringe?
Chilly Gonzales: You're from Calgary.
Feist: Yeah, maybe I grew up watching the rodeo princesses at the front of the Stampede parade and secretly associating the power they had over everything.
Chilly Gonzales: Here is where the YouTube link goes, in the article, of Gonzo and Feist live at Trash.
Feist: Hey, I thought of that in the Regina Value Village, which my grandma at the time told me it would have been from Buffalo Days, which is the Regina, B-grade Stampede that happens. Why are you interviewing me right now? I'm supposed to be interviewing you.
Chilly Gonzales: I have a Calgary connection, because I lived there and so did you.
Feist: Yeah, Saddledome!
Chilly Gonzales: And the Vicious Circle, the Coop, those were some cafés I used to go to.
Feist: Absolutely. The Coop used to sell Kool-Aid for a dollar a mug. I don't know why they would want the ratty teenage kids coming to hang out after school and sit there for hours nursing a single Kool-Aid and playing board games, but that's what we did.
Chilly Gonzales: I want to ask you if I have anything in my music or personality that relates to Calgary. Can you tell that I have a secret Calgary influence or not?
Feist: In your music? I feel that you are a bit of a pan-Canadian boy. In your expat-ness you left knowing exactly what you were leaving. You have done some time in some very disparate places like Montreal, completely different from Calgary — working in Kananaskis, doing your time with nature. But I don't know if I can hear it. I don't think I can.
Chilly Gonzales: But this past weekend, I certainly felt the most Canadian I have ever felt. Doing the Pan Am Games and wearing that outfit.
Feist: Well, and the mounties and that flag. The mounties looked sloppy.
Chilly Gonzales: In their choreography?
Feist: They weren't committed to their snappy arm-swinging.
Chilly Gonzales: In America that would have been violently disciplined.
Feist: It was very Canadian-like; we're walking, we're walking, we're swinging. Um, hello Transcriber, you have a crazy job!
ChillyGonzales: You're just some intern, right? [Editor's note: nope.]
Feist: No, this is a lifer.
Chilly Gonzales: No, they gave this to an intern. This takeover is so low priority you have no idea [laughs].
Feist: They send it to a transcription service.
Chilly Gonzales: Yeah, called an unpaid intern.
Feist: I wonder if, when you are at a dinner table, Transcriber, when someone is talking to you, telling you a really uninteresting story, if mentally you begin to transcribe what they are saying, real-time, in your head, typing it out. So right now you are not paying attention, you are just transcribing.
Chilly Gonzales: This is going to be a very meta section of the interview.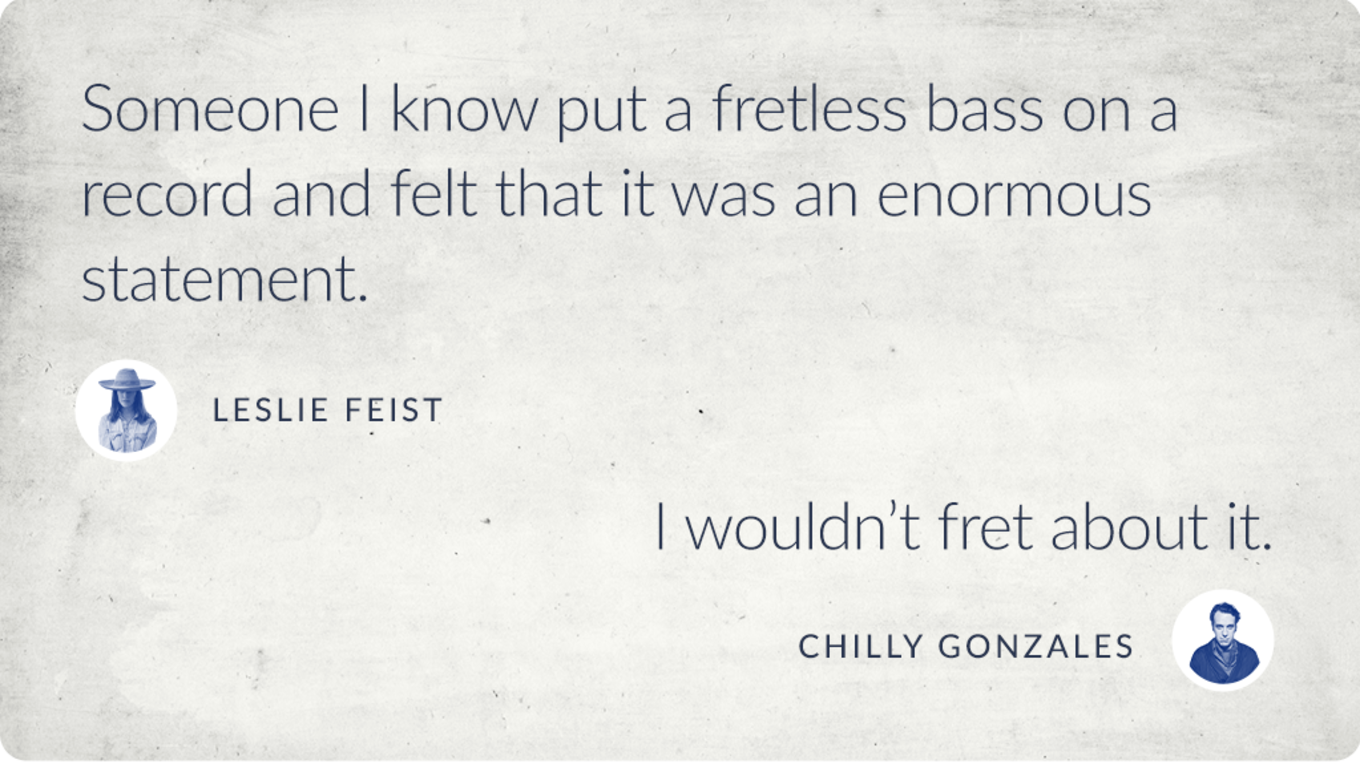 (Design by Daniel Busheikin/CBC Music)
Feist: That's what I was going to ask you. You are always in so much control of every aspect of your Gonzales-ness. I can never believe it when I see two shows in the same city. The jokes always seem spontaneous, and yet the timing is really deft. I know, in our history of reading a lot of autobiographies, I can hear the Marx brothers. You've vetted every joke, weighed every word, you know, and down to the controlling of how you put it out. Even last night, showing me stuff on the piano, you had a really taskmaster-style teaching method. And all of this is leading to a radical sabbatical…. Is Gonzales going to take a step back from the boundary line?
Chilly Gonzales: [pause] … Maybe at some point. Maybe there will be less concerts in the future and more time for composition.
Feist: Do you think that you will ever be able to write for solo piano again without hearing full chamber arrangements in your head?
Chilly Gonzales: Absolutely. I am already plotting to get back to the atomic level of music. When you add strings to something, it instantly becomes an interplay of strings and piano, and strings represent classical music, so if you use them differently, it becomes a statement. You are commenting on music itself, the minute you add strings to your piano. But if it's just piano, if there is a concept, it's that you just cannot get to a less reduced unit of music than when you are playing some accompanying chords and a melody on top. Therefore this atomic level is very pleasing and it's what I always end up coming back to. Everything else is a comment. Everything else has context, whereas solo piano is contextless. It's almost like the platonic ideal of what music can be.
Feist: Beautiful. I have to admit, sometimes I get exhausted by the arbiter of aesthetic. The snare tone, or in heavy production when making music, I just get overwhelmed by the commentary in every detail of a band production. Guitar tone, drum tone. Someone I know put a fretless bass on a record and felt that it was an enormous statement.
Chilly Gonzales: I wouldn't fret about it.
Feist: [Laughs] And now the fretless bass tells an entire taste story about the '80s or something and therefore it's conceptual art rather than art, once there is so much culture to be referencing. And I find it exhausting because I'm not the archivist. I always say I've lived with the roommate with the record collection, but I've never been the person going out and seeking the rare recordings. I know what I love but I don't like to seek out the comment of what a snare tone is going to mean, but I'm still embedded within all those opinions. I still have the minefield that I have to tiptoe my way through in order to make a recording I can get behind.
Chilly Gonzales: Because everyone else is going to be thinking that way so you are forced to look at it through that window. And playing solo piano has a lot less than that. It almost gets rid of all of it, almost.
Feist: I was astounded when you first played me Chambers, to braid around your atomic level, which I got to watch you reclaim after we made Let It Die. It was like, oh yeah, you can play piano! You went to bootcamp for showmanship and then just reclaimed pure music, and Solo Piano was you realizing what reduced level of music can be, with showmanship coming in second place. To watch you learn about chamber music, I found it interesting that the place you would begin to express deeper musical ideas was this old template, which is mostly referenced by historical classic musicians.
One other question I can ask: over the years I've watched you really flesh out the personalities of different musicians. You've been obsessed with rap for as long as I've known you. You know the different personalities of all the different playas in the rap game.
Chilly Gonzales: Note to transcriber: playaz with a "z."
Feist: With an h and a z! Playa-h-z.
I found it interesting when you would tell me these torrid tales of Liszt and Chopin or even way back when you knew about Salieri and his lifelong battle with mediocrity, so you have made real these people that we grew up listening to on classical radio and thinking it's all built to be boring. But it's not. For years I've watched you make it interesting. And then you chose to go step back and put yourself in a comparative place with people you respect from two, three, four hundred years ago. I find that interesting.
Chilly Gonzales: What's the question [laughs]?
Feist: Why? I saw you play at the Lincoln Centre annex with a chamber orchestra that had about seven more people, horns, a bigger string section … it was amazing. I think there were a few of the themes there that remained and are on Chambers.
Chilly Gonzales: Probably not, but in a way, yes. Indirectly. I didn't write those arrangements that you heard at Lincoln Center. That was the tail end of when I was doing demos on four-track or on ProTools and a guy would turn them into arrangements. There was one step missing, which was my own touch. That's when I thought, I'm jealous of the arranger. I thought, why am I jealous of him, I can just learn how to do it. It would take a while but I already had this great quartet in Germany who I had established a musical crush with. So it was, OK, I will use them to learn to do this. That's when I decided, I am going to learn something new, because it seemed possible.
Feist: So chamber music can be the addition of four string players but it can also be the addition of 12 people?
Chilly Gonzales: Anywhere between two and 20 people. … OK, I have to go.
Chilly Gonzales is touring in support of his latest album, Chambers, across Europe and Canada. He plays Toronto's Massey Hall on Feb. 5, 2016, and Montreal's Salle Wilfrid-Pelletier on Feb. 8.
Follow Jesse Kinos-Goodin on Twitter: @JesseKG