From 2,000 submissions, down to four. Musical acts from across Canada vied for top spot in Searchlight 2016. Coming up this Sunday, the four finalists will perform on CBC-TV in front of a live audience and our celebrity judges — Maestro Fresh Wes, Sarah Blackwood and Dallas Smith — to determine the grand prize winner. Below are the local listings.
– 8:30 p.m. (Newfoundland and Labrador)
– 8 p.m. (Nova Scotia, P.E.I., New Brunswick)
– 7 p.m. (Quebec, Ontario)
– 6 p.m. (Manitoba)
– 9 p.m. (Saskatchewan, Alberta, B.C.)
– 8 p.m. (N.W.T)
Get to know one of the top four right now in our Q&A with Vancouver's very own Desirée Dawson.
What were you doing when you found out you had made the top four?
I was in Jamaica. I was about to go somewhere, I think. I was sitting on my bed when I was on the phone. And, I don't remember exactly what I was doing, but I was definitely in Jamaica and I was definitely on my bed, and I had a little mattress on the floor and I, like, jumped up off my mattress and I was pacing around my room like "what!"
What was the first thing that went through your mind when you learned of all this?
I just kept saying, "what" because I just didn't ... yeah, I was like "okay, this is really cool ... this is huge and exciting." I was in shock and feeling joy.
What has been the highlight of your career so far?
Well, this. Definitely getting into the top four is huge, bigger than anything that's happened.
And, what we find so amazing about you, is that you're so open and free. How do you do that?
It wasn't always like that. It was quite opposite. Up until, like, three years ago, even then when I first started performing, I was still very shy. I realized if I'm shy I'm not going to do anything. And, it just became, like, I can see the other side and I wasn't there and I was stepping my toe into the musician land, and then I was taking it out because I was too scared.
I knew the only way to fully do this and commit to being an artist was to just do it. And, it's scary, it still is scary. It became so natural. Singing became a thing that just happens, it's part of me. Where as before it, like ... it seemed like they were two separate things, like you're a singer and you're Desirée Dawson. But, then I realized Desirée Dawson has a voice and plays ukulele and it's part of Desirée Dawson. It just became a way of being.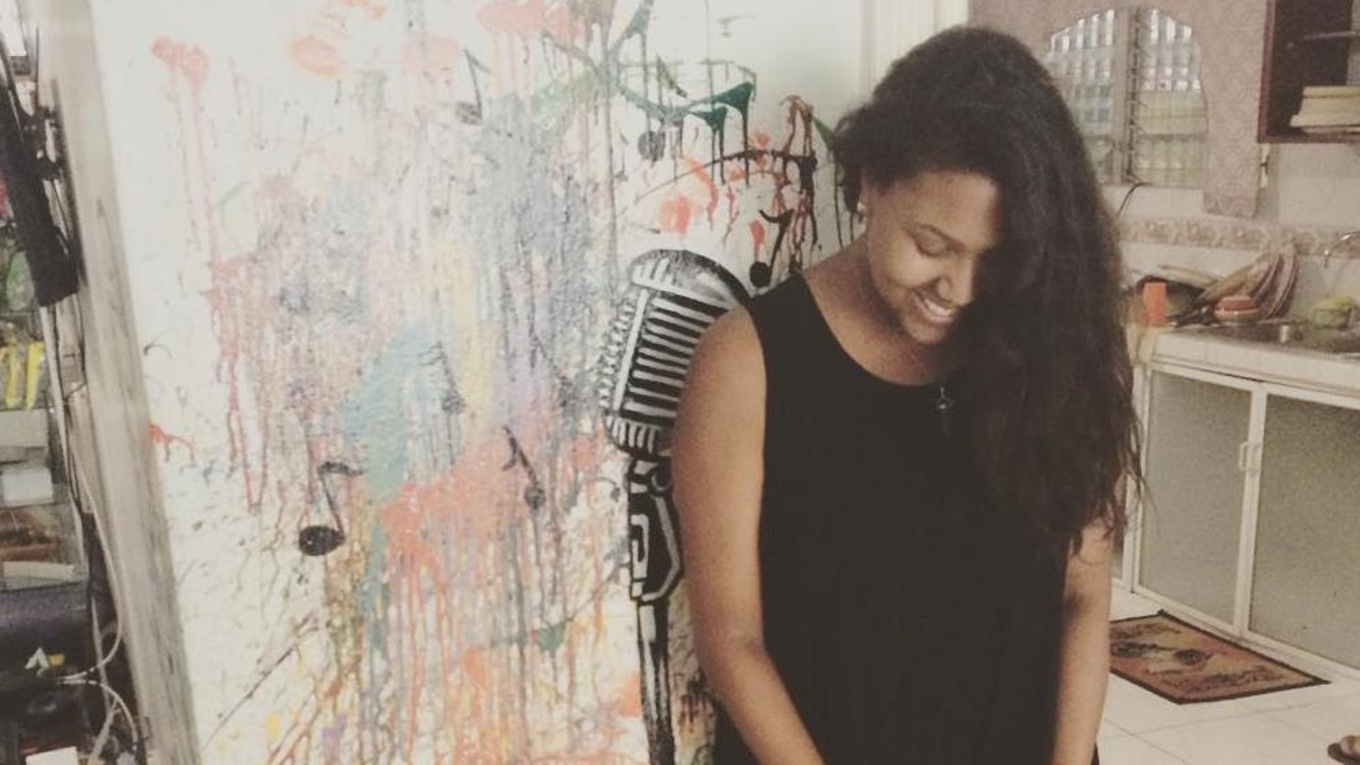 What has this whole experience taught you?
It's very easy to get pulled in different directions and feel like you have to be something. It would've been easy for me to feel like I had to look a certain way, sound a certain way, be something in order to get in. This song "Hide" I posted, it's very raw. I didn't think it would get in because the video was so.... My friend who filmed it is amazing but we didn't test the mics, it was kind of crackly. It wasn't the best quality. The MP3 also was kind of was just very bare bones. I was thinking, "Okay, I'm not going to," but this is all I have to offer. This is me, it shows me.
Who are some of your favourite artists?
I've always been inspired by Lauryn Hill; Michael Bublé was, like, everything for me. Adele, especially her album 19, I felt like it was my life and I sang so loud to every song, that was a huge inspiration. Feist, Florence + the Machine. Right now, Leon Bridges and Lianne La Havas are like my two go-tos.
If you could tour with any musician, who would it be?
Probably Lianne La Havas, or Leon Bridges. Their style, their soul, the feel. I think ... we'd go together well in that sense. I could see that they're feeling their way through their music.
What song do you wish you wrote?
The one that just popped into my mind is a Lianne La Havas's song called "No Room for Doubt." I really like that one. I can hear her voice singing. It's like a very soft, sweet but haunting song and it gets in there. It gets into your heart.
What does being a successful musician mean to you?
Being a successful musician to me definitely means feeling good at where you're at. Everyone's success is going to look different and for me, right now, I feel like a successful musician. Even though to some, I don't have an album out, I've never been on tour, I haven't done many things that many people would check off the list as a successful musician. But, in this moment, I feel like all the success in the world. I feel like I'm happy where I am and I see there's so many places to grow and go further with it.