From 2,000 submissions, down to four. Musical acts from across Canada vied for top spot in Searchlight 2016. Coming up this Sunday, the four finalists will perform on CBC-TV in front of a live audience and our celebrity judges — Maestro Fresh Wes, Sarah Blackwood and Dallas Smith — will determine the grand prize winner. Below are the local listings.
– 8:30 p.m. (Newfoundland and Labrador)
– 8 p.m. (Nova Scotia, P.E.I., New Brunswick)
– 7 p.m. (Quebec, Ontario)
– 6 p.m. (Manitoba)
– 9 p.m. (Saskatchewan, Alberta, B.C.)
– 8 p.m. (N.W.T)
Get to know one of the top four right now. It's Caledon, Ontario's very own Andi.
What were you doing when you found out you made the top four?
When I found out I had made the top four, I was sitting at my computer and on my phone trying to organize gigs for the summer with my band.
What has been the highlight of your musical career so far?
I think the highlight of my musical career would be a tie between my performance with David Foster and achieving the band members who I play with now.
How'd you meet your band members?
Most of them I met through my year at Humber College at Lakeshore. I was in the bachelor of music program. I came in first year, and I roomed with my keyboardist and he was in fourth year so, I play with a lot of now graduates and people who are now finishing up the program.
So, how long have you guys been together?
It's been a long evolution of the band since I'm a solo artist and I arrange the music. So, it hasn't been so much of a band effort. It's more of a band re-interpretation, by the time we are done with all the features and the production. It has been about two years, of getting it all together and this is the dream team.
What are some of your favourite musicians?
I would say Kimbra is a huge inspiration to me. She writes and produces all of her stuff, so independent. St. Vincent for being unapologetically heard and their noise rock is out of this world. Grimes is a Canadian artist, she was also an illustrator and even a hand tattoo artist like me. So, that's really awesome to see from her. And, again, the producing thing is a huge inspiration to me. Beside that, I'm really into Kendrick Lamar, Childish Gambino and Nicki Minaj, and anyone under the Flying Lotus label, like I love flying lotus and Thunder Cat and Hiatus Coyotes, this neo-soul band that inspired me big from the beginning.
That's where you get your different sounds when you make your music, right?
Yeah, exactly. For me, it's about what the song means. If the song is an electronic song and it's calling for something more in the ending, then I'm like, "Well, this isn't going to come from an electronic because dub-step is not something I know or an all electronic dance breakdown is not something that comes to me. What comes to me is a breakdown in a different time signature." I want to challenge my listener and I want it to be accessible so people who listen are excited but, to the people who want to listen a bit deeper there's something there. If people want to listen a bit deeper, lyrically, or musically, it can be there for everyone.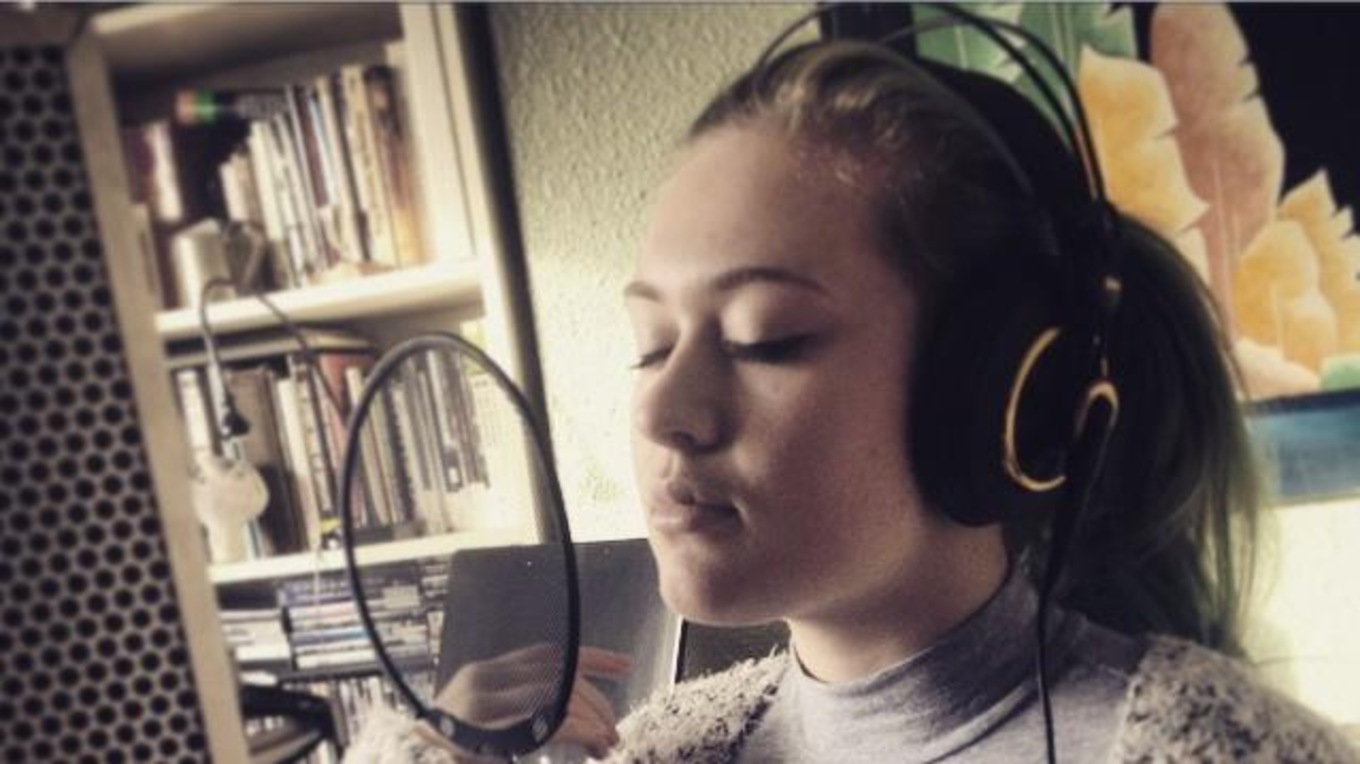 How did your song "Caffeine" come about?
I was collaborating with this beat maker, he brought in all the samples and he made this eight-bar beat, it was full, it was stacked, there was like 20 tracks and I was like, "Ahh." So, he left and I just rearranged the whole thing. After that collaboration with him, I kind of used his beats and applied them to another synth development on top of it and then from there I put it in a loop and sat in the dark, in my studio in Caledon and cranked it on my monitors and I just sat there and I was like, "What does this make me feel?" I do feel a big connection to electronic instruments, emotionally and in my bones. When you listen to it, you feel a vibration through you. People listen to strings and stuff like that, and they get the same feeling. The same feeling when I listen to a synth that just hits home. So, that's what I was trying to find, I was like, "What does this evoke within me?" I came to the conclusion, I had about loneliness, stubbornness and frustration ... that song came from many different aspects visually, sonically and lyrically as well.
What song do you wish you wrote?
I'm going to say this one because it inspired "Caffeine": "Everlovin' Ya" by Kimbra off her album The Golden Echo. That song is amazing and it is such a heavy groove and it hits home with the lyrics and it's like every lyric you hear it's "Ahh, nice!" And, then you're like, "Oh, oh, my heart." It's so honest, upset and the music reflects that conflict, which is something I try to do with "Caffeine," like in the end, the whole breakdown is about inner conflict. It's a little bit uncomfortable to listen to but you can still nod your head because it's all about experiencing that.
What does being a successful musician mean to you?
If to me my music is received by people and they remember it, it makes them feel something, anything — anger, happiness, excitement, confusion — that's what I want.