Thank the internet for the radical spike in celebrity feuds these past few years. A feud can now come out of practically anything: an interview, a song, a tweet, an Instagram, even a split-second facial expression caught on camera during an award show. With nearly everyone (and their dogs) having access to social media, anyone can grab a front row seat to watch it all unfold in real time.
While this level of scrutiny can be blatantly excessive at times, it's what some believe our fast-paced culture demands. How quickly can we turn out this story? How fast can celebs respond via social media? Can we get this trending? Who can create the best meme in the shortest amount of time? Celebrity controversy is a game the entire internet actively participates in and, when we're done with one story, we'll move on to the next. When one tab closes, another one opens.
This year had its fair share of minor tiffs that caused small waves of controversy: Zayn Malik and Calvin Harris fought about Taylor Swift and Spotify; Iggy Azalea waged a war against Papa John's Pizza for giving out her phone number, and Skrillex and Deadmau5 shouted at each other over Twitter. All of these are were met with brief befuddlement, though, and were quickly shrugged off as what might've just been a slow news week.
Two beefs took up the most space in 2015, and each represented the different spectrums of how we as consumers of information treat these controversies.
In July, Philadelphia rapper Meek Mill called out Toronto's very own Drake because – and this is the actual impetus in case you didn't know or forgot – Drake did not promote Meek Mill's new album, Dreams Worth More Than Money. Meek Mill accused Drake, who appeared on Dreams, of hiring ghostwriters instead of writing his own rhymes and immediately the rap world was divided. There were those who backed up Meek's claims, those who rushed to defend Drake and, at the centre of it all, thousands of people who were just there for the jokes.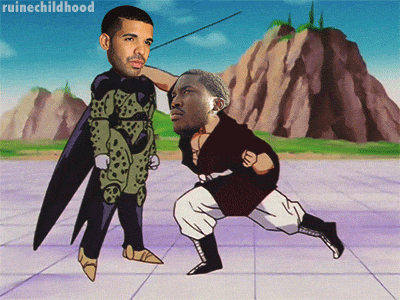 Twitter may be where fans go to see feuds unfold sometimes, but it also blurs the line between observer and participant. "Waiting for Drake to comment but maybe he doesn't write his own tweets?" wrote one user. "When you throwing shade at Drake but your girlfriend is a better rapper than you," wrote another, referring to Meek's girlfriend, rapper Nicki Minaj (more on her later).
@MeekMill Be like- "Yea, @Drake ain't tweet my album. Girl you know he don't write his own rhymes?" #MeekBeLike pic.twitter.com/pTuMIodc9Q

— OFFICIAL KCARMOUCHE™ (@KCARMOUCHE) July 22, 2015
But Drake, a man who understands how to capitalize on his internet clout, tipped the scales in his favour when he released two diss tracks, "Charged Up" and the Grammy-nominated "Back to Back." Proving he could write his own raps — and taking some easy shots at Meek — Drake gave fans the show they were hoping for. This was perfect fodder for people to translate into TKO-style memes, and Drake knew it. (Even professional brands like White Castle and Burger King got involved, siding with Drake.) During his annual OVO Fest set, Drake collected these memes as ammo, as a slideshow backdrop during his performance of "Back to Back" live, to further humiliate Meek. By getting in on the joke and allowing his fans to enjoy a larger platform — a giant display at a prominent event — Drake became the master of memes and, to many, the victor of this beef because this battle was largely fought on his turf: the internet.
That feud was all fun and memes, for the most part, but let's take a look at the flip side. Around the time Meek Mill and Drake's beef took off, Nicki Minaj was waging a bigger war, one that began as a feud but sparked a more important conversation. This wasn't a controversy that could be buried by memes — though people tried.
After the nominations for the 2015 MTV Music Video Awards were announced, Minaj took to Twitter to ask a simple question: Why wasn't her video for "Anaconda" or her collaboration with Beyoncé, "Feelin' Myself," nominated for the biggest prize of the night, video of the year? It may have looked like a strange claim for someone who received four other nominations, but Minaj raised a point about race, and statistics backed her up: of the 31 wins for video of the year, only eight black artists have won that title. As one of the biggest and most-viewed music videos of the year, "Anaconda" should've at least gotten a nomination, but was instead relegated to lesser, more niche categories for best female video and best hip-hop video.
If I was a different "kind" of artist, Anaconda would be nominated for best choreo and vid of the year as well. 😊😊😊

— NICKI MINAJ (@NICKIMINAJ) July 21, 2015
Minaj aimed her complaints at MTV, primarily, but also spoke out about the types of artists whose privileges gave them an advantage in spaces like this. "If I was a different 'kind' of artist, Anaconda would be nominated for best choreo and vid of the year as well," Minaj tweeted. "When the 'other' girls drop a video that breaks records and impacts culture they get that nomination … If your video celebrates women with very slim bodies, you will be nominated for vid of the year."
Taylor Swift, who led in VMA nominations, felt personally victimized by these tweets and decided to chime in. "I've done nothing but love & support you," Swift tweeted to Minaj. "It's unlike you to pit women against each other. Maybe one of the men took your slot..."
Huh? U must not be reading my tweets. Didn't say a word about u. I love u just as much. But u should speak on this. @taylorswift13

— NICKI MINAJ (@NICKIMINAJ) July 21, 2015
This became immediate tabloid fodder, but it also opened up important conversations on race and gender in music. Rather than letting images and memes dictate the direction of the feud, this example provided a launching pad for a bigger discussion and an example was made out of Swift's ignorance. She later apologized for her comments after having a private conversation with Minaj over the phone, and the two made up by kicking off the VMAs together. (Swift remains mostly unscathed and is still a dominating figure in pop.)
These feuds are short-lived, but it's imperative that we extract the more significant talking points from them. Sometimes there are none (there was nothing to gain from watching Skrillex and Deadmau5 exchange jabs, other than general annoyance), but in a case like Minaj's argument with Swift — and the ensuing comments made by fellow pop star Miley Cyrus, who displayed an equally oblivious sense of privilege and entitlement — we must use this as a stepping stone in a series of dialogues about race and gender in pop culture. It's not something that can easily be solved in 140 characters or a meme, but it's something worth fighting for.