Your self-worth is determined by you. You don't have to depend on someone telling you who you are.
Isn't that the truth? But sometimes it's easier said than done. And sometimes, we need a bit of inspiration from one another to celebrate our self-worth.
History proves that there is strength in numbers, and standing in solidarity is a great method for overcoming challenges and breaking down barriers. When it comes to musicians, standing in solidarity is proving to make a change. What does this progress look like? It looks like a performance at the 2016 Oscars when one of the biggest issues concerning women's rights took centre stage.
Below, we look at seven musicians who have taken a step for empowerment, and the many forms it has taken.
---
Leontyne Price, 'D'amor sull'ali rosée' (1961)
Leontyne Price, an opera singer from Mississippi, made history with her performance "D'amor sull'ali rosée" at the Metropolitan Opera in New York City in 1961, for which she received a 40-minute standing ovation. During the height of the civil rights movement, Price became the first black star to gain international stardom in opera. In an interview, the singer recalls advice from her parents: "Be the best that you can be. Being your best has no colour. Period. None."
Price, also known as the woman with "the golden voice," took a stance toward social equality. Throughout her career and evident through various interviews, she made it clear that she used her music as not only a form of musical expression, but a platform from which to advocate. In a 1981 interview, she explains: "Music is the international language ... I have statements to say about my country, I have statements to say about my people, I have statements about art in general ... shouldn't [you] express what you have to say the best you can? I think singing is the best way for me."
---
Nina Simone, 'Four Women' (1966)
Known to take a powerful stance within her music, Nina Simone ignited an important discussion with her song "Four Women." In it she identifies four stereotypes of black women, and brings to life the characters that are often associated with them. She sings about how each woman has struggled with her sense of beauty in a culture where society's definition of beauty is different. Her lyrics reflect this:
"My skin is brown,
My manner is tough.
I'll kill the first mother I see,
My life has been rough.
I'm awfully bitter these days,
Because my parents were slaves.
What do they call me?
My name is Peaches!"
Simone penned "Four Women" in 1966, during the civil rights movement. Despite this, she used her platform to address issues that were affecting her and the community of black women, even if, as she describes, it was "hurtful."
"'Four Women' came to me after conversations I had with black women," she explained in I Got Thunder: Black Women Songwriters and Their Craft. "It seemed we were all suffering from self-hatred. We hated our complexions, our hair, our bodies. I realized we had been brainwashed into feeling this way about ourselves by some black men and many white people. I tried to speak to this in the song. And do you know, some black radio stations wouldn't play it? It is true what they say: the truth hurts."
In the video below, Simone is singing at the Harlem Renaissance Festival in New York City in 1969. Her performance is simple, but powerful. Her conversation surrounding the acceptance of different kinds of beauty in society is still relevant today. The most evident example is in the yet-to-be-released movie based on Simone's 1992 autobiography, where controversy arose when the trailer was released and actor Zoe Saldana is shown with a darker skin tone, and a wider nose than usual.
"Why does this matter?" questions the Guardian's Frances Acquaah. "Not only is marginalization of darker skin actresses in Hollywood a huge problem, but Simone's racial identity was a crucial part of her life."
---
Alanis Morissette, Juno Awards skit (2004)
You may remember Alanis Morissette's humorous skit at the 2004 Juno Awards. On national television, the singer-songwriter wore a faux-nude bodysuit and voiced her opinion about censorship in the U.S.
"As you may or may not be aware, recently in the United States I ran into a little problem in regards to a lyric in one of my songs," she says, in the skit. "It was requested that I change a word in the first verse. Well, I'm overjoyed to be back in my homeland, the true North, strong and censor-free."
Morissette is referring to her song "Everything," where she sings, "I can be an asshole of the grandest kind." Even in a recent blog post on her site, Morissette writes, "Art, in countless forms, is how we express our humanity; how we express our very selves. It gives a welcoming platform to any PART of ourselves that may have no other known outlet."
Later in the skit, Morissette segues to the outrage regarding Janet Jackson's accidentally exposed breast during the XXXVIII Super Bowl halftime show earlier in the year.
"Well, at least we live in a land where we still think the human body is beautiful, and we are not afraid of the female breast. Which is why I am proud to be able to stand here and do this." She then drops her pink robe and reveals a bodysuit covered in fake nipples and pubic hair.
Morissette is advocating that freedom of expression should be allowed — anywhere you go.
Watch her delivery, below.
---
Sia: 'Me and fame will never be married,' Billboard (2013)
Sia isn't your typical musician. She's usually seen in a black-and-white wig, concealing her identity. The Australian musician prefers not to show her face to the cameras.
"If anyone besides famous people knew what it was like being a famous person, they would never want to be famous," Sia wrote in an article for Billboard. "I have a family I love. They tend to say, 'Great job!' Or 'You work really hard! Good for you.' ... That's all the family I need. So me and fame will never be married."
Though it's unconventional in the music industry to not have fame while creating chart-breaking music, Sia has proven that you don't need to sexualize your image to get an audience.
"Sia has managed to build a story for herself based not on her image but on a blond wig," Billboard chart guru Keith Caulfield told the New York Daily News. "The fact that she has turned away from the camera has become a talking point. It's a water-cooler chat way to get people to pay attention."
Sia's album, 1000 Forms of Fear, ranked number one on the Billboard charts in 2014. It proved that talent trumps image.
---
Beyoncé, medley performance at VMAs (2014)
Queen Bey took the audience on an emotional journey during her performance at the MTV Video Music Awards in 2014, where she performed a 15-minute medley from her self-titled album. At the awards, she was being honoured for the Michael Jackson Video Vanguard Award, also known as the Lifetime Achievement Award, given to musicians who have made a profound effect on the MTV culture. But it was at the 10:25 peak when Beyoncé made a statement that would resonate.
Before performing her song "Flawless," she sampled lines from Nigerian author Chimamanda Ngozi Adichie, which were highlighted in big bold letters in a display behind her performers. "We teach girls to shrink themselves, to make themselves smaller," the screen read. "We say to girls, 'You can have ambition, but not too much. You should aim to be successful, but not too successful. Otherwise, you will threaten the man."
As if the performance and the message in the song weren't clear enough, Beyoncé then stood in front of a big screen with the word "FEMINIST" behind her silhouette.
Taking her voice to the public stage, Beyoncé has spoken on behalf of other women, also questioning the gender gap of inequality. In 2014, she wrote an article for the Shriver Report saying that gender equality is a myth.
"Humanity requires both men and women, and we are equally important and need one another. So why are we viewed as less than equal? These old attitudes are drilled into us from the very beginning," she wrote. "We have to teach our boys the rules of equality and respect, so that as they grow up, gender equality becomes a natural way of life. And we have to teach our girls that they can reach as high as humanly possible."
---
Grimes, Elle Magazine (2014)
According to Medium, fewer than five per cent of music producers and engineers are female. But despite the statistics, music producer Grimes is owning it all. Back in 2014, Grimes wrote an article for Elle Magazine, explaining the challenges of being a female boss in the music industry. She wrote a number of steps and provided advice on how to become successful. But it's her reflection at the end of the article that is the most important takeaway for women trying to succeed, in whatever circumstance:
"As time has gone by, I've noticed that the crappy people have been phasing out," Grimes wrote. "And I'm surrounded more and more by people I trust, and with whom I share mutual respect — which, by the way, breeds real confidence."
Today, she continues to be a voice for women empowerment. Grimes isn't shy to speak up on issues that seem lopsided — just this year she created discussion surrounding the Junos for not including nearly enough women among the nominees.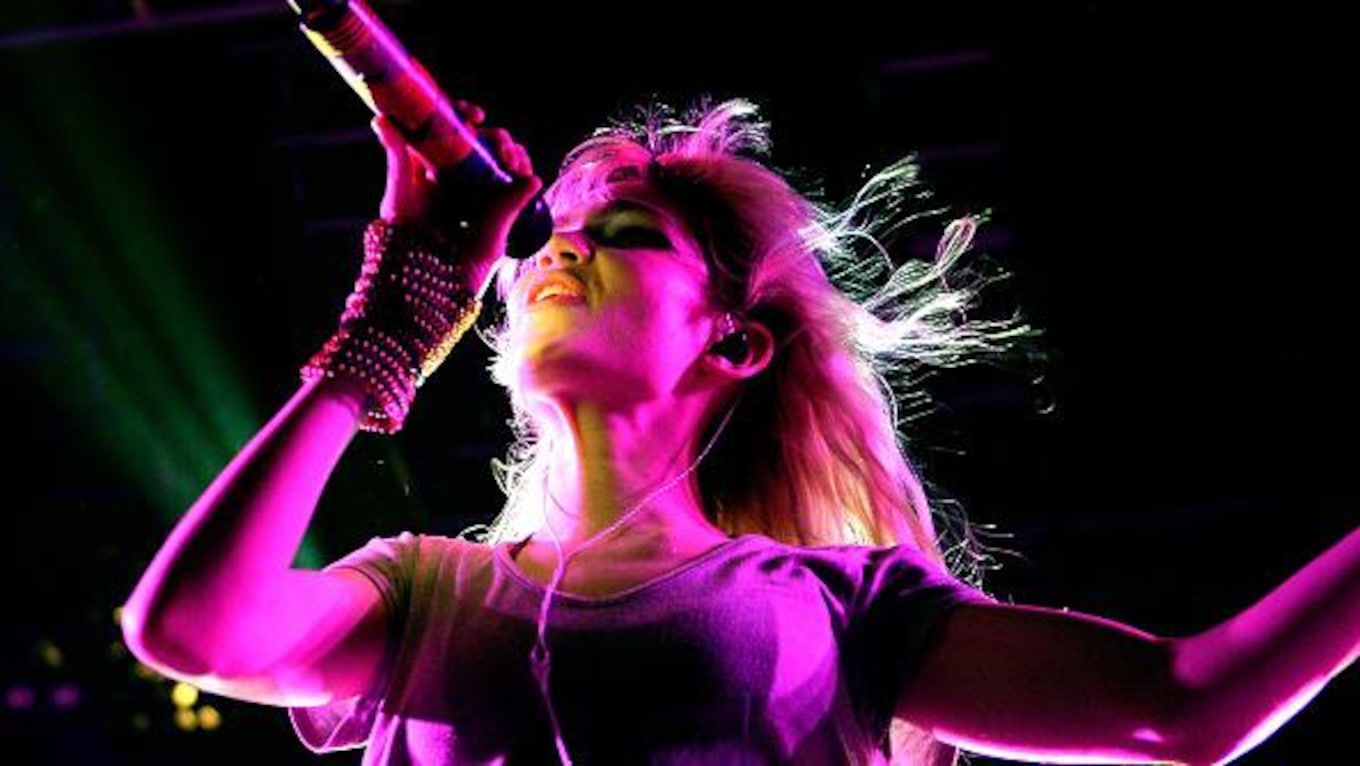 ---
Lady Gaga, 'Til it Happens to You' (2016)
Lady Gaga's performance transcended the stage at this year's Oscars. At the awards, she performed "Til it Happens to You," which was a nominated song for The Hunting Grounds, a documentary about campus sexual assault. The messages and visuals throughout Lady Gaga's performance demanded the attention of all who were watching: while Gaga performed, a curtain parted onstage and dozens of women and men stepped forward, all survivors of sexual assault.
Gaga's performance encouraged women to band together in solidarity — informing those who have experienced sexual assault, that strength comes in numbers and their experience doesn't define who they are. In an Instagram post, Gaga noted that she's a survivor of sexual assault, and her caption encourages young women to speak up and to never keep silent about their past as an attempt to appease others. Her family, pictured in the post below, represents Gaga's support system, and encourages survivors to talk to people they love and trust.
Since her performance, several women have joined the conversation, including Bachelor star Jane Roper. In a blog post Roper writes, "The Lady Gaga performance gave me the courage to speak about my story, a story that's been trapped inside me for over 12 years."
One of the survivors who joined Gaga onstage, Robbie Woodsum, said in an interview with Broadly that "When we were together she wasn't a superstar, she was a comrade and fellow survivor."
Find Kiah Welsh on Twitter: @simplykiah