You'd be surprised at the number of times classical music comes up in everybody's favourite show about nothing.
During its nine seasons, the Seinfeld gang took in a performance of Ruggero Leoncavallo's opera I Pagliacci, giggled through a piano recital and got ironing advice from a conductor who only responded to "the Maestro." And that's just a start.
Maybe Seinfeld co-creator Larry David is a classical fan in hiding. He also slipped various classical references into Curb Your Enthusiasm. Not that there's anything wrong with that.
Take a look at our list below to see the classical side of Seinfeld.
'The Pez Dispenser'
Season 3, episode 14
Jerry, Elaine and George attend a piano recital by George's new girlfriend. Just as she plays the opening notes of Beethoven's "Pathetique" Sonata, Jerry takes out a Tweety Bird Pez dispenser and offers one to Elaine, who bursts out laughing and has to leave the concert. When George's girlfriend finds out that Elaine was the one who laughed, she dumps George.
'The Fix-Up'
Season 3, episode 16
"Do you really need somebody waving a stick in your face to play the violin?" Jerry ponders the role of a conductor in his opening stand-up bit.
'The Ticket'
Season 4, episode 4
Kramer gets kicked in the head by "Crazy" Joe Davola and keeps shouting "Yo-Yo Ma!"
In an interview, the famous cellist later pointed out, "My kids have always thought of me as 'Dad the dork,' but when Jerry Seinfeld mentions your name in an episode, maybe dad is a little cool after all."
'The Opera'
Season 4, episode 9
The gang go see I Pagliacci and have separate run-ins with "Crazy" Joe Davola dressed as a clown.
'The Barber'
Season 5, episode 8
Jerry gets his barber's nephew Gino to fix him up after a bad haircut. The overture from Gioacchino Rossini's opera The Barber of Seville adds drama throughout the episode.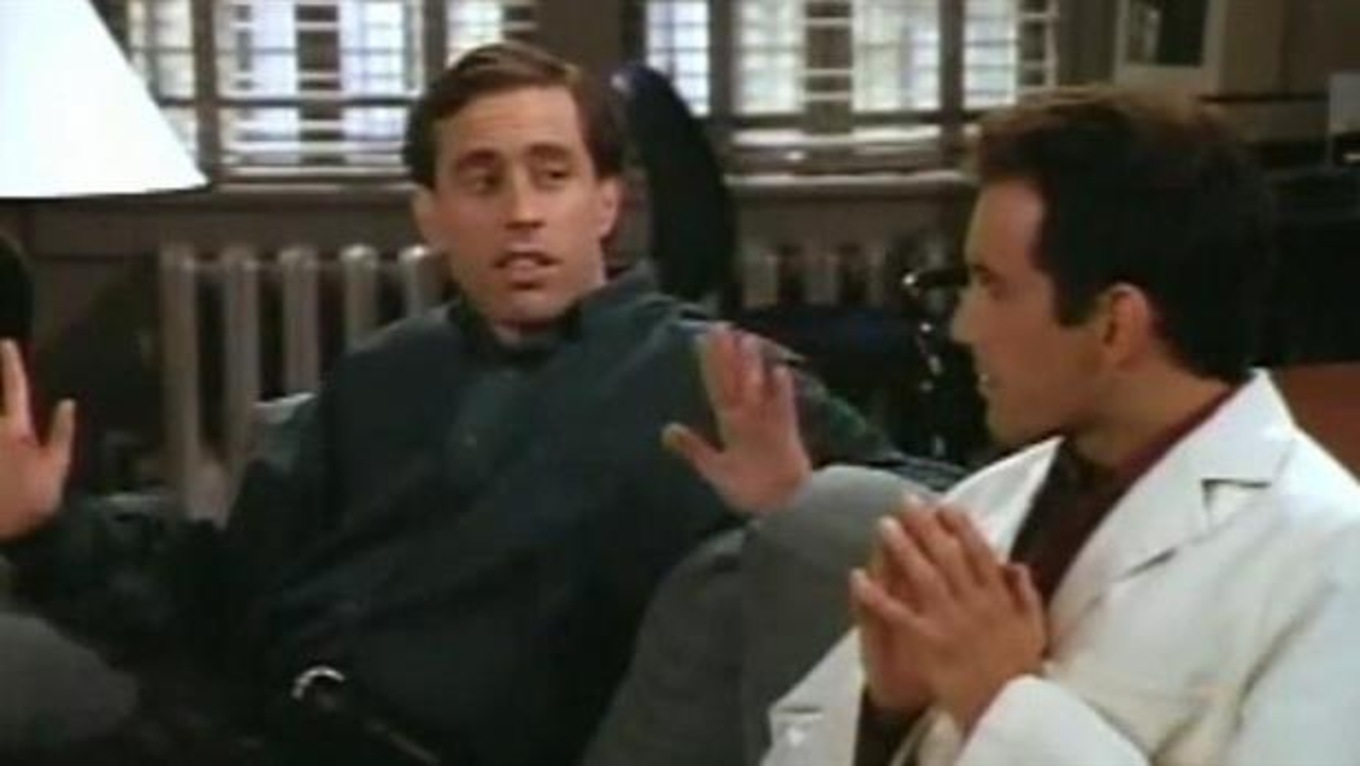 'The Hamptons'
Season 5, episode 21
Kramer mentions Yo-Yo Ma again, this time when he spots George's girlfriend topless.
'The Maestro'
Season 7, episode 3
Elaine dates a conductor who insists on being called "the Maestro" instead of his real name. "The Maestro" says there are no houses available in Tuscany, and Jerry takes that as a challenge. At the end, Jerry arrives in Tuscany as Puccini's "O mio babbino caro" plays.
'The Doll'
Season 7, episode 17
"The Maestro" reveals an old trick he learned from Leonard Bernstein: hang your pants over a chair instead of wearing them to keep a perfect crease before a performance. Later, Kramer has remarkable skill using "the Maestro"'s baton as a pool cue.