When they started their New York campus radio show in 1990, Stretch Armstrong and Bobbito Garcia could not have envisaged the impact their show would have on popular culture.
Many of the artists who appeared on Stretch and Bobbito's Columbia University radio show to freestyle and debut music during the unglamorous hours of 1 to 5 a.m. Thursday nights went on to sell millions of records. Among those unsigned or (then) virtually unknown acts who appeared on the WKCR 89.9 FM radio show were Eminem, Wu-Tang Clan, Jay Z, Notorious B.I.G., Nas and the Fugees, among many others.
A new documentary, Stretch and Bobbito: Radio that Changed Lives, contextualizing the radio show's impact on hip-hop and popular culture as a whole has just been released. It features archival audio and video footage of the radio show and its guests, who would go on to be international superstars — including the Fugees transforming their reputation from mediocrity to buzzed-about group in the few minutes it took Lauryn Hill to complete her freestyle verse.
Editor's note: strong language warning.
The radio show existed before widespread broadband internet accessibility, and its signal meant its audience was primarily restricted to New York and the East Coast area. However, tapes of the show would circulate and sell not only in different places around New York and the U.S., but in Canada and around the world. The show's influence was international, and proof positive of Stretch and Bobbito's reach can be seen in the fact that the duo has upcoming screenings for the film lined up in Ireland, Dubai, Australia and Estonia.
DJ Stretch Armstrong took some time to talk to CBC Music after a recent screening in Toronto about nostalgia for '90s hip-hop, why the era is so important and how that translated into mainstream success for artists.
What was the impetus for making this documentary? I got the sense after watching the film that it was the 20th anniversary show.
Well, the stars sort of aligned. In the '90s there were a few people that had the idea to do a Stretch and Bob doc and that's where a lot of the footage comes from. But for various reasons these docs never happened. And then after many years of not doing anything together, Bob and I started doing anniversary parties in venues that were very small. Maybe there were like three or four of them, but they were always a lot of fun and they led up to the 20th anniversary party at Le Poisson Rouge [nightclub] that you see the footage from Raekwon [of Wu-Tang Clan performing]. That was a really magical night, that was the coldest night that winter. A lot of people were like "I'm not coming out" but there were like still 700 kids in there losing their shit.
So doing that sort of let me and Bob know that we still have very active fans that stand, that are still riding with us with whatever we do and I think that perhaps the nostalgia of the '90s plays a role in that and then it just worked out. The idea was that we were going to finish this film in time so that we could roll it out for our 25th anniversary and we did that in Central Park for SummerStage. That was the first time anyone saw the film.
We screened it outdoors in New York City for 3,500 people in the heart of New York City. It was preceded by a concert that included the entire [Diggin' in the Crates] crew performing together for the first time ever. Pete Rock, Grand Puba, Brand Nubian together, Large Professor and Kool Keith, Pharoahe Monch, O.C. ... for a New York kid to grow up in the city that ends up embracing me — I think Bob would say the same thing — in such a way 25 years after we did our first show it was surreal. Bob and I, we snuck into the film. Once the film started, it was dark and we just sat down and we were looking at each other, like "This is crazy! We're in Central Park at 9 p.m. in the summer watching a film we made about our lives." It was pretty magical.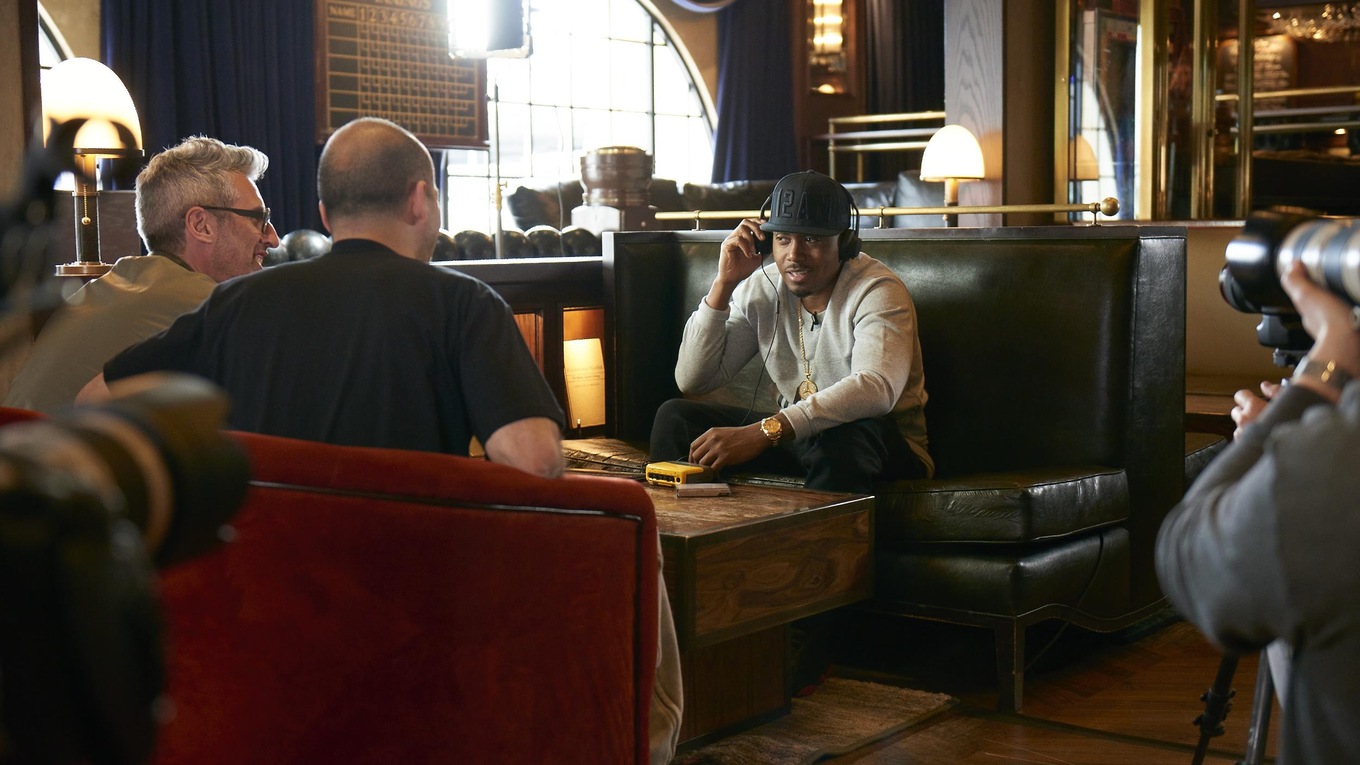 Why do you think people hold that era of '90s hip-hop in such high regard?
Well, I think that we all tend to live in bubbles, and so if you love '90s hip-hop you probably know other people who love '90s hip-hop. And there are plenty of kids that don't know about '90s hip-hop that might like it or might not like it and they love hip-hop now. And we're trying to walk that fine line between about what's so magical about the '90s having the awareness of having experienced '70s, '80s, '90s, '2000s up to [present day] hip-hop. You know we've been a part of all that.
I started listening to hip-hop in 1980. Bobbito grew up on 97th Street in public housing that was right across the street from Rocksteady Park, so this was a part of the fabric of us growing up. So I think we're qualified to talk about that. But at the same time we don't want to cross the line to become grumpy old men that are telling kids now that "Oh, what you're into that's not really the shit. Check this out!" Because we know that whatever kids are into, that's the soundtrack of their lives and that's important to them.
But I do think that '90s hip-hop existed in between the experimentation and the innocence of the '80s and the commercialization and perhaps stagnation of the 2000s and beyond. So in the middle you have producers taking the blueprint that Marley Marl laid down of sampled drums and stabs and loops and cuts on the chorus and taking that blueprint and bringing it to life in a way that it just exploded in the '90s and it was just incredibly inspirational and incredibly magical. I mean the records that Large Professor and Q-Tip and the Beatminerz and Pete Rock and Muggs and DJ Premier made. I know I'm forgetting people. Those records were incredible and I think they inspired the artists to deliver lyrics that were on the same level, and I don't think that excitement exists [now] the way that it did in the '90s. So that's the best way I can describe why the '90s were incredible.
You say in the film at around the time the radio show ends that one of the logical endpoints of the '90s scene was Eminem. Can you expand on that a bit?
Eminem is the last hip-hop star to come from the underground. With that being said, it's entirely possible that you could go back in time, well you can't go back in time but speaking abstractly. If you removed Eminem's entire underground process, all the work he did with Rawkus, him splashing on our show and just really making New York City talk about this kid — he'd still have been signed by Jimmy Iovine and Dr. Dre and he still would have come out with "My Name is" and I think he still would have blown up. With that being said, he did come through college radio. He came up through an authentic and organic channel, which was the farm team where if you were good enough, the next step was the majors. And there's been no one since to do that.
So Eminem, we think of him as this lyrical whiz kid sensation that took over the world and in the eyes of many white kids he's the greatest rapper ever [laughs]. I wouldn't say he's the greatest, I think he's definitely one of the greatest. But for those who were from that era and were interested in looking beyond what MTV presents us we know that Eminem is just a nasty, underground lyrical beast who came up before he got onto our show. By the time he got on our show he was already a master. A master. So that's why when Dre put him in the studio, they made magic, with what they were already able to accomplish. By that time he was already a veteran. By the time Dre got wind of him, Jimmy Iovine got wind of him, he was war ready.
Stretch and Bobbito: Radio that Changed Lives is available to stream and download at stretchandbobbito.com.