In our ongoing series looking back at key dates and figures in Canada's music history, we're celebrating the early life of acclaimed and groundbreaking contralto, Portia White.
Continue reading below for the story on White's amazing life.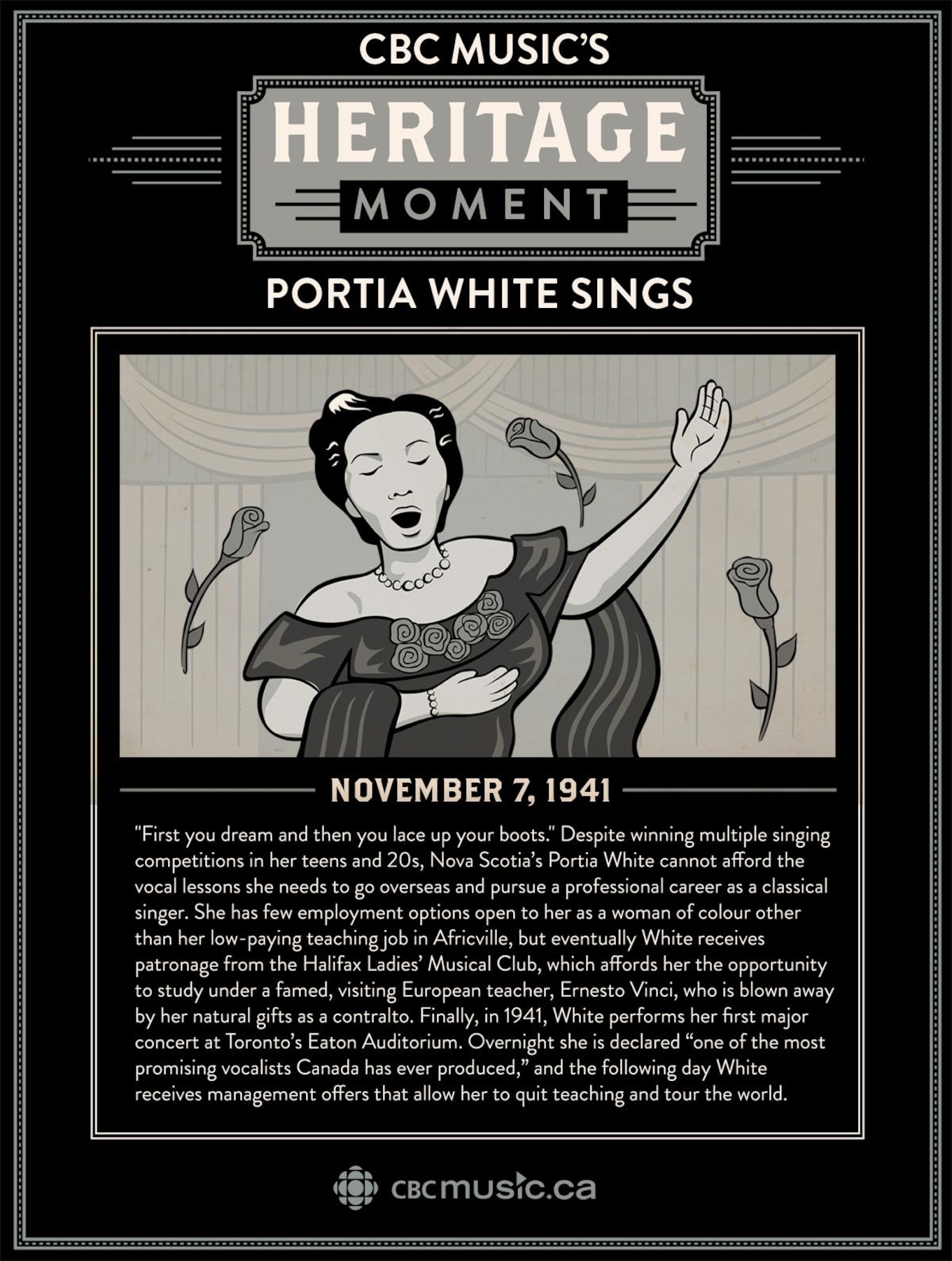 The backstory
Portia White was always a singer, but it took 30 years for the rest of Canada to truly recognize her talents.
By the age of six, White was already a choir member of the Cornwallis Street Baptist Church in Halifax where her mother was the musical director and her father the minister. As a teenager, White placed first in a singing competition with her sister, June, having mastered an aria from Donizetti's Lucia di Lammermoor. White couldn't afford the private training to perfect her talent and pursue music professionally, so she began teaching in Africville, one of the few jobs open to Black women at the time, to help pay for voice training.
After winning the Helen Campbell Kennedy Cup four times at the Nova Scotia Music Festival, White was offered the patronage of the Halifax Ladies' Musical Club to help further her studies at the Halifax Conservatory. There she met the visiting European instructor Ernesto Vinci who was blown away by White's natural gifts as a contralto. White became his prized pupil, performing a series of showcases throughout the Maritimes. But it was the 1941 concert at Eaton Auditorium in Toronto that changed White's life. Her performance was a revelation. Hector Charlesworth, who wrote for Saturday Night and the Globe and Mail wrote that White was "one of the most promising vocalists Canada has ever produced" and that she was "endowed by nature with a glorious voice."
The next day, Oxford University Press offered to manage her career and White was able to quit teaching, ultimately touring around the world, including lauded performances at Rideau Hall, New York's Town Hall, Massey Hall, and throughout Central and South America. White died in Toronto of cancer on Feb. 13, 1968.
Hang out with me on Twitter: @_AndreaWarner
Follow Heather on Twitter: @HeatherCollett3
References:
Singing Towards the Future: The Story of Portia White
100 Canadian Heroines: Famous and Forgotten Faces