Written by Catherine Kustanczy
With aging audiences and high costs, many opera companies are struggling to stay afloat. Ottawa's Opera Lyra shut down in the middle of its 31st season last month, claiming its sponsorships, grants, sales and donations were all "below expectations." Opera Hamilton closed in 2014 after years of financial woes. New York City's Gotham Chamber Opera, which had been hailed over its 15 years for inventive stagings, folded in October after a huge deficit was discovered.
For all the gloomy news, various companies are using new approaches that move beyond clever marketing. Opera Philadelphia recently announced that it was adding a 12-day binge-watching festival to its regular season lineup that will feature newer works performed across six different venues. In 2014, Portland Opera announced it would move from a year-round format to a spring/summer festival.
Such unorthodox paths are hardly new for independent opera companies. Toronto's Tapestry Opera has, for many years, featured contemporary opera in unusual settings; they're currently experimenting with the marriage of opera and heavy metal music, and pairing art with music at the Art Gallery of Ontario.
"It's going to be an audience that doesn't come to the opera necessarily, they're coming for Turner," explains Michael Mori, Tapestry's artistic director. "They're being exposed to something in a positive way. It's much better to have an approach that includes a lot of different entry points."
"Sitting back and watching something that's happening a little bit far away, a little bit formalized, a little bit emotionally distanced, is much harder for a younger audience today," notes Matthew Jocelyn, artistic and general director of the Canadian Stage Company. Jocelyn is currently directing the North American premiere of Philippe Boesmans's chamber opera Julie in collaboration with Soundstreams Canada. "Opera's never been a young person's art form."
A new financial model?
The drive to produce smaller works is precipitated not only by the need to attract a younger audience, but as a way to advance an expensive older model. Joel Ivany, artistic director of Against the Grain Theatre, says "opera on the big scale has survived for hundreds of years. The model that doesn't work is the financial structure."
Against the Grain was formed in 2010 and has produced pieces by Puccini and Mozart that use unusual locations and contemporary elements. The Calgary Herald has called them "one of the most important opera companies in Canada." In 2014, the company produced #UncleJohn, a re-envisioning of Mozart's Don Giovanni, with Ivany incorporating digital elements like Tinder and text messaging into the libretto.
"Is that the future?" he asks. "People want the new because that's what's exciting, it's not just, 'We're going to play this Beethoven symphony one more time and thanks for coming!'"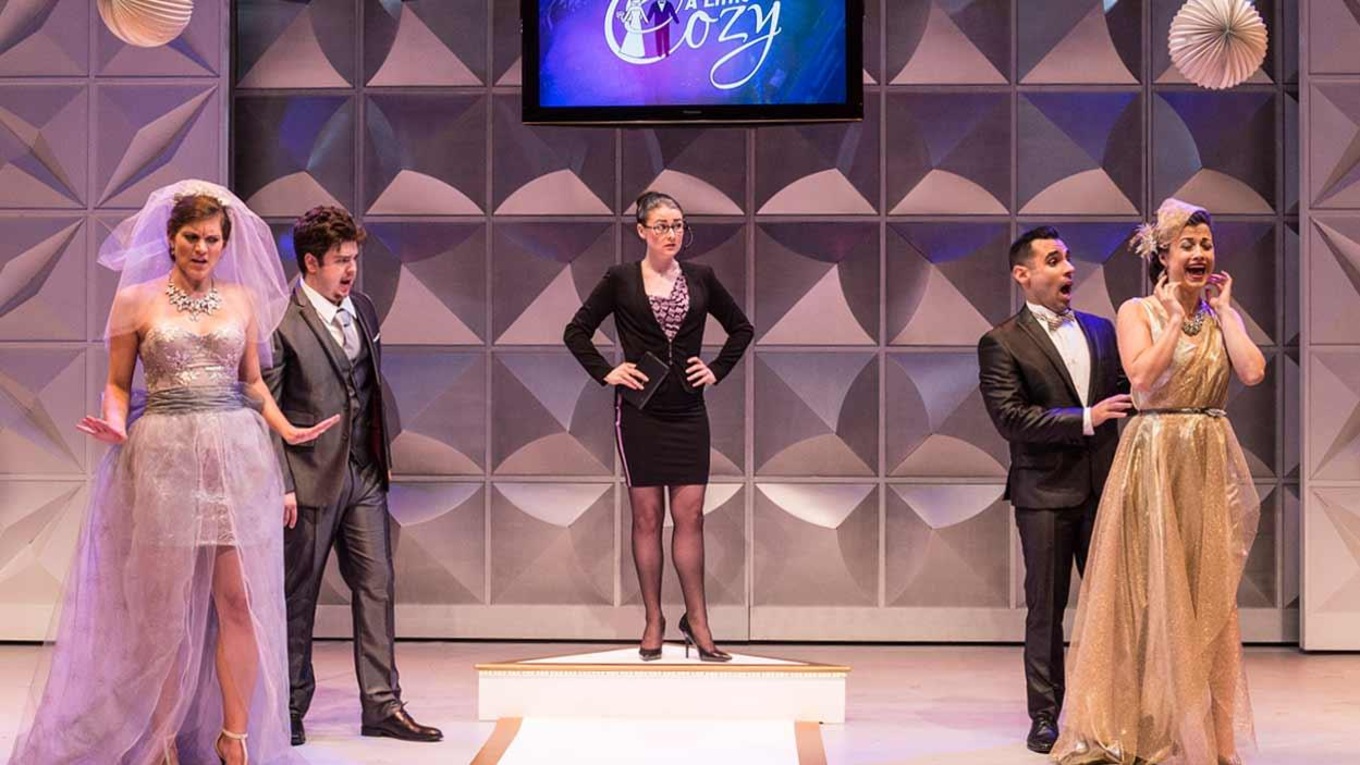 Bicycle enthusiasts, DIY fans and music lovers all learn something new at Bicycle Opera shows. The company, formed in 2011, tours Canada on two wheels, performing contemporary Canadian works. Co-founder (and singer) Larissa Koniuk says that while she has ambitious plans for the company, keeping an intimate approach is paramount.
"Everything we do is about inviting the audience in," she says, "whether we're breaking the fourth wall, travelling through the audience, or letting them sit a couple metres away from a live opera singer, which is something a lot of people, even opera fans, haven't experienced."
Stadium culture
Alexander Neef, general director of the Canadian Opera Company, is open to the possibility of producing works in venues other than the COC's immense Four Seasons Centre home in the future. He calls the Joey and Toby Tanenbaum Opera Centre "the greatest black box space in Toronto." But, when asked why the company doesn't produce contemporary chamber operas, Neef notes that "there's other people who do that very well in this city. What nobody can do is put opera in a 2,000-seat auditorium except for us, so that needs to be the focus."
But Tapestry's Mori decries what he calls a "stadium culture" in opera, and thinks programming alternative works opens up new and important demographics. "Art is at its best when it captures the image of the people of its time. More than anything that's what we're fighting, the old model. I certainly think you can't sustain a stadium-band culture."
"Variety is good for audiences, and contemporary expression is good for audiences, because more and more, artists are working in a non-categorical way," Jocelyn, of Canadian Stage Company, explains. "They're driving forwards in cross-disciplinary works. That should attract audiences from various constituent parts."
Those parts should, to some, be a part of opera itself. An op-ed in the Ottawa Citizen published after the closing of Opera Lyra proclaimed that "an arts organization that doesn't reflect its community is doomed."
Mori agrees: "You don't see the diversity of Canada represented on boards, and you don't see it represented in leadership of organizations. I think that's a problem."
"It's very easy to get caught in the opera bubble," adds Ivany, "but that's not reflective of the community which your company is in."
COC's Neef is aware of these concerns. "We're very mindful that we need to stay alert," he says. "I'm also acutely aware, as Verdi said, that the purpose of a theatre is to be full! You can't just expect people to come."
One solution might be to offer a more diverse range of programming. This year's Vancouver Opera season features both a beloved Verdi opera (Rigoletto) and a new work by American composer Nico Muhly, Dark Sisters. The Canadian Opera Company featured the world premiere of Canadian composer Barbara Monk Feldman's Pyramus and Thisbe in its current season, which also features the works of Verdi, Rossini and Mozart.
"There's never anything wrong with a good Traviata," Neef notes. "It happens to be a great opera, but at the same time that's not the only diet you would ever want to be on."
More to explore:
Opera singers wearing scarves: photos
Listen to Heppner's Opera Gems stream