This week, 40 young singers arrive in Camrose, Alta., to begin seven days of choir boot camp, a.k.a. the National Youth Choir of Canada (NYCC).
Representing all 10 provinces and the Northwest Territories, and ranging in age from 18 to 25, these choristers will undergo a week of rehearsals and training to prepare for a seven-concert tour across Alberta. (Scroll down for tour info.)
"It will be an intensive period with up to eight hours of singing per day," says Michael Zaugg, conductor of the 2016 NYCC, via email. "The young musicians will also learn to work exclusively with a tuning fork." (That's choir talk for "there's no safety net.")
The choir will prepare a concert program that covers a variety of challenging a cappella works in five languages — German and Estonian among them — and includes newly commissioned pieces by Canadians Kristopher Fulton, Stuart Beatch, Alan Gilliland and Cy Giacomin as well as the world premiere of "Tread Softly" by Benjamin Bolden, winner of Choral Canada's 2016 Competition in Choral Writing.
To some, preparing so much difficult repertoire in such a short time might seem like choir hell, but competition to get into the 40-voice ensemble is fierce.
"Auditions are coordinated and singers are selected provincially or territorially by a provincial choral organization or another regional leading choral community representative," explains Meghan Hila, general manager of Choral Canada, the organizing body. "In some provinces, singers must first be a member of their provincial youth choir to be eligible to audition for the NYCC. Depending on the province or territory, singers may audition live or by recording. Each province and territory may select up to four singers (one for each voice part) and four alternates."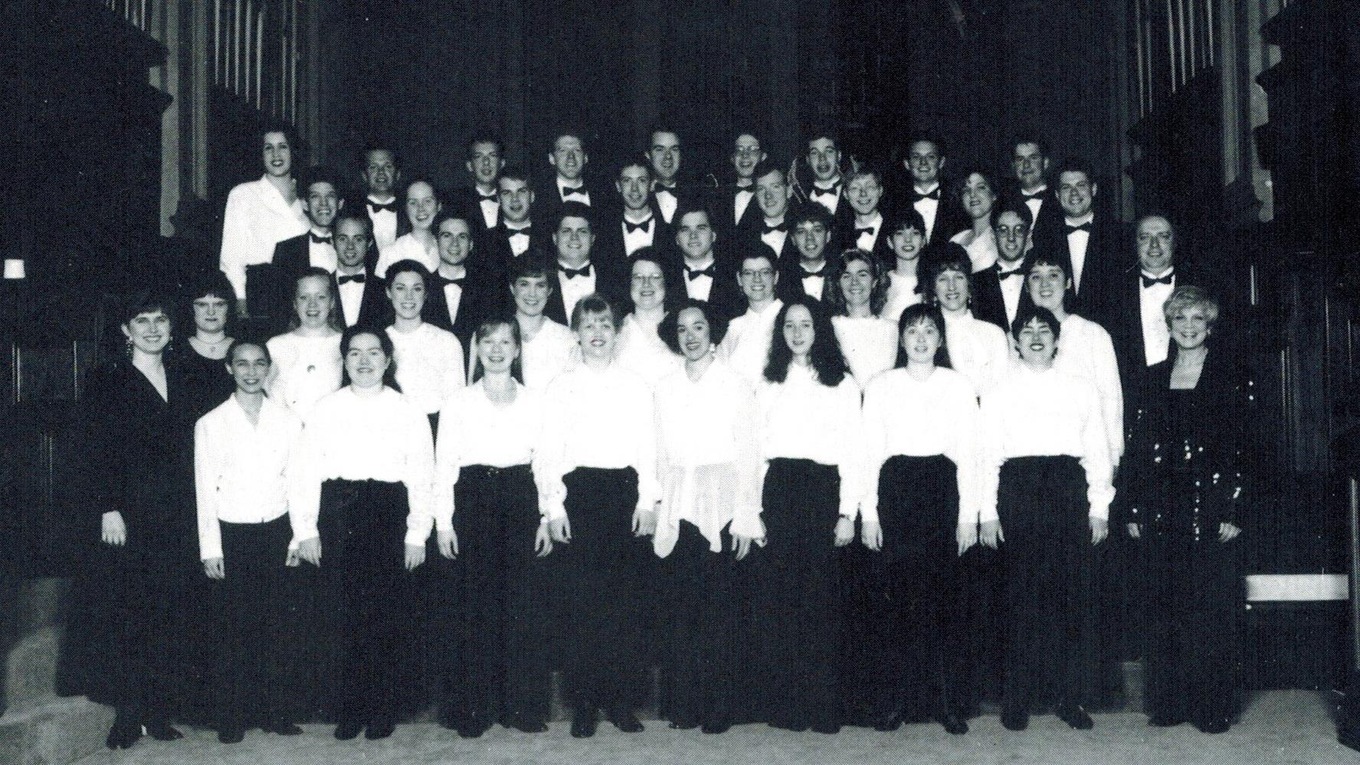 The late Diane Loomer, bottom right, was the first woman to conduct the NYCC, pictured here in 1994.
"I was very excited and proud," says 2016 NYCC member Nila Rajagopal about learning she passed the audition. "After singing in the Ontario Youth Choir for four years, being accepted in the NYCC was definitely a dream come true."
Regarding the busy week of rehearsals, she adds, "It is going to be an intense program so I'm making sure to stay hydrated and keep my voice and body healthy."
For Dion Flores, who studies choral conducting at Memorial University in St. John's, N.L., this will be his first time attending a summer music program. He says the intense schedule is a welcome challenge: "I graduated from Laurier University last year and we had a similarly intense schedule for our Stravinsky Festival. As stressful as it was, it was an incredible learning opportunity. No matter what, I think this is going to be a great experience for all."
Sonja Martin-Elson will represent the Northwest Territories in the NYCC this year. "There is nothing like performing music to bring a group of people together," she told us by email, "and I have never felt that more acutely than with choir. It is an activity that doesn't need a lot of space or a lot of money, which means it can be a great activity for northern communities. I want to improve my skills so I can share them with my local choir."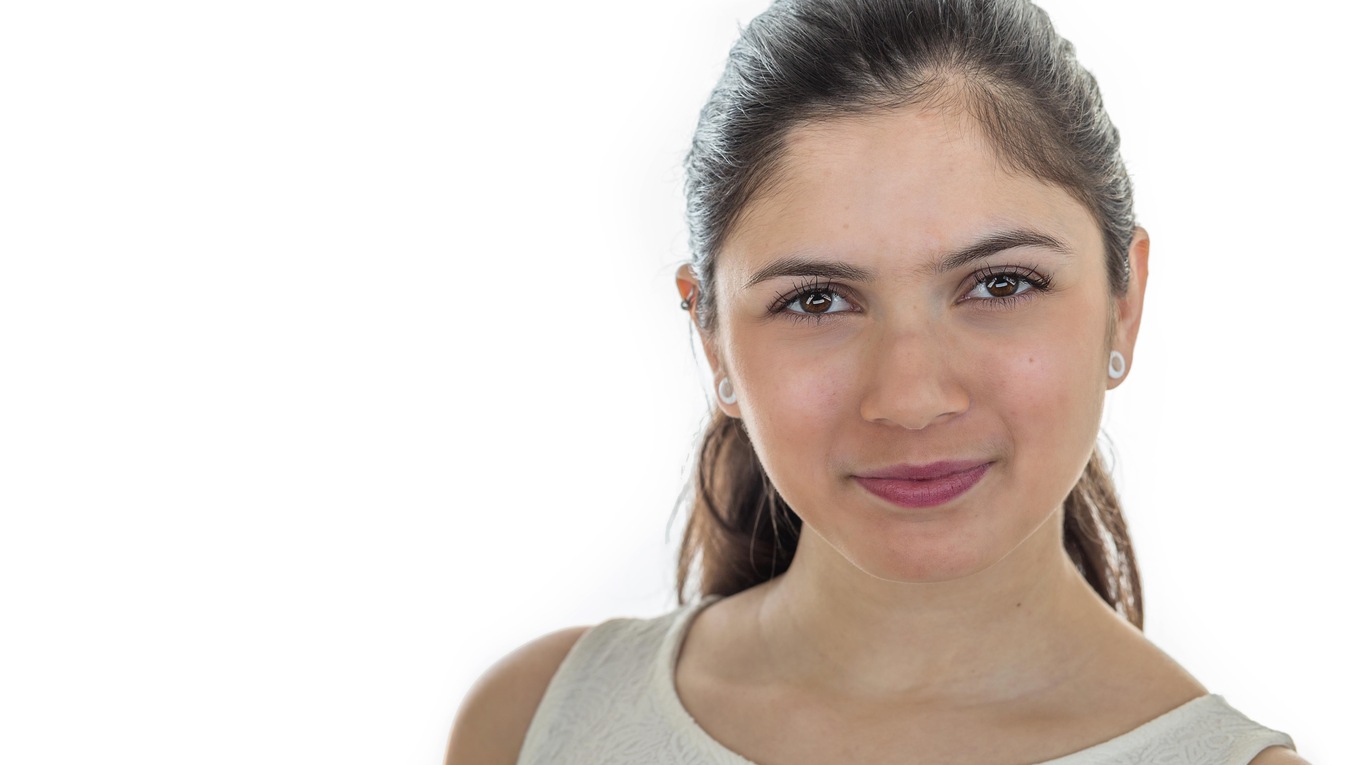 'I am also hoping to improve my overall musicianship skills and to make some friendships and connections that will last a lifetime.' — Nila Rajagopal
The NYCC was initiated by Choral Canada in 1984 and happens every two years. During its 32-year history, some of Canada's best choral conductors have led the choir, including Elmer Iseler, Jon Washburn, Lydia Adams and Wayne Riddell.
Jean-Sébastien Vallée, who was a chorister in the NYCC in 2004 and returned in 2008 as apprentice conductor, says the NYCC opened new horizons for him. "It allowed me to discover how rich and vibrant the choral scene is and how much I wanted to be a part of this community," he told us. Vallée is now director of choral studies at McGill University's Schulich School of Music.
"This intense sense of passion and community shaped my approach to choral music and led me to grow as a conductor and educator," he adds. "Being a part of the NYCC intensified my passion for choral music and confirmed my desire to pursue music as a career."
If you're in Alberta this month, keep an eye out for the NYCC bus and make a point of catching one of the choir's performances. Details below.
Tour dates
May 13 at 7:30 p.m.
K Glen Johnson Faith & Life Chapel, Augustana Campus, Camrose, Alta.
May 14 at 7:30 p.m.
Gaetz Memorial United Church, Red Deer. Alta.
May 15 at 7:30 p.m.
Hanna Community Centre, Hanna, Alta.
May 16 at 7:30 p.m.
Fifth Avenue Memorial United Church, Medicine Hat, Alta.
May 17 at 7:30 p.m.
Knox United Church, Calgary, Alta.
May 18 at 7:30 p.m.
Gateway Community Church, Hinton, Alta.
May 20 at 7:30 p.m.
Enmax Hall, Winspear Centre, Edmonton, Alta.