Written by Alanna Hildt Armitage
Fashion, like music, is a language. And the artists chosen as this year's best-dressed know how to make a statement. Whether on the red carpet or the concert stage, at photo shoots or performing an operatic role, each, in his/her own way, is breathing new life into classical music's often ossified conventions. One look at this list of exciting performers from around the world, and there's no need to fear that the genre is dead. Quite to the contrary. Enjoy!
10. Alison Balsom, trumpet
Last January in Cannes, the self-styled 'trumpet crumpet' appeared on-trend in a cropped moto jacket, skinny jeans and patchwork fur boots by Dolce & Gabbana. (Before any red paint is slung over the mix of rabbit, astrakhan, fox and coyote fur, let me duck behind the doyenne, Anna Wintour, who, in the face of a PETA protest, said that as long as fur is in fashion Vogue will cover it. Anyone want to argue with Wintour?)
Standing with her stunning silver trumpet, Balsom's image imprints as Botticellian angel meets Flaherty's Nanook of the North. The edgy ensemble is entirely appropriate to herald the arrival of her album, Seraph, which features modern and contemporary concertos, including one written for her by James MacMillan. Fashion police, you decide: roadkill couture or simply fierce?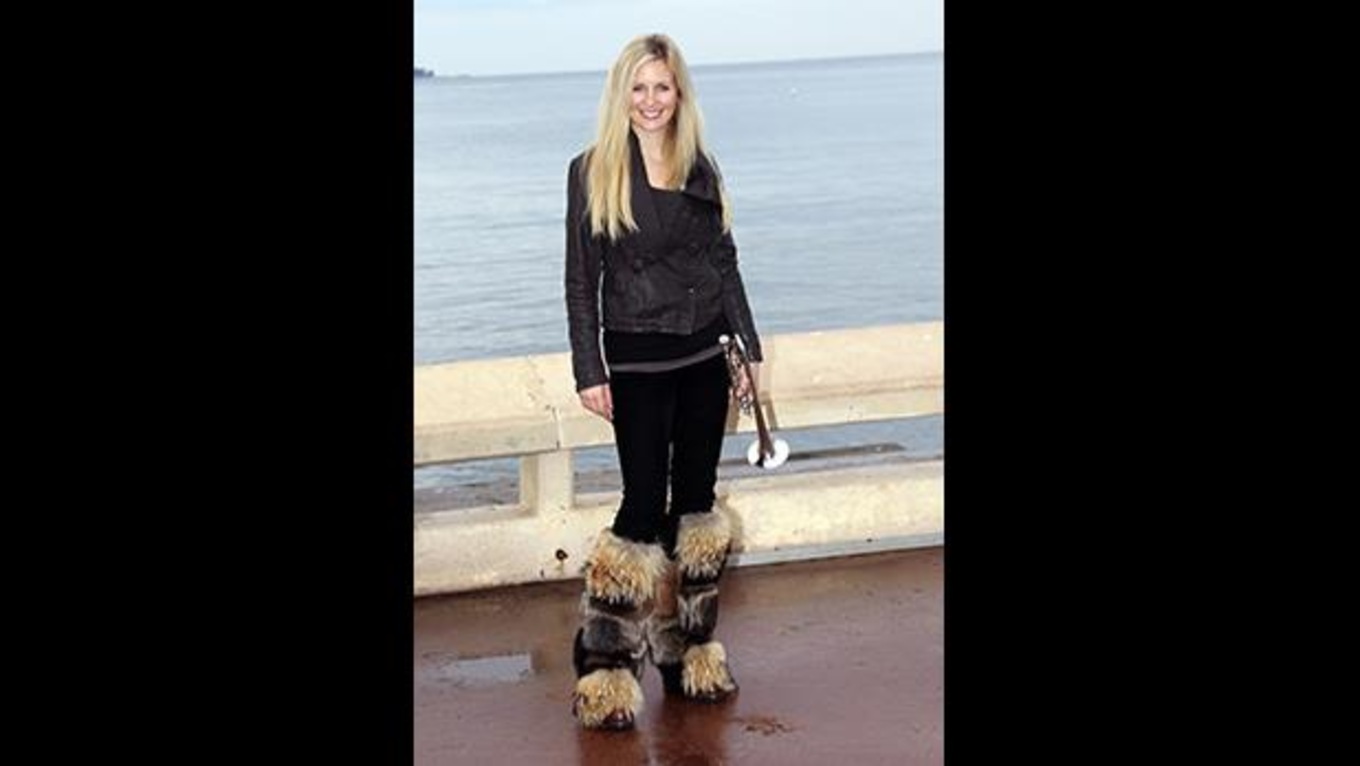 Her profession is still largely the preserve of men, but the powerful femininity projected by English trumpet soloist Balsom is helping to re-gender the instrument.
Last October, Balsom made a sophisticated turn on the red carpet at the Classic BRIT Awards in a black, long-sleeved gown with green-stoned jewelry, referencing Angelina Jolie's Oscar style of 2009. The appearance preceded the release of her 2nd album of 2012, Sound the Trumpet, a collaboration with Trevor Pinnock that includes freshly arranged pieces of royal music by Purcell and Handel, recorded on a valve-less, baroque trumpet.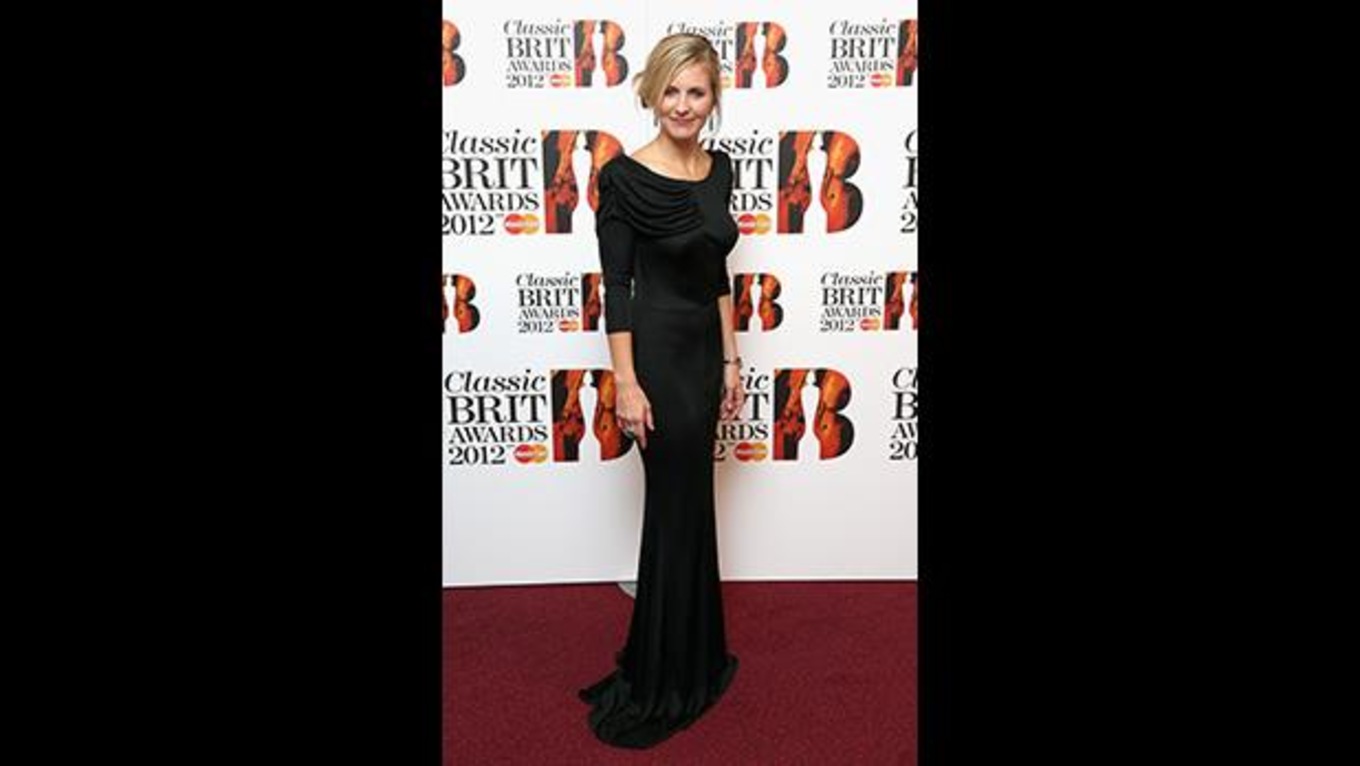 ---
9. Diego Matheuz, conductor
Barquisimeto-born Matheuz is a graduate of the Venezuelan sistema, rising quickly to prominence on the world stage. Last year, he was appointed the principal conductor of Teatro la Fenice. His Venice street style is effortless, yet polished, prioritizing freedom of movement, necessary for his profession and those last-minute leaps from a gondola. Matheuz begins his rehearsals dressed in a V-neck sweater, but, with the exertion at the podium, he soon has stripped down to his fashion staple: the striped polo tee, also a favourite of Gustavo Dudamel. Could we have a new "dude" in town?
Good thing his style isn't stuffy, for he'll be doing a lot more travelling now that he's been invited to be the principal guest conductor of the Melbourne Symphony Orchestra. The conductor's best accessory? His chiselled arms, which have La Fenice in danger of being set ablaze yet again.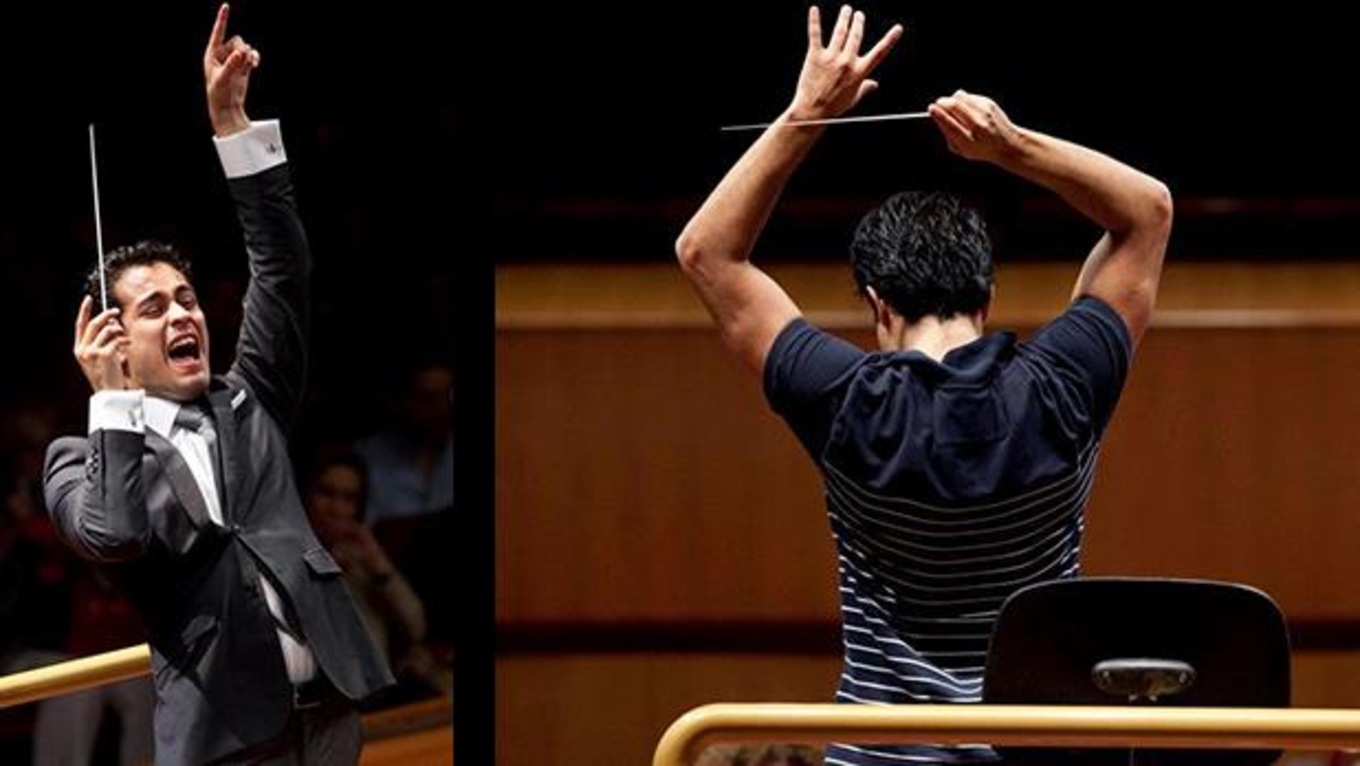 ---
8. Jan Lisiecki, piano
Move over Justin Bieber. Canada has a new teen sensation on the international music scene. Lisiecki has oodles of boyish charm, and a prodigious talent shared on concert stages throughout the world. With his coveted Deutsche Grammophon contract, and the release last April of his 1st album, Mozart: Piano Concertos Nos. 20 & 21, Lisiecki's style has matured to match his growing career success.
By sporting clothes in a monochromatic palette, attention is drawn to his flowing, golden locks, brushed across his forehead in a manner to rival pop heartthrob Harry Styles.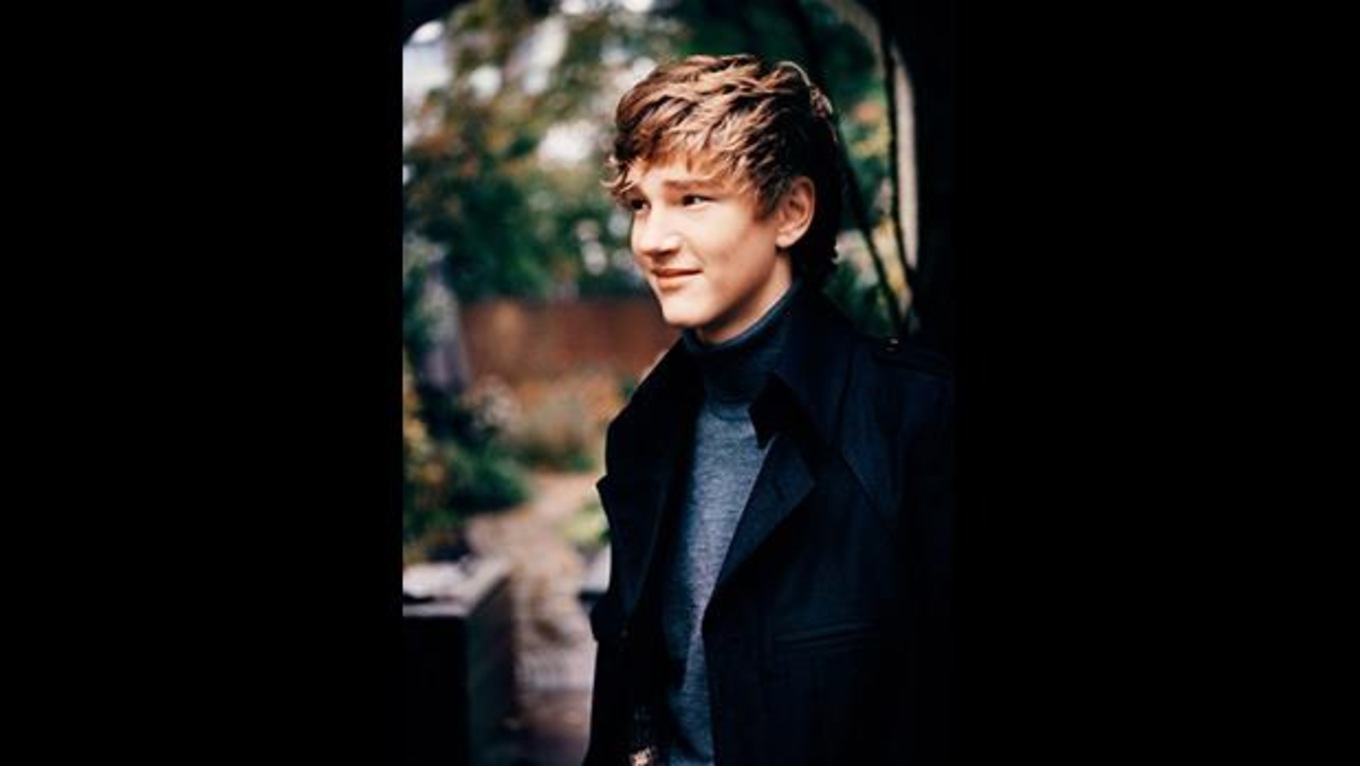 Calgarian pianist Lisiecki's best accessory? His perfectly coiffed eyebrows, which sweep dramatically upward to meet his cascading waves of hair. Very musical, indeed. Careful, Jan. It's only a matter of time before hysterical fans scream and swoon with a condition analogous to 'Lisztomania' or, in contemporary parlance, 'Bieber Fever.' Anyone want to name the affliction?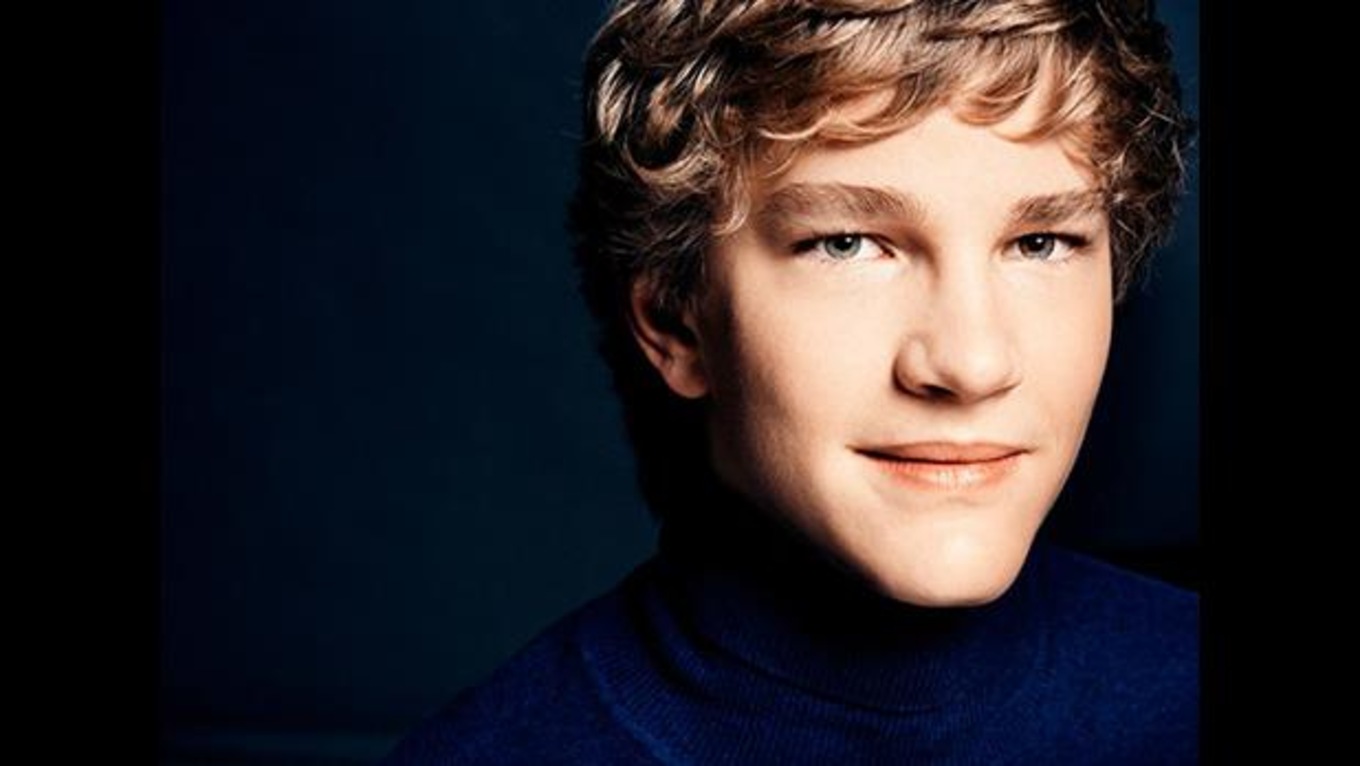 ---
7. Barbara Hannigan, soprano/conductor
Last February, Hannigan simultaneously sang and conducted the Gulbenkian Orchestra in Lisbon, performing works by Rossini, Mozart, Stravinsky and Ligeti. The dual role, though physically challenging, is a pursuit she relishes with gusto.
In March, Hannigan performed similarly with the Orchestra della Toscana in Florence. Throughout history, the iconic attribute of the maestro — traditionally a man — has always been his hair. Hannigan's expressive locks, tended expertly and exclusively by Norberto de Tomi at Scandale in Amsterdam, are long and luxurious, and always left free to toss about with her uninhibited approach to the music. The question remains: do we call her maestra? Or female maestro?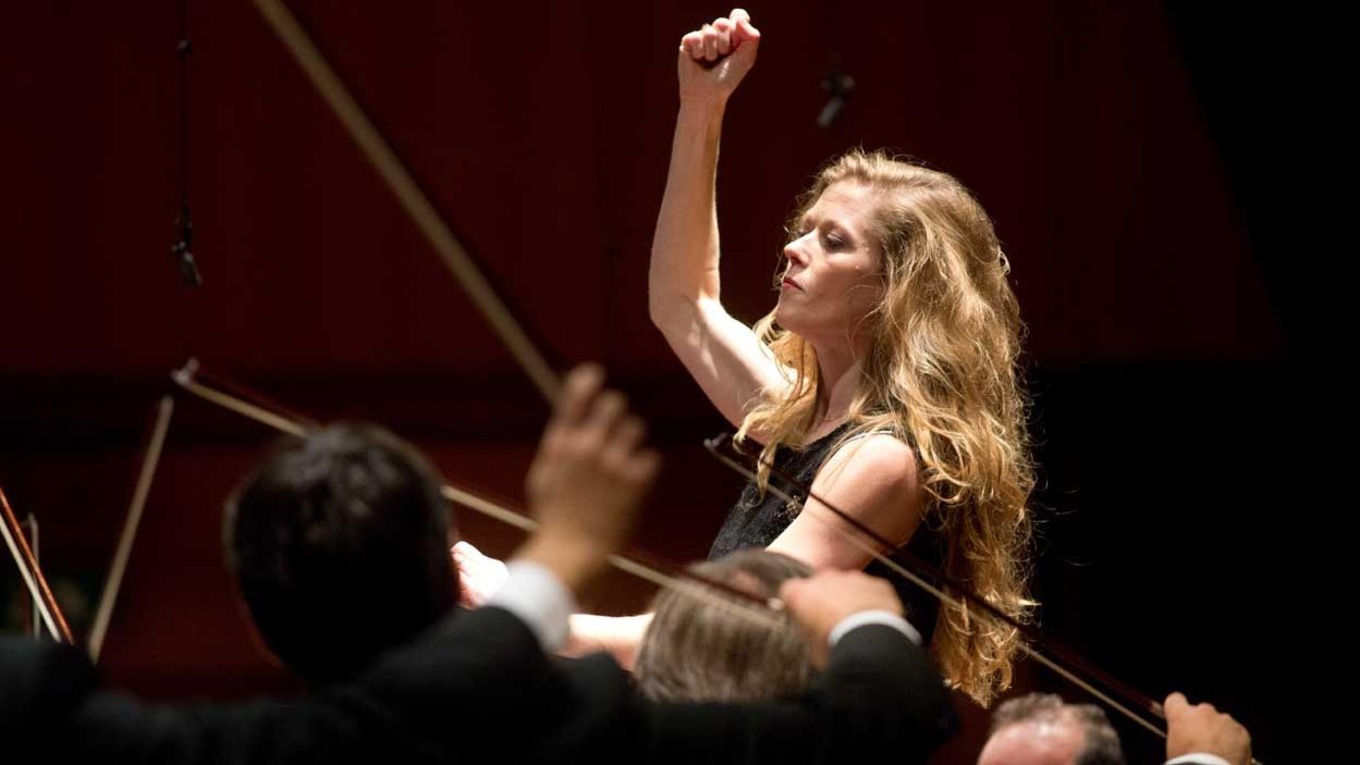 Canadian soprano Hannigan is fearless in her interpretations of operatic characters, making her a favourite of contemporary directors around the world. Her embodied, athletic performances are more akin to a Mats Ek choreography than to any traditional opera.
Last October at La Monnaie, she debuted the title role in Krzysztof Warlikowski's production of Lulu, by Alban Berg, wearing little more than lingerie and pointe shoes. If Victoria's Secret is considered fashion, then by all means so is this blood-red ensemble by Malgorzata Szczesniak that enables the artist to express herself freely, while adding a certain frisson to the role. Best accessory? You guessed it: the bear.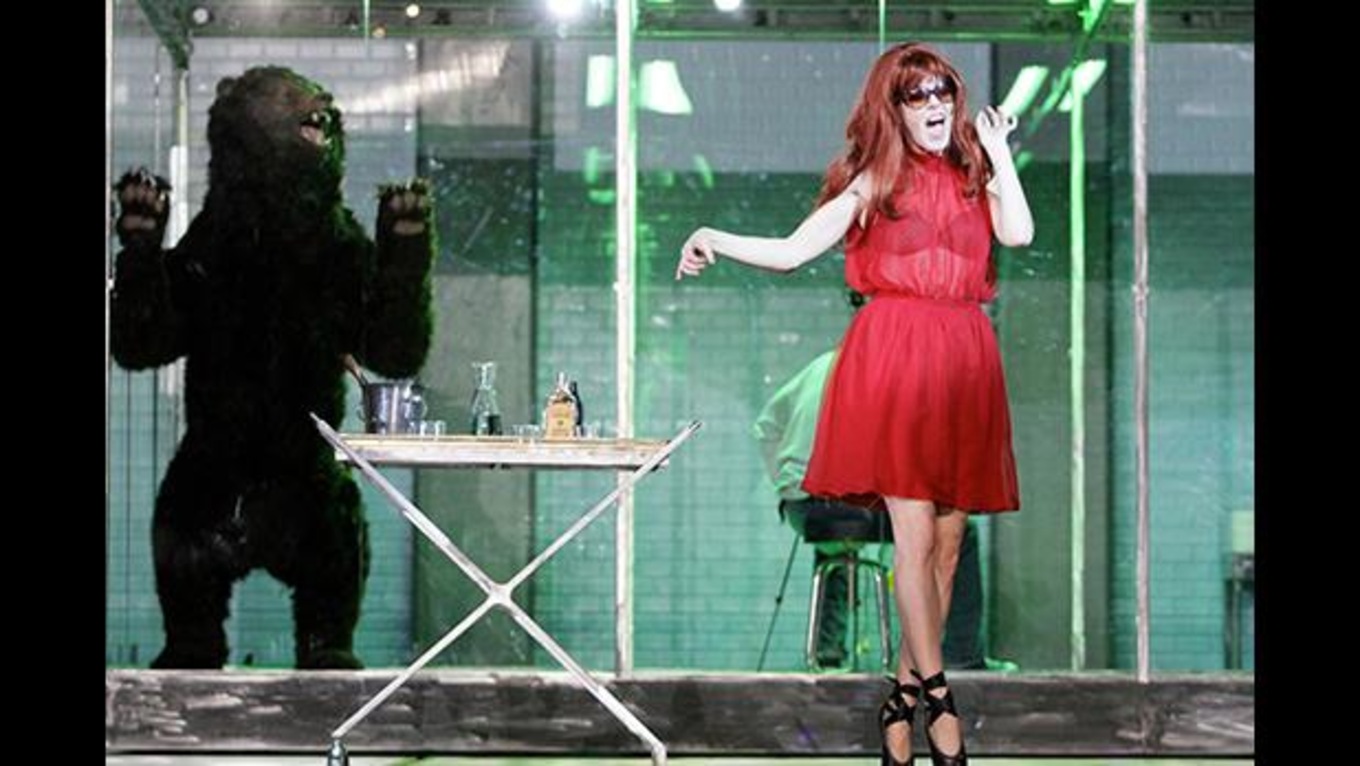 ---
6. Charlie Siem, violin
Photographed for his 3rd CD, Bruch, Wieniawski and Bull, English violinist Siem is impeccably attired and exudes masculine elegance in a suit exquisitely tailored by Paul Munday at Meyer and Mortimer, couturier to the Royals.
As dapper as the white suspenders are, however, Siem's most remarkable accessory is the 1735 Guarneri del Gesù violin, known as the d'Egville, which he is loaned.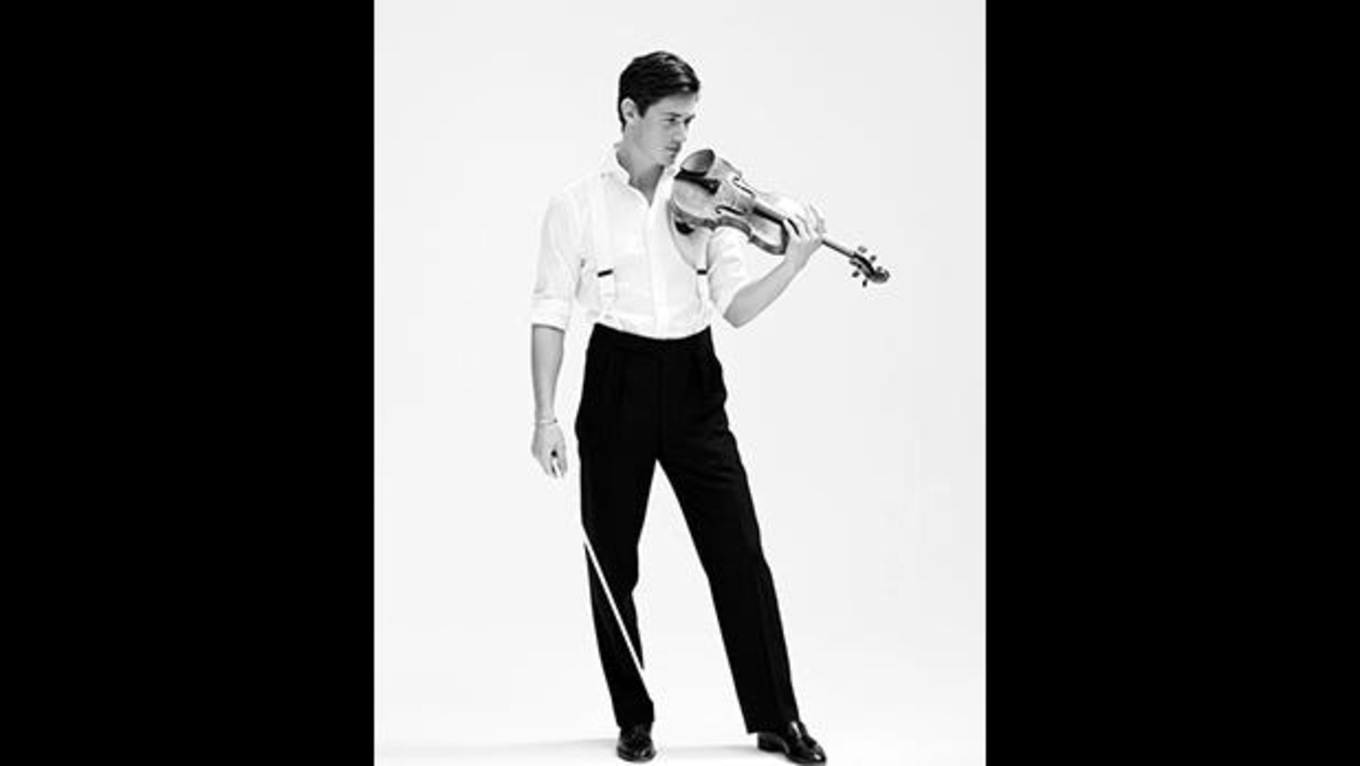 Siem has risen to the highest levels in classical music and fashion. At the intersection of these 2 worlds, he is forging a unique and glamorous career. In October, he attended the Little Black Jacket exhibition at the Saatchi Gallery, which displayed photographs taken by Karl Lagerfeld of over 100 personalities — including Tilda Swinton, Yoko Ono and Kanye West — wearing and interpreting Chanel's iconic tweed jacket.
Pictured here, Siem stands in front of his image as represented by Lagerfeld, which could be seen as a synthesis of the expressivity and refinement seen in portraits of Paganini by Delacroix and Ingres. Over the past year, Siem also collaborated with Bruce Weber for Dior Homme on the film Can I Make the Music Fly, and found time to give his 1st solo violin recital, accompanied by Itamar Golan in London's Wigmore Hall. And all without a hair out of place.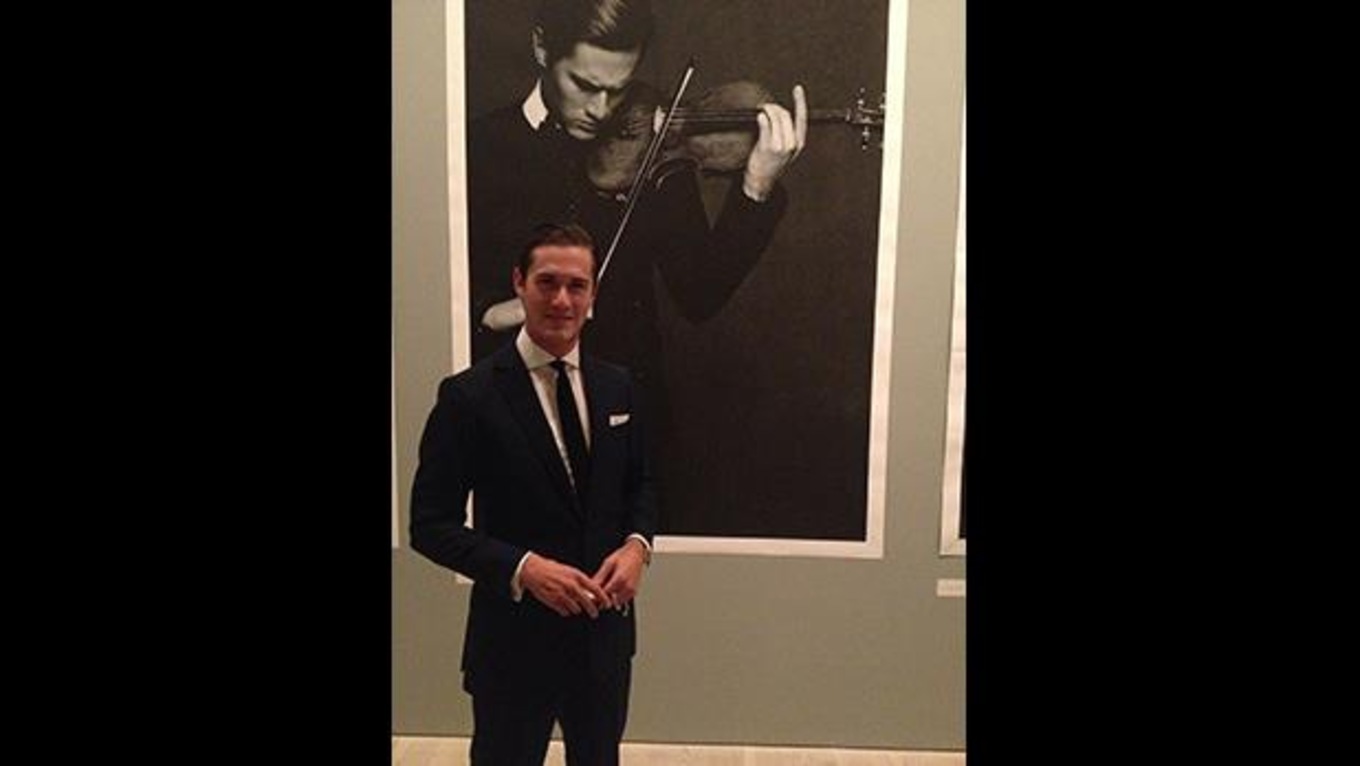 ---
5. Valentina Lisitsa, piano
Two years ago, the gutsy, Ukraine-born pianist mortgaged her house and hired the London Symphony Orchestra to record the Rachmaninoff concertos. In 2012, Lisitsa's gamble paid off both in a contract with Decca Classics and in a solo debut at London's Royal Albert Hall last June. So where does the 'YouTube pianist' find a frock for this hard-earned dream come true? eBay, of course.
Favouring a Gothic aesthetic, she chose a raven gown by Xiomara Grossett, seemingly drawn from a Tim Burton fancy. With streams of silk flowing endlessly from the fitted bodice, the dress is best accessorized with a Bösendorfer piano and an empty stage to fill.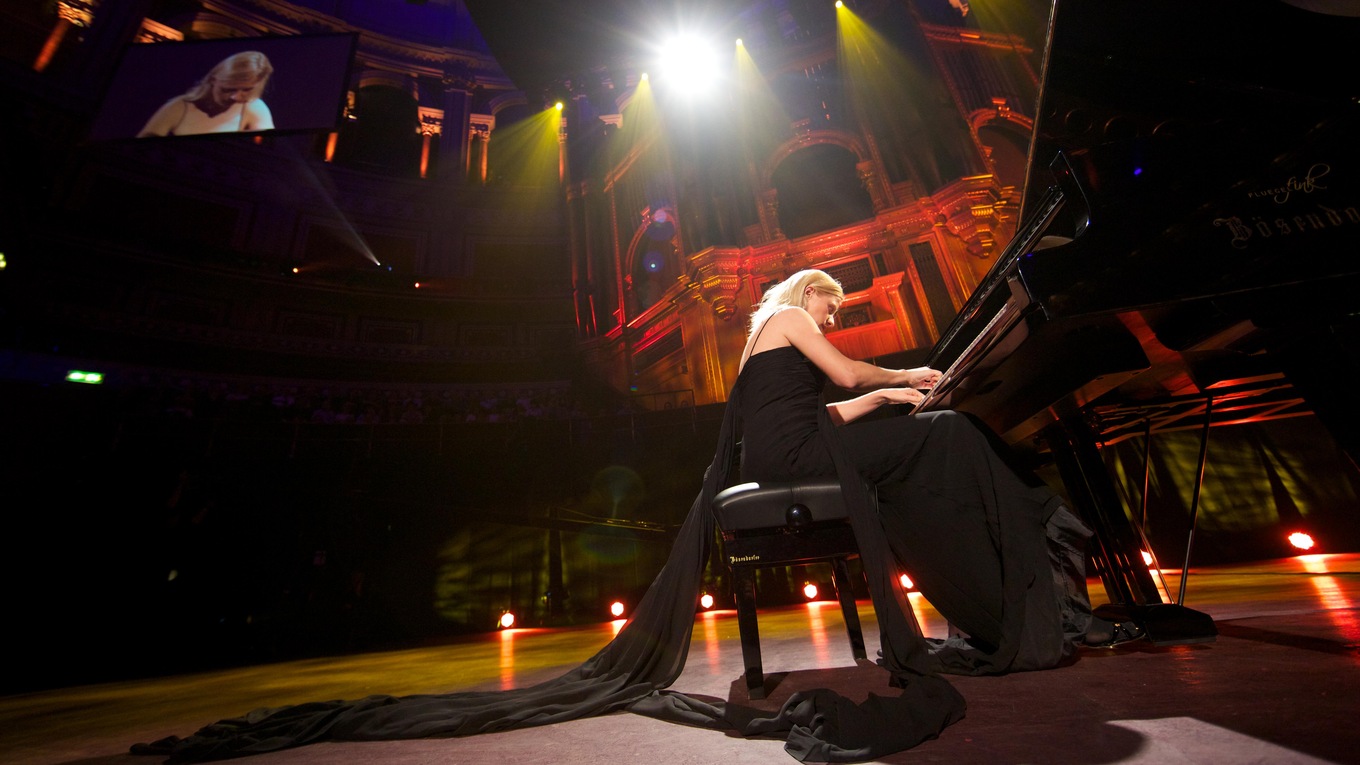 Photographed for the Rachmaninoff CD covers in the Jardin du Luxembourg on a blustery day, Lisitsa seems to soar, siren-like. She's alluring enough to convince even the most extreme sufferers of 'post-traumatic Shine disorder' into giving the Rach 3 another try; the album was released by Decca earlier in December.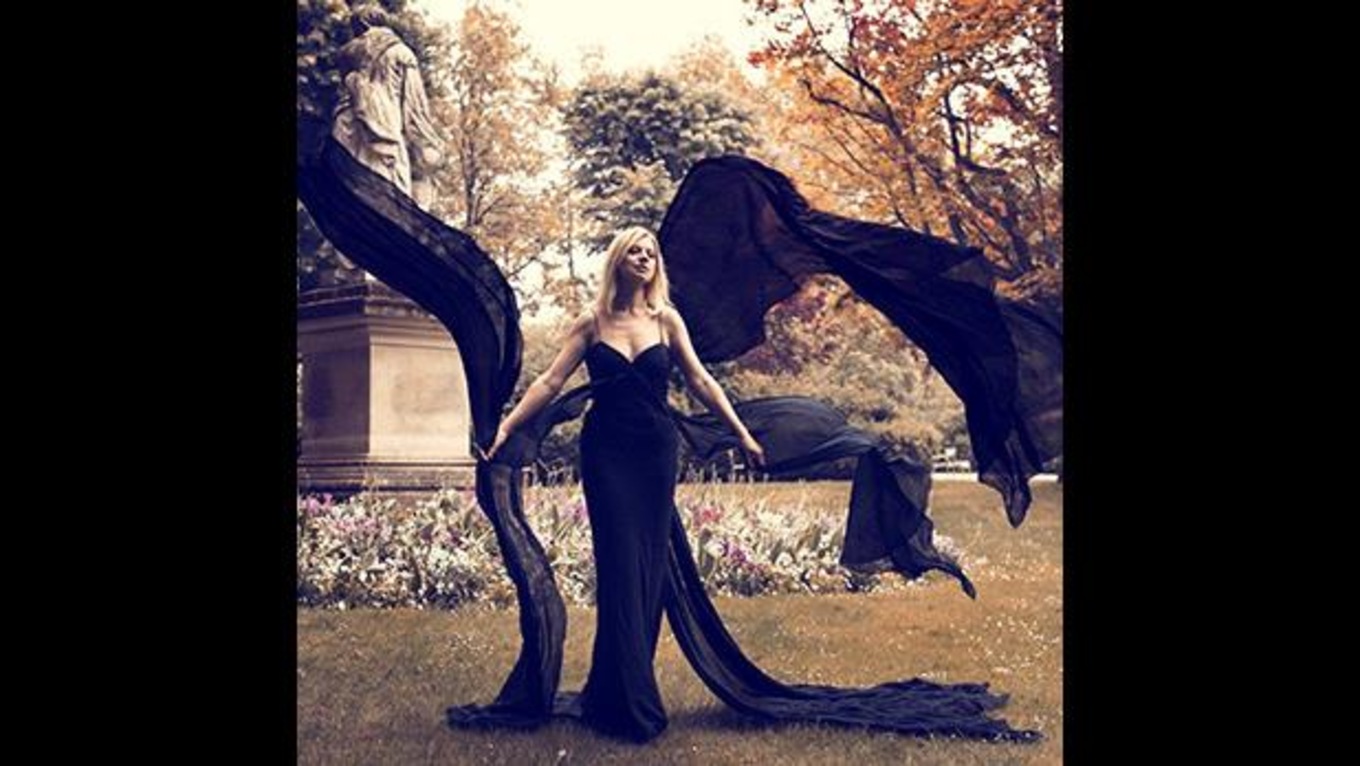 ---
4. Yuja Wang, piano
It was the dress heard around the world. An orange, body-con mini with crocheted cut-outs, punctuated by python sandals. Audiences gasped. Critics bristled. Disapproving media in her native China lamented her fall from pigtailed grace. But, unapologetic, Wang continues to rock the classical music scene with contemporary sartorial choices that wouldn't raise an eyebrow in any other context.
At the Hollywood Bowl in August, she took the stage in a striking gown of purple satin, designed specifically for her by Atelier Rosemarie Umetsu. Relatively safe, it seemed, until she sat at the Steinway, and the draping dramatically divided, exposing her bare legs. Perhaps it's not conventional attire for a performance of Tchaikovsky. Does it matter? Wang's fashion complements her exuberant style of play. She's young, fabulous and she does everything Lang Lang does, but in high heels.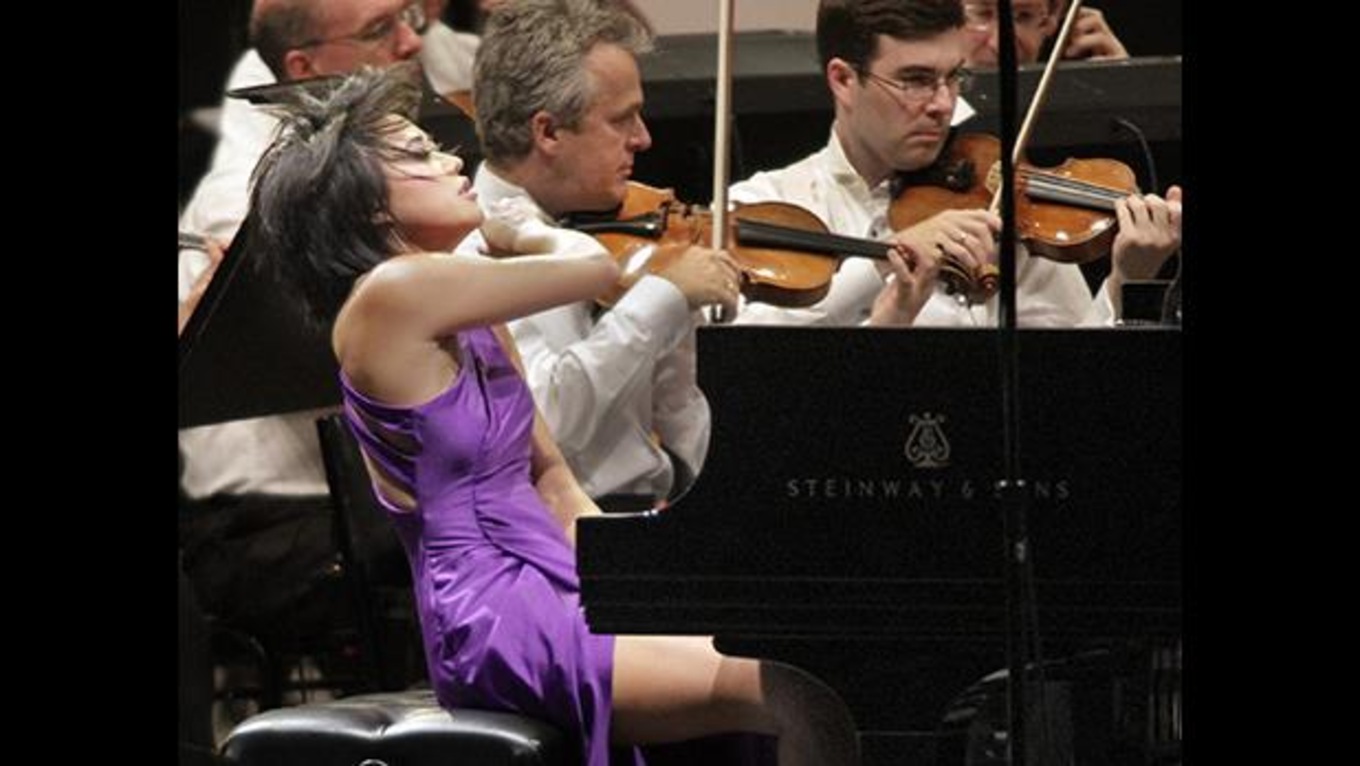 ---
3. Laura Wright, soprano
For one still an opera student at the Royal College of Music, English soprano Laura Wright had a banner professional year, and proved that she knows how to work the red carpet.
At the Nordoff Robbins O2 Silver Clef Awards, she was presented with the PPL Classical Award, and dazzled in a white Jasper Conran creation, accessorized with black Jimmy Choo sandals and a box clutch by Alexander McQueen. Young Hollywood take note: when daring the thigh-high slit, do so with a safety net, a.k.a. the skorts seen here that preserve one's modesty. Please, no more NSFW paparazzi snaps taken while exiting the limo, OK? At the BRIT Classic Awards, nominated for her album, Glorious, Wright donned a Conran statement gown in ombre fabric, with a train that billowed theatrically behind.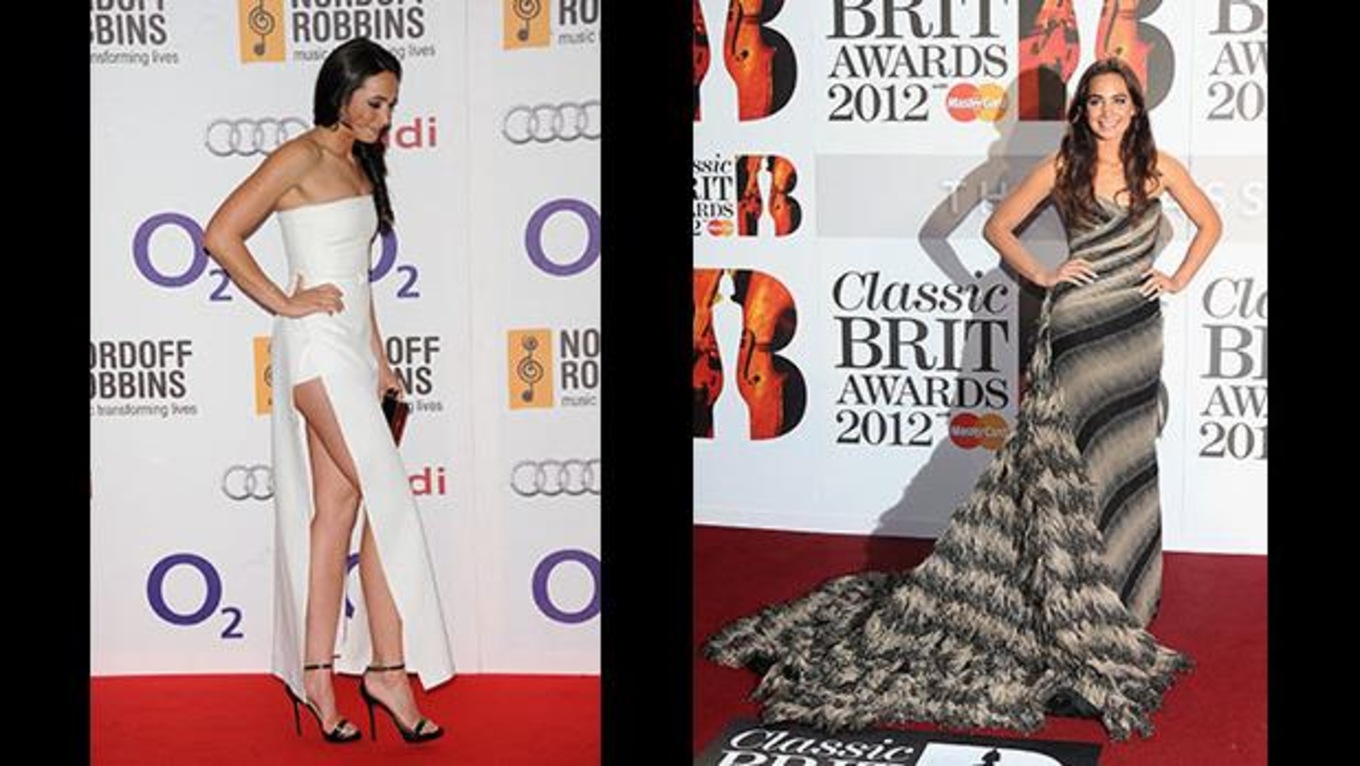 Dressed in a tiered lavender frock by Alberta Ferretti, Wright was a dainty dish to set before the Queen at the Commonwealth lunch, last June. Blink, and you might mistake the soprano for Catherine, Duchess of Cambridge.
Her Majesty, dressed here in a Stewart Parvin coat, and hat by Rachel Trevor-Morgan, is reportedly a great admirer of Wright's, and even mentioned the singer's Diamond Jubilee single in the annual Commonwealth message. A high honour, indeed.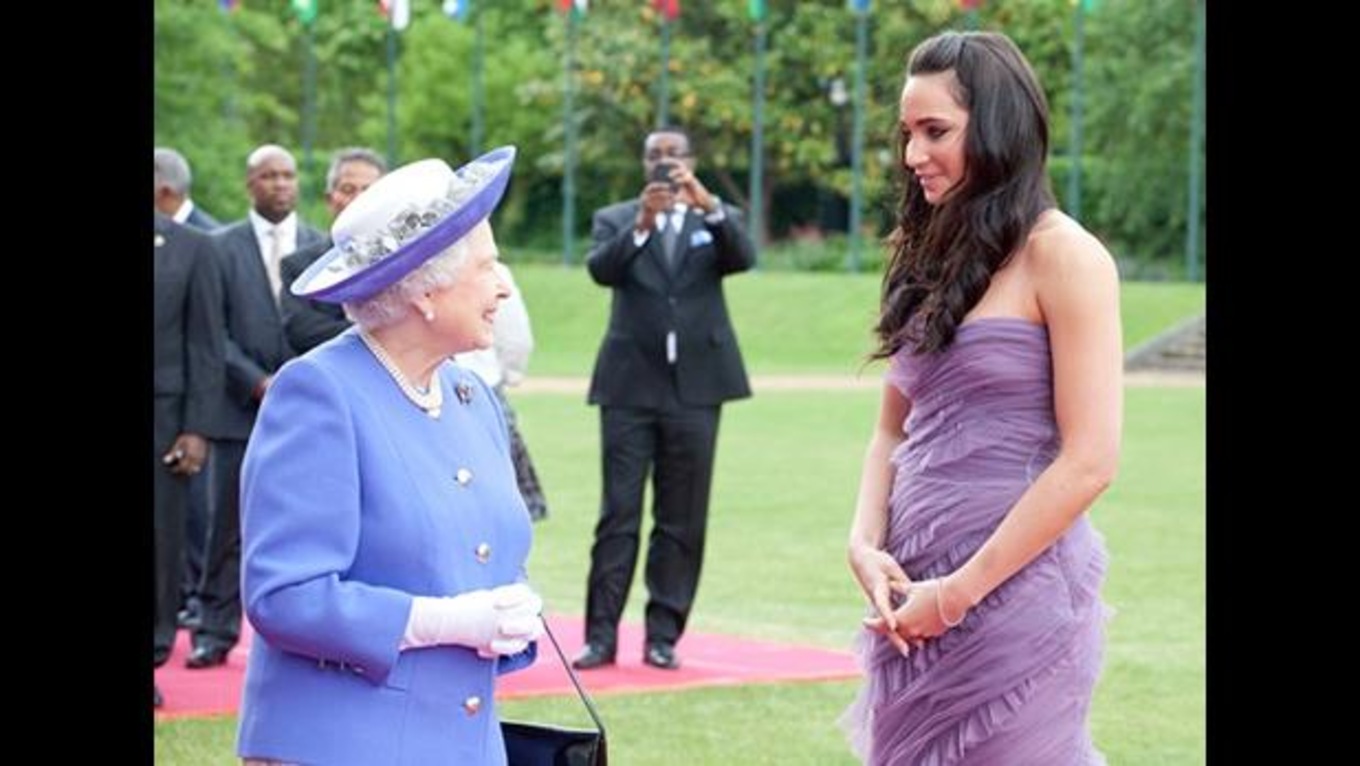 ---
2. Noah Stewart, tenor
Not your grandmother's operatic tenor, Harlem-born Stewart is shaking up the sometimes starchy opera set, and attracting new audiences to the genre. With the release of his debut, self-titled album earlier this year, he became the first black singer to top the British classical music charts. Stewart certainly knows how to make an introduction, as he smoulders on the cover in a structured tuxedo by Ozwald Boateng, bespoke couturier to many of Hollywood's leading men.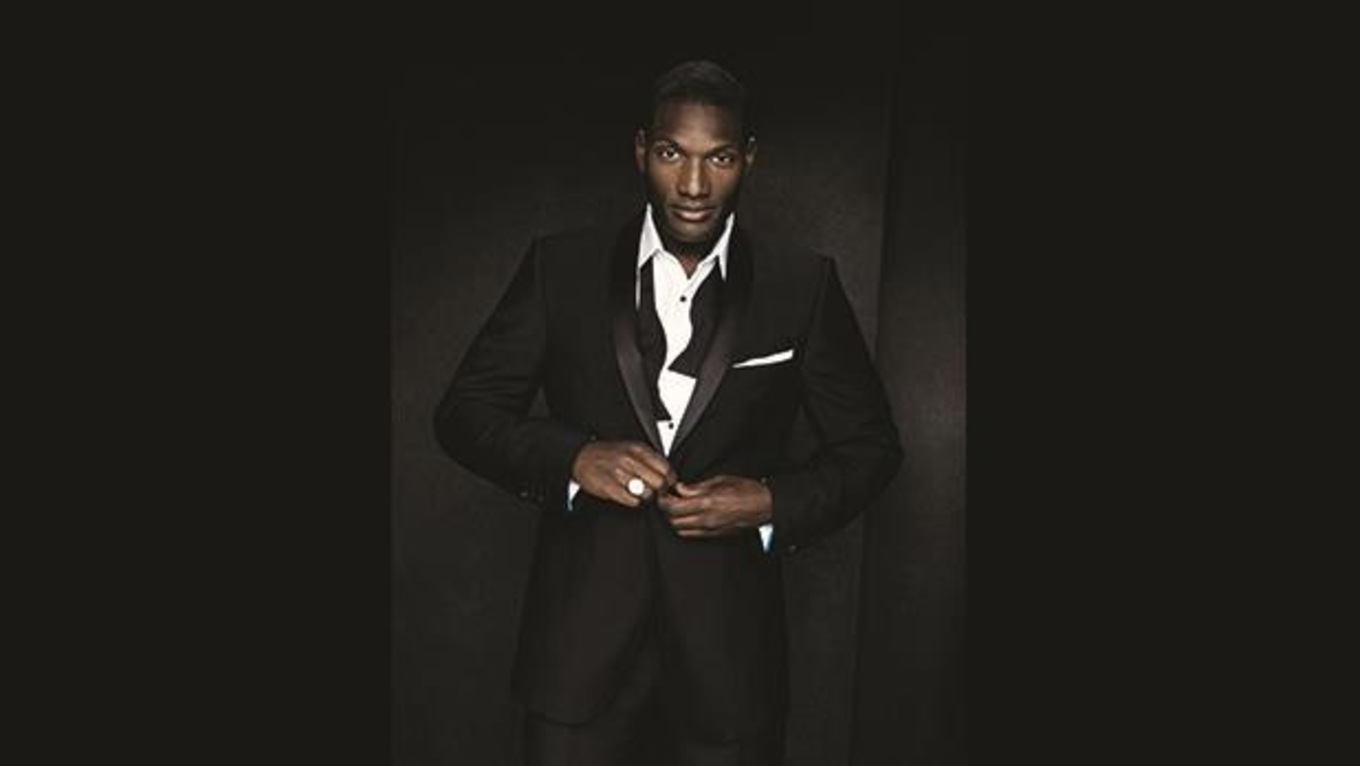 In addition to his album release, and accompanying solo tour, Stewart devoted much of 2012 to the stage. Last February, he interpreted the title role in the Knoxville Opera's production of Gounod's Roméo et Juliette, directed by Brian Salesky (Stewart is pictured here with Zulimar Lopez-Hernandez).
Thank you costume designers for the period garb, and for seeing past using the ludicrous 'Caucasian' wig. Other wardrobe professionals, if you're reading this take note: black hair is perfectly acceptable for an operatic hero. In this case, audiences finally have a Romeo worth drinking poison over.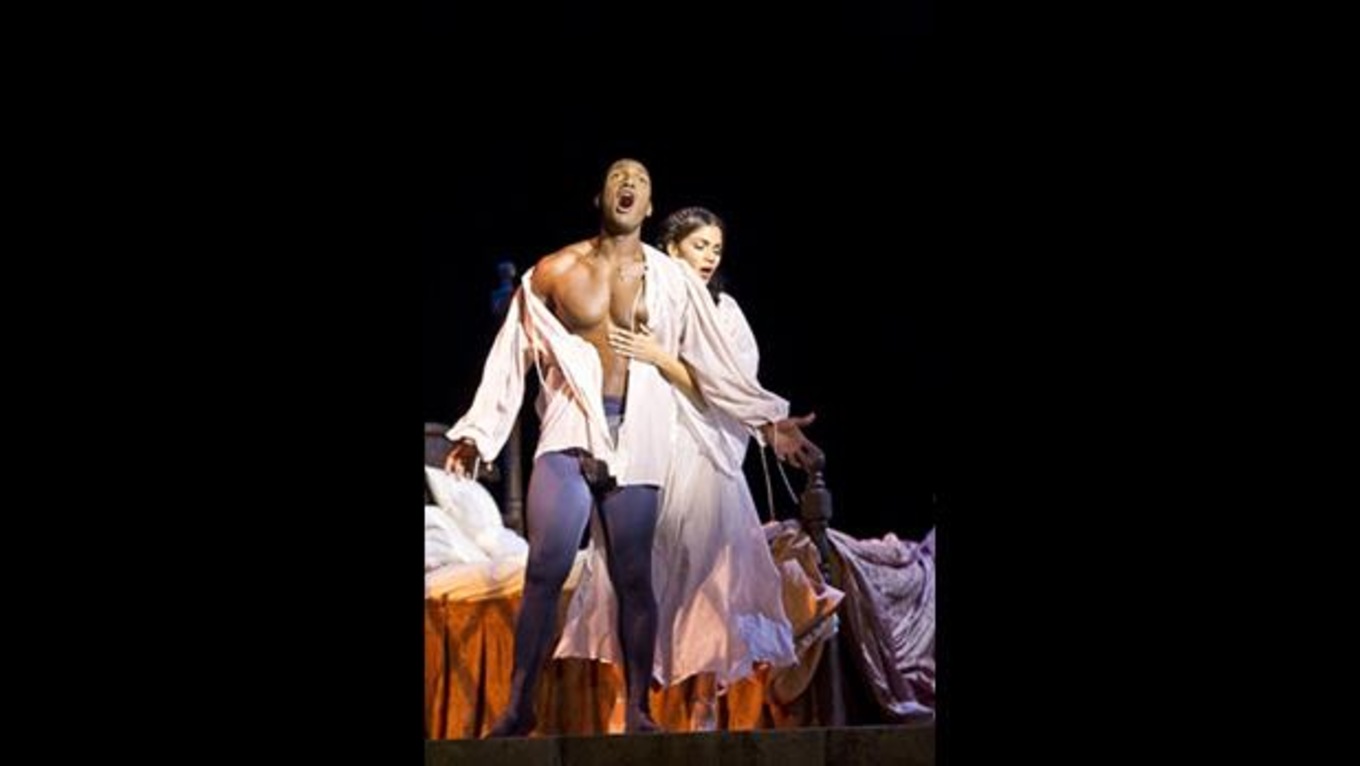 ---
1. Joyce DiDonato, mezzo-soprano
Last February, Kansas-born DiDonato graced the red carpet at the 54th annual Grammy Awards in Los Angeles, wearing a gorgeous gown by Carolina Herrera. The overall effect was a fugue in silver and gold, with the colour of her eyes accentuated by the French-grey tulle, and her vintage gold jewelry restating the sparkle of the intricate firework beading. Her finest accessory of the evening, though, was the Grammy statue she took home for best classical vocal solo.
DiDonato is nominated again in the same category next year, so we eagerly await her choice of designer. No pressure, though.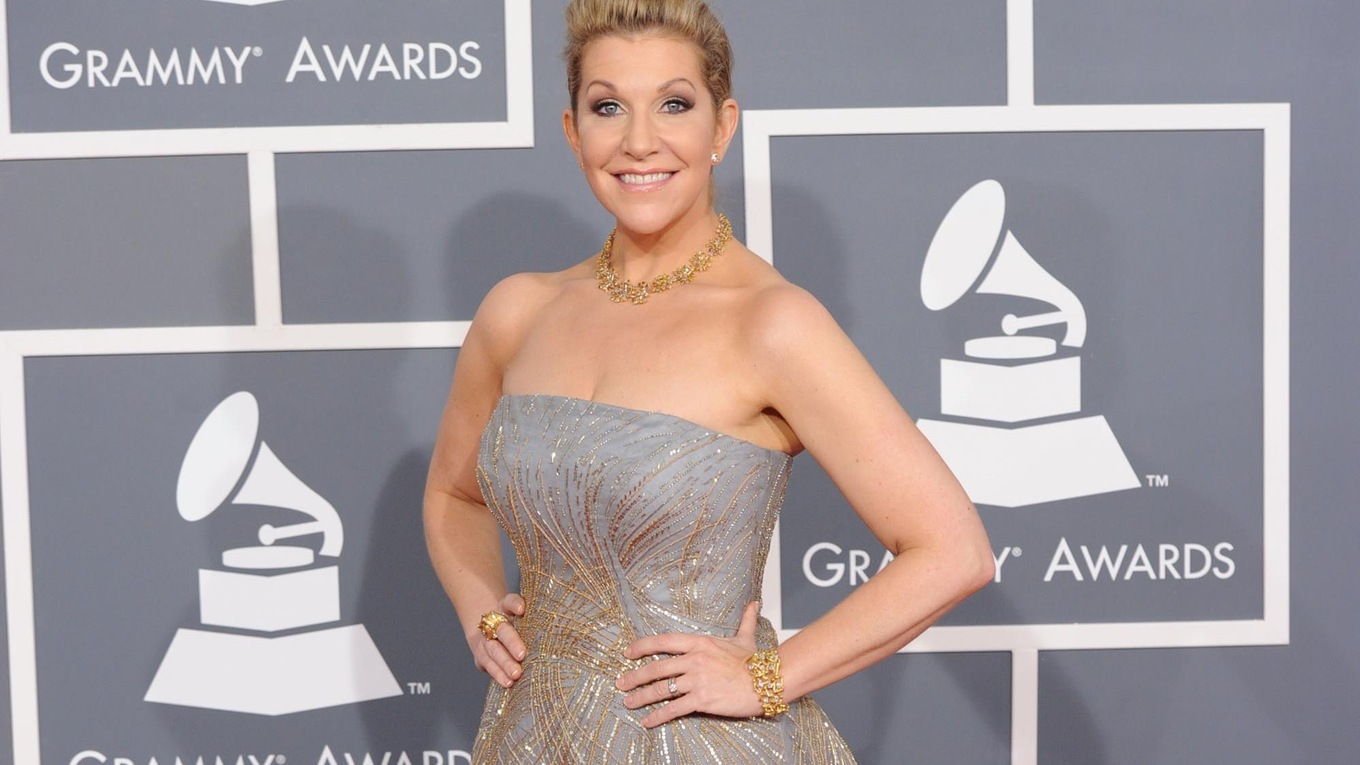 DiDonato is winning much deserved acclaim for her concert recital, Drama Queens, a performance of royal arias from the 17th and 18th centuries, recorded for Virgin Classics. For this project, DiDonato collaborated with Alan Curtis, as well as fashion designer Vivienne Westwood. A spectacle in satin, the crimson creation was contrived with theatrical layers that transform to emphasize the singer's portrayal of emotions, ranging from pathos to vengeance. In the 2nd act, the skirt is given extra oomph by way of an architectural hoop pannier, plumping to true pompadour proportion.
Yet the gown is not a period costume; rather, it's a clever reworking of representations of queens. Think Rubens meets Boucher meets Vigée-LeBrun, filtered through the contemporary and audacious imagination of the British designer. Pictured here at Carnegie Hall in November, DiDonato demonstrates that queenly revenge is a dish best served hot.