Since reviving it from a near decade-long slumber, Thom Yorke has a peculiar way of indicating to the rest of Radiohead that he'd be willing to play the group's breakthrough single, "Creep": he holds his forefingers to his nose, looking around as if to say, "Do you smell that stink?"
For the uninitiated, it'd be safe to assume that the man who once described playing that particular song as "sucking Satan's c--k" is acting against his will — and if this were any day between 1993 and last month that'd be dead on. But to Yorke, it's something altogether different: an inside joke. One that successfully tickles the other members of the band. And, though it may be so foreign as to be unrecognizable, the song, gesture and the group's recent general jovial communications intimate something truly remarkable: 23 years after materializing on North American charts as the personification of disillusionment and self-loathing, Radiohead is learning to have fun.
Perhaps even more remarkable, the band members are willing to say so in public. "It's a very happy time, yes," the group's flop-topped multi-instrumentalist Jonny Greenwood recently told the BBC's 6 Music in a rare interview. "What can I say? There's nothing to complain about really!"
It's nearly impossible to stress how confusing and noteworthy that last sentence is: it's like Raffi saying he hates children, or Donald Trump praising illegal immigrants; it goes against their stated raison d'etre. This is, after all, the band that made a whole documentary to complain about having to be famous and popular; a group fronted by a man who once told the NME, "If you're accused of being morbid or bleak, then you're onto a good thing." But now, nearing the half centential mark, the members of Radiohead are finally out of complaints — at least, on a micro level — and doing something they haven't done since they discovered they were part of a money-making machine: they're playing for the fun of it.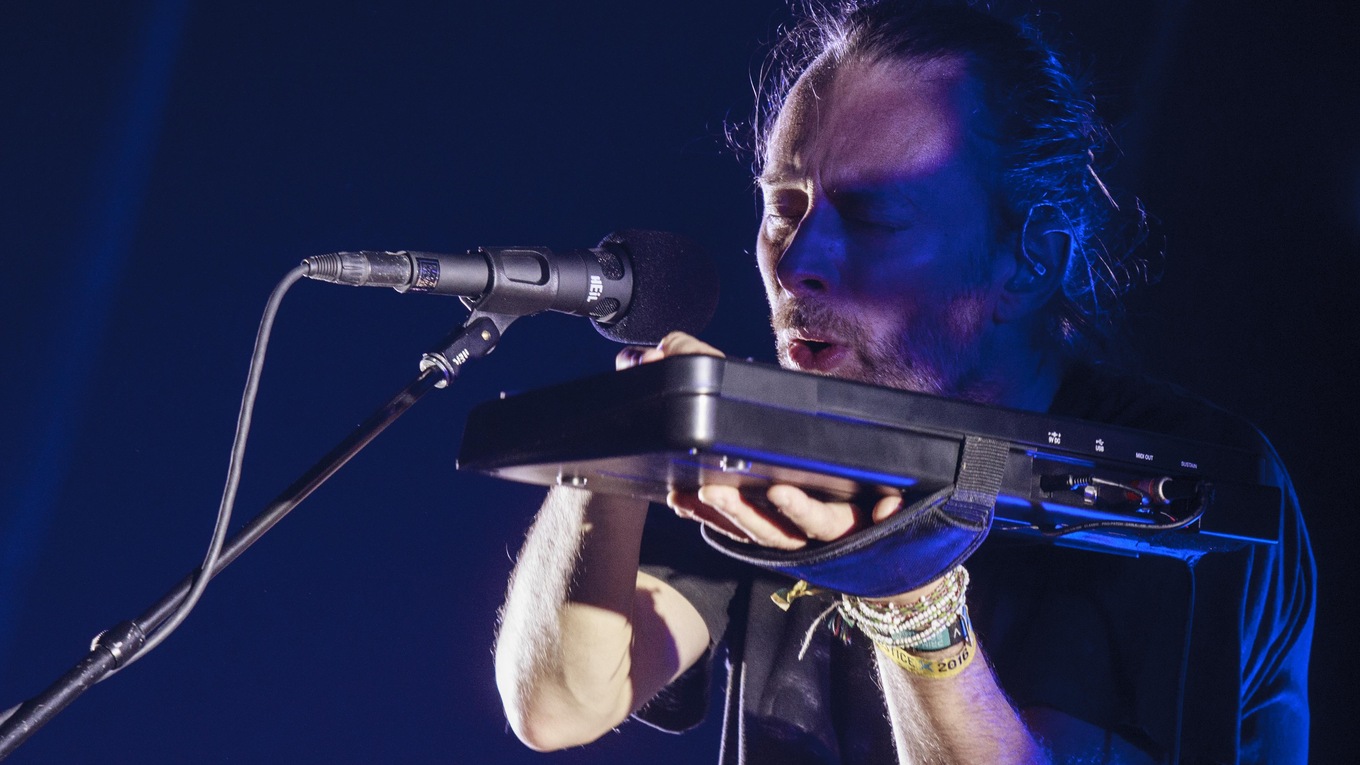 One needn't search too strenuously to see the results of this new, chill perspective. This summer, in support of its most recent, sullen album, A Moon Shaped Pool, Radiohead is playing a handful of festival shows and a smattering of headlining gigs, performing in some places the band hasn't gotten around to playing before. One outstanding highlight of which was a release day headlining set last month at Iceland's Secret Solstice festival, the first time Radiohead performed in the home country of its musical compatriots and tourmates, Bjork and Sigur Ros.
At the Secret Solstice gig, held at a sports facility hanger unaccustomed to housing a group of Radiohead's reach, the band wasn't able set up its whole light rig, leaving Yorke and co. to be the only visual aid to the 11,000 fans crammed into the venue. The result was one of the group's loosest sets in years. Yorke, a master of impish and bleek banter, kept it light and airy, deciding not to retreat when he forgot the lyrics to some of the band's oldest songs, or when auxiliary drummer Clive Deamer opened one of the newer numbers off-time.
These are not isolated incidents, but rather symptoms of this new, chill Radiohead vibe. According to Greenwood, this was the idea from the onset of the tour, when the plan was to learn a staggering 120 songs just to be ready if their whims took them some place new. "It's crazy. I mean, it's just every song we've done," Greenwood told 6 Music. "And then we gave up and realised that was stupid and got it down to about 60 or 70, and we played 24 songs a night. So there's a lot to choose from."
"People sometimes say we take things too seriously, but it's the only way you'll get anywhere. We're not going to sit around and wait and just be happy if something turns up. We are ambitious. You have to be."
All of this isn't to say that Radiohead never attempted, if somewhat awkwardly, to be happy. As stated before, Yorke has a nasty sense of humour and is not reticent to use it if he wants to — or even, in the case of his dancing, to the amusement and praise of the audience, incidental as it is. As he told Details magazine in 1997, in the same promo cycle for OK Computer that would later be laid out in the documentary Meeting People is Easy, "A tortured soul is a tortured soul and will eventually cease to function in any useful way unless they get help. Unless they sail to the land of happy every now and again, where everything is the right way up, then they will simply fall off the edge of the world. A good way I've found to navigate is with songs and music." But until now, it had all been in the name of self-serious art, not pure fun or, God forbid, fan service.
Perhaps the purest distillation of Radiohead's new outlook is in the story of how "Creep" returned to the setlist following its (assumed) lifetime ban: a fan asked for it. In a recent Q magazine cover feature — the only interview he's done for the album so far — Yorke explains, "We just said, 'Let's see what the reaction is, just to see how it feels,'" re-embracing the prodigal song in Paris with the introduction, "We're having a really good time, so here's 'Creep'!"
At the nadir of Yorke's OK Computer tour/sulky phase, he told the Alternative Press, "It's easy to be miserable. Being happy is tougher — and cooler." It may have taken him another two decades, but it seems Yorke and Radiohead are finally fitter, happier and, if not more productive, at least a hell of a lot more cool and comfortable.
Radiohead headline the Osheaga Arts and Music Festival this weekend