In the three months leading up to the Tragically Hip's highly anticipated Man Machine Poem tour, lead singer Gord Downie had a lot on his mind. On May 24, he and the band posted a message on their website, informing fans that Downie was diagnosed with terminal brain cancer. While a press conference later that day, held by the band's management and Downie's doctor, assured everyone that the Canadian icon was in good spirits and was in fact healthy enough to embark on a summer tour, many took to social media to express their sadness and appreciation. Downie, on the other hand, picked up where he left off last September and moved forward with tour plans. An aspect he seemed particularly excited about was the wardrobe.
Teaming up with Canadian designer Izzy Camilleri once again — the two had first collaborated on Downie's onstage leather outfits for the band's 2015 Fully and Completely tour — Downie had originally started brainstorming new outfits for the next tour hot off the heels of the tour they had just completed. When Downie received the green light to go ahead with the Man Machine Poem tour, he resurrected his bold fashion idea: to wear something metallic.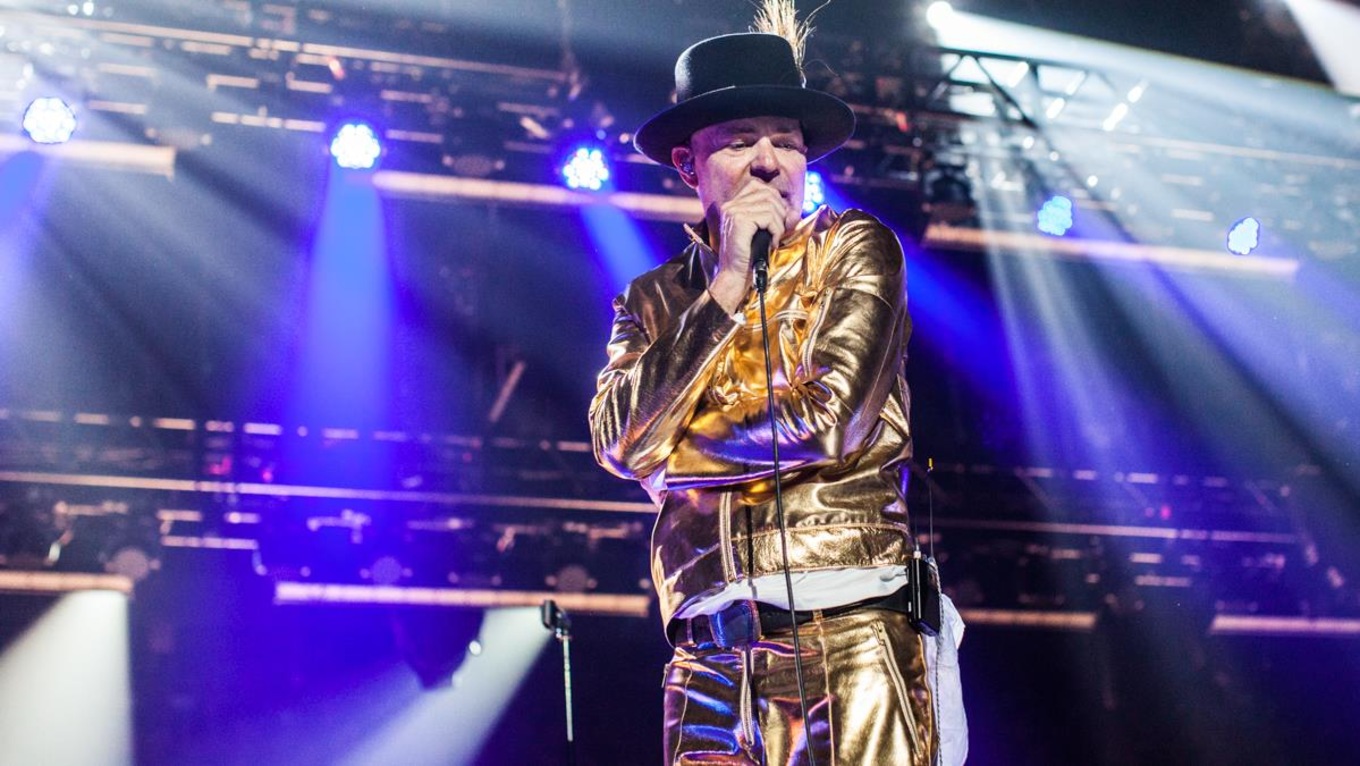 "We did the suits first and it was originally silver and gold," Camilleri told CBC Music. "And then he was thinking of doing a third colour. One morning, out of the blue, he texted me, 'hot pink,' and I thought, OK, I don't even know if I can get hot pink leather! That's really going out there."
This "glam rock" direction inspired Camilleri, though, and eventually she was able to find a hot pink leather as well as a fourth addition, turquoise. "It's really thin and it breathes," she notes, adding that many have asked her about that detail over the past few days. "He does take the jacket off at one point, push up his sleeves — he seems to be doing fine."
In addition to the metallic suits, which have contributed a bright and fun pop of colour to the stage every night, Camilleri also helped commission two other custom-made pieces for Downie: a hat to match each suit (a white one is paired with both the pink and turquoise outfits) and brand new boots to replace the old ones Downie had worn out on his last tour.
To combat the flashiness of the suits, Downie drew inspiration from Bob Dylan for his hats after failing to find any matching hats in his existing collection. In order to create Downie's ideal accessory, Camilleri called on Karyn Gingras of Toronto's Lilliput Hats. "He gathered a bunch of references for the shape and I showed them to Karyn," Camilleri recalls. "So she gave me a bunch of colours of felt and she gave me a big hat box full of feathers and trims and options, and we decided the colours that would go with each suit. At one of the fittings, we sat there for three hours just sorting through it, building on the feathers. I took it all back to Karyn and she put it all together and, in some cases, she added her own two cents. She did a beautiful job. He was really happy with them."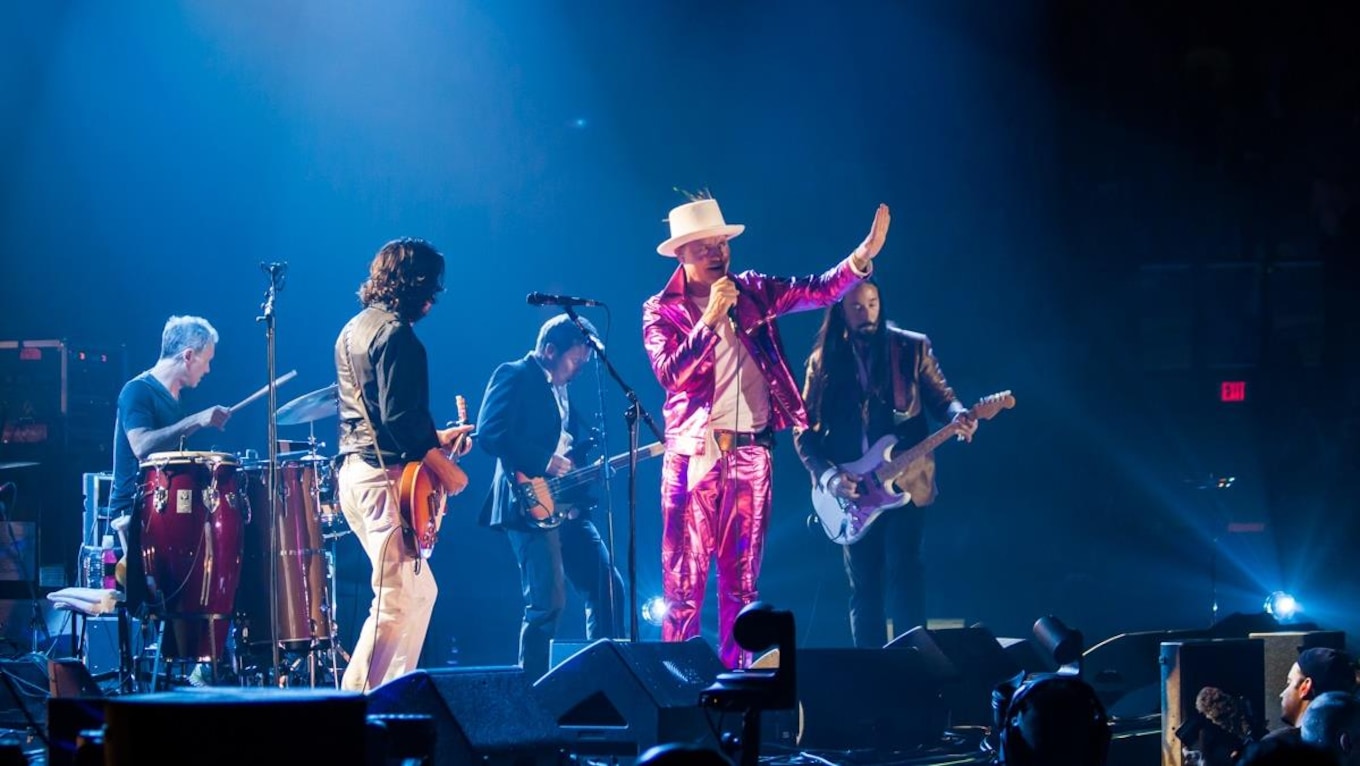 Next were the boots, which were made by Jeff Churchill of Toronto's Jitterbug Boy. Churchill was tasked to recreate, to the best of his ability, a cherished old pair of boots Downie owned. Camilleri remembers trying to find a similar pair of "high ankle boot, very '60s mod looking," before calling Churchill up. The end results include a surprise for Downie: the lyrics to the 1996 Tragically Hip song "Ahead By a Century" lasered onto the sole of the shoes. "It's like an old typewriter font," Camilleri adds. "He was really touched when I gave them to him and whoever was there was also blown away."
"I think [Downie] really enjoyed the whole process," Camilleri continues. "I saw him the night before he left on tour and at one point I was looking at him and I was looking at his face, and I just thought, 'You look really good.' I told him that the next day, I think. I was just kind of taking in how he was in that moment. I just thought to myself, 'You look good. You look ready.'"
Camilleri wasn't able to see the Tragically Hip kick off its tour in Victoria on July 22, but she is excited to see them in Toronto. "I'm going to all three of the Toronto shows, I didn't want to miss a colour," she says, since Downie only sports three of the four suits per show.
When she's not designing clothing for famous musicians and actors, including the likes of Jully Black, Measha Brueggergosman and Meryl Streep, Camilleri is trying to forward her latest project, the IZ Collection of wheelchair clothing for men and women. The attention Downie's suits have gotten her in recent weeks have most definitely helped Camilleri shine a spotlight on that. "He's loving the fact that I'm getting this attention right now because he really wants to help me raise awareness and focus on that collection," Camilleri shares. "I told him over text that I was getting bombarded with calls and he said, 'You don't know how happy that makes me.' I'm helping him and he's helping me."