When Dr. James Perry read the name on his referral email, he instinctively swore.
As the head of neurology at Sunnybrook Health, Perry knew a surgical referral for Glioblastoma — an aggressive form of brain cancer that affects an estimated four to six in every 100,000 Canadians — was a very bad sign; as a lifelong Tragically Hip fan, seeing "Gord Downie" under patient was a shock he simply wasn't ready for.
"I email[ed] back, 'Is this a coincidence or do you really mean [that Gord Downie]'" Perry recalled earlier this week at his Sunnybrook office. "The referring surgeon wrote back, 'No, I really mean,…,'" he trails off. "Wow, that was tough."
The Kingston show is our Ice Bucket Challenge
The rest of the story has, more or less, played out in public: the press conference, the handwringing think pieces, the cross-country tour punctuated by stirring versions of "Grace, Too," the elongated standing ovations, and, this Saturday, the epic finale: a hometown show broadcast across Canada and the world, commercial-free on CBC.
For Perry, who has attended all but one of the shows on the Man Machine Poem tour as Downie's touring physician (more a precaution than a necessity), the experience has been as emotionally vertiginous as it has inspirational. Through the Gord Downie Fund for Brain Cancer Research, founded at the time the singer went public with his diagnosis, the neuro-oncologist hopes to finance a brain "incubator" to lead a series of potentially game-changing breakthroughs in the treatment of neurological disorders, including cancer, dementia and stroke. "The Kingston show is our Ice Bucket Challenge," he says, refering to the ALS fundraising effort. "It can be of historical importance."
Below, Perry describes life on what will likely be the Hip's final tour and explains why Downie's decision to go public with his illness could be his most important contribution to society.
The first time most Canadians heard from you was as Gord Downie's chief oncologist. What has happened since that fateful press conference?
The main thing that happened was ripping the bandage off in [first tour stop] Victoria. There was a lot of trepidation; a lot of worry about the 150 things that could go wrong. And none of them happened. So that first show was a little tight for everybody — managers, production team, Live Nation. Everybody was wondering if this was the right decision or not. And the show was spectacular. The crowd was a puddle. And they've just been stronger and stronger, so Gord's been fine since.
Why, in your estimation, did he decide to go public with his illness?
I'm not sure I have a lot to say on the thought behind the decision, but I commend him.
Was it Gord's call?
One hundred per cent. It took a lot of bravery to do that. They're family and it was a family decision, if I can use that word for the band and the management. They understood what the situation was: All this stuff had already been planned. The album was already [finished] and was going to be released. The tour was planned and the venues were booked. He already had those outrageous costumes made.
Now when you go to a show and you hear the words to some of the songs on the new album, it sounds like he's singing about cancer, death, bad news, and it looks like he's dressing [more flamboyantly] but that was already there, it was just a matter of [whether] to go with [the tour] or not.
So it was very brave and part of that is realizing that, as much as he's done for Canada — music, legacy, influence — this is perhaps even a bigger opportunity to change things.
And that's where you come in?
The focus from my perspective and the focus of this now is seizing the opportunity — leveraging this so that we have awareness about brain tumours and his type of brain cancer. And what a golden opportunity this is. And it's a self-limited one in time: it's going to be over Saturday. I don't know how that's going to go. I hope that we have an opportunity to make it easy for people to donate. Maybe to text their next beer? 'Text a Beer for Gord' What Canadian wouldn't do that? An ACC beer, $16, that would be transformational. That would be historical.
How has it been touring with the group? I imagine it must be quite difficult watching one of your heroes in this state?
There's pride. Most people can't return to their job, at least at the level they did before. It's unbelievable what he's able to do. He's performing better than he has in years. No doubt drawing on all of the emotion and the crowd, no doubt knowing that this may be his last time in front of such a major audience.
The first show was hard for me personally to see. Because you didn't know what you were going to get and it was so spectacular. I was standing with [Gord's] manager and he said, "I can't be around you, you're losing it," and it was true but I've been better since. Now it's all about being professional and about doing the show the right way. I've been lucky that nothing's gone sideways until this point.
Were you expecting something to go sideways?
No, it's going as what we thought it would. But it would horrible if something were to go wrong, medically, especially now when we're in the stretch.
There's a lot of pressure to put on a very special show in Kingston. Are you worried Gord will over-exert himself?
No. Not at all. There are a whole bunch of people involved medically. He's had the same team — trainers, chiropractors, masseuses — for a long time. His problems [on tour] aren't so much the brain tumour as the fact that we're not getting any younger. I'm not worried. He's going to knock it out of the park.
Before Downie's announcement, the public was generally unaware of Glioblastoma. Do you think brain cancer has been given less attention by the medical community and general public?
There's a bit of a stigma around any brain disorder. Whether it's a mental health disorder or something as simple as epilepsy, there's still a stigma around that and this affects everything about you: your mood, your personality, behaviour, cognition.
We've not had many advances [in the field]. Treatments are safer — people are in better shape, they have a better quality of life, surgery safer, radiation's safer, chemotherapy is better — but we haven't made massive advances in the ultimate goal of beating this and having people live longer. That takes funding. It takes infrastructure. It takes people interested. It takes building. So this fund, the Gord Downie fund, is going to be transformational for Canadians.
After the diagnosis was made public, some wondered why you weren't trying some of the more experimental treatments, like the Polio Vaccine Treatment happening at Duke University which was profiled on 60 Minutes.
It isn't different from pre-Gord. These kinds of things have attracted attention from patients all the time — whether they're alternative treatments or experimental treatments. People have a chip on their shoulder about Canada thinking that we don't have the very best treatment or that we lack access to treatment, which isn't true at all. If there's a promising treatment out there we'll be a part of it. We'll either be leading it or be a part of it. Same thing with the vaccine but you're right, there's no end to the number of people that are trying to reach out. I think, in some ways, the way everything was framed sounded like he was done. So people react in a "Oh my God, no, that can't be true because there's all this other stuff," and so I get the "Are you an idiot?" kind of emails saying "Although we assume he's a rock star and he's smoking marijuana, he really should be on a more regular basis." Thanks. Great advice. That's good. And, of course, there's lot of experimental stuff being profiled. I trained at Duke, I know [the researchers], it's an interesting treatment, it's highly experimental and it didn't work all that well at the end of the day. But being on 60 Minutes brings a different cachet to the whole thing.
As much as he's done for Canada — music, legacy, influence — this is perhaps even a bigger opportunity to change things.
I'm sure many of those who donated to the Gord Downie Fund will want to know, specifically, where the money raised will go?
Our focus here [at Sunnybrook] is on image-guided therapeutics, meaning using new machines to see stuff that you couldn't see before. For a brain tumour, that's MRI-guided focused ultrasound. Non-invasive, scalpel-less surgery where we open the blood-brain barrier and deliver treatments that could never get in before. So we can target tumours we couldn't see previously and get into the brain with treatments that could otherwise never reach their targets. And that's huge. With this fund we'll be able to expand that program. Bring more people in, more great minds. A way to attract and recruit more bright people.
Is there a so-called 'brain drain' in Canada? Are talented medical professionals being lured abroad?
It's funny you think of a brain drain but we actually attract people from the outside. For example the leader of this focused-ultrasound project came from Harvard to come here. So there's a bit of a misconception about that because, in cancer anyways, our resources are incredible to deal with these things.
What we've been working on for a long time is to fund what we call Brain Sciences, a program that's going to bring together neurology, neurosurgery, mental health services and imaging in what we call research embedded in care or translational research. Meaning the real-world issues we see with our patients give us the idea for research. It's closer to an incubator idea that you'd more commonly see at Google rather than a hospital. I think that's where cool things are going to come from because we'll have these new ways of visualizing problems and people who would never work together otherwise would come up with amazing ideas. The catch phrase around here is "Inventing the future of healthcare."
And this will be more effective than specialized practices?
The advantage of this is, there's a whole bunch of brain diseases that will benefit from the same technology. So thanks to this amazing support throughout the country, if we have an investment in brain tumours we're going to apply those things to Alzheimer's disease. We're going to have targeted therapies for dementia and for stroke that are non-invasive. My colleague runs the largest ALS clinic in Canada here and we're going to non-invasively deliver nerve stem cells into the spinal cord of patients — inject them into the vein, open up the blood-brain barrier around the spinal cord and that's where the stem cells go. It's not been done yet in people, but in animal models the nerves regrow. And the first people in the world would be treated here. Just like we treated the first person ever with ultrasound for a brain tumour a couple of months ago.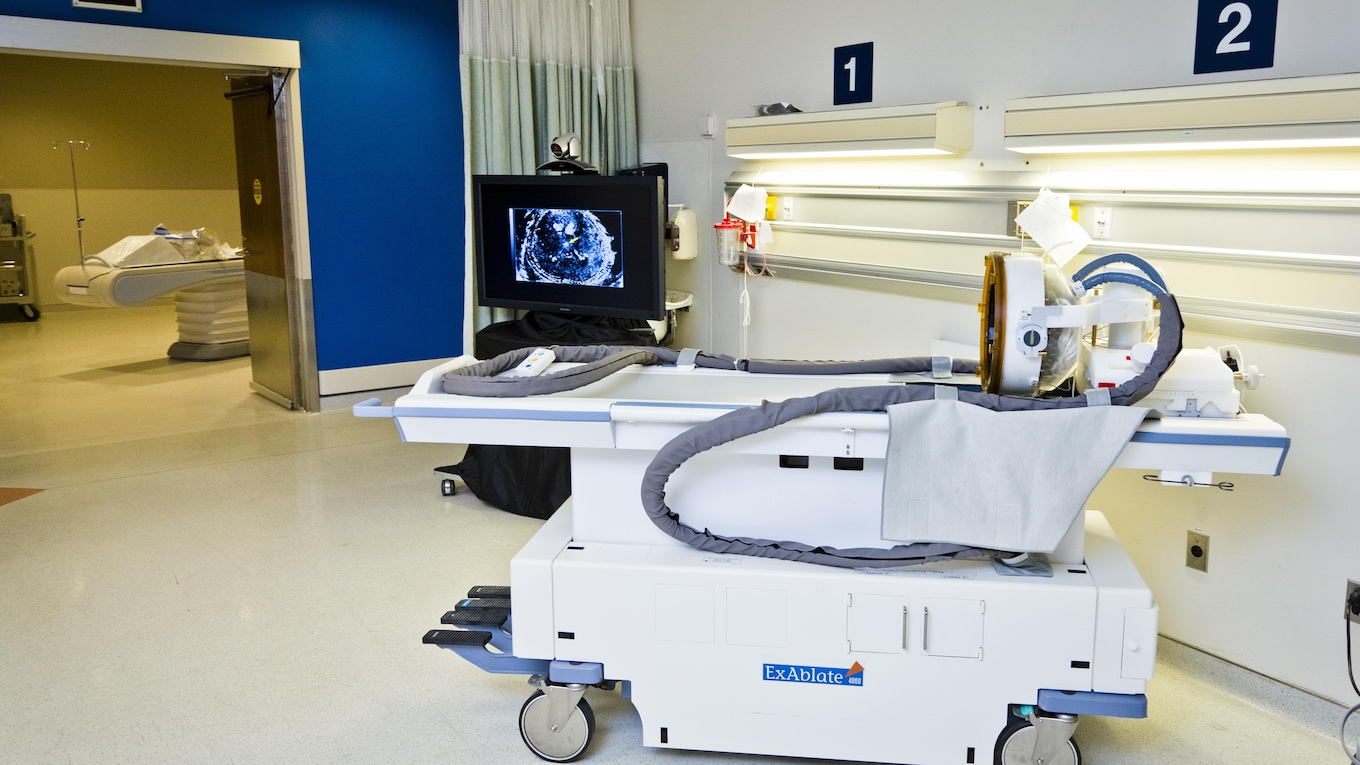 The band has been very adamant not to refer to the current tour as its last. Do you think they'll continue touring?
That's up to them. If they're thinking of that I'm sure I'll be consulted, but it's not something I've heard or discussed at all.
Finally, I know you can't discuss specifics but how's Gord doing?
Good. Having the time of his life.
Donate to the Gord Downie Fund for Brain Cancer Research by clicking sunnybrook.ca/gord
More to explore:
Gord Downie: CBC Music's person of the year
And Grace, too: what awe-inspiring swan songs can teach us about greatness

26 Gord Downie quotes to inspire you
The true, tragic and inspiring Canadian stories behind Gord Downie's best lyrics
How the Tragically Hip became Canada's band
Polaris 2017: 5 things you didn't know about Gord Downie's Secret Path
Coke Machine Glow: a love letter to Gord Downie's solo debut
Chanie Wenjack: a 50-year-old tragedy rises up to inspire a new generation
Weird genius: what it's like to collaborate with Gord Downie and the Tragically Hip
A guide to Gord Downie's Canadian tuxedo