The 2016 Honens Festival begins Thursday, Sept. 8, in Calgary with an 18-hour outdoor performance of Vexations by Erik Satie, the longest piano composition ever written.
Forty pianists will play the work in shifts beginning at 4:30 a.m. on Stephen Avenue in downtown Calgary, a music marathon that will wrap up around 11 p.m. when Marc-André Hamelin will play the final iterations of the work's motif, which gets repeated 840 times altogether. For enthusiasts outside Calgary, the performance will also be webcast here.
This unusual happening marks the 150th anniversary of Satie's birth and helps draw attention to one of classical music's iconoclasts.
"He was a musical outsider, an eccentric and arguably a musical genius," says Honens artistic director Stephen McHolm via email. "Any Satie tribute should celebrate his emphatic wackiness, for lack of a better word. Vexations was written in 1893 but was never published nor performed until American composer John Cage found it in 1949. Eventually Cage put together a relay performance in New York City — 53 years and a day before this Calgary premiere of the work."
---
---
McHolm contextualizes the work: "Vexations is quintessential Satie — a fiendishly notated motif, which, when repeated the prescribed 840 times, creates a kind of mysticism. 'It would be advisable to prepare oneself beforehand, in the deepest silence, by serious immobilities,' he wrote as a preface to the piece. Who knows if he means this as a musical direction or a warning of what will befall the performer or listener? This is the composer, after all, whose disdain for the mainstream eventually alienated him from the cultural establishment of Paris (the Montmontre bohemians such as Debussy, Ravel, Picasso)."
"Satie had an appetite for the absurd," McHolm continues, "And let's face it, what's more absurd than 40 pianists playing the same theme 840 times in this birthday performance?"
Pianist Derek Chiu has the honour of starting the performance at 4:30 a.m. "Derek comes to this very philosophically," explains McHolm. "He likes the idea of performing — and this piece in particular — at a time that is peaceful and solitary." Chiu told McHolm, "Performing in the middle of the night will allow me to experience these sounds intimately without the distractions of a busy world."
"Derek also smartly suggested that he start off the performance at 4:33 a.m. (instead of 4:30) as a tribute to Cage," McHolm notes. "Cage of course is famous for his composition titled 4'33", which is commonly perceived as four minutes and 33 seconds of silence. Seeing as Cage is the inspiration for this Calgary performance, how could we say no?"
'Are you kidding?'
We asked McHolm to describe the reactions he got from pianists when he invited them to take part in this day-long performance.
"'How long is this piece?' 'Are you kidding?' 'You want me to play at what time?' [But] people quickly warmed up to the idea of performing as part of the relay team when they realized that this would be the first-ever public performance of Vexations in Calgary. It doesn't hurt that they can say they are on the same bill as Artem Yasynskyy, Minsoo Sohn and Marc-André Hamelin after all."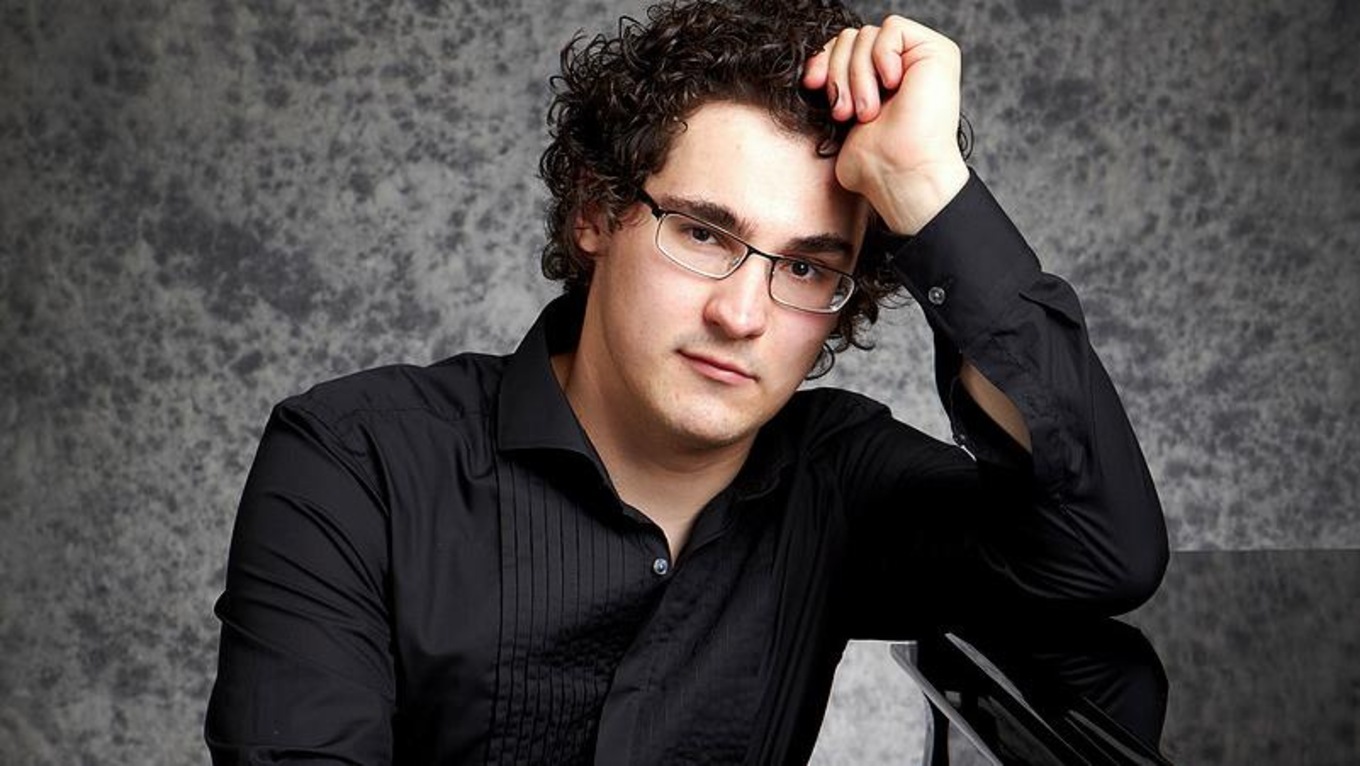 Pianist Artem Yasynskyy was a finalist at the 2015 Honens Competition.
Any performance of Satie's Vexations — let alone one that happens outdoors — is a logistical challenge, but McHolm says the Honens staff and 40 volunteer pianists have a plan in place to keep it on the rails.
"The team has been sent a detailed schematic drawing that looks like some obscure equation on a university chalkboard. There is a traffic map indicating where a pianist should stand while the previous pianist performs his or her penultimate repetition. (Each pianist plays 21 of the 840 repetitions.) Pianists need to indicate to an official volunteer counter after each repetition and after the 21st, the next pianist sits on the bench and takes over. If a pianist is late or loses his or her nerve to perform the previous pianist just keeps playing!"
McHolm, himself an amateur pianist, has volunteered to take one of the 40 shifts. "I wasn't nervous until I saw the stage instructions. Whoever follows me better show up on time! I've been practicing the motif for a few weeks but I still feel like I'm sight-reading. It isn't exactly a melodic motif, which makes memorization difficult. I also find my mind wandering during these hypnotic repetitions. John Cage approached the first performance with a 'zen' state in mind. I can see how states of either zen or madness could set in!"
'All-encompassing agony'
An 18-hour performance of Vexations is an endurance test for all involved, and McHolm doesn't expect anybody to be there for the whole thing. "Because we're staging the performance on the steps of Contemporary Calgary's Stephen Ave. gallery, the public can either settle in on the outdoor seating or simply 'get vexed' during a casual pedestrian stroll. Those who have experienced Vexations in the past have expressed feelings ranging from meditative calm to anger. Ask them to hum the melody — even after hours of listening — and they can't do it. If ever there was an unsuccessful earworm, Vexations may be it.
"Because we're limiting each pianist to 21 repetitions, we probably won't run into problems that have been reported by pianists who have performed the entire work themselves. There are stories of repetitive hand strain, which would be expected, but even more disturbing are reported hallucinations with notes on the score coming to life as crawling ants. Now that's vexation!"
A 2013 New Yorker article titled "A Dangerous and Evil Piano Piece" describes the reactive stages of listeners who endured all 840 iterations of the Vexations theme. "Fascination morphs into agitation, which gradually morphs into all-encompassing agony."
If that's not your cup of tea, there are other ways to celebrate Satie's 150th birthday at the Honens Festival. The first features 2015 Honens Competition finalist Artem Yasynskyy playing Satie, Alain, Debussy, Ravel, Cage and Pesson at Studio Bell, home of the National Music Centre, on Sept. 10. And the festival's closing concert on Sept. 11 includes Satie's fanfare for two trumpets, Sonnerie pour réveiller le roi des singes – lequel ne dort toujours que d'un oeil, and his Musique d'ameublement played by members of the Kensington Sinfonia, as well as his Trois Gymnopédies played by Minsoo Sohn.
For full details on the 2016 Honens Festival, click here.
Here's the down-to-the-minute schedule of pianists taking part in the performance of Satie's Vexations:
4:30 a.m.: Derek Chiu
4:58 a.m.: Les Der
5:26 a.m.: Bridget Robinson
5:54 a.m.: Mila Brandman
6:22 a.m.: Angela Baker
6:50 a.m.: Andrea Bosnjak
7:18 a.m.: Wendy Liu
7:46 a.m.: Nathan Cho
8:14 a.m.: Donna Williams
8:42 a.m.: Marley Gillies
9:10 a.m.: Michael Coburn
9:38 a.m.: Chris Vander Pyl
10:06 a.m.: Mark Limacher
10:34 a.m.: Lisa Cheng
11:02 a.m.: Stephen McHolm
11:30 a.m.: Kelly Schuler
11:58 a.m.: Madeleine Giraudeau
12:26 p.m.: Michelle Gregoire
12:54 p.m.: Carmen Morin
1:22 p.m.: Rena Ahmadova
1:50 p.m.: Michèle Stanners
2:18 p.m.: Logan Mills
2:46 p.m.: Angelo Toselli
3:14 p.m.: Kevin Tucker
3:42 p.m.: Alix Tucker
4:10 p.m.: Russ Weninger
4:38 p.m.: Carlos Foggin
5:06 p.m.: Bruce Petherick
5:34 p.m.: Annie Cen
6:02 p.m.: Hilary Tong
6:30 p.m.: Karl Hirzer
6:58 p.m.: Claire Butler
7:26 p.m.: Rhea Deanne
7:54 p.m.: Angela Gosselin
8:22 p.m.: Keke Zhang
8:50 p.m.: Taylor Lang
9:18 p.m.: Linh Tran
9:46 p.m.: Artem Yasynskyy
10:14 p.m.: Minsoo Sohn
10:42 p.m.: Marc-André Hamelin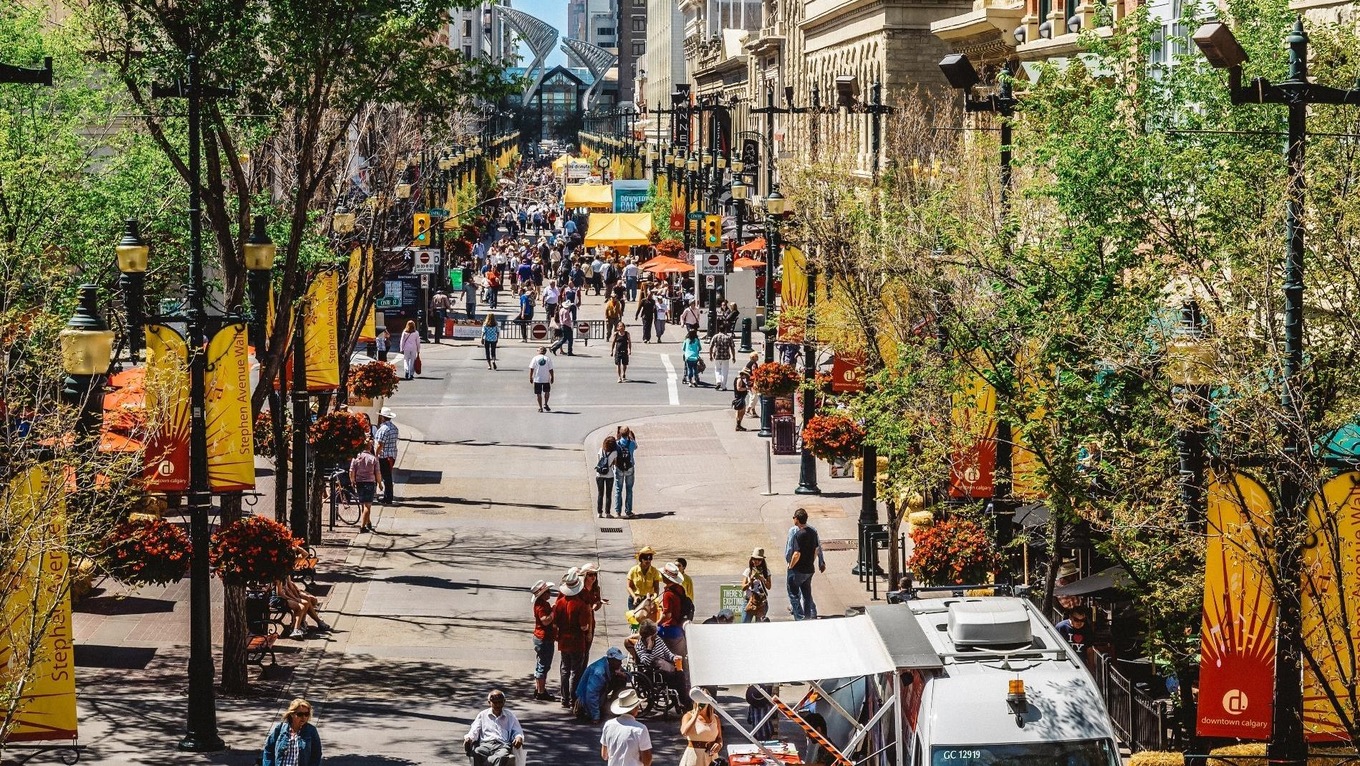 Stephen Avenue, a popular pedestrian strip in downtown Calgary, will be the site of Honens Festival's performance of Satie's Vexations.
Explore more:
The funniest classical musicians, past and present