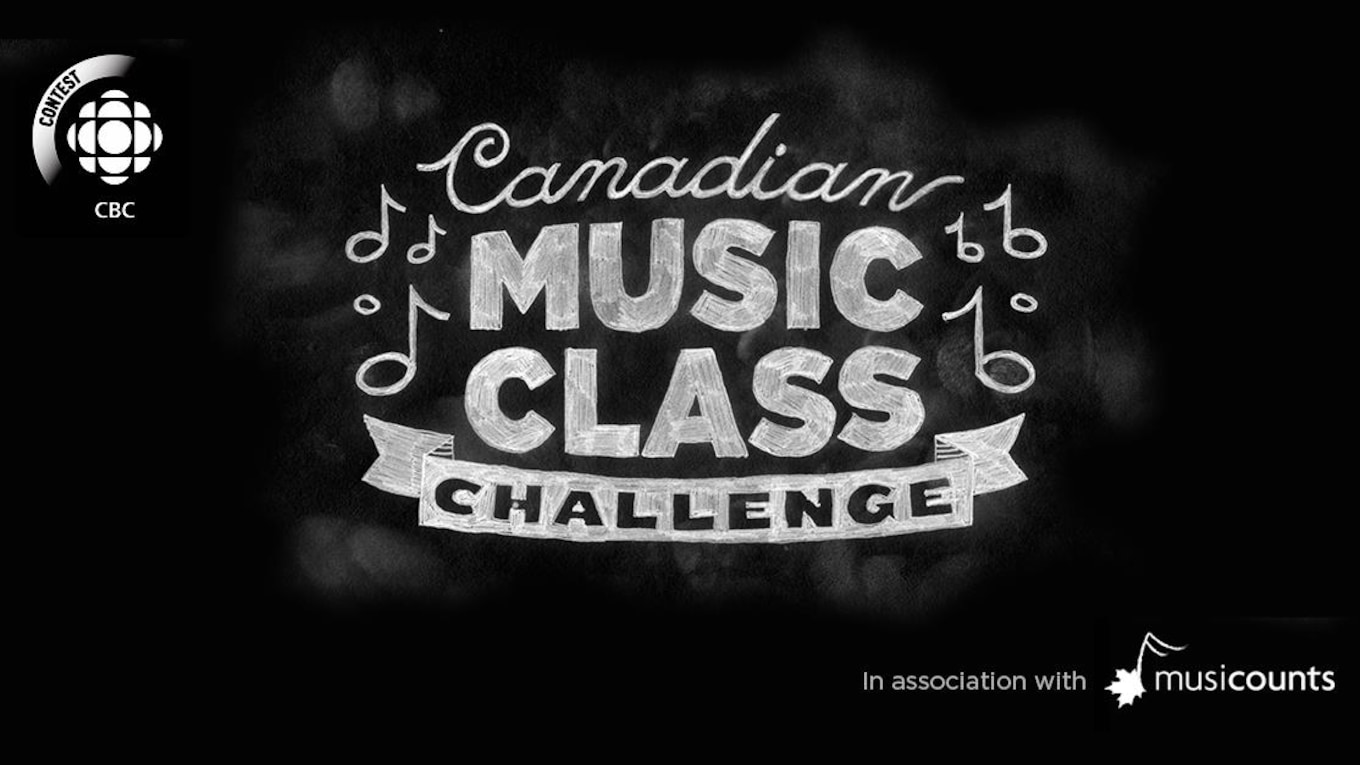 How do I enter my class?
First, you have to register your class(es) here. Once your registraton has been submitted, a producer will contact you with a link to a Google folder where you will upload your class video performance, official class photo, and the description of your class/video, which will appear on our YouTube channel.
Does my music class qualify?
The contest is open to any music class at a recognized Canadian educational institution, traditional music class, music club or supervised after-school program consisting of at least six students up to the age of 18.
Can I, as a teacher or instructor, accompany my class in the video?
Yes, accompaniment is fine. We understand that, especially at the elementary levels, kids sometimes need musical support, but of the spirit of the competition is to showcase the kids' performance so make sure your performance is heard and seen as support only, and that the kids are the focal point of the video.
Does my class need to perform a specific song?
Yes. Only the following songs will be accepted:
"Lost Boy" by Ruth B.
"Running" by Jully Black
"Listen to the Sounds" by Bobs and LoLo
"Fool" by Basia Bulat
"CBC Olympic Theme" by Marc Cholette (arranger: Grayson Mathews)
"I Don't Want To Break Your Heart" by Coeur de pirate
"Northern Lights" by The Jerry Cans
"Constant Craving" by K.d. lang
"Dans Ton Oreille" by Jérôme Minière
"Both Sides Now" by Joni Mitchell
"L'Amour" by Karim Ouellet
"Sing it Together" by Marc Jordan and Ian Thomas
"Treat You Better" by Shawn Mendes
"James Bay" by Midnight Shine
"Missing You" by J.F. Robitaille
"It Snowed" by Meaghan Smith
"End of an Era" by The Strumbellas
Do you need anything other than a song uploaded?
Yes. In order to finish your submission, you need a class photo and a short video description.
What file format should my video be in?
MP4 or .mov format
What are the six categories I can enter my class in?
There will be three different groups for entry (elementary, junior high, high school) and within each of those, there will be a choice of entering as an instrumental group or a vocal group. Vocal is any arrangement that includes singing. Starting from Elementary Instrumental and going up to High School Vocal, the categories will be identified as follows:
Category 1: Elementary Instrumental
Category 2: Elementary Vocal
Category 3: Junior High Instrumental
Category 4: Junior High Vocal
Category 5: High School Instrumental
Category 6: High School Vocal
How are the winners chosen?
The winners will be chosen by our panel of judges.
What is an "off-the-floor" performance?
An off-the-floor performance is a single-take live performance that features no editing or multi-track recording. We want to see your music program perform the song live, as if we were sitting in the crowd watching, and an off-the-floor performance is the best way to do this.
Can I cut in scenes from my school in the video?
Yes, you can cut in as many images of the class or school in video post-production, as long as there is also video in there of your class performing the audio that we are hearing.
Are there any prizes?
Yes, a commemorative plaque acknowledging the Winner as "Winner: Canadian Music Class Challenge 2016" and and high-tech classroom studio consisting of:
One (1) Focusrite 18I20 interface
Eight (8) MC-25N
Two (2) MC-50N
Two (2) PC-15 cords
One (1) Rode NT1-A microphone
Presonus StudioOne
One (1) set of Apex DP6 Drum Mic Kit
One (1) Shure SM57
One (1) MS-108 Kick stand
Six (6) MS-206B mic stands
One (1) MS-608B Telescoping stand for use with Halo
One (1) Aston Halo Reflection Filter
Two (2) Yorkville YSM8
One (1) Keystation88 II
One (1)Logitech G300S computer mouse
One (1)Lenovo ThinkPad E560 laptop computer
Do you have a required student permission form I need to have my students fill out?
No, just make sure that the parents of the students are fine with their children appearing on-camera.
My class video is finished, when can I send it in?
The submission period for finished videos begins Oct. 16, 2017.
When is the last day I can send in my class video?
Nov. 24, 2017, 11:59 p.m. ET
When are the winners announced?
Winners in the six winning categories will be announced Friday, Dec. 16, at 8 a.m. on Radio 2 Morning and on all other CBC Music platforms.
Is sheet music of the songs available?
We do not provide sheet music. But we are working on finding teacher resources where they are available.
Who can I contact if I have a question not addressed in the FAQs?
Email: musicclass@cbc.ca
Is there a hashtag I can use to promote my class video?
Yes, #CBCMusicClass
Related:
Need free new instruments for your music class? Check out Band Aid