Harrison loves the '80s. Even though the 21-year-old electronic producer was born in the middle of the 1990s, his deep affinity for the past instead of the future is an interesting attribute for a millennial, and extends beyond the music on his debut album, Checkpoint Titanium, into popular culture in general. It's no surprise then that Harrison is also enamoured with one of the decade's most infamous vehicles, which was featured prominently in the iconic Back to the Future trilogy.
"I f--king love the DeLorean a lot," an affable and enthused Harrison tells me in his home studio in the east end of Toronto. "If I was ever to get a DeLorean I'd leave it the way it is. It has to be silver, in its original colours. There's this picture of a black DeLorean and it just looks amazing."
The producer pulls out his cracked-screen cell to access his Twitter feed. "Let me get it up for you, just a second," he says. "Look at that! It's a black DeLorean. It's like as wide as this room, it's just a supercool car. It's just like a lot of stuff from the '80s is cool. I still wouldn't want to live in that era because it would ruin everything for me."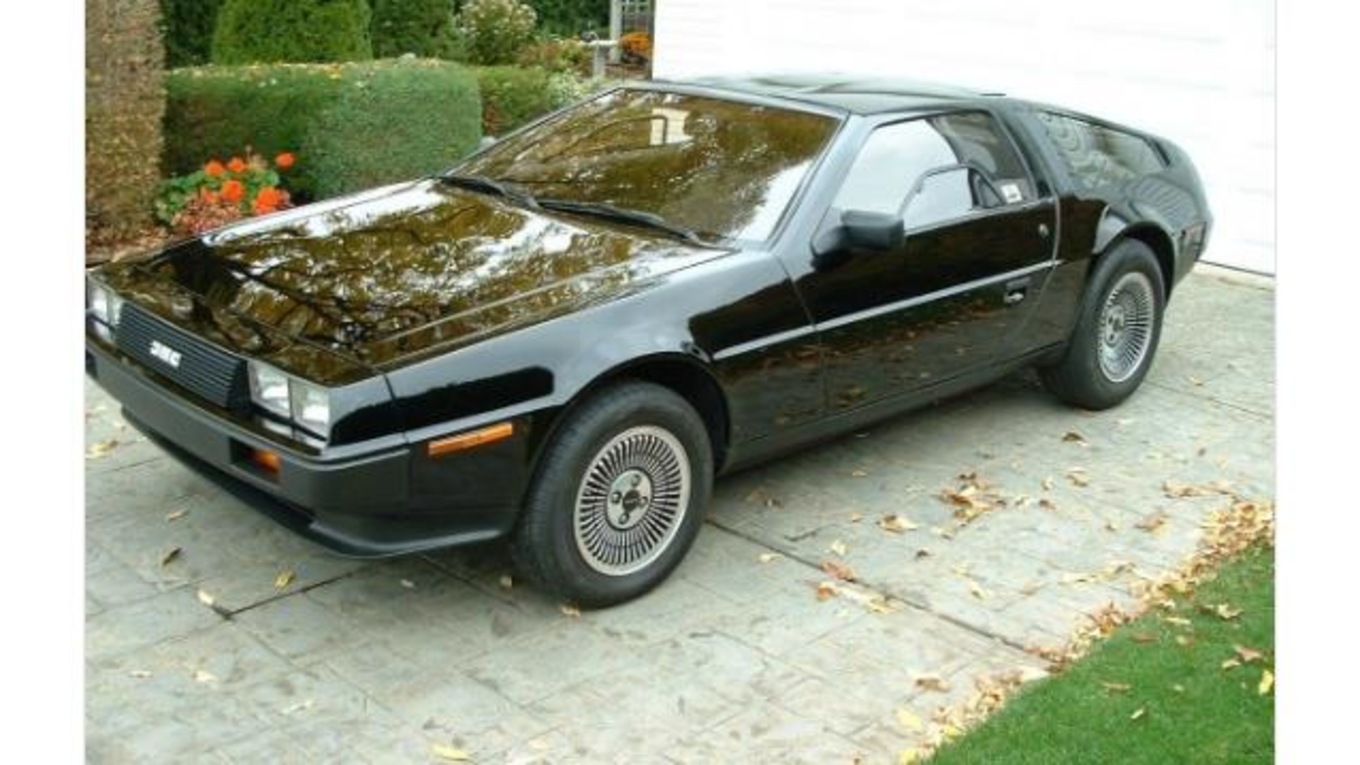 An image of a black DeLorean car posted to Harrison's Twitter feed (ProdbyHarrison/Twitter)
Harrison's wariness about actually being alive during the decade that brought us fluorescent leg warmers, big hair and shoulder pads means he can cast a critical eye, and it's his humourous take on the '80s that generated the title for his album, released in early September.
"Everything was so hyper this and hyper that. And especially with North America, it was hyper aggressive," says Harrison. "That's where the name of the album came from: Checkpoint Titanium. It's a ridiculous name," he says, laughing. "And they always had stuff like mega steel and like everything was metal references for some reason, know what I mean?"
The Last Gang signee, born Harrison Robinson, has overtly displayed his affection for the '80s on the music he's uploaded to his SoundCloud page, as well as work like 2015's Colors EP — which featured the Prism Prize shortlisted video "How Can It Be" — all leading up to Checkpoint Titanium's release. In videos like the black-and-white lensed "Akira," retro-referencing artifacts like vinyl, turntables, pinball machines and disco balls proliferate. On his new album, that sonic connection continues, and in his home studio, Harrison's setup includes vintage keyboards like the Yamaha DX7 and the Korg M1. It's no surprise he admires the producers who used those instruments during their nascent emergence.
"It's just the music I like listening to that's all," Harrison says. "They did all this crazy stuff without laptops, that's what blows me away. I couldn't imagine all the time they put into that, when synths were popping and they made these crazy things. I couldn't imagine how long it would take. Of course the sounds are all amazing and I love funk from the '80s, but I really just respect the way they put things together. It's so specific the way it sounds. I don't think I'll ever be able to make something that sounds as good and fully '80s as the way they did it in the '80s. I guess that's a big reason why I like it so much. 'Cus no one can really capture the way they did unless they were born in that era and still have all that gear."
If Harrison has any qualms referring so heavily to music from 30 years ago in his own work, he's not showing it. He feels the music transcends eras.
"How can you get sick of funk? If it's not broken and it hasn't been broken for years, so why not sample it, 'cus people make songs out of it. People still like that stuff apparently, I like that stuff. That's not all that I make but like, I always go back to it and I always feel proud when I make funky music."
And there's plenty of funky music on Checkpoint Titanium. Harrison imbues his approach to keyboards with malleable grooves that inquisitively meander beyond their starting points, exhibiting Harrison's ability to translate his past inspirations firmly into the present. Layered and intricate keyboard compositions infused with danceability are the foundation of his work, building on the childhood piano lessons he initially resisted from his own musically inclined parents.
"It's always funny, I actually feel a lot more comfortable with instrumentals because it's not so personal, but it is, right?" says Harrison. "I'm not speaking to anyone and you can't judge someone from their lyrics and what they are talking about and stuff. It's always been more fun than nerve-racking, making instrumentals, in my opinion."
Despite the fact that Harrison features a number of instrumentals on Checkpoint Titanium, the album also includes tracks with a close circle of featured guests and vocalists. Friend and fellow Last Gang signee Ryan Hemsworth shows up to help out on "Vanilla," Toronto rap wunderkind Clairmont the Second unfurls a high-school romance turned sour on "It's Okay, I Promise" and Allie lends her soothing presence to "Vertigo."
Indeed, as we speak in Harrison's studio, his bassist, close friend and collaborator Seamus Hamilton — who appears on the track "Social Stimulus" — hangs out on the adjacent couch next to Harrison's big television screen and collection of video games. Harrison credits Hamilton with being an early musical tutor who helped him to learn various music software programs as a beginner. One of the standout tracks on the album both sonically and stylistically is "So Far From Home," featuring the vocals of Young Guv, a.k.a. Ben Cook of F--ked Up, whose many projects outside the hardcore band are sonically divergent from that group's output. The song's upfront piano riff eschews the electronic feel of most of the album and harkens back to '70s singer-songwriters, while Young Guv's rebellious tone in his melodic vocals adds a distinctive edge to the song's immediacy.
"I've known Ben for a while and that song is like my favourite song — it's [my] favourite or second favourite on the album," says Harrison. "It was very short, about 50 seconds, and I'd finished it and I sent it to him and he sent me, what now is the song, back, and I thought it was the sickest thing. I was so happy to be a part of that like, this is so cool. It's got like three hooks. I am still very proud of that song. I knew that the fanbase I had acquired over time wasn't used to that sort of sound and I sort of, we'll see how it goes, but I sort of expected it to not get a lot of love, because the guy kinda sounds like an alien and the song is kinda slow. But I'm still very proud of that song and Ben is so good at writing."
As for Harrison's own creative process in the studio, the aforementioned video games and couch are actually a crucial ingredient in his laid-back approach to making music that eschews perfectionism and values serenity to combat his anxiety.
Harrison of Last Gang Records playing the keyboard during a CBC Music First Play Live session. (Cathy Irving)
"In terms of video games in real life, I love video games," says Harrison. "They are very relaxing, de-stressing, especially after quitting smoking." Harrison chews on a toothpick for most of our interview to resist the lure of lighting up."I play video games. It's like the de-stress go-to [activity] is video games. Even if I'm playing the most stressful game on the planet, it's still very, very apart from music."
Harrison's workspace features a laptop, a few keyboards and a vinyl collection in close proximity in front of a large window that yields a generous amount of natural light from the park directly outside. On his wall, he has a number of records framed for posterity, and when I ask him about which records have been pivotal inspirations for him, he points to D-Train's classic proto-house 1983 single "You're the One For Me," the 12" of which is hanging on the wall directly behind me.
"That was like the first funk song that I sampled and then researching more D-Train, I'm like 'Holy shit!'" says Harrison. "He had to do all of that shit. He used like six different synths in a song and stuff and they couldn't just plug that into a laptop. They had to record that. There was no quantizing or whatever with those synths they were playing. And I had many people, other producers who are into funk and stuff [mention him]. Like, he's a point of reference for a lot of funk producers who are like, 'I gotta have the D-Train synths,' so D-Train for sure."
And then in another moment that encapsulates Harrison's seamless back-to-the-future meshing between past and present he says, "I've never even opened that record. I still listen on YouTube."
Follow me on Twitter @vibesandstuff

More to explore:
First Play Live: Harrison, Checkpoint Titanium
Watch Harrison and Young Guv's 'So Far From Home' video
Harrison featured on CBC Music's Songs You Need to Hear this Week