"As much as you hustled for your first hit, you have to hustle for your next," says producer Mike Will Made-It, addressing a room of 40 or so musicians tucked away in a lecture hall on a quiet street in Old Montreal. The producer behind hit songs like Beyonce's "Formation" and Miley Cyrus's "We Can't Stop," not to mention a good swath of the major rap songs to come out of Atlanta in the last five years, is a guest lecturer as part of the Red Bull Music Academy, and he's schooling the attending musicians on what it takes to make it in the music business.
The lectures, which are actually more of a sit-down interview with journalists, are meant to inspire the assembled artists, known as participants, to go work together and create. They've been selected to come from all over the world to live and breathe music for two weeks in a lush, laid back environment with access to legendary musicians they may not regularly have, from the opening speakers Kardinal Offishall and Iggy Pop to Bjork, who closes the academy on Oct. 25 and 26 with two nights of sets.
Started in Berlin in 1998, the Red Bull Music Academy (RBMA) is held for five weeks in a new major city each year. During the day, participants attend lectures and are invited to work with a production team of luminaries — this year it includes producers from Italy (Marco Passarani), Montreal (Ango), Lisbon (Branko), Berlin (Mathew Jonson), and the U.S. (Angel Deradoorian and Just Blaze) — all with the intention to collaborate, create and, most importantly, learn. Each night, RBMA presents live music that features both the invited special guests and the participants, from ice skating to the sounds of L.A. DJs DâM-FunK to watching Tanya Tagaq and F--ked Up perform, for the first time, a collaborative piece of music.
It's a chance to break out of the sometimes insular world of creating music, to take "a break from the suffering of this thing called the solo project," to put it in the words of Canadian electronic producer Tim Hecker during his lecture.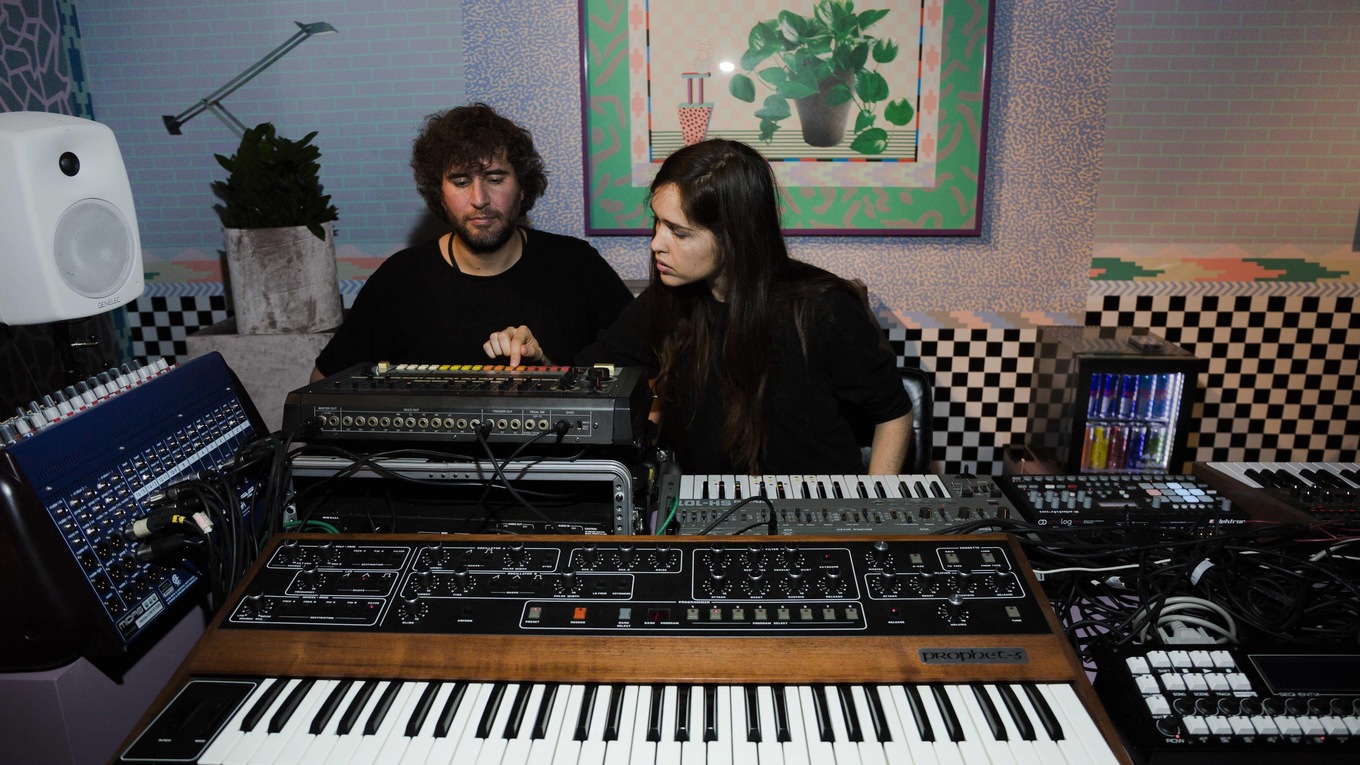 Marie Davidson at the red Bull Music Academy with studio mentor Mathew Jonson.
"It's not a place to do your solo stuff," says Marie Davidson, an experimental electronic musician from Montreal. "You're encouraged to collaborate and learn about all these things, all this gear that's around that you wouldn't have access to."
And sure enough, there is a lot of gear. In the middle of the "bedroom studios," which are several glass-walled studios decorated in various ways, from mid-century to industrial, there is a locker-room stocked to the ceiling with every synth and sampler you could think of. There is also a full studio, complete with a drum kit, piano, organs, vibraphone and guitars, for a more traditional setting.
For Davidson, a highlight was getting a one-on-one lesson on the Roland 101 synth — "a legendary new wave disco synth" — from studio mentor Jonson, a Canadian musician based in Berlin who is an influential techno figure and in-demand remixer (Moby, Chemical Brothers).
But for Sayge, a Toronto-based R&B musician who previously recorded under the names Astral and Little Ghost, the school-like environment is exactly the inspiration he needed.
"Being here makes me wish I accepted one of the offers I got to go to college," the 19-year-old says. "After the lectures, we're all just so inspired that we want to create. We go to studio, hop off on an idea or someone has old stems they didn't know what to do with so we start from there." One week into his stay, he's already collaborated with artists from Poland, Sweden, Turkey and Chile.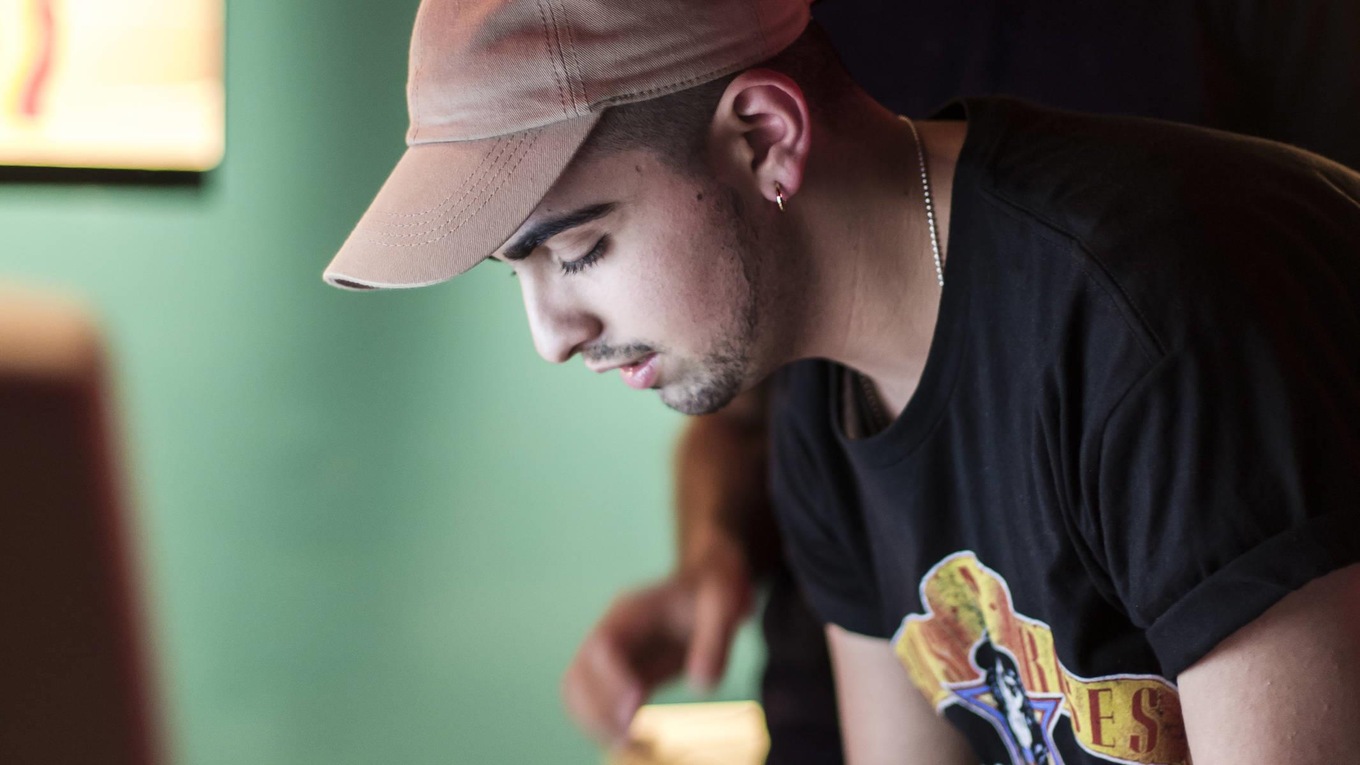 (Sayge works in one of the bedroom studios at the Red Bull Music Academy.)
"If I can get one good song that has a plethora of people on it, then I'm happy," he says, adding that he's already had some promising interactions with the studio mentor team.
"Just Blaze is the nicest dude. The first or second night I had to leave the studio early, so he gave me a nice pep talk and after I wrote this song he wants me to play for him," he says.
Just Blaze, born Justin Smith, is one of the architects, along with Kanye West, behind Jay Z's Roc-A-Fella records sound and has been involved with the Academy for 10 years, first as a lecturer, then as a studio mentor since 2006.
He says the Academy gives aspiring or semi-established musicians "a chance to meet with and work with other people who are in the same position as they are, but to also have the experience of meeting folks like me who can help guide them with whatever they need. I'm a mentor, so here for whatever they need," he says, pointing to some recent success stories to come out of the experience, such as producers Hudson Mohawke and Flying Lotus. "It's really whatever you make of it."
While participants are given all the tools, gear and access to make things happen, the onus is still on them to actually make moves.
Smith mentions a recent participant, Corey K, whom he sat down with to work on a song from scratch, "from conception to the final bits. It felt like an old-school, really '80s funk record, a really good song. So me and him are doing the production, another guy is doing the writing and vocals, and [Prince drummer] Sheila E just happened to be doing a lecture that day. They pulled her aside and were like, hey, we have this really cool funk record that sounds like something you would have played on back in the day, would you mind jumping on the drums? She ended up doing a whole drum tutorial on how she gets her sound and then she played on the record."
The song, called "Just Fine," was released last year on RBMA's Soundcloud page.
For Smith, 38, it gives him a chance not only to tap into what the younger generations are doing, but also to provide opportunities he didn't have when he was a kid growing up in New Jersey. "There is no way I could have spent a week or even a day in studio with RZA just watching him work and picking his brain. Imagine being able to do that in the early Wu Tang days. If I can help provide that, I try to take as many opportunities as I can for that."
River Tiber plays bass at the Red Bull Music Academy in Montreal.
River Tiber, born Tommy Paxton-Beesley, is a Toronto producer who's had a lot of recent success, releasing his debut album, Indigo, in June, as well as appearing on albums by Drake, Badbadnotgood and Kaytranada's Polaris Prize-winning 99.9%, to name a few.
"I've sat in on sessions watching Just Blaze work with people and just sitting in front of him specifically and being involved in that is pretty unreal to watch," he says. "In any other context, even if I were to meet any OG like that in the actual studio environment, even then it would be a different thing. Here it sets up that environment where they can openly school you. It's such a patient environment, and there is no pressure to release a song, like it would be at a producer or song camp, so as a result you just soak up everything like a sponge."
It's also been a great opportunity for him to plant seeds for new ideas with an array of musicians he otherwise wouldn't know.
"I was just working with Chloe Martini, who is from Poland," he says, sitting on a couch in the back of the larger studio. As we speak, three more participants come into the studio and start jamming on a trumpet, vibraphone and bass guitar. "People are from all over the place, like Oceantied, who is from Bangalore, or Ray Ray, who is from Taiwan. It's one thing to meet on the internet, but to meet in this environment, working in the studio, living together for two weeks, that will last. These are all a bunch of introverted producers, they are essentially solitary, and being able to connect with a bunch of people like that is just really deep. It's affirming," he says.
Directly after our discussion, Paxton-Beesley stands up and heads straight for the drum kit, joining the trio who is building a song up around a simple trumpet melody. He immediately locks in step with them playing a laid-back jazz beat. The jam fades out and everyone in the room claps before dispersing, hopefully to get to work, hustling for that big hit.
For more, go to cbcmusic.ca/rbma.