"Eeeeee, we did a song! We did a song!"
Tanya Tagaq squeals with delight, jumping up and down in the main showroom of the Feheley Fine Arts gallery in Toronto, where she and Shad have just recorded their first live performance of "Centre."
The Inuk throat singer and rapper officially released the track — their first collaboration together — at the beginning of September, and it's the first live work of Tagaq's that she has been calling a definitive "song": something with a beginning, middle and end, with a set length and lyrics (both hers and Shad's).
Her four albums to date, including 2014's Polaris Prize-winning Animism, have contained songs (often without lyrics), but Tagaq's recorded work, when performed live, takes a different form: one that's improvised, unpredictable and unreplicable.
Tagaq and Shad, along with producer/violinist Jesse Zubot and drummer Jean Martin, jump into their second take of "Centre," which was filmed as part of CBC Music's First Play Live session for Tagaq's upcoming Oct. 21 album, Retribution. Dressed in a ceremonial amautiq (a traditional women's parka) made by Rankin Inlet artist Salome Kalaserk and borrowed from the gallery, Tagaq is radiant, sidling up to Shad, the beads of her amautiq swaying, as she lays a bed of throat-singing for his verses sit atop.
"He does in words what I do without words, so it's a good balance," Tagaq explains earlier in the day. As soon as she met Shad at the 2014 Polaris Prize gala, she knew she wanted to work with him.
"If I get along with people, I'll work with them. And if I don't like someone, I won't work with them. Making music is very intimate."
Zubot, who has worked with Tagaq for more than a decade, considers "Centre" one of the most accessible tracks Tagaq has made, given her body of work, but they didn't go so far as to make it mainstream.
"It's also quite bizarre ... it's sloppy '70s R&B/hip-hop with futuristic sci-fi vibes," he says. Zubot, Martin and guitarist Bernard Falaise put the backbone of the song together in just a few hours, when Tagaq told them Shad was coming in that same day. "It was right down to the wire of it basically barely existing."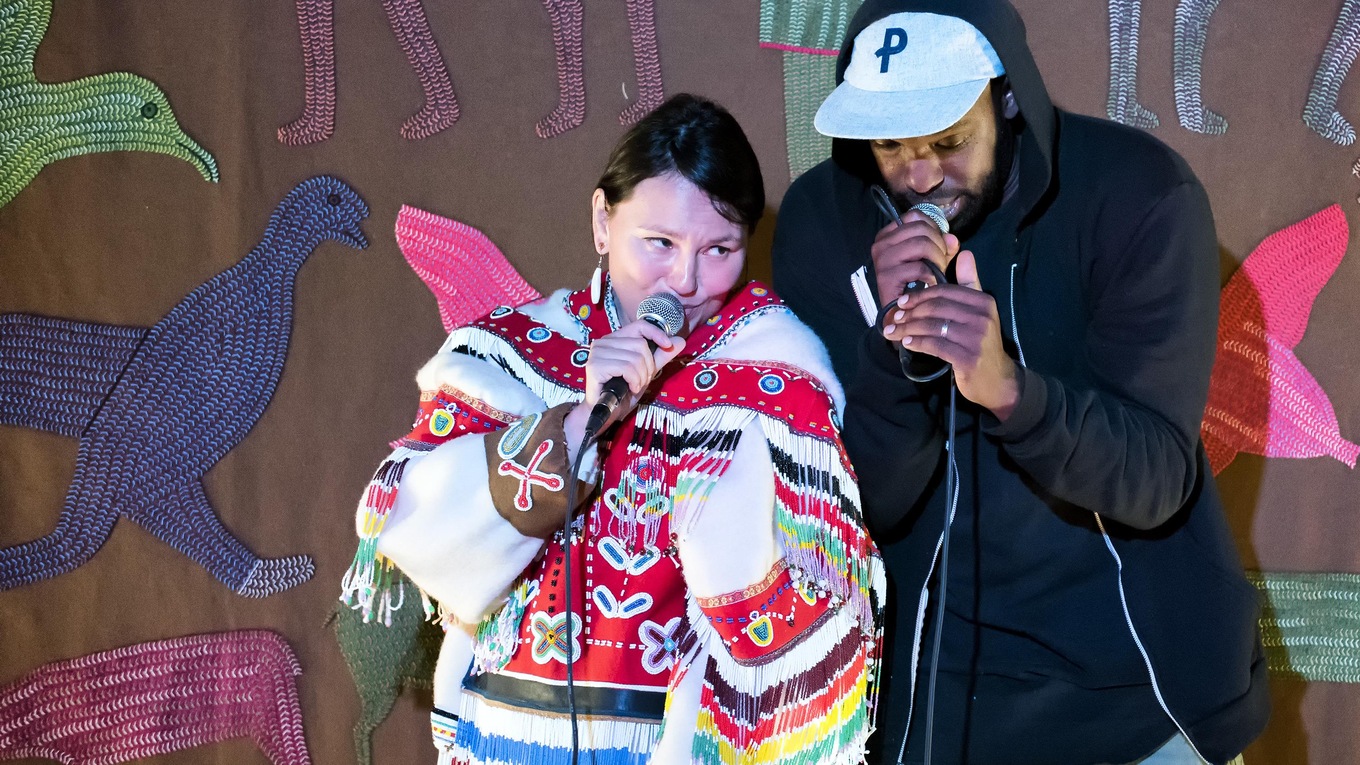 Tanya Tagaq performs 'Centre' with Shad at Feheley Fine Arts. (Cathy Irving)
Even so, Shad's rap verses paired with Tagaq's throat singing (and sometimes lyrical singing) sound like they've met their match. With the intimacy of "Centre," Tagaq says she was seeking a balance. The song is about a lot of minute things, but also about being a woman, "how happy I am with my moon. How happy I am to bleed, how happy I am to exist."
The warmth of "Centre" is worth savouring and returning to, since Retribution itself is, in Tagaq's words, a record about rape. She addresses all forms of rape — of women, of the land — while demanding justice for missing and murdered Indigenous women, as well as Indigenous peoples who've had their land and rights removed over centuries of abuse. Over the album's nine original tracks, including a chilling cover of Nirvana's "Rape Me," you hear Tagaq's feminist voice supported by the male feminists in her life.
"The act of feminism, it's not a female thing, it's a human thing," says Tagaq. "And I'm surrounded constantly by wonderful, respectful, beautiful men, and that's why on the album there's so much masculinity in order to project femininity."
Tagaq names her father, Shad, Zubot and his father (who played harmonica on the album), Tuvan throat singer Radik Tulush (from Siberia) and Jean Martin as some of the men included, in harmony with Christine Duncan and the 40- to 60-member Element Choir plus, of course, Tagaq herself.
"I just want equality," she continues. "I want people to live an equal life, and I want safety for people. It's not coming from anywhere else than that."
That message can be found in additions like the subtle field recordings Tagaq's father gathered around her hometown of Cambridge Bay, Nunavut, and from the pointed spoken-word piece that appears at the beginning of the album's title track all the way to the name of the album.
"It has a little bit more punch [than Animism] on some political issues, so I wanted to make sure that [the album's name] wasn't too ethereal and just floating; I wanted it to be like a dart," she says, closing one eye to aim and making a dart-throwing motion with her hand.
The title track builds slowly, with a loon-like call over punk electronics before Tagaq's voice breaks through, pointedly enunciating words like "swift" and "squander":
"Our mother grows angry
Retribution will be swift.
We squander her soil,
And suck out her sweet, black blood,
Burn it.
We turn money into God,
And salivate over opportunities,
To crumple and crinkle our souls for that paper,
That gold,
Money has spent us."
"I was a little bit scared to [put the spoken-word piece at the beginning]," says Tagaq, explaining that she hasn't really put much of her writing out into the world. "But once it happened, I realized that it had to happen because we're talking about the Earth and being stewards of the land and taking care of the land and how Indigenous people ... we're just left on the bottom rung to survive amongst ourselves, without getting full remuneration on the products of our land. It's very frustrating. And not only that, but when you go, 'OK, we'll thrive off renewable resources, like seals,' and they go, 'Oh you can't do that either.' So it's just this question of being boxed in by too many external forces. And [this song]'s an act of protest."
"It gets pretty full-on punk and kind of metal almost later on," says Zubot. "And [the spoken-word piece] just felt like a nice way to turn it into — you know in classical music when there's different movements and stuff like that? It would turn it into something like that a bit."
Spoken word aside, "Retribution" was born out of improvisation, the origin of most of Tagaq and Zubot's work.
"In order to keep the essence of the feel of the improvised kind of live energy, I like to keep as much as possible, and then I will kind of reconstruct parts of a track and just add some extra electronic sounds, like electric drums or synth sounds, and just some weird samples and things here and there to give it a little bit of an electronic edge," explains Zubot.
Tagaq and Zubot met in 2002, becoming close friends before evolving into one another's main collaborators. They did their first improvisational performance for the Vancouver Folk Festival in 2006, after which Tagaq asked Zubot to produce her next album, Auk/Blood. "Ever since then we've been pretty much full on," he says. While Tagaq has done plenty of work with other collaborators — she counts Björk and the Kronos Quartet on that list — Zubot estimates that they now do 80 per cent of Tagaq's live gigs and recordings as a team.
It's a collaboration that he says he loves because of its trust, as well as its freedom: Zubot and Tagaq recently played a club in Montreal with punk band F--ked Up, then hopped on a plane to L.A. to play a classical music venue presented by a contemporary art museum. Tagaq has always eschewed the act of ticking off any boxes — whether it's venues, genres or expectations — and Zubot feels the same.
"I come from an experimental improvisational [background], but at the same time, I'm obsessed with hardcore pop production and contemporary sounds," he says. "So I like smashing things together a lot ... when I'm working in the studio, I'm always trying to push those boundaries and search for new things."
While Retribution is technically an in-studio recording, almost half of the album is in its originally improvised form. For both Animism and Retribution, Zubot says Tagaq approached him with a blueprint of 10 to 20 themes she wanted to address, which they then loosely chatted about. "I'll just kind of have it sit in my mind but we won't really obsess about it too much," he explains. They'll spend a few days recording improvised sets in studio, with their instruments placed as they would be for a show, then Zubot spends more time cutting and moving things around to create the groundwork for the album.
The track "Cold," for example, is one where Tagaq's aiming her dart at global warming, specifically the melting ice caps. On the track, you can hear one of Tagaq's father's field recordings, of him drilling ice, and Tagaq asked Tuvan throat singer Radik Tulush to perform on it, completing the track's global voice.
"I kind of feel like this creative output that Tanya's putting out under her name reminds me more of Frank Zappa or Alice Coltrane or Miles Davis or maybe somebody like Beck or whatever," Zubot continues. "They just take chances and, album to album, sound kind of different and it's like a lifetime commitment of creation rather than trying to make a hit or something."
Tagaq ends the album with "Rape Me," a Nirvana cover that she has altered to sing the first in-person verse repeatedly, swapping the word "rape" for "hate," "kill" and "beat" each time. A slow, marching drum beat leads us to Tagaq's sweetly sung lyrics, while she whispers "rape," "kill," "hate," "beat" over and over in your ears. It's a mind-numbing summing-up of what she has already spent nine songs saying: enough is enough.
"Considering missing and murdered Indigenous women; considering the Jian Ghomeshi case; watching Kesha go all through that legal battle; being honked at when I'm walking down the street with my kids. Just everything pointed to, 'OK, you wanna make us uncomfortable? This is what it feels like,'"Tagaq says. "It's the hurt that comes from what we're expected to endure on a day-to-day basis that isn't necessarily put on the male species."
Tagaq points to friends and fellow musicians A Tribe Called Red as proof that the expectations set upon her are different than her male counterparts.
"It's interesting watching them speak out in a feminist light and watching me speak out in a feminist light, and who do you think gets attacked?" she questions. "Ian [Campeau]'s allowed to speak. He's allowed to say what he wants and he's allowed to smack down, and I find when I say something there's all these men's rights activists that come out and say the most horrific things.
"And you know what? That's not OK. My voice is as strong as anyone else's voice. My right to be here, standing here, right here on this ground, is as much as anyone else's."
Retribution comes out Oct. 21. Pre-order it here.
Explore more:
Enter A Tribe Called Red's Halluci Nation