On Friday, Sept. 18, at 6:00 p.m. and 8:00 p.m. ET, watch the McGill Contemporary Music Ensemble, under direction of Guillaume Bourgogne, perform a variety of works celebrating the 50th anniversary of the school's Digital Composition Studio. The evening's music will come from a wide range of composers, including current McGill composition students, professors at the school, and alumni.
Learn more about the program with the listening guide (below) that includes commments from conversations we had with the composers themselves and from the concert's program notes.
Part 1: (6:00 p.m. ET)
Philippe Leroux, Image à Rameau
"The first version of Image à Rameau was composed in 1995 and commissioned by the Filature de Mulhouse in France. The work was initially written for four electronic wind regulators (Yamaha WX 11), which would control four synthesizers. ... Since then, thanks to Sean Ferguson and the Digital Composition Studio, I was able to compose, with the help of Geof Holbrook, an all-new version for four AKAI Electronic Wind Instruments (EWI). In addition to the greater number of possibilities offered by the EWIs, ... sounds were generated by physical modelling, which offers a richer array of timbres than that which is possible with sole frequency modulation."
—
Philippe Leroux (from program notes)


Raphaël-Tristan Jouaville, Rotations Méandres Accélérations


"Benefiting from a new instrument, the karlax,
Rotations Méandres Accélérations
explores the interaction between clarinet and electronics. The karlax enables both sound spatialisation and the activation of those sounds in conjunction with the clarinetist's gesture. The karlax player also transforms the clarinet's live sounds in real time. In this piece, the use of fixed electronic sounds and the real time transformation of the clarinet sounds by the karlax are imagined more as a traditional instrument; the performance becomes deeply interactive and gestural."
—
Raphaël-Tristan Jouaville (from program notes)


Geof Holbrook, Wooden Stars
"This was my first piece for live performer with electronics, and I made it with Fernando Rocha at the McGill Digital Composition Studio. It requires the performer to build a guiro that is three feet long. We're meant to hear the scraping sound speed up and slow down as he or she drags a mallet across the grooves faster or slower. There's a kind of counterpart to this in the electronics, and also whole lot of other things going on!"
—
Geof Holbrook


Sean Ferguson, Projet Miroirs


"
Projet Miroirs
was commissioned for cellist Chloé Dominguez by the 2007 Enaction_in_Arts Festival. It was created in collaboration with Annie Luciani and Chi-Min Hseih of ACROE, and was premiered in Grenoble, France, on Nov. 21, 2007. Originally for cello, video projection and live electronics with gestural control, the current version is for cello and multi-channel electronics."
— Sean Ferguson (from program notes)


James O'Callaghan, AMONG AM A
"I was inspired to write AMONG AM A by the venue it was premiered in. At the Chapelle Historique du Bon Pasteur in Montréal, one can see a room behind the stage through glass doors, and often reflections of the musicians through the glass. So, I really wanted to create a work that used these two spaces and that raised questions about concert listening and performance in general. What kinds of spaces, sounds, and actions are designated as part of 'the music' in traditional concert performances? What kinds of spaces, sounds, and actions co-habitate with them but we nonetheless don't usually experience musically? So, the piece is basically about blurring those boundaries to create a kind of playground for collective listening, allowing attention to shift between the everyday and the aesthetic."
— James O'Callaghan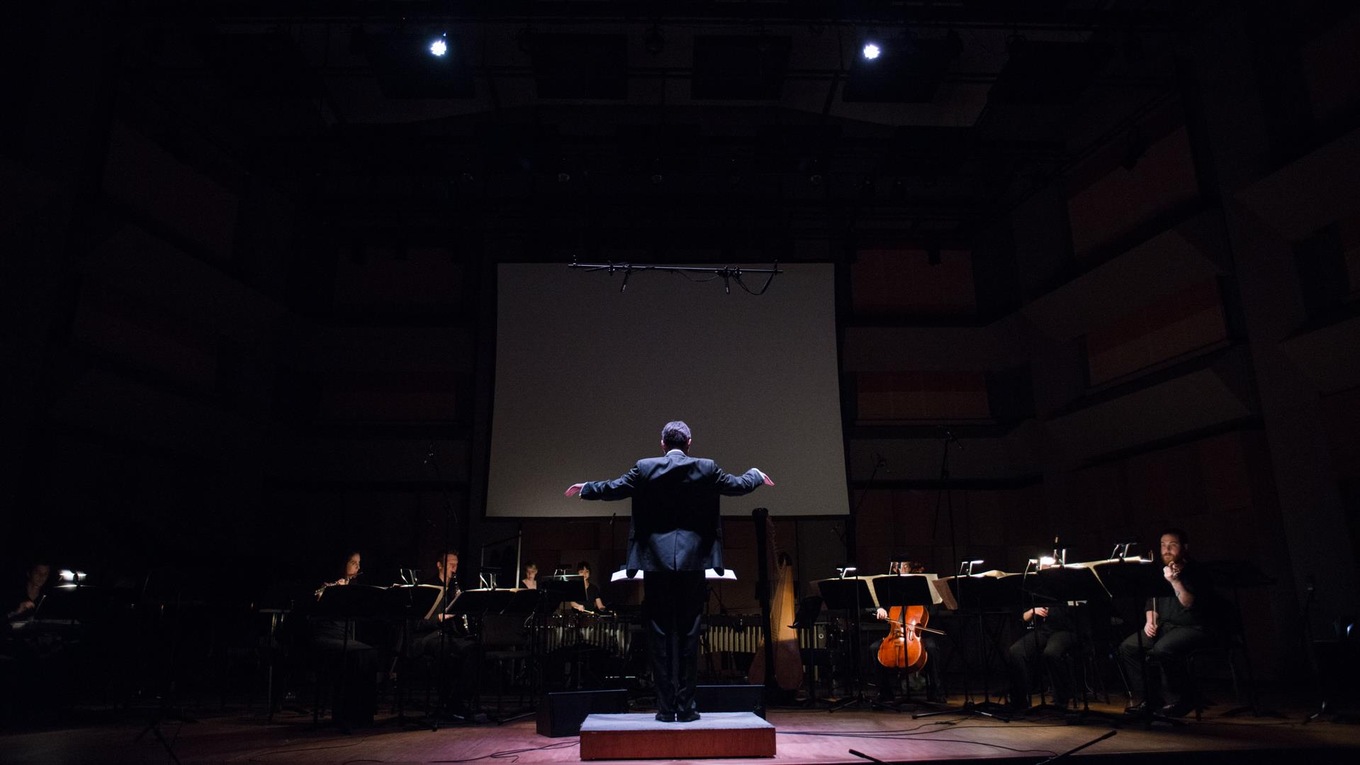 Born in Lyon, France, Guillaume Bourgogne has been the director of the McGill Contemporary Music Ensemble since 2013. (Tam Lan Truong)
Part 2: (8:00 p.m. ET)
Zeynep Toraman, Epokhe
"In Epokhe (written for 15 musicians and electronics) the sound of the ensemble is explored through processes that blur the boundary between control and noise, resulting in complex textures in the music. To achieve such complex sounds, I used different preparations on some of the instruments and also supported these sounds in the electronics I used."
— Zeynep Toraman
Philippe Leroux, Extended Apocalypsis
"Commissioned by the Institute for Research and Coordination in Acoustics/Music in France, and the U.K. and the Ensemble Athelas Sinfonietta for its final version, Extended Apocalypsis is a work for four singers, 16 instruments, and electroacoustic apparatus. As is sometimes the case in my music, this piece finds its origin in a previous work. The overall idea was to musically stage the compositional genesis of Voi(rex) (written in 2002) for voice, six instruments, and electronics."
— Philippe Leroux (from program notes)
Franck Bedrossian, Division
"Three instruments have been deterritorialized and inserted in a zone somewhere between the acoustic and the electronic worlds. They are here, ready to distort their own traditional image, influencing its physiognomy, electrifying the timbre. Eventually they will build intermediate spaces or bridges between the acoustic world and the loudspeakers, the ones who are restlessly spitting hectic white noises and transformations."
— Franck Bedrossian
Explore more:
25 best Canadian debut albums ever
7 things we learned from Simon Rattle's interview with Michael Enright