Hit play, above, or scroll down for individual tracks from the CBC Christmas Sing-In, a cherished Montreal tradition since 1980. Get into the spirit of the season with this heartwarming concert of Christmas favourites, with conductor Jean-Sébastien Vallée leading the Choir of the Church of St. Andrew and St. Paul, the Sing-In brass and percussion ensemble, organist and director of music Jonathan Oldengarm, tenor John Tessier and 1,500 carollers singing along.
---
37th annual CBC Christmas Sing-In: photos
---
The 37th annual CBC Christmas Sing-In took place Sunday, Dec. 11, 2016, with capacity crowds at the Church of St. Andrew and St. Paul and — via simulcast — the Montreal Museum of Fine Arts' Bourgie Concert Hall.
You'll find full details on the music and performers at the bottom of this page.
Editor's note: If you are experiencing issues with the player in Chrome, please go here: chrome://plugins/ and set Adobe Flash Player to "Always allowed to run."
Performers
The Choir of the Church of St. Andrew and St. Paul:
Sopranos: Suzanne Anfossi, Kristi Bryson, Hannah de Priest, Donna George, Emily Gibson, Wendy Glaubitz, Kimberly Lynch, Stephanie Manias, Julianna Urban, Ellen Wieser, Rebecca Woodmass.
Altos: Stephanie Akré, April Babey, James Brown, Nicholas Burns, Duncan Campbell, Charlotte Cumberbirch, William Duffy, Justine Gagnepain, Safiya Karim, Peter Koniers, Anna Mizera, Sue Smith, Eva Stone-Barney, Michelle Sturtevant, Kathrin Welte, Kerianne Wilson.
Tenors: Evan Brydon, Kerry Bursey, Lee Clapp, Thomas Macleay, Patrick McGill, Simon Rivard, Arthur Tanguay-Labrosse, Jan van der Hooft.
Basses: Dave Benson, Desmond Byrne, Sebastien Duckett, John Giffen, Clayton Kennedy, Léo McKenna, Jonah Spungin, Brett Walker, Johnty Wang, Nathaniel Watson.
Brass ensemble:

Stéphane Beaulac, Amy Horvey, Taz Eddy (trumpets).
Charles Benaroya, Evrim Dogan, Matthieu Bourget (trombones).
Percussion: Mark Morton, Ben Reimer.
Soloist: John Tessier, tenor.
Organist, director of music: Jonathan Oldengarm.
Conductor: Jean-Sébastien Vallée.
Program
"O come, O come, Emmanuel"
Arr. Paul Leddington Wright
John Tessier, tenor
Jean Mouton: "Nesciens mater virgo virum"
"O come, all ye faithful"
John Francis Wade, arr. Richard R. Webster, David Willcocks
James Whitbourn: "Hodie"
Juliana Urban, soprano
"Still, Still, Still"
Arr. Matthew Culloton
John Tessier, tenor
Adrian Peacock: "Venite, Gaudete!"
"Il est né, le divin Enfant"
Arr. Paul Halley
Paul Mealor: "In the bleak midwinter"
John Giffen, baritone
"What child is this?"
Arr. Paul Halley
Festival First Nowell
Arr. Dan Forrest
"Tous les bourgeois de Châtres"
Arr. Donald Patriquin
The Huron Carol
Arr. Robert B. Anderson
Jake Runestad: "Alleliua"
"Les anges dans nos campagnes"
Arr. Julian Wachner
Franz Gruber: "Silent Night"
Arr. Mack Wilberg
John Tessier, tenor
Stephen Main: "The darkest midnight in December"
The Twelve Days of Christmas
Arr. John Rutter
Felix Mendelssohn: "Hark the herald angels sing"
arr. David Willcocks, Jonathan Oldengarm
Shawn Kirchner: "Chantons Noël"
"Away in a manger"
Arr. David Willcocks, Jonathan Oldengarm
Adolphe Adam: "Minuit, chrétiens"
John Tessier, tenor
"Joy to the world"
Arr. Julian Wachner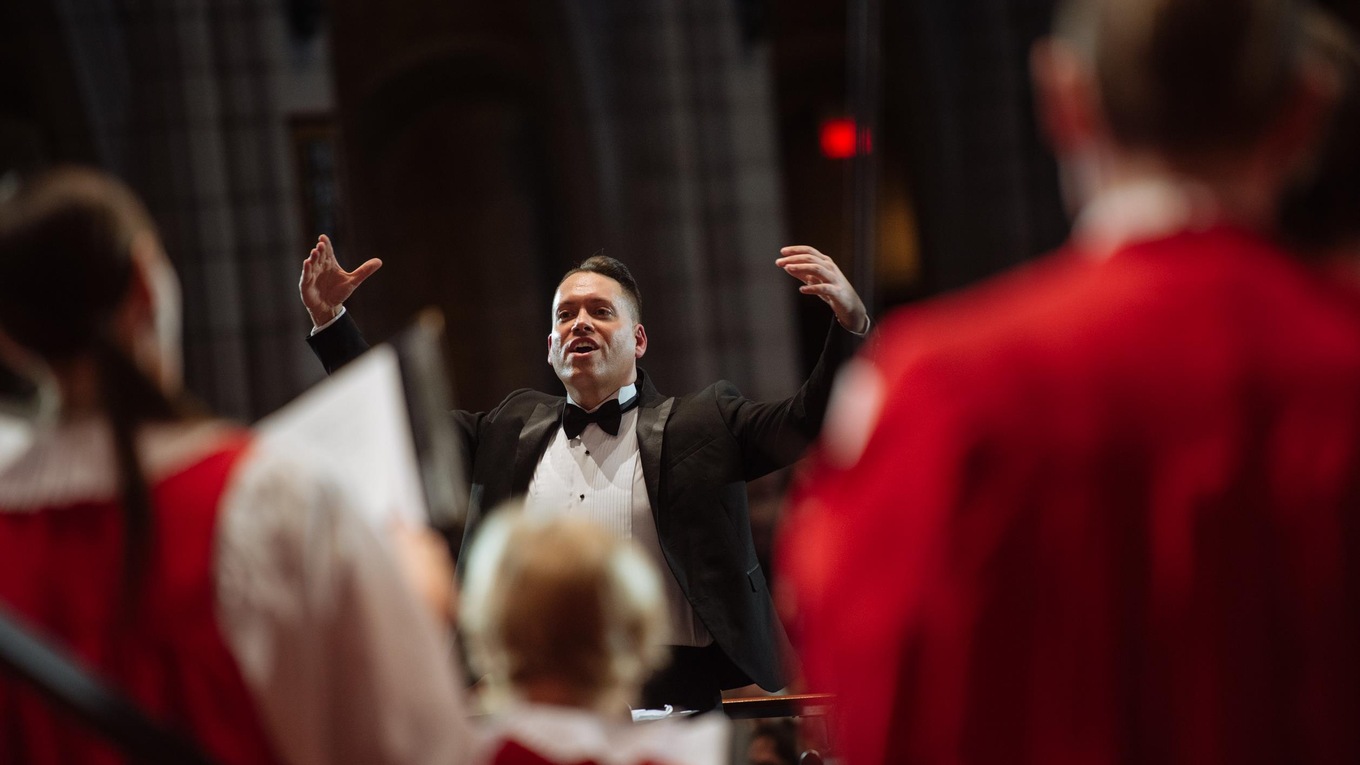 Jean-Sébastien Vallée leads the choir at the 37th annual CBC Christmas Sing-In in Montreal. (Tamphotography.net)
Explore more:
Recipe: Mebbie's CBC Christmas Sing-In shortbread