With heavy hearts, we've been remembering Stuart Hamilton, the flamboyant pianist, vocal coach and former CBC broadcaster who died Jan. 1 in Toronto at the age of 87. He had been suffering from cancer for the past decade.
Hamilton was highly regarded in the small but tightly knit opera community in Canada.
He was probably best known as the host of the weekly opera quiz on CBC Radio 2's Saturday Afternoon at the Opera, where he put his encyclopedic knowledge to use. But it was as an accompanist and vocal coach for over 60 years that Hamilton made the biggest impact, playing an important part in the careers of Lois Marshall, Maureen Forrester, Richard Margison, Isabel Bayrakdarian, Nathalie Paulin and countless other Canadian singers.
"I clearly remember the first time I walked onto the stage of Carnegie Hall, with Stuart behind me," recalled soprano Bayrakdarian in an email to CBC Music. "I felt his presence like a big guardian angel with its wings spread out, protecting and enveloping me with warmth, strength, and support. I was so proud to be making my debut in that famed hall with 'Uncle Stu' beside me."
'Highest possible standard'
Tenor Margison met Hamilton 32 years ago and together they prepared most of Margison's roles. "I think the most important thing Stuart taught me was to always arrive prepared to the highest possible standard," he wrote to us. "I loved Stuart's sense of humour," he added. "We did a lot of laughing in our sessions. He was always full of naughty anecdotes."
Hamilton was the first music director of the Canadian Opera Company's Ensemble Studio, and in 1974 he founded Opera in Concert with the aim of performing lesser-known operas in concert versions with piano accompaniment. He kept Opera in Concert going strong for 25 years, then served as its artistic adviser. He also had a long association with the University of Toronto's Faculty of Music where he gave a number of masterclasses every year; the most recent one took place last October.
"He still was practicing piano almost every morning, around 7 or 8 a.m. in Mary Morrison's studio at U of T, before she started teaching her lessons," explained soprano Paulin, a friend and colleague of Hamilton at the University of Toronto. She had been intending to have him teach one of her classes there in the coming months. "He had to keep his mind active until the very end."
Paulin coached several roles with Hamilton over the years. "I always felt like a million bucks when I was coming out of his coaching," she reflected, "not because he was agreeing with everything you did, on the contrary he was very specific, but so encouraging when you showed determination and put in the work. He was a big fan of vocal freedom, and singing with your heart, communication and intention. He had a way of bringing you a different angle on a given role or character every time you saw him, which made your work a constant evolution and a malleable and a continuous process that never became static."
Vocal coach versus singing teacher
On the distinction between a singing teacher and a vocal coach, Hamilton gave the following elucidation during a 2013 conversation with CBC's Michael Enright: "Essentially, a singing teacher is one who deals with the technique of singing; how to make the voice work, physically. A vocal coach ... is [a pianist] who works on the music, on the interpretation, on what the composer was trying to say, and how to get that across to the audience."
Recalling her earliest days as a singer, Bayrakdarian explained how Hamilton put this into practice:
"I met Stuart after I started private voice lessons in Toronto. I was an 18-year-old engineering student at U of T, with absolutely no idea about the music world and how it operated, yet consumed with a blinding desire to just sing, because it gave me so much joy. Stuart saw this fire inside, and became a nourishing source of artistry, and a mentor who guided me in musical shaping, sensitive singing, and above all, the art of communication.
"He never interfered with vocal technique," she continued, "instead relying on inspiring me to achieve the final effect. He peppered each lesson with anecdotes, background information about the song or the aria, character, composer, poet; just about anything to enrich the imagination of the singer and to add background layers to make the ultimate performance multi-hued."
'Emotional scars'
Hamilton was born in Regina, Sask., in 1929, which he described as "a desert" in those days. "I'm still bearing the emotional scars of being brought up in Regina," he told Enright, laughing. "Sorry. Regina's a nice place now, but it wasn't 50 or 60 years ago."
Upon winning a scholarship at a music festival in Regina, Hamilton moved to Toronto to study piano with Alberto Guerrero, Glenn Gould's teacher. Gould and Hamilton were friends for a time. "Glenn was a very charming young man when he was a kid; he became hateful later on," Hamilton reflected with typical candour.
Offstage, Hamilton was known for his wicked sense of humour and devotion to the leather subculture in the gay community, often attending performances and events wearing leather suits and military-style boots. It was a look that sometimes shocked the classical music public.
"I loved the contrast of his passion for the grand world of opera, and sporting leather jackets and pants," reflected soprano Karina Gauvin via email. "This made for such a wonderfully vivid character and a true original."
Gauvin never met Hamilton but he once told CBC Music she possessed "a perfect voice." Upon learning of his death, Gauvin mused: "He was all-consumed with the vocal craft and was a wealth of knowledge in terms of repertoire, famous interpretations and just plain passionate about the art of singing."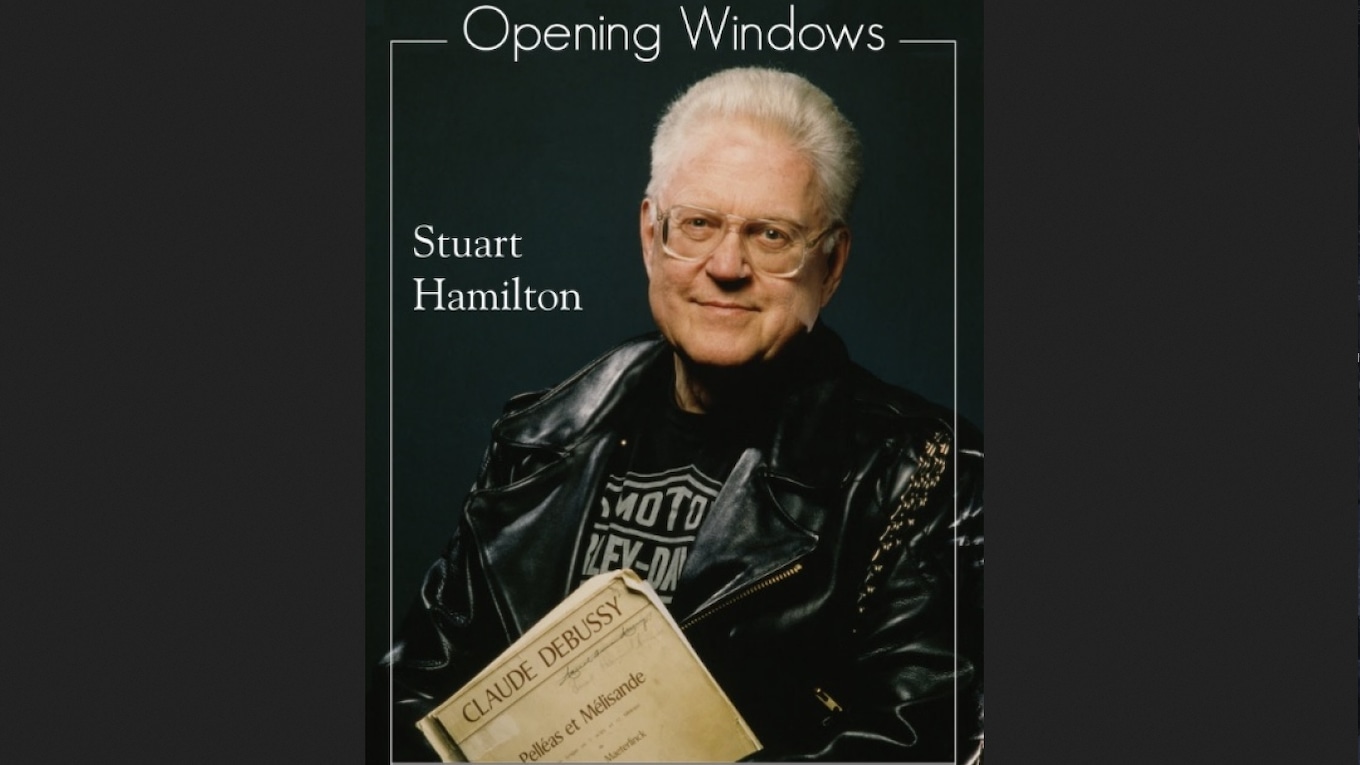 On the cover of his book, 2012's Opening Windows, Hamilton posed in a Harley Davidson T-shirt and leather jacket, holding a score of Debussy's Pelléas et Mélisande. (Dundurn Press)
For a time, Hamilton's association with CBC Radio 2's Saturday Afternoon at the Opera included hosting student opera quizzes, which he would record at university campuses across Canada. "The quizzes were fun," recalls CBC producer Alison Howard, "but I always felt the real heart of these occasions was the masterclasses Stuart gave afterwards. He'd walk into the performance space outfitted in his signature black leather biker jacket and jodhpurs. The eyes of nervous performers popped wide open as they saw him. Then he'd say something funny and I'd see their tight shoulders loosen. Stuart Hamilton, legend in the Canadian vocal music scene, could relax a room like nobody I've ever seen."
Pelléas et Mélisande
Outspoken but never rude, Hamilton made no secret of his predilection for French music. He adored the music of Massenet, Fauré and Debussy, telling anyone who would listen that Pelléas et Mélisande was the best opera ever written.
He was equally frank about his dislike of Rossini.
"My initial repertoire had a lot of coloratura runs, which he called 'all this jiggly music,'" said Bayrakdarian. "Nevertheless, he grudgingly played it ... and couldn't wait to toss it aside — literally — to play other things."
In his final years, Hamilton turned to J.S. Bach, whose sober, intellectual music was on the other end of the classical music spectrum from the lavish operatic repertoire that had been Hamilton's lifelong preoccupation. Of course, he had played piano transcriptions of many Bach arias over his long career, but had never found time to study Bach's keyboard music. To CBC's Enright, he said, "Thanks, Bach. I'm having a good time with you in my old age."
Bayrakdarian confided she and Hamilton were planning on working together this summer to prepare a new role for her, Charlotte from Massenet's Werther. "I will miss him so much and his trademark 'you look and sound like a million bucks, dahling,'" she said, wistfully. "But I know he's now free in every sense of the word, and I'm pretty sure he's already navigated to the French musicians' corner up in heaven, under the watchful eye of Bach."
Tune in to CBC Radio 2's Saturday Afternoon at the Opera on Jan. 7 to hear a tribute to Hamilton.
Here's Hamilton's full interview with Enright, originally broadcast on The Sunday Edition on CBC Radio One on Jan. 6, 2013, following the release of Hamilton's book, Opening Windows:
Take time to listen to this recording of a 1974 recital by soprano Marshall at the National Arts Centre in Ottawa with Hamilton at the piano:
Explore more:
'Exemplary and inspiring': Yannick Nézet-Séguin praises Met conductor James Levine
Montreal International Musical Competition introduces art song category, doubles prize money