CBC Searchlight, CBC Music's nationwide search for the best up-and-coming musicians across Canada returns for its fifth year, in partnership with the Banff Centre for the Arts and Creativty, the National Arts Centre and Canadian Musician magazine. We're accepting submissions now until Feb. 7, 2:59 pm.
As in 2016, the top 4 finalists will vie for the grand prize on a prime-time televised broadcast on the CBC TV network, competing in front of a live audience and the celebrity judges.
With an estimated value of over $46,000, the Searchlight 2017 winner will receive the following Grand Prize package:
The Canadian Musician Career Booster kit which includes a studio session, career mentorship, album duplication, distribution and more from Canadian Musician magazine. For full details on the package, go to Canadian Musician magazine. (an approximate value of $25,000).

A 10-day residency from April 15 to April 24, 2017 at the

Banff Centre for Arts and Creativity

, six days for writing and four days for studio recording. The residency will include: a celebrity mentor selected by the Banff Centre and National Arts Centre (NAC), travel and costs in Banff, return travel to/from Banff, studio time and the services of the Banff faculty recording engineer and studio staff for four days of recording and other possible appearances, public events and conversations during the term of the Residency* (an approximate prize value of $8,750 per artist).

A commission from CBC to write an original song during the Banff Centre Residency under the guidance of the mentor (value: $3,000).

An audio recording of the Commissioned Song produced at and by the Banff Centre.
Banff Centre's "Performance in the Park" in June 2017. The Winner will enter into good faith negotiations with the Banff Centre regarding the terms of such participation and receive an all inclusive fee of $5,000 to cover performance, travel and accommodation.
An opening act slot at the CBCMusic.ca Festival in Toronto in May, 2017 including travel and accommodation.
A live studio performance on CBC Radio One's q radio show.
An audio recording and audio/video recording of the performance at the CBCMusic.ca Festival, produced by CBC.
In addition to this, each of the national semi-finalist winners will also win the following:
A commission from the National Arts Centre for each of the four national semi-finalists to perform a new song at the NAC theatre in Ottawa on July 2, 2017, as part of the NAC "Canada Scene" program's celebratory Canada Day weekend. Commission includes artists fees, travel, accommodation, per diem, production expenses and marketing (value: approximately $4,500 per artist/band member.)
Submissions are now open at cbcmusic.ca/searchlight. The deadline to enter is Feb. 7, so get your entries ready to go.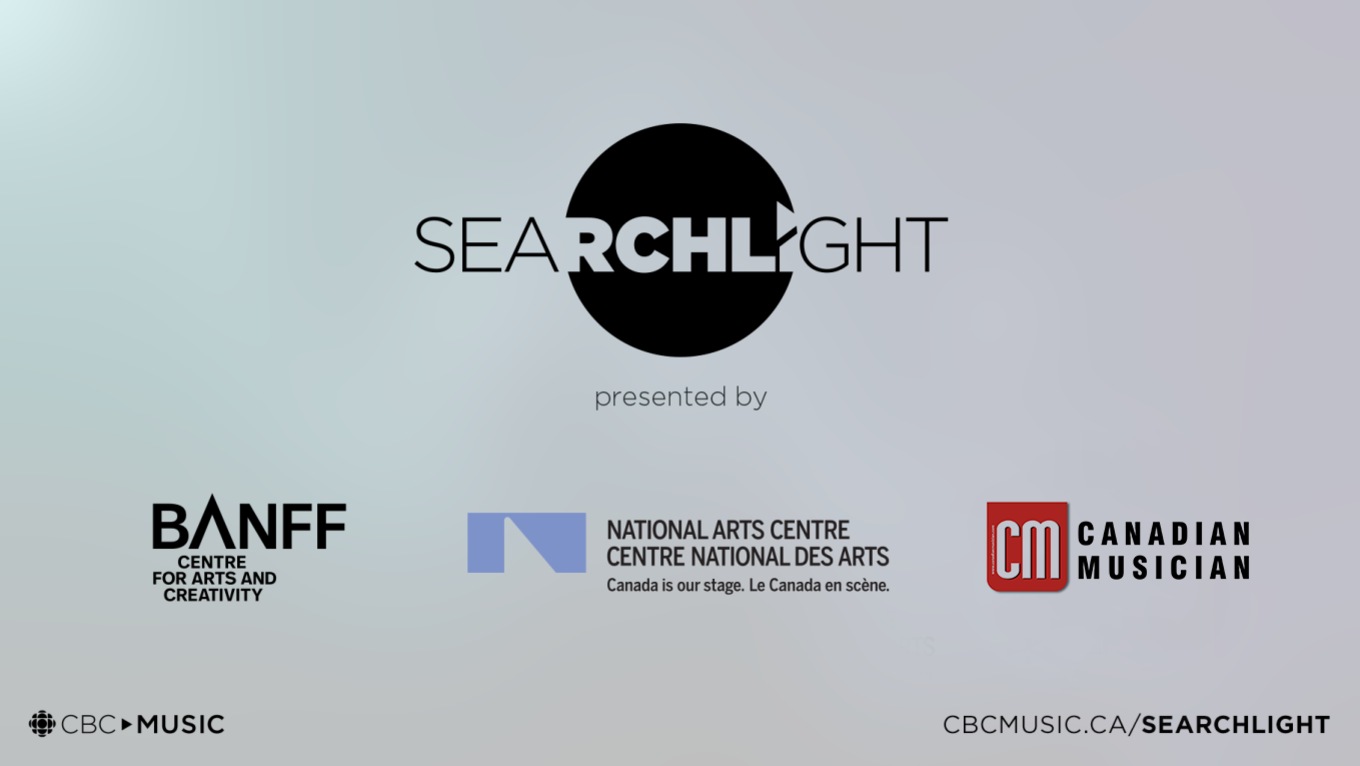 *As may be required. See the rules and regulations for details on complete, final prizing and other winner obligations.