This First Play Live session with Mother Mother was an experience that 30 fans of the popular Vancouver indie-pop band won't soon forget. The audience had the chance to hear a set of songs performed live for the very first time right in the band's vibey rehearsal space, where preparation for a 26-date Canadian tour and the Feb. 10 release of Mother Mother's sixth studio album, No Culture, was underway.
CBC Music caught up with two members of the band to find out about some of the influences on the new songs, and how Mother Mother takes the music from the recording studio to the road.
What's different about playing the new songs live compared to the process of creating them in the studio?
Ryan Guldemond: Initially there's a decoding of the record that you have to figure out. When you make a record you don't really care about how you're going to play it live. You just want to make it amazing. You pull from the library of sounds and technology just to make the idea translate and you worry about converting that to live music later. And that's the space we're in. There's been a bit of brain busting and having to paraphrase the ideas born in the studio.
How has that changed over the course of your six albums?
Ryan: The earlier songs felt harder to wrangle, but these breathe a bit more, they're a bit more open and we're just able to fall into them.
Some of the songs, in particular "The Drugs," "Free," and "Baby Boy" talk about addictions. What was happening in your life while writing the album?
Ryan: It was written in a really transitional time for me. What was a really personal thing bled a really relatable album. The shift that I made was from using drugs and alcohol to sobriety. It was fascinating to realize how much you drew from external tools to feel confident or to feel like you had mojo or charisma or sex appeal. All sorts of silly things. And then when you feel like you don't possess them anymore, and worse than that you never actually produce them by yourself, you can feel a bit sheepish in your own skin. So that's what I was going through but the blessing was it was a path to more clarity and truth, but also a path to more honest songwriting, and a more honest record.
Molly, you're Ryan's sister and you've been in Mother Mother from the very beginning. What kinds of changes have you seen in your little brother?
Molly Guldemond: I've seen a huge change in Ryan since his change of path. Just in our relationship I feel like we are more connected and I see him, I dunno, his true self come through, his essence, which is so good and pure and enjoyable to be around.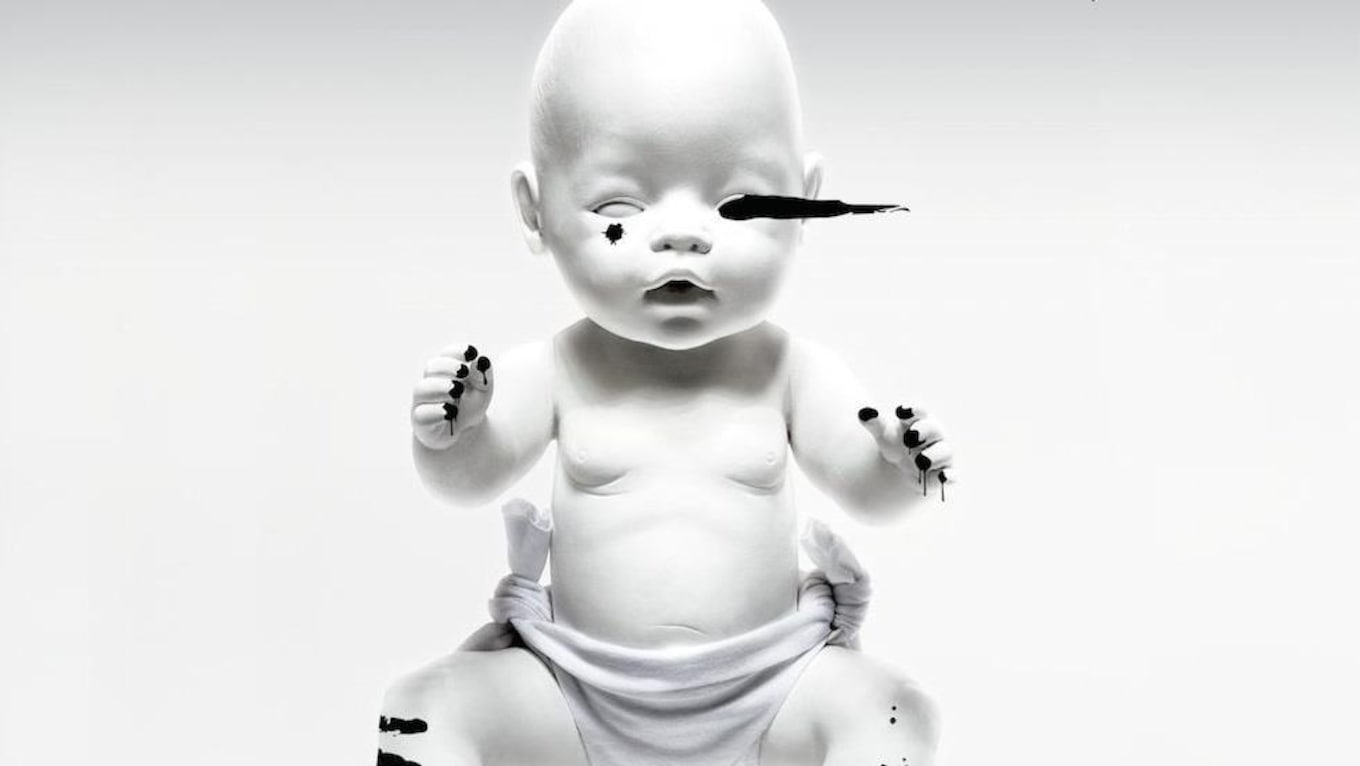 Cover art for No Culture. (Universal Music)
You've done the cover art for all of the Mother Mother albums. Tell me about this one for No Culture.
Molly: The cover of the album is of a baby. It's painted white on a white background and I came to this by thinking about No Culture and the idea behind it. It's the idea that we all start out life with no external noise in our heads. We're pure; we're ourselves, maybe the only time we are ourselves. So that's something I wanted to portray with this baby, which interestingly I found at a thrift store. And when I found it, it was covered in crayon and marker and dirt and it was almost a spiritual experience taking this little baby doll, washing it off, painting it white and giving it a new life and a new beginning and [it]could be anything. It was like I was washing you Ryan [laughs], which is kind of gross, but hey [laughs from both Molly and Ryan].
Mother Mother's cross-Canada tour kicks off in Moncton on Feb. 23 and includes a show at Toronto's historic Massey Hall on March 11, with five nights for the hometown crowd at Vancouver's Commodore Ballroom starting March 25.
If you can't wait for Mother Mother to hit your town, then check out these six videos below recorded exclusively for CBC Music.