After much anticipation, Drake's long-awaited release, More Life, is here.
The 22-song playlist debuted over the weekend via OVO Sound on Beats 1, and comes after a string of releases and cameos from the Canadian rapper in the past few months. He's been featured in songs including Nicki Minaj's "No Frauds," Future's "Used to This" and Gucci Mane's "Both."
Earlier this year, in an interview with Billboard, Nineteen85 — one of the producers involved with More Life — revealed the idea behind Drake's project: "More Life is interesting because this is [Drake] right on the peak of his biggest project yet [with Views], doing his biggest tour and still having so many good ideas that he just wants to put out without making it a big ordeal."
"That's why he's trying to call it a playlist because he has a bunch of people in a space, hanging out…. He's so aware of what everybody else is doing musically that he likes to introduce new music and new artists to the rest of the world," he continued.
Below, five key things we learned from Drake's playlist.
1. He's still jealous, boastful and paranoid
On More Life,Drake seems to be into the same topics of conversation. On "Nothings Into Something," Drake continues to try and stake a claim on an ex: "Did I just read that you got engaged on me?/ I heard from your friend you couldn't even tell me." On "Gyalchester," he evaluates where he stands in the rap league: "I know I said I'm top five, but I'm top two." And finally, on leading single "Fake Love," Drake reveals his suspicion of people using him for his fame: "They smile in my face/ whole time they wanna take my place."
2. But he takes time to let other artists shine
Throughout More Life, Drake introduces us to new artists, and works with ones we already love. New faces include U.K. rappers Skepta and Giggs, as well as Jorja Smith, and familliar ones like Young Thug and Kanye West — and Drake lets them take the spotlight. For instance, "Get It Together" focuses solely on Smith's voice with just a sprinkle of Drake, rather than the other way around. The same can be said for "Sacrifices," where 2 Chainz and Young Thug's raps are at the forefront. Drake also gives a nod to Toronto Youtubers 4YallEntertainment on the closing track of "Madiba Riddim." He uses audio from their video "T-Dot Goon Scrap DVD!" — a parody that lightheartedly pokes fun at common Toronto slang.
3. No one has a pulse on new music quite like Drake
Not only does Drake collaborate with some of Britain's finest (Skepta, Giggs and Sampha) on More Life, but he also works with Black Coffee, a South African producer and DJ. On More Life's "Get it Together," Black Coffee reworks and adds flavour to his original track, "Superman." In an interview with East Coast Radio's Phat Joe, Black Coffee talks about the collaboration with Drake: "People had mixed feelings, like, 'Why would you give someone else your song? It is your song! Why are you letting them shine on the song?' But my understanding is different. I would love for our music to be exported on that level."
Literally in tears 🙏🏿🙏🏿🙏🏿🙏🏿🙏🏿 pic.twitter.com/2LAdUtuPFc

— #PIECESOFME (@RealBlackCoffee) March 18, 2017
4. Drake's mom steers him in the right direction
Back in 2015, rapper Meek Mill accused Drake on Twitter of using ghostwriters. Some friends from Drake's camp, including Noah "40" Shebib, replied to Mill's tweets, refuting the claims. Drake then dropped "Charged Up," a song that talks about Mill. Four days later Drake followed up with "Back to Back," a diss track in which he references Nicki Minaj's tour, where Mill was showing up live: "Is that a world tour or your girl's tour?"
But on More Life, we see Drake trying to shake that bitterness. Toward the end of "Can't Have Everything," Drake's mom, Sandi Graham, reminds her son of what's important and to stay clear of negative energy. "You know, hon, I'm a bit concerned about this negative tone that I'm hearing in your voice these days. And I can appreciate where your uncertainty stems from, and you have reason to question your anxieties and how disillusioned you feel as well, feeling skeptical about who you believe you can trust. But that attitude will just hold you back in life," she says. Graham then concludes her message by quoting former First Lady Michelle Obama: "When others go low, we go high."
And on "Do Not Disturb," Drake owns up to how he felt at the time: "I was an angry youth when I was writin' Views/ saw a side of myself that I just never knew."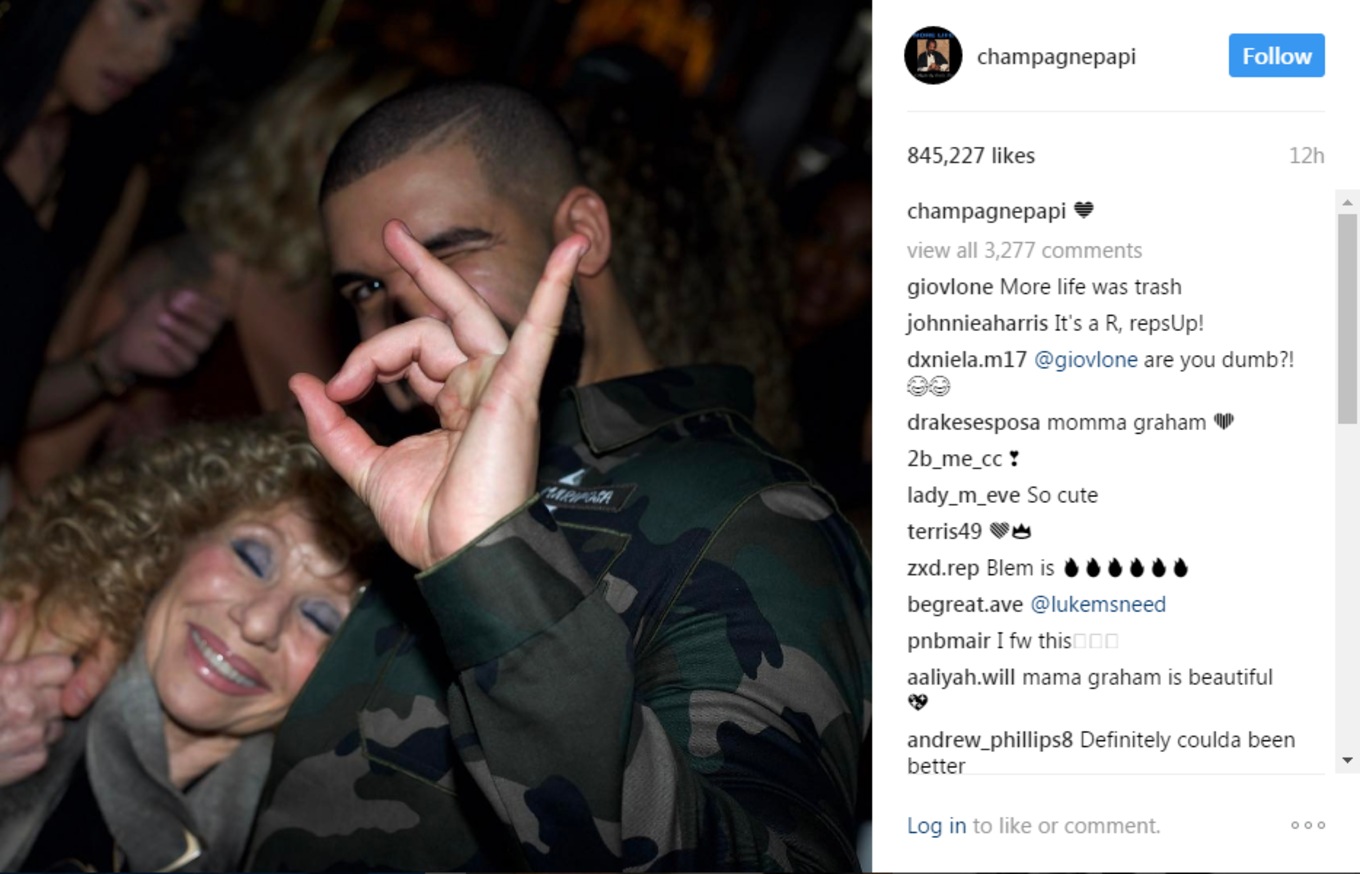 5. He's taking a short break
Also on "Do Not Disburb," the closing track of More Life, Drake raps that he needs a short break from music to recuperate and centre his thoughts on what really matters: "My life is set around competition and currency/ takin' summer off, 'cause they tell me I need recovery/ maybe gettin' back to my regular life will humble me/ I'll be back in 2018 to give you the summary/ more life."
More to explore:
From Rihanna to Madonna: 5 hit songs that sample Canadian classics
Spring ahead: 2017's best songs to make up for the hour you lost