As the story goes, Nelly Furtado, a young, aspiring musician gets her first big break after auditioning to be part of Toronto's Honey Jam showcase, happening Sunday, June 8, 1997. During the show, each act gets enough time for just one song, but Furtado's performance is so singular that it catches the ears of two people in the audience who are able to change her life.
Jarvis Church (a.k.a. Gerald Eaton, producer and former frontman of the Philosopher Kings) and his manager, Chris Smith, are watching and completely blown away by what they hear. Furtado is signed and they go on to release her Grammy Award-winning debut, Whoa Nelly!, produced by Church and fellow Kings member Brian West.
Now, 20 years later, we asked Furtado, Church and others to retell the story of that fateful night.
---
Nelly Furtado: That was a magical night. I had auditioned to be a part of the Honey Jam showcase in Toronto and I very clearly remember my outfit that I was going to wear, and getting on the subway, getting to Lee's Palace — I kind of had the eye of the tiger. It was the biggest thing that had happened to me. And wow, I got to meet a real famous person there: Jarvis Church, formerly known as Gerald Eaton of the Philosopher Kings.
Jarvis Church: Nelly did an original song that was kind of like drum and bass and she was singing along to a tape and she just had her eyes closed and was very still, but she had a sincerity to her voice that grabbed me.
Ebonnie Rowe (Honey Jam founder): At that time, Honey Jam was really an all-urban show. That's how we started, just very focused on hip-hop and everyone was black. So Nelly really stood out because she was, for one, not black, but she was also very tiny and her style of music was more eclectic. It wasn't hip-hop, it wasn't R&B, it was this interesting fusion.
Furtado: I sang a song called "Like," which is a song I had with my group at the time called Nelstar, a trip-hop kind of band. Previously I'd only really performed at Cameron House, and I just got up there and sang that song. It was kind of moody, kind of trip-hop alternative kind of vibe. I was probably the only trip-hop performer there. It was mostly rappers and R&B singers that night.
Rowe: At the beginning of her performance, everyone was talking, but then once they heard her voice, you could hear a pin drop. She had everyone's attention.
Furtado: We only get three minutes each. At the time, the urban scene in Toronto was growing, I would say. So those seeds were bubbling, growing and there was a tinge in the air because, obviously, the dance and the rave scene was popular, but from the U.K. there were always these really cool trip-hop performances coming to town, and of course hip-hop and R&B. So when I got up onstage I captured the essence of some type of shift or change, something new that was in the air. Maybe there was a uniqueness to that somehow.
"At the beginning of her performance, everyone was talking, but then once they heard her voice, you could hear a pin drop."
Church: I remember afterwards I was really taken, walked up to her and said, "Hey, let's make music together." She said sure [laughs].
Furtado: My [future] manager, Chris Smith, was so smart because he had Gerald [Jarvis Church] with him, because I didn't know Chris's face, but I knew Gerald's. So he said, wow that was really good and I just want you to meet my manager, Chris. We exchanged phone numbers and I got to jam with Gerald a few weeks later.
Church: That was it for me. There was nobody else that I was moved into action by.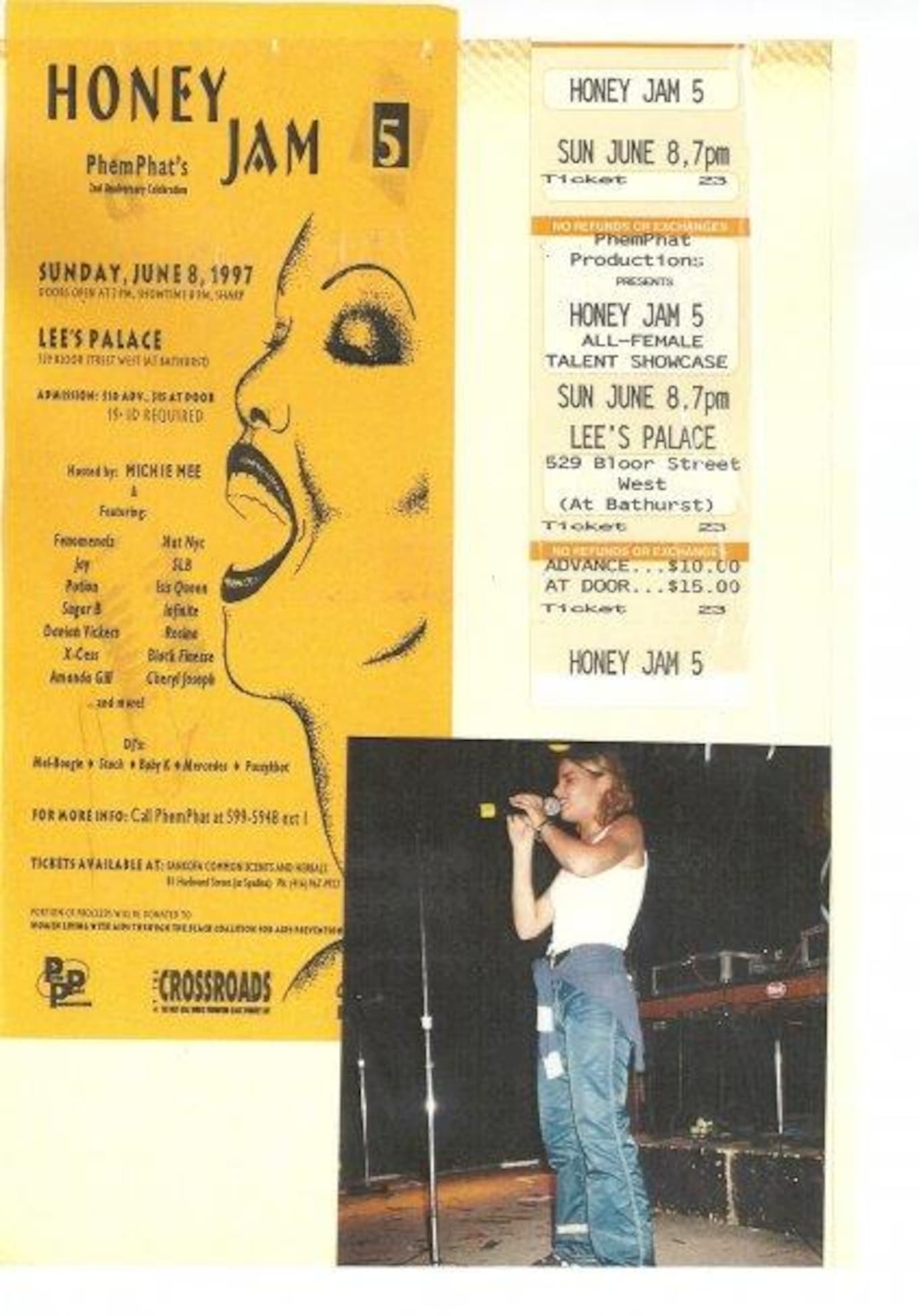 (A flyer, ticket stub and photo from Honey Jam 1997, Courtesy Ebonnie Rowe)
Chris Smith: Rose [Rosina Kazi], an intern [at BMG] at the time said, "Hey, there's a girl called Nelstar." Rose was persistent about Nelly and her persistence finally paid off — she said she was going to perform at the Honey Jam. As I was going to see Nelly, I invited Jarvis along to check out some new talent. So I didn't discover her randomly — I was tipped off by Rose, who's in the group Lal. That's the story. (Source)
Rowe: In the urban world 20 years ago, it was very much a boys' club. There weren't really any other female promoters in that genre. The guys all hooked each other up with guest lists at their shows and this sort of thing. For me, I'm doing one show a year, which I was financing myself, and Chris Smith had come down earlier in the day during the soundcheck to tell me that he was bringing all these people to the show, basically letting me know to put them on the list. I wasn't feeling well, I'm busy, I'm stressed, and he comes down to inform me of this? So I was like, "Ya but, no [laughs]. There is no list. This is what the costs are for the tickets and you can get them at the box office." He was really angry, but he had to buy the tickets because he already told all his boys that it's a done deal. It turned very bountiful for him though because he found a star that night that contributed to the enormous success of Chris Smith Management, the house that Nelly Furtado built. And it turned out great for us because she has always remembered and supported us all these years and helped to give opportunities to other young women in the program. We're so proud of her.
Furtado: It was really fantastic and special that I got to meet them. That's how I got started. I definitely got discovered there, and Gerald discovered me.
Follow Jesse Kinos-Goodin on Twitter: @JesseKG