Find out who won at the 2017 Junos right here.
There are so many things going on this weekend in Ottawa for the Junos that it's impossible to keep up. We've got you covered, though: our team is venue-hopping all over the city, from the q live taping to the Ottawa Gallery's Art is Art exhibition to the Strombo party in Hull to the awards gala — we're on it.
Scroll down for the highlights of the weekend so far, and check back often for updates. Head to CBCMusic.ca/junos to get full coverage of the nominees and winners.
---
We kicked off Thursday with q's live taping at the Bronson Centre, which was packed. A long (and very polite) lineup to start.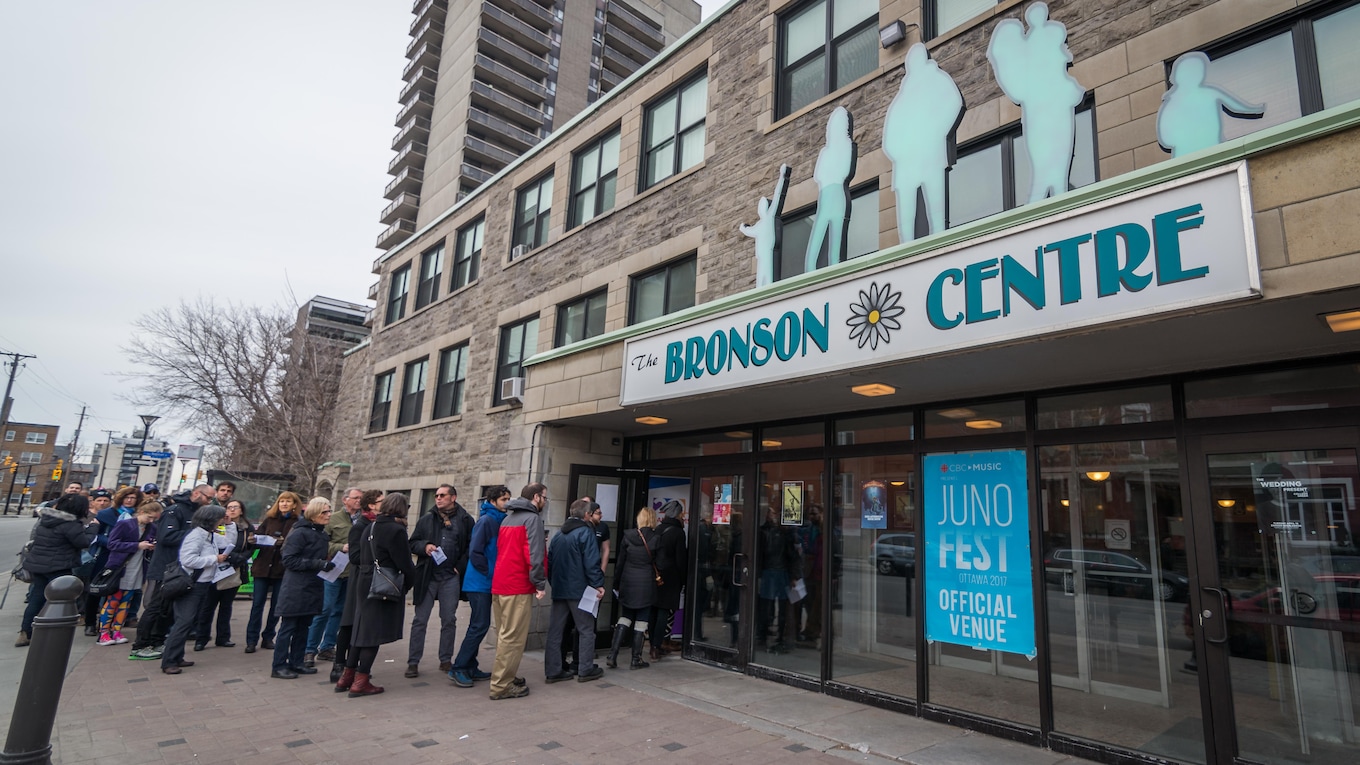 Buffy Sainte-Marie got two standing ovations at the show, where she chatted about building a career on love songs as well as protest songs, and what being blacklisted in the States did to her career.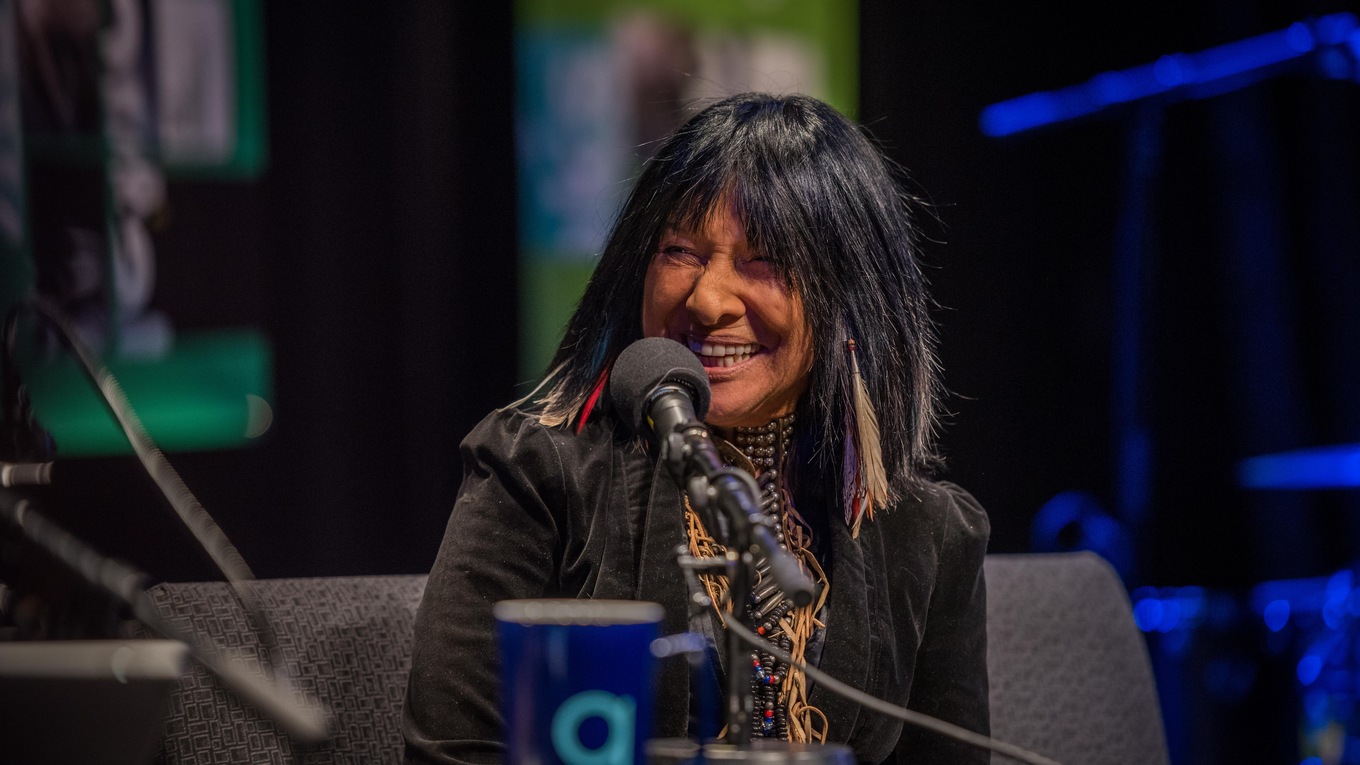 Yassin Alsalman, a.k.a. Narcy, talked about his Juno-nominated video for A Tribe Called Red, and what the Halluci Nation means to him.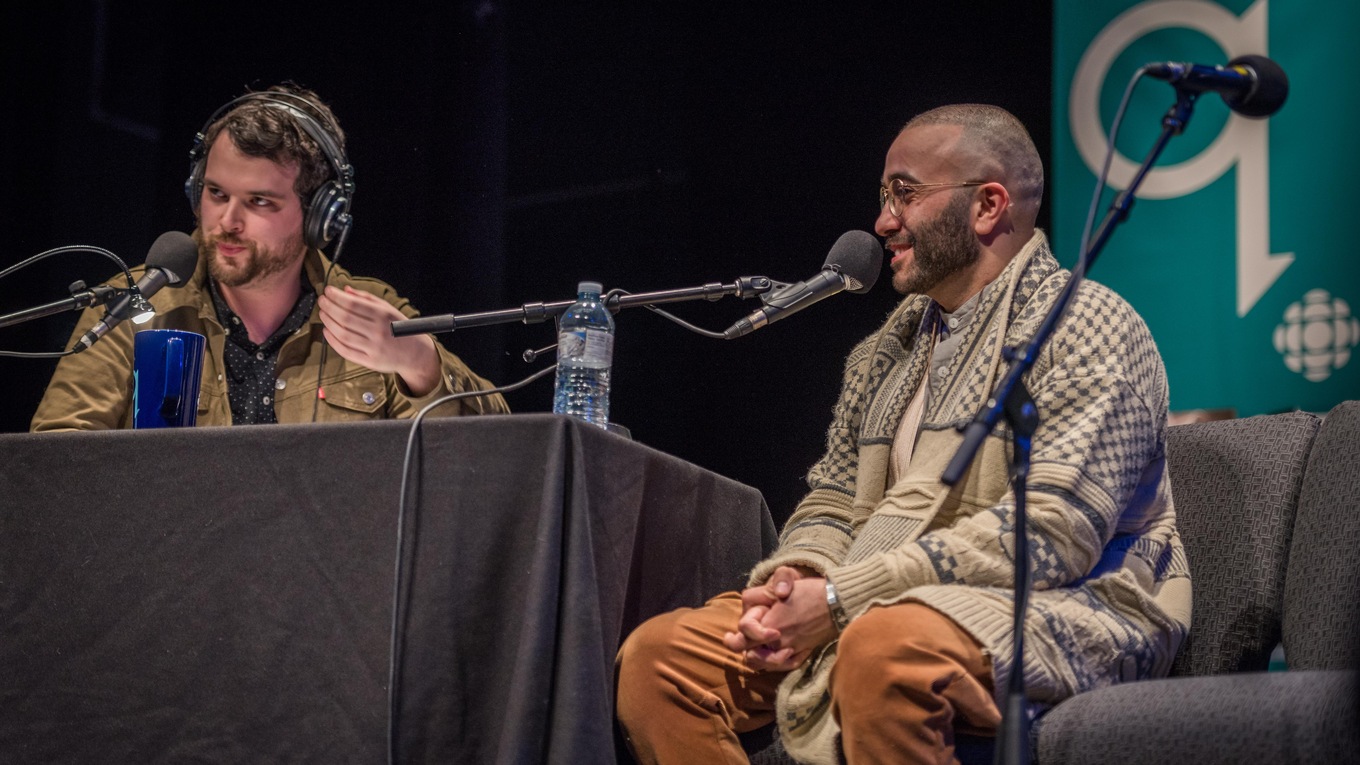 On Thursday we stopped by the Ottawa Art Gallery's Art is Art exhibit, with works created by Juno Award-winning artists displayed alongside a Juno Awards photography exhibit — including a piece from the late Leonard Cohen.
Here is a photo of Alanis Morissette, taken by Barry Roden, from 1992.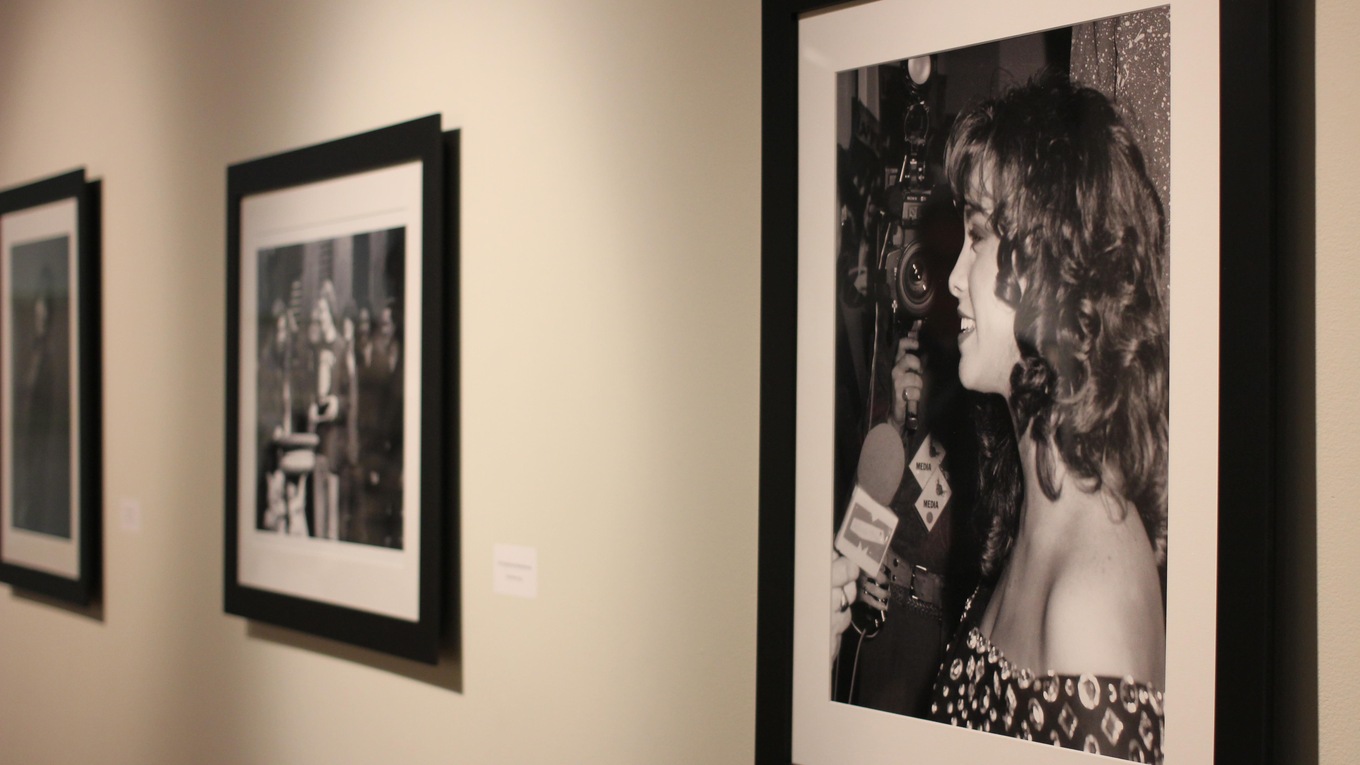 Arkells announced a secret pop-up show for q mid-morning on Friday, and they packed Live! on Elgin until there was barely room for frontman Max Kerman to bounce around during the nearly hour-long set.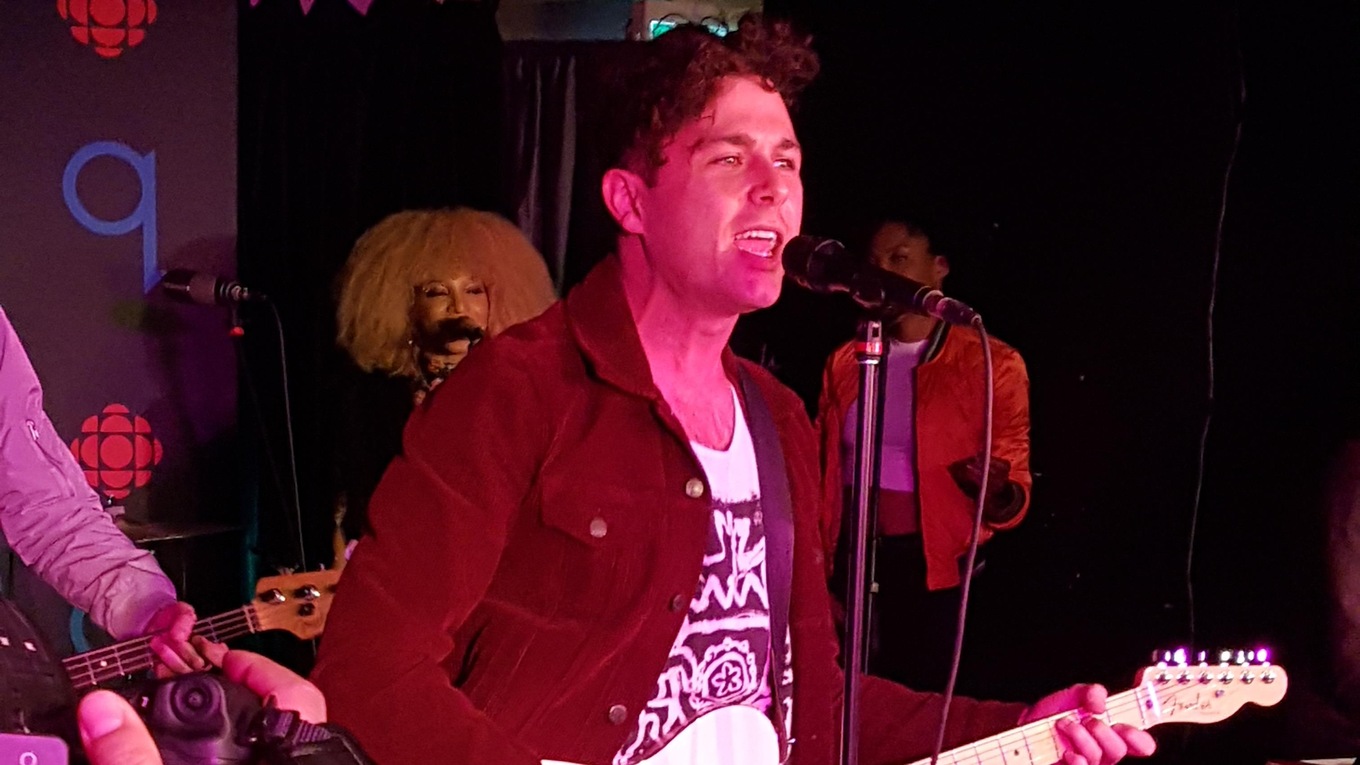 Musicians and NHL players teamed up against each other again for the Juno Cup, to raise money for MusiCounts. Talking to Andy Shauf on the red carpet during the awards Sunday night, the infrequent skater said he was still sore from the game. Spoiler alert: the career hockey players won.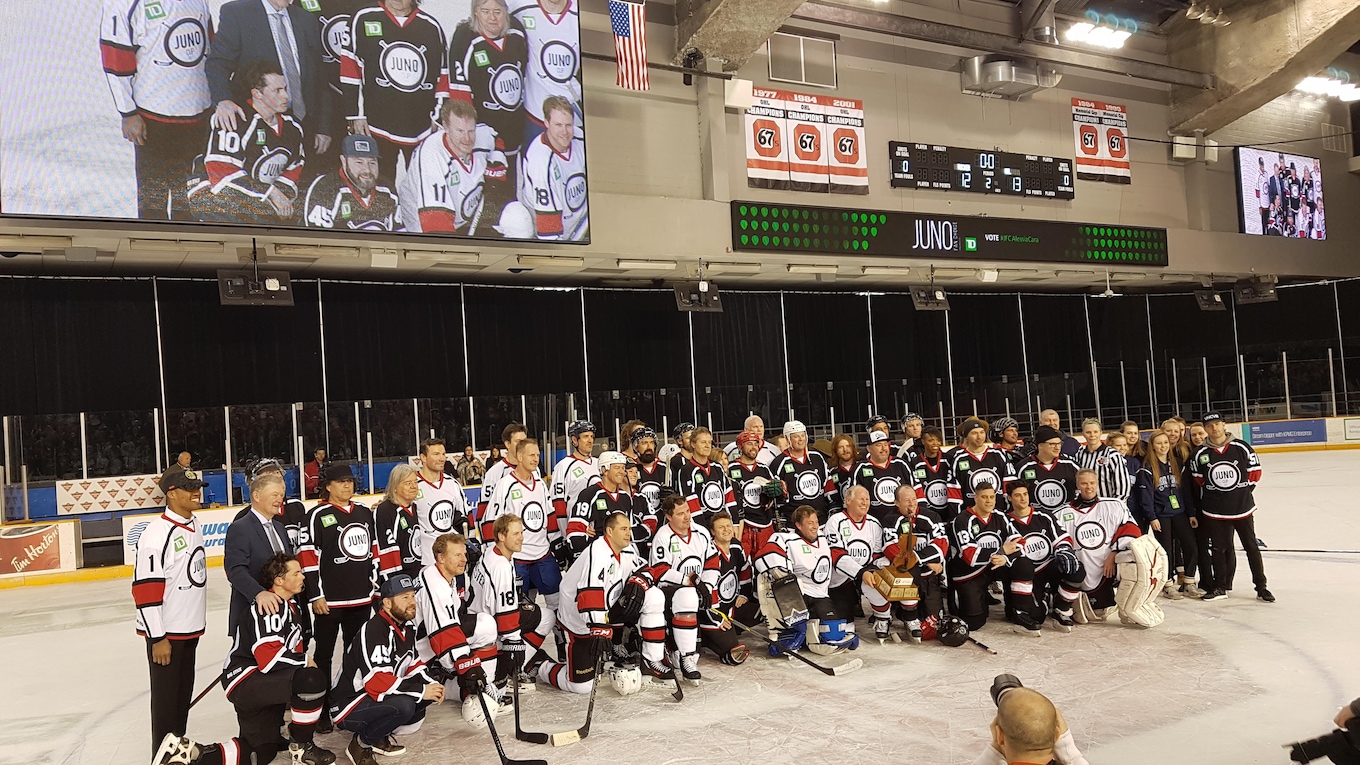 Later that night, we squeezed into the packed Outlaws and Gunslingers show at St. Brigid's Centre for the Arts, where we just caught the powerhouse vocals of Gabrielle Shonk closing her set with local house band Silver Creek.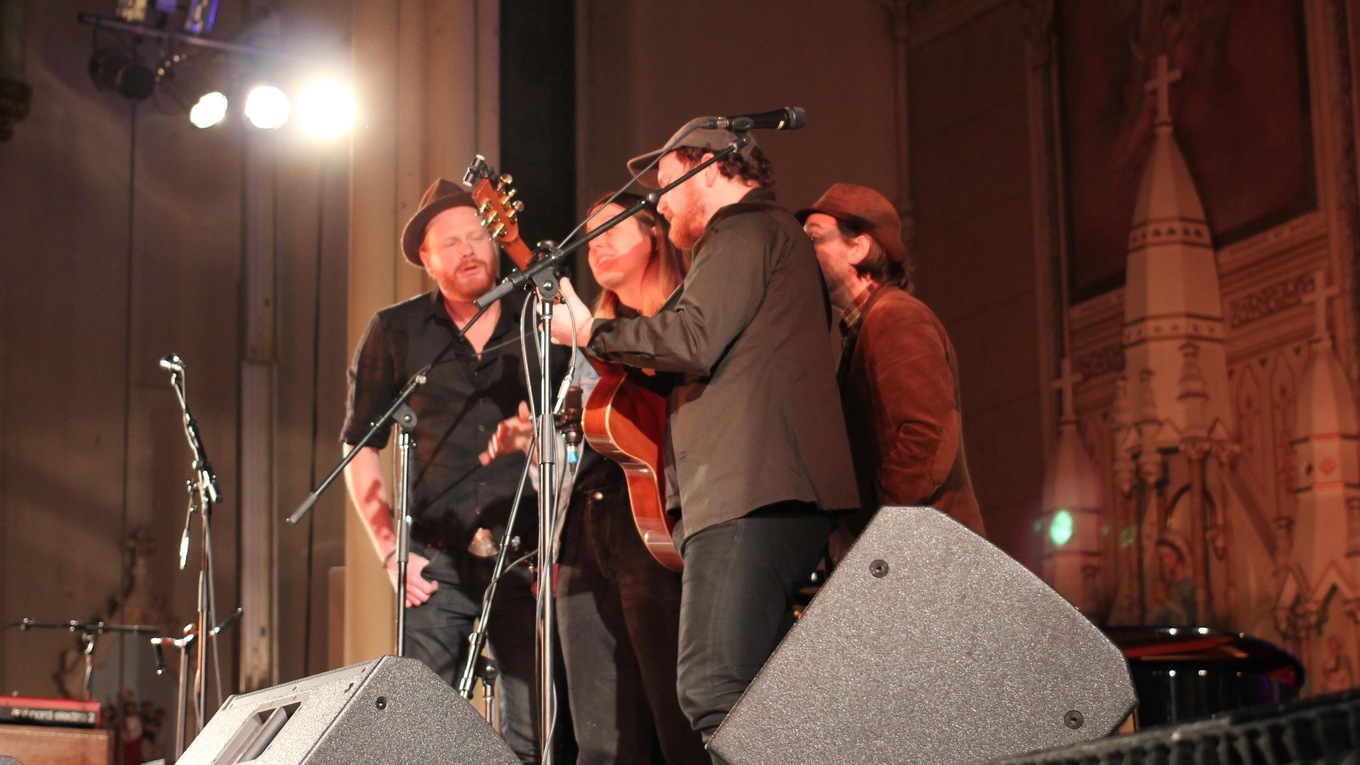 Crystal Shawanda also blew the church away.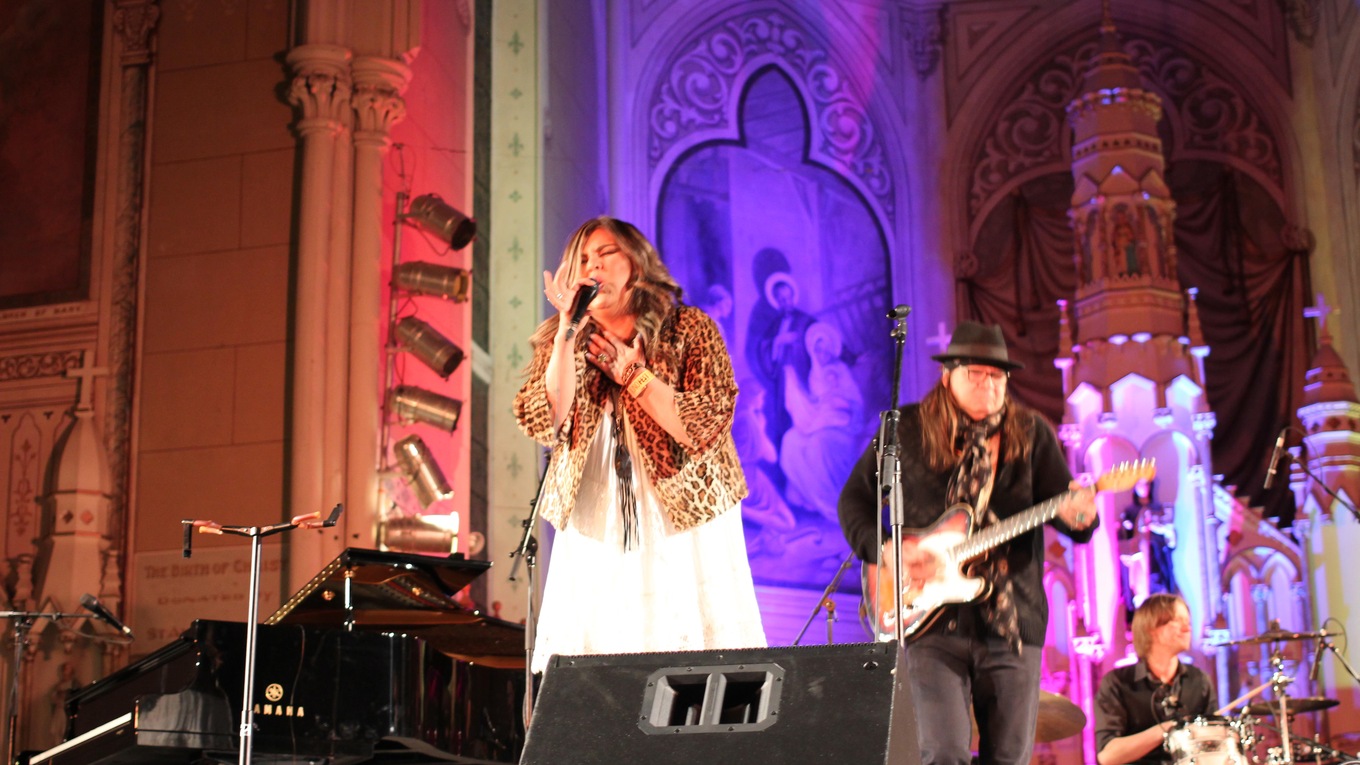 And Ottawa's own Kelly Prescott sang to an ecstatic hometown crowd.
Next stop was George Stroumboulopoulos's Playlist Live show at Zibi in Hull, where artists like Fred Penner, the Tenors and Sam Roberts played some of their own songs plus their favourite Canadian ones. Blue Rodeo's Jim Cuddy covered "Bobcaygeon," and there wasn't a dry eye in the house.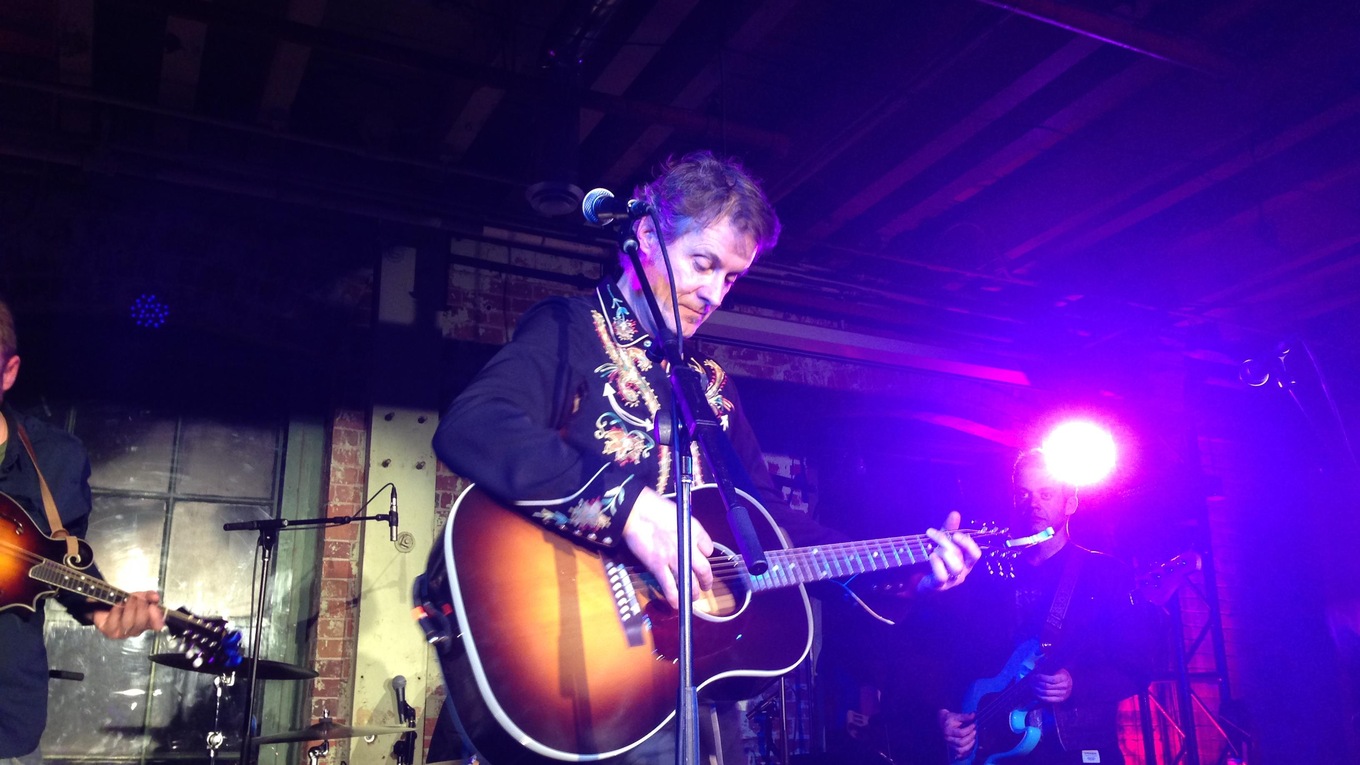 Kathleen Edwards played her own song "Change the Sheets," followed by Joni Mitchell's "Raised on Robbery."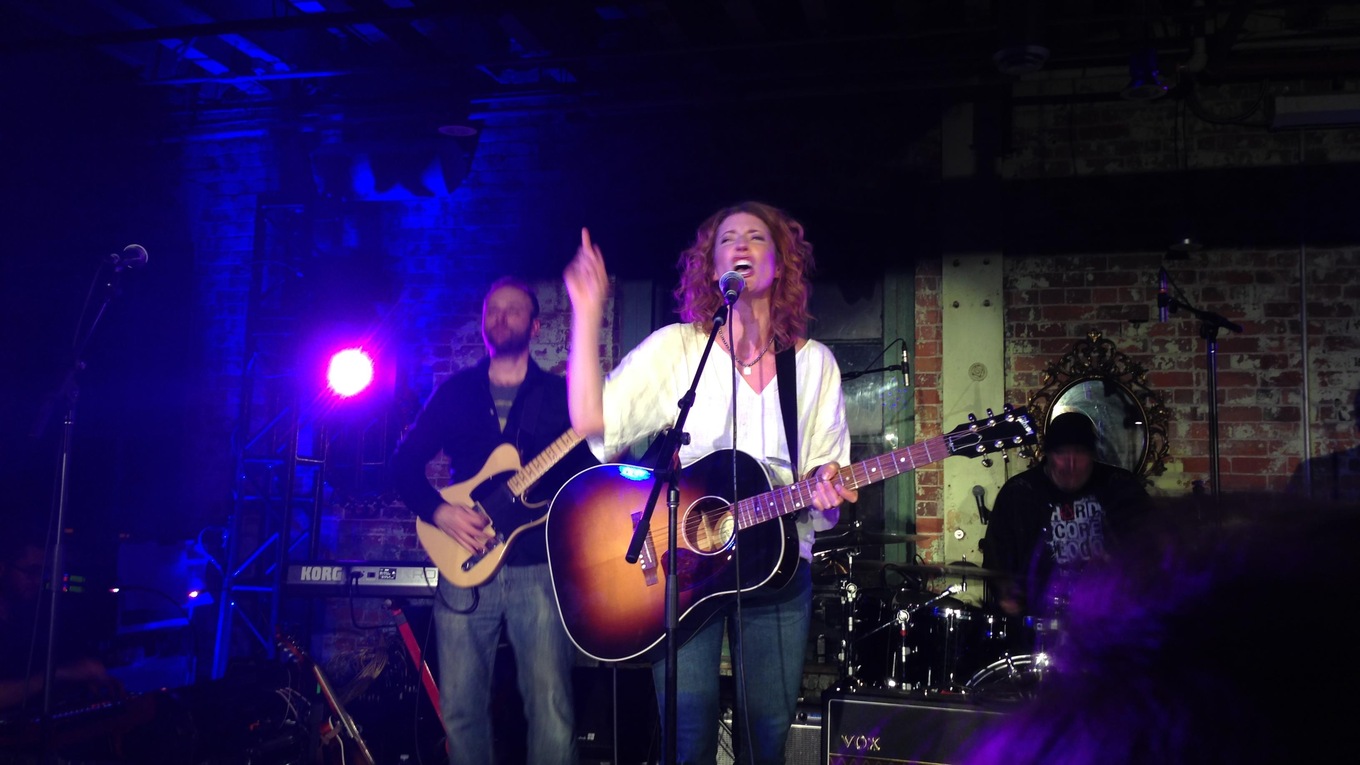 And Tanika Charles stole everyone's dancing hearts with her own track, "Soul Run."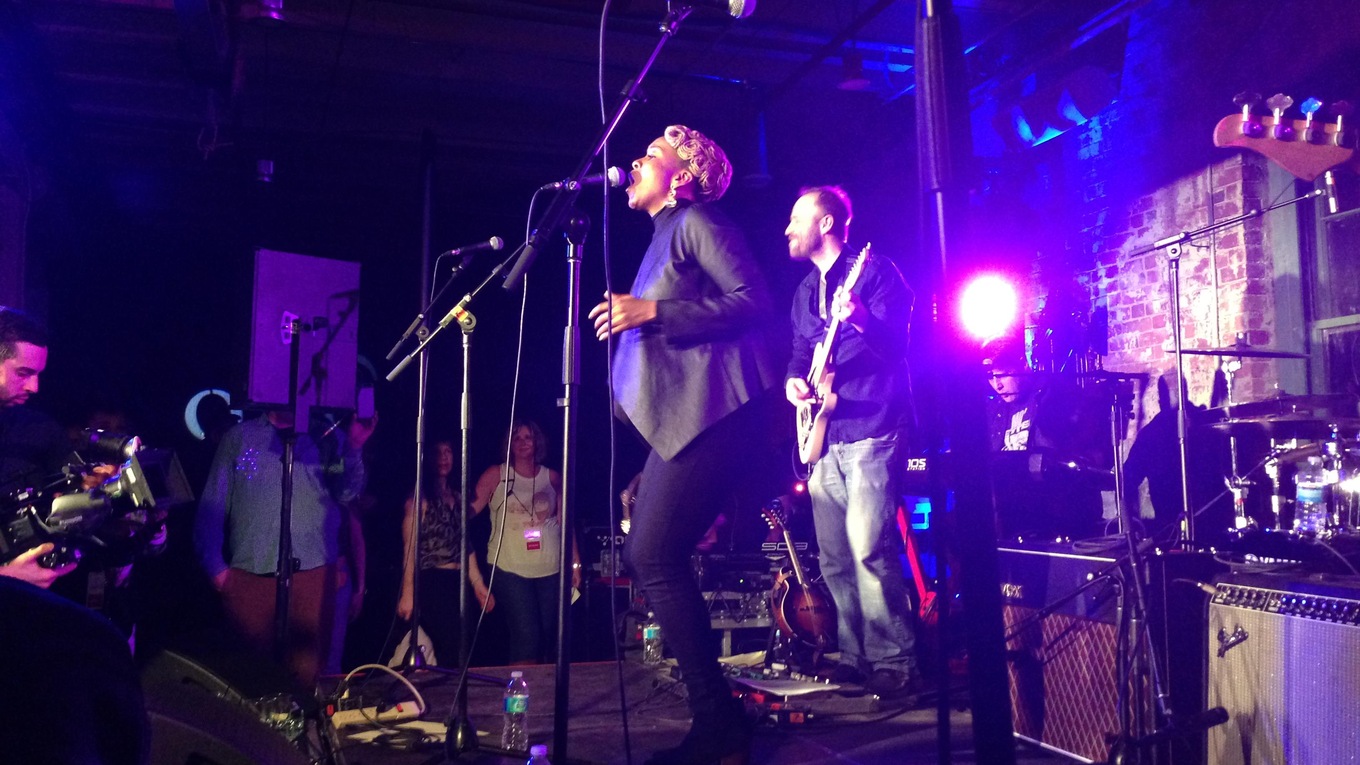 On Saturday, fans packed the Rideau Centre to meet some of their favourite artists. Here, the Strumbellas start their autograph line.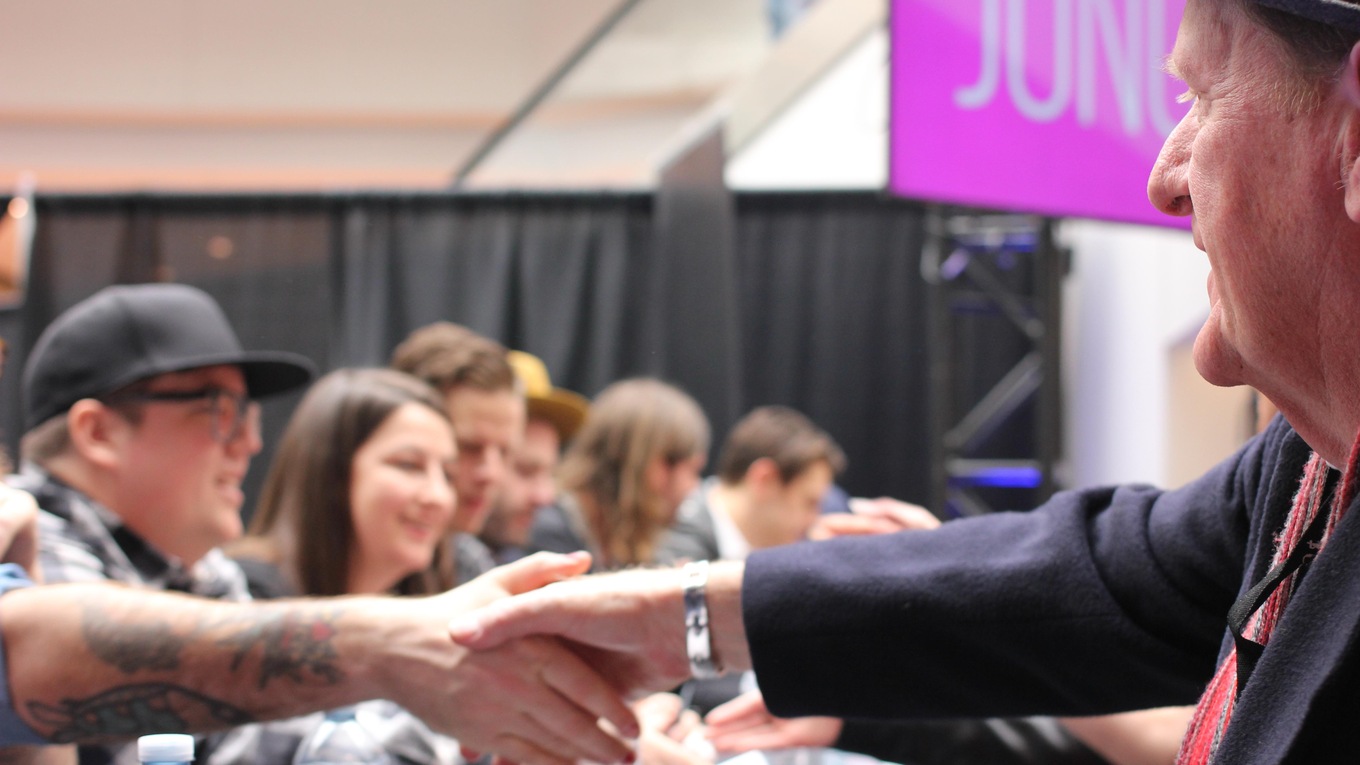 Max Kerman of Arkells gets up to greet one of the first fans in line.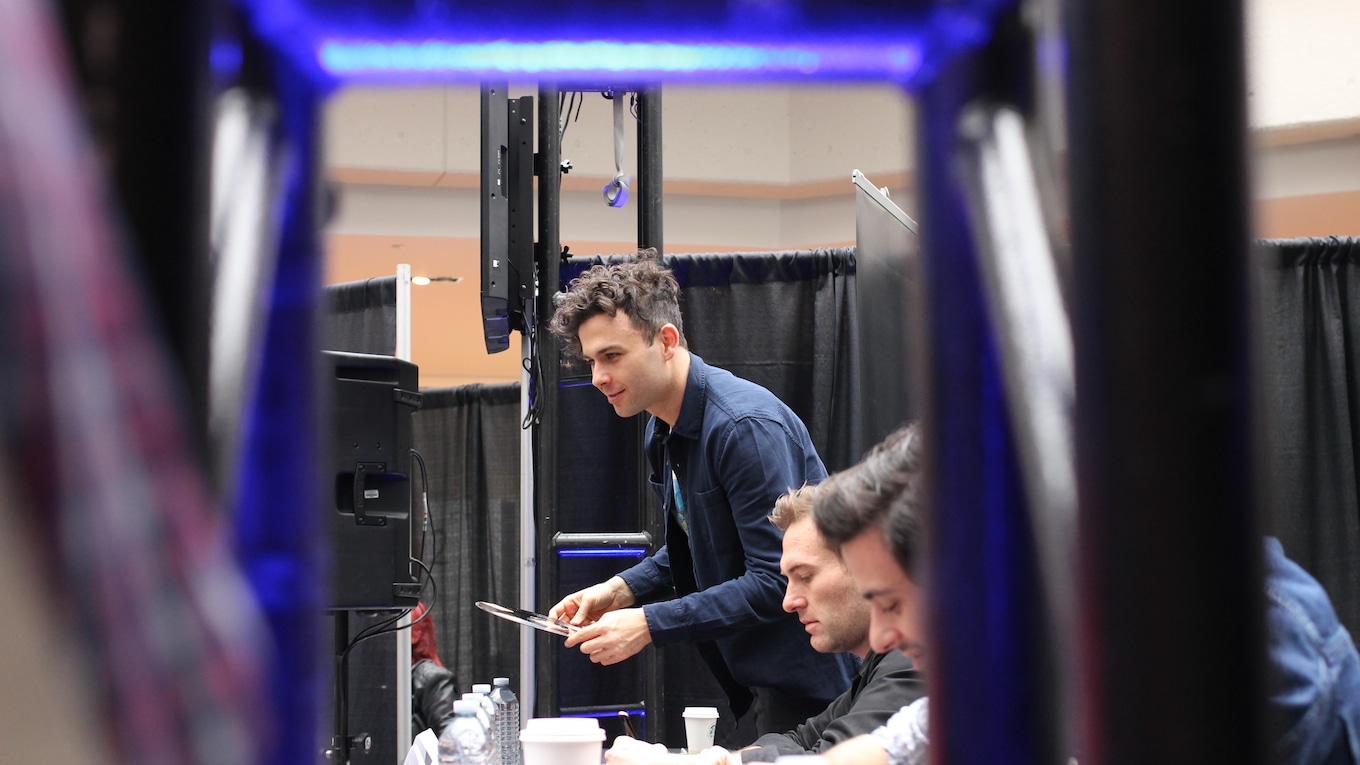 July Talk's Peter Dreimanis and Leah Fay (far right) were also at the meet-and-greet.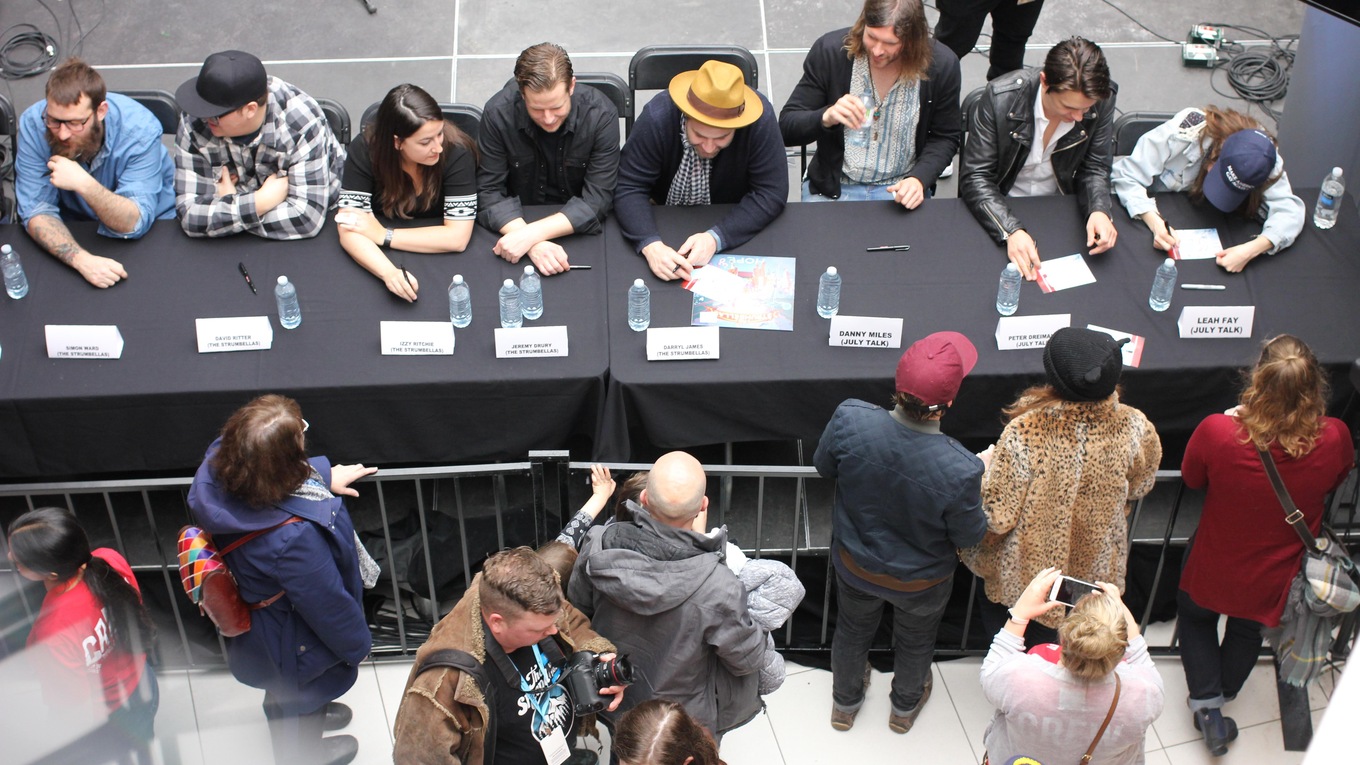 Saturday night was the Junos gala dinner, where 34 awards were given out over four hours. Tom Power hosted, and there were some good little nuggets in what was a bit of a long evening.
Kaytranada followed up his 2016 Polaris Music Prize win with the first award of the night: electronic album of the year. Backstage, he talked about upcoming work with Mary J. Blige and Erykah Badu — "It's up to her to just do something with the beats. She Facetimed me though, so it was awesome" — and where he wants to take his music.
I don't know where I wanna take [my music]. I really wanna be everywhere in some ways, to just keep on making music and whoever likes the type of music I'm making, whatever fans are still listening to my music, I still want that to grow more and more and more. Because I see that from the comments I get, a lot of people from a lot of generations love [99.9%], so that was the thing I was aiming for, to do. To attract a lot of generations of people.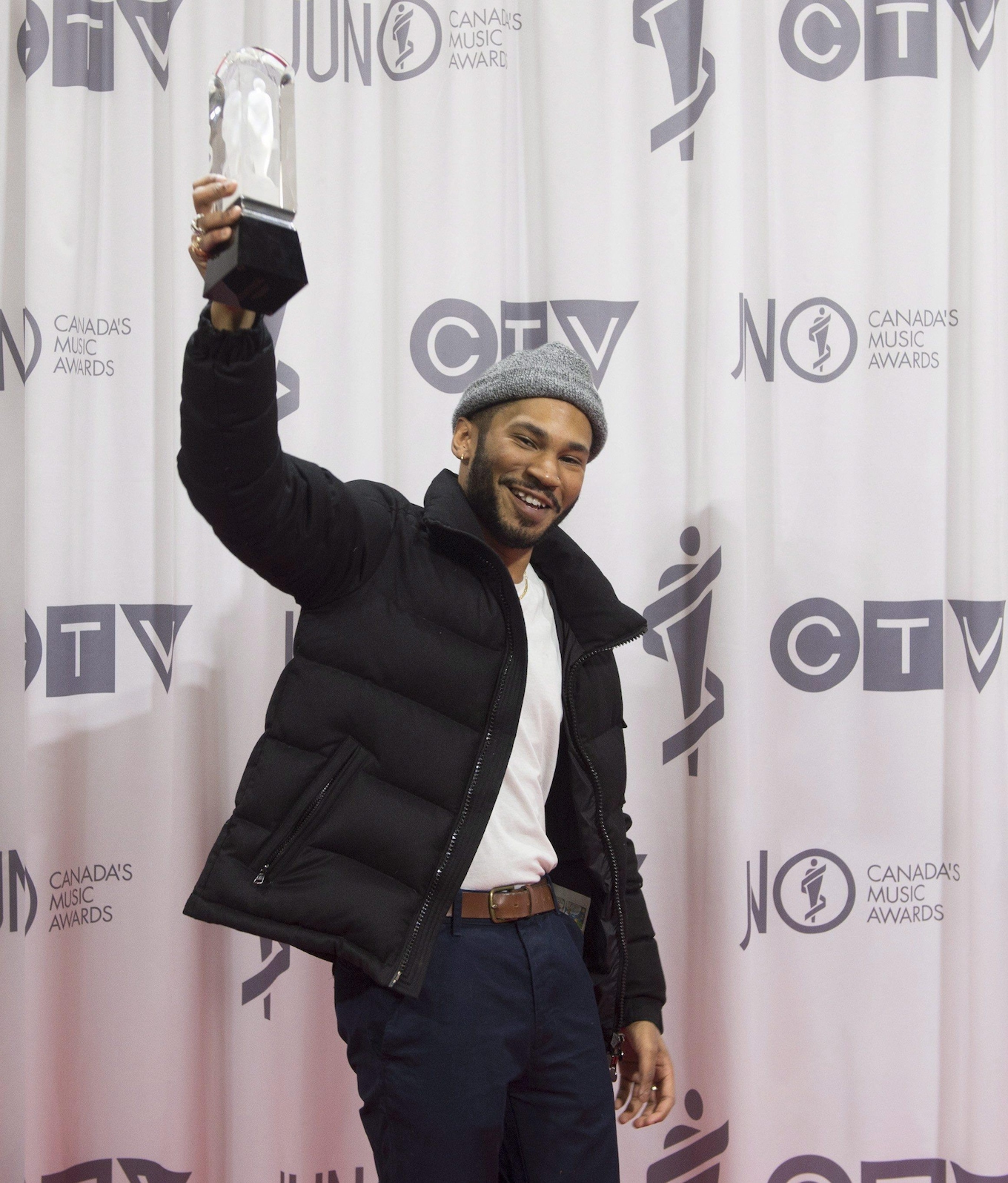 Laurence Nerbonne, who won for francophone recording of the year, came backstage after winning and said, "Toutes les petites filles can be producers, too."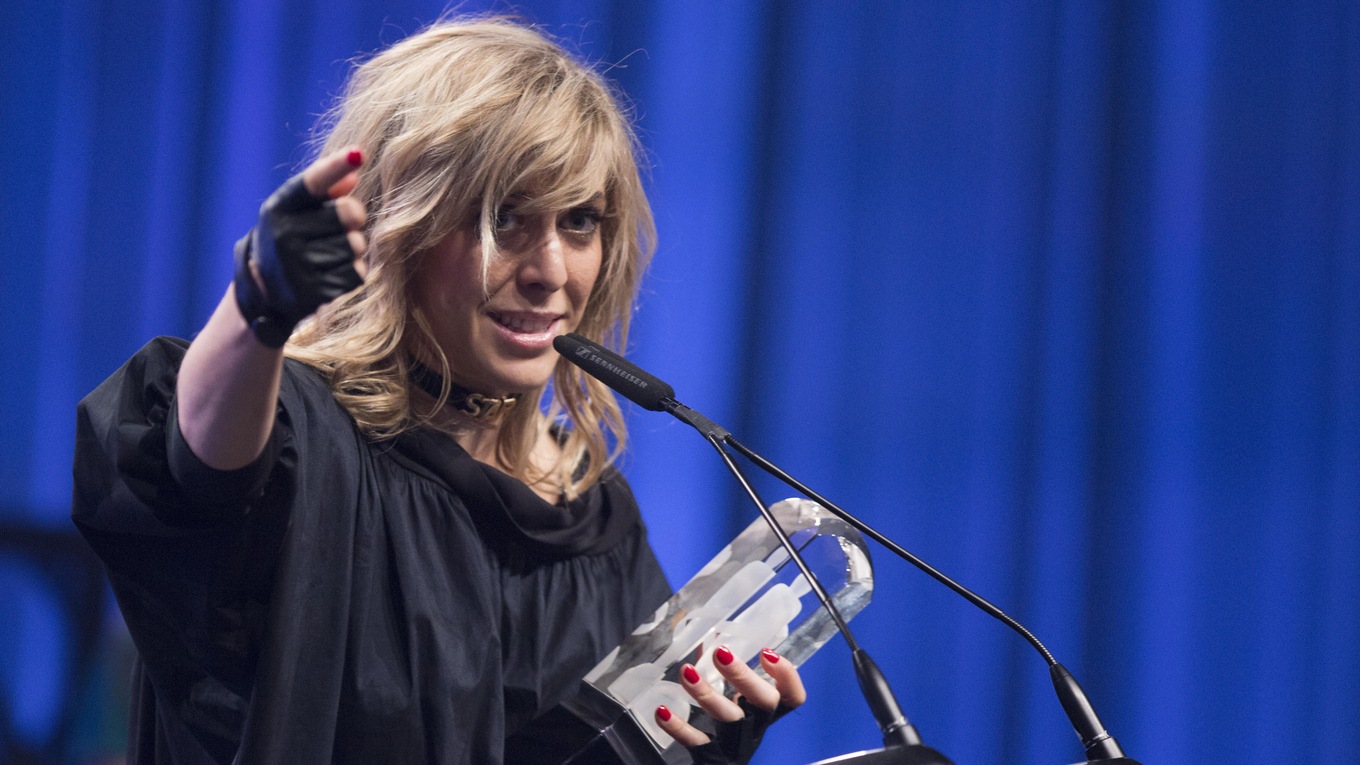 "I think if you have emotions, a lot of my music tends to work," William Prince said backstage, after winning his first Juno, for contemporary roots album of the year. Later in the evening, Prince performed his touching song "Breathless" during the in memoriam tribute.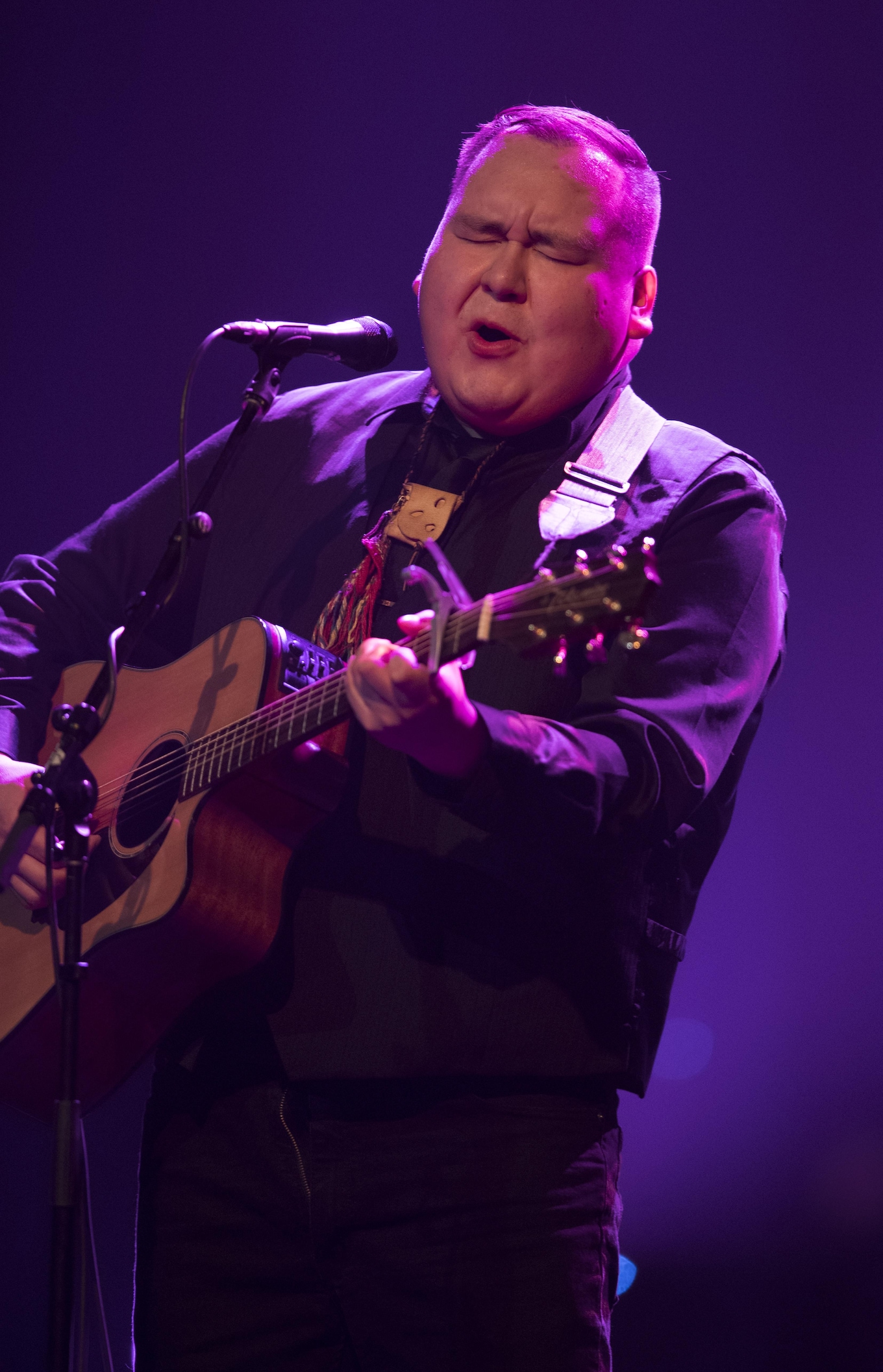 "What we heard is if you beat Drake, you become Drake," joked the Strumbellas' Dave Ritter after the band won single of the year over superhit "One Dance." Simon Ward accepted his award shoeless, as he was so certain they wouldn't win that he removed his tough-to-tie shoes and didn't have time to put them back on.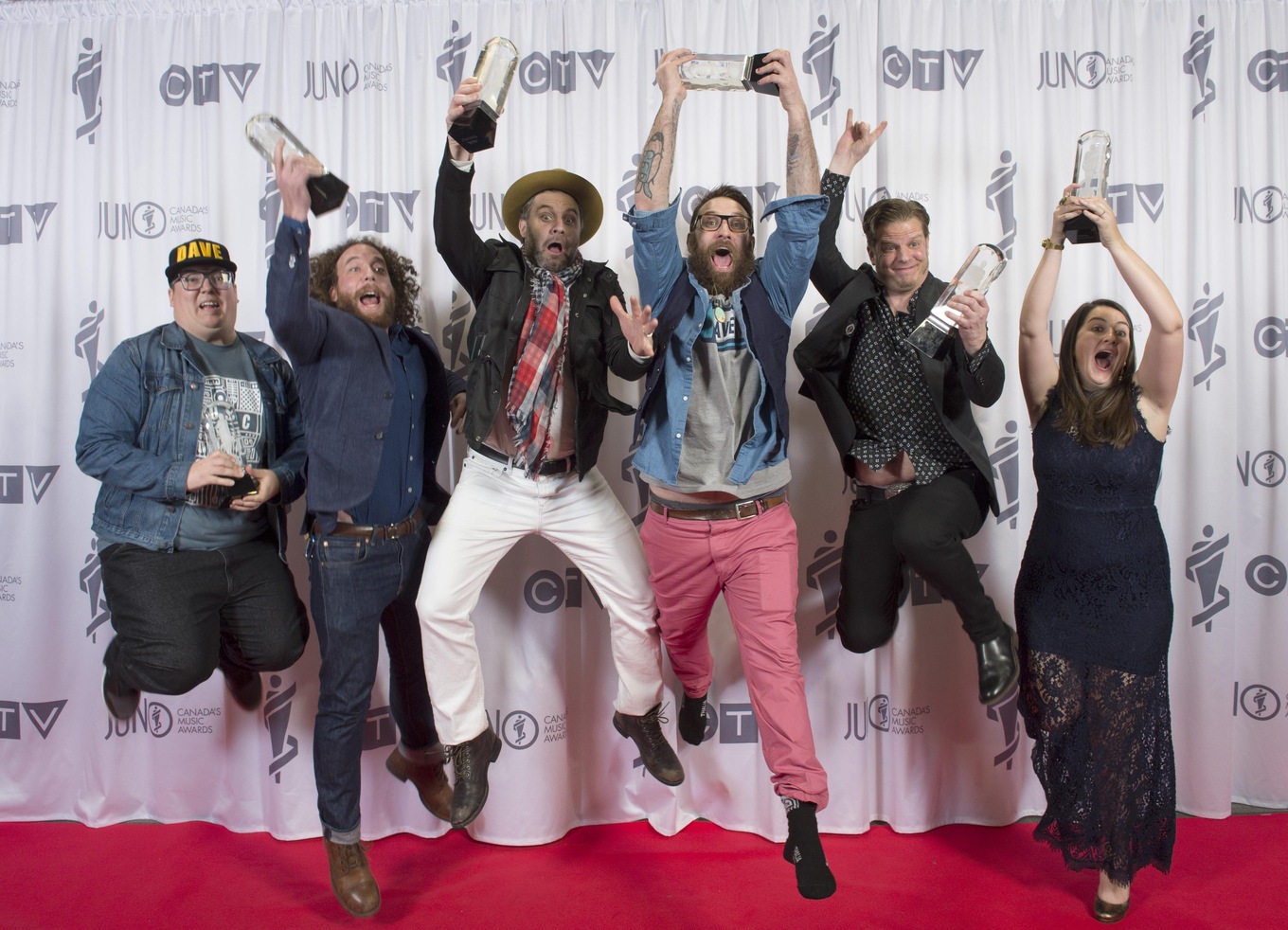 "Many international artists find excuses to not participate in the Junos; I think he's found the best one yet," joked Adam Cohen, lightly, as he accepted his late father's award for artist of the year.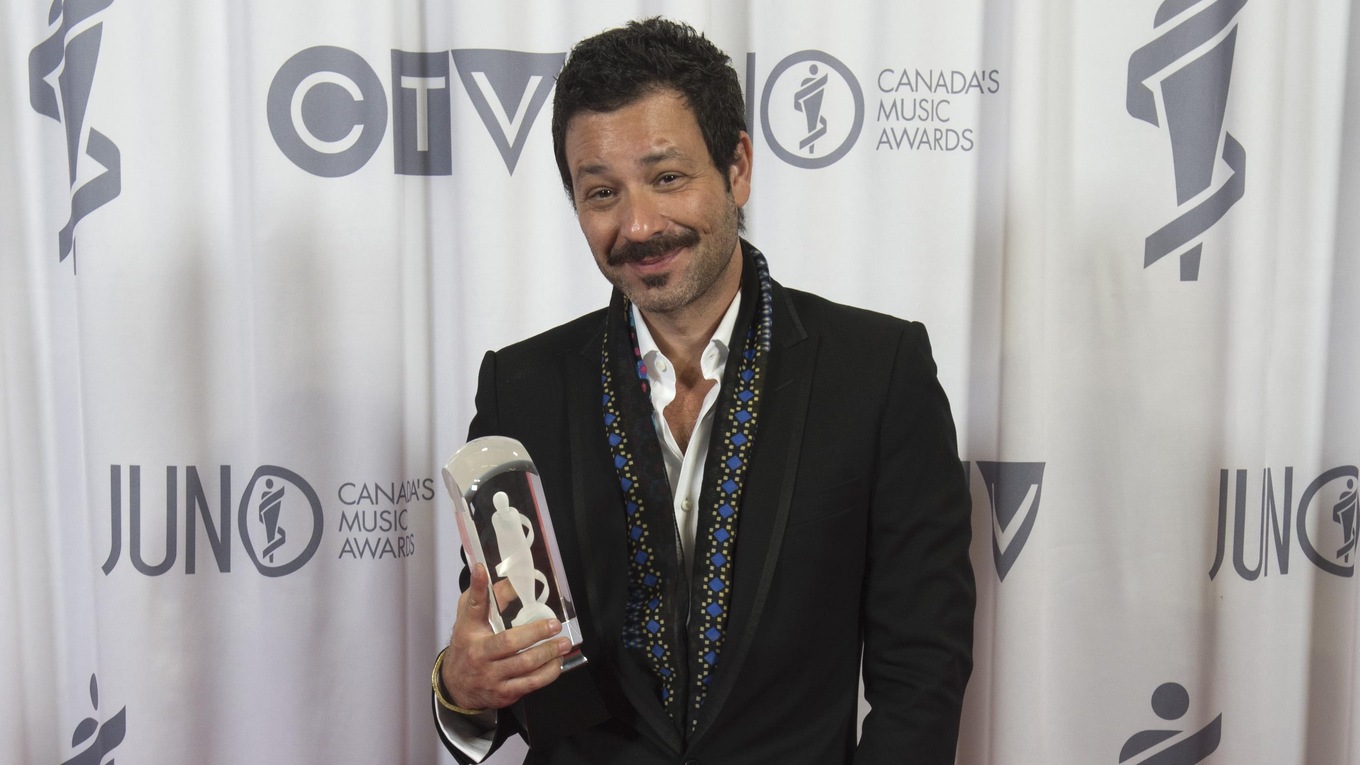 A Tribe Called Red nabbed a win on home turf for producer of the year, three years after winning their first Juno for breakthrough group.
"We worked on this album all over the world but we put it together right here in this city so it was definitely a muse," Tim "2oolman" Hill said of Ottawa.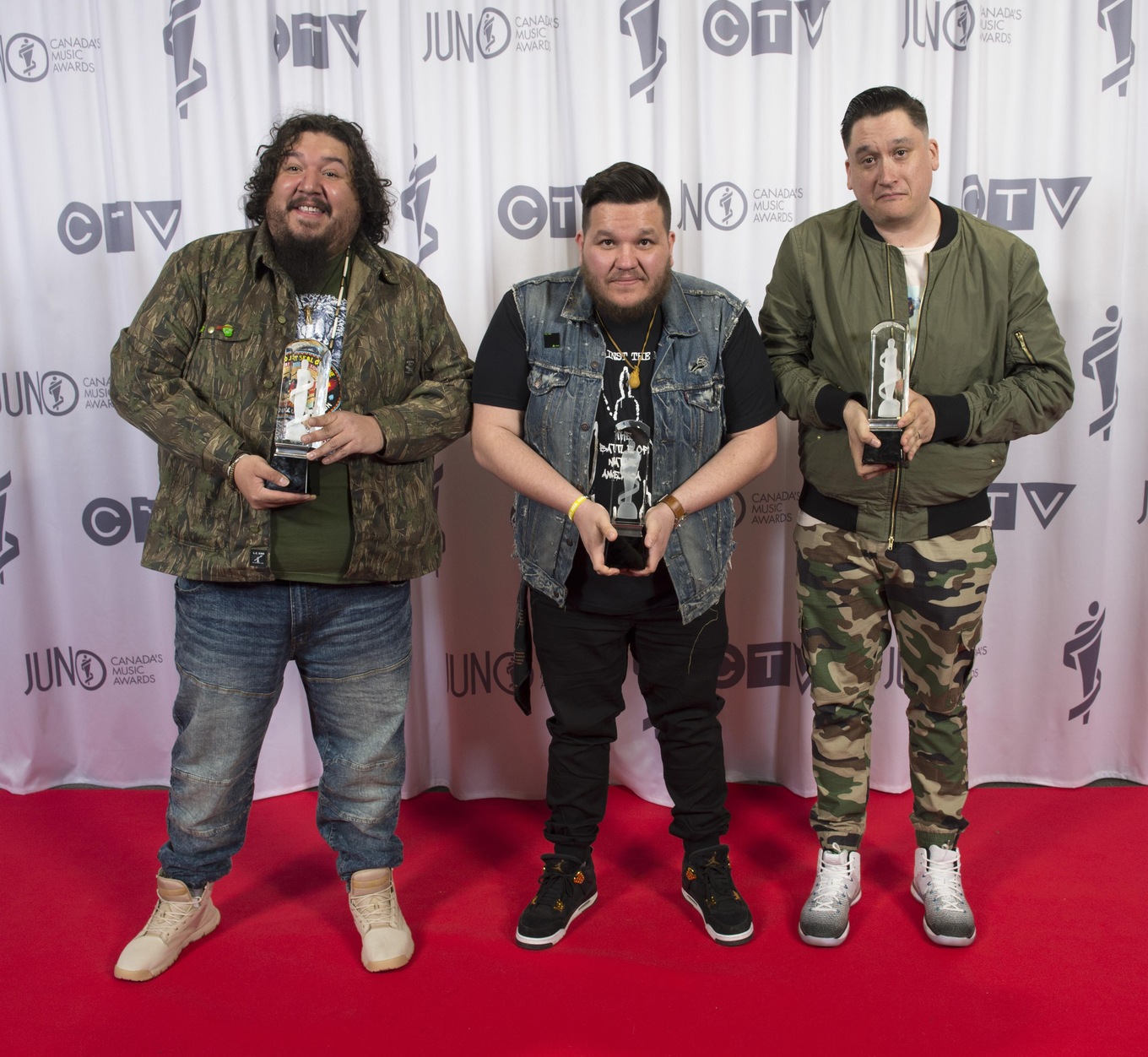 After being shut out of last year's awards for Art Angels, Grimes won for video of the year, for "Kill v Maim."
WHaT the whoa thank you guys thank u junos and all who voted 🖤🖤🖤🖤🖤🖤🖤🖤🖤🖤🖤 https://t.co/oVwW6ZIAC7

— Grimes (@Grimezsz) 2 April 2017
We had to build a case at CARAS [at the Junos] because they don't establish a category for something just because they feel sorry for you. We had to come up with the numbers. We had to prove that there were [Indigenous] record companies interested, that there were enough musicians, singers, songwriters, producers actually making records, that there were studios recording. And of course there were. We've come a long way since then, and CARAS has been really quite supportive.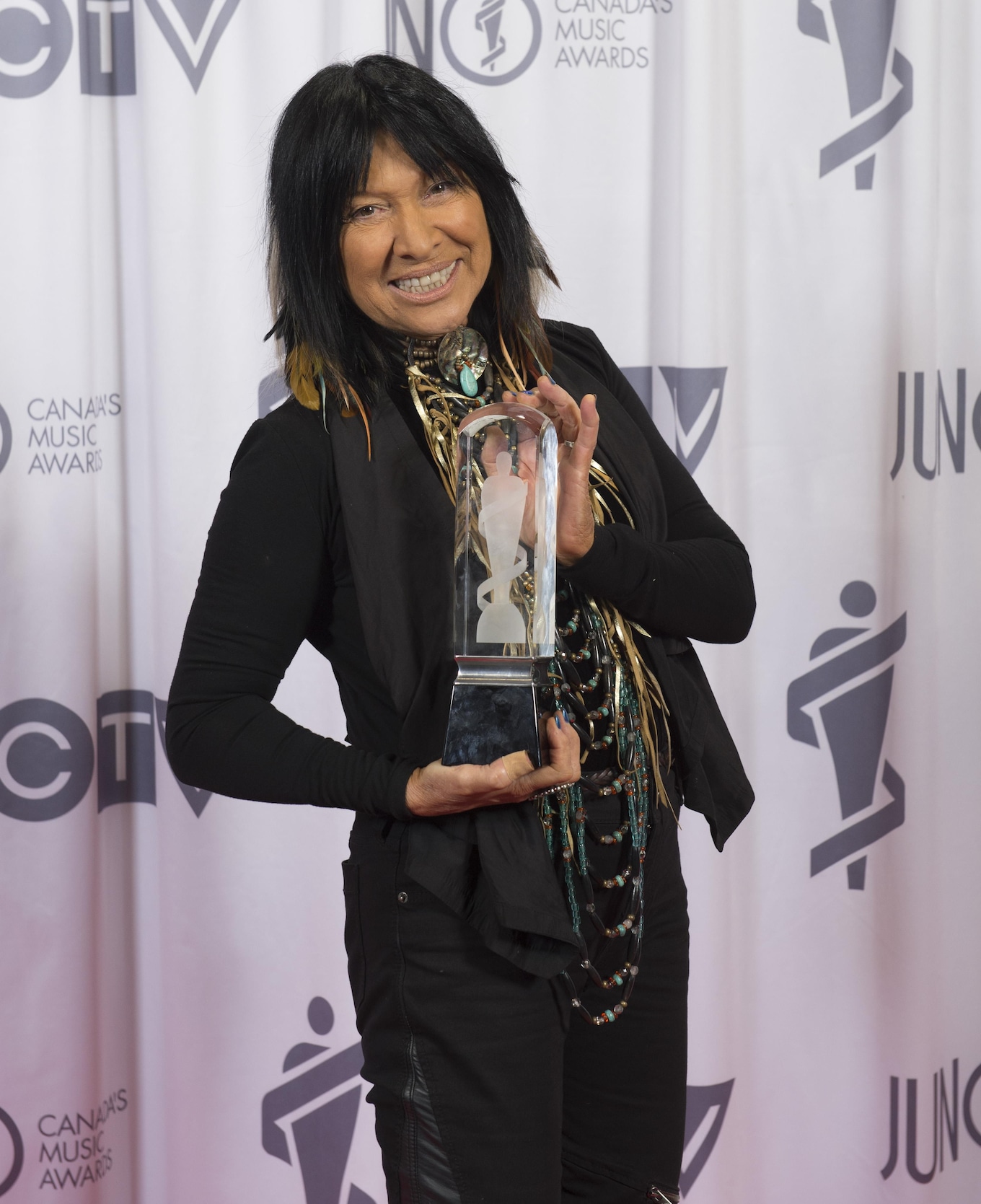 "We need to get Canadian radio playing more hip-hop so kids can get inspired," Jazz Cartier said backstage, after winning the Juno for rap recording of the year.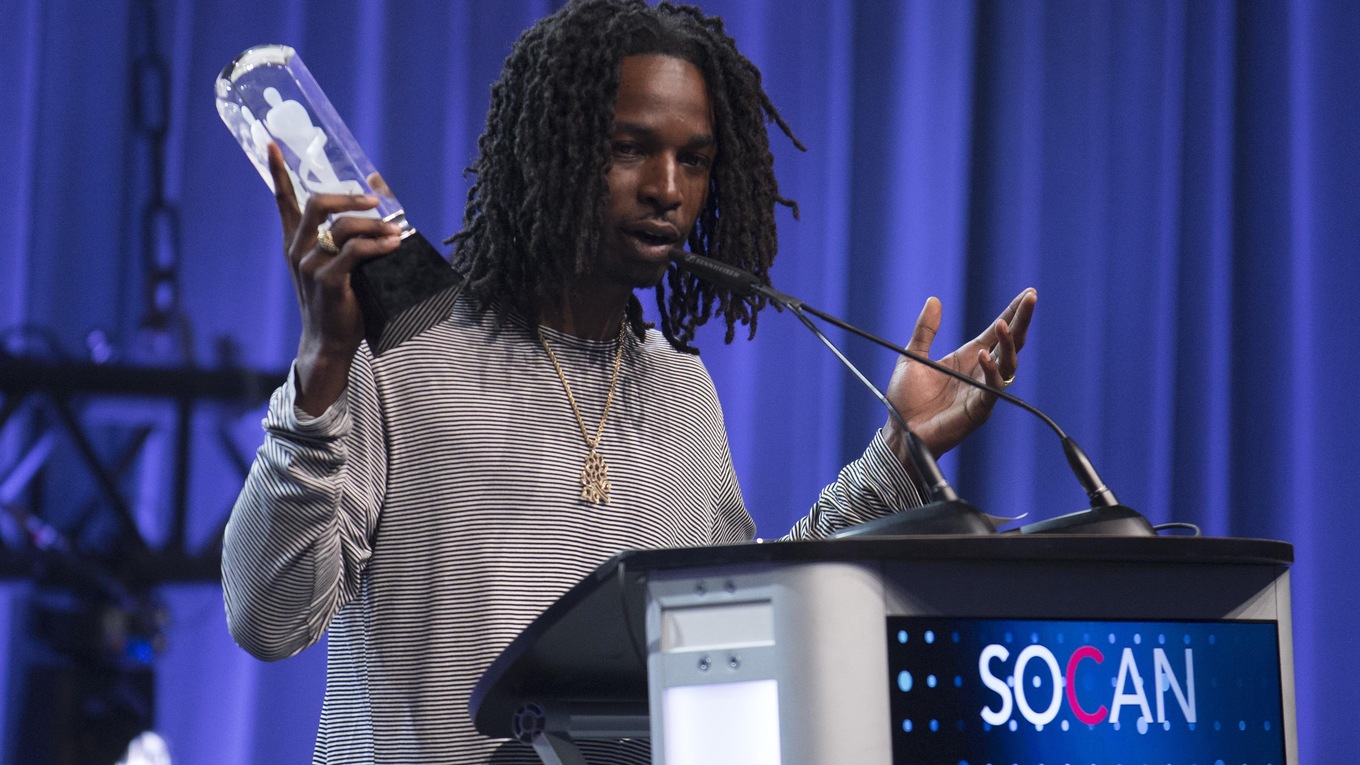 He continued on his Instagram account afterward:
Daniel Caesar's performance of "Get You" was arguably the best of the night.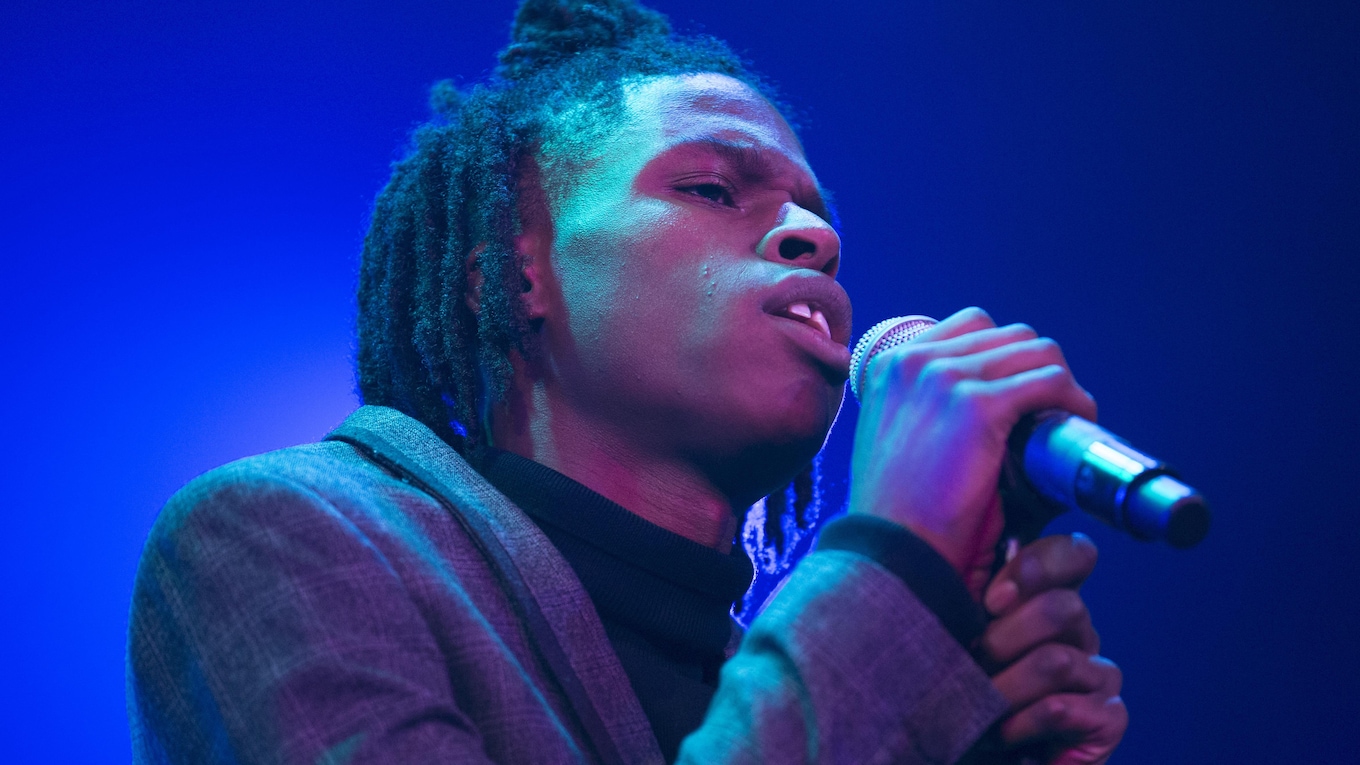 If you want to get a taste, start here with q's session:
After winning the award for alternative album of the year, July Talk came backstage and Leah Fay detailed how hard this album was for the band to make: "I think we kind of felt like, in making our second album, that we might die, just because the first album brought on a lot of success and opportunities for touring and meeting people and making more videos and more music and we all kind of felt the pressure to make something good."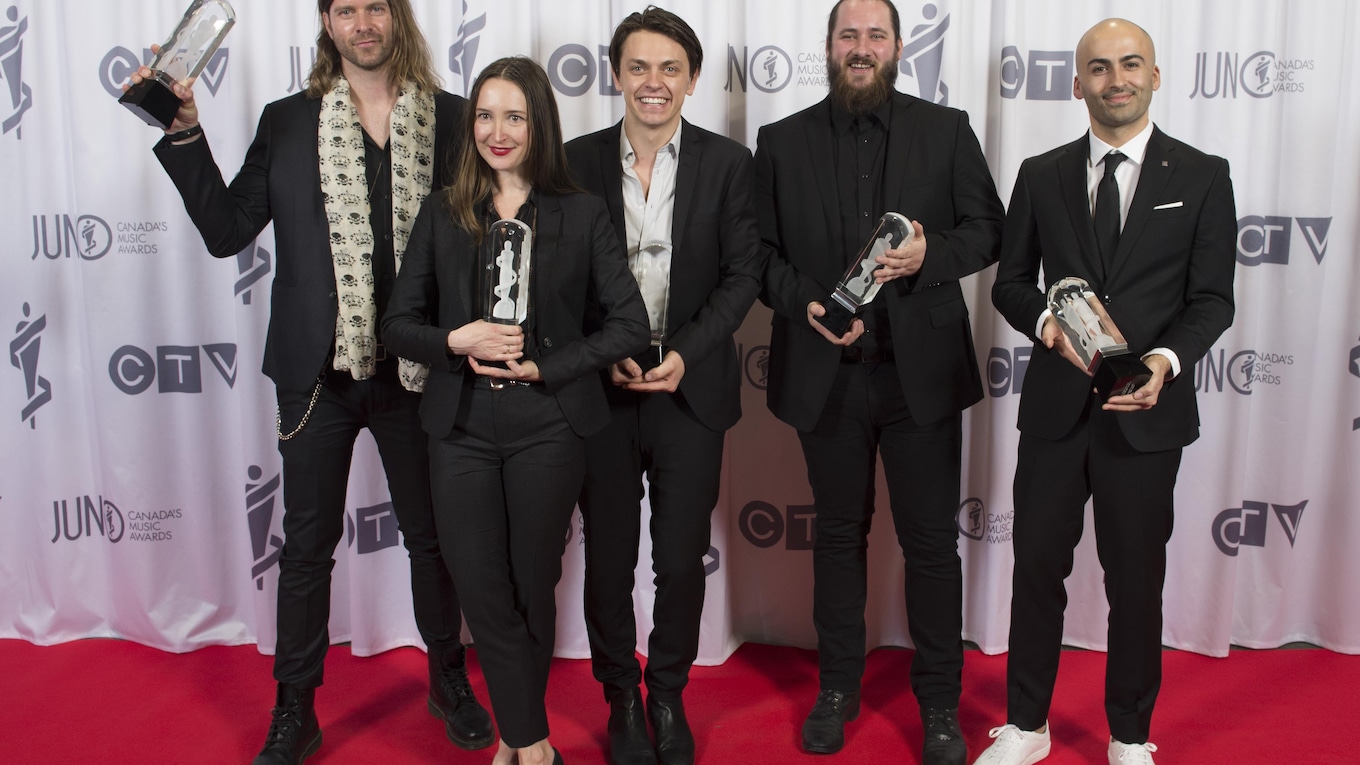 Yellowknife's Quantum Tangle won on its first Juno nomination, for Indigenous album of the year for its album Tiny Hands. Backstage, the duo — Grey Gritt and Tiffany Ayalik — said the album was spurred by their respective grandmothers. "We were just very inspired by the incredible amount of life they were able to squeeze into one lifetime," Ayalik said.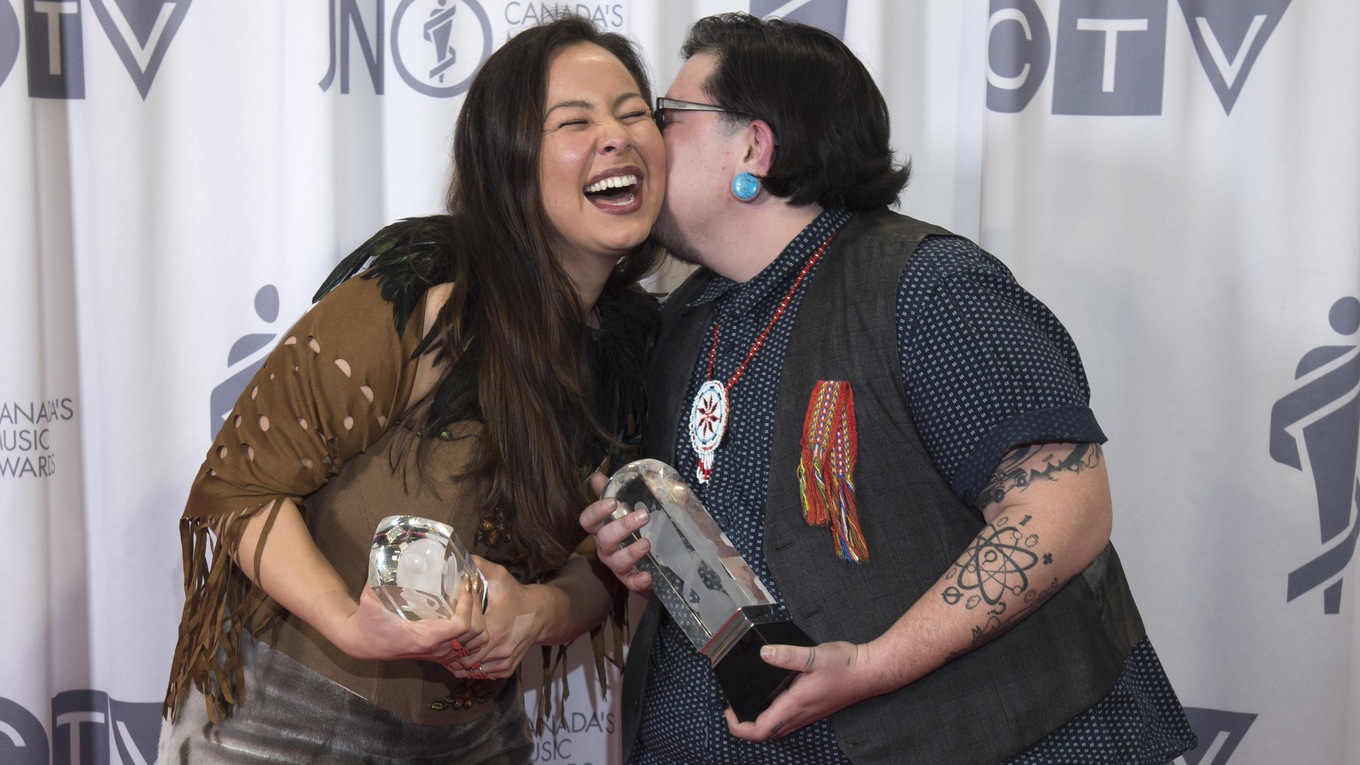 Bruce Cockburn hosted the Junos Songwriters' Circle on Sunday, April 2, and kicked it off with "Lovers in a Dangerous Time" (after getting a standing ovation from the National Arts Centre crowd). Colin Linden, Lisa LeBlanc and Wintersleep's Paul Murphy rounded out the first set, and the second round included Donovan Woods, Daniel Caesar and Chantal Kreviazuk.
Tune in to Canada Live on April 7 for a broadcast of the show, and CBCMusic.ca for the full audio.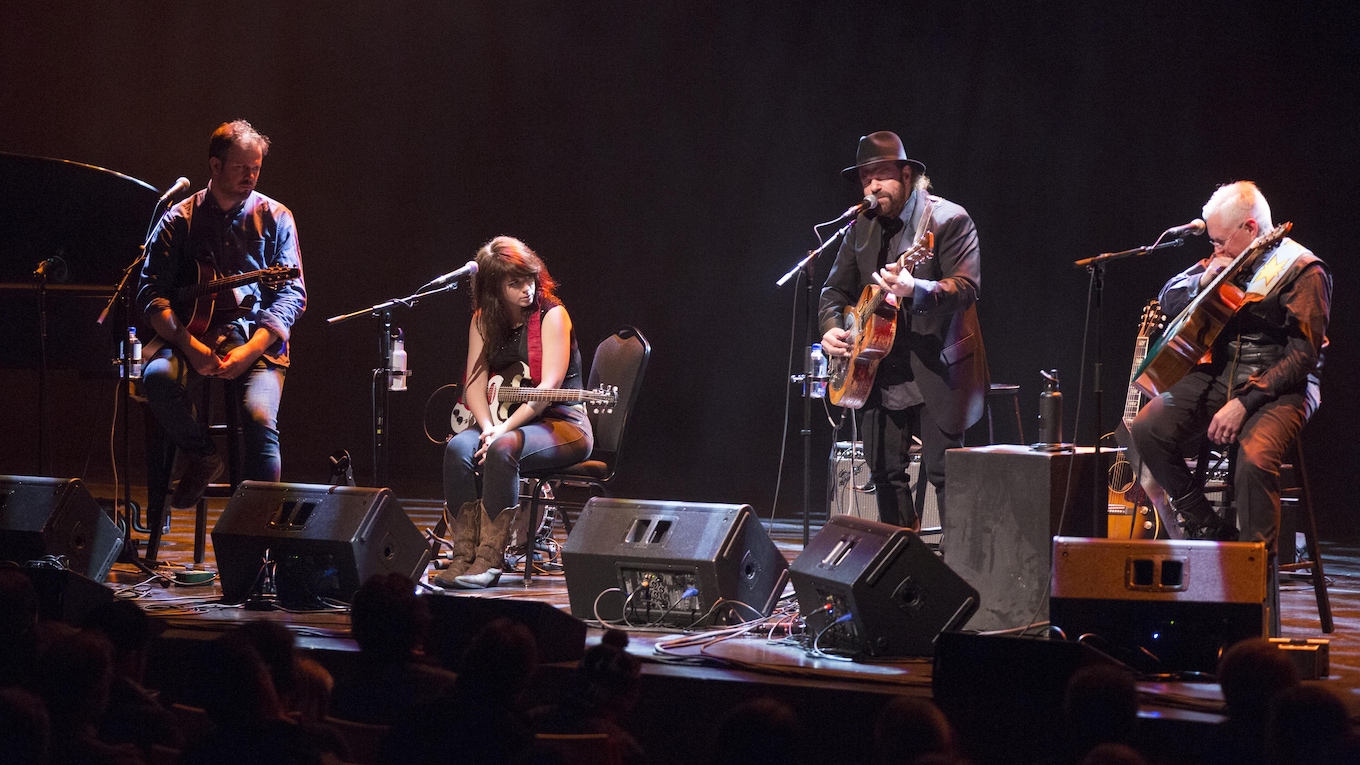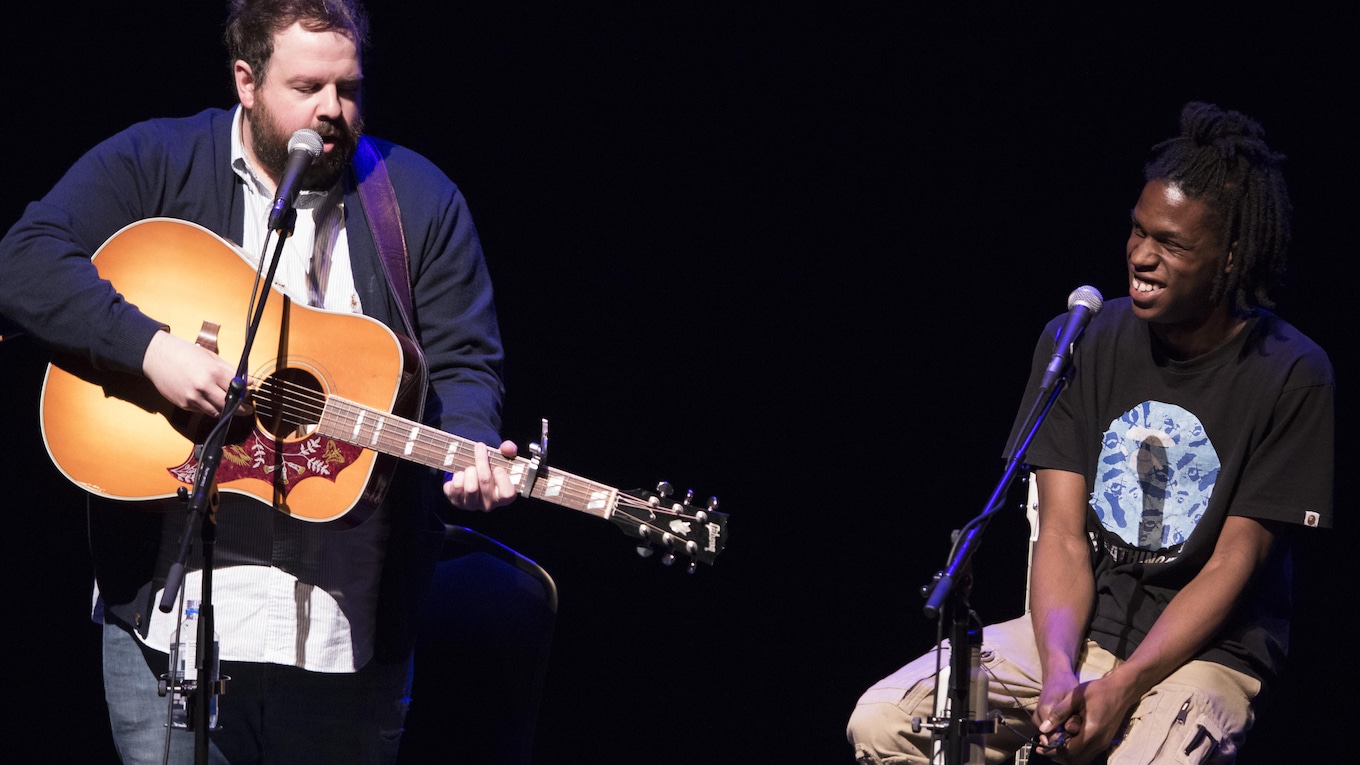 Buffy Sainte-Marie, A Tribe Called Red and Tanya Tagaq opened Sunday night's televised show with a stunner: Sainte-Marie introduced the set, and ATCR and Tagaq performed "Sila," their song from We are the Halluci Nation — which helped win ATCR the Juno for producer of the year last night.
"We are here in Ottawa on un-surrendered territory of the Algonquin and Anishinaabe nations. Tonight we want to thank and honour the land and the people of the Algonquin and Anishinable Nations, whose families who have lived on this territory for thousands and thousands and thousands of years! And whose cultures and presence have nurtured and continue to nurture this land. We also acknowledge the enduring presence of all First Nations, Inuit and Metis peoples," Sainte-Marie said before moving into the performance.
Ian Campeau, a.k.a. DJ NDN, said partnering with Tagaq on the performance tonight was a no-brainer — and shook his head while pointing out that she wasn't nominated for her 2016 album, Retribution. When asked about Sainte-Marie, A Tribe Called Red simply teared up.
"Buffy Sainte-Marie is — I'd say worth her weight in gold, but what's more than gold? She's worth her weight in stars," Tagaq later added, backstage.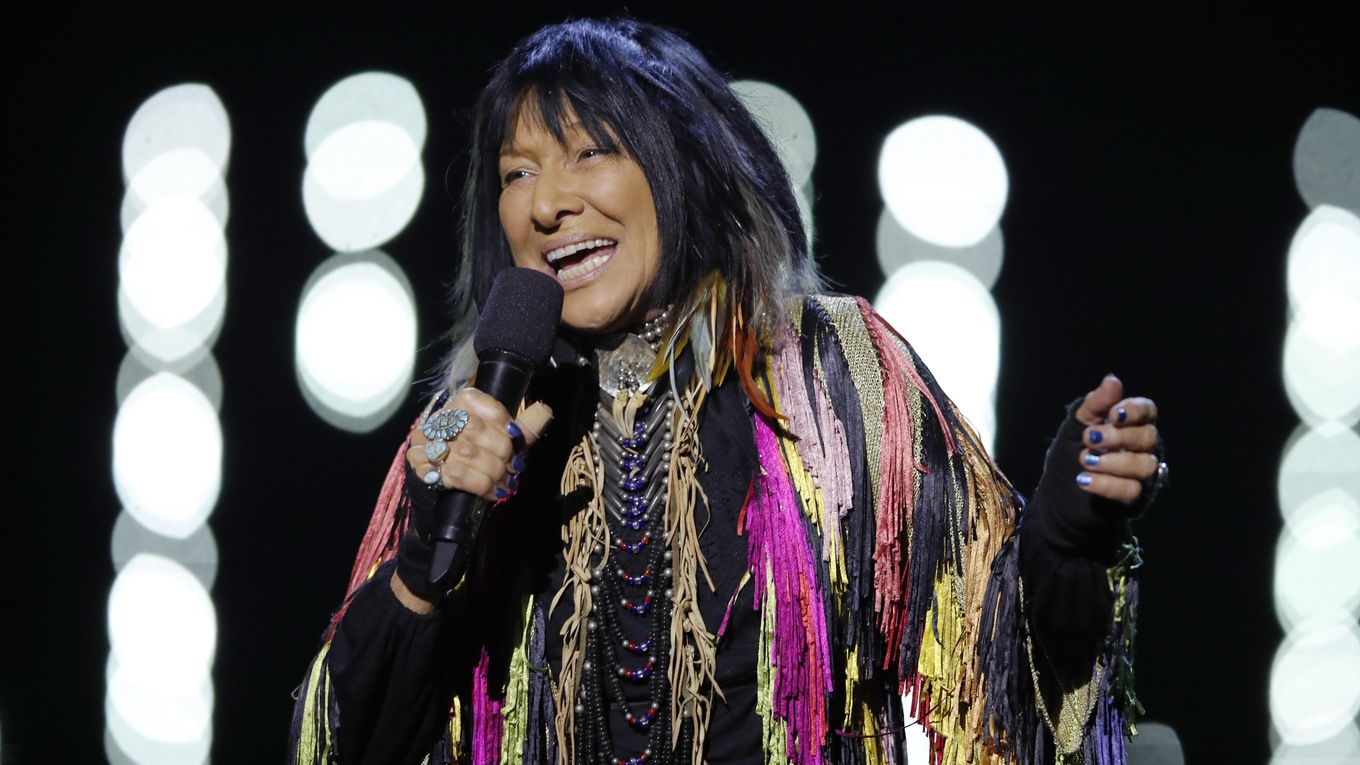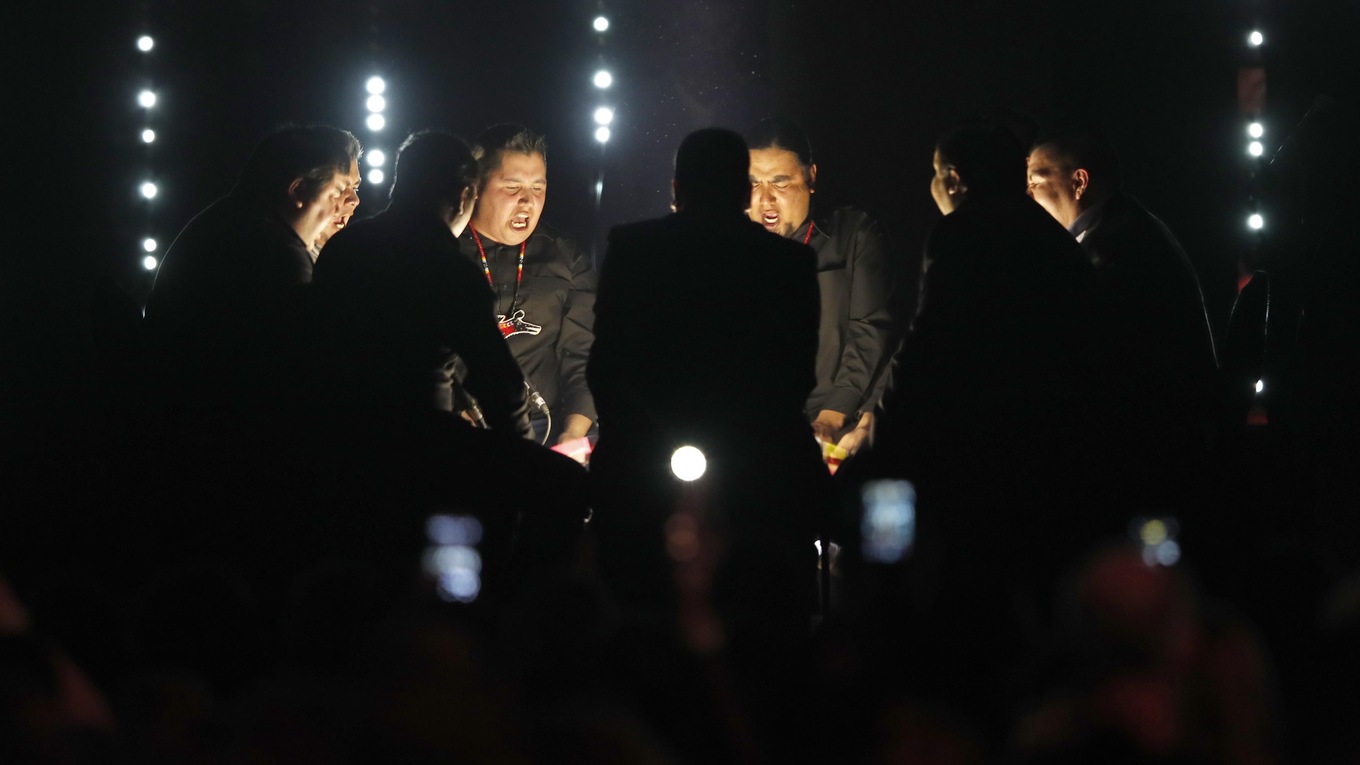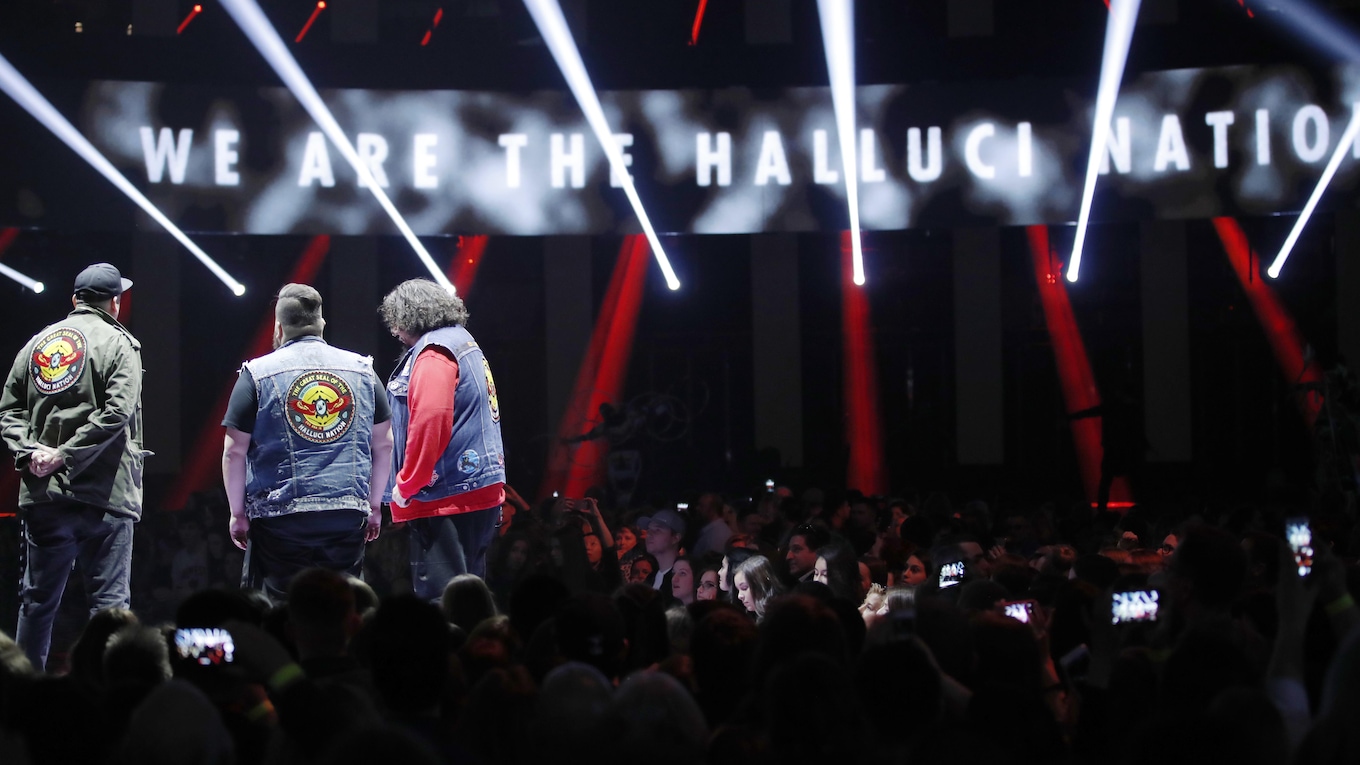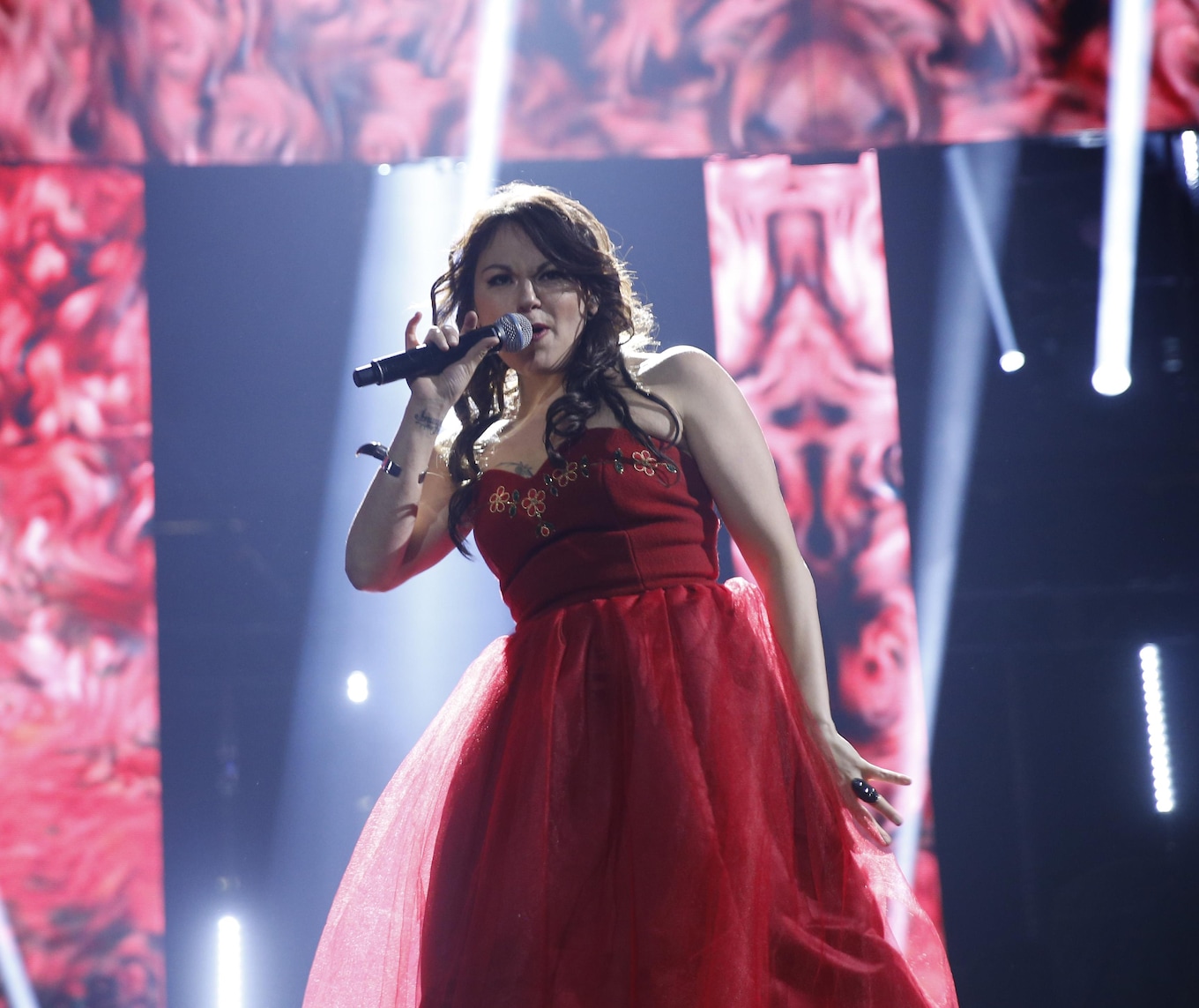 July Talk filled the stadium with their performance of "Picturing Love," and when asked how he felt about it, Peter Dreimanis said, "There's no way to react to it, you just totally black out."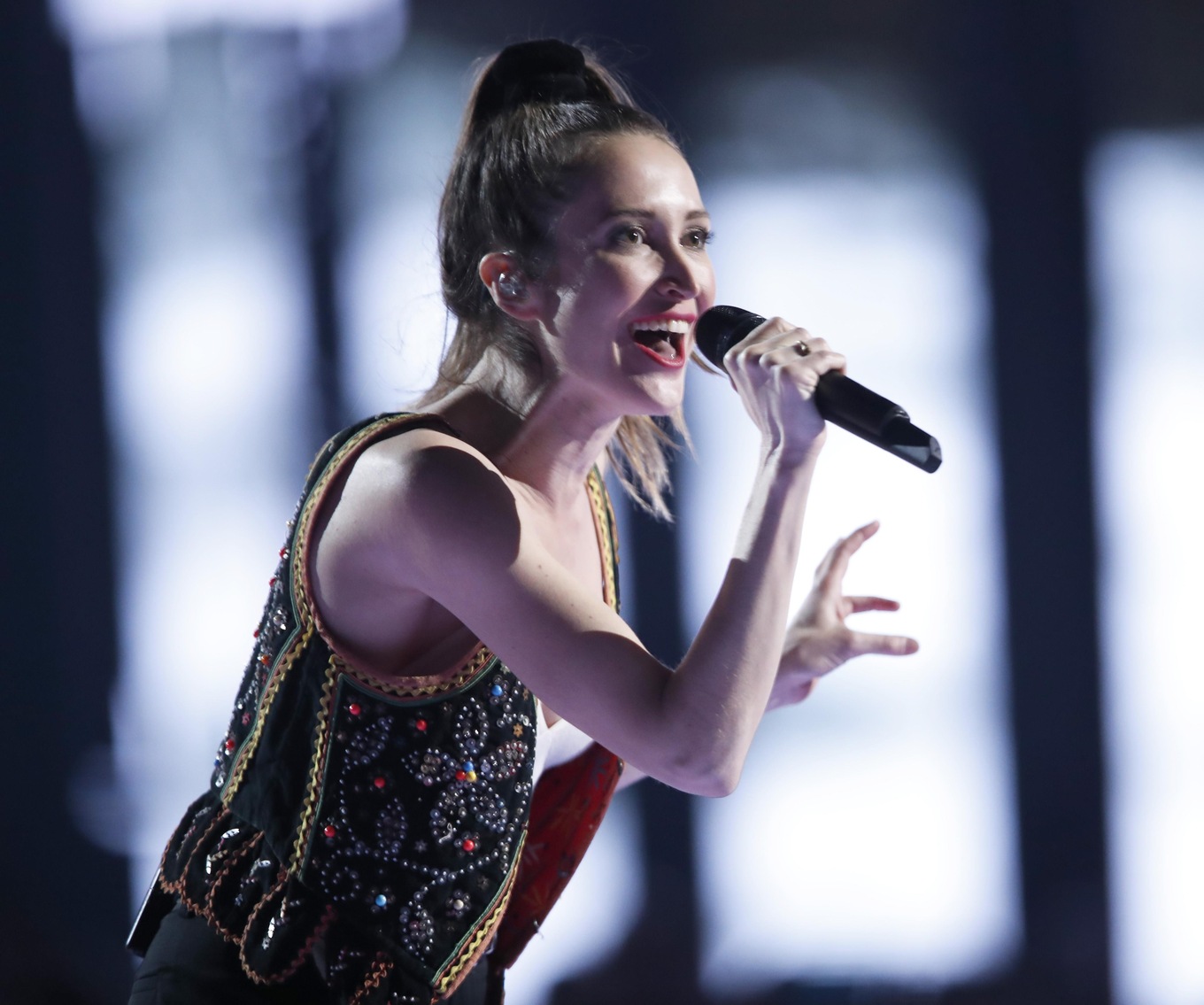 Jess Moskaluke, a three-time winner of the Canadian Country Music Association Award for female artist of the year, left the night with her first Juno for country album of the year — the only woman in a category that included Chad Brownlee, Dallas Smith, Gord Bamford and Aaron Pritchett.
"No matter what happens, it's good for the genre," Moskaluke said backstage, of her win.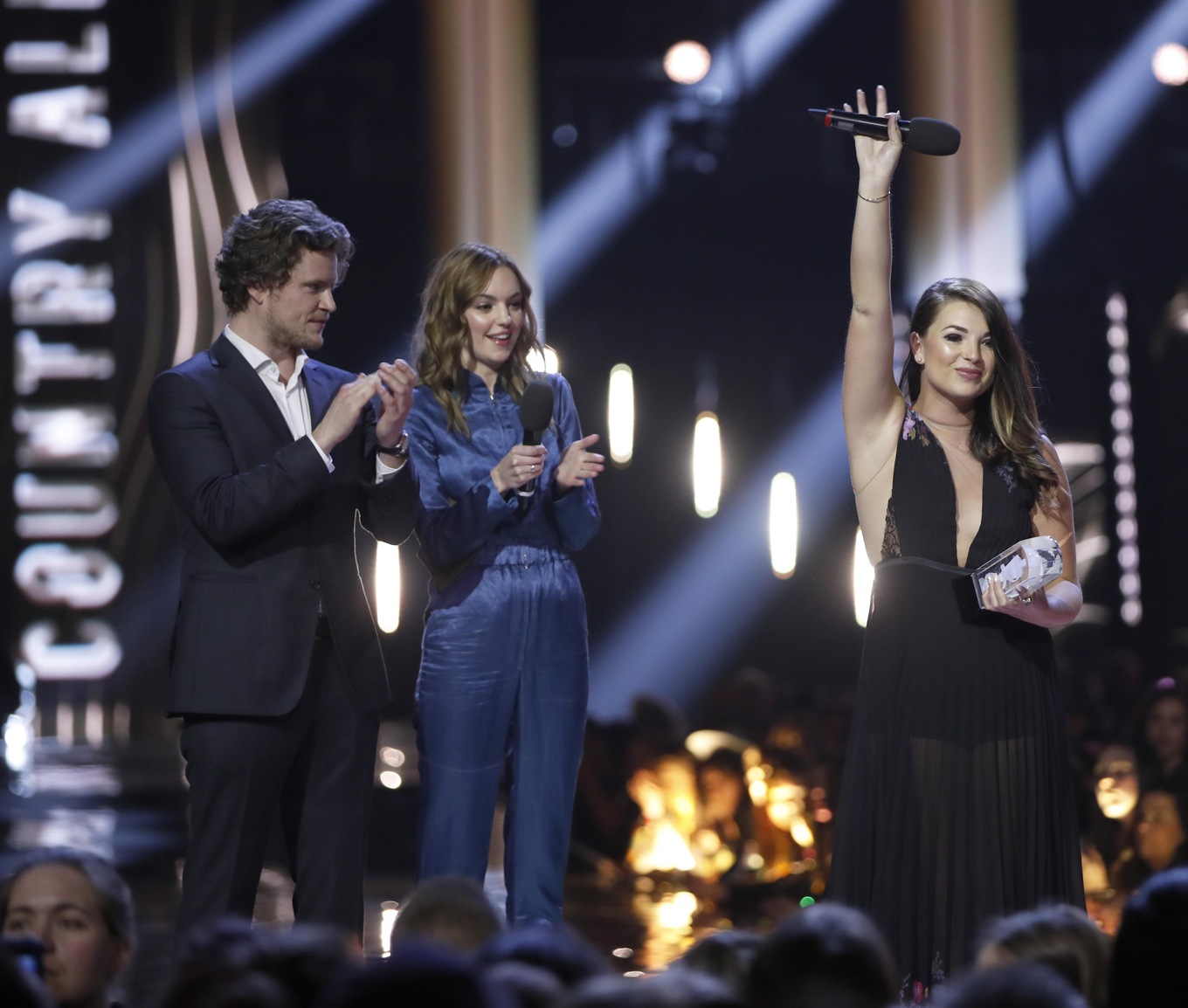 "That was the night I learned that Leonard, great man, [was] not a big hugger," Prime Minister Justin Trudeau said of Cohen, when the late songwriter was a pallbearer at Pierre Trudeau's funeral.
But let's be honest: Feist's tribute to Leonard Cohen with a cover of "Hey, That's no Way to Say Goodbye" was perfect, and everyone cried. We should've given her the rest of the show.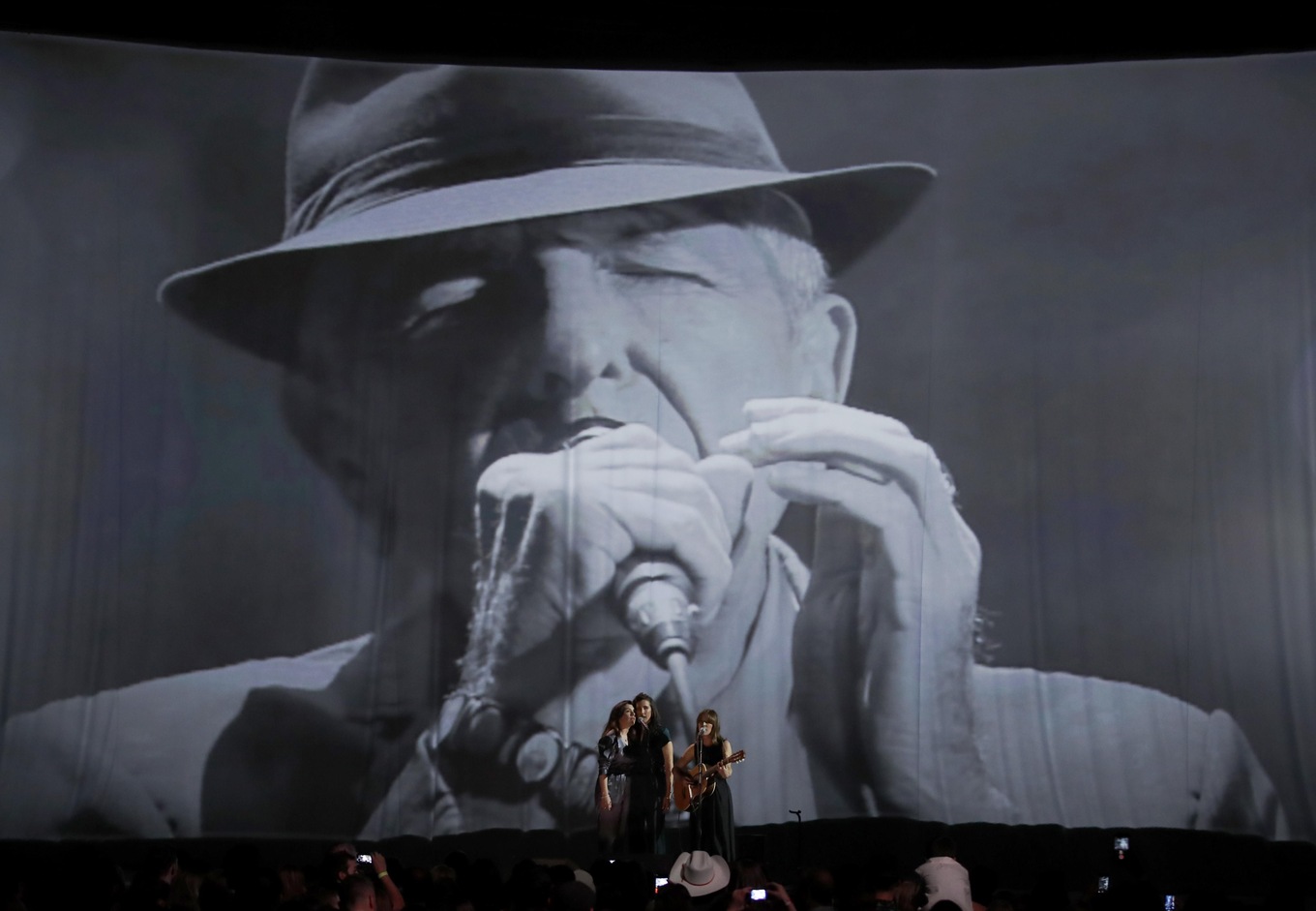 While Gord Downie didn't attend the Junos, he pre-recorded two acceptance speeches — one for Secret Path's win for adult alternative album of the year, and a second for songwriter of the year (for the songs on Secret Path).

"Our friends who were here before us for thousands of years, First Nations, have many, many stories like this ... Help teach our young ones. Thank you for this opportunity to speak to you tonight," he said. "Thank you for the time. This award is to all of us ... to all of us bent on trying."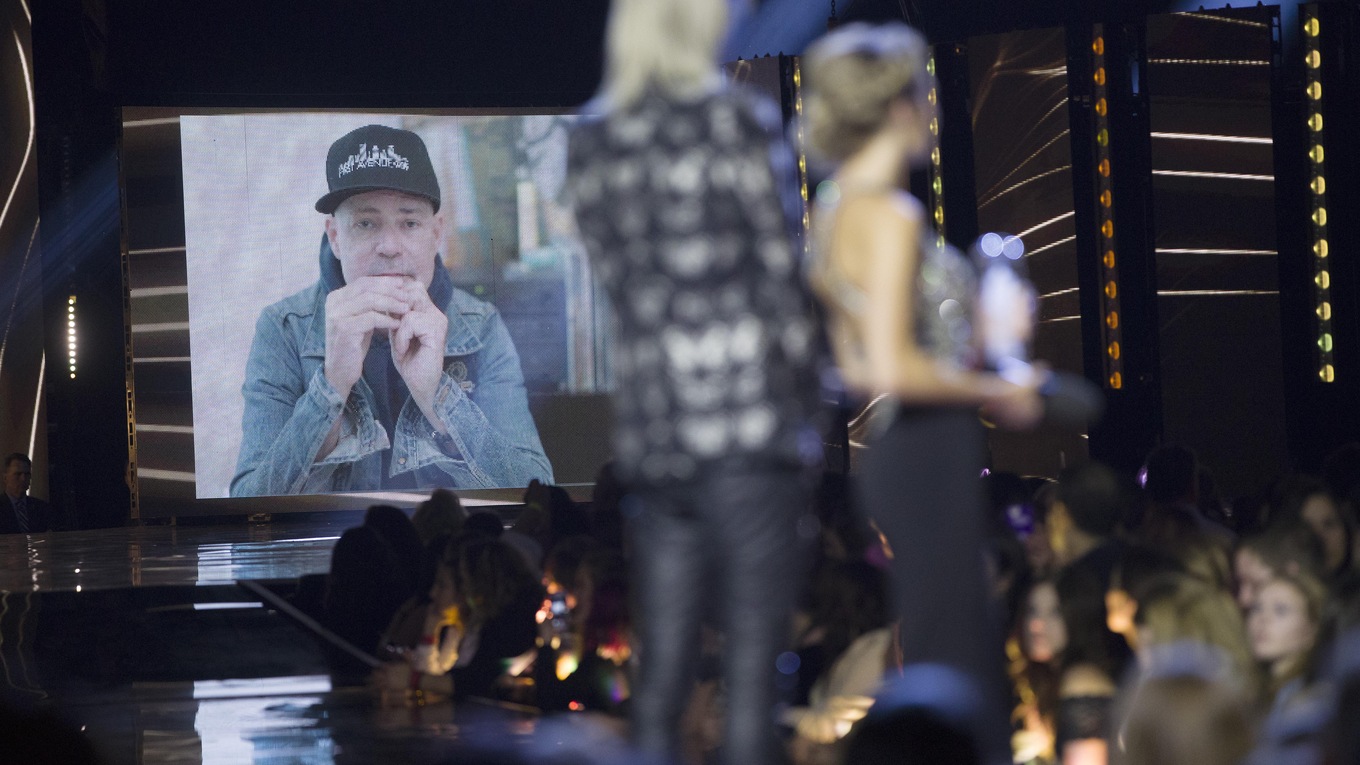 Notable lowlight among the highlights: when the Tragically Hip won group of the year and then Paul Langlois (left) was played off by the band's own song ("Ahead by a Century") for taking too long.
"Go to commercial, go ahead," Langlois said. "This is my arena, not yours."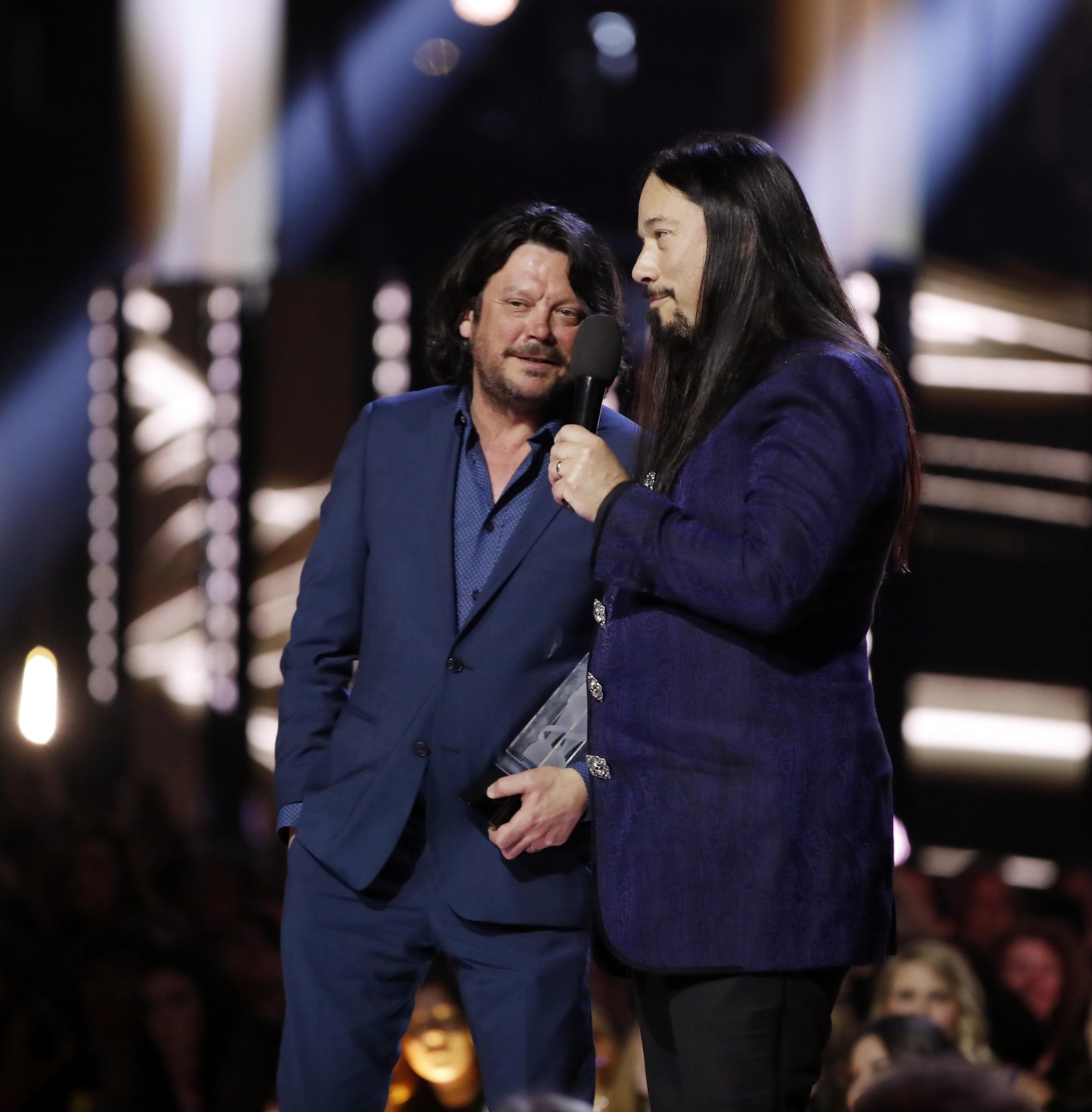 While many screaming fans found Shawn Mendes himself to be the highlight, this line was a hit in the media room:
"I think I would hate to play a show if there was no screams and those teenage girls" @ShawnMendes on his adoring fans #Junos2017 pic.twitter.com/Sqs5nPgODv

— CBC Music (@CBCMusic) April 3, 2017
At the end of a two-and-a-half-hour broadcast, it's tough not to have your heart warmed by a "Summer of '69" group jam that includes a stage full of winners and nominees. But the best part of it was Alessia Cara's response backstage when someone asked her how old she was when the song was released: "I wasn't even a fetus."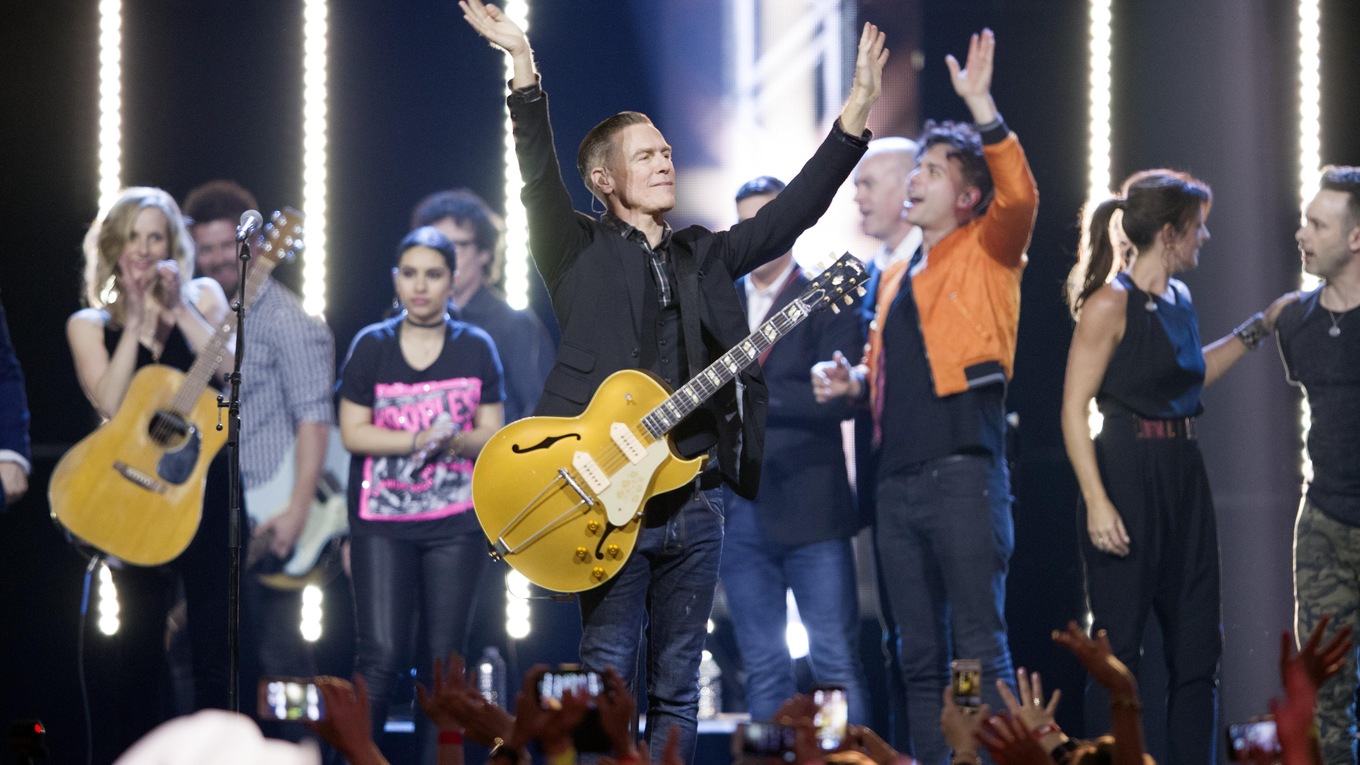 More Junos: