Late Thursday evening, André Bourbeau, president of the jury, announced the 12 pianists advancing to the semifinals of the 2017 Montreal International Musical Competition.
They are, in alphabetical order:
Stefano Andreatta (25, Italy)
Albert Cano-Smit (20, Spain/Netherlands)
Zoltan Fejervari (30, Hungary)
Teo Gheorghiu (24, Canada)
Nathanaël Gouin (29, France)
Giuseppe Guarrera (25, Italy)
David Jae-Weon Huh (30, South Korea)
Yejin Noh (30, South Korea)
Jinhyung Park (21, South Korea)
JeungBeum Sohn (25, South Korea)
Alexey Sychev (28, Russia)
Artem Yasynskyy (28, Ukraine)
The pianists are competing for more than $125,000 in prizes, including a first prize of $80,000 — $30,000 offered by the City of Montreal, plus a $50,000 career development grant supplied by the Azrieli Foundation and named in honour of competition cofounder Joseph Rouleau.
The semifinalists were chosen from a field of 24 quarter-finalists following a round of 45-minute solo recitals that took place at Bourgie Hall in downtown Montreal. Each semifinalist will give a 60-minute solo recital over the weekend (May 6 and 7) to vie for a spot in the finals and the opportunity to play a piano concerto with the Montreal Symphony Orchestra under guest conductor Claus Peter Flor.
The semifinalists were selected by an international jury comprising Idil Biret (Turkey), Dang Thai Son (Canada/Vietnam), Alain Lefèvre (Canada), Hélène Mercier (Canada), Pedja Muzijevic (Bosnia), David Owen Norris (U.K.), Cristina Ortiz (Brazil), R. Douglas Sheldon (U.S.), Gabriel Tacchino (France) and André Bourbeau (Canada, jury chair).
Bourbeau also announced that the special $5,000 award for best Canadian artist, offered by the Bourbeau Foundation, goes to Gheorghiu.
All performances at the 2017 Montreal International Musical Competition are webcast on CBC Music and the performances are archived on the competition's YouTube page. Join the online discussion about the competition on Twitter via #CMIM2017.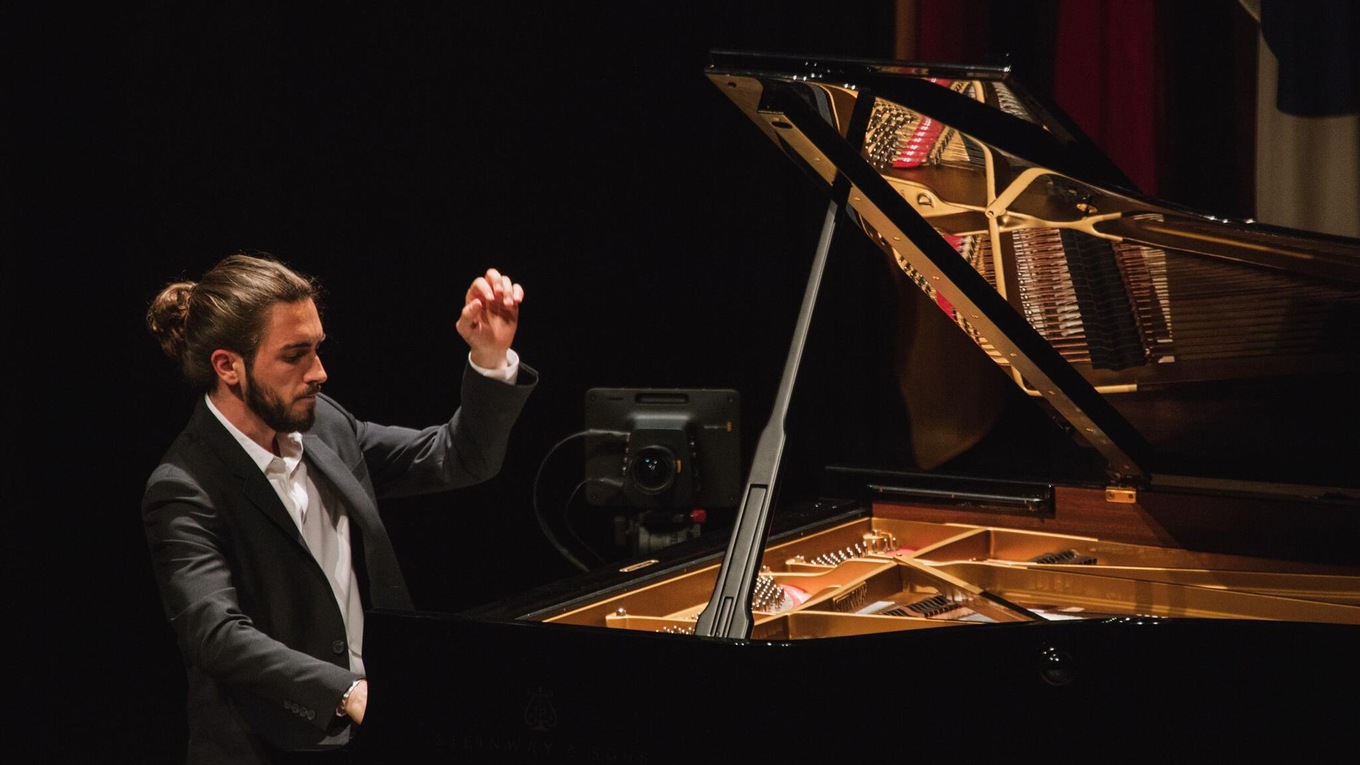 Pianist Teo Gheorghiu plays his quarter-final recital onstage at Bourgie Hall at the 2017 Montreal International Musical Competition. (Brent Calis)
Explore more:
Webcast: Watch the Montreal International Musical Competition
Watch Jun Li Bui's prize-winning performances at the Aarhus International Piano Competition
Meet Teo Gheorghiu, the sole Canadian quarter-finalist at the 2017 Montreal International Musical Competition