"I guess I have proclaimed that I am an introvert."
Molly Rankin is on the phone from her Toronto home, referencing the title of her band Alvvays's upcoming and second album, Antisocialites. Described as a reluctant frontperson — "as many people have pointed out" — Rankin has warmed to the spotlight that the band's critically acclaimed, self-titled debut shone her way in 2014.
"I think it's just sort of about finding the balance of being able to exist in plain sight and also to have something left for yourself," she explains. But it took the end of a non-stop, heavy year of touring, a social media break and some physical separation from her bandmates to find equilibrium.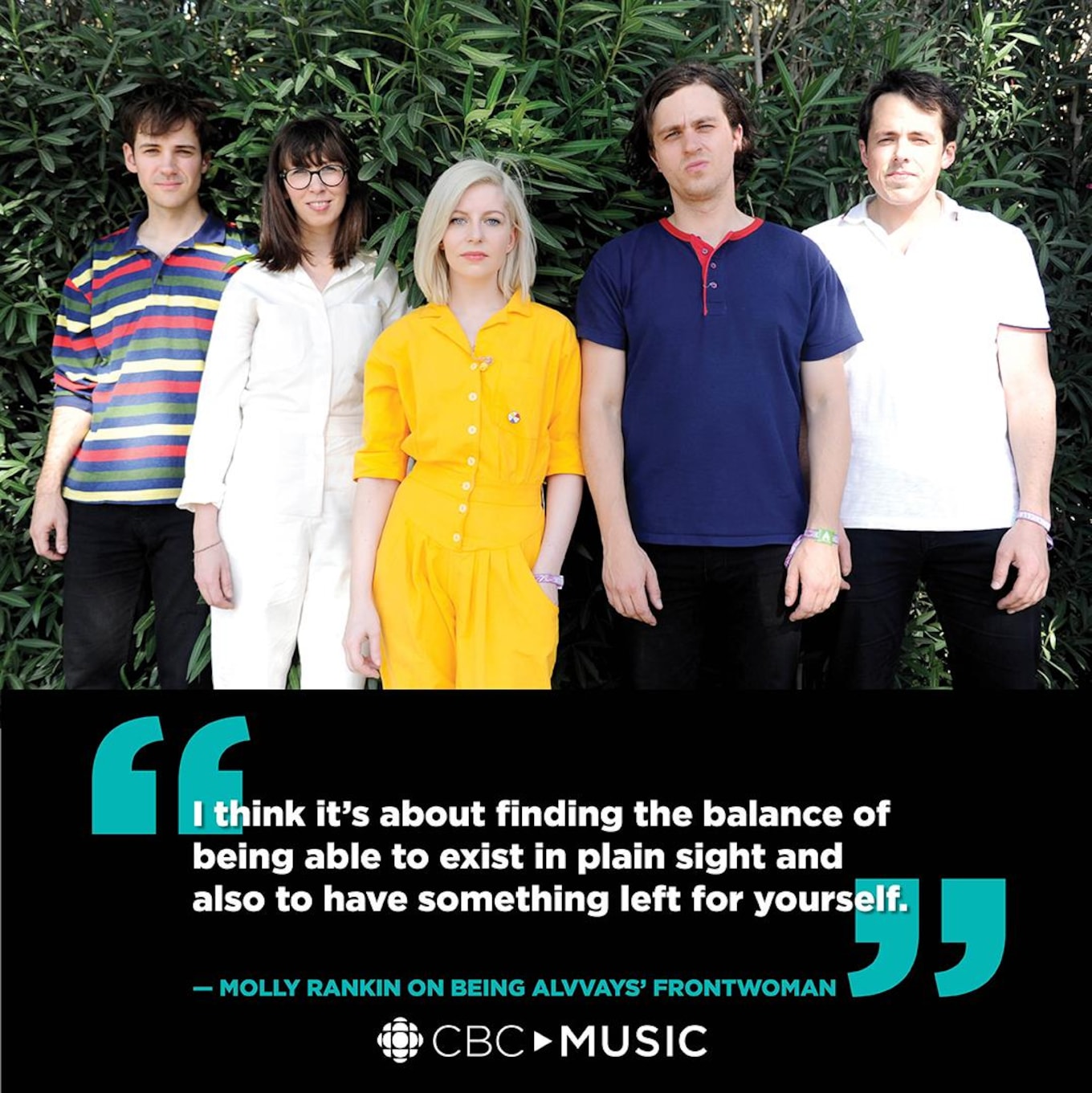 After Alvvays' explosive debut album, it was hard to miss mention of the Toronto-based band with a Rankin Family successor at its helm. Alvvays landed on plenty of best-of lists at the end of 2014 — including Pitchfork's, Rolling Stone's, Exclaim!'s and CBC Music's — and hit No. 1 on the U.S. college charts. That was followed by a year-long 2015 tour that slid into 2016 with a show at Coachella. By summer 2016, Alvvays was almost silent, online or otherwise. That's when Rankin took her break.
"I think there was sort of this point where we got to, while we were travelling, where we all felt like we all needed to get back to our apartments and walk through the city and have space and get back to ourselves, where we have control over where we are and what we eat," says Rankin. "And I think that I was sort of questioning whether or not I should keep going with music and keep writing or if I should try something new."
She points out that Alvvays wasn't about to break up, but it needed to break out — freeing itself of old habits to reform into something sustainable. It might be why Antisocialties sounds like a break-up record, written from the other side of survival.
The album's characters fade in and out of focus between sugar-coated imagery — Adrian falls hard in "Saved by a Waif;" Molly Mayhem shows up on your doorstep at 3 a.m. in "Hey;" — but lines like "Who starts a fire just to let it go out?" ("Dreams Tonite"), "There's no turning back after what's transpired" ("In Undertow") and "This conversation spirals into a fight/ I can barely breathe" ("Plimsoll Punks") outline the cracks. By the time Rankin sings, "When the failures of the past/ they multiply/ and you trivialize the things that keep your hand from mine/ did you want to forget about life with me tonite?" on the album's last track, "Forget About Life," it's hard to accurately assess the state of the band.
"I'm really happy that I went through with the followup record and I think you sort of have to be realistic about how long things last for, and if you really want to surge on, just remain hopeful and realistic and have fun with it," assures Rankin. "So that's sort of the attitude I'm taking now with things [laughs]."
You can hear that hope on Antisocialites — if not in the lyrics of the band's dark heart-anchored surf-pop, then in the hooks that shine brightly amid the devastation. "I was writing a lot more on guitar, a lot more guitar work for myself, maybe I was challenging myself a bit more. And also the songs are more vocally demanding than, I think, the first record," says Rankin.
But getting to the other side of Antisocialites' 10 songs took time — and self-imposed space.
"It just maybe felt like Alec [O'Hanley, co-guitarist with Rankin] and I were dragging each other up a hill or something," says Rankin, continuously referring to the recording process as a long one. But three years between albums isn't forever: once the band stopped touring, Rankin spent the summer of 2016 writing songs on her own in a schoolroom on Toronto Island (intermittently listening to her favourite bands: Felt, Dolly Mixture and Cocteau Twins among them).
"I was reluctant initially to go on an island by myself and just sort of be a hermit," Rankin says. "But then I realized once I got there, that's exactly what I like. And now I refuse to be anything but [laughs]."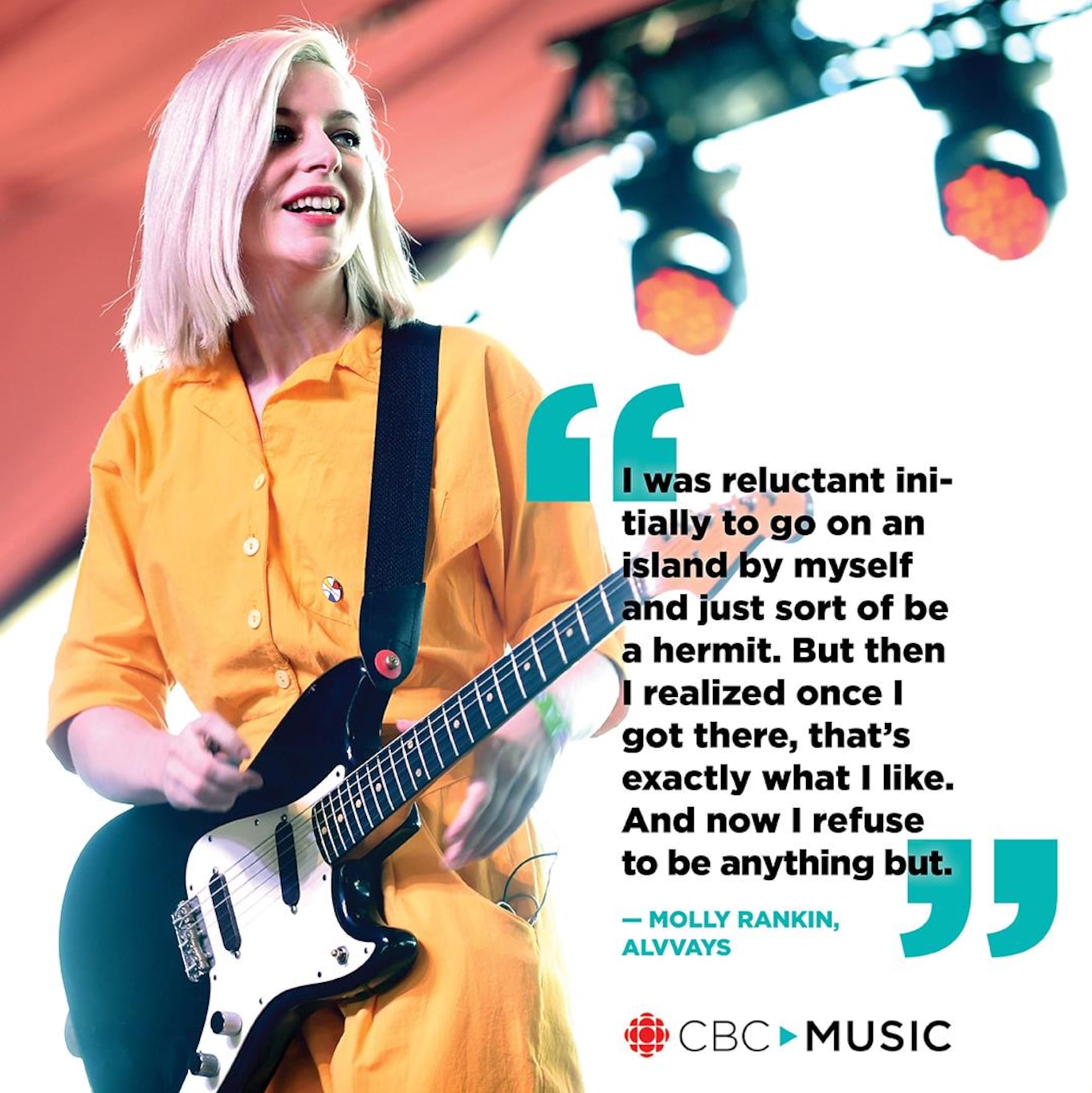 The band — Rankin, O'Hanley, Brian Murphy, Kerri MacLellan and Sheridan Riley — travelled to L.A. for two weeks to record in studio with John Congleton in September 2016. When the band got back home and listened to what they'd recorded, Rankin says "we still had a fair amount of things to work on before we were ready to thrust it into whatever you call that, the public forum of music."
O'Hanley taught himself how to record and mix — "he learned so much in such a short amount of time, so we weren't relying on anyone to get the record where we wanted it to be" — and filled the missing spaces. By April 2017 the album was where they wanted — they just needed six months to order vinyl ("Unless you can skip the line," adds Rankin. And then she laughs.)
After months of silence, the band dropped a hint of the upcoming album online with a cryptic animation — complete with the Hermit tarot card and what would be the new album cover — on June 2, 2017. "In Undertow," the first single released not quite a week later, was a sweet taste of cotton candy after a long, hot day at the fair. But Rankin still didn't expect the positive response.
"I didn't think anyone was really craving another 35 minutes of my voice. So I didn't think that people would latch onto it … I guess I just didn't expect people to be watching [laughs]."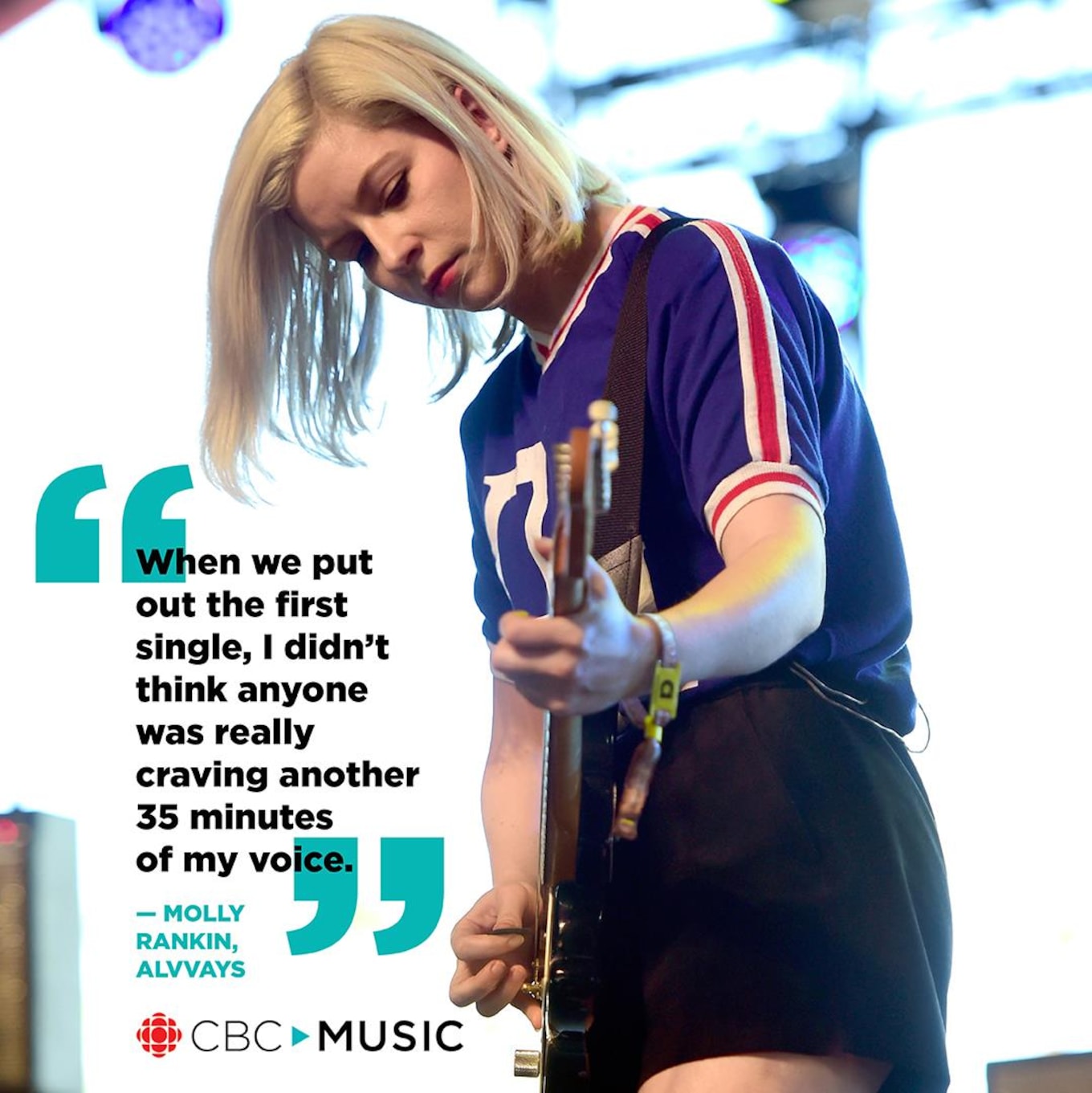 When Rankin and O'Hanley went in to record their debut album a few years ago, they didn't yet know they were a band. "Things changed from Molly Rankin to Alvvays but it was a very sneaky thing," Rankin told CBC Music in 2014, after the release. "The songs that I was writing were different, more band-oriented, the tones were different, more electric guitar, I put the acoustic guitar to rest for a while. Then we went to Calgary to record the songs and I think Chad [VanGaalen, producer] was the one who realized before we did that we were more of a band than a solo project."
Now, three years and two albums later, Rankin is more sure-footed about their direction. "Everything is just sort of new to us and I feel like [laughs] if I knew then what I know now, making this record probably would've been a lot easier.
"I feel like now I'm ready to make another record."
More to explore:
Watch Alvvays perform live at the 2016 CBC Music Festival
Guided Tour: Alvvays takes us track-by-track through their breakthrough debut