"It absolutely feels right."
On the eve of his 14th and final season as music director of the Toronto Symphony Orchestra, Peter Oundjian has neither qualms nor regrets.
Oundjian, who began conducting in 1995 when an injury put an end to his illustrious career as a violinist, believes in seven-year cycles. "Maybe it has to do with the fact that I played in the Tokyo String Quartet for 14 years. It might be as simple as that. There's sort of a seven-year cycle, so ... you do two of them, you know?"
On the phone recently from his home in Connecticut, he reflected on the TSO of 2017, compared to the orchestra he took over in 2004. "I think the expressive power, the expressive range and the general ensemble have all developed," he notes. "Obviously the level of music-making around the world just seems to get better and better. There are so many wonderful orchestras around the world. Fifty years ago, there were only about 15. And there really are a lot now."
His biggest accomplishment? "Avoiding bankruptcy!" he says, laughing, but on a serious note adds, "I think that perhaps, in the end, maintaining a good morale and a positive team spirit throughout the tenure. For me, that's kind of the key to everything."
For proof, one has only to think of such triumphs as the Decades Project, the TSO's brilliant exploration of music of the 20th century, one decade at a time. Or its 2011 season-opening performance of William Walton's Henry V, narrated by Christopher Plummer — "to stand next to that level of talent in acting was just stunning."
We asked Oundjian to talk us through the highlights. Below, 10 outstanding moments from his 14-year tenure as music director of the TSO.
1. The making of the film Five Days in September
Rhombus Media seized the opportunity to capture the excitement of Oundjian's first few weeks as music director of the TSO by producing a documentary film about it. Five Days in September: the Rebirth of an Orchestra, directed by Barbara Willis Sweete, was released in 2005.
"It became a really interesting document about orchestra dynamics, and insights into the way people feel backstage, the kind of issues they have to confront," reflects Oundjian. Adding to the excitement was the fact that three big names were performing with the TSO at the time: Renee Fleming, Yo-Yo Ma and Emanuel Ax.
"It revealed so much about those personalities as well — members of the orchestra and the soloists. Each of them was very open about how they approach the musical performing experience."
2. Playing Bach's Concerto for 2 Violins with Itzhak Perlman
"He's truly one of the most extraordinary human beings one could ever imagine," says Oundjian of his former teacher, Itzhak Perlman.
Perlman accepted Oundjian's invitation to join the TSO for its 90th anniversary celebrations. The concerts took place from April 25 to 28, 2012. Perlman performed the Beethoven concerto under Oundjian's direction, and for the final concert, the two shared the stage as soloists.
"[Itzhak] has been onstage with me probably a dozen times in Toronto, [but] I dared to play the Bach Double with him, having not played the violin almost at all in 17 years."
Perlman also figures in a more recent highlight for Oundjian. "Itzhak was supposed to perform a couple of years ago at our gala, [but] he had to go into the hospital for minor surgery. The person who took over for him at the very last minute was Pinchas Zukerman. It was just so thrilling for me because these are the two violinists who inspired me to become a musician when I was young. I studied with Itzhak, but I knew Pinchas first and he was the reason I came to North America."
3. Taking the TSO on its Northern Residency tours
Oundjian points to the TSO's Northern Residency tours as a particularly meaningful innovation. For several years in a row, he and the TSO toured smaller communities in Northern Ontario, performing public concerts and engaging with local students through an array of in-school programs, reaching more than 10,000 people each tour.
"To go to Thunder Bay, Sudbury, Timmins, Sault Ste. Marie and all those places, and play for those audiences and go into the schools — I found all that to be a really significant connection with community. And in the end, [while] it's very important to have international stature, you are serving your community, and the broader the slice of that community you can serve, the more relevant you are."
4. Giving TSO soloists a chance to shine
During Oundjian's tenure as music director, hundreds of illustrious visiting soloists have played with the TSO, too many to list.
"[But] the thing that really stands out for me, when I look back on it, is the solo performances given by members of our orchestra," boasts Oundjian. "I have featured many, many of them at different times, and I find that particularly moving — how the members of the orchestra support their own colleague when that person is at the front of the orchestra doing something that is, after all, challenging: to be a concerto soloist.
"And also, just the level and beauty of their music-making."
5. Playing Shostakovich's Symphony No. 11 at Carnegie Hall
"You walk on the stage of Carnegie Hall and it's like Wimbledon, the most important tennis court in the world. It's hard to argue with the idea that Carnegie Hall is in fact the biggest stage in the world. It pulls the adrenaline up."
In October 2008, the TSO played Carnegie Hall for the first time in 10 years, their first time under Oundjian's direction. The centrepiece of the concert was Shostakovich's Symphony No. 11, written to observe 1905's Red Sunday massacre in St. Petersburg — "a piece that somehow this orchestra seems to feel deeply in its soul," notes Oundjian. "And certainly they realized I consider it to be a very significant piece of creative art, so together that does something."
The performance elicited "throaty bravos that rang through the hall" and a five-minute standing ovation.
6. Touring Israel and Europe in May 2017
Earlier this year, Oundjian and the TSO did a seven-concert tour of Israel, Austria, Germany and the Czech Republic. The first performances took place in Jerusalem and Tel Aviv. "That was a very moving and unifying experience. It was like a pilgrimmage in a way, because we were all together and we witnessed many aspects of Israel together." They played Dvoràk's Symphony No. 7, Brahms' Violin Concerto with soloist Maxim Vengerov, and a newly commissioned work by Jordan Pal.
"After that, we went to Vienna and had the most fantastic evening at the Konzerthaus, and [then] we went to Prague and were in residence at the Prague Festival." Jan Lisiecki replaced Vengerov as soloist for one of the two Prague concerts, and two further tour stops in Regensburg and Essen.
"The New York audience at Carnegie Hall was possibly the most incredible reception I've ever witnessed, but the audiences in Prague also wouldn't let us go," recalls Oundjian. "We had to play three encores each night. It was a nice reminder that there is something really extraordinary about this institution. You don't want to say it about your own orchestra — we're Canadians, so we have to be modest [laughs]."
7. Being the 1st North American orchestra to play Reykjavík's Harpa Hall
In 2014, the TSO had not toured Europe in 14 years and Oundjian wanted to change that. In August of that year, they took off on a seven-concert, five-city concert tour of Austria, the Netherlands, Germany, Finland and Iceland.
Particularly memorable for Oundjian was the Iceland stop. "We were the first North American orchestra to play in beautiful Harpa Hall, so that was exciting." Harpa Hall opened in 2010 and won the European Union's Mies van der Rohe Award for contemporary architecture in 2013.
James Ehnes was the TSO's guest soloist for that concert, playing Tchaikovsky's Violin Concerto. (While there, he did the ice bucket challenge.)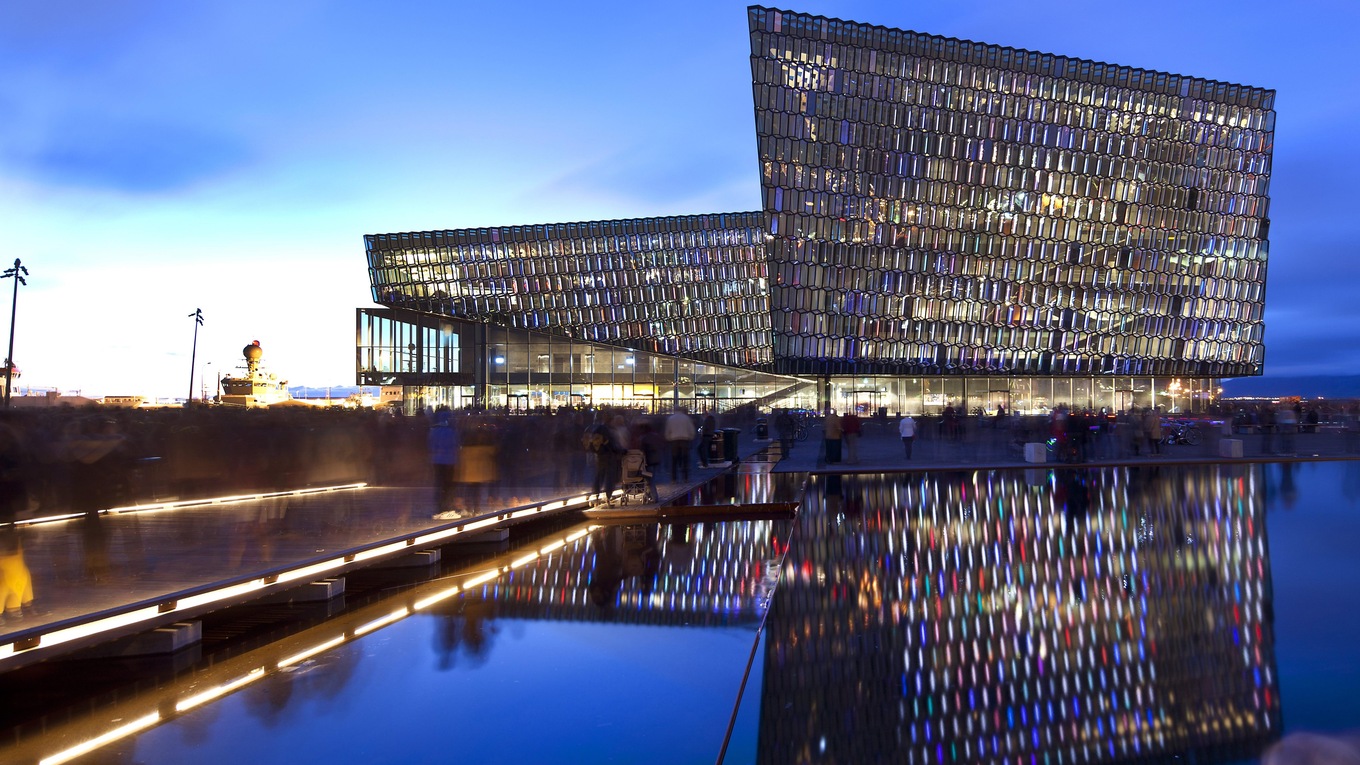 8. Giving the world premiere of Jacques Hétu's Symphony No. 5
One of Oundjian's proudest accomplishments is the TSO's New Creations Festival, its annual showcase of contemporary music, held in March. "I don't know how many dozens of Canadian composers we have commissioned, but it's a lot," he says.
At the 2010 New Creations Festival, the TSO and Oundjian gave the world premiere of Jacques Hétu's Symphony No. 5, a TSO commission.
"He was very, very sick when he wrote it," recalls Oundjian, "and he died two weeks before the premiere. That's a very unusual situation, that you do a premiere and suddenly it's just you [the conductor] and the score, and there's nobody to talk to. I was very fond of him; I had played a lot of his music and knew him well, so that really stands out as being a kind of epic moment."
9. Collaborating with comedians
Oundjian looks back fondly on two remarkable collaborations with comedians. The first was Not the Messiah (He's a Very Naughty Boy), a comedic oratorio written by Monty Python alum Eric Idle (who happens to be Oundjian's cousin) and commissioned by the Luminato Festival. It was premiered on June 1, 2007, and has since toured the world. "It's all silly fun," wrote the Toronto Star reviewer. "A half-dozen of the numbers brought down the house."
The other one was Second City's Guide to the Symphony, the famed comedy troupe's satirical but loving look at the players, composers and audience at a symphony concerts. The show, hosted by Colin Mochrie, was described as "the funniest two hours I spent in a theatre this year" by theatre critic Richard Ouzounian. "It was absolutely fabulous," says Oundjian, "We did it twice."
10. Enjoying every minute of his final season
"The organization has basically said to me, 'We want to celebrate you — just tell us what you'd like to do.'"
And that's what Oundjian did, loading the TSO's 2017-18 calendar with personally curated projects like Brahms' Requiem and Alexina Louie's new Triple Concerto at the end of September, an all-Vaughan Williams concert in November and John Adams' Doctor Atomic Symphony and Gary Kulesha's new Double Concerto in March, to name a few.
"At no point did they say, 'Oh my goodness, another big piece!'"
June 2018 looks especially wild, with visits from Jean-Yves Thibaudet (Gershwin), Daniil Trifonov (Rachmaninoff), Emanuel Ax (Mozart), Brahms' Symphony No. 1, Mahler and Beethoven's Ninths, and, on June 26, a big party called Bravo Peter!
When it's all over, Oundjian will continue his association with the TSO as its music director emeritus. In the meantime, his 14th and final season as music director opens Sept. 19 at Roy Thomson Hall. Details here.
More to explore:
Andrew Davis will be the TSO's interim artistic director
21 Canadian symphony concerts you can't miss in 2017-18
5 things you might not know about Elisa Citterio, Tafelmusik's new music director