Fall is always an exciting time of year, a prime time for artists to put out new albums. In fact, our list of releases for the next few months includes many of Canada's most familiar names, including Shania Twain, Wolf Parade and Stars. In addition, we have highly anticipated releases from artists like Terra Ligthfoot, Cold Specks, Mo Kenney and Metz, to name a few.
To help you keep tabs on all the new music, we present our guide to the best Canadian releases of fall 2017 below.
---
Artist: Cold Specks
Album: Fool's Paradise
Release date: Sept. 22

Why you should listen: Cold Specks' journey from her debut, I Predict a Graceful Expulsion, to her new record, Fool's Paradise, is a glorious thing to witness. Ladan Hussein's voice is wiser and richer the deeper she digs inside herself, her family, and their shared history. This is Hussein at her most vulnerable, but also her most confident because she knows all too well how much strength it takes to make space for who we are and where we come from.

— Andrea Warner (@_AndreaWarner)

---
Related: Stream Fool's Paradise until Sept. 21.
---
---
Artist: Un Blonde
Album: Good Will Come to You
Release date: Sept. 22
Why you should listen: Montreal-based musician, producer and composer Jean-Sebastien Audet, a.k.a. Un Blonde, originally put out Good Will Come to You last year via a very limited cassette run. It sold out immediately and caught the ears of music critics and labels alike, landing on last year's Polaris Music Prize long list and garnering him a signing to Calgary's Flemish Eye Records. The acclaim has come with good reason: Good Will Come to You is an original, sound-bending and soulful release. Made up of 21 tracks, the album is a veritable collage that belongs to no particular genre, though it drifts through the worlds of minimalist R&B, spiritual folk, indie-pop and avant-funk. It's an album that will stun you with its originality, even the second time around.
— Andrea Gin (@andreagin)
---
Related: Stream Good Will Come to You until Sept. 21.
---
---
Artist: Metz
Album: Strange Peace
Release date: Sept. 22
Make no mistake, Toronto three-piece Metz is set to release one of the more highly anticipated albums to come out this fall. The critically acclaimed hardcore band recorded its third album at Chicago's Electrical Audio, live off the floor to tape with legendary producer Steve Albini. "Strange Peace is much more diverse and varied than anything we've done before," said guitarist and vocalist Alex Edkins, "which was exhilarating, but terrifying, too. We took the tapes home to Toronto feeling like we'd made the record we wanted to make." In all, Strange Peace does a good job of capturing the band's intense live show: from the blistering opener "Mess of Wires" to the careening finale of "Raw Materials," it creates sonic turmoil and embraces it. You can almost feel discord in the air as you listen. — AG
---
Related: Stream Strange Peace until Sept. 22.
---
---
Artist: Peach Pyramid
Album: Repeating Myself
Release date: Sept. 22
A year ago, Jen Severtson was living in Calgary, feeling isolated and disillusioned about leaving a band she had played with for many years. She ultimately decided to pack up her bags and leave; now she has a new city, a new band, and is about to release a brand new album. When you first listen to the songs on Repeating Myself, you might find the surf-influenced dream pop a bit deceptive: underneath the sunny, bouncy riffs, Severtson tackles themes of trauma and abuse. Calling it her "sonic exhale," it's the sound of Severtson finding her voice again, and a gently cathartic debut. — AG
---
Related: Stream Repeating Myself until Sept. 21.
---
---
Artist: Angela Hewitt
Album: Scarlatti Sonatas, Vol. 2
Release date: Sept. 29
There's no rest for pianist Angela Hewitt. Even though she's currently touring the world on her Bach Odyssey, she continues to roll out album after glorious album on Hyperion Records. This time, it's the second instalment of her Scarlatti Sonatas project. Vol. 2 commits 17 more to disc, ranging from the gentle and mysterious K. 206 Sonata in E Major to the frenzied K. 24 Sonata in A Major, described by cataloguer Ralph Kirkpatrick as "a veritable orgy of brilliant sound" — which seems like the perfect diversion from the onset of autumn.
— Robert Rowat (@rkhr)

---
Artist: Shania Twain
Album: Now
Release date: Sept. 29
Since we last put Shania Twain on our list of spring albums to watch, the pop-country star has released four singles and pushed back her new album's date by two seasons. Set to come out Sept. 29, the aptly titled Now will be her fifth studio album, and her first since 2002's Up!. Lead single "Life's About to Get Good" has a chorus of sundrenched optimism set between verses that give us some insight into Twain's time out of the spotlight — "I couldn't move on/ and I think you were flattered," she sings, making it impossible not to draw lines between this and her split from ex-husband (and ex-producer/collaborator) Mutt Lange — while the track "Poor Me" lets us in a little more with an uneasy synth beat that matches the lyrics ("Found it in his closet/ right behind the lies/ I wish I never saw it/ the secret in his eyes"). Whatever the rest of Now holds, we are here for it.
— Holly Gordon (@hollygowritely)

---
Artist: Mo Kenney
Album: The Details
Release date: Sept. 29
"It starts out in a pretty dismal place, and by the end of the record, you feel pretty OK about what's happening," Mo Kenney told us last month about her upcoming album, The Details. Billed as a concept record, this third album sees Halifax-based Kenney plugging in, writing delightfully weird — and heartbreaking — short bursts of songs like "Cat's Not a Cake" and going full out for a track like "On the Roof." Kenney, who was diagnosed with severe depression when she was 15, says the writing of this record coincided with her return to therapy, and she came out the other side in a completely different space: "I quit drinking and I had this amazing clarity that I had never experienced before." Look for our First Play of the album this Friday, and a First Play Live session with Kenney in October. — HG
---
Artist: Blue Hawaii
Album: Tenderness
Release date: Oct. 6
While fans are still waiting for a new album from Braids, we recommend checking out singer Raphaelle Standell-Preston's other project, Blue Hawaii. Standell-Preston has been working with collaborator Alexander Cowan on this electronic project since 2010 and, in 2013, they released a chillingly intimate record about disconnection and alienation called Untogether. Those themes are continued on their new album, Tenderness, but are tightly wound around a specific narrative of two people maintaining a relationship online. Based on lead single "No One Like You," Tenderness aims to up the tempo and embrace a more disco-influenced sound. It's perhaps the most pop-sounding music we've heard Standell-Preston's voice soar over — a shift that we happily welcome.
— Melody Lau (@melodylamb)

---
Artist: The Weather Station
Album: The Weather Station
Release date: Oct. 6
Tamara Lindeman says her upcoming album, a self-titled effort under her moniker the Weather Station, will be a "rock and roll record." But don't expect Lindeman to ditch her beautifully insightful folk sounds for rumbling bass lines and brash guitars; this is Lindeman's version of rock music. On lead single "Thirty," that means an acoustic guitar riff that barrels forward as she lists off keen observations with her sprightly voice. Oh, and there's flute. This may not sound rock 'n' roll, but it's a unique take on the genre that we can't wait to hear. — ML
---
Artist: Weaves
Album: Wide Open
Release date: Oct. 6
Weaves had a huge 2016 — which culminated in a Polaris Music Prize shortlist nomination — and the band is determined to capitalize on its momentum with this sophomore album, Wide Open. Building off of the adrenaline from a critically-acclaimed debut album and tour around the world, Wide Open finds the band fine-tuning its chaotic guitar-pop sounds while still using singer Jasmyn Burke's wildly ferocious voice as a driving force. The album will also feature a guest appearance from fellow Polaris nominee — and past winner — Tanya Tagaq. — ML
---
Artist: Wolf Parade
Album: Cry Cry Cry
Release date: Oct. 6
When Wolf Parade reunited last year after a five-year hiatus, indie music fans went into a frenzy. One of the best-loved Canadian indie bands, Wolf Parade sold out five-night runs at the Bowery Ballroom in New York and Lee's Palace in Toronto within hours. That May, the band made a cautious re-entry into the recording sphere, releasing EP 4, which contained its first new material in six years. While EP 4 sounded like a band getting used to playing together again, fans are expecting much more from the upcoming full-length Cry Cry Cry. The lead single, "Valley Boy," sees Wolf Parade returning with a vengeance to its patented driving, anthemic, off-kilter rock. It seems like a harbinger of good things to come. — AG
---
Artist: Gabrielle Papillon
Album: Keep the Fire
Release date: Oct. 13
"I think I've actually been working on this album for years and years," Gabrielle Papillon told us last month during a First Play Live session for her upcoming album. Keep the Fire, the Halifax-based songwriter's sixth full-length, is the product of that work, a sweeping, ambitious album that swells with strings and heart. If it took years to complete, it also marks a specific time in Papillon's life: in January, she started seeing a counsellor for what she found out was generalized anxiety, and going through that process cleared a path for the songs to come. "Doing all these things just made me feel so empowered, and so much less out of control," she explained. "Because that's what it is, you feel like you're drowning." Look for our First Play of Papillon's album in October, and the First Play Live session a month later. — HG
---
Artist: Terra Lightfoot
Album: New Mistakes
Release date: Oct. 13
The catchy, sing-along, foot-stomper of a debut single, "Paradise," is the perfect combination of gloss and grit, a song that could be a jukebox anthem of dive-bar desperados or the rallying theme song for a bunch of post-break-up book clubbers. "Paradise" is whatever you need it to be, and it's a perfect open-armed welcome to the rest of the album, which harbours subtle detours from Lighfoot's pre-established maps, which she may describe as New Mistakes but really play out like bold adventures. — AW
---
Artist: Rural Alberta Advantage
Album: The Wild
Release date: Oct. 13
Rural Alberta Advantage's urgency has often been a place to seek refuge; to stomp your feet and wail out your demons. The Wild is no different, but the band has changed: longtime bandmate Amy Cole officially announced her departure in September 2016, and Robin Hatch now completes the trio, having performed with vocalist Nils Edenloff and drummer Paul Banwatt during last year's road-testing tour. The followup to Rural Alberta Advantage's 2014 release, The Wild is a welcome rallying cry to what the band's future still holds. — HG
---
Artist: The Barr Brothers
Album: Queens of the Breakers
Release date: Oct. 13
Genres are made for blending, but never is that more apparent than when the Barr Brothers release new music. Made up of classical harpist Sarah Page and brothers Andrew (percussion) and Brad Barr (vocals/guitar), the Montreal-based band has released a crashingly loud lead track ("It Came to Me") and a six-minute, psychedelic, harp-driven refrain ("You Would Have to Lose Your Mind"), and both are stunning. The first new album since 2014's Sleeping Operators, Queens of the Breakers was recorded in both Montreal and St. Zénon, Que., and was engineered by Ryan Freeland (Milk Carton Kids, Ray LaMontagne, Bonnie Raitt) and Marcus Paquin (Arcade Fire, the National). — HG
---
Artist: Stars
Album: There is no Love in Fluorescent Light
Release date: Oct. 13
"No one's getting older/ and nothing ever changes/ and I will never lose you/ and you'll never lose me." Your love life's composers are back, as Montreal's Stars are set to release There is no Love in Fluorescent Light — the followup to 2014's No One is Lost — in October. Recorded in both Montreal and Connecticut with producer Peter Katis (the National, Interpol), this is the band's ninth full-length album, but its first on Last Gang Records. "I think we are very interested as a band, in the notion of emotional telescoping," Torquil Campbell told CBC's q, in an interview last week. "In other words, what's happening between you and the person lying next to you in bed in some way ripples out and affects everything in the world, and the geopolitical forces and personal forces are really being controlled by the same thing — which is human emotion." — HG
---
Artist: Jackie Shane
Album: Any Other Way
Release date: Oct. 20
This extraordinary reissue is Jackie Shane-approved and from the first track, "Sticks and Stones," it's not just a thrill ride, but an emotional, inspiring, hip-shaking soul party. The double album features all six of the singer's 45s, the 1967 live sessions at the Sapphire Tavern and three previously-unreleased tracks. Barely known outside of Toronto during her recording heyday in the '60s, Shane was, through the many intersections of her identity — a beautiful, talented, Black, trans woman — a pioneer and a trailblazer. More than 50 years after her peak recording sessions — and 25 years since she's had any communication with the public — we're incredibly lucky to have Jackie Shane back for this personally approved and curated collection. — AW
---
Artists: James Ehnes, Royal Liverpool Philharmonic Orchestra, Andrew Manze
Album: Beethoven Violin Concerto
Release date: Oct. 20
Among violin concertos, those by Brahms, Tchaikovsky and Beethoven comprise the summit of the repertoire. James Ehnes recorded the Tchaikovsky concerto back in 2011; did he wait until he hit his 40s to tackle Beethoven? Whatever the case, his collaboration with the Royal Liverpool Philharmonic (with whom Ehnes is an artist in residence) and violinist/conductor Andrew Manze seems like the ideal convergence of talent on an iconic score. Beethoven's gorgeous Romances and Schubert's Rondo complete the program. — RR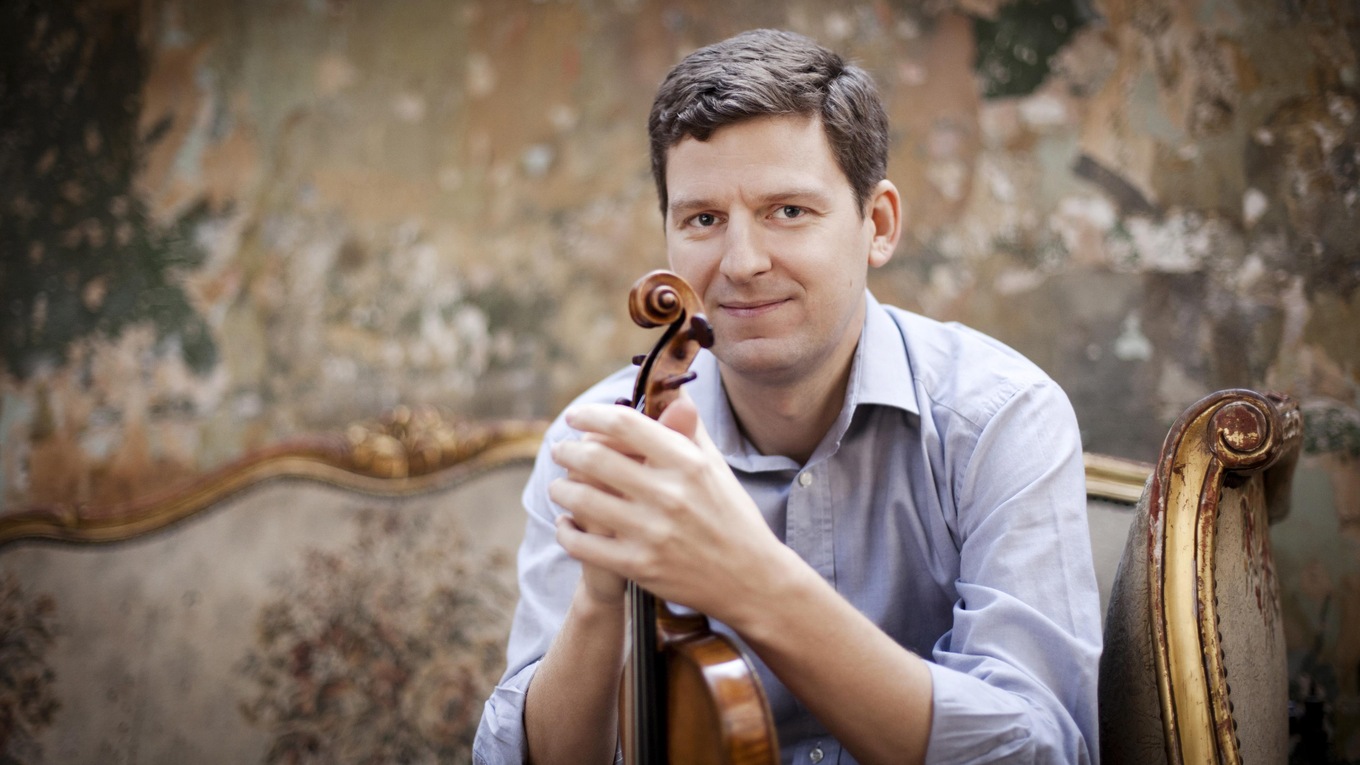 ---
Artist: Liam Corcoran
Album: Nevahland
Release date: Nov. 3
With a narrative throughline that hits at the heart of a Noah's ark/Peter Pan Venn diagram, Nevahland marks the first solo full-length from P.E.I.'s Liam Corcoran. The former lead vocalist for Two Hours Traffic enlisted the talents of Kinley Dowling (Hey Rosetta!), Emilee Sorrey (Sorrey), Dan Griffin (Arkells, Teen Ravine) and Nathan Wiley for this effort, weaving lyrics of couples' love and couples leaving among guitar, keys and strings that don't drive the story so much as float it forward. With a trailer that is 45 seconds of rural sunset charm and wordless unrest, we'd like to find out where Corcoran's characters end up. — HG
---
Artist: DVSN
Album: Morning After
Release date: Oct. 13
Vocalist Daniel Daley and producer Nineteen85 comprise the mysterious duo of DVSN. On their Polaris Prize longlisted debut album, the two managed to differentiate themselves from their fellow R&B-leaning OVO Sound labelmates Majid Jordan and Roy Woods by virtue of their unabashed love of '90s R&B and Daley's aching, gospel-infused vocals on standout tracks like "Too Deep." And while Drake made a surprise appearance at the end of their free Canada Day outdoor summer concert in Toronto, tracks like their latest slow-burning single "Mood," showing off Daley's impressive Maxwell-indebted falsetto, indicate they really won't need the 6 God's co-signing validation to avoid the sophomore jinx.
— Del F. Cowie (@vibesandstuff)
---
Artist: Majid Jordan
Album: The Space Between
Release date: Oct. 27
Aside from dropping some time this fall, there isn't a ton of info about Majid Jordan's upcoming sophomore record, The Space Between. However, based on the tracks that have dropped, the album should find the Toronto duo building on the house-infused grooves that formed the foundation of Majid Al-Maskati and Jordan Ullman's self-titled debut. Latest single "One I Want" finds them teaming up with their OVO cohort PartyNextDoor for a slinky, suggestive collaboration. "Phases," the song that announced the group's comeback, is about yearning of a different kind, with Al-Maskati endearingly alluding to his move from Bahrain to Canada and his struggle to adapt to — and find acceptance in — a new society. If the goal on the new album is steady artistic growth that doesn't forsake their foundation, then Al-Maskati and Ullman are on the path to achieving it. — DC