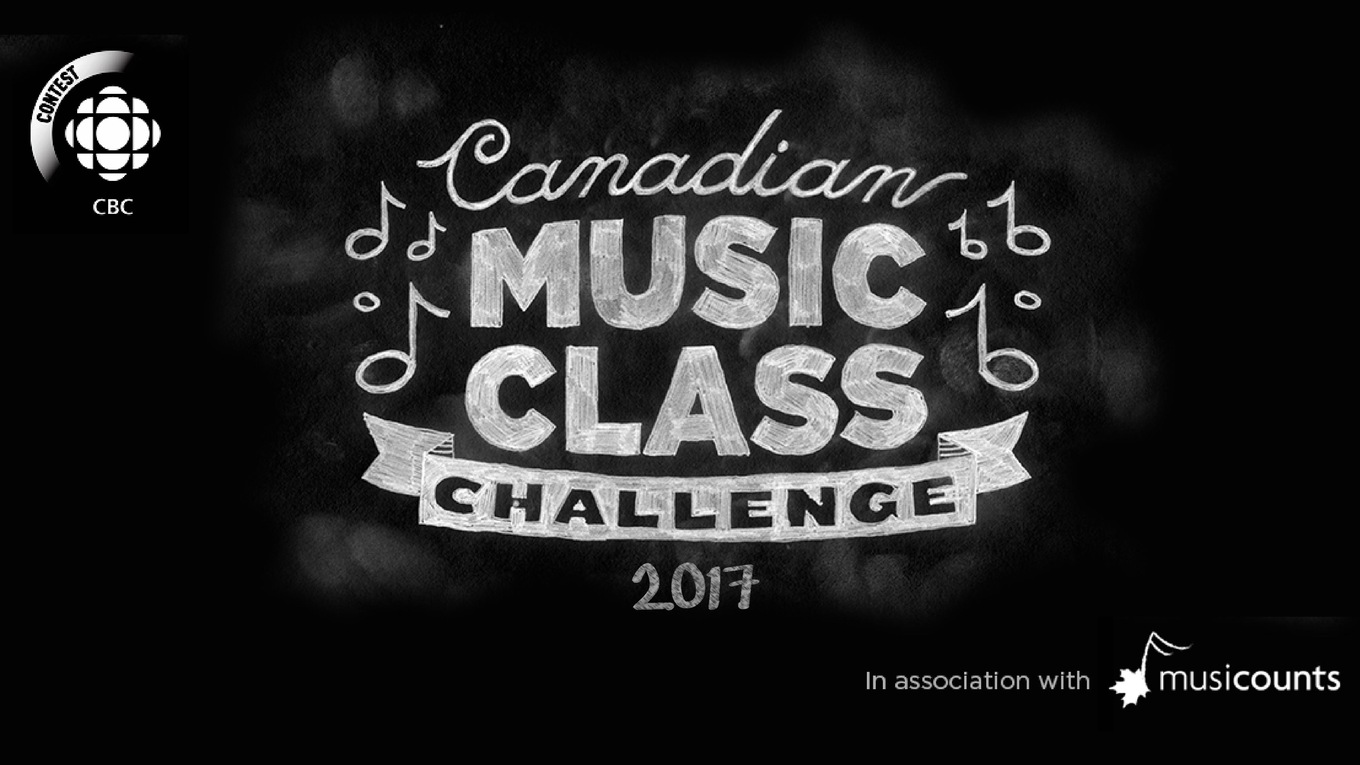 For our third year straight, CBC Music and MusiCounts are searching for greatness, fun and innovation in music classrooms across the country.
From elementary to high school, the Canadian Music Class Challenge wants to showcase your classes' take on one of these great Canadian songs from our list for this year. Whether your music program is traditional, classical, vocal, instrumental, rock 'n' roll or somewhere inbetween, we can't wait to see and hear what you come up with.

After the final submission date of Friday, Nov. 24, 2017, our panel of celebrity judges takes over to pick the best performances in our six different age categories. And today, it's time for you to meet the judges!
Ewan Currie (the Sheepdogs)
Ewan Currie is the lead singer, guitarist and co-founder of the Sheepdogs. The certified platinum- and gold-selling Saskatoon rock 'n' roll band was the first unsigned group to ever land on the cover of Rolling Stone magazine, when they won an international contest in 2011. The cover catapulted the band to fame, including performances on late-night talk shows and a deal with Atlantic Records.
Winners of four Juno Awards and having garnered three #1 singles including gold-certified tracks "Feeling Good" and "The Way It Is", the Sheepdogs continue to be one of the premier rock bands in Canada, and it all started in a high school music class. That's where Currie met future Sheepdogs bassist Ryan Gullen. Soon they started exchanging CDs of soul, funk and blues, and they switched their interests to guitars. A band destined for stardom was born.
"From the teaching of vital musical elements of tone, melody, tempo and timbre, to providing the social setting where I met my future bandmate (and fellow clarinetist) Ryan Gullen, musical education has always served me well."
Min-Jeong Koh
Min-Jeong Koh maintains a busy schedule as a concert violinist and educator. She has toured the world as a member of the Cecilia String Quartet, first prize winners of the 2010 Banff International String Quartet Competition and prize winners of the 2010 Bordeaux and 2008 Osaka International String Quartet competitions.
Koh is a passionate music educator, and has previously held quartet residencies at McGill University, the Royal Conservatory of Music and San Diego State University, as well as teaching posts at Austin Chamber Music Center, Indiana University Summer String Academy, Innsbrook Institute and QuartetFest at Wilfrid Laurier University. She has also given master classes at Algoma Conservatory, Brandon University, Guildhall School of Music and Drama, Memorial University, Iowa State University, Southern Oregon University, and Victoria Conservatory.
Koh continues to work with young artists at the University of Toronto and at Wilfrid Laurier University, and is currently an Associate Professor of Violin at University of Oklahoma. She has recently completed her Doctor of Musical Arts degree at the University of Toronto, where she researched the proliferation of Canadian string quartets.
"I couldn't be more excited to be part of this project! One of my most steadfast mentors, Jolanta Hickey, was my high school music teacher, and if it weren't for her unwavering support and dedication, I would not be where I am today. When I tell this story to people, it is often assumed that her and I developed this bond because of my musical inclinations, but that's not the case: I was less than an ideal student. I was a difficult teenager! The impact that a teacher can have on a student lasts past the classroom and even moulds the type of person one grows into. I am so thankful to have met her."
IsKwé
Named one of the 10 artists to watch in 2016 by CBC Music, Winnipeg-bred and Hamilton-based singer-songwriter IsKwé (which means "woman" in her native language) has an unmistakable sound that weaves together her Irish and Cree/Dené roots with poignant, politically charged lyrics, soulful R&B rhythms, electronic flourishes and trip-hop breakbeats.
Her debut single, "Nobody Knows," was produced by Juno Award nominees the Darcys and was featured in the Netflix series Between. It captivated audiences by turning a spotlight onto the more than 1,200 missing and murdered Indigenous women in Canada. Unafraid to challenge the convictions of her detractors by honouring her heritage and standing steadfast in her viewpoints, IsKwé's artistry knows no bounds. Her music revels in her strength of self, and that is her true rallying cry.
"When I was growing up, I was lucky to be in a house and family that not only supported but was excited about the arts. I found this encouragement was what got me through a lot of the trying moments of childhood and teenage years, especially as my personal situation became more and more challenging. I often sought refuge in art and music, and have seen the direct and positive impact music education has on our younger generations. With freedom to express themselves, not always using 'proper sentences,' kids find strength in their voice in ways only music can offer — and we need to hear what they have to say!"
Julie Nesrallah
Whether regaling us with stories as host of Tempo on CBC Music or completely enthralling us with her beautiful mezzo-soprano voice, Julie Nesrallah has earned her spot among Canada's arts and entertainment elite.
In 2014, Nesrallah was awarded the Queen's Diamond Jubilee Medal for her cultural contributions to Canada. She has sung on stages all over the world, even performing "God Save the Queen" for Prince William and Kate Middleton. Nesrallah has also performed her solo recording, Impressions de France, at New York's illustrious Carnegie Hall. Her musical tastes span as far and wide as her vocal range, and she can't wait to hear the variety of arrangements that come from Canada's music programs.
"Sylvia Darwood was my public school music teacher and she didn't just change my life, she proactively set me up for a life in music. Mrs. Darwood recognized my talent at a very young age; she introduced me to a voice teacher with whom I studied until the day she died. And she sent me to audition for a professional opera company at just 12 years old (I got in and was given a solo part). Without Sylvia Darwood, who knows where I would be today? Years later, when I was offered my first professional opera contract, I phoned Mrs. Darwood and thanked her from the bottom of my heart."
Which classes will the judges pick? Stayed tuned!
More to explore:
Sign up now for the Canadian Music Class Challenge
What is the Canadian Music Class Challenge?
Canadian Music Class Challenge key dates
Canadian Music Class Challenge rules and regulations
Need new instruments for your music class? Check out Band Aid