"It's probably the top concerto for me."
Among the great violin concertos, Andrew Wan ranks Beethoven's No. 1. "In terms of sheer technical difficulty, there are harder things," he told us during a recent phone interview. "But to play it with the ease and majesty that it requires, that's where the difficulty lies."
Wan will play Beethoven's Violin Concerto with the Edmonton Symphony Orchestra (ESO) under the direction of Alexander Prior on Nov. 8. It's a homecoming for Wan, who grew up in Edmonton before going to New York City to study at Juilliard and then accepting his current job, concertmaster of the Orchestre symphonique de Montréal (OSM).
"I like to think of the musicians in the Edmonton Symphony as my colleagues," he says, "and I'm so lucky to be playing with them on a kind of regular basis this year."
Itzhak Perlman plays Beethoven's Violin Concerto with the Berlin Philharmonic under Daniel Barenboim.
Wan recommends James Ehnes's new recording of Beethoven's Violin Concerto "because he's just a monster." It's a collaboration with Andrew Manze and the Royal Liverpool Philharmonic Orchestra, with whom Ehnes is artist in residence.
'A bunch of arpeggios and scales'
Wan first learned Beethoven's Violin Concerto when he was 13. "On paper, it's a bunch of arpeggios and scales and when you're a 13-year-old kid, you think, 'Oh, this is not so hard,'" he recalls. "But the minute you start taking a longer view, a meta view, then you realize the kind of structural understanding and phrase length and tone production required. And, you know, the big thing is intonation — just playing with a beautiful understanding of pitch, and integrating yourself into the orchestral sound.
"This piece, probably much like the piano concertos, should only be tackled by people who have a strong idea of the musical statement they want to bring," he continues. "I'm humbled every time I play it."
His most memorable performance of this concerto to date was in 2009 with the OSM.
"It was in my second year with the orchestra, and that week, Vadim Repin was playing [Beethoven's Violin Concerto] with us. But there was a run-out concert in Joliette, Que., and he couldn't make it. And then maestro Nagano was really nice, and said, 'Do you want to play it with us?' We hadn't worked together before as soloist and conductor, so of course I was really nervous. Nagano is known as a Beethoven specialist, and it was an amazing experience."
'Bam, bam, bam, bam, bam'
Due to the famous opening of the first movement, the work quickly garnered the nickname "kettledrum concerto" and, as Wan explains, that underscores the work's symphonic conception.
"When you have the initial theme posed by the timpani — just those five hits in the beginning, done piano — and then later, when the chords are played by the strings ('bam, bam, bam, bam, bam'), that's a mammoth statement," he says. "Having played this in the orchestra just as many times as I've played it as a soloist, I really enjoy playing the violin part in the tutti sections because it's like another symphony. Beethoven wrote it after his fourth symphony, and it's like a natural progression in his symphonic repertoire; it's right before his fifth symphony."
But, as a soloist, Wan says the long orchestral introduction makes him a bit uneasy. "I basically like concertos where I can just jump right in and start playing. I love playing the Sibelius and Mendelssohn concertos and Prokofiev's second concerto," he reflects. "It's the ones with these long-winded introductions, where your anxiety builds. And then you have to calm yourself and realize that the music is there, it's on the page, and you don't have to do too much to dress it up and make it pretty. There's a reason this music has been played over and over these past couple of centuries: it's just very beautiful, poignant music."
'He wasn't a Schubert or Tchaikovsky'
The concerto isn't exactly brimming with high-flown melodies — for instance, the second theme of the opening movement is a very straightforward scale up, followed by a scale down. And yet, somehow it's perfect.
"He wasn't a Schubert or Tchaikovsky or even a Dvorak in terms of writing that epic thematic material," admits Wan, "But what he does with it and how he develops it over the course of a 25-minute movement — when you step back and realize what he's doing, with such little musical material, you realize the genius of the work.
"You know, one of my favourite moments in all of chamber music literature is in [Beethoven's] Archduke Trio," he continues, by way of comparison. "In the variations movement, when the violin and the cello, at the very end, are just going back and forth with two notes [sings], and then it finally changes — it gives me shivers every single time.
"It doesn't take a Saint-Saëns theme to tug at your heartstrings," he notes. "[Beethoven] just has the simplicity of what he's written down. I've always really liked that about him."
'One of the most heavenly expressions ever'
The second movement of the concerto is essentially a set of variations based on two themes.
"I don't ever get to play the first theme!" exclaims Wan. "I just get filagrees on top of it, and that's kind of wild. The second theme is probably one of the most heavenly expressions ever, when it comes back with it's variation and these little ornaments. I'm always looking forward to playing the second theme. There is a kind of nostalgia and nuance there that takes a lot of concentration and poise to pull off. It unfolds in a natural way, very calm and peaceful, and I probably take it at a slower tempo than people usually like to because I want to feel the scope of it."
Adding to the calming effect of this movement is Beethoven's use of horns. But Wan points out that this also poses a challenge. "The difficulty is the communication [between the strings and the horn section]. You want to change these chords at the exact same time, and the horns are quite far back. They can't hear me because I'm not trying to play too loudly, so you really depend on a very attentive stick at this point."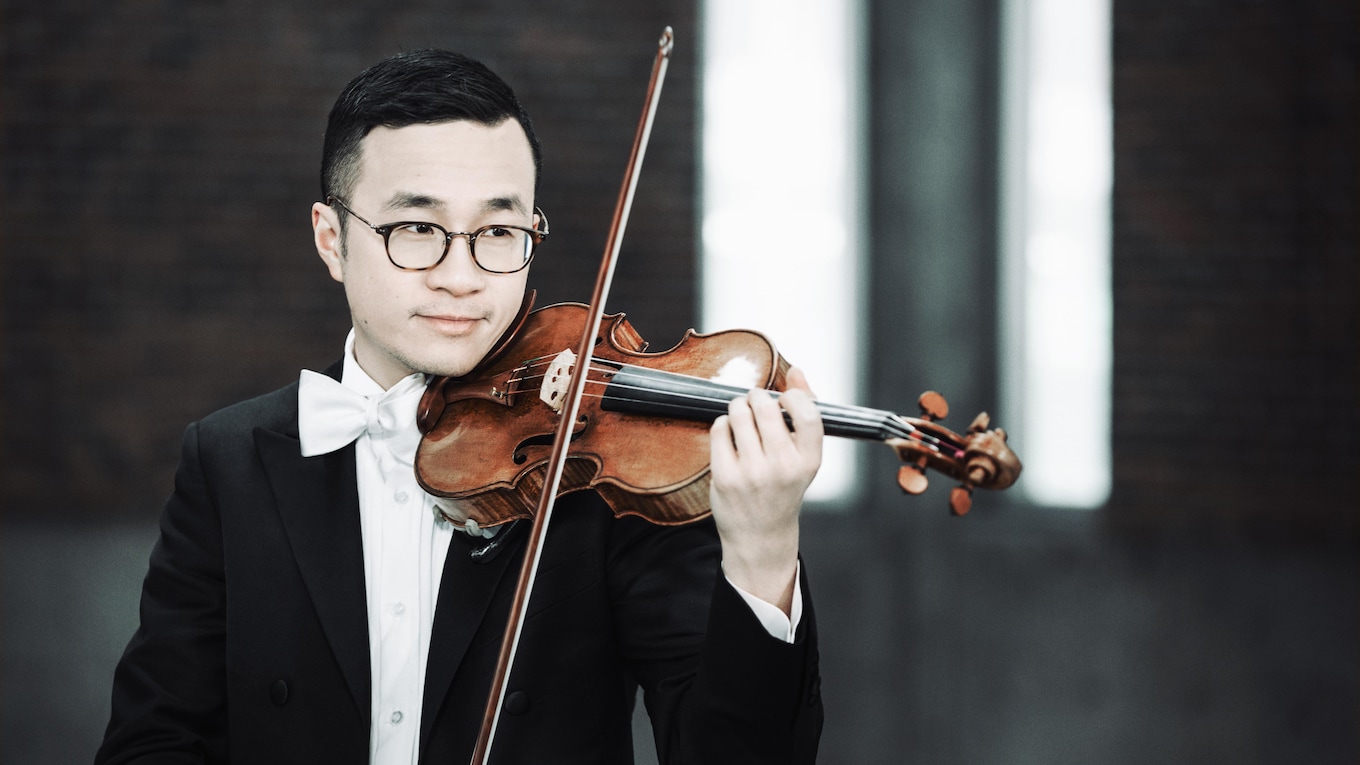 'In many ways, it's kind of the most symphonic violin concerto — you know, a big symphonic statement, much like the Brahms concerto.' — Andrew Wan
'The larger picture'
Wan recently observed Gidon Kremer rehearse Schumann's Violin Concerto with the OSM and was struck by the way his phrasing accentuated the top notes of all the arpeggios.
"He really sees the larger picture. If I were playing that, I know how I'd look and sound, especially on a bad day. I'd be really digging in and focusing on hitting every little thing.
"And he — not to say he wasn't hitting them, he was hitting them, but the musical shape was so apparent. At some point I didn't care what the notes in between were, I was just tracing the top notes, and there was this big, huge line, and I was sitting there thinking, that's got to be easier to play than getting locked into every triplet, you know?
"And so I went home and started playing the third movement [of the Beethoven concerto] kind of like that, and just focusing on the landmark arrivals," he says, adding, "If you're a high-event player and you're worried about the next bar all the time, that's very tiresome."
More Beethoven
Wan is kicking off another big Beethoven project in the near future. He and pianist Charles Richard-Hamelin will perform and record Beethoven's 10 sonatas for violin and piano over the next three years. That gets underway on Dec. 6 at Bourgie Hall in Montreal, with Sonatas 6, 7 and 8. Details here.
For information on Wan's Nov. 8 performance of Beethoven's Violin Concerto with the Edmonton Symphony Orchestra, head over to the Winspear Centre's website. Wan will stay in Edmonton for two further concerts with the ESO next week. On Nov. 10 and 11, he plays music from John Williams' score for Schindler's List on the ESO's concert titled The Glorious Sound of Hollywood. Michael Krajewski conducts.
Wan returns to Edmonton in March 2018 to play Bernstein's Serenade for Violin. That concert marks the return to the podium of the ESO's former music director, William Eddins. Details here.
More to explore:
You'll love this violin cover of 'Marietta's Song' from Korngold's Die tote Stadt
Timothy Chooi's violin videos are a love letter to Montreal
Watch Yolanda Bruno play Bach on her 1700 Taft Stradivari violin