Watch the full hour-and-a-half long Tower of Song special now via CBC.ca.
---
It's been exactly one year since the world lost Leonard Cohen, and last night, his Montreal hometown hosted a star-studded concert titled Tower of Song to honour the songs — and memories — that the singer left behind.
"Leonard was an extraordinary Canadien, mais il était un grand Montréalais," said Prime Minister Justin Trudeau, who got onstage with Sophie Grégoire Trudeau to pay tribute to the man who performed twice at their wedding.
The night was filled with love for Cohen and his works, with artists like Sting, Elvis Costello, Courtney Love, Patrick Watson, Feist, Bettye LaVette and others taking the stage. Seth Rogen showed up to read a poem — "As a Canadian Jewish person, there is no higher honour than reading a Leonard Cohen poem in the middle of a hockey arena," he said — and son Adam Cohen, who was on and offstage throughout the night, sang "So Long Marianne" with England's the Webb Sisters (complete with hearty crowd sing-alongs) before reading his father's goodbye letter to the song's titular inspiration.
If you couldn't attend last night — or want to relive it — CBC Radio 2 will air the concert tonight. Get those details here. Below, five things you missed (and that you'll want to not miss tonight).
Sting
Tower of Song wasted no time getting Sting onstage, as the singer opened the show with a charming cover of Cohen's near-standard, "Dance me to the End of Love."
There were whispers in the crowd after Sting's first performance, with people worried he wouldn't be coming back, but come back he did: Sting opened the second half of the night with "Sisters of Mercy," and came back one more time for "Anthem," fittingly growling the lines, "There is a crack in everything/ that's how the light gets in," before the show transitioned to a moving video in memoriam tribute to Cohen.
Sharon Robinson taking centre stage
Cohen hired Robinson as his backup singer nearly 40 years ago, and their working relationship turned into an inseparable one, with Robinson co-writing songs like "Everybody Knows" and "Waiting for the Miracles."
At Tower of Song, Robinson was often at the backup mics, singing with England's the Webb Sisters (who were most recently on tour with the late Tom Petty), but she also took the spotlight to sing "I'm Your Man," while fittingly wearing a fedora for her late friend.
Left to right: Sharon Robinson, Charley Webb, Bettye LaVette, Hattie Webb. (@hrdwebb/Instagram)
Lana Del Rey dueting with Adam Cohen
After Sting sang a rousing cover of "Sisters of Mercy," the stage went dark and Lana Del Rey and Adam Cohen appeared, standing face-to-face. They traded verses on "Chelsea Hotel No. 2" for a lovely, understated tribute of a song that Del Rey originally covered in 2013.
Watch a snippet of their duet here.
November 7, 2017
Javier Mas solos
When Elvis Costello finished his second Cohen song, "Bird on a Wire," he paused the evening to introduce everyone to the stage full of musicians who had been accompanying the singers all night. Among them was Javier Mas, playing lutes and guitar, who got the loudest — and longest — set of applause.
A musical director for Cohen tribute concerts in Spain in both 2006 and 2007, Mas joined Cohen on the singer's return to touring in 2008. Cohen used to call Mas "shepherd of the strings," and it's evident why: the musician stole the show multiple times last night, including while Ron Sexsmith sang "Suzanne," and when Cœur de pirate, Adam Cohen and Damien Rice teamed up for "The Partisan."
The video below is from the Las Vegas stop of Leonard Cohen's 2010 world tour.
k.d. lang singing 'Hallelujah'
What would a Leonard Cohen tribute be without k.d. lang singing "Hallelujah"? The singer, whom we last saw cover this song at the Vancouver Olympics seven years ago, didn't disappoint, walking onstage barefoot, breaking everyone's hearts as she moved between belting out the chorus and settling in for the song's quieter, more reverent moments, and leaving everyone in tears as she led the show into intermission.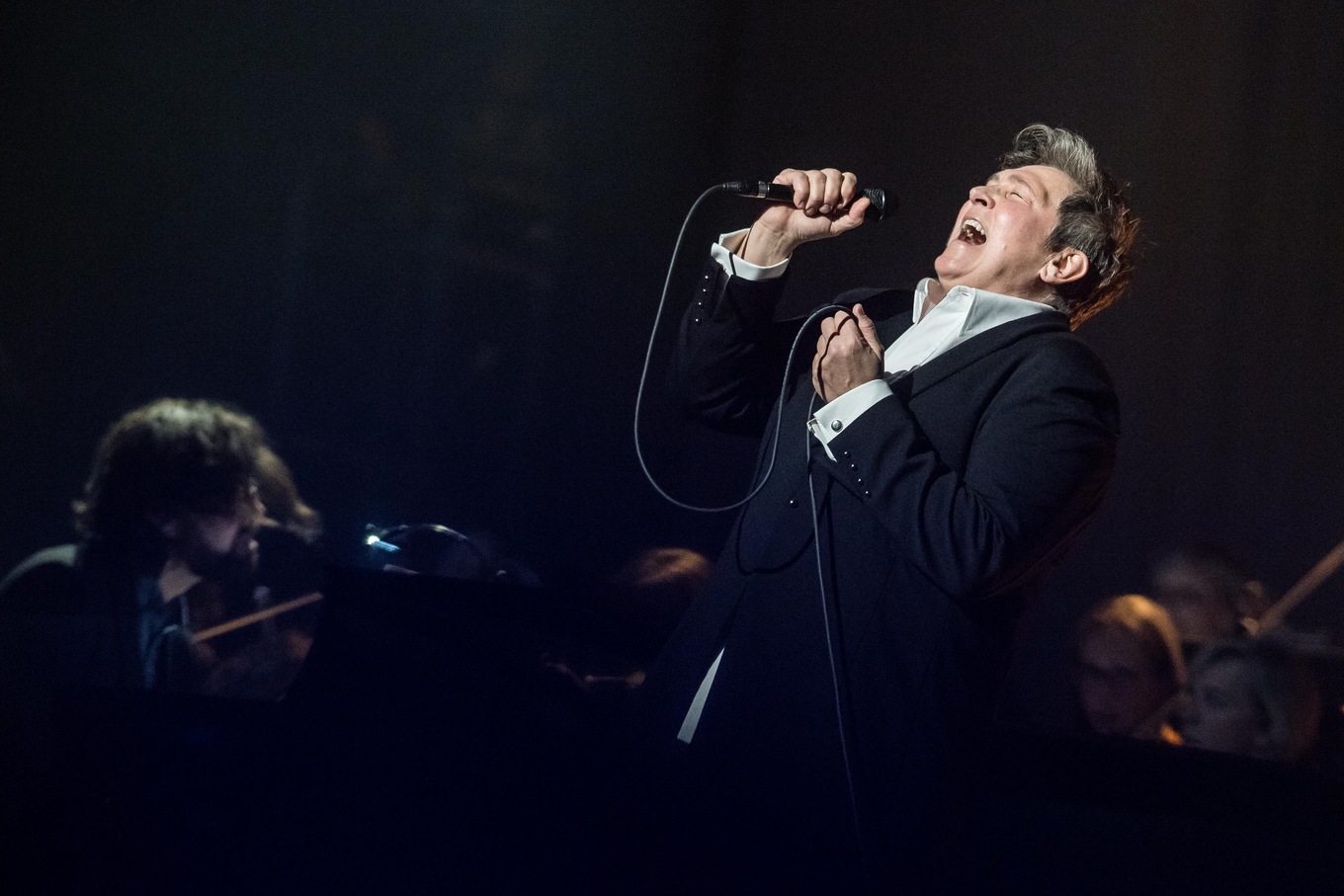 More to explore:
How to listen to the Leonard Cohen tribute show, Tower of Song
All things Leonard Cohen on CBC Music
82 reasons to love Leonard Cohen
Listen to Feist's haunting cover of Leonard Cohen's 'Hey, That's No Way to Say Goodbye'
Leonard Cohen, the women he loved, and the women who loved him