"I think our mutual passion for music was a very special bond for us," says cellist Stéphane Tétreault, recalling Jacqueline Desmarais, his friend and benefactor who died on March 3 at the age of 89.
In 2012, Desmarais purchased the 1707 "Countess of Stainlein, Ex-Paganini" Stradivarius cello for him to play. It's valued at $6 million.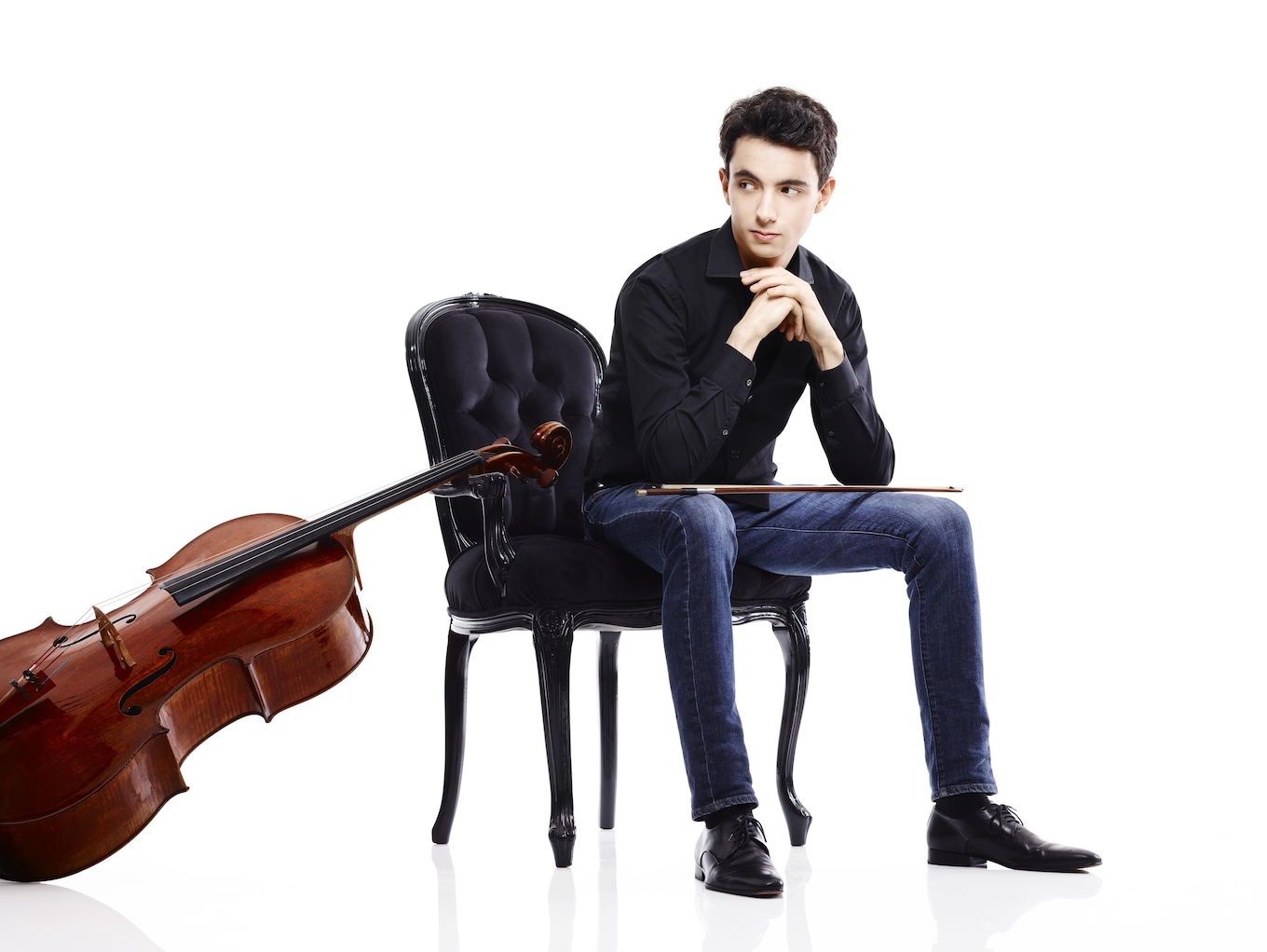 In December 2017, Stéphane Tétreault played Elgar's Cello Concert on a European concert tour with Yannick Nézet-Séguin and l'Orchestre Métropolitain. (Luc Robitaille)
Jacqueline Desmarais was the widow of Quebec billionaire Paul Desmarais, who predeceased her in 2013. Her philanthropy was legendary in the classical music community: she provided bursaries to hundreds of young Canadian musicians through her foundation; paid for the construction and installation of the Grand-Orgue Pierre-Béique in the Maison symphonique de Montréal; was chair of the Montreal Symphony Orchestra Foundation from 1989-99; and she financed entire productions at New York's Metropolitan Opera. (The Met has announced they'll dedicate the remaining performances of Elektra, conducted by Yannick Nézet-Séguin, and the live global cinema relay and radio broadcast of Rossini's Semiramide on Saturday, March 10, to her memory.)
It's no understatement to say her philanthropy has changed the lives of hundreds of classical musicians, none more so than cellist Tétreault.
"She had this energy, this joie de vivre that was extremely contagious. I don't think you could be in the same room as her without feeling that vivacious energy," Tétreault told CBC Montreal's Daybreak, describing how he came to meet Desmarais.
"I was giving a concert in Montreal in 2010 with I Musici and conductor Maxime Vengerov. I was 17 at the time. For the occasion, I gave a little interview on TV. Mrs. Desmarais wasn't in town at the time, but she was watching the news the night of the concert. She saw me go by on TV. She immediately wrote down my name and the next day, she was speaking to her assistant and asked her, 'Do you know the young cellist Stéphane Tétreault? Apparently he was in concert last night in Montreal.' And the assistant said, 'Yes, I was actually at that concert.' Thereafter, she asked that I play for her and she came to a few of my concerts and we quickly developed a very close friendship."
Before long the subject of a new cello came up. "She noticed that I had a very beautiful cello at the time, an English antique cello that had been loaned to me, and I had been very furtunate to be playing since the age of 12. But she did wonder, 'Oh, maybe he could use another instrument.' So she asked me to check, and just by chance, a beautiful Stradivarius cello, the one in question, was available in Boston, on auction. It had previously belonged to the great American cellist Bernard Greenhouse. It's a legendary instrument.
"So I went to try it in Boston, fell in love with the instrument, but was a good boy and decided to try many other cellos, just to make sure that one was the special one. So I also went to New York and London, and tried some of the most amazing cellos on the market at that time, and I mean, I was 18 at that point, and for an 18-year-old cellist to be able to try those cellos is unbelievable. So then, when she announced to me that she had won the Strad cello at auction, that was one of the most beautiful moments of my life."
"I think she had this enormous passion for music, for art," continues Tétreault. "I don't think I've ever seen such no-strings-attached generosity. It was really her absolute pleasure to help young musicians in their careers. She was even more excited than we were, sometimes, as musicians, whenever a new success would happen in our careers. If she could do anything to help, she was always willing."
'It allows you to dream'
Tétrault says his Strad enables him to realize his ideal. "When you grow up, it's always a question of trying to imagine a colour or a tone or phrasing that you could do on the cello. And sometimes, if you have a less-than-adequate cello, you say, 'Oh, if I had a better cello, I could do what I imagined.' Now, I can honestly say that if I can't do what I imagine on the cello, then it's completely my fault! [Laughs] It's such an amazing instrument, and it allows you to dream and to imagine infinite possibilities, so to have that on loan to me is an amazing opportunity."
How will Tétreault remember Desmarais? "I think that keeping her memory alive through the cello and through my various engagements and music-making is very important." He says he's had "an avalanche of memories" since learning of her death. "Keeping those with me, and remembering her is extremely important to me."
Tétreault performs Samuel Barber's Cello Concerto in A Minor with the Ottawa Symphony Orchestra and conductor Alain Trudel on March 19. Details here.
More to explore:
'It's a miracle to me': Johannes Moser on Dvorak's Cello Concerto
10 surprisingly good covers of Debussy's 'Clair de lune'
Duos to Nonets, Boccherini and Beethoven to Ravel and Brahms....all performed by the great collaborators of our time. The rich and intimate world of classical music for small ensembles. Hear: Ludwig van Beethoven, Johannes Brahms, Joseph Haydn, Wolfgang Amadeus Mozart, Antonin Dvorak, Maurice Ravel and more!