For most string quartets, the music of Haydn, Mozart and Beethoven represents the chronological starting point when it comes to choosing repertoire.
That's not the case for Toronto's Eybler Quartet, whose self-imposed mission has been to champion the music from the first 100 years of the string quartet repertoire — works by Carl Ditters von Dittersdorf, Johann Baptist Vanhal and the group's namesake Joseph Leopold Eybler — and to play it on instruments appropriate to the period. These are largely forgotten pieces and to bring them back to life, the Eybler Quartet often consults the composers' original manuscripts since modern editions are either scarce or nonexistant.
But on their latest album, the members of the Eybler Quartet turn their attention to well-known works with a long and continuous performance tradition: the first three of Beethoven's Op. 18 string quartets, which they play (true to form) observing Beethoven's original — and controversial — metronome marks.
"My attention was first drawn to Beethoven's metronome marks in 1986 or maybe 1985, I'm not quite sure," explained Eybler Quartet violist Patrick Jordan recently via telephone. "I was playing with another string quartet at the time. Our instructor was a fellow named Eugene Lehner who was the violist of the Kolisch Quartet, and Rudolf Kolisch, the first violinist of that group, was a huge champion of the metronome marks of Beethoven."
'Beethoven was not always so very nice'
Jordan's quartet played the first movement of Beethoven's Op. 18, No. 6 at a conventional tempo for Lehner, who then told them, "Ah, children, that was very nice. But, you know, Beethoven was not always so very nice. Perhaps you'd like to know that his metronome mark is 80 to the entire bar!"
It's a breakneck speed and Jordan's quartet at the time was not convinced. "Finding a group of people who were prepared to actually take [Beethoven's metronome marks] seriously — that was a 30-year wait," he says. Fast forward to today, and the Eybler Quartet's new recording brims with such confident playing, you'd wonder what the fuss was about.
But when they decided to play and record Beethoven, Jordan says they had to confront long-established traditions around the performance of these works. "A huge amount of our labour required that we un-learn those things; that we get the notions of what we've heard recorded and played in concerts many times out of our heads and try to put in what Beethoven, at least at some point in his life, believed and thought highly enough to make a note of and publish."
---
Related: Beethoven: a guide for the intimidated
---
Of the 12 movements on their new album, the fourth movement of the Op. 18, No. 3 quartet best illustrates the discrepancy between convention and what Beethoven originally indicated. This tarantella-style presto in 6/8 time typically runs anywhere from 5:53 (Tokyo String Quartet) to 6:29 (Jerusalem Quartet) or even longer (Vlach Quartet, Quatuor Mosaïques). The Eybler Quartet, adhering to Beethoven's metronome mark, races through it in 5:14.
So, at what point did musicians start moving away from Beethoven's metronome marks? "In general, as the 19th century wore on, especially quick tempi tended to become slower in performance," says Jordan. "And one thing I can say is, that by heeding Beethoven's metronome marks, it confirms that the taste [at the time] for fast movements was to play them faster."
Beethoven got his metronome from Johann Nepomuk Mälzel, its inventor, and some musicologists have suggested that Beethoven's metronome was faulty. There's even speculation that Mälzel may have been trying to mess with Beethoven to get revenge for a lawsuit the two were involved in. Jordan discredits those theories. "The conspiracies that swirl around this topic are fascinating to me," he says. "I think Mälzel was a shyster and not the most straight-shooting of businessmen. But I don't think there's any evidence to suggest that the mechanism itself was [faulty] or that he was trying to hoodwink anybody. What would be the point of it? He stood to gain a great deal more by Beethoven popularizing and believing in that mechanism than by doing something that would undo that."
"And we know from [Beethoven's] correspondence and contemporaneous accounts that he was very concerned that his metronome stay in good working order and he had it recalibrated frequently so it was accurate," he adds.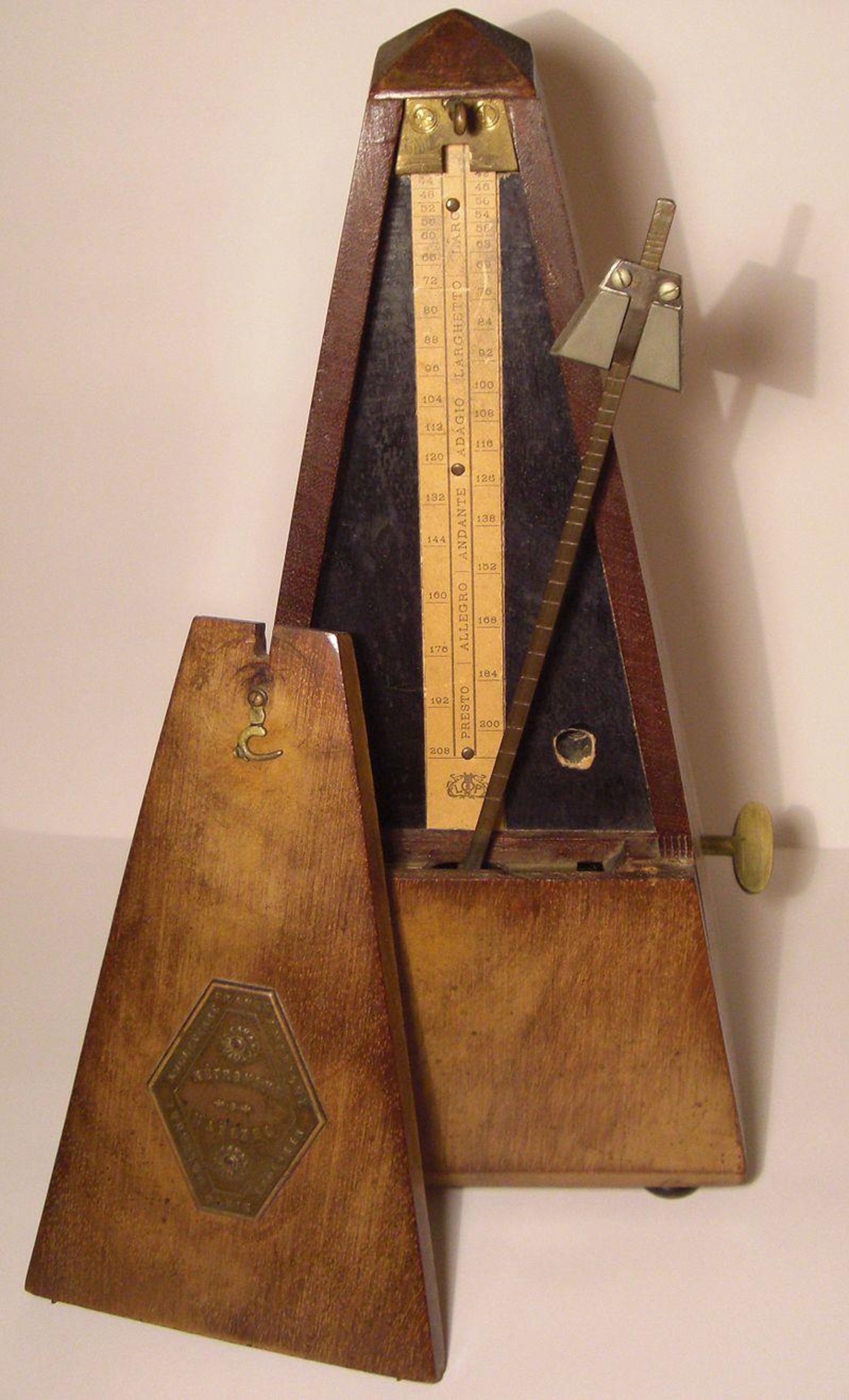 The design of Mälzel's mechanical metronome has not changed much over the decades. (Näytä Kuinka/Wikipedia Commons)
A more likely cause, according to Jordan, is the rise of the Romantic artist. "The 19th century is marked very much by the emergence of the cult of personality which frankly begins with Beethoven. You trace its line through Paganini, Liszt and Wagner. And with that cult of personality also comes the idea that the music of the past is sort of a found object upon which — because of one's importance as an individual — one is permitted to put their own stamp. I think that that's a strand of performance that persists to today. And I've got plenty of respect for that. So, for example, we have contemporaneous accounts of the tempi at which Wagner conducted Beethoven symphonies that are [...] very slow tempi for what we know Beethoven indicated. So I think that the emergence of the individual and the importance of the individual is a big driver behind it."
'A very patient man'
Not only did Beethoven want his fast movements to be very fast, but in some cases, he wanted his slow movements to be considerably slower than we're accustomed to playing and hearing them today. "Beethoven's slow tempi? He's a very patient man [laughs]. The amount of time that it takes for those movements to unfold is a message in itself," notes Jordan, pointing out that the string quartet's proportions actually change when you follow Beethoven's original metronome marks.
"The duration of the movements in a sense gives relative importance to the movement. For example, the slow movement of Op. 18, No. 2 is considerably longer than the last movement of the same piece. The character of the last movement is quite bright and alive but there's just more time devoted to the second movement. And so the perception of which movement is big and which movement is important shifts a bit because of the relative amount of time devoted to it in performance."
'It was fantasic'
What sort of reaction has the Eybler Quartet received? "We played Op. 18, No. 3 last January out in Vancouver as part of a co-production between Early Music Vancouver and Friends of Chamber Music out there. And when we started the last movement, Eric Wilson, who runs Friends of Chamber Music, burst out laughing. Like, he just couldn't believe it. It was fantastic," recalls Jordan. "That's one reaction."
It's not always positive, though. "In a brief notice in the Times of London, [the reviewer] said he's a big fan of Beethoven's metronome marks in general, but then asked the question, 'Does the adagio from Op. 18, No. 1 really need to feel so restless?' And, you know, if I were able to answer that question, I'd say we didn't think it was supposed to be restless either until Beethoven told us so!"
Jordan says this project has been "a fantastic ride" for the Eybler Quartet, but he's quick to add: "I don't believe that the Eybler Quartet's recording of Beethoven quartets is the only way to do it, or that we're doing the 'right' thing — that is rubbish. There are fine recordings that propose a different aesthetic approach."
Find out more about Eybler Quartet's Beethoven album, and their full discography, here. Catch them at upcoming concerts in Saint Catharines, Ont. (April 29) and Toronto (May 10). Details here.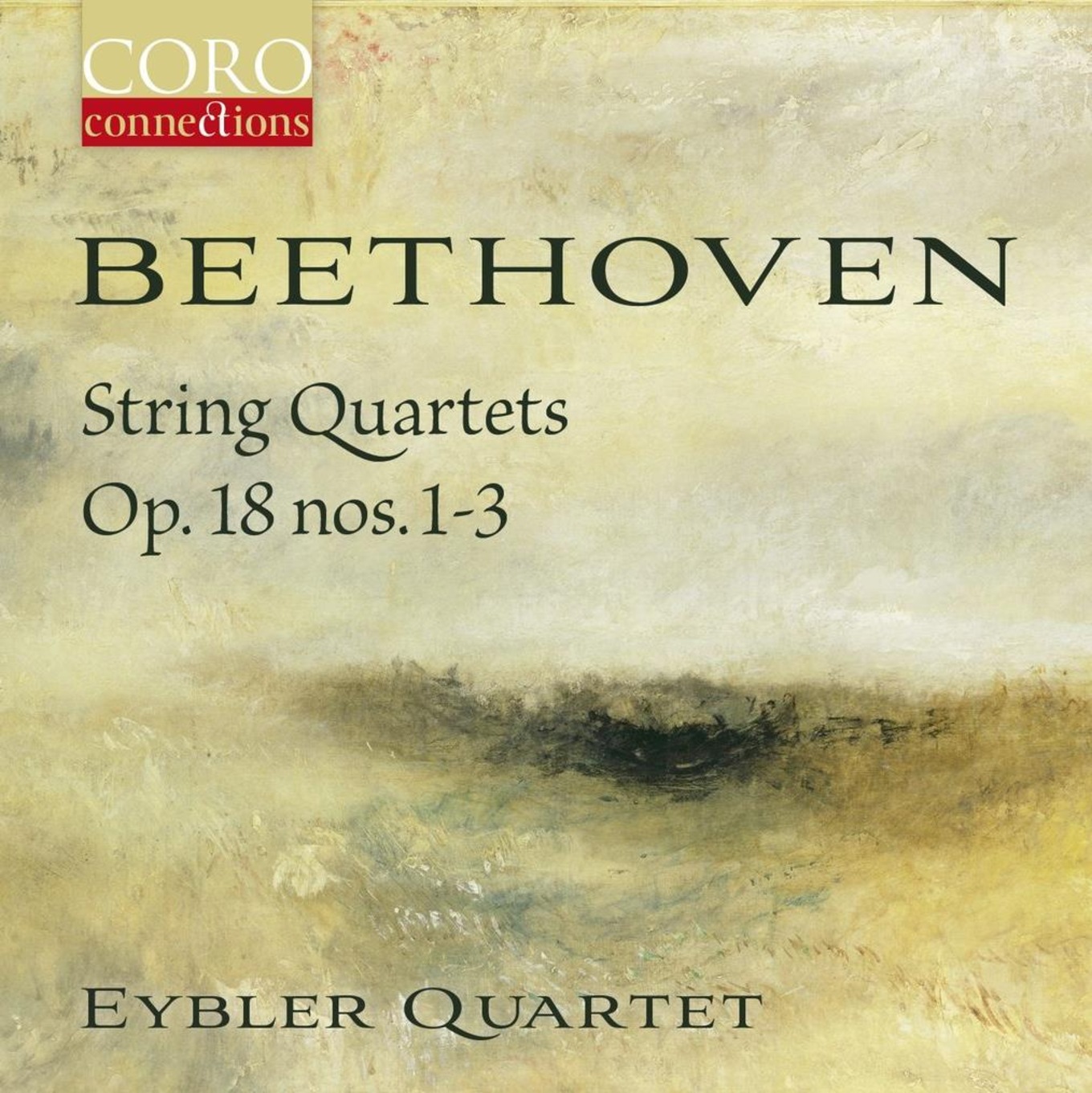 More to explore:
'I'm humbled every time I play it': Andrew Wan on Beethoven's Violin Concerto
Watch Johannes Moser play excerpts from Bach's Cello Suite No. 1
10 surprisingly good covers of Debussy's 'Clair de lune'
Duos to Nonets, Boccherini and Beethoven to Ravel and Brahms....all performed by the great collaborators of our time. The rich and intimate world of classical music for small ensembles. Hear: Ludwig van Beethoven, Johannes Brahms, Joseph Haydn, Wolfgang Amadeus Mozart, Antonin Dvorak, Maurice Ravel and more!