The 2018 CBC Music Festival is happening this Saturday, May 26, and we are excited to announce more acts that have been added to the final lineup.
Halifax singer-songwriter Jenn Grant, Saskatchewan folk duo Kacy & Clayton and South African-Canadian artist Zaki Ibrahim will be joining this year's lineup, alongside already announced acts July Talk, Charlotte Day Wilson, A Tribe Called Red, the Rural Alberta Advantage and more.
CBC Music will be live-streaming performances from the main stage and q stage at CBCMusic.ca as well as CBC Music's Facebook and YouTube pages. Below are the set times for the main stage, q stage (hosted by Tom Power) and the Festival Stage.
Main Stage:
2:25 p.m. The Jerry Cans
3:30 p.m. Busty and the Bass
4:35 p.m. Jenn Grant
5:40 p.m. The Rural Alberta Advantage
6:55 p.m. Charlotte Day Wilson
8:10 p.m. A Tribe Called Red
9:45 p.m. July Talk
q Stage:
2:10 p.m. aquakultre
2:55 p.m. Ammoye
3:50 p.m. Boogat
4:45 p.m. Fortunate Ones
5:55 p.m. Milk & Bone
7:10 p.m. Northern Touch All-Stars
8:45 p.m. Yukon Blonde
CBC Festival Stage:
2:10 p.m. Zaki Ibrahim
3:05 p.m. Caveboy
4:10 p.m. Midnight Shine
5:10 p.m. Johnny Ballik
6:25 p.m. Kacy & Clayton
7:25 p.m. Logan Staats
In addition to the above stages, CBC Music Festival will also introduce two new stages this year: the River Bar Stage and the CBC Comedy Stage. The River Bar Stage will showcase emerging groups from around the Greater Toronto Area. Those acts will be indie-folk act Moscow Apartment, soul singer Alcordo, pop artist JXCK KXLLY, and R&B singer TOBi. The CBC Comedy Stage will highlight comedic actors and stand-up comedians including Sophie Kohn, Martha Chaves, Jeremy Woodcock and Rakhee Morzaria, star of the web series Note to Self. There will also be an appearance by Workin' Moms actor Dani Kind.
The Food Truck Fair will return this year with even more vendors, a flea market and a number of other onsite activities. Hockey fans can stop by the CBC Sports tent to pose with some famed trophies such as James Norris, Lady Byng and Conn Smythe on the iconic Hockey Night in Canada desk. The CBC Kids' Zone will host a meet-and-greet with stars from the hit series PJ Masks, as well as a craft station, a rock 'n' roll tattoo parlour, a hair salon and a giant sandbox with beach toys.
And finally, guests can enjoy complimentary bike valet and rental services for stand-up paddle boards, turbo tubes and two-person non-tip yaks.
Tickets for the festival are available on Ticketmaster.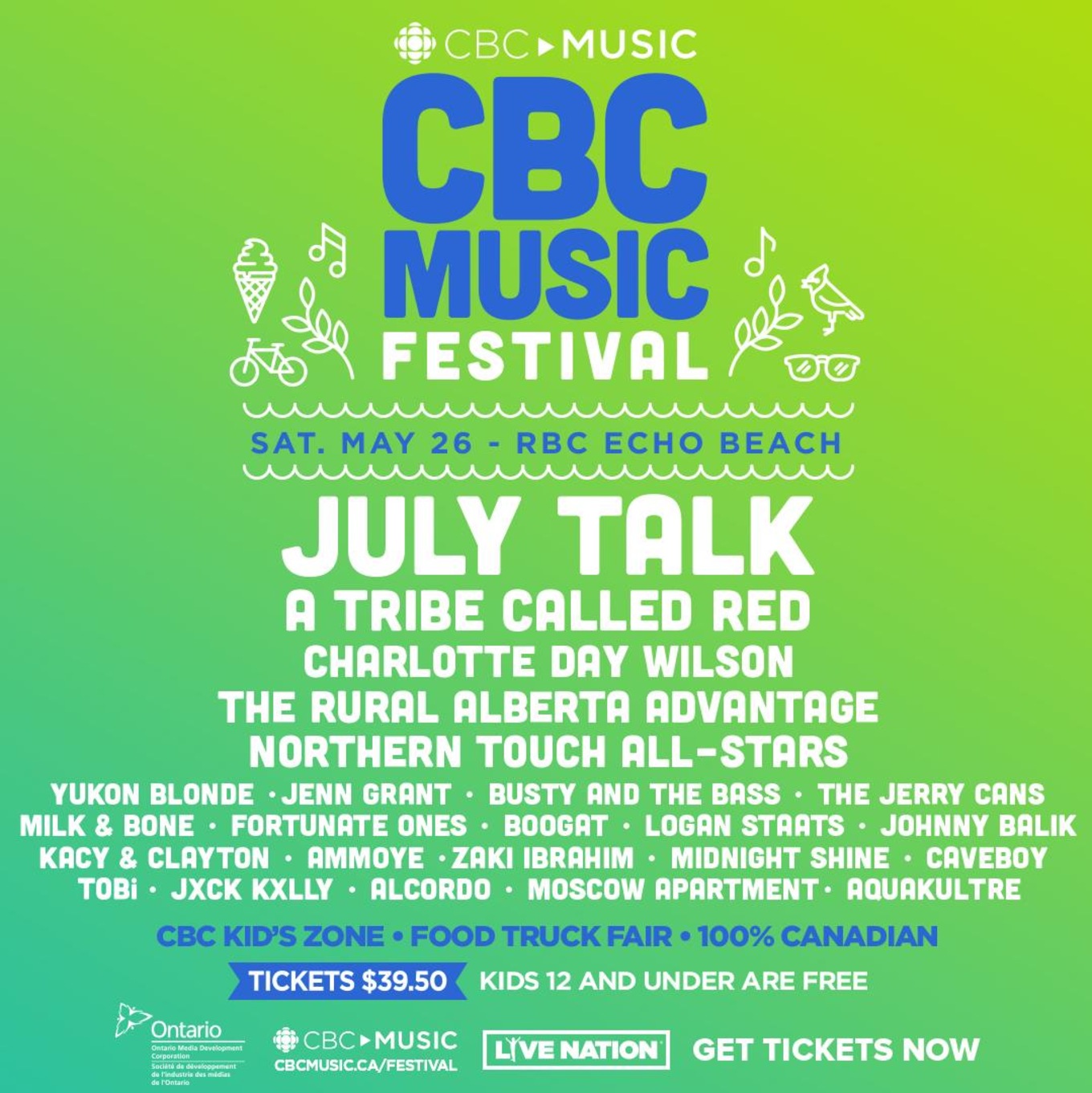 More to explore:
July Talk set to headline the 2018 CBC Music Festival
First Play: Fortunate Ones, Hold Fast