Our high expectations for the art song final at the Montreal International Music Competition were exceeded on Sunday, as four fine singer–pianist duos took the stage of Bourgie Hall to compete for a handsome prize package, including the $80,000 first prize and the $10,000 John Newmark Award for best collaborative pianist. They are:
John Brancy, baritone (29, United States) and Peter Dugan, pianist (29, United States)
Clara Osowski, mezzo-soprano (32, United States) and Olivier Godin, pianist (not competing)
Gemma Summerfield, soprano (27, United Kingdom) and Sebastian Wybrew, pianist (34, United Kingdom)
Julien Van Mellaerts, baritone (30, New Zealand/United Kingdom) and João Araújo, pianist (33, Portugal)
The art song prize winners will be announced on Thursday, June 7, following the final in the competition's other division, aria. That gives us time to speculate on the outcome.
CBC Music's phantom jury has been covering the competition on Twitter via #CMIM2018. We asked them to reflect on the art song final, and make predictions.
---
Diction counts above all for 1 phantom juror
My pick for first prize is Van Mellaerts. I felt like his interpretations were spot-on and his diction was clear and audible throughout. I'll be bold and predict Summerfield for second place. Her ability to captivate the audience with her sense of text was amazing to watch. A final prediction: Dugan for the collaborative pianist prize, for his delicate sense of voicing.
Two phantom jurors detect a dark horse
The selected finalists were all phenomenal, but I think it's possible that there's a dark horse in the running. Osowski has been a frontrunner for me throughout, and the finals solidified my opinion. Simplicity, honesty and heartfelt emotion seem to permeate Osowski's musical expression. Her grounded performances and clever programming choices (particularly Thomson's "A Prayer to Saint Catherine") showcased her world-class artistry beautifully. During her masterclass, juror Kiri Te Kanawa mentioned that she looks for a voice that breaks her heart. Is Osowski's voice that voice? All I'll say is that my heart is still recovering.
Mezzo-soprano Osowski has had me hooked as a performer since her first-round programming of 20th-century composers betwixt Schubert bookends. This led to her showing us a "chasing the sun" program in the semifinal, where she chose pieces in the transition from day to night that, harmonically and textually, told a narrative in a short amount of time. Her final program celebrated and paid homage to women. It was a surprising array of artistry and repertoire that I'm still geeking out over hours later. Her attention to mood and well-thought-out drama make me believe Osowski is the dark horse of the CMIM, winning over jurors and audiences alike.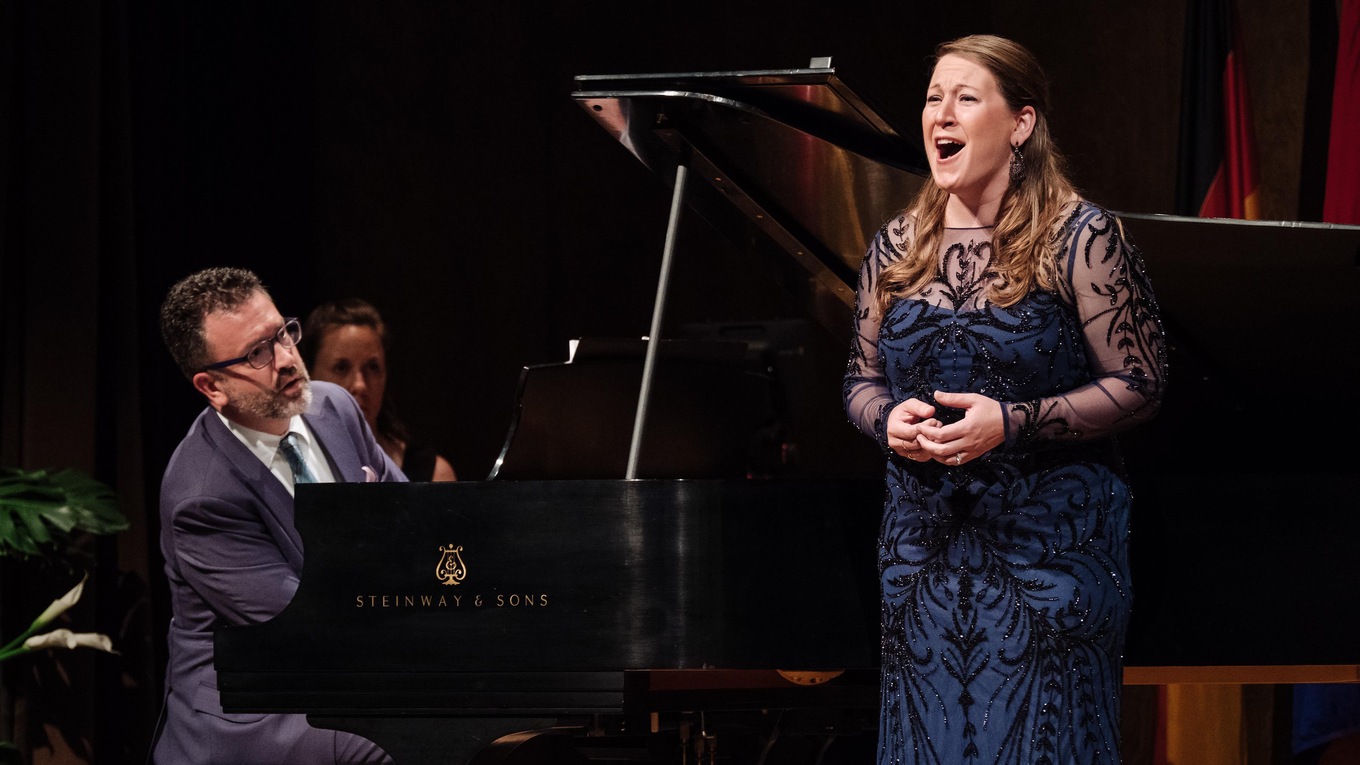 Another views things from a pianist's perspective
I saw every single second of the art song competition this week. Then, I watched most of it again online. I just can't get enough! For me, it was the pianists who made this competition exciting. They're orchestra, soloist, partner and mind-reading magician, all rolled into one. I predict Brancy and Dugan will take first prize because there has never been a partnership quite as fierce. Pianist Araújo's performance of "Phidylé" will keep me in the practice room for years, but I don't see Van Mellaerts on the podium. While I'm not convinced the real jury will place Summerfield, pianist Wybrew makes the top of my list. His playing may be overlooked because of Dugan's electricity with Brancy — and let's be real, Dugan's "Erlkönig" was jaw-dropping! — but I think Wybrew will come out on top overall for the collaborative pianist award.
Our fifth phantom juror looks for iconic performances
Iconic singer/song marriages (Dietrich Fisher-Diskau and Dichterliebe, Gérard Souzay and French mélodie, Elly Ameling and Schubert/Schumann) have found a way into our collective memories, springing to mind when either are mentioned. Reflecting on our finalists' programmes, a few songs have defined these performers for me:
Ivor Gurney's "In Flanders:" The orchestral colours from Araújo and the longing spirit from Van Mellaerts melded perfectly in this English song.
Schubert's "Ganymed:" Summerfield and Wybrew unpacked the mythical beauty of Schubert, bestowing #storytimewithgemma from the start.
Wolseley Charles' "The Green-Eyed Dragon:" Between Brancy's dramatic storytelling and Dugan's energy, I believe this delightful performance secured first prize for this duo.
Gabriel Fauré's "Clair de lune:" The tranquil accompaniment played by Olivier Godin and the pure tone of Osowski formed a perfect landscape for such a rich and beautiful setting.
More to explore:
Aria semifinalists announced at the 2018 Montreal International Music Competition