John Brancy from the United States has won the $80,000 first prize in the art song division at the 2018 Montreal International Music Competition. The 29-year-old baritone also won the $5,000 award for best French mélodie, as well as a $2,000 grant as an unranked finalist in the competition's aria division, bringing his total winnings to $87,000.
The announcement was made Thursday, June 7, by jury president Zarin Mehta.
The $15,000 second prize went to baritone Julien Van Mellaerts, 30, from New Zealand; mezzo-soprano Clara Osowski, 32, from the United States won the $10,000 third prize. The fourth finalist, soprano Gemma Summerfield, 27, from the U.K., received a $2,000 grant.
The $10,000 John Newmark Award for the competition's best collaborative pianist went to João Araújo, pianist (33, Portugal), who performed with Van Mellaerts.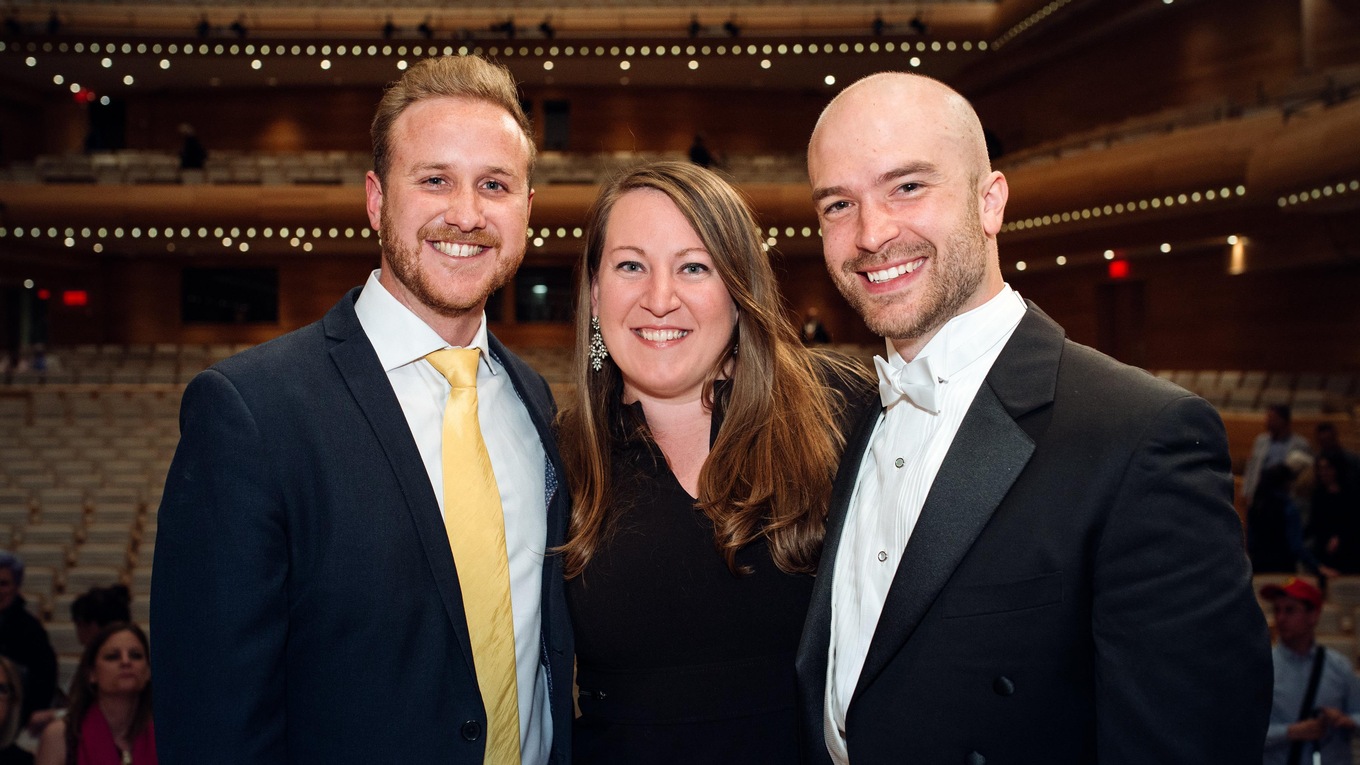 From left, Van Mellaerts, Osowski and Brancy were the top 3 prize winners (art song) at the 2018 Montreal International Music Competition. (Tam Lan Truong/tamphotography.net)
---
Related: TKTK wins 1st prize (aria) at the Montreal International Music Competition
---
The prize winners were chosen by a jury comprising Edith Bers (United States), Ben Heppner (Canada), Soile Isokoski (Finland), Warren Jones (United States), François Le Roux (France), Felicity Lott (United Kingdom), Richard Rodzinski (United States), Joseph Rouleau (Canada), Kiri Te Kanawa (New Zealand) and Mehta (jury president).
Watch Brancy's $80,000 prize-winning performance in the art song final at 1:33:30 in the video below, and scroll down for the complete list of prize winners in the competition's art song division.
First Prize: John Brancy
$30,000 Léopold Simoneau Prize, offered by the John R. Stratton Trust
+ $50,000 James Norcop Career Development Grant
Second Prize: Julien Van Mellaerts
$15,000 Maureen Forrester Prize, offered by Colleen Sexsmith
Third Prize: Clara Osowski
$10,000 Lois Marshall Prize, offered in memory of Dr. Clive Mortimer
John Newmark Best Collaborative Pianist Award: João Araújo
$10,000 offered by Richard Lupien
French Mélodie Award: John Brancy
$5,000 offered by Diane Loeb
German Lied Award: Julien Van Mellaerts
$5,000 offered by Arija and Clarence Stiver
50e OFQJ Award: Magali Simard-Galdès, soprano (26, Canada)
$5,000 offered by the Office Franco-Québécois de la Jeunesse
Best Canadian Artist Award: Rihab Chaieb, mezzo-soprano (31, Canada/Tunisia)
$3,000 offered by the Bourbeau Foundation
Radio-Canada People's Choice Award: Clara Osowski
$3,000
CMIM Grant for the unranked finalist: Gemma Summerfield
$2,000 offered by Peter Symcox
More to explore:
8 outstanding moments from the art song semifinal at the Montreal International Music Competition