Hit play on "Any Man of Mine" at karaoke, and you'll have a roomful of people singing "better walk the line" by the time the chorus hits. It's been 25 years since Shania Twain's self-titled debut album was released, and there's a reason the Timmins, Ontario-born singer remains the top-selling female country artist of all time.
From 1993 to 2002, Twain made country-pop crossover its own genre, winning five Grammys, 13 Junos and topping plenty of charts, paving the way for artists sitting atop those same charts every year since. This year, Twain will be hosting the Canadian Country Music Association Awards in Hamilton, while also receiving the CCMA Generation Award, which recognizes artists who have pushed country music to new audiences internationally.
After making a comeback last year with her first solo album in 15 years — and celebrating a quarter-century since her debut — we thought it was time to ask some of this year's CCMA Award nominees how Twain has influenced their music. From Jess Moskaluke and Dean Brody to Lindi Ortega and Brett Kissel and more, their answers are below.
Experience the best in new Canadian Country Music. The nominees for the Canadian Country Music Association awards back-to-back and head-to-head. Hear: Dean Brody, Gord Bamford, High Valley and more!
---
Tenille Arts
"Shania Twain was one of my biggest influences growing up, and she is the reason I started voice lessons. When I was seven years old, a neighbour overheard me singing 'Man! I Feel Like a Woman' in my backyard and she came over and told my mom that I had a great voice. Ever since that day I have dreamed about being a singer and followed in her footsteps by going to Nashville."
---
Related: Shania Twain: the essentials
---
Brett Kissel
"Shania, to me, is kind of like Elvis. When I was at Graceland in Memphis, there's this massive sign that said, 'Before anyone did anything — Elvis did everything.' So, to me, that's what Shania has meant to me — and all Canadian country artists. Before any of us did anything, Shania did everything. She's an amazing singer. An amazing songwriter. And an amazing entertainer. Shania is 'everything.'"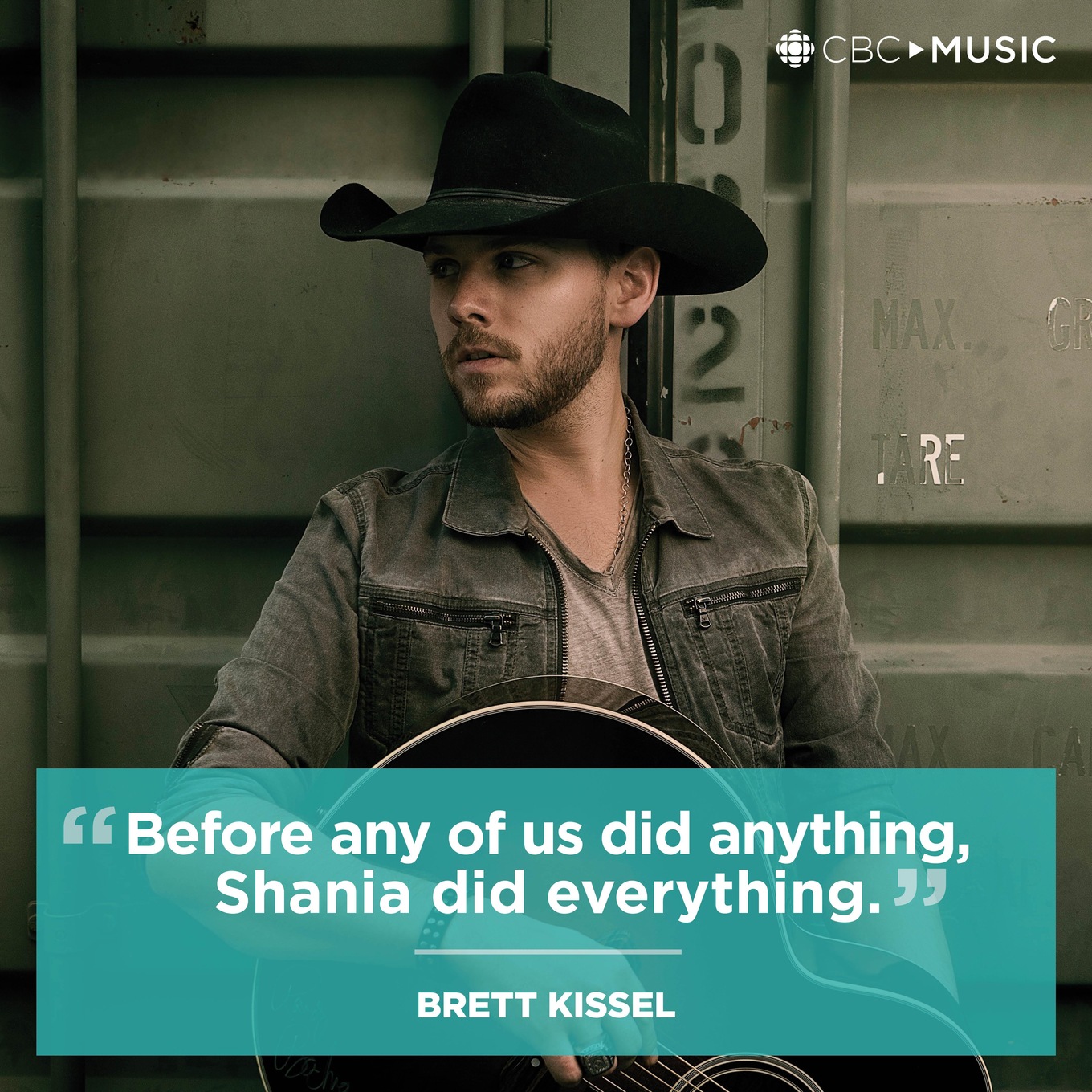 ---
Jessica Mitchell
"Shania broke barriers from day 1 of her career by being herself and not being afraid to sing about things she wanted to, empowering women through lyrics and melody and bending genres to appeal to a widespread fanbase. That was something that always spoke volumes to me because I try to follow that same fearless path and do what makes me happy. She paved the way for many of us trying to carve our own path through the entertainment industry, and I'm grateful I had her music as a guide to never be afraid to do what I want to do musically."
---
Dean Brody
"The thing I love and appreciate about Shania is that she wasn't confined to the 'rules' of Nashville at the time. She was a trailblazer. Artists like her show that being yourself and being true to your own vision can be a breath of fresh air to a sometimes confining genre. Fans love authenticity. Especially country music fans. She, much like Taylor Swift, has helped me see that."
---

Madeline Merlo
"Shania has influenced my music immensely because she changed the landscape of country music at the time of her explosion into the scene. She brought so many pop and rock elements into her classic country roots, and although it pushed boundaries it became absolutely huge internationally. Shania taught me to push boundaries, not be afraid to be different and follow your heart."
---
Tim Hicks
"I think for me, the way that Shania's music was produced, especially early on, really changed the way I thought of country music. Bringing in those rock and pop elements kicked down a lot of doors and opened the whole thing up for a guy like me to find a home as an artist."
---
Jess Moskaluke
"Shania has paved the way for so many country music artists to be who they really are. She's bridged the gap between pop and country stylings and is largely a part of the reason I can be the pop country artist I want to be!"
---
Brandi Caroline (Nice Horse)
"Shania is, hands down, one of the biggest influences in my music career. I remember her first record, the self-titled album. It was one of the first CDs I ever owned — I loved Shania with the wolf on the front cover! I had that CD on non-stop. I would listen to 'Dance With the One That Brought You' over and over. I would sing harmonies to that album in the car. I am pretty sure there isn't a single lyric on that album that I still don't know 'til this day.
"I was so inspired by Shania that as a young, 10-year-old girl, I wrote her a letter. I had just moved to a new town, and I was having a hard time moving in. Music was the only thing that made me feel better during that time, her record in particular — I would just sit in my room and listen to that CD. I wrote her telling her all of that. You wouldn't believe my complete joy and shock when I received a reply back! She told me in the letter that she had a hard time growing up, too. Hearing that from Shania Twain helped me through that tough time, and as a young aspiring musician, that letter definitely fuelled my passion. I still have that letter to this day."
---
Lindi Ortega
"Shania Twain blazed a trail for a lot of modern-day country artists. She was one of the first to cross over. Her music went beyond the genre 'country' and became popular to all. Many have followed in her footsteps. She also never bent to Nashville norms; it was considered racy for her to show her midriff in her videos, but she didn't care. She owned her style and didn't compromise her vision for who she wanted to be as an artist."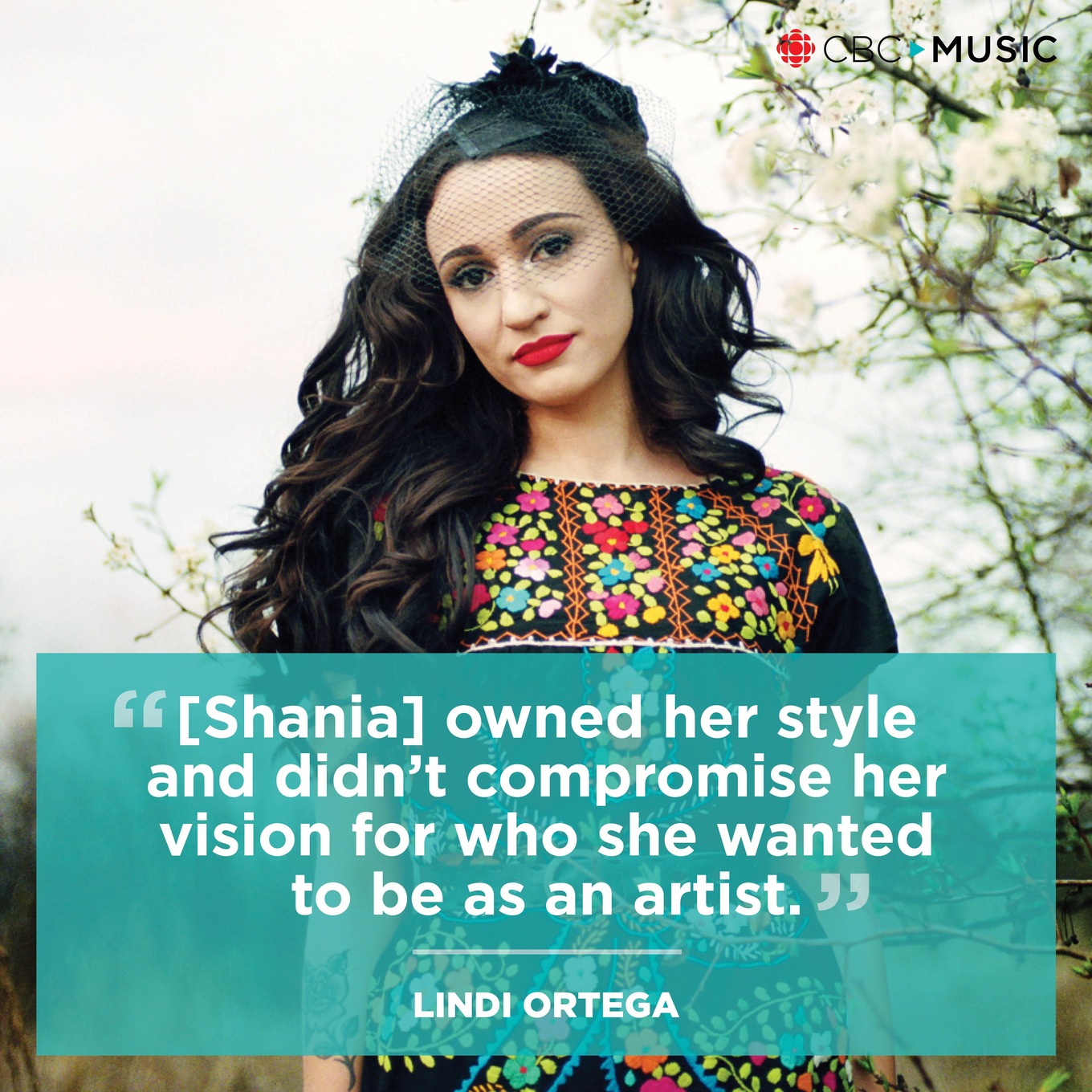 ---
Donovan Woods
"What Shania did was forge a path for Canadian women in Nashville. There will now forever be a narrative of a Canadian woman succeeding enormously in the U.S., at the highest levels, and no one can say it can't happen again.
"Shania's trailblazing is observable in Canadian artists like Terri Clark and Lindsay Ell and now, Tenille Townes. In a town where they'll use any old excuse to reject you (even your Canadian citizenship) Shania's success means it's possible. Country music is a format built on the backs of strong female performers. Patsy Cline, Dolly Parton, Faith Hill — that list isn't complete without Shania. That's so hugely inspiring."
---
Lindsay Ell
"Shania was my role model as a little girl. I knew every word to every song and remember growing up running around all the rooms in my house with a plastic microphone thinking I would be her one day. Shania inspired me to fall in love with performing at a really young age, and helped me believe that anything is possible."
---
The Reklaws
"Shania has influenced us in bigger ways than ever. Her music has spoken to so many across the world and has given us a way to sing and share! There is not one country artist that has not covered one of her songs and felt the way the room changes when you do. On top of her music, her life story — as a woman and as a Canadian making huge waves across the world — she has set bars and has shown bravery that artists of every gender and age will look up to."
---
Hunter Brothers
"Shania Twain truly is a legend. She has always been ahead of her time musically, and exudes a great measure of energy with every song, recording and performance she puts her hands to. We grew up with one radio station in our little town and Shania dominated the airwaves. Her progressive pop leanings have no doubt held an effect on our musical direction and we are thankful for the pioneer she has been in the country format."
Related:
Terri Clark gets real about her 20-plus years in country music
Shania Twain: 20 years of bad feelings bare midriffs and breaking ground
Your guide to the SiriusXM 2018 CCMA Rising Star Award nominees
See how Shania Twain's latest tour came together in new behind-the-scenes video
Experience the best in new Canadian Country Music. The nominees for the Canadian Country Music Association awards back-to-back and head-to-head. Hear: Dean Brody, Gord Bamford, High Valley and more!