It's got all the elements of a modern-day musical fairy tale.
A debut at the Metropolitan Opera in New York is a feather in the cap of any opera singer, and Canadian baritone Étienne Dupuis and his wife, Australian soprano Nicole Car, will both make theirs this season — sharing the stage in the same production.
Dupuis and Car are cast as Marcello and Mimì, respectively, in the Met's production of Puccini's La bohème, opening Sept. 25. Tenor Vittorio Grigòlo is Rodolfo (Mimì's lover) and Angel Blue sings Musetta, whose volatile relationship with Marcello brings comic relief to the opera's tragic love story. James Gaffigan conducts.
The Met's production of La bohème was created by Franco Zeffirelli in 1982 and remains one of the best-loved creations in operatic history. A who's who of the world's best singers — Luciano Pavarotti, Mirella Freni, Angela Gheorghiu, José Carreras, Gerald Finley, to name a tiny fraction — have donned the costumes and inhabited the "extravagant realism" of its sets.
Now, Dupuis and Car will join their ranks. A not-always-silent witness to proceedings is their son, Noah, whom they welcomed into their busy theatrical lives just 18 months ago.
Dupuis and Car stand onstage at the Met during a rehearsal for La bohème. (Étienne Dupuis/Instagram)
We reached Dupuis to learn more about his family's big opening night.
---
What's the mood at the Met on the eve of the new season?
Everyone seems excited and refreshed from their vacation! I have never seen the managers of an opera house come around so much — all smiles, happy to get things going again. It's quite a beautiful energy!
Have you and Nicole done many bohèmes together?

It is our first! We have done multiple bohèmes, just never together.
Where did you and Nicole meet?

In Berlin, at the Deutsche Oper. We were singing together in Tchaikovsky's Eugene Onegin.
Is performing together your goal?

It is not a goal, more of an ideal. The ideal situation regarding family is to be together, and we try to make it happen as much as possible. Singing together is a plus, but if not, Nicole and I try to alternate, so that we are not both extremely busy at the same time. (Easier said than done, though.)
Zeffirelli's production is iconic. How does it feel to be part of that tradition?

It feels like I won't believe it until... ever! Some day, I'll see a picture of us in the sets and I'll probably think it is photoshopped.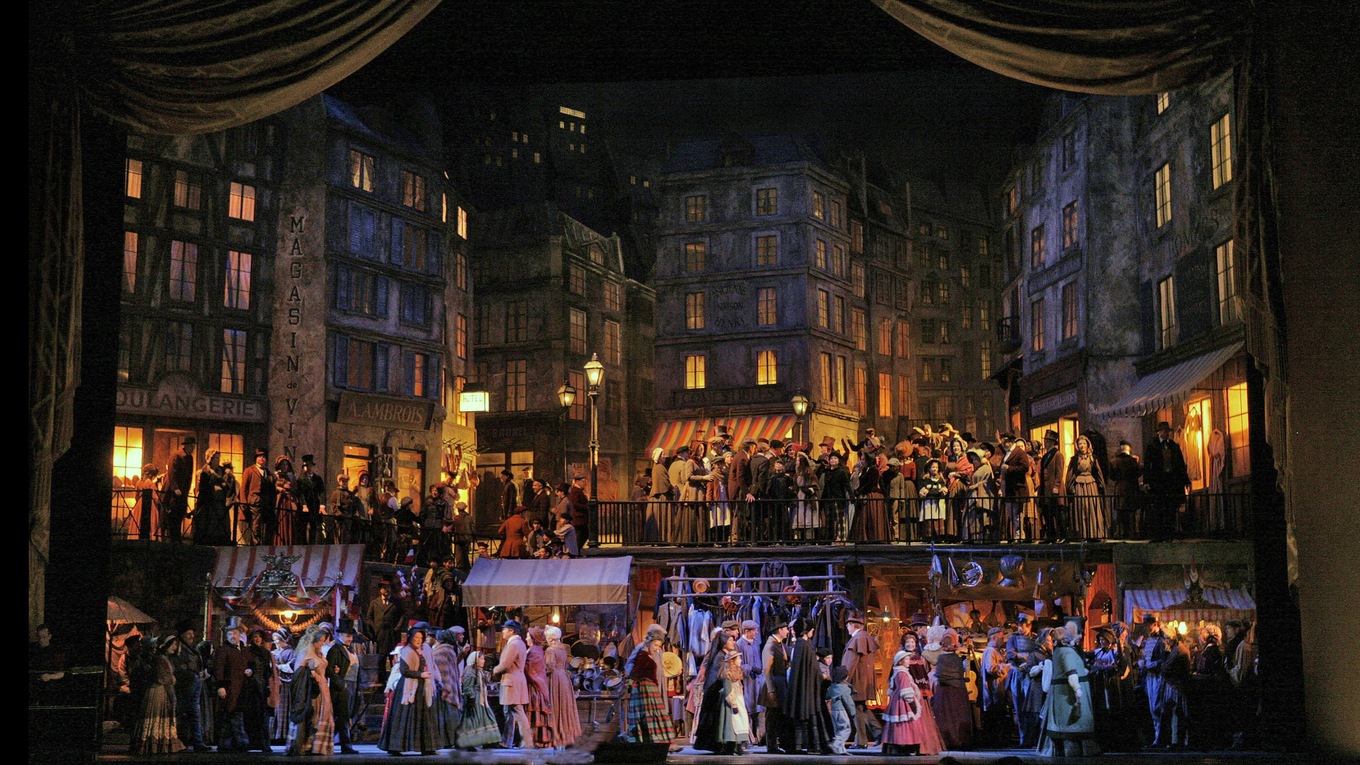 280 extras fill the Act 2 set in Franco Zeffirelli's iconic production of Puccini's La bohème. (Ken Howard/Metropolitan Opera)
Your cast is amazing. What's it like to have Vittorio Grigòlo break your wife's heart?

It is a fabulous cast. Grigòlo might be the most famous of us, but that does not mean the others are not absolutely phenomenal colleagues and performers! Bohème is an ensemble piece after all. And in the end, my wife gets to break the tenor's heart even more.
Why is Marcello a good role for your Met debut?

It is much less stressful to sing something I already have performed many times, when having to deal with everything else in a new house. For example, two weeks into rehearsals, we still get lost in the corridors sometimes.
This production also marks Nicole's Met debut. What should the audience there expect from her Mimì?

To be moved, touched and transported! Nicole is not passive — she dives into the character full on, and it makes for intense and magnificent moments of emotion.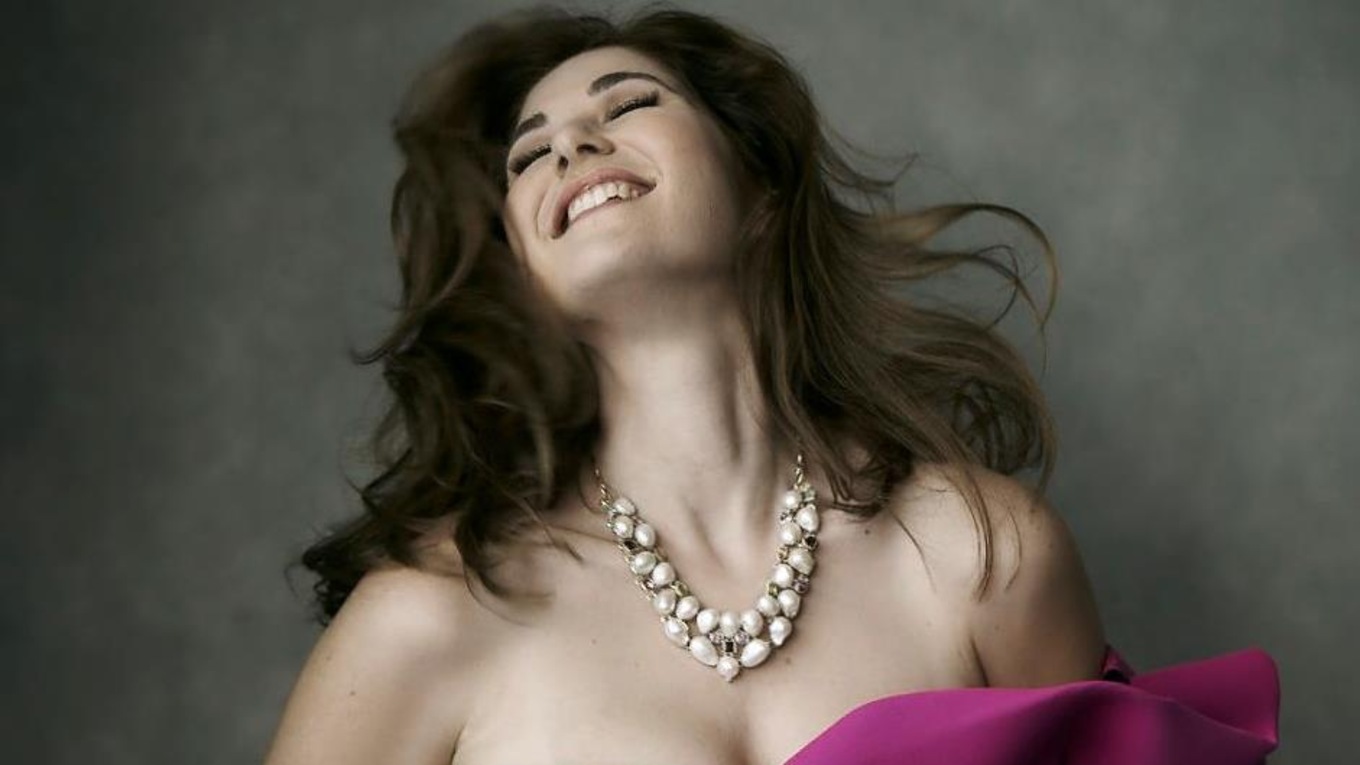 Nicole Car's roles include Tatyana (Eugene Onegin), Fiordiligi (Così fan tutte), Marguerite (Faust) and Micaëla (Carmen). (Georges Antoni)
The Musetta/Marcello dynamic is one of opera's great creations. How will you and Angel Blue bring it to life?

By keeping it simple. Puccini is the master — one just has to follow his lead! And well, you know, Zeffirelli.
What's next for the Car–Dupuis family?

Making a home in a new place. We are moving to Paris, so we can finally all be together! Then there will be shows in Paris, Munich, Marseille, Berlin and Paris again!
Dupuis and Car will sing in six performances of La bohème at the Met: Sept. 25 and 29, and Oct. 3, 6, 10 and 13. For further information, head to the Met's website.
Related:
'She didn't really think she had talent': one filmmaker's quest for the real Maria Callas
What's the best recording of Wagner's Die Meistersinger von Nürnberg?
The 5 weirdest fathers in opera
Learn to love opera in 10 easy steps
Wallis Giunta wants you to rethink Bizet's Carmen
Hand-selected opera gems by the most celebrated dramatic tenor in the world, Ben Heppner. The most familiar arias from the most-loved operas of all time along with opera overtures, intermezzi and choruses. Performances combine the great voices of the 20th century with today's rising stars!