"I've always said, it doesn't matter whether I'm singing in church or at the Met, I get just as nervous," says Judith Forst.
That may be, but there was likely extra adrenaline in Forst's system on Sept. 19, 1968, when the then 24-year-old Canadian mezzo-soprano made her entrance onstage at the Metropolitan Opera, singing the role of the Page in Verdi's Rigoletto. It was her debut with the storied company — the first of 234 performances she would give there, spanning 45 years.
"My first role that season was supposed to be Tebaldo in Verdi's Don Carlo," she recalls during a recent phone interview, "but suddenly they found themselves without a Page, so I had to do those few lines when the Page comes running on in Act 3."
Of course, Forst has a good story to tell about the rehearsals for that production.
"Cornell MacNeil was Rigoletto and he was a prankster, and in this particular staging, they had the Page on one side, and [MacNeil] was on the other, both in the wings, waiting to go on. And that's a nasty section in the Page's music: the first time the music happens, you don't go on. You go on the second time. 'Mac' was making out like he was being very helpful, and he was gesturing to me to go, go, go! So I went. And the maestro — a hot-headed Italian — just said, 'We'll do that again.' [Laughs] They would do anything they could to tease you. I was this very young, very green Canadian, and they loved that."
'They owned you for the season'
Forst had arrived at the Met as a plan artist — "which they don't even have anymore," she notes — having made an impression at the Met auditions, which worked differently in those days, as she explains:
"Nowadays, they have the semifinals one week and the finals the next week. But back then, they took a notion to have the semifinals, and then they gave so many [singers] a sum of money and sent them away and said, 'Study and fix these things, and then in six months, we'll do the next stage.'"
But in 1968, word got out that the Met would offer a couple of full-time contracts at its auditions, something they hadn't done before. "I was offered one, and William Cochrane was offered another. He ended up going to Germany — he was a Heldentenor — and didn't take them up on their offer."
Fortunately for Forst, the Met had been seeking a lyric mezzo-soprano. "Mr. [Rudolf] Bing, who was the general manager, felt that I was going to be able to do this," she reflects, and so they signed her up.
"[As a plan artist], you were under contract 52 weeks of the year. You were theirs, they owned you for the season. You were given a list of repertoire — your performances, your first covers and second covers. I think in my first season I had 43 assignments, and a lot of it was half-page one-liners. Those are worse than a whole role because you had to know where to put the one line! [Laughs] It was a challenge because the repertoire was new to me. I'd had terrific training, but no experience."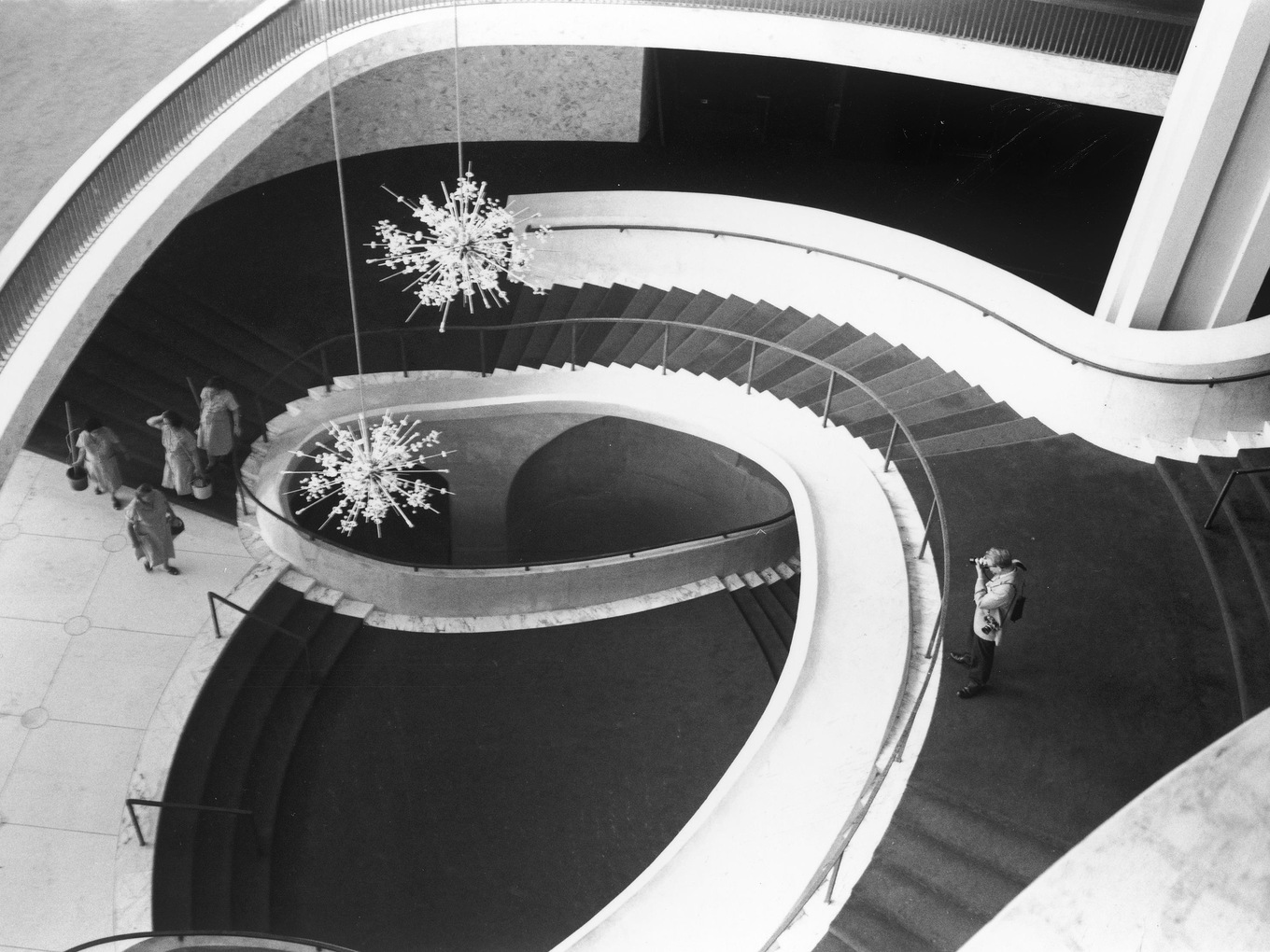 The Metropolitan Opera House at Lincoln Center was designed by Wallace Harrison. (F. Roy Kemp/Getty Images)
In addition to the Page in Rigoletto, that first season Forst sang Tebaldo in Don Carlo, Stéphano in Gounod's Roméo et Juliette, Teresa in Bellini's La Sonnambula, Mercédès in Bizet's Carmen, Siebel in Gounod's Faust, the Servant in Strauss's Die Frau ohne Schatten, and Dangeville in Cilea's Adriana Lecouvreur.
The latter opera stands out in Forst's memory because the title role was sung by Renata Tebaldi. "To see Tebaldi like that was something," she says, adding, "I also sang a lot with Franco Corelli and Richard Tucker. I will never forget that."
The cast of that season's Don Carlo included Robert Merrill (Rodrigo), Nicolai Ghiaurov (Philip II), Martti Talvela (Grand Inquisitor) and Fiorenza Cossotto (Eboli).
"Those are the voices that are in my mind's ear," she remembers. "In Don Carlo, Tebaldo is a lovely little part, and you get a moment with Eboli, the little duet. I [sang with] all the great dramatic mezzos and had the opportunity to be right beside them. It was astonishing. Somebody like Fiorenza Cossotto: when you did that duet with her, her sound was so forceful that when she would sing, she actually made me lose my balance because the sound hit my chest and knocked me backwards. It was unbelievable."
Forst says the vocal casting at the Met in those days was spot-on. "You had absolutely the right weight of sound on all those parts. If it was a dramatic soprano it was Leontyne [Price] or Eleanor Ross. If it was a dramatic mezzo, it was Cossotto or Irene Dallas or Regina Resnik — these big voices that were absolutely right for the part. And the same with the tenors: there was none of this lyric sound on a dramatic part."
'Hi, mom'
During that season's run of La Sonnambula, Forst was covering the role of Teresa, Amina's stepmother. Forst was on the phone at home — a brownstone situated at 225 West 70th Street — when an operator interrupted her call. "It was the Met saying, 'Get your butt over here right now. Louise Pearl is not going to finish the show.' So, I ran down the street and they threw me into wig and costume and they said, 'Come have a word with your 'stepdaughter.'" So, 24-year-old Forst entered the dressing room to find Joan Sutherland, who turned to her and said, "Hi, mom."
"We went on to become very good friends," explains Forst, "and did all those [Anna] Bolenas and had quite a close relationship until she died, and I still stay in touch with [her husband] Richard Bonynge. Joan and I had the same birthday, Nov. 7, so we always exchanged our family news at that time."
Sutherland and Forst sing a duet from a 1984 production of Anna Bolena at the Canadian Opera Company.
At the conclusion of her debut season at the Met, Forst went on tour with the company, which was the tradition back then.
"What did I know about touring? A mezzo, Shirley Love, decided I needed some advice. She said, 'Alright, these are the hotels that you want to stay at, this is what you have to put in your suitcase, you've got to be prepared for these events.' She took me under her wing and we became absolutely the closest of friends to this day, and she became part of our family."
'Knocked sideways'
Forst would go on to sing numerous roles at the Met, including both Hansel and the Witch in Humperdinck's Hansel und Gretel, Mère Marie in Poulenc's Dialogues des Carmellites, Donna Elvira in Mozart's Don Giovanni, Giuletta in Offenbach's Les Contes d'Hoffmann, Preziosilla in Verdi's La Forza del Destino, and of course her highly acclaimed portrayals of Janácek's notorious matrons: Kabanicha in Kát'a Kabanová and Kostelnicka in Jenufa, both opposite soprano Karita Mattila.
Reflecting on her career at the Met, Forst focuses on the company's remarkable infrastructure. "You have the top of the line in terms of stage equipment. And the crew at the Met is spectacular. The coaching staff — that's where I did so much work with people like [coaches] Joan Dornemann and Walter Taussig, and then in later years, Craig Rutenberg. And the orchestra: the way the orchestra fills the lines. They have fabulous players."
Forst also singles out the Met chorus for special praise. "Even today, I'll be driving in the car and the Met chorus will have a big scene, and I have to sit and write [chorus master Donald Palumbo] a note, I'm so knocked sideways with what he does with the music," she enthuses. "They're all soloists in the Met chorus. They're the best, they're just fabulous."
Forst's work at the Met represents only one facet of her remarkable career. She also sang regularly at San Francisco Opera, the Canadian Opera Company, Opéra de Montréal, Opera Lyra and the opera companies of Edmonton, Calgary and Winnipeg. And while she's singing much less these days, she's still involved with opera, concluding our conversation with the cheerful sign-off, "I'm off to work with the new young artists at Vancouver Opera this morning!"
Related:
What's the best recording of Wagner's Die Meistersinger von Nürnberg?
The 5 weirdest fathers in opera
Learn to love opera in 10 easy steps